World Swimming Championships: All the latest results, times and news from Budapest
After his controversial backflip denied Cody Simpson a spot on Australia's world championships team, Kyle Chalmers has left another bad taste in the former pop star's mouth.
Kyle Chalmers has missed out on a place in the semifinals of the 100m butterfly at the world championships at Budapest.
Competing in butterfly for the first time at international level, Chalmers finished 22nd overall in Thursday's heats, with just the top 16 advancing to the semifinals.
One of the world's greatest freestylers, Chalmers says he is serious about wanting to add butterfly to his program for the 2024 Paris Olympics but urged patience, warning that it will take time.
Despite unleashing an incredible freestyle split to secure a silver medal for Australia in the men's 4x100m relay on the weekend, Chalmers didn't enter his pet event in Hungary because he's just come back from a shoulder operation.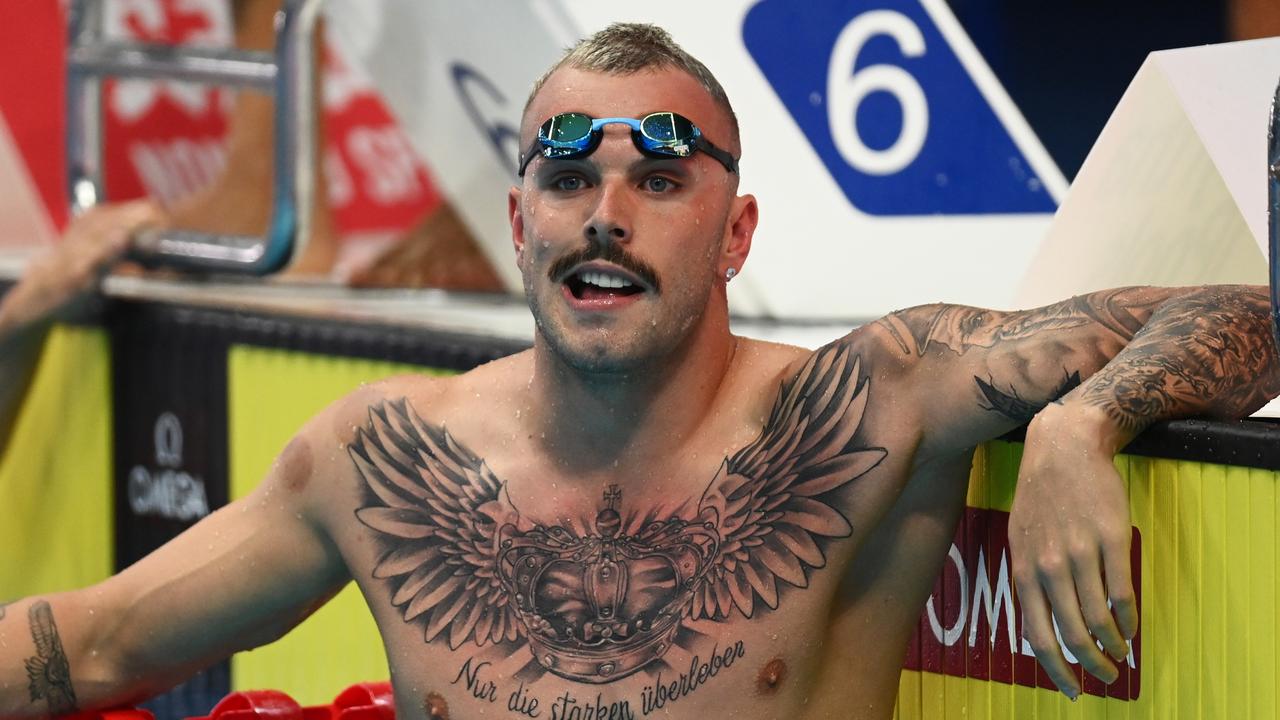 Kyle Chalmers failed to qualify for the semi-finals of the 100m butterfly. Picture: Quinn Rooney/Getty
He wasn't originally planning to swim butterfly at Budapest either but surprised himself when he qualified second at last month's Australian trials, posting an impressive time of 51.67 seconds.
He exercised his right to take up the spot, joining his close mate Matt Temple who won the trial, meaning pop star Cody Simpson missed out after finishing third.
Temple did safely make it through to the semis in Budapest, qualifying 12th, while Chalmers missed the cut by 0.58 after stopping the clock at 52.70.
Both he and Simpson's times from the trials would have got them in the next stage but they will all get their chance at next month's Commonwealth Games in Birmingham.
The sudden withdrawal of America's world record holder Caeleb Dressel has left Hungarian national hero Kristof Milak as the odds-on favourite for the gold after he broke his own 200m world record on Monday then topped the 100m qualifiers in a slick 50.68.
Cody Simpson was denied a spot on the team after Kyle Chalmers backflipped on his decision. Picture: Quinn Rooney/Getty
Meanwhile, Australia's Kaylee McKeown comfortably won her heat to qualify fifth fastest in the 200m backstroke, one of the events she won at last year's Tokyo Olympics, while Brianna Throssell sailed through after placing 12th in the women's 50m fly.
Australia also snuck into the final of the men's 4x200m freestyle relay - taking place in the early hours of Friday (Australian time) - after Brendon Smith, Zac Incerti, Sam Short and Mack Horton combined to snatch the eighth and last available spot.
Australia has three other finalists in action on the same program, all with strong prospects of medalling: Mollie O'Callaghan (women's 100m freestyle), Zac Stubblety-Cook (men's 200m breaststroke) and Jenna Strauch (women's 200m breaststroke).
Teen freak smashes record at world champs
The Romanian teenager who has taken world swimming by storm is heading to Australia this year - hoping to go head-to-head against Kyle Chalmers after the Aussie missed their highly anticipated showdown.
Just 17 but already a double world champion, David Popovici won the men's 100 metres freestyle title in Budapest overnight to capture his second gold medal after earlier winning the 200m.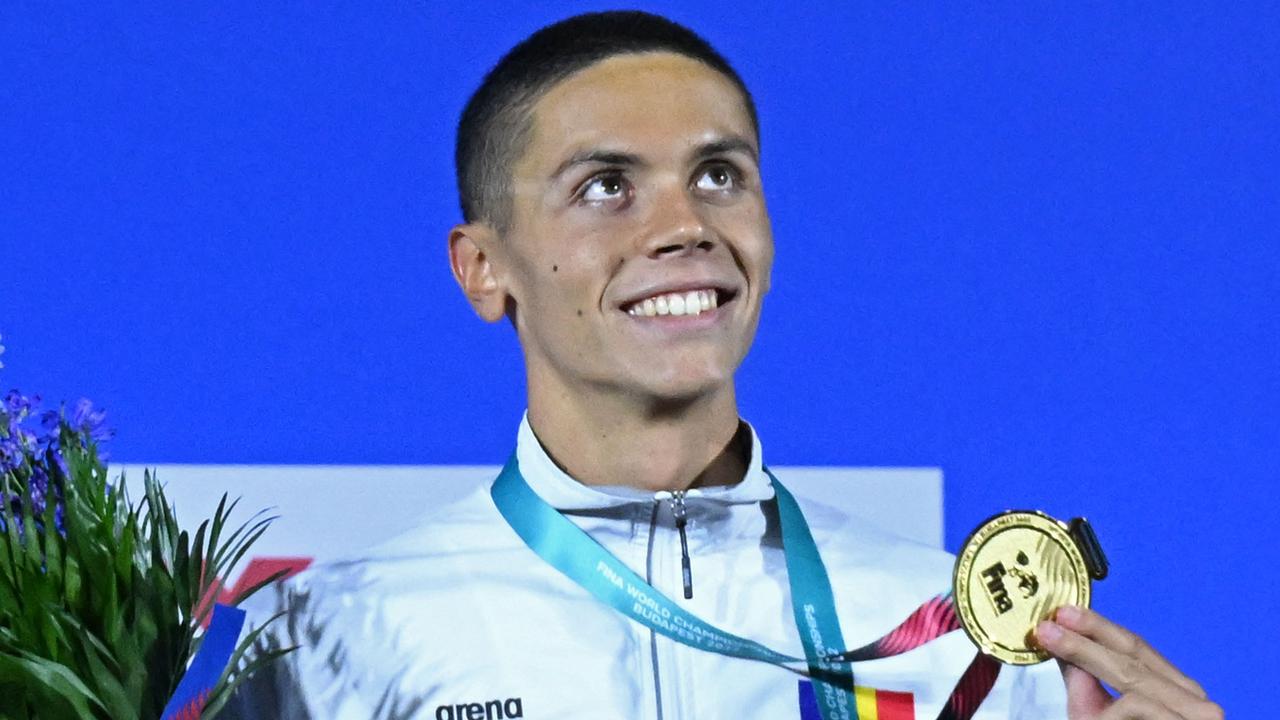 Romania's David Popovici is just 17 but already a double world champion. Picture: AFP
He's the first man to complete the prestigious 100m-200m double at the world titles since American Jim Montgomery did it way back in 1973 - but he is only just getting started.
One of the most exciting swimmers to surface in decades - his winning time of 47.58sec was well below his blistering world junior record of 47.13 in the semi finals but was exactly the same time Chalmers stopped the clock at when he won the Olympic gold at Rio as an 18 year old.
"That was the first thought that came to mind," Popovici told News Corp.
"It's not the best I can do but definitely still a fast time."
Tipped by experts to be the next big thing in swimming, Popovici told News Corp he is heading to Melbourne in for the world short-course championships to give Aussies their first look at the budding superstar.
SHOCK WITHDRAWAL
Popovici had been desperately hoping to test himself against Chalmers, who is in Budapest but didn't swim the 100m after recently undergoing surgery.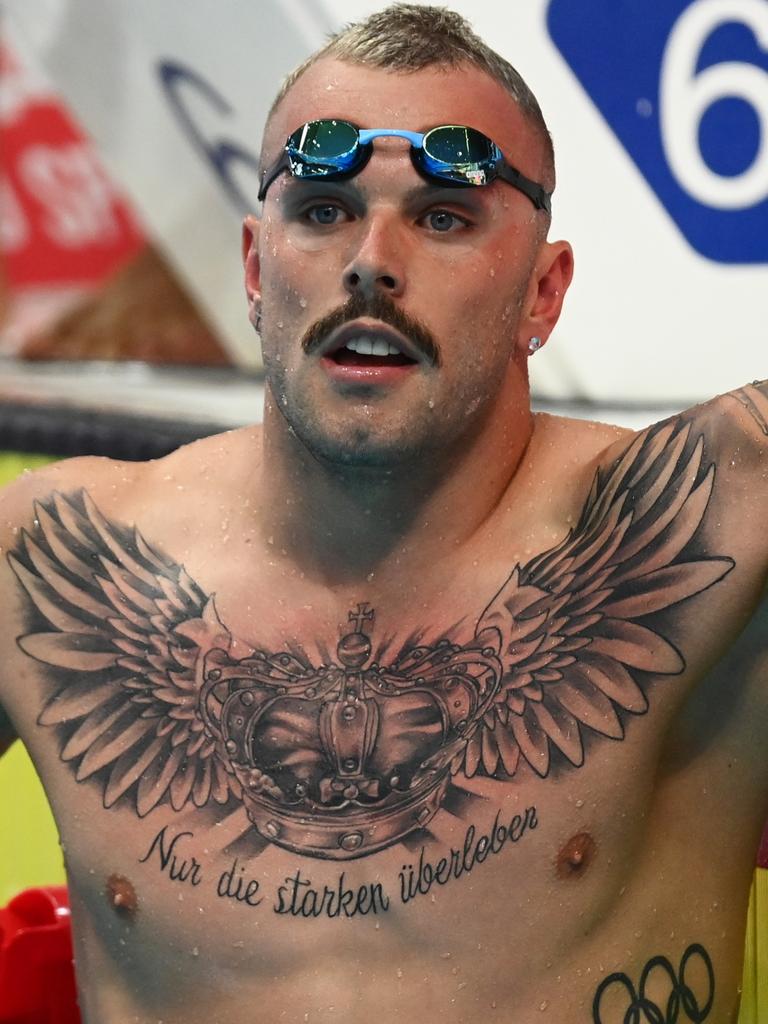 David Popovici was hoping to test himself against Kyle Chalmers. Picture: Getty Images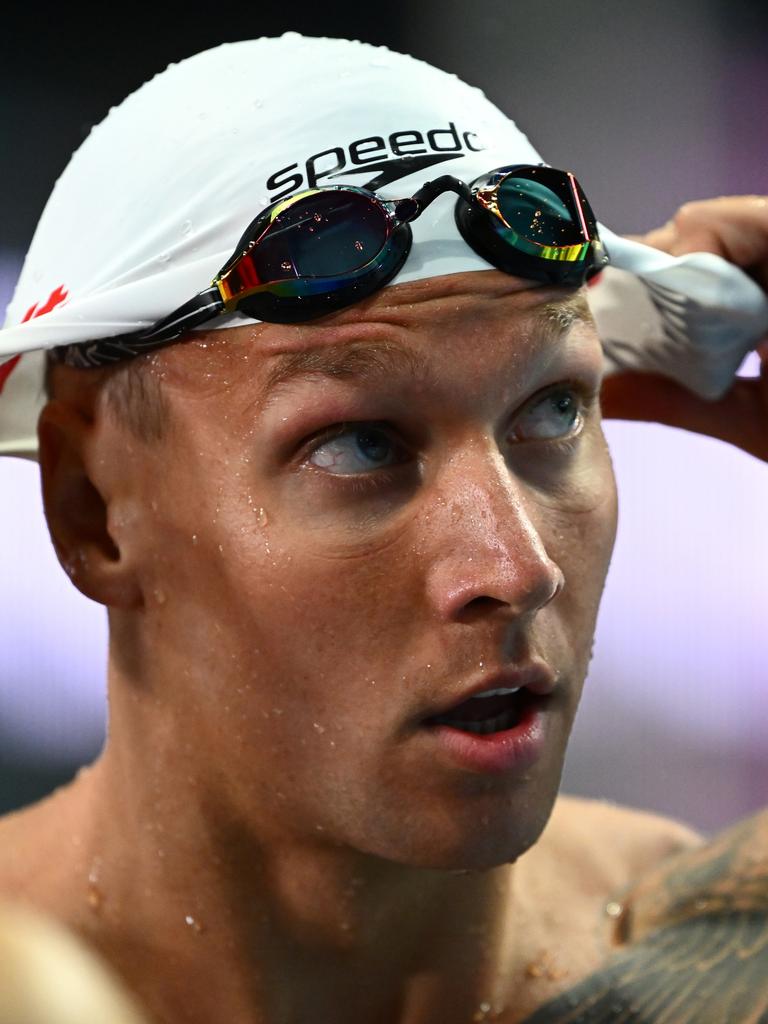 Caeleb Dressel was a shock withdrawal from the 100m freestyle, citing a mystery illness. Picture: Getty Images
The skinny eastern European who glides through the water at deceptively high speed also missed the chance to go up against America's Olympic champion Caeleb Dressel, swimming's alpha male.
Dressel won golds in the 4x100m freestyle relay and the individual 50m butterfly in Budapest and swam in the heats of the 100m freestyle before suddenly withdrawing, citing a mystery illness, with team officials revealing overnight that he was already on his way home to Florida.
"After conferring with Caeleb, his coaches and the medical staff, a decision has been made to withdraw him from the FINA World Championships in Budapest, Hungary," USA Swimming said.
"Our priority is and will always be the health of our athletes and we will continue to give Caeleb the assistance he needs to recover quickly."
Popovici said he was disappointed but could only beat who was in his race.
"It's sort of a shame that they weren't here," he said.
"I'm sure they have their reasons. Some medical, some not.
"I miss the presence of Kyle, Caeleb and (Russia's) Kliment (Kolesnikov). I can't wait to race against them. It's an honour in itself to race against them.
"It's also a better challenge and I like a bigger challenge. So we (Popovici and his coach) both sort of saw it as something that could have happened better in terms of who we would have liked to compete against all of them. But it is what it is."
RISING STAR
He may not even have his driver's licence but Popovici isn't close to being the youngest swimmer making waves at the world titles - and Australia's biggest stars - including Ariarne Titmus - better look out.
Canada's Summer McIntosh is living up to all the hype as the next big global star of women's swimming by claiming her first world title - at the tender age of just 15.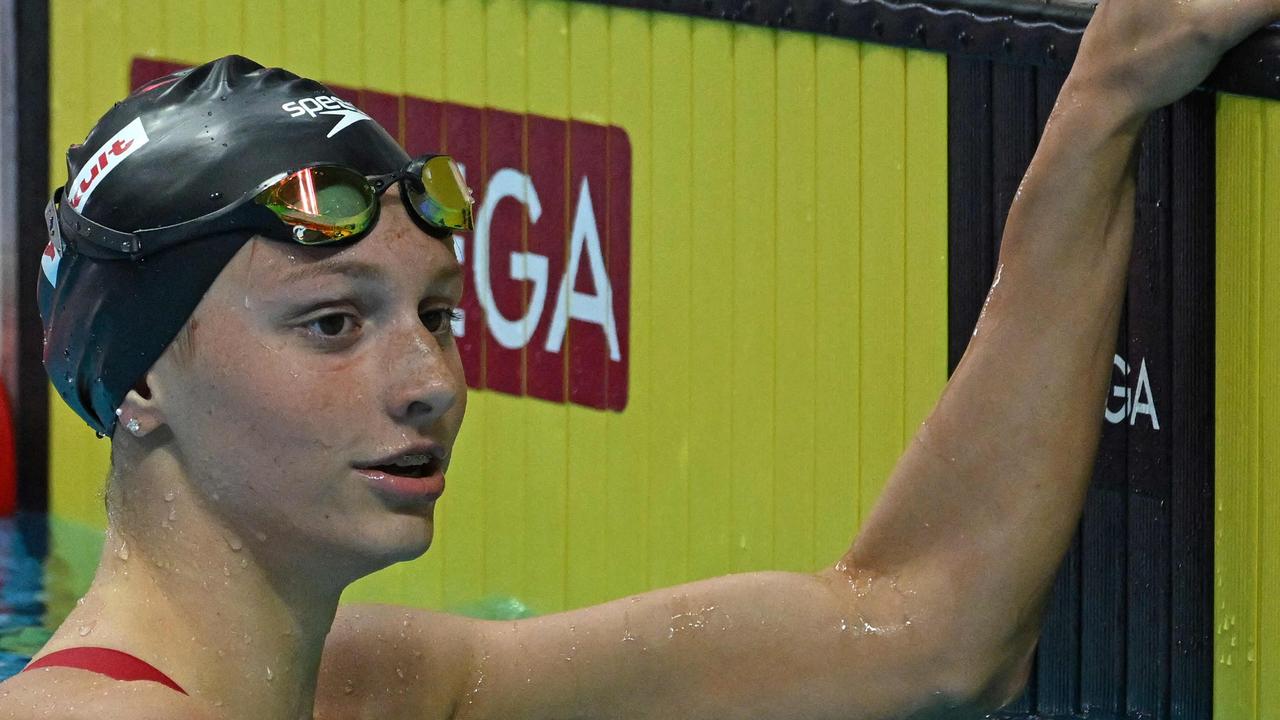 Canada's Summer McIntosh is only 15 years old but already a world champion. Picture: AFP
One of the most versatile swimmers going around, she won her maiden title in 200m butterfly - setting a junior world record in the process.
Then, an hour and a half later, she was back in the pool, swimming the lead off leg for Canada in the 4x200m freestyle relay.
Her time - 1:54.79 - broke the junior world record Australia's Mollie O'Callaghan set at last year's Olympics - and would also have won her the gold in the individual 200m freestyle final in Budapest, had she entered it.
"It means a lot," McIntosh said.
"It's one of my biggest dreams in the swimming world to become world champion and especially to do it in the 200 fly is something I've always wanted to do as it's one of my favourite events."
"I just literally gave it my all and did everything I could. I put in all my energy and all my focus and got to the wall and put my hand on the wall as fast as I possibly could."
Originally published as World Swimming Championships: All the latest results, times and news from Budapest