Eddie Jones was right to break up the Saracens clique – but has he backed himself into a corner?
England head coach Eddie Jones spotted club divisions forming in his squad – but can he continue to overlook Mark McCall's men? OWEN SLOT reports.
Eddie Jones has been wrestling with internal divisions in the England squad. Picture: David Rogers/Getty Images
When asked on Tuesday which players would be England's vice-captains in the forthcoming Six Nations Championship, Eddie Jones declined to give an answer. On one point we can be reasonably sure, though: the group will not be widely populated by Saracens.
Jones has been determined to depower the Saracens hegemony. Don't be confused into thinking that the selection policy has simply been a bit harsh on the odd Saracens player here and there; no, it is with intent that the England coach has weakened the influence of the Saracens players who remain within the squad too.
This is a fascinating situation. Even with the considerable blip of the salary cap scandal, Saracens have been the most successful club side in the Jones era. Even now, they are second in the Gallagher Premiership. The England captain is a Saracen. Senior players, like Maro Itoje and Jamie George, are Saracens too.
Let there be no doubt, if England are to win the World Cup, Jones's Saracens will play a major hand. Yet only when you read his new book, Leadership, do you understand the extent to which he wants to limit it.
Jones says that he let the Saracens influence on the team grow too strong and last too long, and he does not mince his words.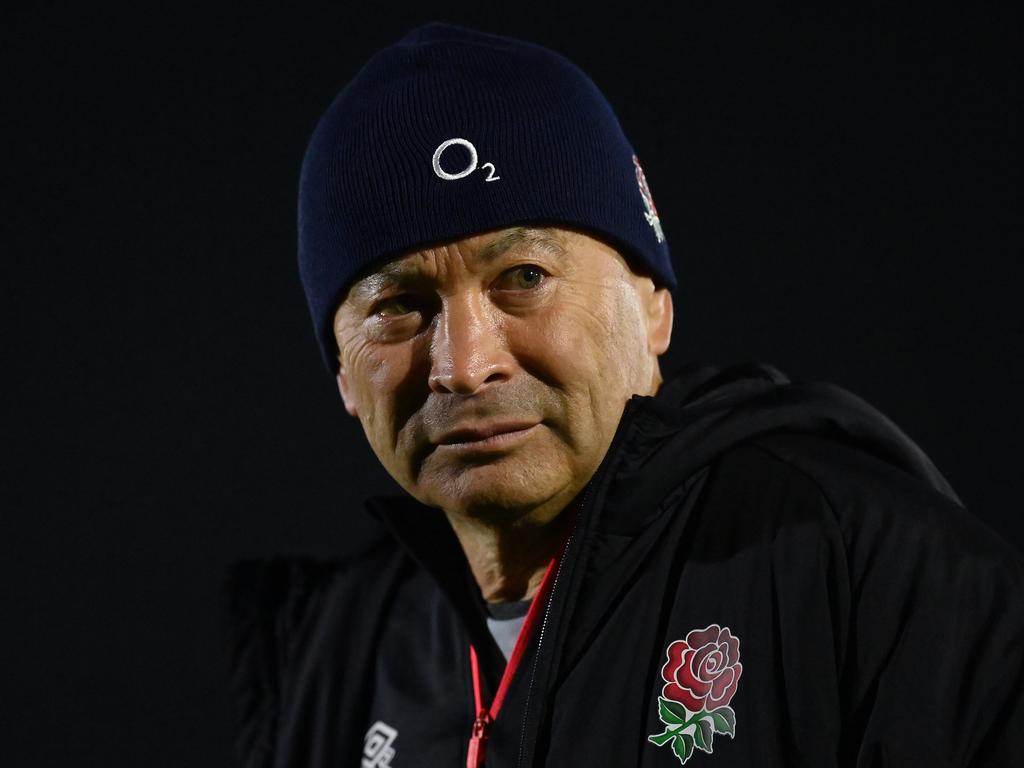 Jones has been determined to depower the Saracens hegemony in the England squad. Picture: Dan Mullan/The RFU Collection/Getty Images
He recalls the training camp in 2019 before the World Cup and how there were "complications", "conflicts", "divisions" and "resentments" and that "there was a clear anti-Saracens feeling in sectors of the squad." This sentiment, he said, resurfaced in 2021.
"It is always fascinating to establish who runs the leadership group amongst the players," he writes. "Saracens had ruled the hegemonic state of English rugby. They controlled everything."
After their relegation, though, he says that "the Saracens core had cracked completely, their power had dissolved. Our leadership group was rocked and we now need to repair the fractured chemistry or rebuild the entire entity."
It is rare to hear club divisions within an international side being discussed so explicitly and it is certainly unusual to hear Jones being so frank about his own team. When he says that the Saracens' power had dissolved, though, he makes it sound organic; yet it was his own concerted decision to dissolve it.
When he announced his squad for the autumn, both Vunipola brothers, Jamie George and Ben Earl were all omitted. So too Elliot Daly, though he was injured. George would earn a quick reprieve due to injuries at hooker.
The leadership group was the key. Where players like George, Maro Itoje and both Vunipolas had once had a seat, only Farrell remained. Jones went out of his way to share the power among different clubs: Courtney Lawes (Northampton Saints), Tom Curry (Sale Sharks), Ellis Genge (Leicester Tigers) and, if he hadn't been injured, Luke Cowan-Dickie (Exeter Chiefs).
This was clearly a popular decision among the broader squad, as Lawes explained in a recent interview in The Times. "We needed a change," he said, "because Saracens do things a very specific way and it doesn't necessarily suit everybody that comes from another club. Essentially, when you've got a group of people that all think the same way and want to do the same thing, you don't get anyone challenging or changing anything."
So well done Jones for changing it up. When he was asked if the change he had made had the effect he wanted in the autumn, he said "very much so" and complimented the new leadership group on how they had "built the spirit of the team."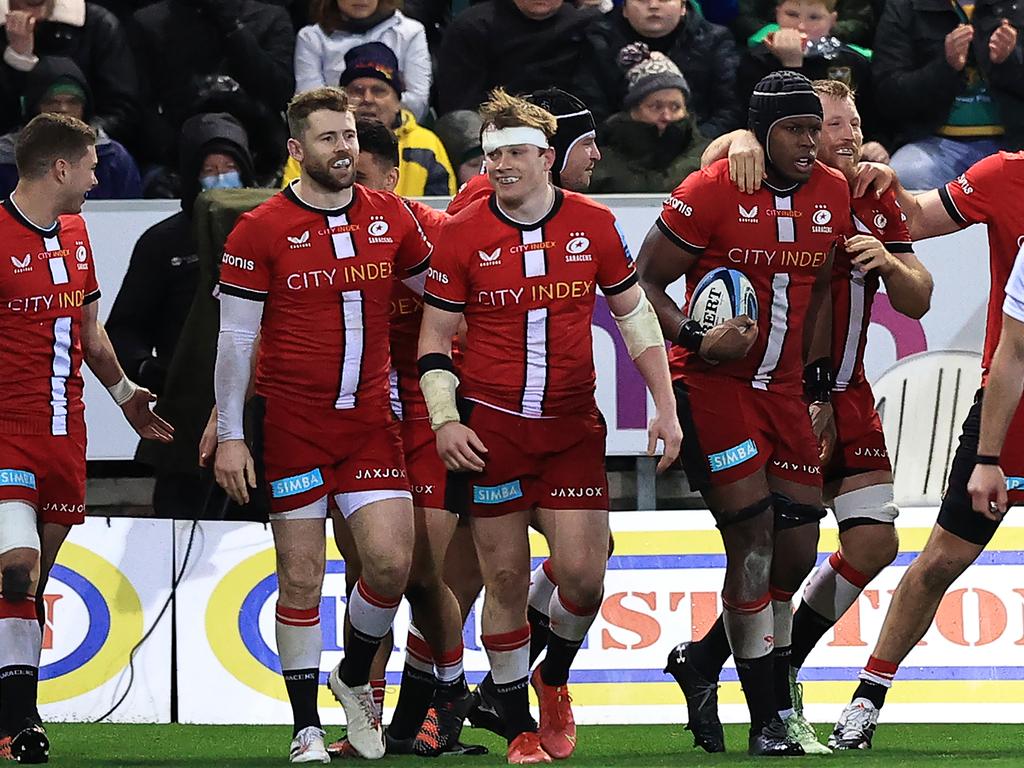 Jones says there had been division in the England squad and resentment towards Saracens players in particular. Picture: David Rogers/Getty Images
Nevertheless, this is all an intriguing insight into the psychological dynamics of the team. And though it has been dealt with now, the issue will still need managing.
By weakening the Saracens stronghold on his squad, has Jones ended what he called the "anti-Saracens feeling"? It is no secret that Exeter Chiefs players were not entirely delighted to lose three finals to them, especially when they discovered the salary cap-dodging that had played a part. Is that all gone?
Conversely, how is it for senior players like George to be relegated from their leadership positions? Can Jones ensure that he will not be diminishing their contribution?
At the same time, it had always seemed so logical to build the team around the Saracens core. Many winning World Cup teams have been based around one club. In this case, Saracens knew all about winning. In his determination to reconstruct his team, Jones is losing that.
For those Saracens now outside the squad, you wonder now if, because of Jones's new stance, it is particularly hard for them to break back in.
Saracens' Mako Vunipola was ommitted from the autumn squad. Picture: Adam Davy/PA Images /Getty Images
When the Vunipolas were omitted from the autumn squad, it was as if Jones was questioning their hunger and ambition and asking them for a response. Almost weekly, their Saracens coach Mark McCall tells us that they have done. This was him again yesterday: "The challenge was laid down and I think they've responded brilliantly. Week in week out, both of them have been really really good."
Some of the decision-making here remains baffling. Mako Vunipola was a three-Test British & Irish Lion in the summer; it seems inconceivable that Jones will not bring him back at some point. Earl, in whom Jones invested 13 caps' experience, has been consistently good though he, like Billy Vunipola, is in the battle for back-row spots, which is extremely competitive. Unlike Billy Vunipola, his form never dropped significantly; it seemed that he was building towards a good international career.
Either way, Jones's attitude towards the Saracens players seems to have a major impact on the success of the England team — whether he eventually thaws or if he keeps them frozen out.