'Kick up the arse': Rob Valetini forced to find his edge to become an elite rugby union player
Brumbies back-rower Rob Valetini was a teen sensation who struggled to go to the next level. But pure honesty from his mentors has transformed him into one of the best in the game, writes CHRISTY DORAN.
After years of promise, Rob Valetini is finally living up to his potential. Picture: Graham Denholm/Getty Images
Two years ago, Brumbies coach Dan McKellar sat Rob Valetini down and showed him clips of the late Jerry Collins.
McKellar, like anyone who had watched Valetini play in the National Rugby Championship and seen the teen with the afro dominate the competition, knew what Valetini was capable of on the rugby field.
Except, the one person who did not fully recognise that - or at least how to physically exert himself on the big stage - was Valetini.
Perhaps it was because Valetini was not a forward as a child. He instead stuck to the wing as the youngest of six boys and one of nine children.
"I used to just look at the big boys," he says.
"My brothers always told me to watch the No.6 or No.8 because I'm the only forward in my family.
"It was only my dad that was a back-rower and the rest of my brothers were all backs.
"But I was a back growing up, I was a winger.
"Then a holiday came along and I was stuck on the PS3 for a while and I got chubby and moved to the forwards."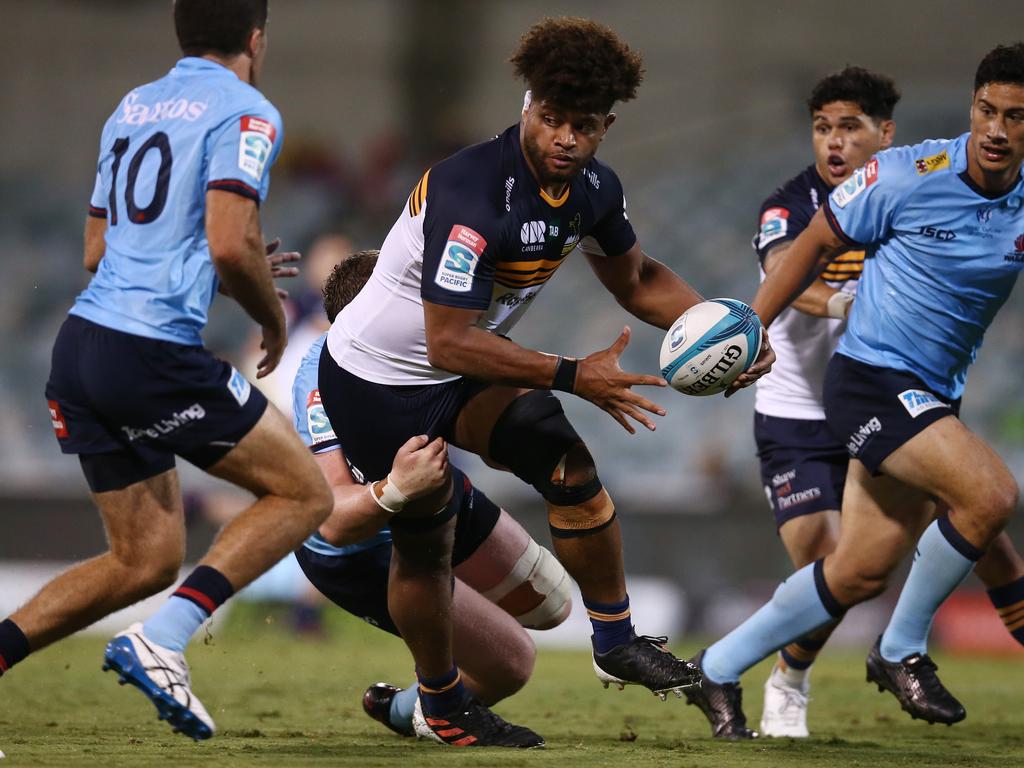 Valetini hasn't always been the rampaging forward he is today. Picture: Jason McCawley/Getty Images
Yet, for three years Valetini coasted through Super Rugby.
Some of the most astute minds in the game, including former Wallaby Rod Kafer, weren't sure the back-rower would turn out to be the player many expected.
The hard edge was missing, so too the physicality and, importantly, post-contact metres.
Any desire to one day emulate his idol, two-time World Cup-winning All Black and one of rugby's hardest hitters Jerome Kaino seemed like a long bow.
Nonetheless, Valetini earned his Test debut against Samoa under Michael Cheika in the Wallabies' final match before the World Cup. Yet few, including Cheika, had him in the conversation for the wider World Cup squad.
For McKellar, who took over the Brumbies from Stephen Larkham in 2018 and will join the Wallabies as the national forwards coach from a full-time basis next month, it was something he needed to rectify having lured him to Canberra from Melbourne in 2017.
"I remember sitting down with him probably 18 months ago and I showed him clips of Jerry Collins and said, 'You can have the same presence in a game as Jerry did'," McKellar says ahead of the Brumbies' semi-final showdown with the Blues on Saturday at Eden Park.
"He (Collins) was physically one of the toughest blokes. And I told him he had that same potential, so we went through a series of clips."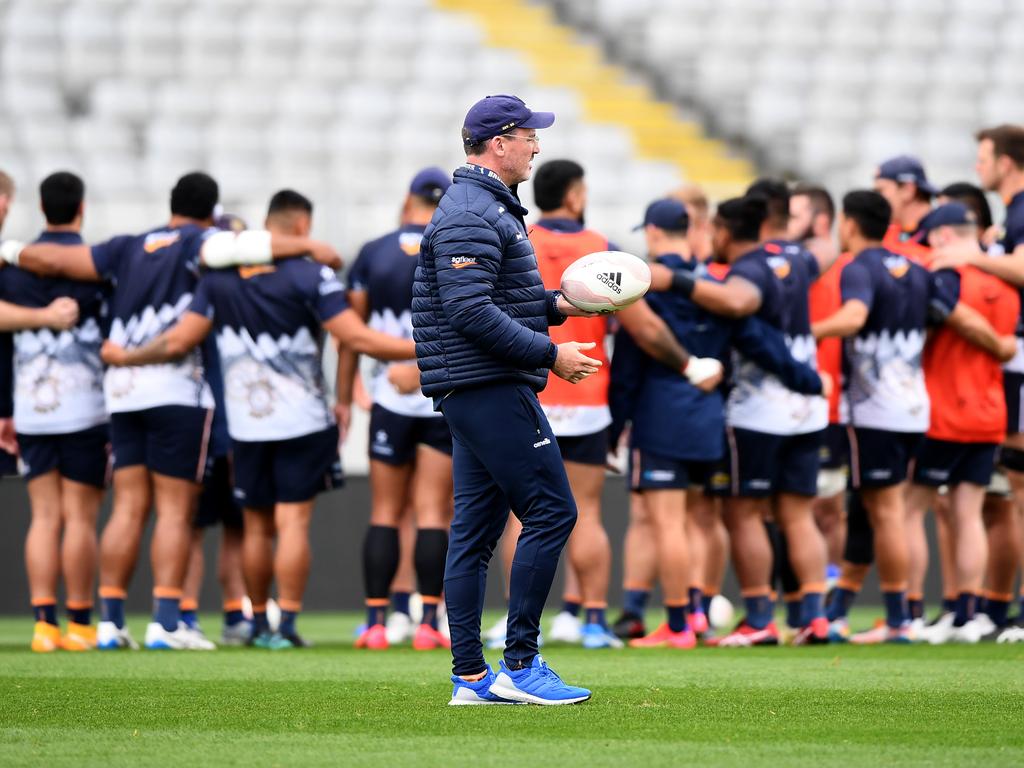 McKellar was determined to find a way to unlock Valetini's potential. Picture: Hannah Peters/Getty Images
Nor was it the only conversation between the duo.
"We had another conversation at the end of 2020 where we do our IDP meetings - individual development playing meetings - and the conversation with him was the ball's in your court now," McKellar says.
"It comes down to how you want to train.
"If you want to train well every second day or every second week you'll only play well every second game and he obviously took the feedback on board, and I think the other thing is he was getting the same message from the Wallaby group as well.
"There's no mixed messages there, and it's the beauty we have now and the connection between the (Super Rugby) franchises and the national team and the players benefiting from it off the back of it."
McKellar, as well as Brumbies assistant 'Lord' Laurie Fisher, demanded Valetini become more vocal during training ahead of the 2021 season.
Fisher, whose no frills approach has helped the Brumbies become the most consistent side over the past decade despite not being able to lift a trophy with credibility since 2004, says Valetini needed to demand the ball and "up his comms" to fulfil his potential.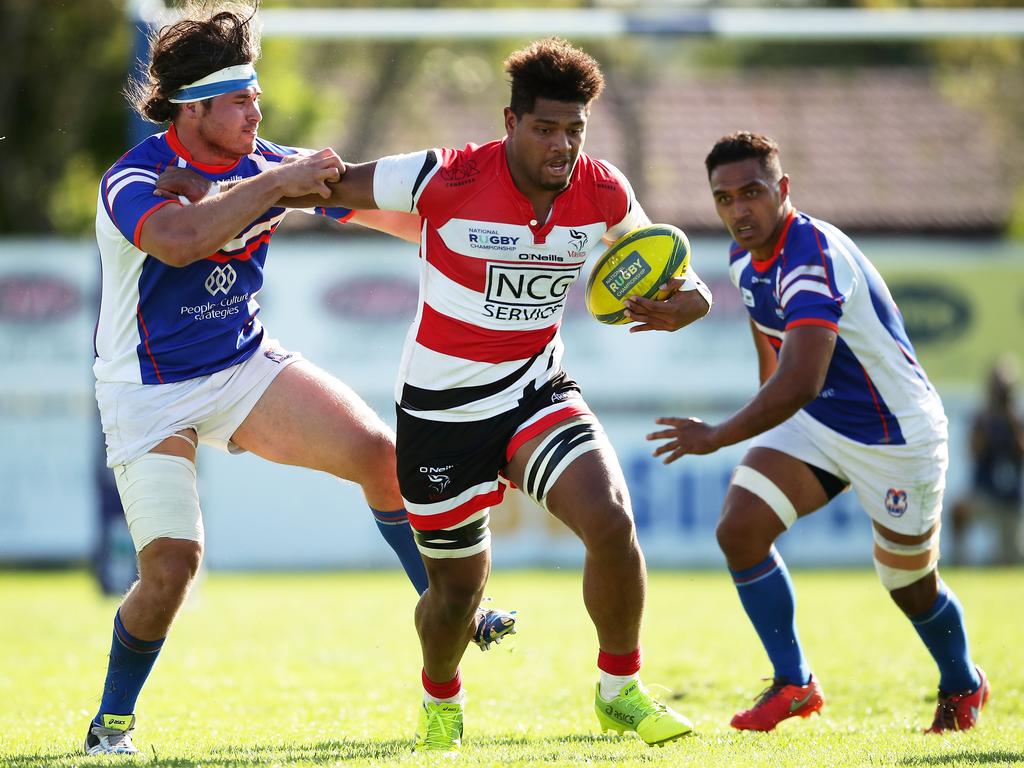 Valetini turned heads as a teenager in the NRC. Picture: Matt King/Getty Images
The "kick up the arse" was telling, with Valetini emerging as the most dominant Australian player in Super Rugby over the past two years.
"They would just say my work-rate wasn't good enough," says Valetini, when asked what changed in his game.
"Throughout the 2020 (Wallabies) camp I was just getting better and getting more comfortable with the environment as well.
"Then I just found my feet at the back-end of that camp, where I was training a lot better and probably getting fitter from training.
"I got a couple of shots with Australia A.
"I had a talk with one of the coaches and he said my work-rate had improved and that I had been training better, so they gave me a crack off the bench in the last two games against Argentina that year.
"We had a chat after and they said I had made some big shifts in my game and I took some confidence out of that over the break and that helped me through pre-season and I kicked on."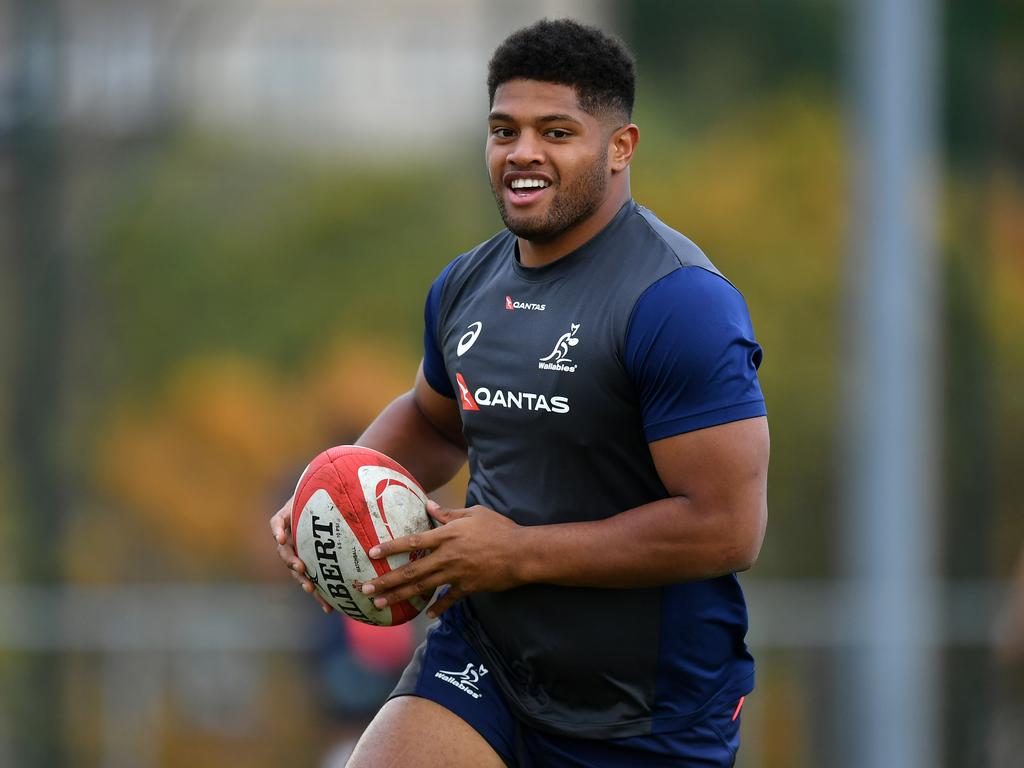 He quickly was elevated to the Wallabies squad for his international debut. Picture: Dan Mullan/Getty Images
Despite the Brumbies' struggles during last year's Super Rugby trans-Tasman crossover, Valetini was the one shining light out of a frustrating five-match crossover.
Once again, the 23-year-old set the tone for the Brumbies this year as he led the Brumbies to three-straight victories against New Zealand opposition, including across the ditch against the Chiefs where he picked up a hamstring injury.
Showcasing his importance to the Brumbies, McKellar's side lost their next three matches of the regular season without the back-rower before bouncing back to beat the Hurricanes in the quarter-final.
McKellar says it's "chalk and cheese" between the Valetini of today and the one in 2020 and highlighted his first training session back ahead of the quarter-final as an example of his stunning transformation from run-of-the-mill forward to one of the world's most feared back-rowers.
"It's maturity, and with that maturity he understands what being a good professional looks like now," McKellar says.
"As we've said many times, it comes down to his training. Last Thursday he trained with us, it was his first session back, and he was probably the best trainer on the field.
"When he's carrying the ball at training, he's not carrying it in at 50 per cent or three-quarter pace, he's running like he would in the game.
"The contact level isn't game-like, we train pretty physically, but he's demanding of himself high standards every day and there's no doubt that contributes to his performances on the weekend."
The Brumbies are a much better side when Valetini is on the park. Picture: Hannah Peters/Getty Images
In other words, Valetini is not content just being a regular Wallaby.
"I saw that last Thursday, to be honest, it was just obvious," McKellar says.
"Hungry and he probably had the shits he wasn't playing in a big game.
"Again it comes back to that maturity. When you've got that confidence and belief in yourself as a person and a footballer, it's a pretty dangerous combination."
Valetini doesn't want to be just a regular Wallaby either, he wants to be a great one.
"I think my parents had something from when I was back in school," he said.
"I think I wrote down that I wanted to be a Wallaby or the best rugby player I can be. I think, for me, I just want to be the best player I can be whether that's a great Wallaby or a Wallaby, but I have ambitions to be a great Wallaby.
"I want to be the best in the world in my position. It's an ambition of mine and something I'm striving for and, I guess, if I have that goal I can be hard on myself and I think these coaches will help me get there. It all starts with the Brums."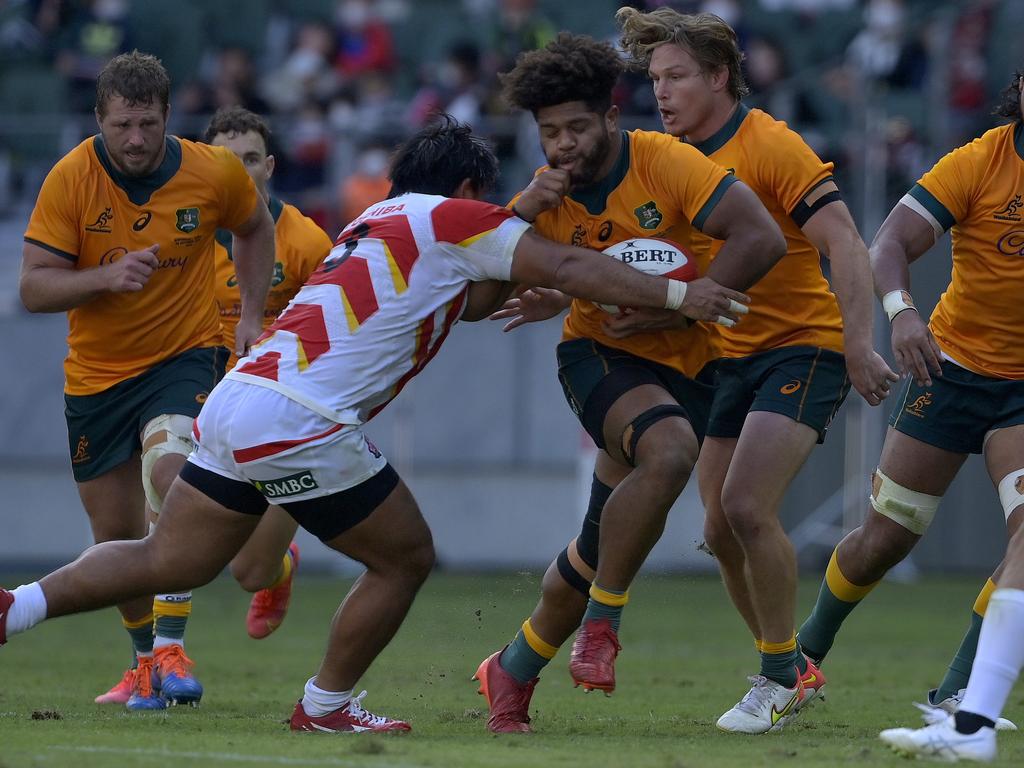 Despite being a regular for the Wallabies, Valetini is far from satisfied. Picture: Koki Nagahama/Getty Images
He says playing for his family is what has helped elevate his game.
"A big motivating factor for me is my family," he says.
"I remember when we were younger we'd watch games on Saturday after club rugby and it'd be the All Blacks v France, or the Wallabies, so I guess when I first made my debut for Brums I had that picture in the back of my mind that they'd be watching back home.
"Putting a smile on my parents' face or brothers and sisters, and knowing my family is proud of me has always been a motivating factor."
Valetini not only shapes as the key against Beauden Barrett's Blues.
The back-rower sets the tone for the Wallabies and his physicality will be needed to match the Blues, who are on a 14-match unbeaten streak, and are heavy favourites at Eden Park.
But it's not just the Super Rugby finals where Valetini represents the key.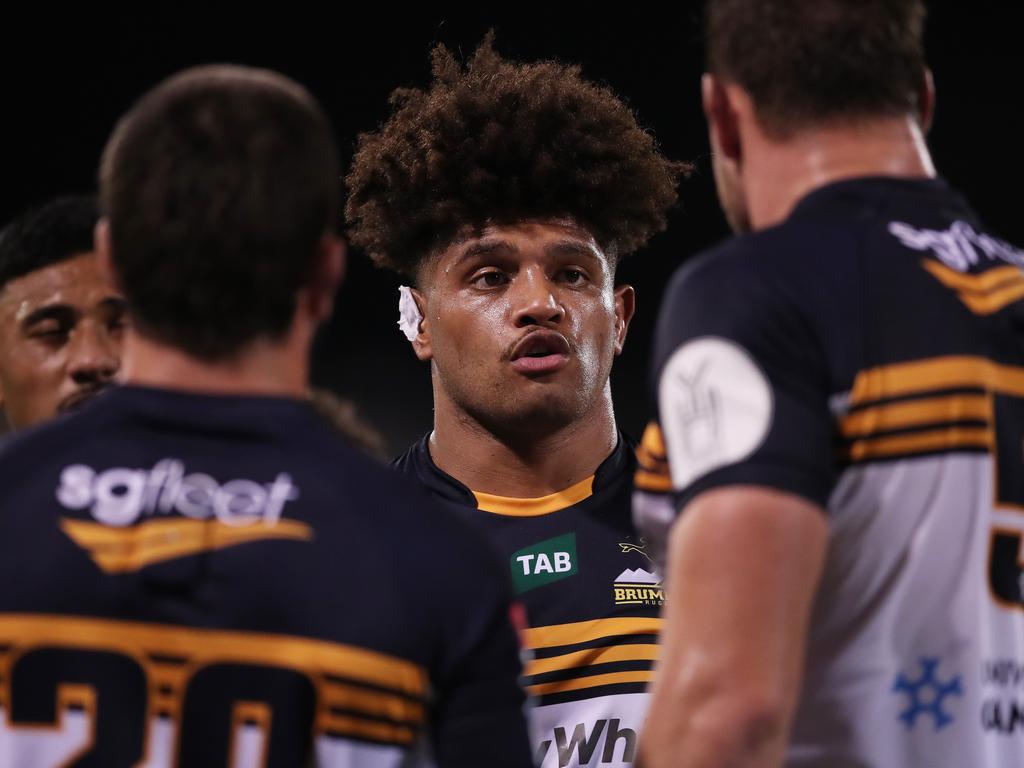 Valetini is now an integral member of whichever team he plays for. Picture: Matt King/Getty Images
His motor and leg drive will be needed against England, who are unbeaten under Eddie Jones against the Wallabies since the Australian took over.
"It is a big series," Valetini says.
"I'm feeling quite confident. I think the group we have here is up to it.
"I think there's a lot more aggression in defence and attack from the players this year than last year.
"I just think come camp time the boys will be ready. And Aussie versus England, what's bigger than that?"