Raelene Castle reflects on her time as CEO during Australian rugby's most turbulent era
Raelene Castle has reflected on a historic yet bruising tenure in Australian sport after rising again to tackle a key administrative role in New Zealand.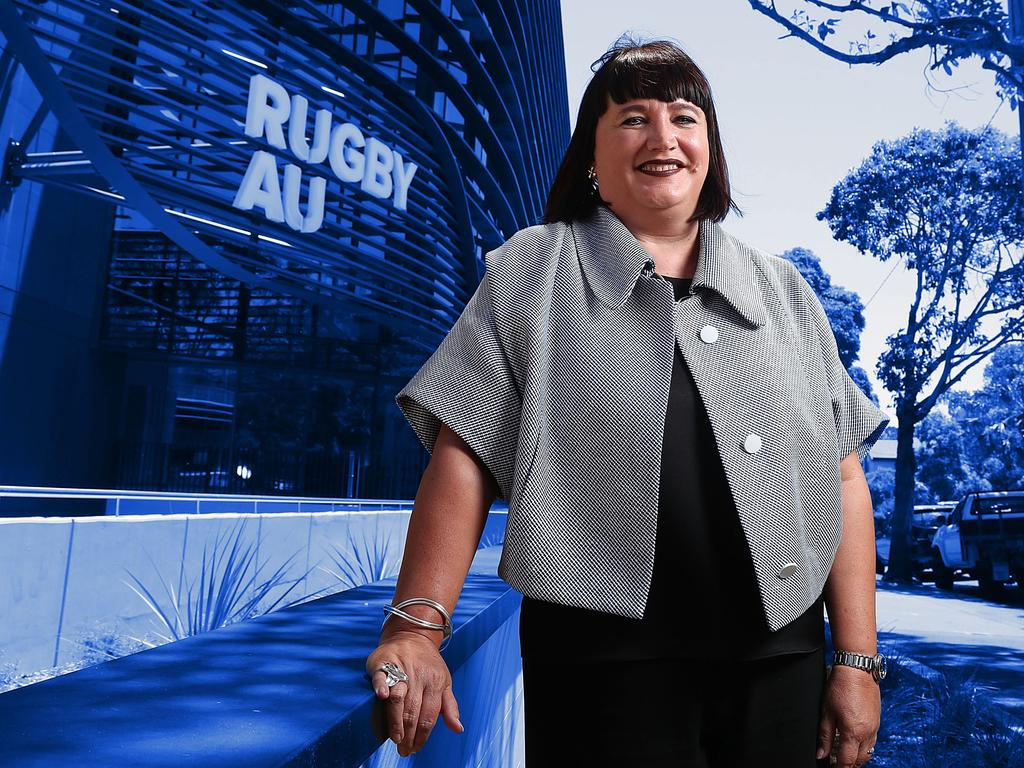 Castle's withering critique of Australian sport
Raelene Castle chooses her words carefully.
The wounds from her time as head of Rugby Australia have scabbed over, turned to scars, and she's in no mood to rip them open. So when I ask her what the difference is, politically, between sport in Australia and in New Zealand, she pauses before delivering a withering critique.
"The political landscape in New Zealand is more straightforward," she says. "People come through the front door and tell you what they think and then you can have a debate about that."
The implication is clear, especially when she goes on to say that all 11 of the former Wallabies who signed a letter asking for her to be sacked were given the chance to meet with her. "I made it clear my door was open to them; not one of them took me up on the offer."
We meet during Auckland's level three lockdown where coffee is ordered from the footpath and we walk to a nearby park so we are seated outside, and socially distanced. "I'm great," she says. "But lockdown is a drag." This is the Covid stain on all conversations but Castle is upbeat about being home and the challenge of her new job, despite walking into it at the peak of a pandemic.
She is used to being in a maelstrom as she had hefty issues to deal with at Rugby Australia, not least the saga around Israel Folau and his anti-gay social media rants. She was also constantly battling snipers – Aussie rugby's old boys network, full of private school lads who had always controlled the game and resented having a woman, and even worse a Kiwi woman, at the helm of 'their' game.
"Sometimes being different and coming at things from a different angle makes people uncomfortable," Castle says. Those differences could include a person's race, gender or sexuality, but regardless of what they are, some struggle with it.
"And they want to go back to an environment they feel safe with."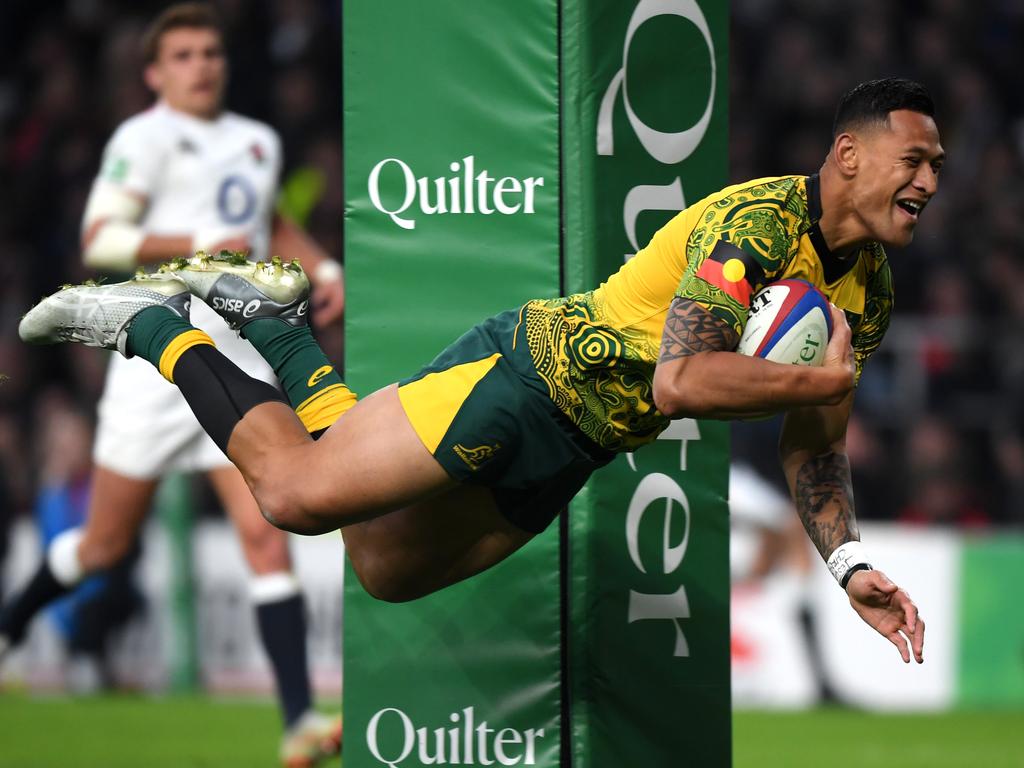 The homophobia saga surrounding Folau was one of the most divisive issues of Raelene Castle's time as CEO of Rugby Australia. Picture: Shaun Botterill/Getty Images
Wins and losses at Rugby Australia
Castle's time at Rugby Australia was tumultuous. She not only had to deal with Folau and the expensive legal fallout, but she also turned down Fox Sports' initial broadcast deal, opting instead to go to the market.
It left the game in Australia in a perilous position financially though she wasn't helped by the Covid pandemic-enforced shut down. A possible new broadcast offer from Optus Sports was pulled due to the Covid-19 outbreak, according to reports at the time.
Castle accepts she made mistakes in Australia, but it wasn't all bad. She was the one who employed Dave Rennie as Wallabies coach, an appointment that is being lauded now, even by some of her staunchest critics.
The often turbulent times at Rugby Australia have left her wary but still an optimistic person by nature. And she's quick to point out that those she worked with at Rugby Australia, and in the states and territories, were superb to work with. Again, the implication is left hanging out there that it was those not directly involved in the game, and in particular former Wallabies coach turned broadcaster Alan Jones, who worked against her.
"I'll leave all of that for the book," she says, maybe joking.
What's certain is that she is happy being back in New Zealand.
"I wouldn't change a thing from my time in Australia. Wouldn't change it for the world. Greg (Jones, her partner) and I made some great friends, we had wonderful experiences and I worked with some world class people. It was, by far and away, a positive experience."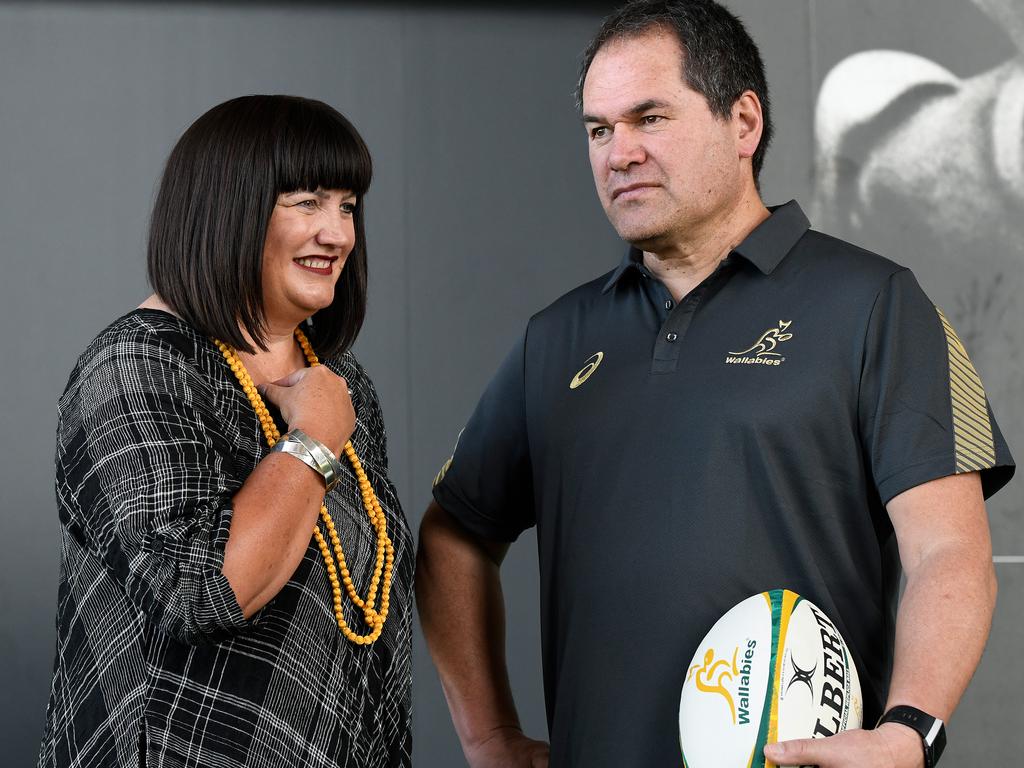 Raelene Castle was responsible for appointing Dave Rennie as head coach of the Wallabies, a move lauded even by her critics. Picture: Bianca De Marchi/AAP Image
But it has left her scarred. She needed time to process her abrupt departure from Rugby Australia especially as a three month trip to Italy to put it all behind her was scuppered by Covid's lockdowns and travel restrictions.
Just as her time at Rugby Australia was cut short, so too was her time away from the limelight. Castle is head of Sport NZ which looks after the grassroots, participation and recreation side of sport in New Zealand, but she also heads High Performance Sport New Zealand, which focuses on the elite.
It wasn't a role she'd had her eye on, but when long-time CEO Peter Miskimmin resigned she had plenty of friends encouraging her to apply. It makes the 50-year-old arguably the most powerful person in sport in New Zealand – and she is the first woman in the role.
It's become a bit of a trend, that first woman thing, as she was the first woman to lead an NRL club and Rugby Australia. "I never set out to be the first woman in those roles, that's not why I applied, but someone has to be first and if I can inspire other women to come into those positions, then that's great."
It's a case of having to see it, to believe it, and Castle says she has had a steady stream of women thanking her for smashing some of sport's glass ceilings.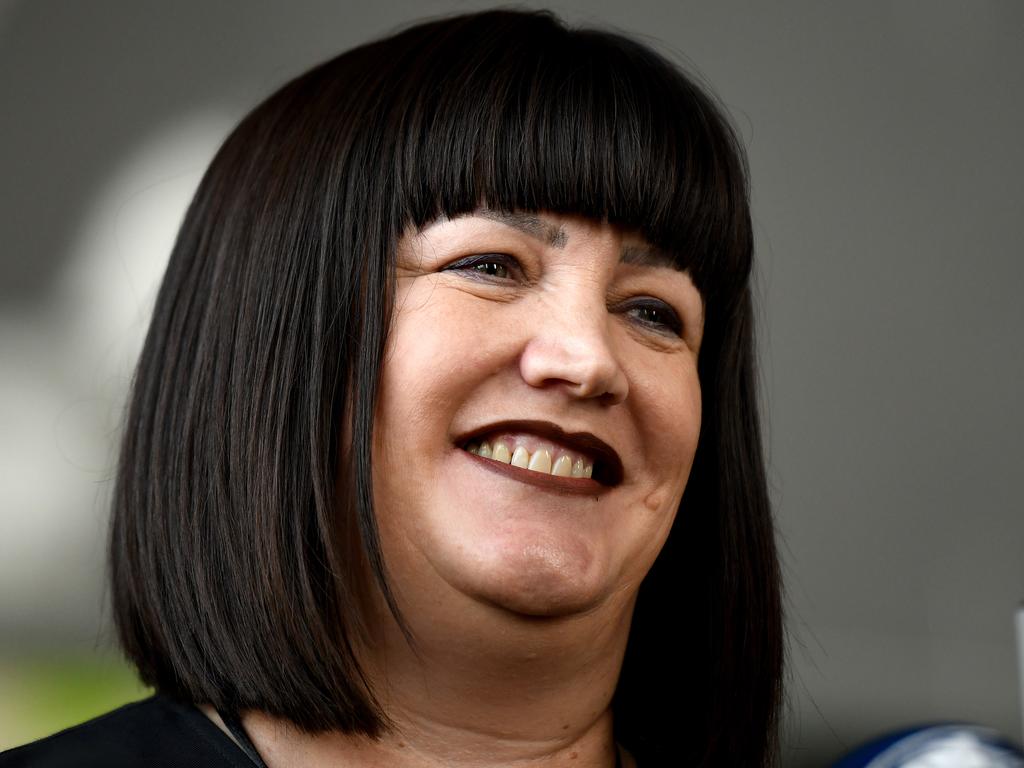 Raelene Castle has broken down barriers for female administrators at professional sporting clubs like the Canterbury-Bankstown Bulldogs. Picture: Bianca De Marchi/AAP Image
'I'm proud to be back in New Zealand'
She has a few more big challenges ahead of her, most of which have no easy answers. New Zealand sport, like sport around the world, has been rocked by accusations of misogyny and sexual misconduct by coaches and managers.
The sad case of cyclist Olivia Podmore's suicide also highlighted the pressure some athletes are under, their struggles to cope with that pressure, and the levels of support they have access to.
"Mental health is a societal issue that New Zealand is struggling with," Castle says. "We have one of the highest suicide rates in the world."
"Sport does more good for young people's mental health than harm, but at a high performance level we need an environment where people feel safe to ask for help and when asking for that help it won't affect their selection."
Funding is also a constant issue in New Zealand. The system rewards success, especially Olympic success so sports like rowing, equestrian, cycling and yachting have traditionally done well. More recently, off the back of the incredible Lisa Carrington, kayaking has also benefited and there are individuals like the hugely successful shot putter, Dame Valerie Adams, who have been well funded.
But other sports cry foul, especially those like basketball who can point to an explosion in playing numbers, but are poorly funded at an elite level. Change is coming and one important step is that funding will now be over four years, rather than one, so athletes and sports have more certainty and dips in form aren't as potentially financially crippling.
New Zealand has achieved immense success at the last few Olympics, picking up seven gold medals at Tokyo 2020, including Lisa Carrington's win in the K1 500m. Picture: Naomi Baker/Getty Images
But Castle also accepts that, in some cases, success has to be measured in ways that are different to just winning. That's especially the case when evaluating performances in truly global sports, like basketball, football, athletics and swimming, compared to sports where New Zealand are big fish in much smaller pools.
But Castle also points out that the existing model works. For the fifth time in as many Olympics New Zealand has increased it's medal tally (ahead of Australia on a per capita basis in Tokyo) and will send the biggest team ever to the Winter Olympics, with three strong medal prospects. "The system continues to produce champions which is incredible when you look at the size of our country."
It is, she says, testament to the dedication and sacrifices of the athletes but also shows the quality of New Zealand's coaching, and strength and conditioning training.
Castle is the daughter of two New Zealand sporting stars – her dad, Bruce, captained the Kiwis league team and mum, Marlene, represented New Zealand in bowls at four Commonwealth Games.
And while she talked warmly of her seven years time in Australia, she is also effusive about being back home. "I'm proud to be back in New Zealand and really proud that we are doing a lot of work with gender equality and our cultural focus. Our heritage adds value to who we are as a country."
Castle says the smallness of New Zealand means we have to work together. "You can't just burn bridges because there are repercussions and you can't just move to another state and find another job that way. It's why we have front-on conversations."
And there it is, again.