Rugby 2022: Cook Cup dumped for Mark Ella as Rugby Australia and RFU drop controversial figure
Mark Ella has largely been a recluse since his stunning retirement in 1984. But he has returned to rugby's spotlight after a major move to distance a trophy from a controversial explorer.
Gone is the Cook Cup and any further association with the controversial explorer who is despised by many Indigenous Australians.
Instead, Rugby Australia and the Rugby Football Union have renamed the trophy to be played for between the Wallabies and England after the nation's greatest Indigenous player, Mark Ella, and British war hero Edgar Mobbs.
For 25 years, Australia and England have contested rugby Test matches for the Cook Cup named after Captain James Cook, but that trophy was officially retired on Friday and the new Ella-Mobbs trophy will be unveiled in Perth before the first Test next week.
Ella, who retired at the peak of his powers aged just 25 and has largely been a recluse since, said he understood why the change was made.
"I understand the connotations, it certainly didn't upset me," Ella said.
"To be fair, it's probably been around a long time, 25 years, and I think now is probably the time to recognise the rivalry between the RFU and Rugby Australia and what it means.
Mark Ella at the launch of the Ella-Mobbs Cup at Coogee Oval. Picture: Matt King/Getty Images
"I guess having two former players as part of the new Ella-Mobbs Cup is the way it should be."
Cook has become a symbol of British colonialism for many, and last month a giant eight-metre statue of him in Cairns was pulled down — though it may be erected again in another location — while the petition to change Australia Day grows stronger each year.
Mobbs played in the very first Test match between Australia and England in 1909, and was killed in action during the First World War in 1916 during the Third Battle of Ypres.
For Ella, the name on the trophy is bigger than himself.
"There's no way I could say Mark Ella deserved it, in fact I'm probably representing the Indigenous population," he said.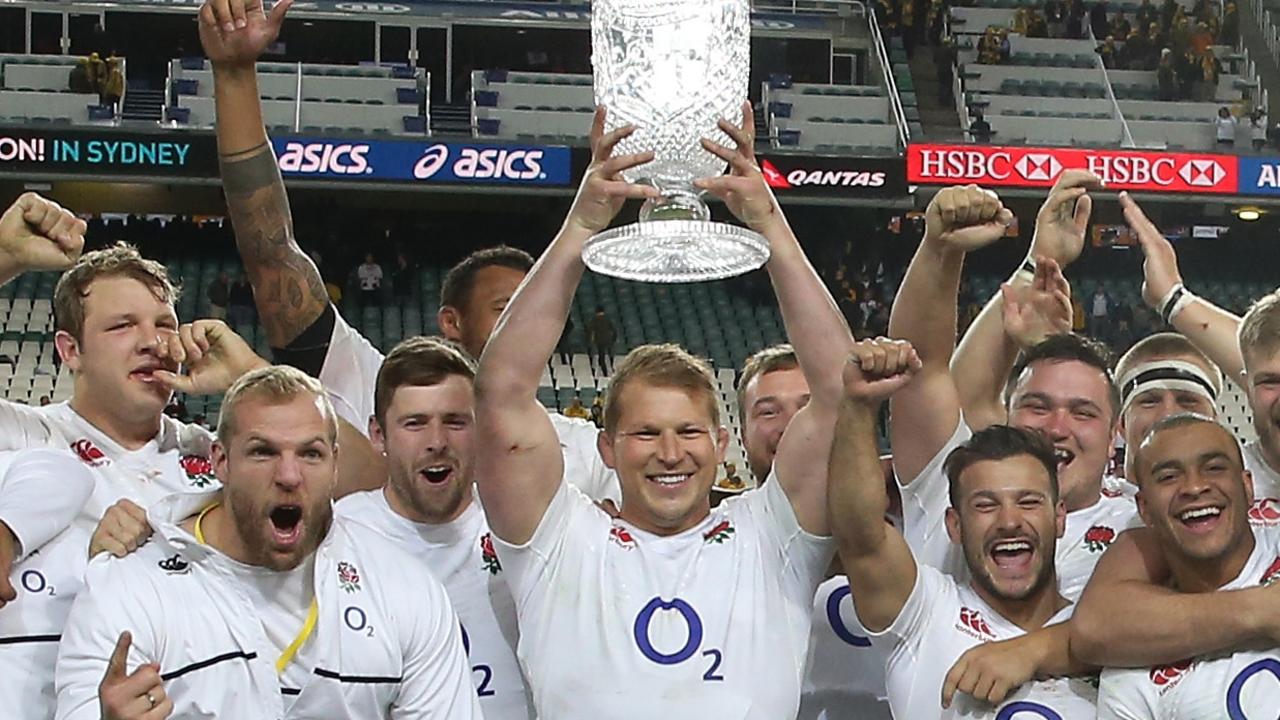 Dylan Hartley, the England captain, lifts the Cook Cup after beating Australia in Sydney in 2016.
"We've had many Indigenous players over the years, with the latest being Kurtley Beale. We're proud of what we've achieved within rugby, I'm hoping there's many more to come.
"It means a lot to me and my family.
"I'm honoured the cup is now in our name.
"Rugby Australia first told me they were [considering] this and what was my opinion, I didn't really give an opinion, I was out of rugby for a long time.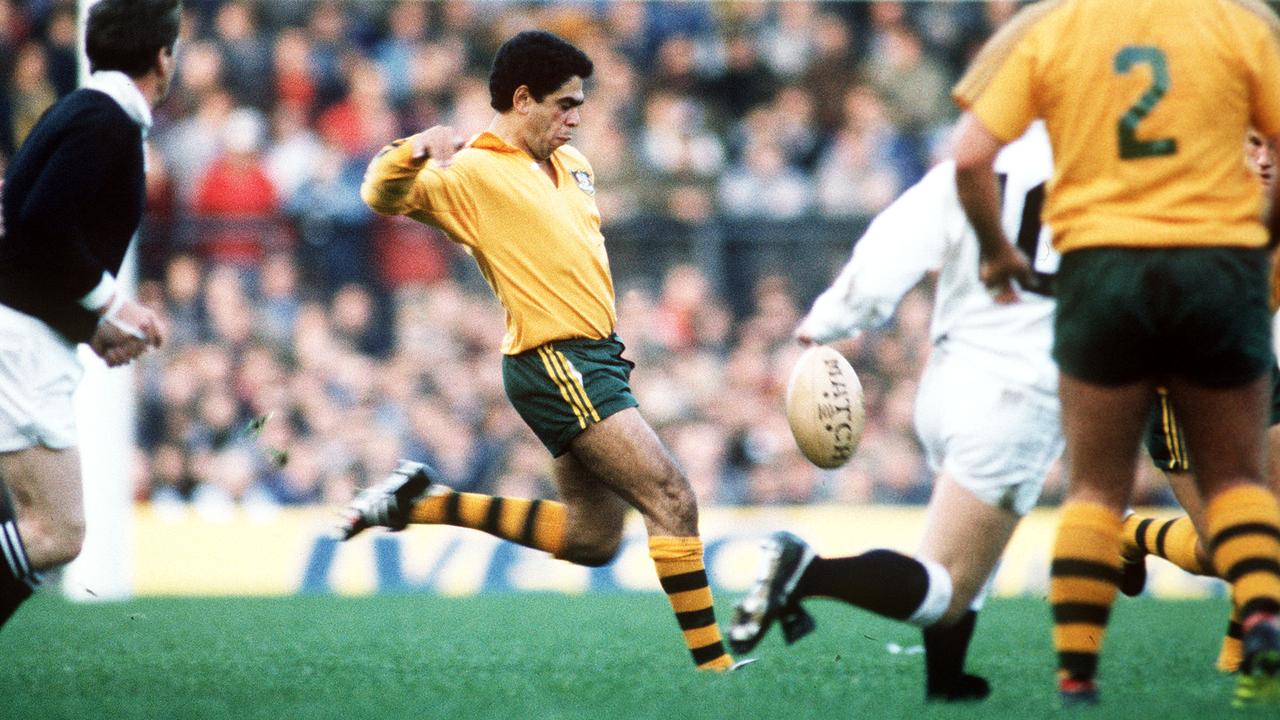 Ella in action during the match between England and Australia at Twickenham in London in 1984. Picture: Mike Powell/Allsport
"I was obviously aware of the Cook Cup. It has taken a while and taken a bit of persuasion from Rugby Australia to get me interested, I must admit, as much as rugby was a part of my life, as you get older you move on.
"So it's great to be back within the circle of rugby."
Ella welcomed RA's initiatives to be more inclusive of Indigenous people, including the introduction of a specially designed national jersey, and Wallaby players singing the national anthem in the Eora language.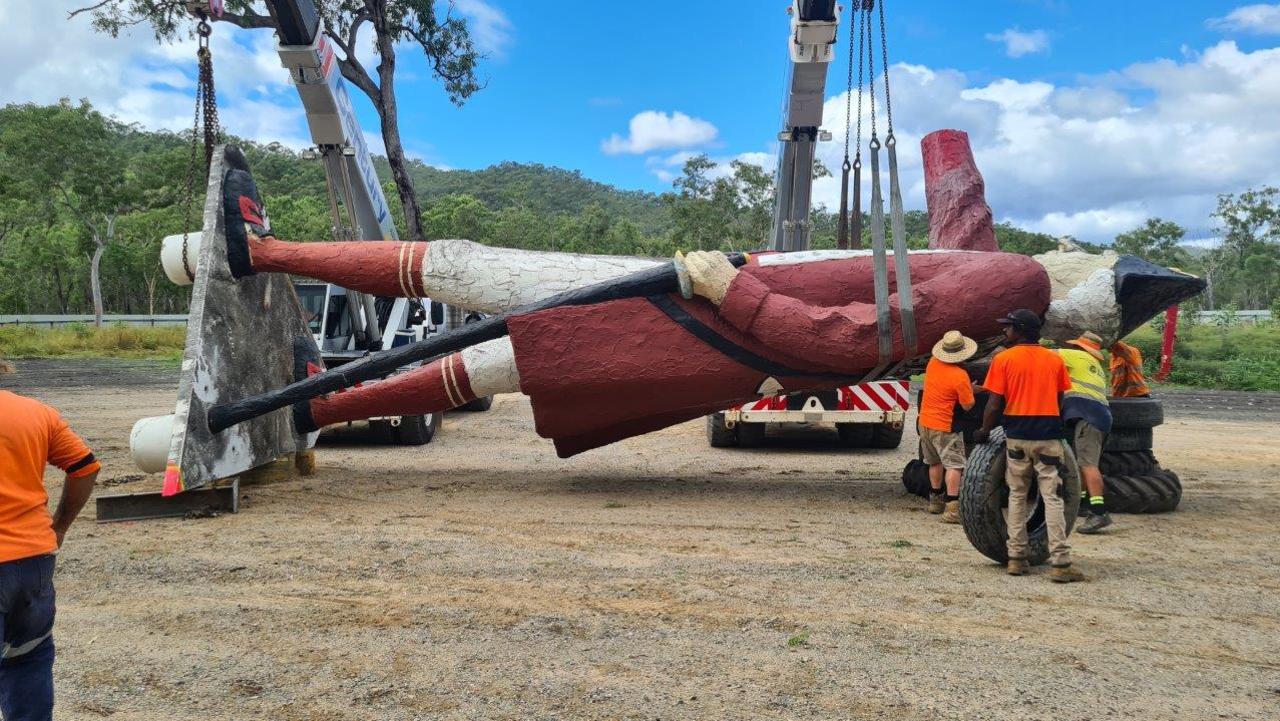 An eight-metre Captain Cook statue is unloaded after a bumpy journey from Cairns. The details of current location is under lock and key. Picture: supplied
"It's getting bigger and better, I listened to the last couple of Test matches and we've been acknowledged, that's a big step from Rugby Australia," Ella said.
"And I hope it continues.
"You've got to invest in the next generation, there are a number of Indigenous players at private schools, we just need to believe that it can be done and keep on trying."
After being overlooked for the Wallabies captaincy, Ella quit his rugby career after just 25 Tests in 1984.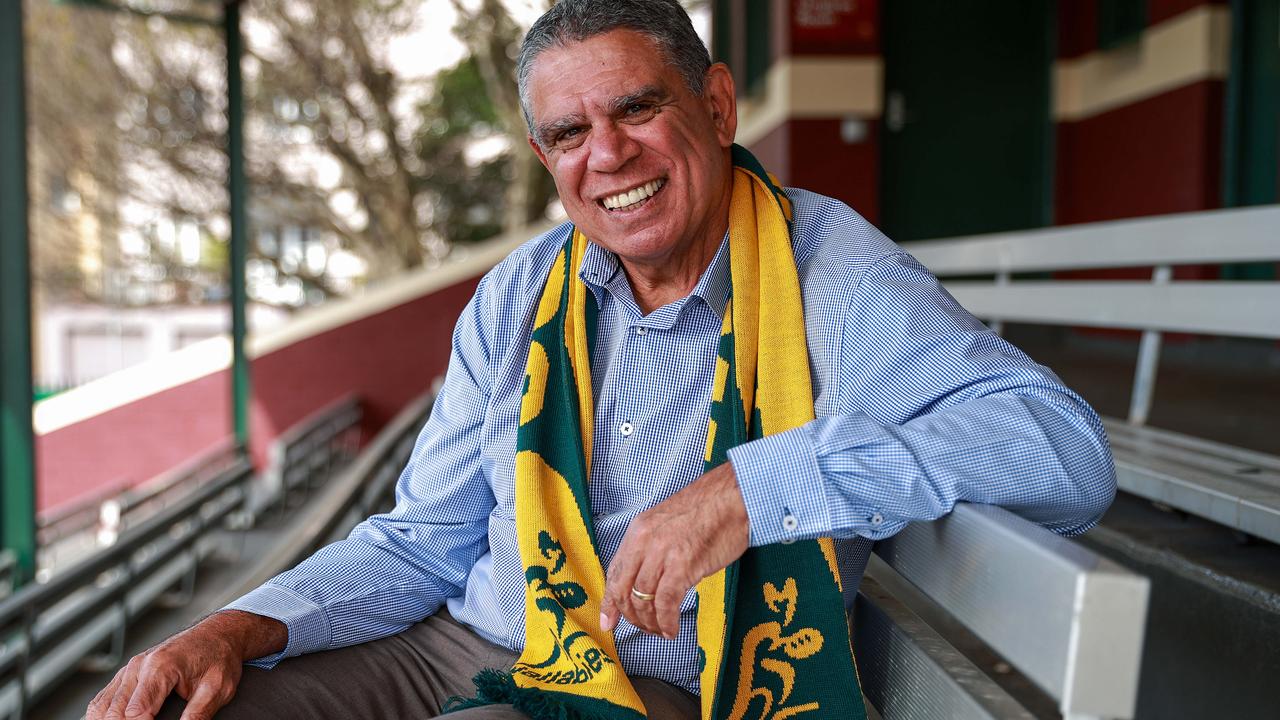 Ella quit his rugby career after just 25 Tests in 1984. Picture: Justin Lloyd
"I retired early, a lot of people thought it was premature. I've always wanted to do other things, so while through the 10 years I played rugby it was everything, once you moved on, you moved on," Ella said.
"I don't watch a lot of rugby, which is just the way I've been growing up.
"Once you've passed a point in your life that you think you've got to move to another point, that's all I think about.
"I was very happy to retire after the 1984 Grand Slam tour, I'd already made up my mind well and truly before that.
"Rugby dictated everything I did, but in the amateur days I needed a job, I wanted to get married, I probably just needed to live another life."
The new Ella-Mobbs trophy has been designed by Ella's niece, Natalie Bateman, and is likely to feature the fish he was nicknamed after.
"Natalie is a pretty good artist and she knows what we needed to put together," Ella said.
"I made a couple of suggestions about mullet, that might sound funny to a lot of people but my dad was a net fisherman and we caught mullet right throughout our summers, my brothers Glen and Gary played a big role in that.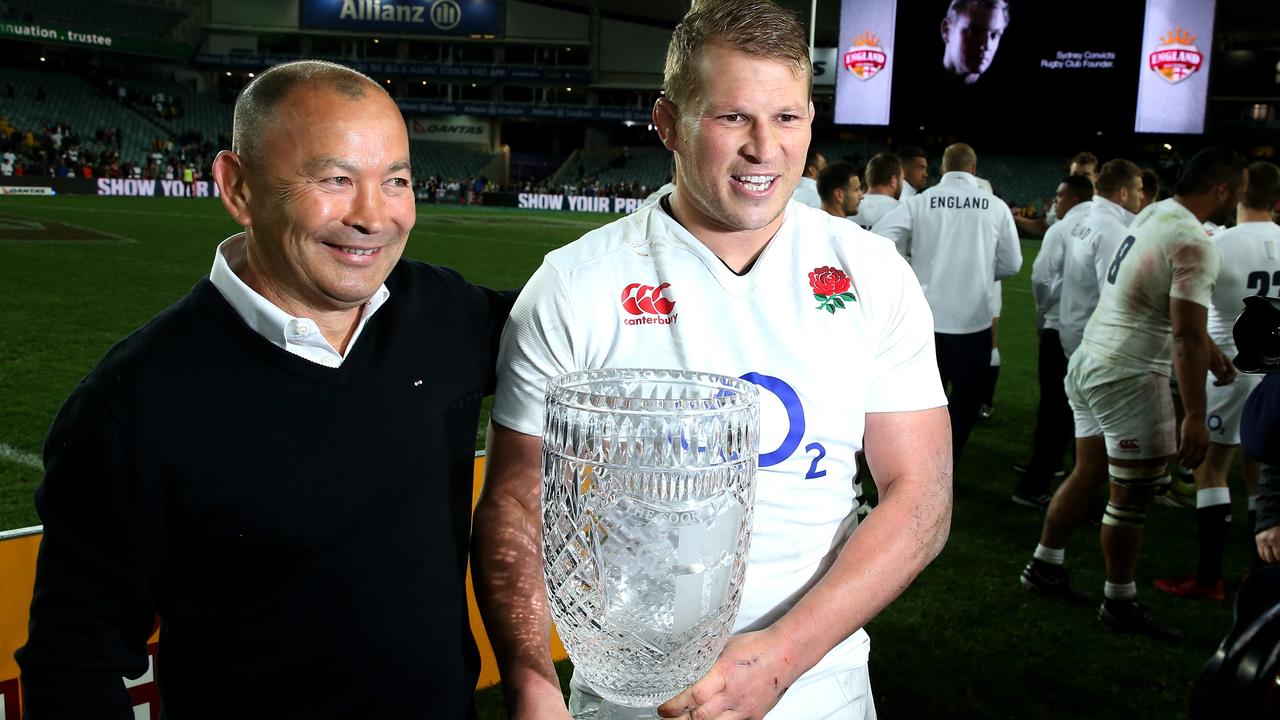 Dylan Hartley holds the Cook Cup with England head coach Eddie Jones in 2016.
"When you come from a family of 12 you don't really have a lot of argue about when food is put in front of you, so we had baked mullet, skim mullet, mullet soup, any way you could eat mullet was the way it was.
"Even to this day there are only two people who call me mullet, that's David Campese, because he's a, nice person, and Wally Lewis."
Ella, who has known England coach Eddie Jones since the age of three, will catch up with him during the tour and expects his twin brother Glen to help advise Jones as he did during the 2016 series the visitors won 3-0.
Originally published as Rugby 2022: Cook Cup dumped for Mark Ella as Rugby Australia and RFU drop controversial figure