Scott Robertson is the best club coach in the world and is open taking on Wallabies duties
Six-time Super Rugby-winning coach Scott Robertson speaks to CHRISTY DORAN about Muhammad Ali and international ambitions.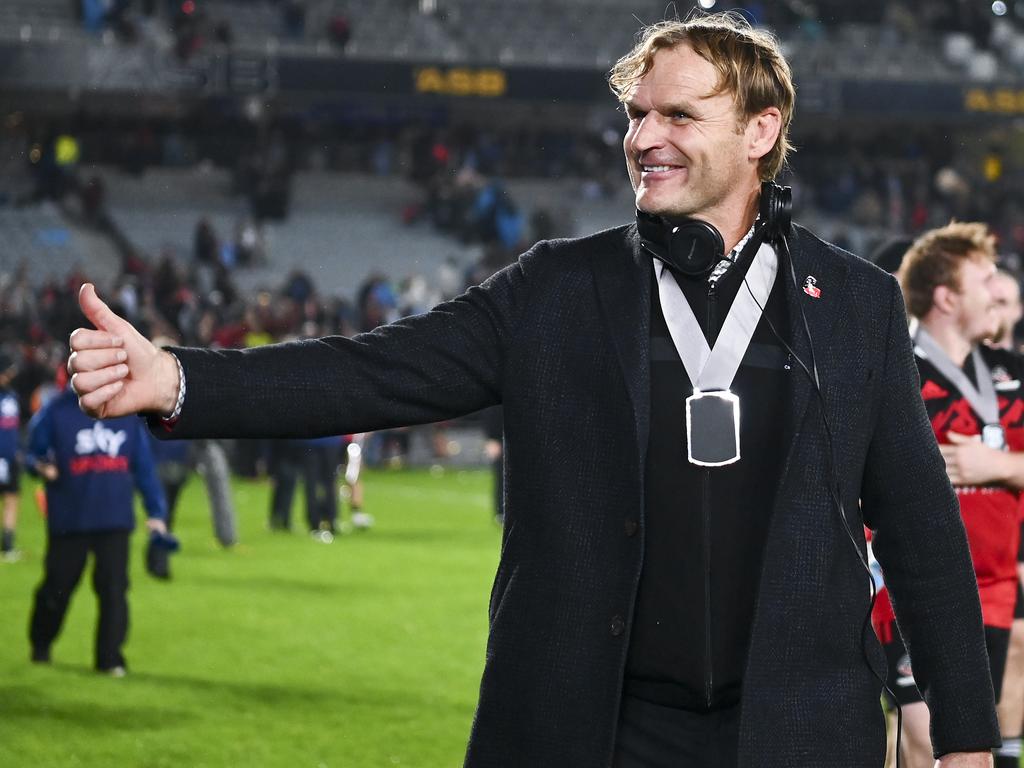 Scott Robertson puts everything into coach and that's never going to change. Picture: Hannah Peters/Getty Images
As Ian Foster prepares to lead the All Blacks into an important series against Ireland, six-time Super Rugby-winning New Zealand coach Scott Robertson says he is open to coaching the Wallabies.
"Mate, if I could be based in Coogee or Noosa," Robertson says. "I'd never say no."
Thirty months after Foster edged Robertson to take over from World Cup-winning All Blacks coach Steve Hansen, the Crusaders mentor led the Super Rugby franchise to their sixth straight title last weekend; their latest success a 21-7 victory over the Blues at Eden Park to end their opponent's 15-match unbeaten streak.
The title enhanced Robertson's reputation as the best club coach in the world – and, in doing so, heaped more pressure on Foster to get the All Blacks back on track after finishing last year with consecutive defeats.
While Eddie Jones' former right-hand man Steve Borthwick turned Leicester around in one season after leaving the England national team, Robertson continues to defy the odds by taking the Crusaders higher up the mountain.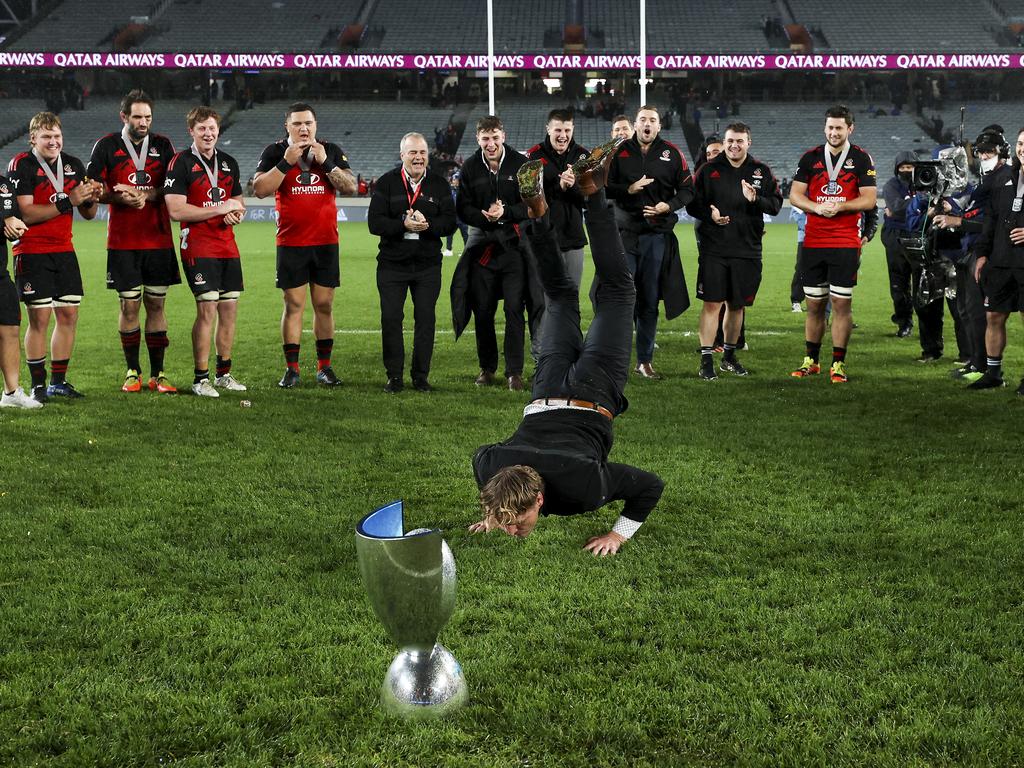 Robertson breakdances in front of yet another title for the Crusaders. Picture: Phil Walter/Getty Images
Under Todd Blackadder, the Crusaders failed to win one title.
Since Robertson took over at the start of 2017, they have won six straight, including in Johannesburg in his first season in charge and now in Auckland. He did so despite two of the world's best modern day players – Richie McCaw and Dan Carter – farewelling the Crusaders following the 2015 World Cup.
Robertson's success saw him emerge as the greatest threat to Foster.
Foster failed to lead the Chiefs to a Super Rugby title during his eight-year tenure. In the next two years, Dave Rennie, now at the helm of the Wallabies, took the Chiefs to back-to-back titles and is a man Sonny Bill Williams, as well as World Cup-winning All Blacks coach Sir Graham Henry, rates highly.
Coupled with Robertson's feats, many believe New Zealand Rugby appointed the wrong man to take over from Hansen when the All Blacks were dumped out by England in the 2019 World Cup semi-finals in Japan.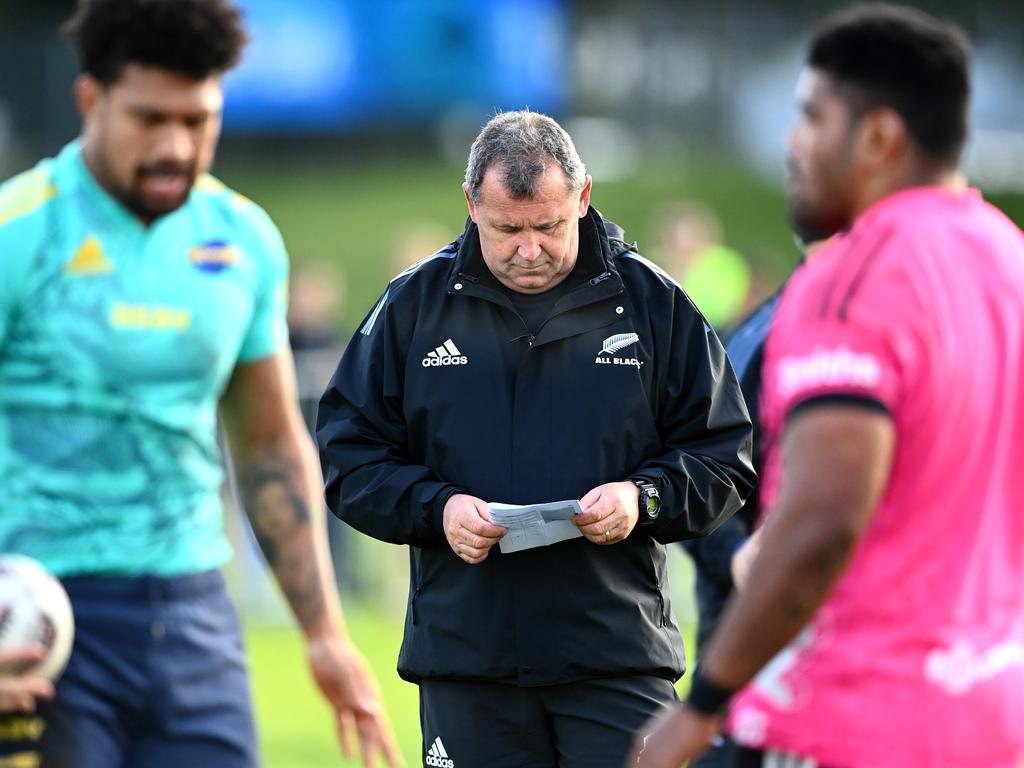 Foster is still trying to get the All Blacks on the right track. Picture: Hannah Peters/Getty Images
That extends to the players. In a NZME poll before Foster's first match in charge, 46 per cent of New Zealand Super Rugby players felt the NZR got the head coach appointment wrong (a further 28 per cent believed they got the appointment right, while the remaining 26 per cent were comfortable with the appointment but not his choice of assistants – John Plumtree, Scott McLeod, Greg Feek and Brad Mooar).
Robertson, who played 23 Tests for the All Blacks and won four Super Rugby titles as a player, admits he was hurt by missing out on the New Zealand head coaching role.
"Yeah, of course," he says. "I put my whole heart into it.
"I'm a passionate Kiwi and an All Black myself. The Crusaders took a punt on me, I suppose, when they did it and they needed to be brave. We had a different angle. You've got to sell yourself in those jobs. You've got to phrase it in a way that it's got to be you, you've got to go at, so I had gone down that track.
"[There was a] sad realisation of it that you weren't given it at the time but what it does do is it allows you to reflect, and I'm definitely a better coach and I see what is required.
"If the job ever came up again, yeah, yeah [I would take it]."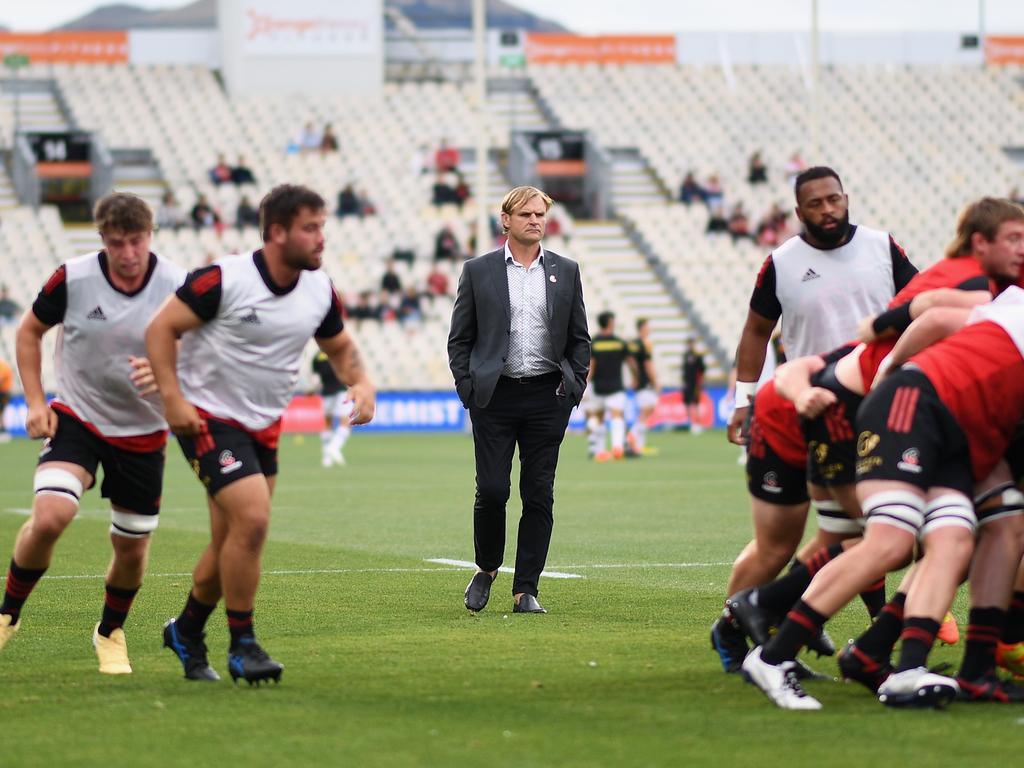 Robertson would take the All Blacks job if it came up again. Picture: Kai Schwoerer/Getty Images
The All Blacks' proved to be Canterbury's gain. The Crusaders have cemented their legacy as the greatest provincial team in modern day sport.
Despite the onset of COVID-19, the Crusaders won back-to-back Aotearoa competitions before winning the inaugural Super Rugby Pacific tournament earlier this month. Robertson put the Crusaders' success down to four key factors – a change of leadership, cohesion from the board through to the team, a hunger in finals and defence.
"Look, they'd been close [under Blackadder]," Robertson said. "But they hadn't won moments in games. They had the depth, the players, the rosters, but we recruited a couple of out-and-out finishers.
"The first thing I did was put Sam Whitelock as captain. That was a big decision.
"Kieran Read, I had a conversation with him. For him to do the All Blacks captaincy and play for the Crusaders, I thought it was best for him to concentrate on one and play well for us and I thought he'd be a better All Blacks captain.
"Sam Whitelock came in and left his mark on the group for the first three years as captain; an incredible leader. I think the combination of a lot of things. Defence is a focus of mine in my own way, but also winning those close matches and finals, and the consistency of my team and the coaches.
"When you reflect back at the end of your career, that's something I'll be most proud of, that week after week you have a team that performs for each other."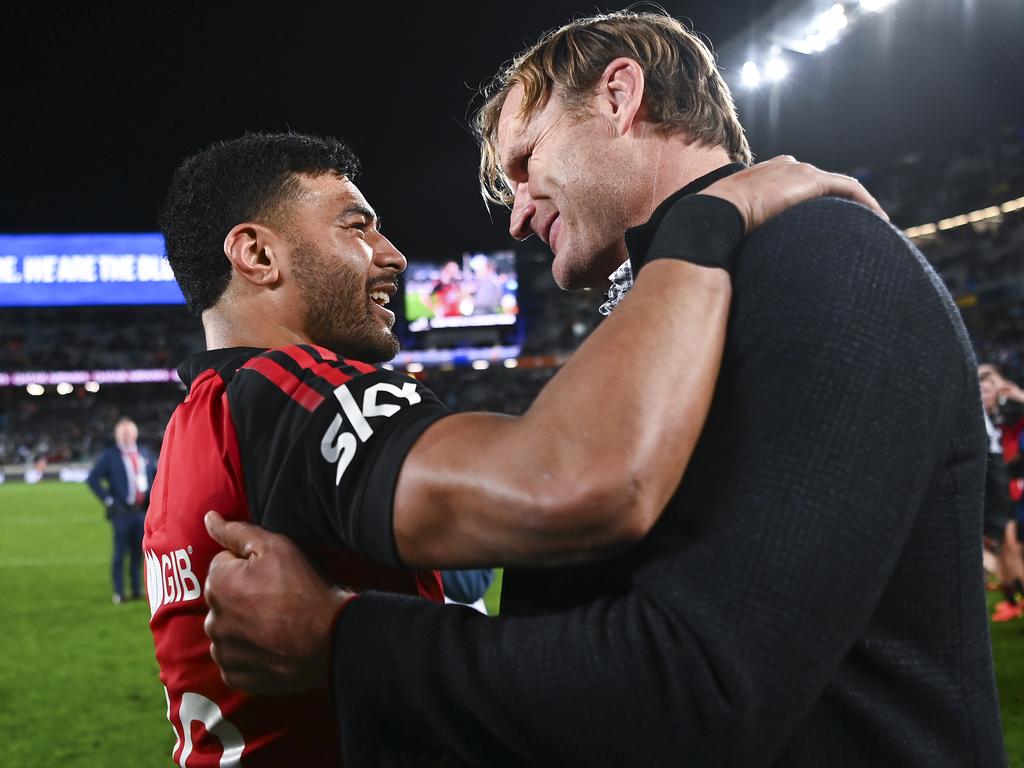 The Crusaders have bought into Robertson's coaching methods. Picture: Hannah Peters/Getty Images
While those points are easier said than done, Robertson is a big believer in "themes". He is considered a master of motivation and narrowed in on Muhammad Ali's 'Rumble in the Jungle' and 'Purple Rain'.
"The first year was about Ali," Robertson said. "I've sort of based a lot about theming around kings, and Ali was the king of boxing. He hadn't won for like eight years, the same as the Crusaders at that stage, so we went back to what kings are about and how they rule and the gold standard that's involved, so there's a lot of theming around on-field, off-field.
"We concentrate a lot on 'Me We', the famous poem from Ali and that was probably the start of it and we've used that theme the last six years."
The other aspect that keeps Robertson ahead of the pack is his understanding of the importance of the emerging talent coming though.
Like Rennie, Robertson was an outstanding New Zealand under 20s coach.
The former flanker believes keeping an eye on the development pathways has meant the Crusaders have been able to integrate and, ultimately, nourish the professional squad when necessary.
And he is hellbent on staying at the top of the tree.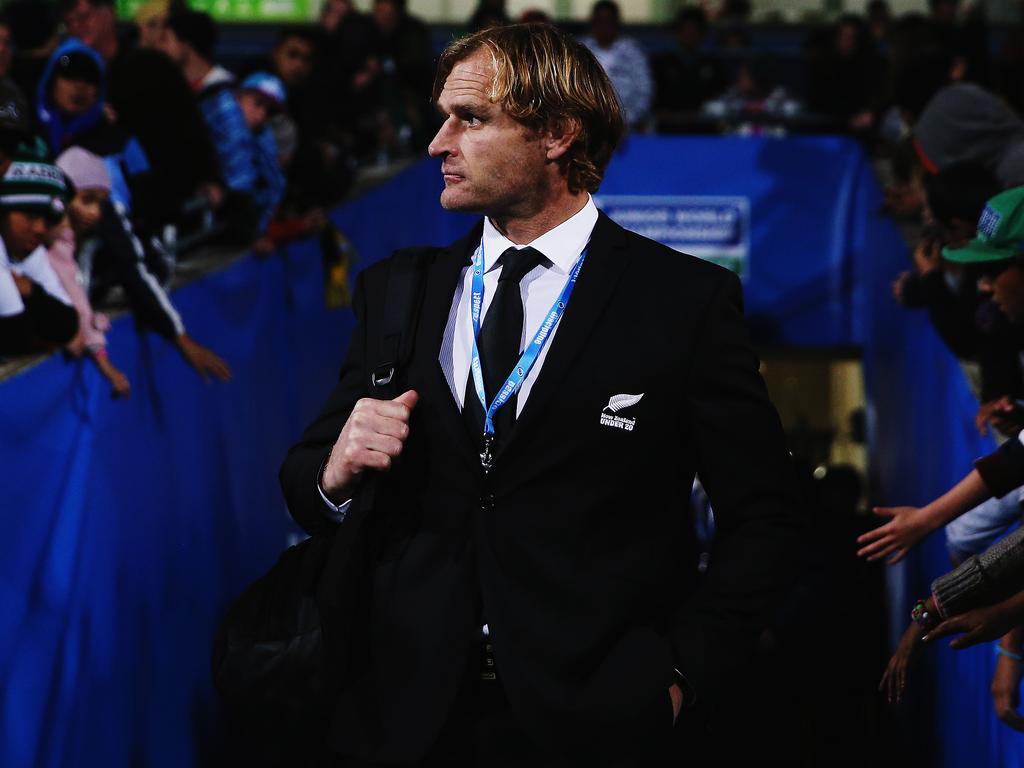 Robertson at the 2014 Junior World Championships. Picture: Hannah Peters/Getty Images
Building on each year is vital.
"Teams at times become a bit arrogant, so we've got to make sure they keep working hard and what you've done before has to be a building block and you have to … build on it," he says. "A lot of our games that we play are finals because everyone wants to beat us.
"We set the standards, so each week you come off feeling 'wow'. It's a new intensity. A lot of teams beat us and it makes their season. We understand the target but to keep digging deep you need to be hungry. That's the art of it.
"You can be a coach, but you've got to inspire people to do something special when it's a contact sport and the amount of times you've got to get up and get up and get up without the ball, that's what sets you apart."
Robertson is re-signed with the Crusaders until 2024 – the year after the France World Cup.
His signing is a security blanket should he not be appointed the All Blacks coach following the 2023 World Cup. If he doesn't get the role, Robertson admits he will leave New Zealand rugby.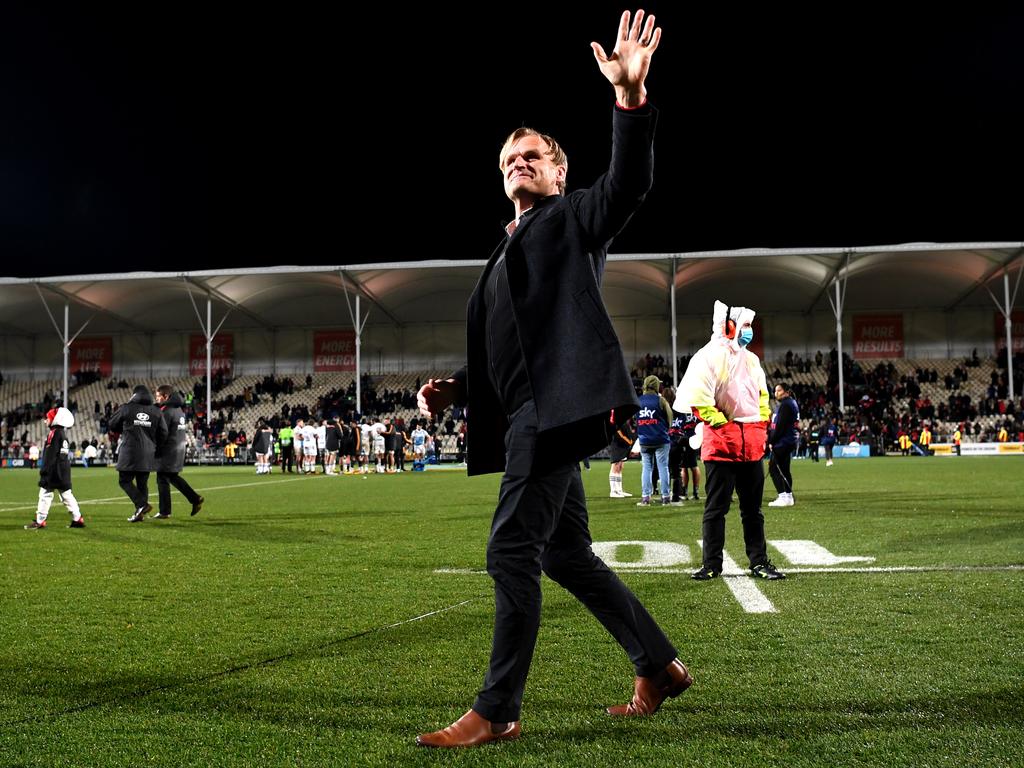 The coach is signed to stay on with the Crusaders for at least two more seasons. Picture: Kai Schwoerer/Getty Images
"After missing out, you've had time away and realised that there's only a few jobs at international level," he says. "Timing's everything.
"I'd love to go to a couple of World Cups. I'm coming up to 50 and it ticks over quickly.
"Ultimately you've got to open, I'm professional, I'm a professional coach.
"I want to create an environment and a culture where people perform and if that's another country, you've got to be realistic, so yeah."
Nor has he ruled out taking over the Wallabies, with Robertson close to some Rugby Australia board members.
"I have a great affiliation with Australia," he continues. "I've spent many holidays and I've got some really great mates and friends and family over this way.
"I've just got to be open. That's what I learned last time. You put your heart and soul into something but you also realise you're in a professional game and you make the decisions based on what's in front of you."