Smith aware of balancing act between keeping players safe, and allowing them to 'make a living'
All Blacks legend Conrad Smith is the IRP's head of player welfare and is tackling the issue of player safety in the modern game.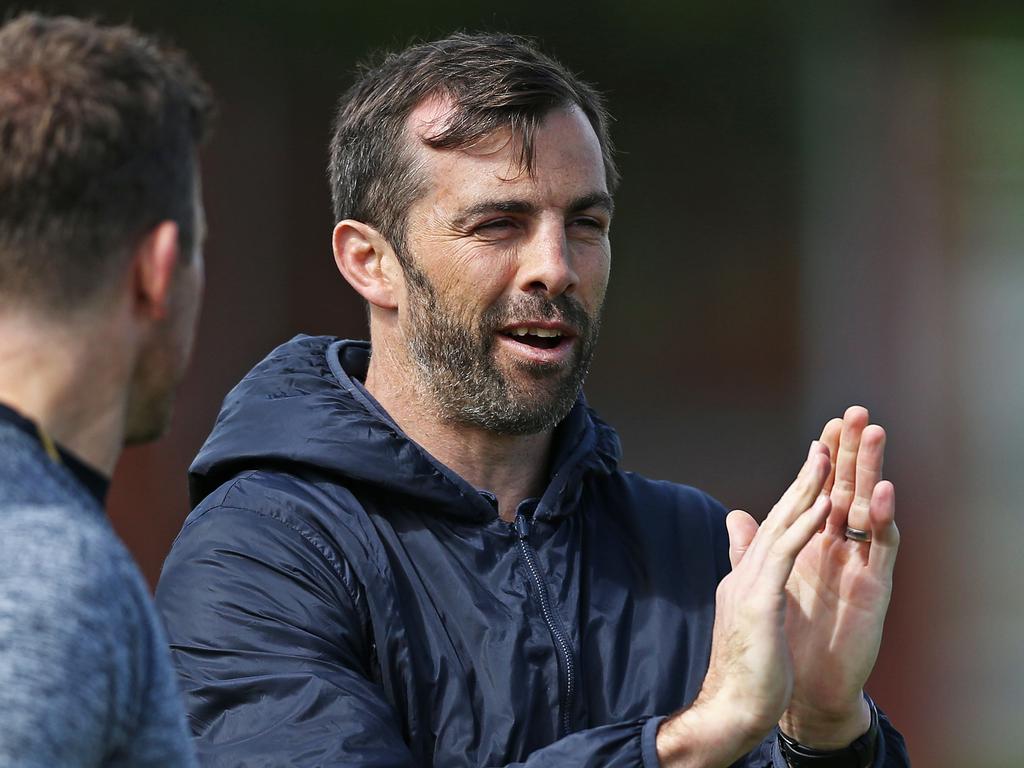 In his new post-playing days job, Conrad Smith is attempting to deal with the issue of player safety. Picture: Hagen Hopkins/Getty Images
Last week we expressed grave doubt that the proposed Nations Championship, the new addition to a packed international programme, was in any way a good idea. A convincing majority of respondents to The Times agreed wholeheartedly.
We also criticised International Rugby Players (IRP) for not piling in to defend exhausted members. This week there is some degree of comfort. The IRP's head of player welfare is Conrad Smith, the great All Black. If he is half as good in this role as he was in a wonderful 94-cap career with New Zealand, which included two World Cup winners' medals, then all is not lost.
As Smith says, there are two priorities for him, which can sometimes be clashing. There is danger from injury and exhaustion on one side, and the need to allow players freedom to earn on the other. "You always have to question yourself in this role," he said. "Am I representing the players and their best interests around welfare and am I finding that balance between guys who want to make a living and want to play this great game, but also making sure it's played in the safest possible manner?" Of our coverage last week, he says: "Your comments were spot on."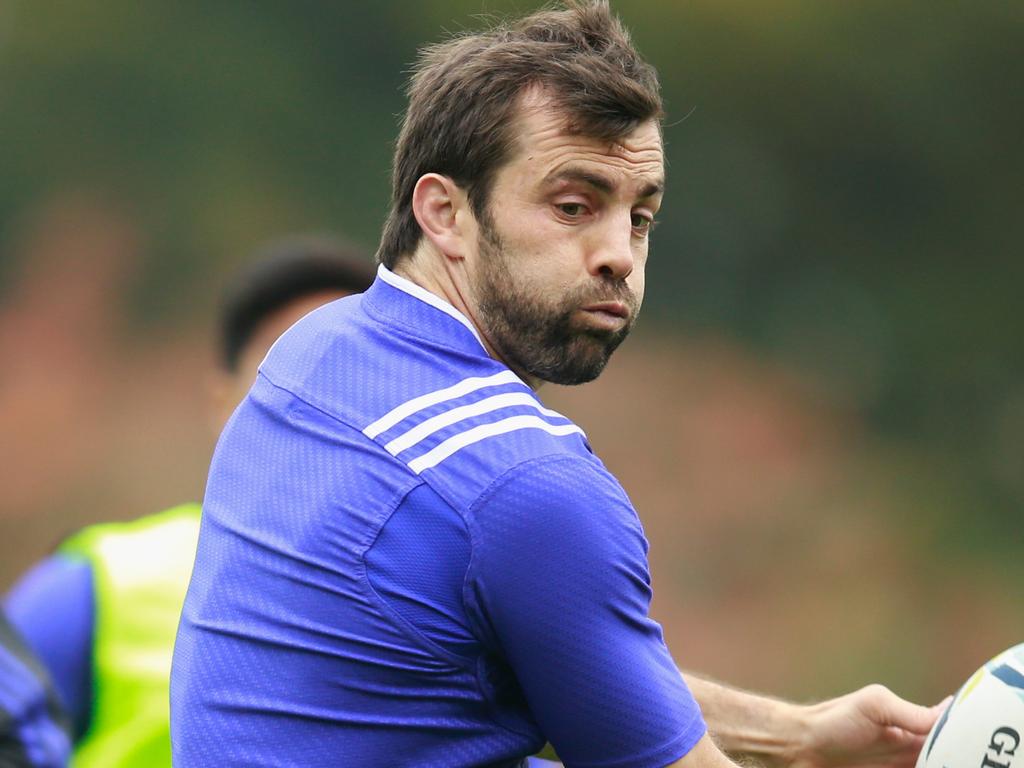 All Blacks legend Conrad Smith is now the IRP's head of player welfare. Picture: Phil Walter/Getty Images
He has a group of six in the IRP working at the heart of the matter and in close liaison with World Rugby. The magic number in any negotiations appears to be 12 - the number of Tests per year. Smith and his IRP colleagues speak to the elite players around the world about their desires and to the unions about their demands. It has been generally recognised that 12 Tests a year creates some sort of balance.
"We think that 12 a year is about right," Smith said. "Then this new competition would add a final and so that makes 13, and that is contentious."
For myself, and if we are still to regard international rugby as special, I would not go above ten. But that cause is long lost.
Smith also points out that elite players want maximum opportunities to experience as much as possible.
"At the moment you have some French players who have never played in South Africa, and they might have played 50 Tests," he explained. "Or you have New Zealanders who have played many Tests but they've never played at Twickenham."
He admits that there are glaring problems in Europe where the French and English players especially are employed by their clubs, who sorely need them in a tough market - and in the tribal world of European club rugby, the followers nor the sponsors nor the directors of rugby want their players to be away for at least half the season.
"France, for example, are far from perfect but have started to limit the involvement of their players through a season, they have a guideline of 21 games. That is one way we feel we can attack the problems but otherwise it's tricky for us to do anything in our position that makes sense."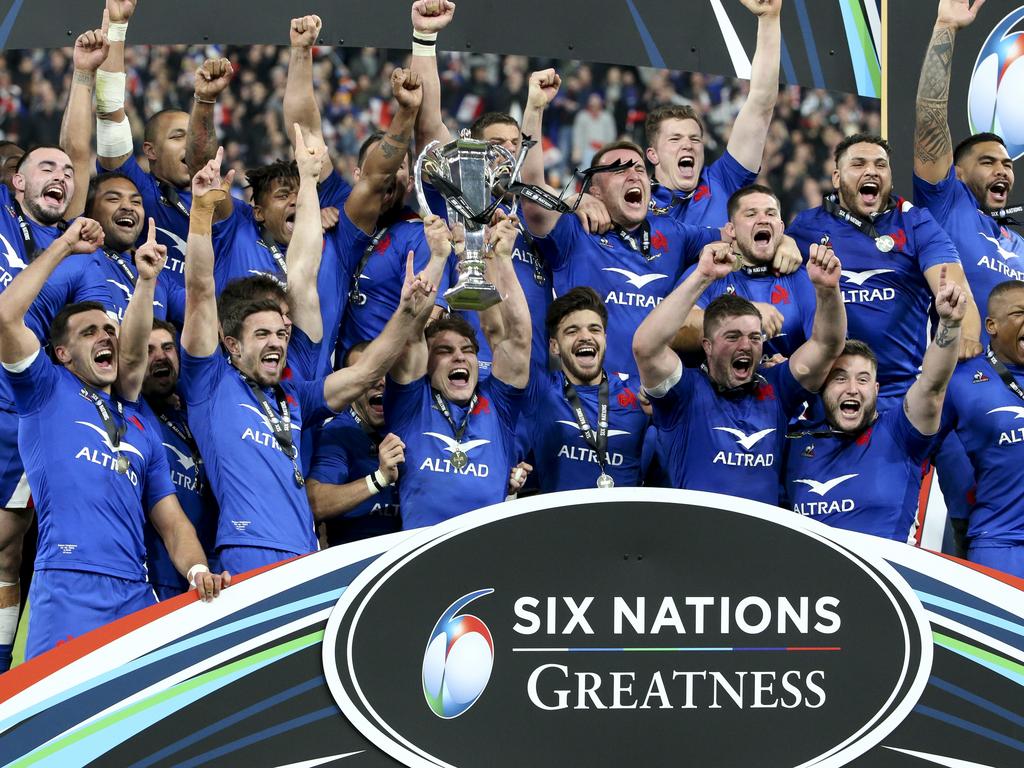 France have started to limit the amount of game time their players have each season. Picture: John Berry/Getty Images
A guideline of 21 games? If you take away the accepted 12 internationals per year, that leaves nine games out of the possible 37 which some French clubs could play across their domestic and European competitions.
Smith does not pretend that anyone has all the answers.
"So if we all agree to a 12-match calendar for internationals, what does that look like? If England were to make the final [of the new event] an England player like Owen Farrell would play four games [in the autumn]. How is that going to impact the club because if he's going to be playing for Saracens a week later, that's when player welfare comes very much into question."
Smith's other great passion is for rugby to create a valid structure for all the teams from outside what used to be called Tier 1 - a goal that the sport should have set itself more than 35 years ago. Smith and his IRP colleagues met the "other nations" recently in London. "The other teams never know who will play them long enough in advance - especially now that they may lose their games against the Tier 1 teams in the autumn," he said.
"They have asked World Rugby to actually create a competition - so we are maybe talking about an Asian Pacific and an Americas Conference, which would look after eight countries that currently don't have a competition and that will be a huge step forward.
"And then they're talking about using teams from Rugby Europe and from the African Cup to make up 12 which would give them all a regular schedule through July. There is an awful lot of work to do logistics-wise and we can't fly them around the world, but at least they are not precious about playing games at home."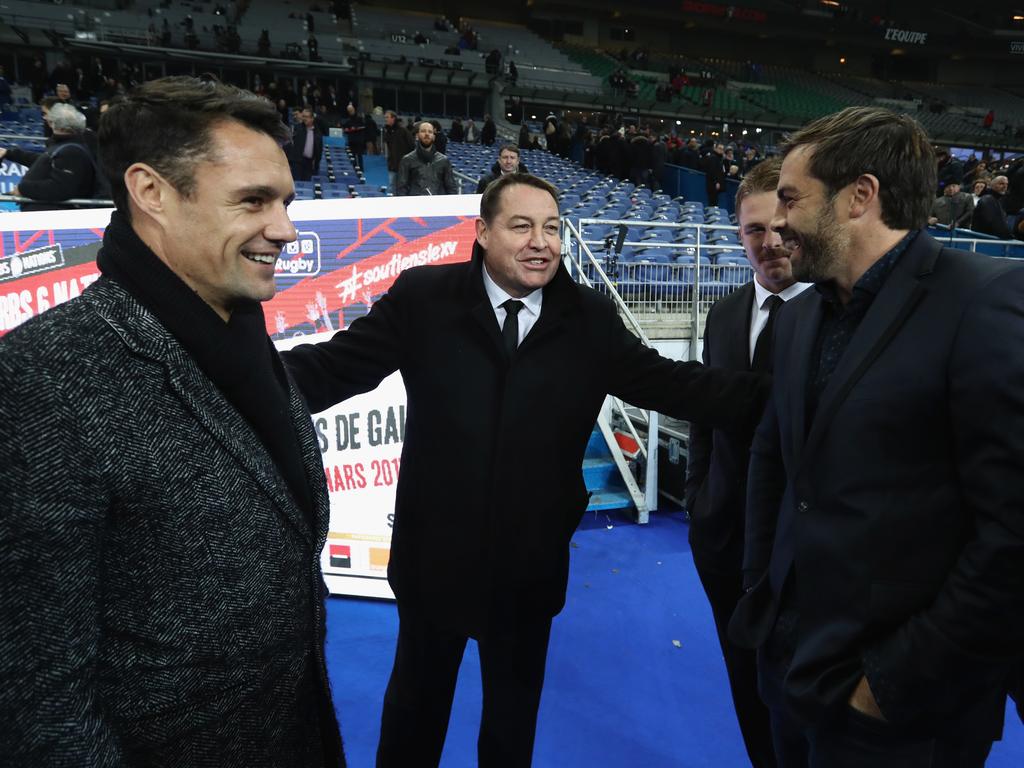 Smith (R), with Dan Carter (L) and former All Blacks coach Steve Hansen. Picture: Phil Walter/Getty Images
–As ever, it is detail that the world game has still not laid down.
Smith enjoyed six years in France after signing for Pau after the 2015 World Cup. He and his family loved their time there, and only moved back to New Zealand in the paralysis of Covid. "We'd still be there now if not for the difficulties of being away from family," he said. "But we love the place and we have some really good friends there. We would have happily stayed there for a few more years."
And his career regrets? Surely, he's only had a few? "I'm sure if I look back I'll think of the finals that I lost and the ones I wish I hadn't lost, but I have been incredibly fortunate, I was part of a great team and we achieved some great things," he said.
"But I do enjoy giving back to the game that's given me so much. It's got a few challenges at the moment, with concussions and player workload but it is a great game, I want other kids to enjoy playing and that feeling is getting lost a little bit at the moment."
You profoundly wish that more players of Smith's status and vintage - a McCaw, an O'Driscoll, a Kearns - were governing the game, rather than simply advising.
Yesterday (Saturday) at Atletico Madrid's stadium, the Wanda Metropolitano, Smith played for the Classic All Blacks against Spain. "We agreed to play the game two years ago in Covid, when I was 38," he said. "Now I'm 40 so it's a little bit more concerning. But we are just a group of guys who haven't seen each other for three or four years, and we're having a good time, it's a great connection and that is what the sport offers. I've had my time playing and it's time for another role."
Originally published as Smith aware of balancing act between keeping players safe, and allowing them to 'make a living'