Stephen Jones: Eddie Jones must ditch mad professor act to justify England coaching job
Eddie Jones must ditch the mad professor act during the upcoming Test schedule after keeping his England coaching job on decidedly specious grounds, writes STEPHEN JONES.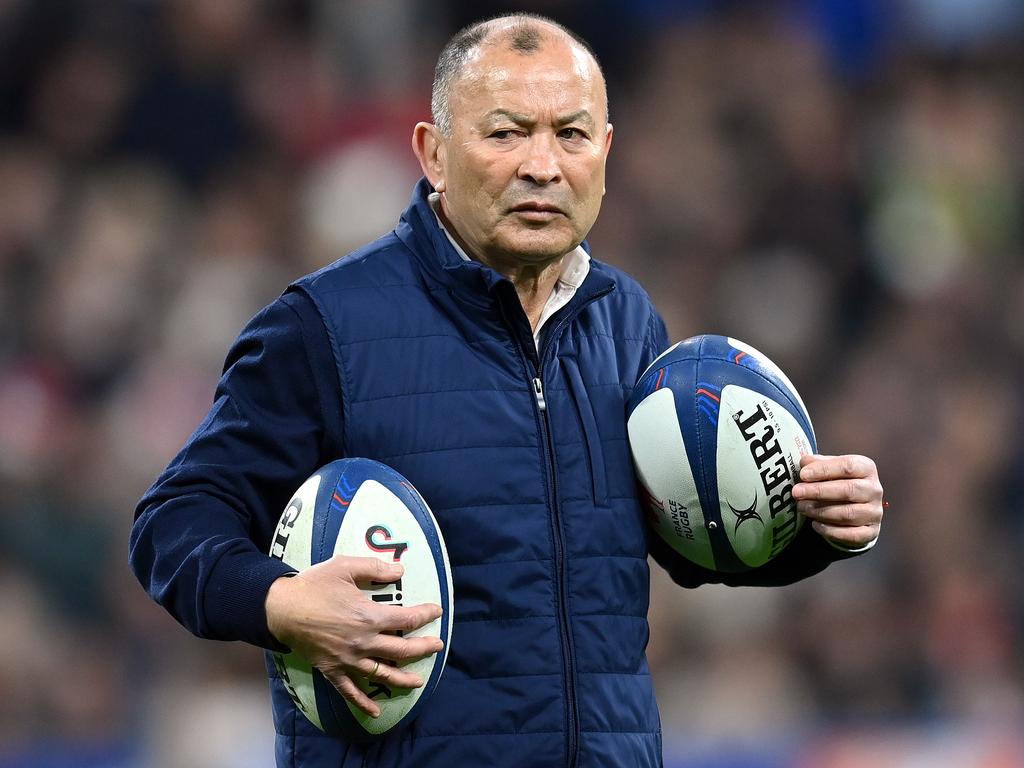 England rugby coach Eddie Jones before a Six Nations loss to France. Picture: Dan Mullan - RFU/The RFU Collection via Getty Images
A giant aluminium works once ran down almost the length of our village. Apparently they used to make Spitfires there during the Second World War. Nearly all the villagers were employed there and during the frequent downturns you would see men walking glumly out of the factory, perhaps never to return to work.
It is clearly painful to lose a job, and equally uncomfortable that anyone should campaign for someone to lose theirs, as I have – even if Eddie Jones may be far from his last Aussie dollar. But I still think Jones should have gone, that he is lucky to stay, and that some of the grounds on which he remains, after the RFU defence was clanked into supportive action, are decidedly specious.
Last week we heard that Jones is going home – and then he's coming back. He will remain in his post; he will be in charge during England's three-Test tour to Australia in the (northern) summer. The closeness of the World Cup means that he will now take England into that tournament next year unless he and his players make an even bigger hash of the 2023 Six Nations than they made of the recent one – and even that was a repeat hash of their efforts in 2021. Hashes tagged.
In a poll conducted by The Times, a huge majority thought that things had fallen too far. The notion peddled by a lieutenant at Twickenham that the anti-Jones movement was merely a media campaign was pure drivel.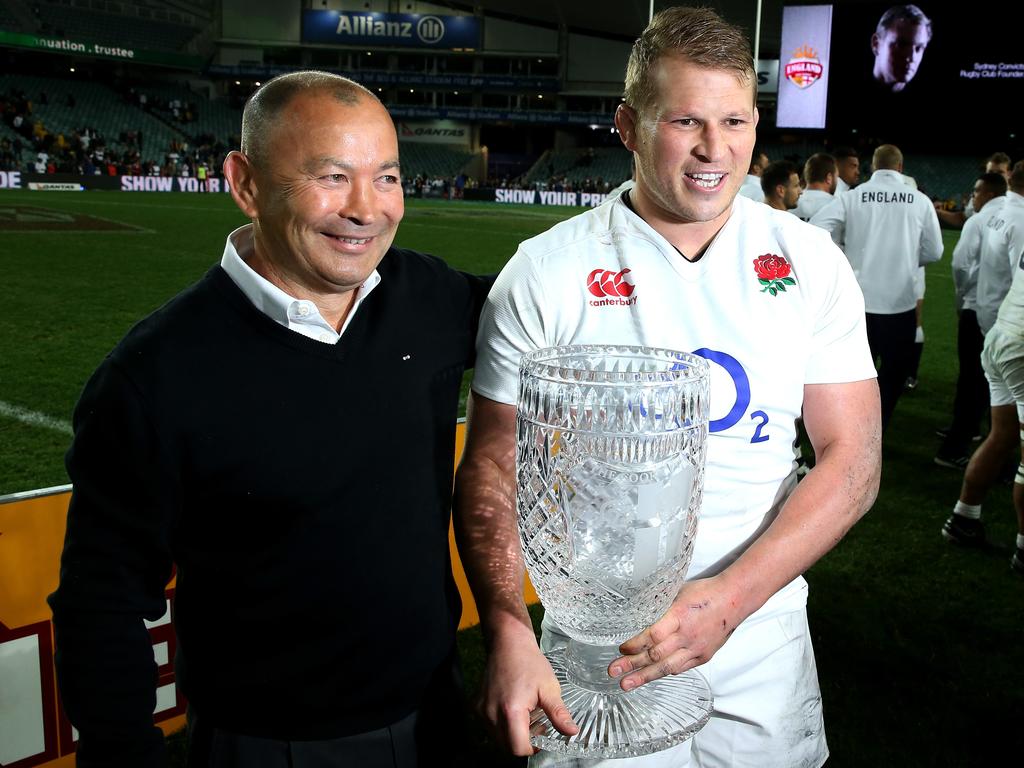 Eddie Jones and England captain Dylan Hartley with the Cook Cup in 2016, after defeating the Wallabies in Australia. Picture: David Rogers/Getty Images
At least we now have the happy memory of England's most recent tour to Australia, in 2016, with Jones newly at the helm. England thrashed the Wallabies in that series, and it seemed for a while that they had made the first correct appointment of head man since Clive Woodward in 1997, that at last we would be thrilling to the philosophy of a coach who wanted to beast the opposition in every game, leaving such things as the "eye to the future" as roadside dross. If only we had known.
England will then meet New Zealand, South Africa, Argentina and Japan in the autumn. An ideal programme – three matches to thunder away with your top team and another to filter in a few of the less obvious choices. What an amazing opportunity for Jones to revert to some form of sanity in selection, to cease plucking figures from nowhere only to send them back as nowhere men, no wiser but much sadder.
At Twickenham it seems that merely to choose young pups was the key, rather than them being any good. Great, Eddie's drafted in a new generation. Are they any good? Er … don't know yet.
We would prefer Jones as the calculating figure of his earlier careers, rather than the mad professor in the white coat, inventing theories on various aspects of the production of a national side who hardly lasted the sentence he was on.
Last week we waited with bated breath. Everyone in rugby understood that there would be a full-scale review of the second miserable Six Nations performance. But then we heard that there was no such thing, we also heard explanations for the other dire aspects of England's performance that were almost too convenient to be true.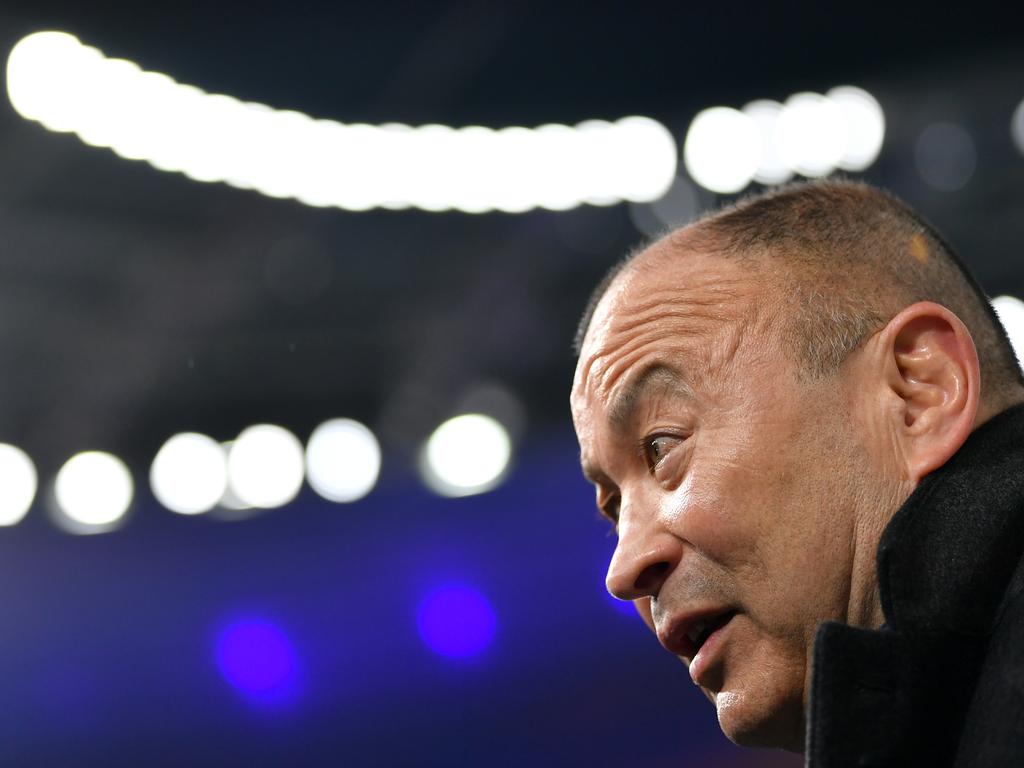 Eddie Jones' position as England rugby coach is under enormous scrutiny with a World Cup looming next year. Picture: Dan Mullan – RFU/The RFU Collection via Getty Images
No one among my colleagues realises that this review has been continual, it is a Review in Being, it is there all the time. Bill Sweeney, the RFU chief executive, expanded on many of these aspects to me on Friday, and I would judge that however unlikely some of it sounded, he was sincere.
"The review process is a continual review … we've got certain metrics we are looking at; we've got certain objectives that we're looking at." It doesn't sound a ball of fun, it remains despicable that it is being conducted by anonymous figures but that is the sort of road that you travel when you cease taking the evidence of the scoreboard as the only evidence you need.
Sweeney then moved on to another vexatious question – is the point of the Six Nations to win it, or as Jones so often says, to make it a building block for the World Cup? Sweeney is firm.
"It is a priority tournament, we hold the Six Nations very dearly, the atmosphere we have here for the games is fantastic," he said. Sweeney claims that Jones has the same mindset – well, if he does, then someone has impersonated Jones at media conferences about 40 times, adding up the references to the World Cup on the Jones transcripts.
Sweeney says that there were indeed genuine items of progress. "We were not lying when we made that statement in progress," he said. "I can understand how that might confuse after just two wins but the progress is not just about matches won, it is about hitting certain objectives along the way. We were talking about improvements to the structure, to the squad and how we're playing."
That, I find difficult to buy. It is as though there is some means of attributing success that does not involve scoring points.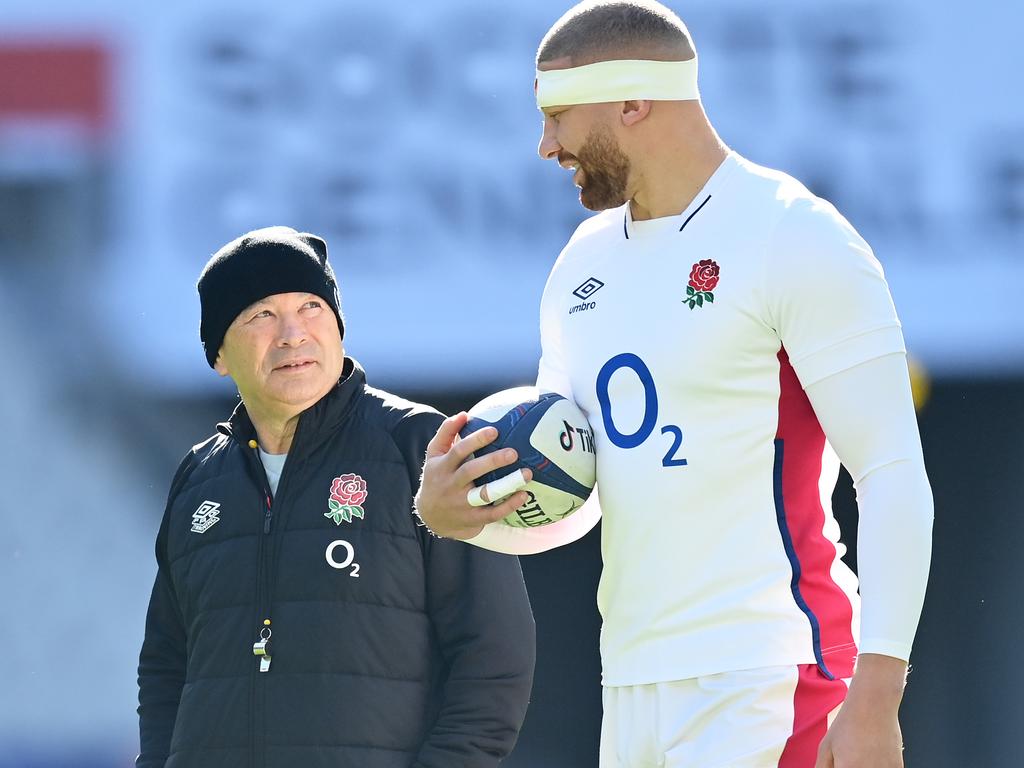 Eddie Jones with Nick Isiekwe during England's Captain's Run at Stade de France this month. Picture: Dan Mullan/Getty Images
If loyalty is a virtue even when exercised for too long, then I suppose that Sweeney and his colleagues have at least been loyal. But nothing I heard last week excused England's performance, or excused Jones. Is the machinery at Twickenham remotely near to being the best platform for the guidance of professional club and international rugby? Not for me.
And the team? The promised powerhouse pack? I'd say England's ranks about sixth in the world. Let's look at the key positions; at half back England have the veteran's veteran, Ben Youngs, who was sluggish in Paris, and the Harlequin Marcus Smith. It is fantastic to be so thrilled by a newcomer, but examine the replay of Paris and see how badly he kicked, how so few Frenchmen fell for his tricks. And still the back three, the front row, the lineout, the midfield are not grooved in. The number of world-class players is frighteningly low.
And still the dominant selection question is nothing to do with Jones or the so-called development process. It is: is Manu fit? Yet still the whole team have everything to do with Jones. He has high office, a glorious post. Now he has another chance to prove himself worthy of it.
– The Sunday Times
Originally published as Stephen Jones: Eddie Jones must ditch mad professor act to justify England coaching job