Perfect Storm: David Havili relishes Crusaders cross-code NRL partnership in bid for a World Cup start
David Havili knows he faces serious competition for the New Zealand No.12 jersey with a World Cup on the horizon. But the Crusaders cross-code links with NRL powerhouse Melbourne offer him an added edge.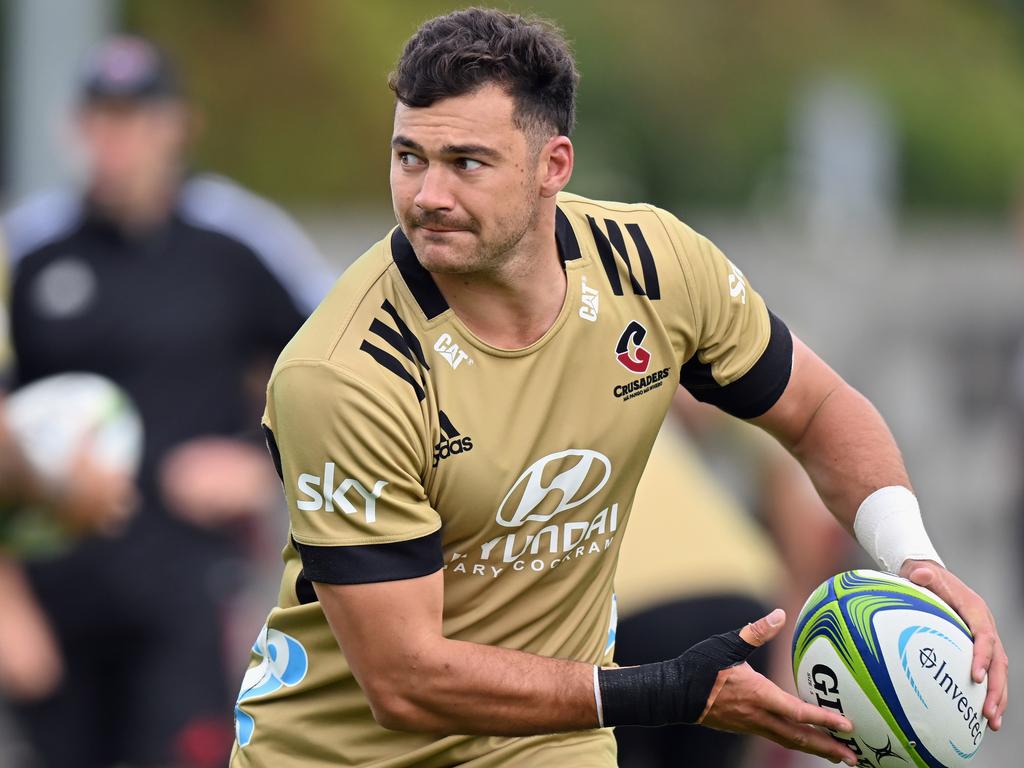 All Blacks star David Havili looks forward to learning more from the Melbourne Storm. Picture: Kai Schwoerer/Getty Images
New Zealand rugby star David Havili is excited about the prospect of his Crusaders side's pre-season player swap initiative with the Melbourne Storm, as he looks to lock up the All Blacks' number 12 jersey ahead of next year's Rugby World Cup in France.
The Crusaders and Storm have enjoyed a long and successful relationship, regularly trading ideas, philosophies and coaching techniques.
Crusaders players and coaches spent time with the Storm when the Kiwi side was in Melbourne for Super Round over the Anzac Day weekend, while Storm assistant coaches sat in the Crusaders box for their win over the Rebels.
As first reported by Fairfax Media, the pair of superpower clubs will further enhance their partnership over the coming seasons with pre-season player swaps.
A keen New Zealand Warriors fan, Havili's NRL Fantasy team is captained by Isaah Yeo ("the big, silky ball player up the middle") and the 27-year-old is eager to soak up more of what makes the Storm so dominant.
"It was awesome to see different athletes go about their jobs and see how diligent they are within their jobs and their team," Havili told Code Sports.
"They do the really little things really well. Things like executing their role, understanding their game plan and how they want to play."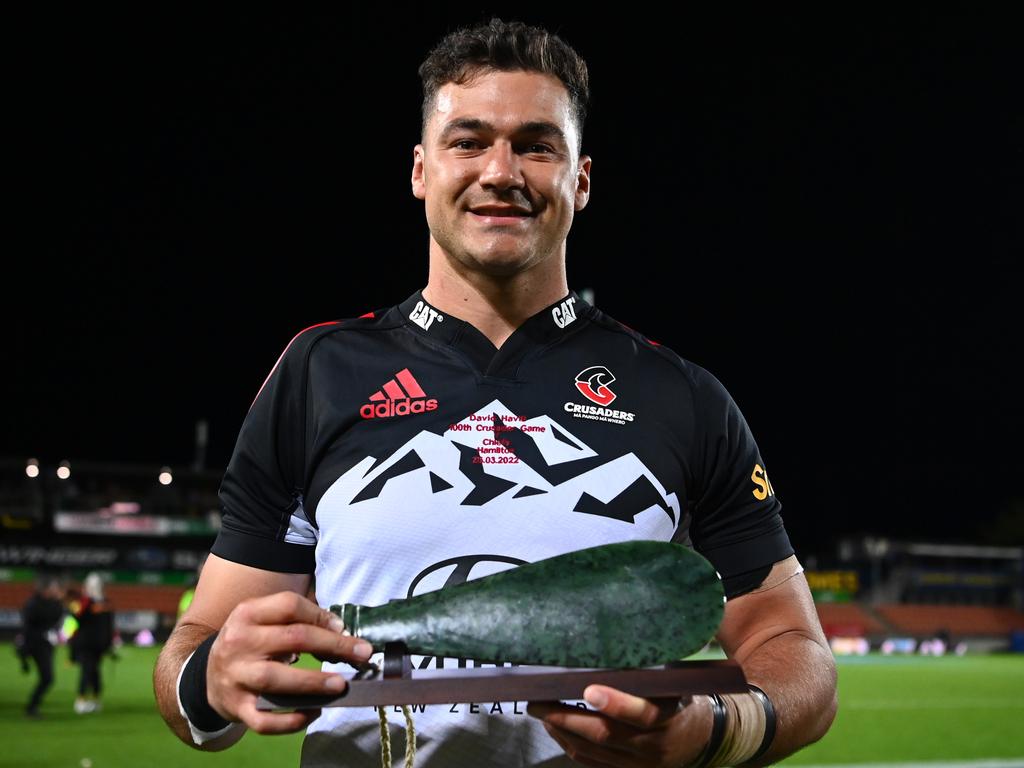 David Havili celebrates after his 100th Super Rugby cap for the Crusaders. Picture: Hannah Peters/Getty Images)
Both clubs have enjoyed enduring periods of domination over the past two decades, with the Crusaders claiming 10 Super Rugby titles. The Storm have won four official premierships, have appeared in another four grand finals and claimed five minor premierships since 1998.
The Kiwi union outfit enjoyed the services of some of the game's all-time greats including Dan Carter, Richie McCaw and Kieran Read, while Melbourne's success was built around the likes of Cameron Smith, Billy Slater and Cooper Cronk.
As a result, both teams have been forced to transition into life without those generational talents.
Neither side has missed a beat.
While the All Blacks haven't quite been the all-conquering juggernaut since the retirements of Carter and McCaw in 2015, the Crusaders have continued to soar.
With Havili, Richie Mo'unga and Ethan Blackadder stepping in to fill the void, the Crusaders have won three consecutive Super Rugby titles between 2017 and 2019, and added two Super Rugby Aotearoa trophies in 2020 and 2021.
Likewise, since the representative retirements of Smith, Slater and Cronk, Queensland's Origin side has been a shadow of its former self. A shock 2-1 series win in 2020 is the only outlier as the Blues have won three of four series since Slater became the last of that great generation to step away from rep football.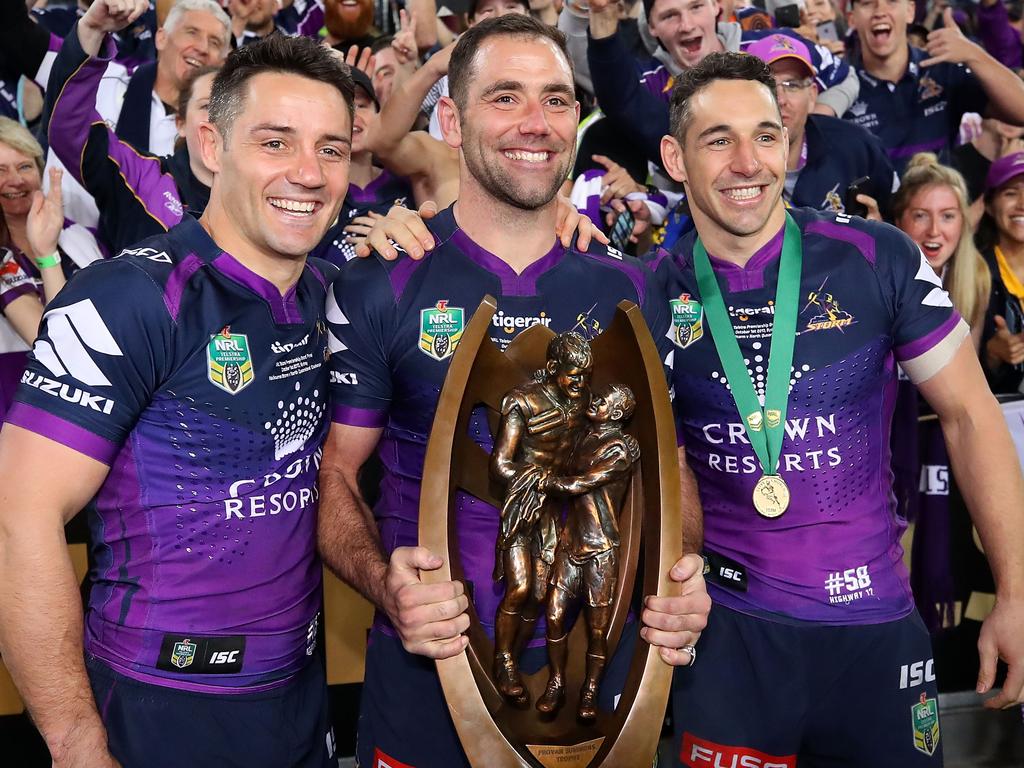 Melbourne have transitioned well into life without generationally good players like Cooper Cronk, Cameron Smith and Billy Slater. Picture: Cameron Spencer/Getty Images
At club level though, Melbourne continue to be one of the two best sides in the NRL, and have found superstar replacements in Ryan Papenhuyzen, Jahrome Hughes, Harry Grant and Brandon Smith.
"It's really exciting, and there's a lot of similarities between the clubs," Havili says. "Craig (Bellamy) is a person that you want to play for, and so is Razor (Crusaders coach Scott Robertson).
"We've got those two qualities and I definitely enjoyed going in and seeing what the Storm do.
"They spoke a lot about nailing your own job and executing their roles.
"On a personal level, I was impressed with the way they prepared. They just leave no stone unturned and they really dive in deep with their preparation."
Crusaders coach Scott Robertson has achieved incredible success with the Crusaders. Picture: Hagen Hopkins/Getty Images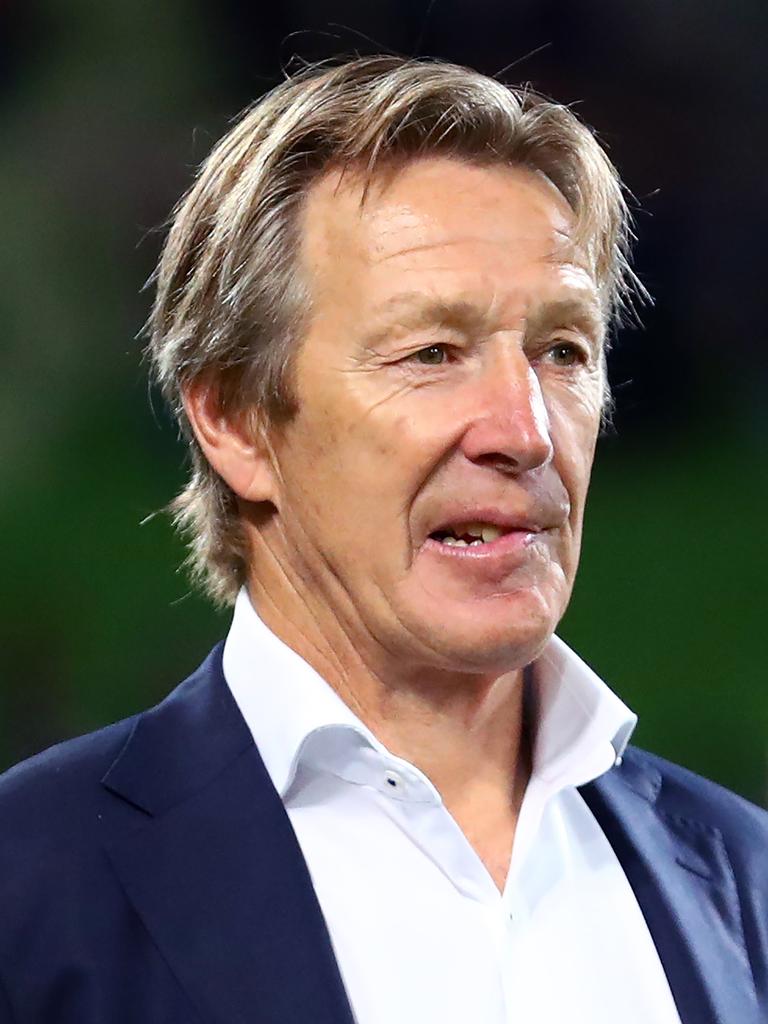 Craig Bellamy will be remembered as one of the greatest coaches of all time. Picture: Kelly Defina/Getty Images
That was something sorely and uncharacteristically missing from the Crusaders in a 24-21 defeat to the Waratahs at Leichhardt Oval on Saturday.
Down 17-0 after struggling for any momentum in the first half, the Crusaders fought back in the second 40, but were reduced to 13 men in the final 15 minutes courtesy of one red and one yellow card.
Melbourne's focus on individual preparation is however something Havili will take into consideration as the international season approaches.
Havili debuted for the All Blacks in 2017, playing three Tests, but was overlooked for three years before returning in 2021 to play 12 Tests.
"A big thing was getting my body right," he says. "I hadn't played a lot of international rugby before, and 12 games back-to-back took its toll on the body.
"I've been working really well around nutrition and making sure my body is right."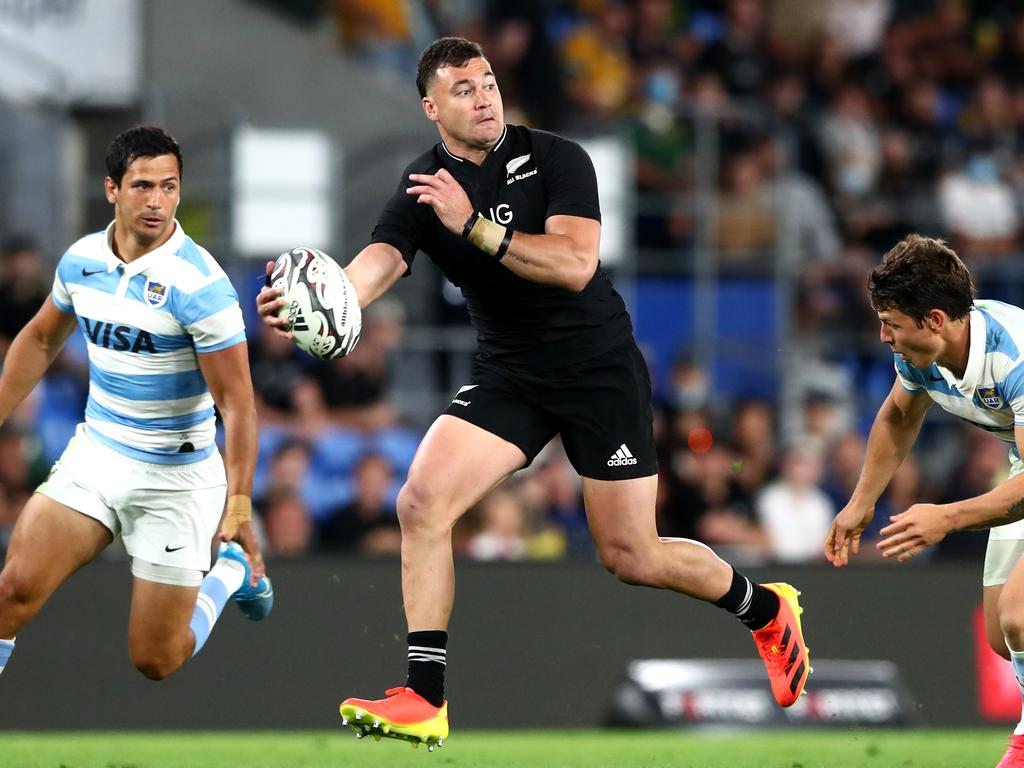 Havili on the break against Argentina last year. Picture: Chris Hyde/Getty Images
Despite securing the All Blacks No.12 jersey last year, Havili faces stiff competition to keep his New Zealand spot in 2022.
Jordie Barrett and Quinn Tupaea are both in the mix, but after rising through the ranks at fullback or on the wing, Havili is determined to secure a spot at 12.
"I've loved my time in the midfield and I want to stay here," he says. "I just need to string some good performances together over the next couple of weeks.
"It's been cool playing in this jersey for the last couple of years, and I want to stay here.
"It's just focusing on the next game for me. I had a week off last week to let some niggles get better. I blew out the rust this week, but I need to be better in the next couple of rounds if I want to put my hand up.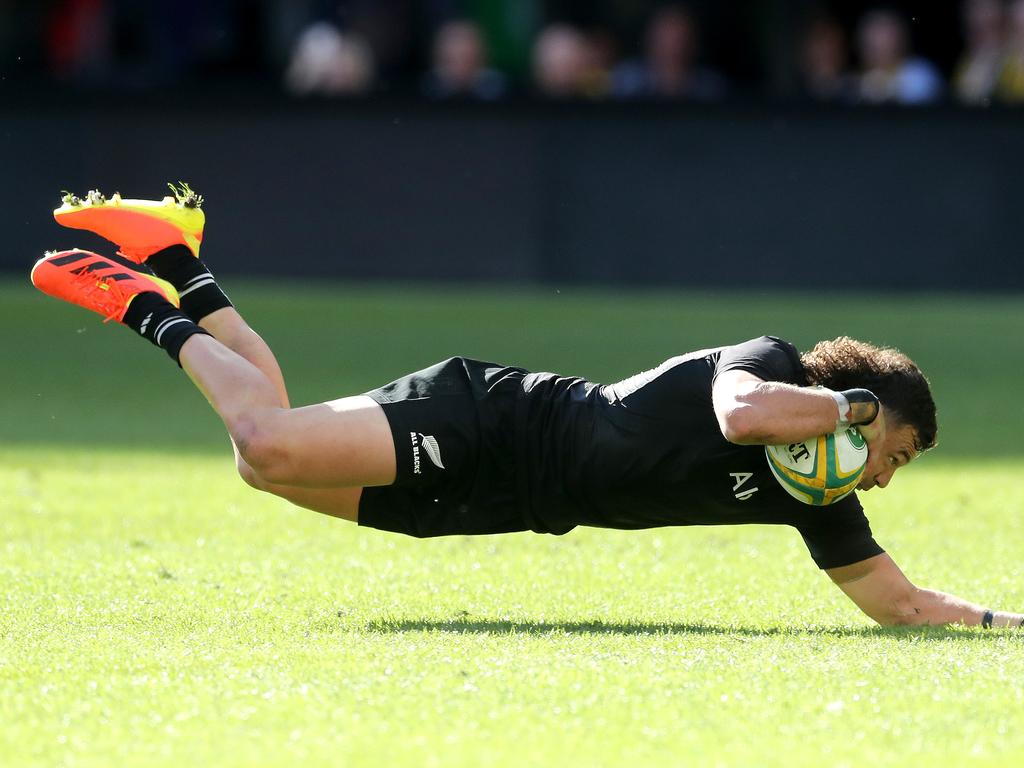 Havili scores against the Wallabies during last year's Bledisloe Cup clash in Perth. Picture: Will Russell/Getty Images
"It's definitely my goal to be there again.
"There's definitely contact (with All Blacks coach Ian Foster) throughout the season. It's just feedback around the game, how I can be better and what I can work on.
"It's been good feedback. I just want to play well for the Crusaders and whatever happens, happens."