Roger Tuivasa-Sheck backed by NZ greats to represent the All Blacks at 2023 Rugby World Cup
It took one game to reignite Roger Tuivasa-Sheck's rugby passion. He is now using it to fuel his bid for World Cup selection more than a decade after switching to the NRL, writes JIM KAYES.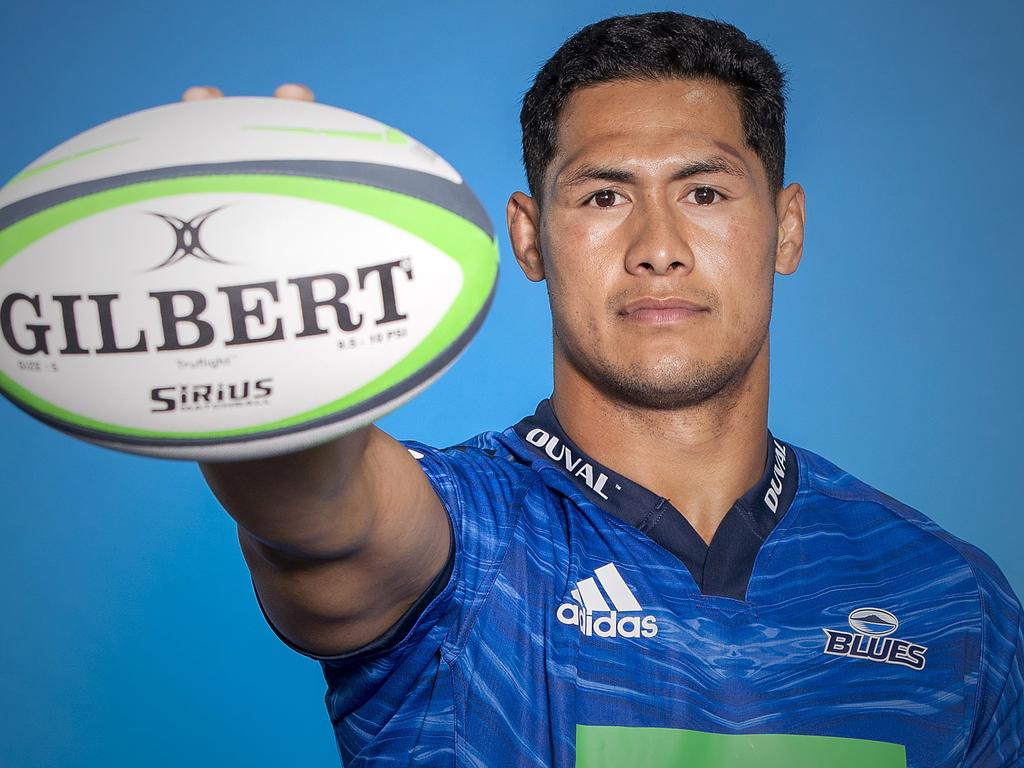 Roger Tuivasa-Sheck is preparing to launch his rugby career with the Blues after an NRL career that included a Dally M Medal win. Picture: Dave Rowland/Getty Images for New Zealand Rugby
It was a confusing end to an unforgettable series.
The All Blacks won the first Test convincingly in Auckland, the Lions fought back in the second in Wellington and the decider at Eden Park was the talk of the rugby world. New Zealand hopes soared when Ngani Laumape and Jordie Barrett crossed in the first half, but the boot of Owen Farrell kept the Lions close.
With the scores tied after a Farrell penalty and only a few minutes left to play, Lions replacement hooker Ken Owen was penalised for being offside from the kick-off. It was a kickable penalty but referee Romain Poite, under pressure from assistant referee Jerome Garces, changed his mind and awarded a scrum instead.
All Blacks skipper Kieran Read protested in vain.
The scores stayed level at 15-15. The three-Test series was drawn.
Roger Tuivasa-Sheck was among the 48,609 watching the 2017 All Blacks-Lions decider from the stands and he left Eden Park enthralled.
"I looked around and thought, 'Wow'," he recalls. "Eden Park, full stadium, because I'm a competitor I thought this is where I want to be challenged, on the big stages like this."
That's how it started. For the next four years, the thought of leaving behind a highly-successful NRL career for a shot at rugby grew to the point where, almost exactly a year ago, it compelled him to sign on with the Auckland Blues.
"It played in the back of my mind: should I have a crack at this or not? And now that I'm here, I'm really excited and ready to get stuck in."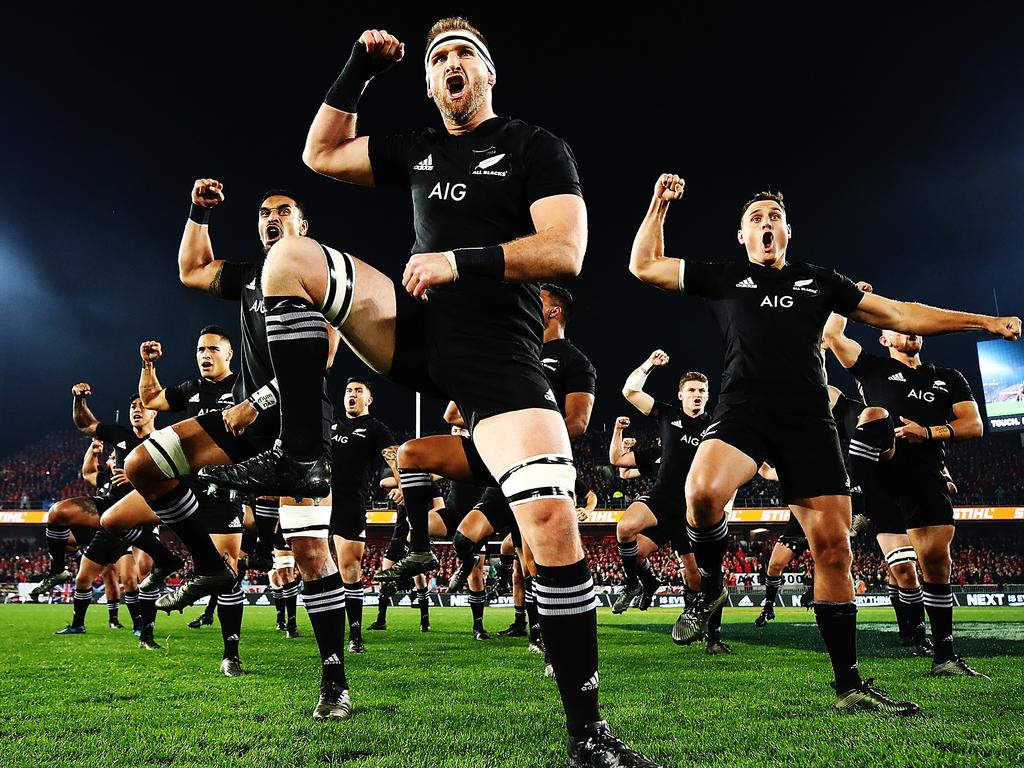 Kieran Read leads the All Blacks' haka before the third Test against British & Irish Lions at Eden Park in 2017. It was a monumental game that convinced Roger Tuivasa-Sheck he must chase the dream of playing international rugby. Picture: Hannah Peters/Getty Images
The stage won't get any bigger than Stade de France, Paris' 80,000 seat stadium, which will host the opening match of next year's World Cup between the All Blacks and firming favourites France.
Tuivasa-Sheck is yet to play a competitive game of rugby in New Zealand since 2011 when, after playing for New Zealand schools in union and league, he took up an NRL contract with the Sydney Roosters. Yet there is already speculation among media and All Blacks fans, perhaps of the mildly desperate kind, that the former Warriors captain could be Ian Foster's trump card in France next year.
Midfield has been a merry-go-round for the All Blacks since the retirements of Conrad Smith and Ma'a Nonu after the 2015 World Cup. Tuivasa-Sheck, with his step, fend, pace and physicality, could provide something special for the All Blacks, especially if he partners Rieko Ioane in the centres.
It's believed Tuivasa-Sheck would have toured with the All Blacks last year had Covid-19 not wrecked things, forcing Auckland out of New Zealand's National Provincial Competition and ending any hopes he was worth an early punt. But Foster has admitted Tuivasa-Sheck is in his thoughts and the man he replaced as All Blacks head coach, Steve Hansen, reckons the 20-Test cap Kiwi has "every chance" at becoming a dual-international.
"He's a superb athlete and he's not coming in 100 per cent cold, is he? He played for New Zealand schoolboys, so he's played the game before, he's got an understanding of it, so you could say he's returning to rugby," Hansen says.
"He's got every chance in the world, I think, because of his natural talent, because of the fact that he understands the game already, albeit at a lower level.
"He's got a great mentor in Leon MacDonald, so I think he's got a real chance. If he plays well, why wouldn't Fozzy [Foster] and his team be excited about having him? He's an athlete and a half."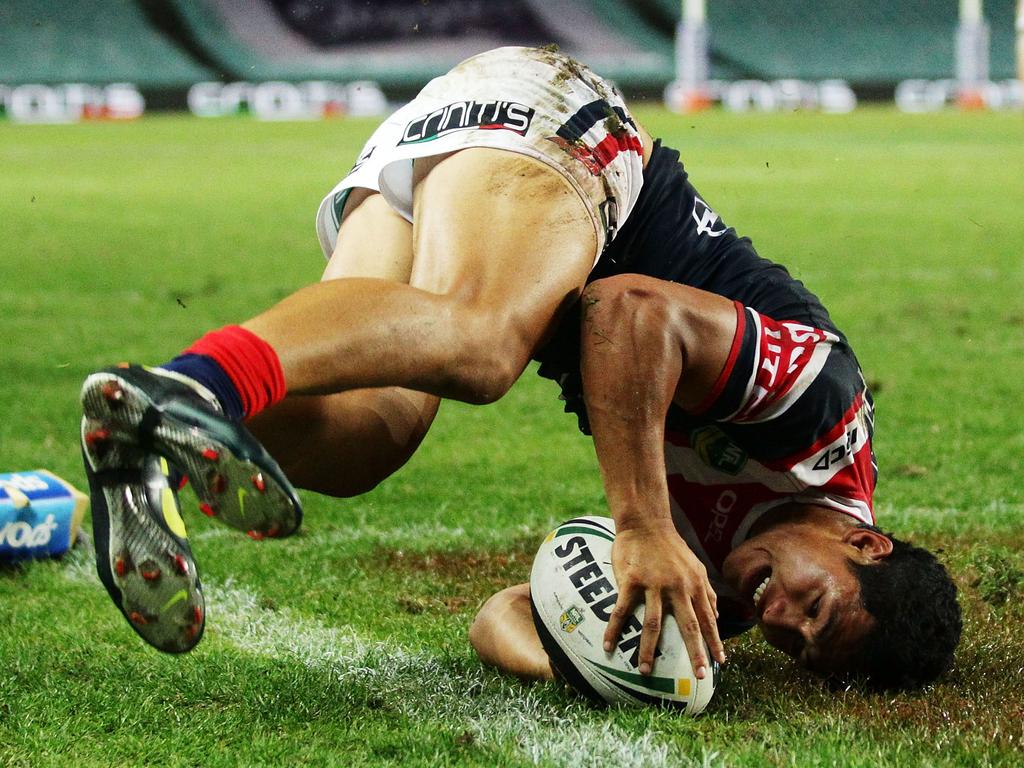 Roger Tuivasa-Sheck scores a spectacular try in the corner during the 2013 NRL season. His outrageous athleticism made him a smash hit in rugby league. Picture: Matt King/Getty Images
Much is made of Tuivasa-Sheck's rugby pedigree from his time at Otahuhu College in Auckland and his selection in the national schools team alongside Ardie Savea, Ngani Laumape and Patrick Tuipulotu.
Tuivasa-Sheck had scholarship offers to other wealthier and more prestigious schools, but turned them down. That was, his old First XV coach Leua Tamati says, a mark of the boy he was and the man he has become.
"Roger was one of those kids who could do things others couldn't do," Tamati says. "But he was also very coachable.
"If his ambition and dream is to be an All Black, then I am sure he will achieve that."
Andrew Douglas coached Tuivasa-Sheck, now 28, in the New Zealand Schools team in 2011 and remembers how he stood out in a supremely talented team.
"I thought when he was 18 that he would be an All Black," Douglas says. "I have got no reason to change my mind now."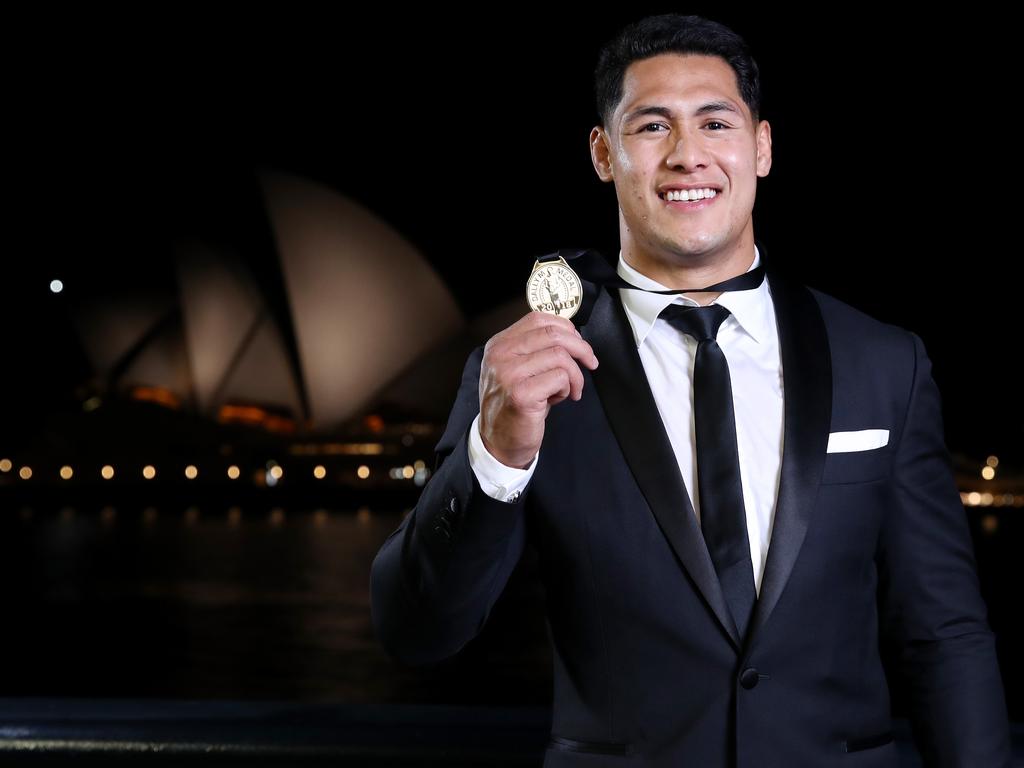 Roger Tuivasa-Sheck with the Dally M Award in 2018. He reached a phenomenal peak with the New Zealand Warriors. Picture: Cameron Spencer/Getty Images
For his part, Tuivasa-Sheck has tried to keep his return to rugby from the NRL as low-key as possible. He initially refused all interview requests, communicating through spokespeople that he had yet to play, so had nothing to say. He has since done a podcast for Sky TV and a press conference that showed his cheeky side when he was given three words to use with the media. One of them was 'discombobulated' – but rather than be confused, Tuivasa-Sheck nailed it.
He's been just as sharp on the training pitch, says Blues coach Leon MacDonald. Tuivasa-Sheck has paid particular attention to how the All Blacks midfielders have played and he's had former Blues coach Tana Umaga on speed dial for further advice.
"He's probably surprised us by just how easily he's fitted in," MacDonald says. "He's been really impressive in the way he's done his work off the field in terms of learning the game. He's watched a lot of rugby.
"He's very detailed in his preparation and he asks a lot of questions. There was a lot of talk before he came about his leadership and I can understand why because his attention to detail and his work ethic is outstanding.
"The early signs are really promising and exciting."
MacDonald says Tuivasa-Sheck's physicality has been a revelation to date, both on defence and with the ball.
"He attacks the line hard and everyone knows about his footwork on the line," he continues. "A lot of teams try to rush on defence and his ability to get to weak shoulders and get through that rushing defence has been really impressive.
"The question marks were always going to be around his handling – catch and pass under pressure – and he's spent a lot of time on that. He has good hands but he's also got a really good kicking game.
"He's got all the skills required but it's a physical position in the midfield, you've got to be tough and abrasive, and that's probably the thing about Roger that stands out for me the most."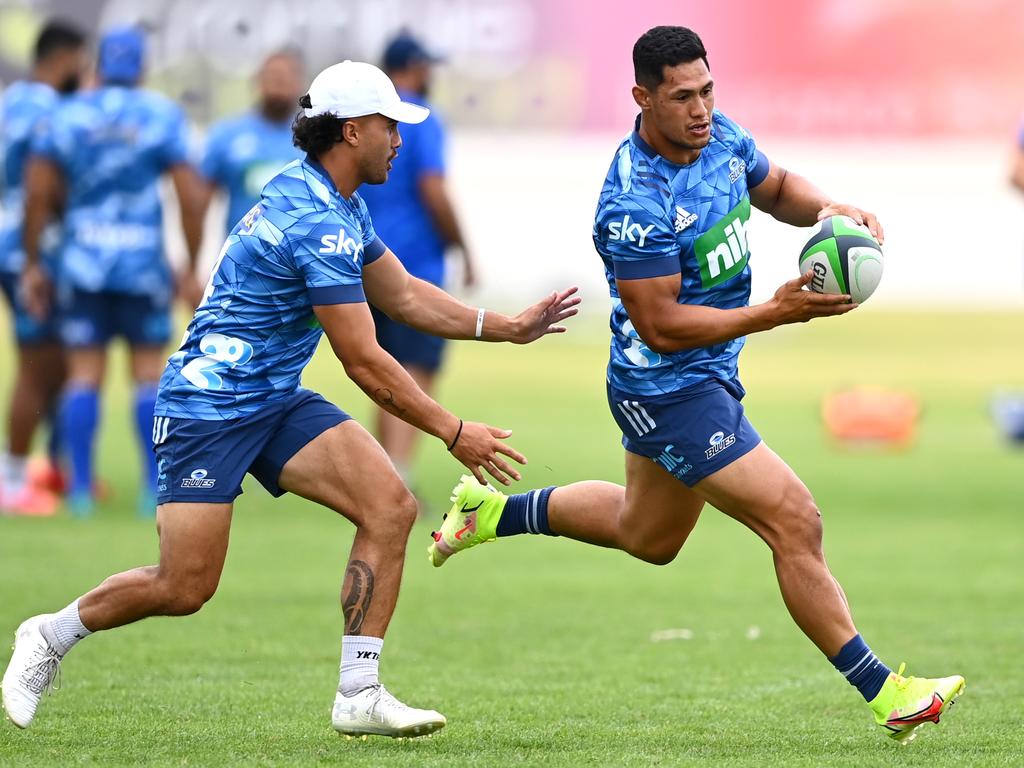 Roger Tuivasa-Sheck runs through drills during a Blues training session. Having starred as a fleet-footed fullback and winger in rugby league, he is attempting to launch his rugby career as a damaging centre. Picture: Hannah Peters/Getty Images
Sonny Bill Williams is the most famous cross-code All Black and Brad Thorn perhaps the greatest, especially as he moved from league to union, then back to league, and finally back to union. Craig Innes shifted to league in 1991 after playing 17 Tests for the All Blacks and returned to union in 1998, playing three seasons for the Blues and Auckland.
He remembers how much the game changed while he was away.
"I had to start from scratch again," says Innes who, together with Bruce Sharrock, manages Tuivasa-Sheck. "It was like learning a new game even though I'd played it from when I was five.
"It will be the same for Roger but he will go well. He's a good man, he will listen and he will put the extra work in.
"Roger could make just as much money without the risk if he stayed in league. He's coming back for the challenge. He could easily hang around the Warriors for another four or five years, or head back to Australia and chase some premierships because there is no shortage of clubs who would grab him as quickly as they could.
"But it's the challenge of coming back and having a crack at the All Blacks and trying to fulfil that childhood dream that is motivating him."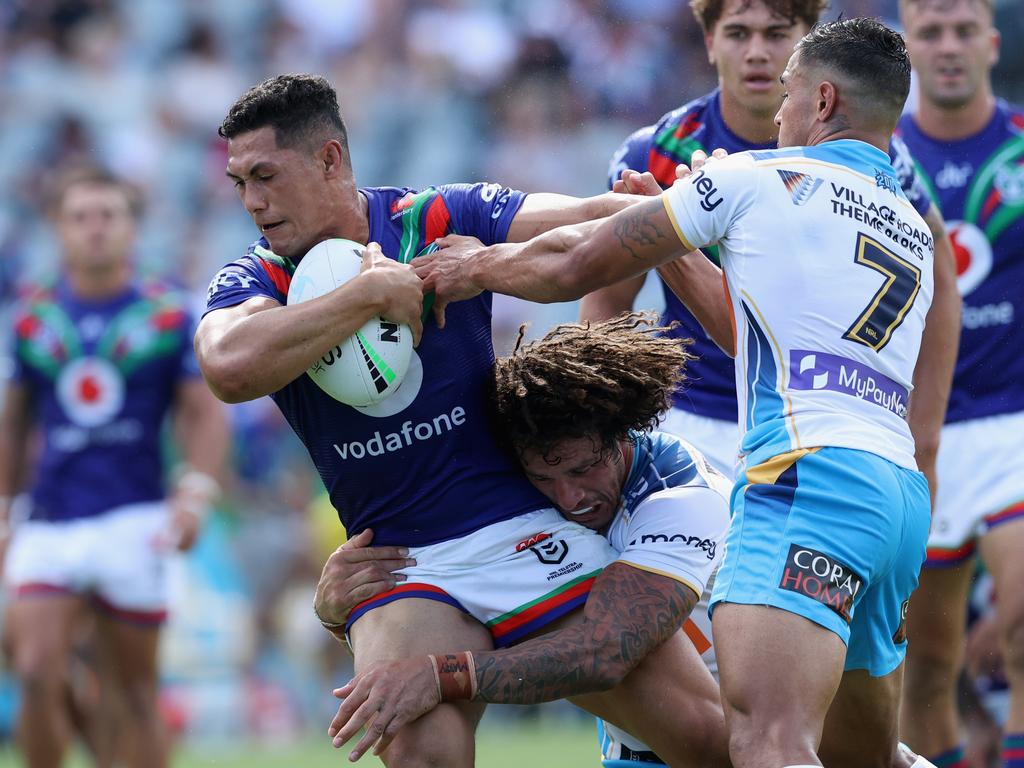 Roger Tuivasa-Sheck during round 1 of the NRL last season, Warriors vs Titans in Gosford. The bigger stages on offer in rugby union made irresistible the chance to switch back to the 15-man code. Picture: Ashley Feder/Getty Images
Caleb Clarke realised that dream in 2020 but it slipped away last year, in part because of a slump in form and also because he chased Olympic gold in sevens.
He spent summer training with Tuivasa-Sheck, often doing exhausting sprints up the long drive at the former NRL star's south Auckland home.
Like Innes, he believes Tuivasa-Sheck will be an All Black this year.
"I used to watch him in the NRL with that step and now to be playing alongside him and see it up close, it's exciting," Clarke says. "I've been a fan of his for a long time and sometimes I look and think, 'Wow, it's Roger Tuivasa-Sheck'. I have to pinch myself that I am playing alongside him."
Roger Tuivasa-Sheck's long-awaited Blues Super Rugby debut should come against the Hurricanes. It is planned as a first step towards All Blacks and Rugby World Cup honours. Picture: Dave Rowland/Getty Images for New Zealand Rugby
Tuivasa-Sheck was meant to debut in Super Rugby last weekend but the Blues game against Moana Pasifika was postponed after members of the Moana side tested positive for Covid-19.
His debut will instead (or at least should) now come against the Hurricanes in Queenstown, and will almost certainly be at second five.
"He wants to play in the midfield, he wants to be involved and he wants to get his hands on the ball," MacDonald says.
The Blues coach played 56 Tests for the All Blacks and sings a familiar tune when it comes to Tuivasa-Sheck's Test ambitions.
"He is hungry for success and he is going to keep pushing hard at training," MacDonald enthused. "He's been training the house down, he's in great nick, he wants to succeed and he won't die wondering."