Super Rugby 2022: New format, new teams and just maybe, the excitement of old
SEASON PREVIEW: Super Rugby has finally been overhauled, with new teams, a new format, fan friendly timeslots and a finals system that makes sense as CHRISTY DORAN gives the lowdown on Australia's teams.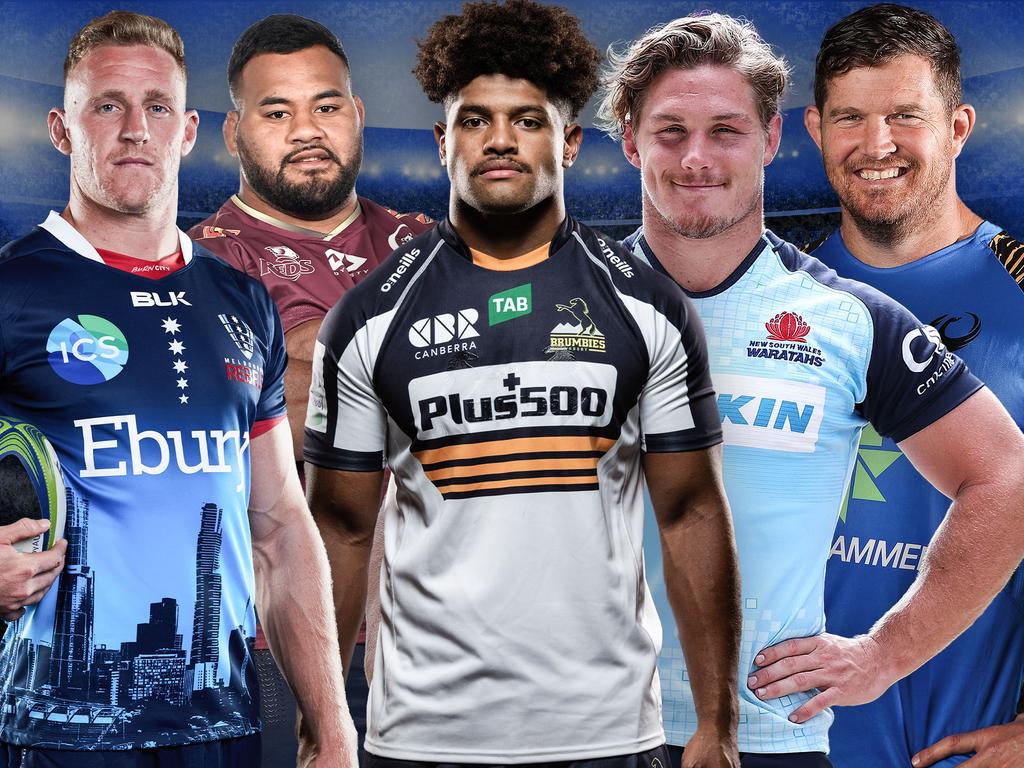 This year's Super Rugby competition is set to be a more competitive affair.
Of all the comments ahead of the 2022 Super Rugby season, the most poignant came from one of the new men on the block.
The Melbourne Rebels' first-year boss Kevin Foote is no coaching novice, having spent years as an assistant under Michael Foley and Dave Wessels, but the former South African Sevens player tapped into what the new iteration of Super Rugby needs to be. Must be.
"The thing is, I really want Super Rugby to look super," he said.
"Growing up and watching it as a youngster, the speed that it was played, the style that it was played, the initiatives that were used, I want to bring that back to Super Rugby and especially down in Melbourne.
"Super Rugby needs to be super and we need to play with a style that Melbourne are proud of."
By comparison, Rugby Australia CEO Andy Marinos was too conscious of upsetting South Africa by stopping short of calling the revamped competition the best yet.
"For where we are now and how the world is positioned, absolutely," Marinos said.
"I think it's really exciting to bring in these two new teams from the Pacific. There have long been peoples' opinions of the strength of their rugby and the flamboyancy which they play (with) and seeing it week-in, week-out, I think there's a really great identity for the Pacific region."
The reality is, for more than a decade Super Rugby has lost its way.
It expanded beyond its means and moved into corners of the world that shut off others, with games played in the middle of the night and team names few had heard of. The competition standings also rewarded mediocrity, with SANZAAR doing its best to keep Australian rugby relevant during its great slumber.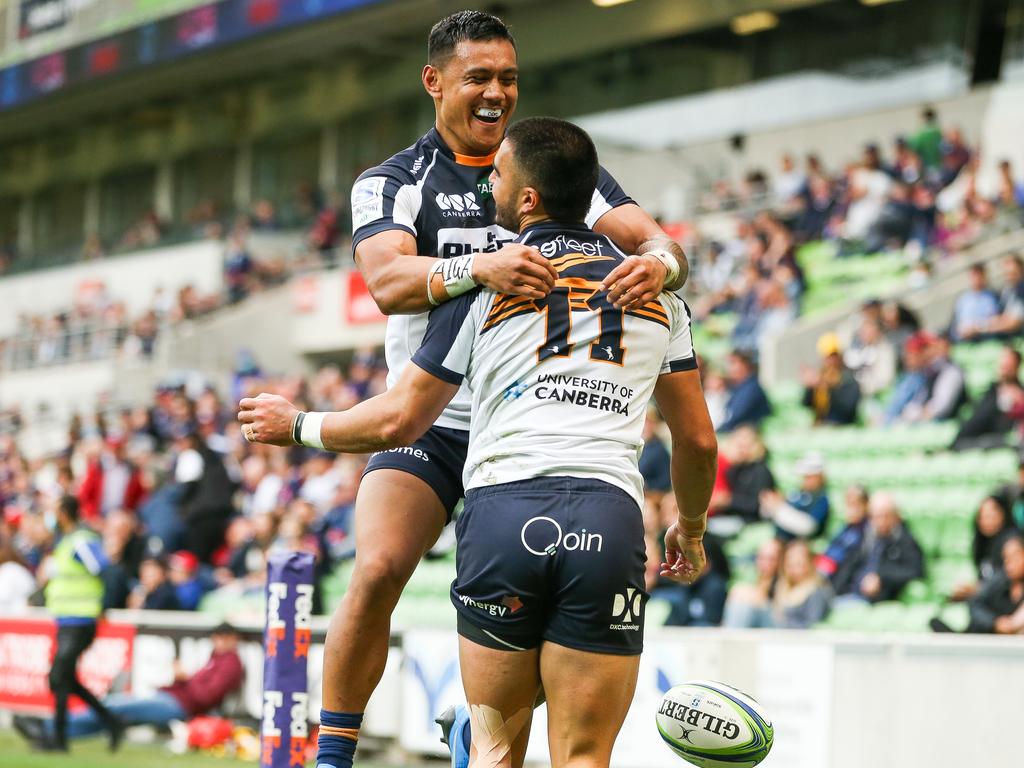 The Brumbies finished on top of the Australian conference last season. Picture: Asanka Ratnayake/Getty Images
At long last, sped up by the onset of Covid-19, Super Rugby has been trimmed. South Africa's sides have headed north and the Springboks are destined to join the Six Nations in the coming years too, while Argentina's Jaguares and Japan Sunwolves have unfortunately been let go for financial reasons as much as geographic.
Fortunately though, two news sides have been added, with a promise to bring fresh life into a competition that has never been at a lower ebb.
The Fiji Druan and Moana Pasifika will bring colour and vibrancy to the new 12-team Super Rugby Pacific competition, which includes five franchises each from Australia and New Zealand.
Matches will be played at friendly timeslots and supporters will not have to wait the best part of a month to see their team play.
Although the eight-team finals competition once again has rewarded mediocrity, at least the finals system will be easy to comprehend over a three-week playoff period before the internationals start in July.
New Zealand sides will once again dominate proceedings.
Australia shot themselves in the foot last season when the Queensland Reds partied like they had won the World Cup after holding on to beat the Brumbies in front of a strong 40,000 crowd at Suncorp Stadium to win the makeshift Super Rugby AU competition.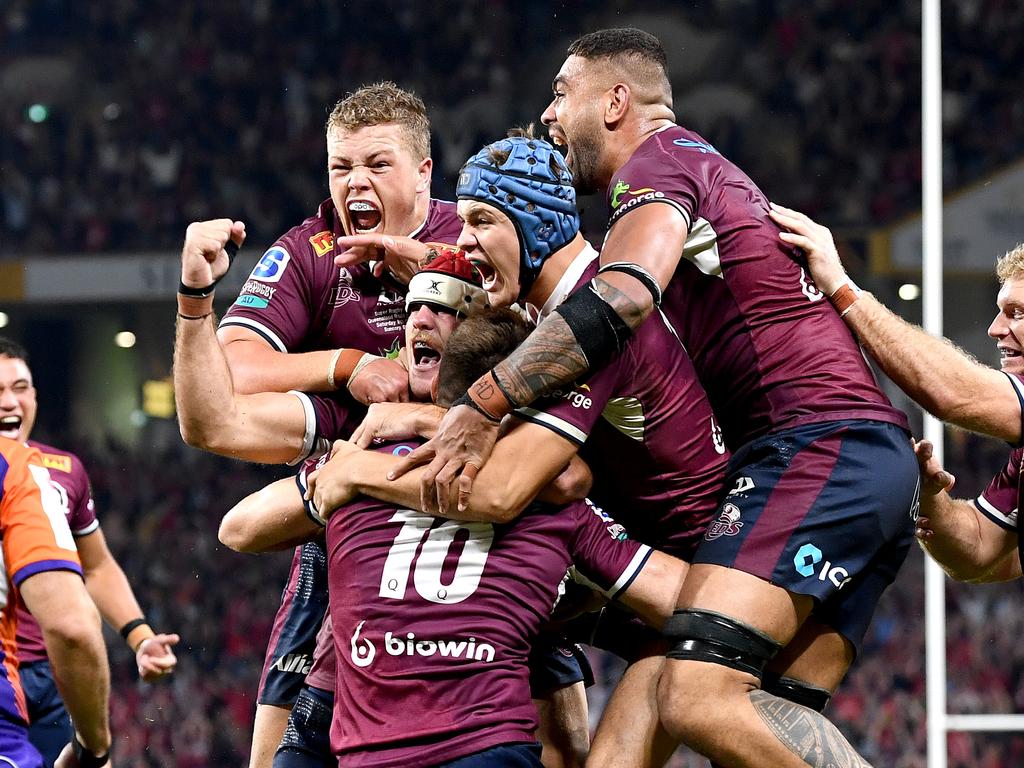 There were incredible scenes after the Reds beat the Brumbies in the final at Suncorp Stadium. Picture: Bradley Kanaris/Getty Images
For the fans and players who had endured years of disappointment since Ewen McKenzie handed over the reins to Richard Graham in 2012, Queenslanders naturally rejoiced with some long overdue silverware.
Except they forgot, or were too inebriated, to remember they had a match in six days' time.
The Reds, who were still drinking well into the Sunday, turned up to recovery hungover on Monday and played like it the next Friday and were beaten by New Zealand's lowest ranked side, the Highlanders.
A 63-28 shellacking came just a week later, before a saving grace victory over a 14-person Chiefs side in North Queensland.
The Brumbies, meanwhile, were busted and bruised and had to play three matches across the ditch once the trans-Tasman component of the season got underway.
While the Force came close to pulling off a famous win, in reality Australia's teams were given yet another reality check as they won just two of 25 matches.
It is small wonder Wallabies coach Dave Rennie wisely did not put a number to what would constitute a successful season.
After all, he had seen it all before.
He was still coaching the Chiefs when Australia's five sides failed to register one victory against New Zealand opposition in 2017.
That won't happen in 2022.
The Brumbies, despite their disappointing finish in 2021, resemble New Zealand opposition most and their strong set-piece will hold them in good stead throughout the year.
Up north, the Reds have threats across the park and a point of difference in Taniela Tupou, who dominates Super Rugby but has yet to play with the same consistency on the international stage. But their lightness in the tight five and lack of depth in the crucial hooking position, as well as fly-half and fullback, is a worry.
There are reasons to believe the Force and Waratahs especially, will have stronger years.
The Rebels and Drua meanwhile will pose the odd challenge but will be pressed to make the finals.
Here is Australia's five franchises breakdown, with the Fijian Drua, coached by former Wallabies and All Blacks assistant Mick Byrne, also featuring in their six-team conference.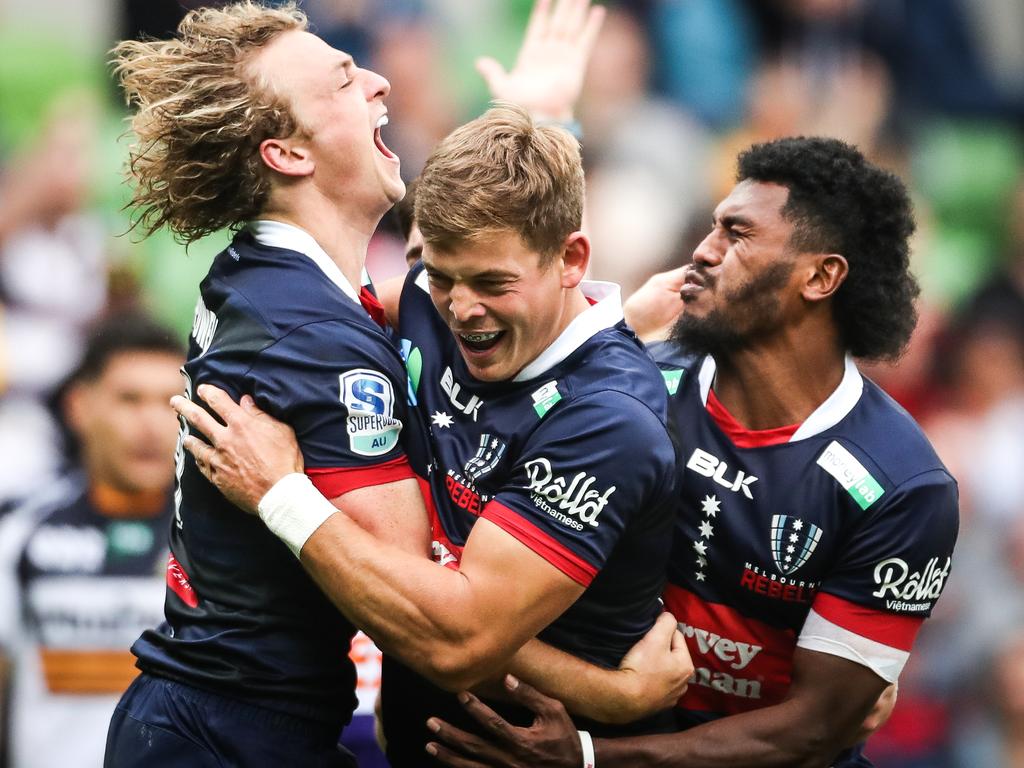 The Rebels will be hoping to bounce back after a disappointing 2021 season. Picture: Asanka Ratnayake/Getty Images
Brumbies
2021 position: First in Australian conference, runners-up overall
Strengths: There are three reasons why the Brumbies will challenge the overall competition.
First, the Brumbies have the best depth of any Australian franchise. How else could they let Mack Hansen go?
Remember him? He was the utility back who could play anywhere in the back three and step in at playmaker. But because of the financial squeeze, they were happy to let Hansen go because they see Tom Banks as their future in the No.15 jersey.
In two matches for Ireland, Hansen, a former Junior Wallaby, has left Rugby Australia officials squirming as thoughts turn ominously to how far he can go.
The Brumbies' front-row is an all international one with three international props and Test hookers in Folau Fainga'a and Lachie Lonergan.
Darcy Swain is one of the most exciting young locks in Australian rugby in years and had a successful Test season in 2021, while Cadeyrn Neville looked set to make his international debut before a late injury.
Rob Valetini was Australia's best Super Rugby player in 2021 and his breakout season continued into a promising one for the Wallabies. His back-row teammate Jahrome Brown would have made his Test debut if the New Zealand-born forward was eligible.
Meanwhile, in the backs the Brumbies have threats across the park and a great blend between youth and experience.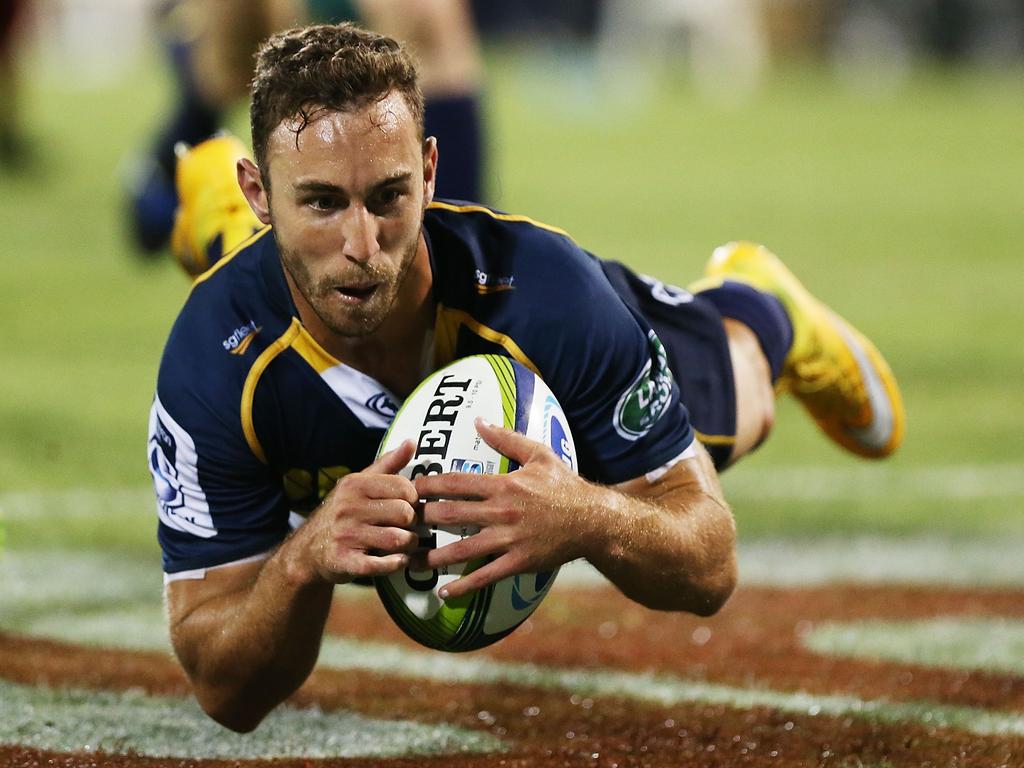 Nic White's experience is set to be a huge asset for the Brumbies. Picture: Stefan Postles/Getty Images
Nic White is a seasoned pro and his old head and quick pass is perfect for Noah Lolesio, who will be better after his opening two seasons of professional rugby. Lolesio has come under fire ever since debuting for the Wallabies, but it is easy to forget that the playmaker is just 22 and has already played eight Tests – five against the All Blacks.
Further out wide, the Brumbies have the impressive Len Ikitau at outside centre and threats out wide with Tom Banks, Andy Muirhead and returning Wallaby Jesse Mogg.
The Brumbies also have one of the sharpest boosts in Australian rugby, with Ryan Lonergan a solid halfback who has all the tools in place to debut for the Wallabies over the coming years.
Weaknesses: Discipline.
The Brumbies' discipline cost them in 2021 and they had eight men sent to the sin bin throughout the season, including costly infringements in the Super Rugby AU final.
One to watch: Nick Frost – the second-rower spent time in the Crusaders academy before returning to Australian rugby and snubbing the Waratahs.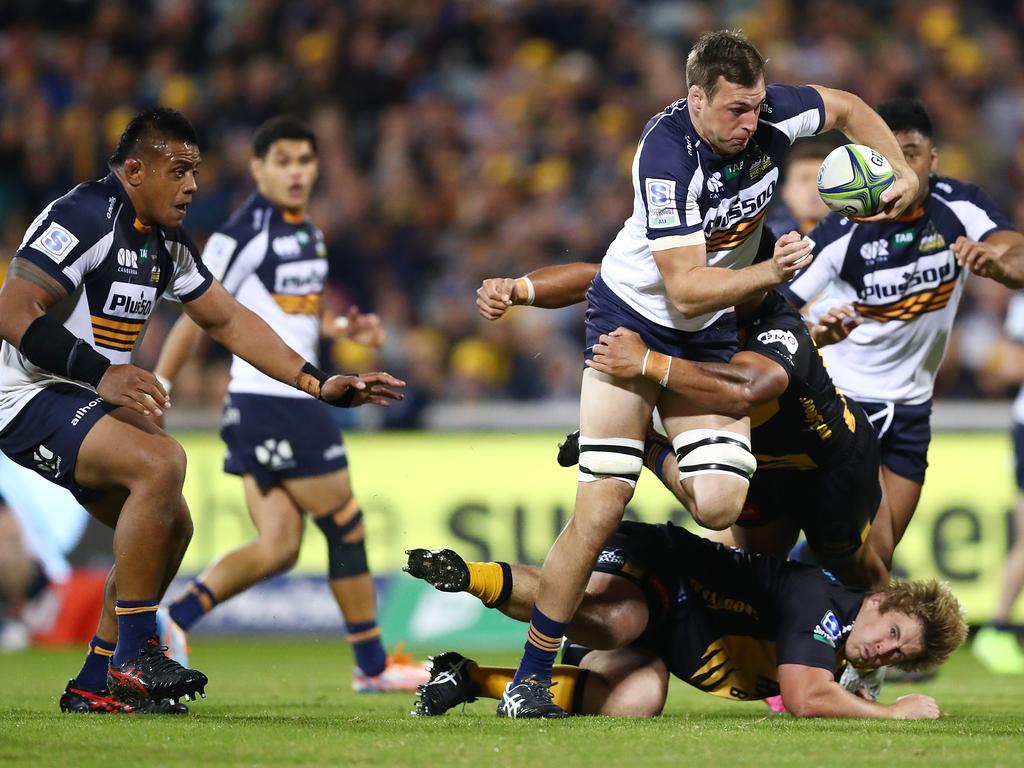 Nick Frost is an exciting prospect in season 2022. Picture: Mark Metcalfe/Getty Images
What they said: "There won't be any grand statements coming from us around revenge or motivation or anything like that" – departing Brumbies coach Dan McKellar
Western Force
2021 position: Fourth in Australian conference, eighth overall
Strengths: Not so long ago you could have described the Force as 'Dad's Army'. But the Force have recruited well ahead of this campaign and targeted a bunch of youngsters.
In particular, the Force have gone after the Brumbies recruiting playmakers Reesjan Pasitoa and Bayley Kuenzle as well as halfback Issak Fines-Leleiwasa.
It's a shrewd piece of recruiting work from the Force, who have recognised that the Brumbies' program has been the best for years under McKellar and Laurie Fisher.
"It's got a different feel about it certainly," coach Tim Sampson said.
"Our age profile has certainly come down, which was important and by design. Last year it was to get some experienced players in when we re-entered Super Rugby properly, and we got the likes of Rob Kearney and Tomas Cubelli, but we've had a different approach this year and wanted to get a bit of youth in.
"Those blokes you've mentioned, Kuenzle, Finnes, Pasitoa, they've obviously come from a pretty good program at the Brumbies and what they've added has been immense."
In particular, Pasitoa is one of a handful of exciting young playmakers who have come through the system and has been given time in the saddle over the past two years. Pasitoa led the Australian Schoolboys under Peter Hewat to a famous victory against New Zealand in 2020 and is a star in the making.
He is only 20, but stands at 186cm and weighs 96kgs.
"He's very skilful," Sampson said. "He's got great vision, he likes to take the ball to the line. He's a big strong body, he's got a lovely kicking game and he's very comfortable in defence.
"He's the package player. He's young, he's got confidence, he oozes confidence, and I think the players feed off that.
"We have thrown a lot his way and by that I mean presenting in meetings and coming up with plans and moves, he's been really impressive so far."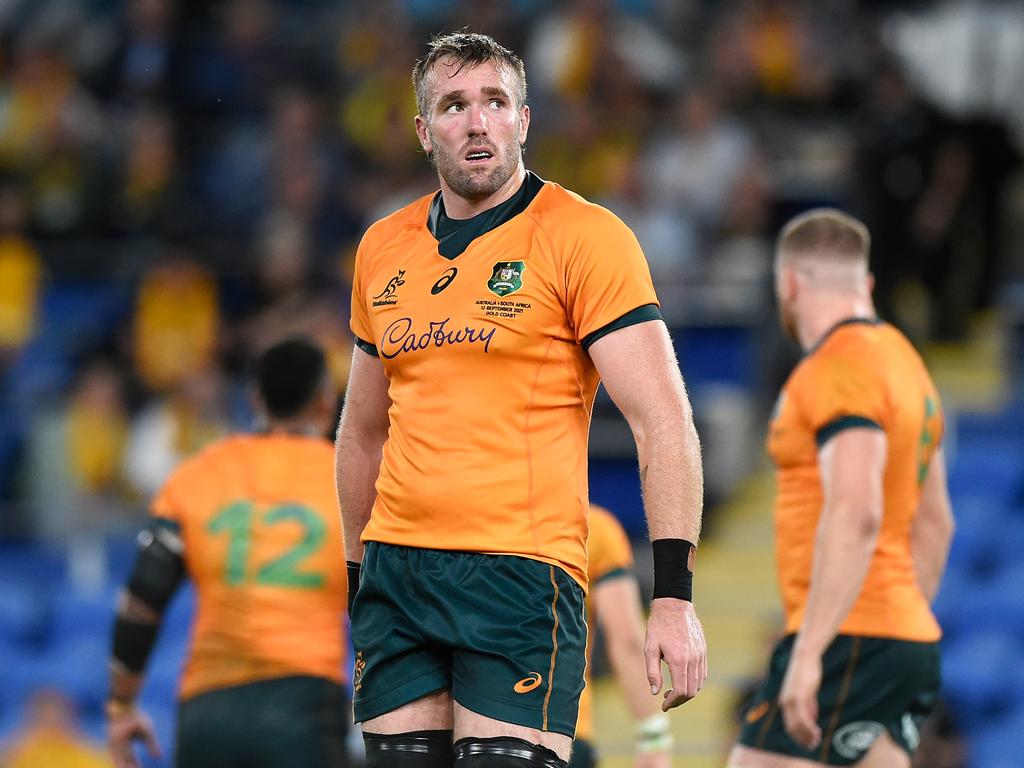 Izack Rodda's signature is a huge boost for the Force. Picture: Matt Roberts/Getty Images
Importantly, the Force have also signed experienced Wallaby, Izack Rodda.
Rodda is Australia's most consistent lock and while he doesn't create carnage like some world class second-rowers, he is a pillar of strength and first-class at the cleanout.
The Force also have experience and enough quality in the front-row, led by their new captain and Test hooker Feleti Kaitu'u, to stand up to all oppositions. Toni Pulu can also create havoc out wide if he stays fit.
Weaknesses: Their youth. While the Force needed to bring in fresh legs, it is unlikely to click immediately.
There are still experienced players in Ian Prior, Jake McIntyre and World Cup-winning All Black Richard Kahui looming as options in their reserves though.
One to watch: Reesjan Pasitoa – the Perth native has been handed the playmaking keys having just turned 20, but with confidence beyond his years.
Reesjan Pasitoa joining from the Brumbies is set to ignite the Force's backline. Picture: Michael Bradley/Getty Images
What they said: "Success, results, winning Super Rugby, all of those things speak for themselves. But unless we're getting results on the field, nothing happens." – Feleti Kaitu'u
Melbourne Rebels
2021 position: Fifth in Australian conference, 10th overall
Strengths: From Jordan Uelese to Rob Leota, Matt To'omua to Reece Hodge, the Rebels have a side that can threaten and boasts plenty of Wallabies.
Fortunately, To'omua is fit to take his place. The experienced Wallaby is returning from a lengthy break and only recently returned to contact training. If he stays fit, the Rebels have a seasoned pro to guide the likes of Carter Gordon around the park.
But a question mark remains around To'omua's fitness, with Rugby Australia open for the 32-year-old to accept an overseas offer if presented one.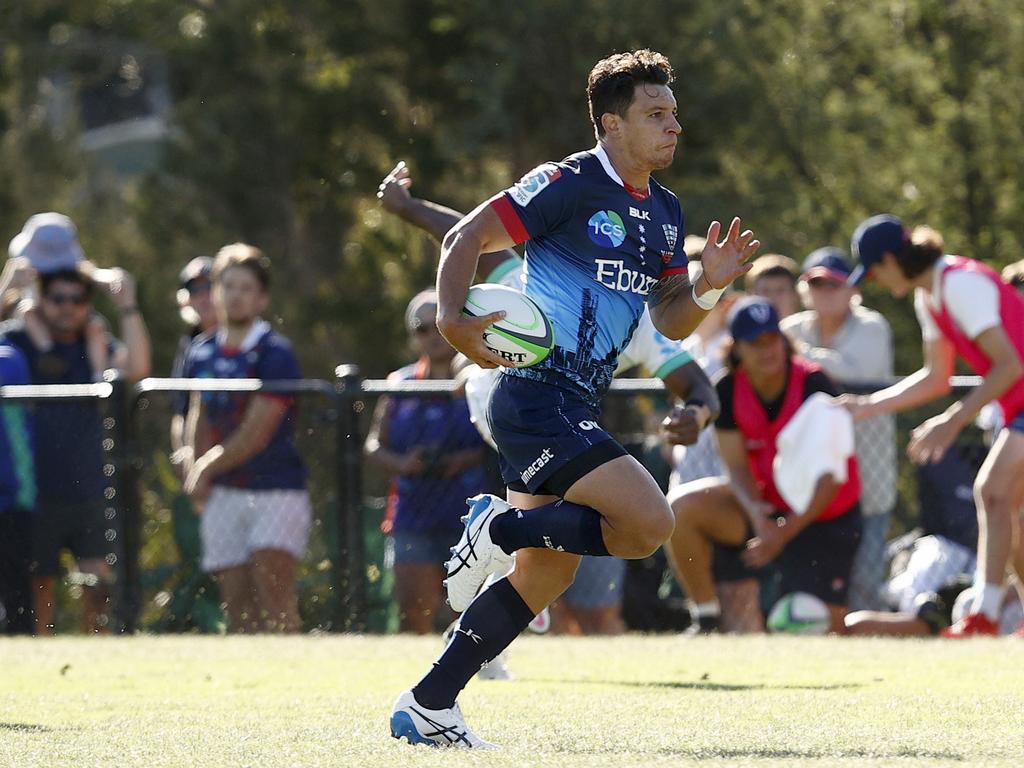 To'omua is set to be important for the Rebels if he can stay fit. Picture: Darrian Traynor/Getty Images
2022 is Gordon's big year. The former Queensland Reds academy player has had raps on him for years and has filled out.
The Rebels have a bunch of determined players, whose resolve has been hardened by two years on the road. They also boast the necessary grinders, players like Cameron Orr and Cabous Eboff and Michael Wells who continually front up.
But they need the likes of Leota and Poni Fa'amausili to stay fit and on the park to provide the Rebels some X-Factor.
Weaknesses: Consistency and depth.
An inability to keep it all together for more than a few weeks, and at times 80 minutes, has often brought the Rebels undone. They led the competition in 2019 after five rounds but then faded miserably.
Without Marika Koroibete too, the Rebels have lost one of the biggest weapons in Australian rugby and a player who was regularly fit and available.
One to watch: Carter Gordon – Now 21 and finding his voice with each year, he showed glimpses of what he can offer after being given opportunities during last year's trans-Tasman season.
Carter Gordon is a hugely talented youngster who will benefit from the experience around him. Picture: Matt King/Getty Images
What they said: "We want to play a game that is fast and fearless, and we understand that comes through execution" – Rebels coach Kevin Foote
Queensland Reds
2021 position: Second in Australian conference, semi-final overall
Strengths: Last year's Super Rugby AU winners, the Reds can challenge any team. They are well balanced from 1-15 and have a number of game-changers.
Tupou is the most dominant forward in Super Rugby and he is an 80 minute weapon. But the Reds are by no means a one-trick pony.
In Lukhan Salakaia-Loto, Angus Blyth and Ryan Smith, the Reds have three top class second-rowers who have been guided by Brad Thorn. Salakaia-Loto especially was filthy after being overlooked for last year's Spring Tour and will be out to make a statement.
The Reds also boast one of the best back-rows in the competition, so much so that Fraser McReight could not even crack the first XV. McReight is a game-changer and his link play and on-ball ability is second to none in Australian rugby, while Harry Wilson will be another out to make a statement after sliding down the pecking order in 2021.
Tate McDermott is the Reds' point of difference. Where the game is looser in Super Rugby, the nippy halfback is lighting fast and can sniff out a hole. His defence can't be scoffed at either.
Tate McDermott is in a class of his own at the moment in terms of Australian No.9s. Picture: Masanori Udagawa/Getty Images
In the backs, James O'Connor merely needs to call the right shots like Tom Brady. With Hunter Paisami and Jordan Petaia in the backline, the Reds have punch in the midfield while two-time NRL premiership winner Suliasi Vunivalu also returns.
Thorn's men should also be breathing fire after their trans-Tasman embarrassment last season. Co-captain Liam Wright hit the nail on the head when he said they were "shown up" during the five-week crossover tournament.
Weaknesses: Hooker depth.
Ahead of the Reds' opening trial, Sam Cordingley marvelled at Richie Asiata's improvement. The former Wallaby turned general manager said Asiata was one of two big movers in the Reds camp.
Until the 25-year-old hooker broke his arm in the first trial. It is a colossal blow.
After the departure of Wallaby Brandon Paenga-Amosa, the Reds needed another rake to challenge Alex Mafi and Asiata was that man.
Just like the Wallabies, the lineout and set-piece has been the Reds' Achilles heel. If the Reds can't get quick ball, McDermott and O'Connor will struggle to get their side roaring.
One to watch: Josh Flook. Re-signed last September until the end of 2024, the longest contract going in Australian rugby at the time. His steady trajectory as an outside centre/wing option with speed and street smarts justify the investment.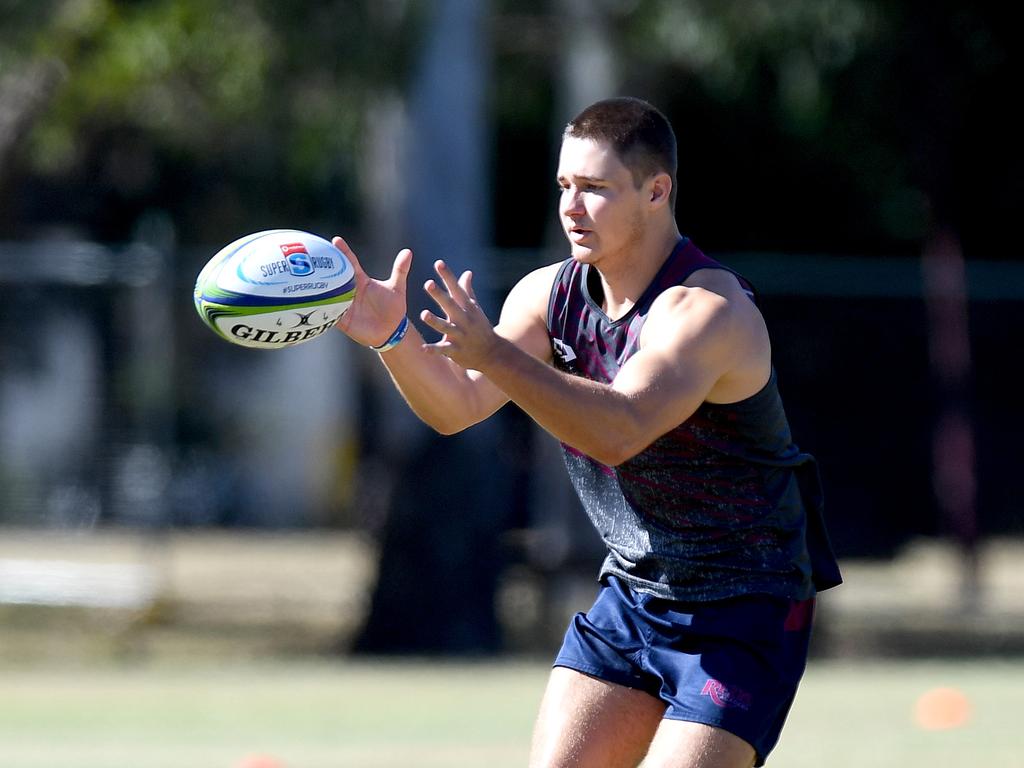 The Reds have put their faith in Josh Flook long-term. Picture: Bradley Kanaris/Getty Images
What they said: "We got shown up plain and simple. It was tough to swallow for a few weeks, but on a positive note I think it really guided our pre-season and how then we were going to attack this season" – Liam Wright on last year's trans-Tasman capitulation by the Reds.
NSW Waratahs
2021 position: Third in Australian conference, seventh overall
Strengths: After going winless throughout 2021, the Waratahs will take the second step to turning the club around in 2022.
The first came with the off-season appointment of Darren Coleman. After six years of foreign coaches, the Waratahs needed to return to one of their own and bring everyone together.
Coleman comes with countless Shute Shield titles on his CV and knows how to build a team. He arrived too late to make a real statement on his roster, but already the likes of Jed Holloway have returned to strengthen the forward pack.
In Angus Bell the Waratahs have one of the best young players in the game in the front-row.
Angus Bell has proven over the last few years why he's one of the most highly-rated prospects in the country. Picture: Dave Rowland/Getty Images
But the Waratahs' strength is in the back-row, which is headed by Lachie Swinton. Will Harris is another local boy who will be stronger after injury-disrupted seasons.
Elsewhere, the arrival of Wales and British and Irish Lions great Jamie Roberts looms as a game-changer. With the prodigious talent of Ben Donaldson at fly-half, the Waratahs need an experienced head and a bash-the-door-down centre.
Roberts fits that bill and will add plenty to those around him. Already the Waratahs have a Test midfield, with Izaia Perese and Lalakai Foketi making their international debuts during last year's Spring Tour.
Weaknesses: Depth.
Just like the Force and Rebels, the Waratahs need their players to stay on the park. At times the Tahs resembled a hospital ward last year because they were not match hardened.
Their inexperience also played a role in their terrible defence, conceding almost 43 points a match last year and although they have made moves to prioritise the area, it is likely it will remain a work in progress under Jason Gilmore.
One to watch: Ben Donaldson – gets first crack at the No.10 jersey after impressing in a rare run-on performance last year.
The Tahs need someone to step them up in the No.10 jersey and Donaldson could be the man. Picture: Pete Dovgan/Speed Media/Icon Sportswire via Getty Images
What they said: "NSW produces somewhere around 60 per cent of the professional players in the country, so if its flagship team isn't doing well it's not inspiring the next generation of kids to pick up the sport; the boys are well aware of that" – Darren Coleman