The inside story of England's 2016 series whitewash Down Under
The England stars of six years ago tell WILL KELLEHER how team spirit and Eddie Jones's siege mentality inspired their triumph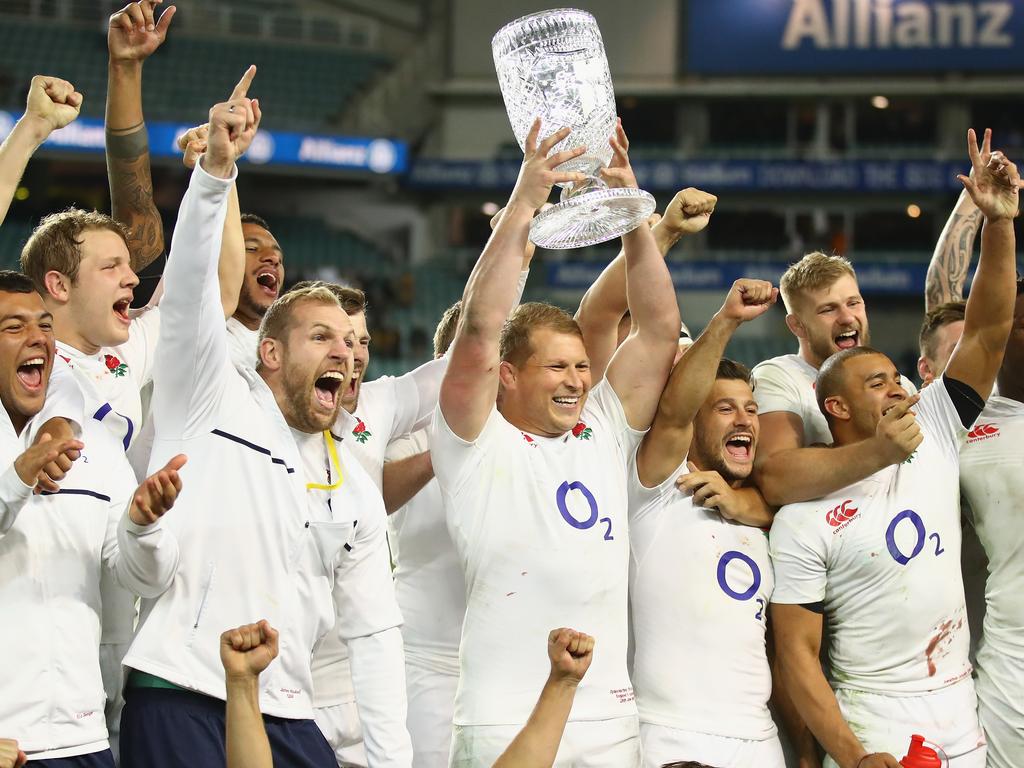 England were a team in turmoil less than a year earlier, but the side's 2016 whitewash of the Wallabies was a high-water mark. Picture: Cameron Spencer/Getty Images
It was a real purple patch of English rugby," James Haskell says from Ibiza, recalling 2016 and the tour to Australia as he prepares to open for Craig David with a DJ set in a Balearic beach bar.
"Six years ago, wow. A long time ago isn't it? That was incredible," Chris Robshaw adds, now back in the UK from his season with San Diego Legion in Major League Rugby in the US.
England are in Australia again, for the first time since their historic 3-0 series win. This is the story of 2016 — the great series England are trying to emulate in 2022.
***
In 2016, English rugby was ablaze. England were Six Nations grand-slam winners, redeemed after their pool-stage exit at the home World Cup the autumn before; Saracens were Premiership and Heineken Champions Cup double champions; and Eddie Jones, the new national head coach, was practically the Messiah.
His every quip landed, each bold decision came off and every result went his way. The squad — very similar to those who had flopped under Stuart Lancaster — were inspired, energised and fizzing for the tour down under, despite a gruelling season.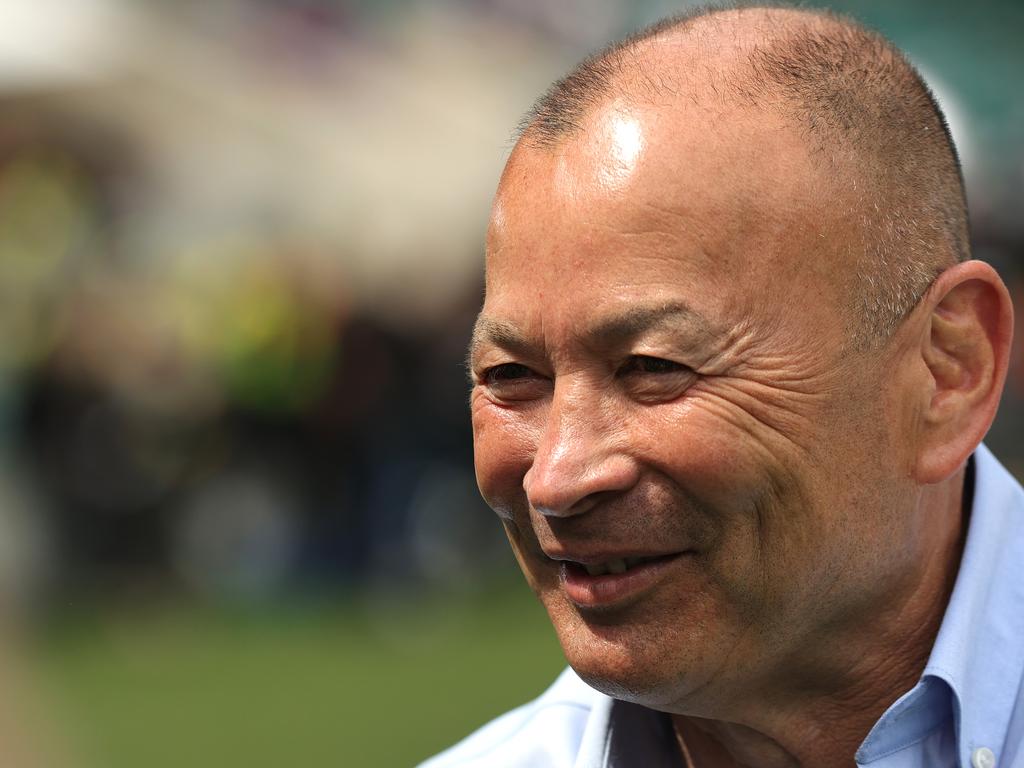 Eddie Jones was seen as the Messiah when he took the England coaching job in 2016. Picture: David Rogers/Getty Images
Jones found the perfect narrative for this shot at redemption: the team had been dumped out of the World Cup by Australia, losing 33-13 to the Wallabies at Twickenham, and he had been sacked by Rugby Australia in 2005.
This was "Bodyline". The reference to the 1932-33 Ashes cricket series — where to counter the genius of the Australia batsman Don Bradman, England bowled aggressively at his body — was purposefully picked.
It was a fierce statement that Jones knew would rile the Australians. He played England grainy footage of Harold Larwood, the bowler who spearheaded Bodyline, to the players.
"We're going to play Bodyline rugby," Jones said, eyes twinkling. "Every good English side, whether it's in cricket or rugby, they want to smash people. Australia will be breathing fire. All they want to do is make a physical statement. So let's swing the bat and see how we go."
The idea was set. "Everything was about aggression," Robshaw says. "Eddie wrote on a white-board '3-0'. He said, 'This is our goal.' A lot of us had experienced a lot of pain. We wanted to go there and right some wrongs."
Jones's siege mentality narrative was aided by the Australians. Fox Sports had produced a tongue-in-cheek promotion for their coverage, with former Wallabies such as Tim Horan and Phil Kearns laughing as they watched footage of England's World Cup exit and the 76-0 humiliation on the 1998 "Tour from Hell".
They mocked England for having won only three times in Australia and joked that, unlike after the World Cup, they could not blame their inevitable demise on Sam Burgess, who, by then, had returned to rugby league.
Dylan Hartley, England's captain, played this to an open-mouthed squad. "I found it amazing," Haskell says. "Nobody gave us a chance. I like that spice, but I had just never seen anything quite so disrespectful. It was, 'OK lads, let's see what they've got.' "
James Haskell says no one gave England a chance ahead of the 2016 series. Picture: David Rogers/Getty Images
While this all suited his plan, in public Jones raged at England's "demeaning and disrespectful" treatment. On arrival he spun a yarn about how immigration officials had taken him aside for extra bag checks. "Everything that's done is going to be coordinated to help Australia win," he said.
Whether truthful, it is a line he is repeating now. His players lapped this up. "I hadn't had a time like that where I'd enjoyed it so much, where I thought the coaches got the players and we were having so much fun. We were treated like adults and played a game we wanted to play," Haskell says.
"You get old blokes who don't play for England anymore commenting and you can't ever go back at them as you have to toe the party line — but when your coach goes, 'Lads, watch this,' then mugs off the opposition and says, 'We're going to target people,' you just go, 'Go on Eddie.'
"Before the first Test, Dylan Hartley, Chris Robshaw, Danny Care, Owen Farrell and Ben Youngs all sat in a room just going, 'How good is this?' "
Off the field, the players had a ball. They self-policed if youngsters pushed socialising boundaries too far, and felt empowered. Ocean swimming kept them loose, with Care and Jamie George the "Ant and Dec" social secretaries, who set up mock "bushtucker trials" — for a game they unsurprisingly called "I'm An England Rugby Player Get Me Out of Here!" — bringing along snakes, scorpions and spiders.
"A couple almost fainted seeing a big tarantula," Robshaw says.
"It was hilarious to see some of the big boys running out of the room when the snakes came out," Care adds.
They even had a cake club — although that was soon halted.
"That lasted until Ben Te'o's skinfolds [a body-fat measurement] went up," Haskell says. "The head of strength and conditioning wrote 'Soft food makes soft men' on a bit of paper and we weren't allowed to have any more. We all had to suffer because he got fat."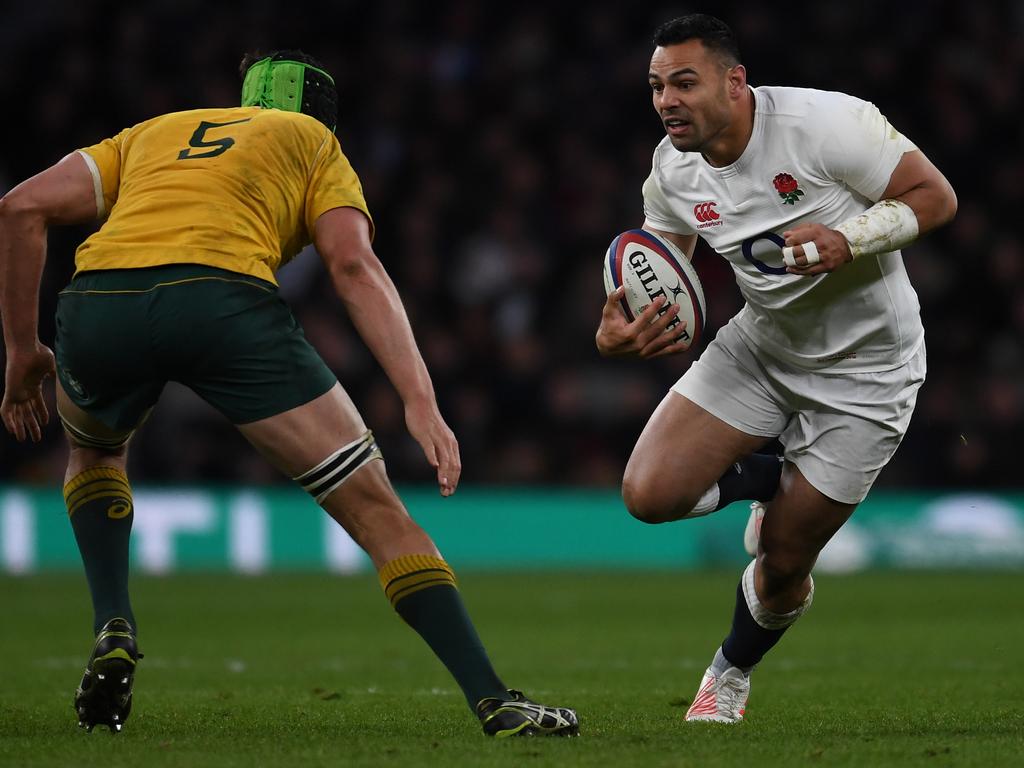 England had a cake club until Ben Te'o "got fat" says Haskell. Picture: Mike Hewitt/Getty Images
To fit his theme of aggression, Jones picked two apprentices — the props Kyle Sinckler and Ellis Genge — although they did not carry the label that has been applied to Henry Arundell and Will Joseph this time. Their job was to disrupt, to bring an edge to training and help to prepare the Test team. "They were hungry, angry, like two cannonballs coming time and time again," Robshaw says.
In training, wider squad members dressed as David Pocock and Michael Hooper — the twin open-side flankers for Australia — and another became the full back Israel Folau.
"Once someone kicked loose to the person playing Israel Folau. Eddie stopped the session and went absolutely berserk," Robshaw says. "He was swearing blind, saying, 'If you want to lose the series, this is what to do — kick it to their best player on the pitch, give him a 50-metre run up and let him decide what he wants to do.'
"After that we didn't have a bad kick to him. Every time he got man and ball."
Robshaw and Haskell were charged up and motivated, both told to keep things simple. Robshaw, relieved of captaincy, instructed to tackle and carry hard; and Haskell to hit things.
"I was up against two of the best back-rowers in the world, David Pocock and Michael Hooper, in their backyard," Haskell says. "I'd get the analysts to send me clips of them carrying, at the breakdown, and in defence. I'd watch it pre-game for my own motivation and to learn. They were a team who had made the World Cup final, so it was a big test and I loved it."
From the second minute of the first Test Haskell laid down the gauntlet, folding up Pocock in a tackle "like a travel map" — his words — for his most viral social-media hit.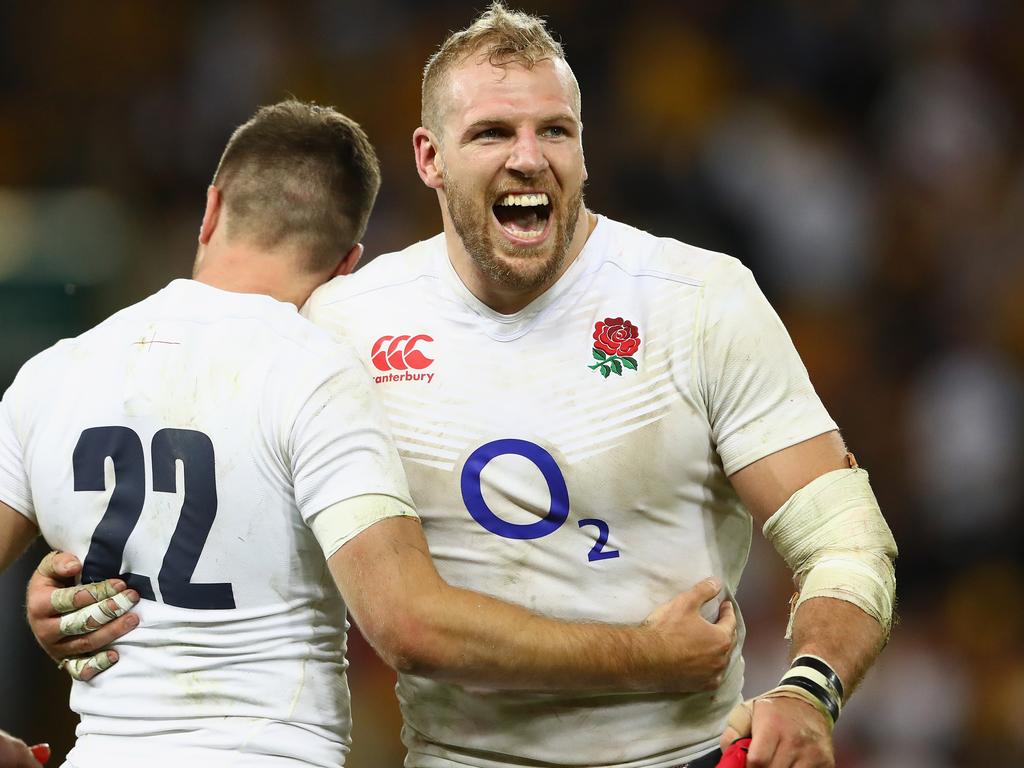 Haskell played like a man possessed in the opening Test. Picture: Cameron Spencer/Getty Images
But England struggled early, going down 10-0. At 10-6 the world saw Jones's brutality: he hooked the centre Luther Burrell 28 minutes in to combine George Ford with Owen Farrell. It worked, with England winning 39-28, but Burrell would never recover mentally from that scar. "As I sat on the bench, I could have cried. I was heartbroken," he told The Telegraph this week.
Robshaw recalled: "It's never a nice situation to be in. You rally round as you're compassionate as these are your friends. Eddie is tough, but was the best man-manager I worked with. He was always very honest, never mucked me around, didn't play games with me."
Haskell did not realise the impact of his first Test performance until his partner, Chloe Madeley, told him he was "unbelievable" on the phone. He could not believe everyone was being so nice to him. "Some of the worst environments I've been in have been England ones; unprofessionalism, long training, bad motivation," he says. "But in 2016 I smiled the whole time and enjoyed it."
England would need more for Melbourne. Some media manna from heaven helped.
After Brisbane's opener, Fox's Stephen Hoiles, a former Wallaby, was asked to pose an innuendo-laden question to Jones using the words "moisture", "lube", and "shrinkage". When he did, Jones bit his head off. More disrespectful Aussies; and angry English.
Then came Paul Gustard's crowning motivational moment. The defence coach sourced a pocket mirror for each player ahead of the second Test. In a meeting he then read the poem Man in the Mirror. "You can fool the whole world, down the highway of years, and take pats on the back as you pass. But your final reward will be heartache and tears, if you've cheated the man in the glass."
It worked a treat. England defended for their lives on a dark, wet night in Melbourne — once holding out for 3 minutes 45 seconds on their goal-line before half-time — to win 23-7, and the series.
"I tackled Folau, and he was so strong he started reaching out for the tryline so I just sat on him," Haskell says. He had ruptured his toe ligaments, an injury which set him on a path to retirement in 2018. He was out of the third Test, but was still named man of the series.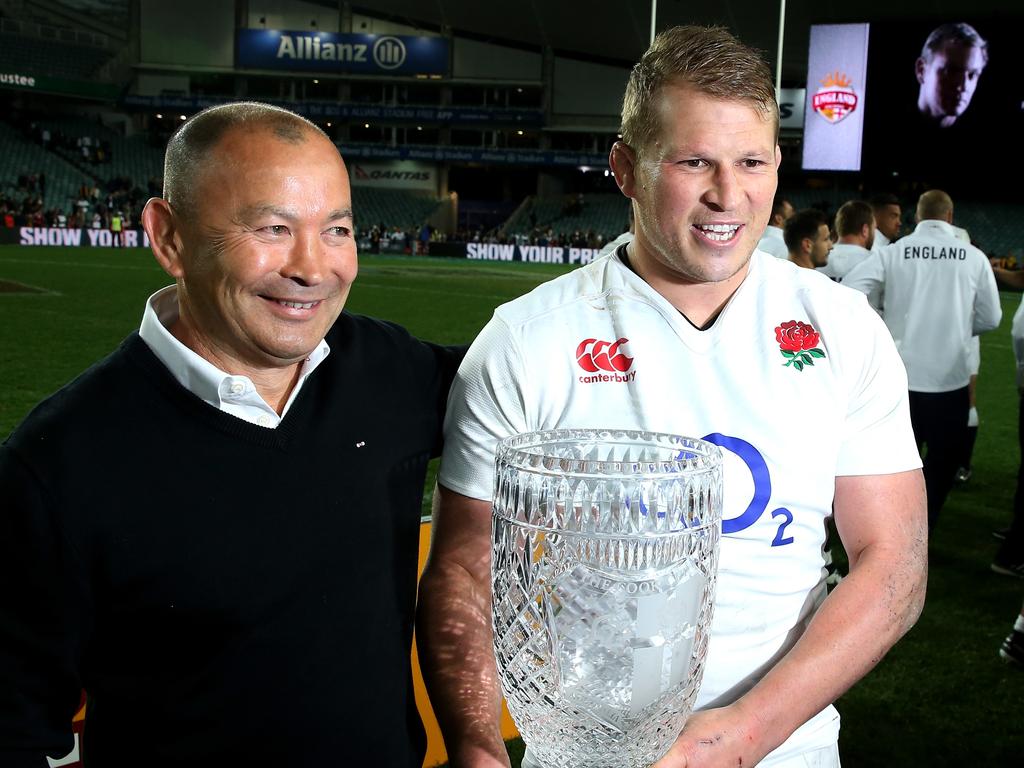 Jones and England captain Dylan Hartley after the third Test in Sydney. Picture: David Rogers/Getty Images
If England were to whitewash Australia — and inflict on them their worst series loss since 1971, to South Africa — they had to be re-energised in Sydney. "That was the toughest one to get up for," Robshaw says. "We'd already won the series, and it had been a long year, but Eddie was driving 3-0."
Teimana Harrison played instead of Haskell, his family flying from New Zealand especially, but he was substituted after 31 minutes for Courtney Lawes, with Maro Itoje moving to blind-side. Jones at his brutal best again.
England won an extraordinary match 44-40, hitting Jones's target in style. 3-0. In Sydney it was party time.
"Maro got so shitfaced that he went to bed in his full suit," Haskell says, laughing at the memory of a 21-year-old Itoje. "He was an 1½ hours late to the meeting the next day, on his first tour, and met his line-manager Steve Borthwick. Maro was steaming, so Bothers sent him back to bed.
"We had a night out and then the next day went to the pub down the road from the hotel in Sydney and with 20 of the lads drank cloudy cider until we went to the airport. The plane home was interesting, trying to manage some of the lads."
It is all different now, Jones on the back-foot and needing wins in his homeland. The class of 2016 know from experience he loves this tour more than any other. But Bodyline II will need to be a box-office sequel to better 2016.