Beat Eddie: Dave Rennie's Wallabies start their march toward World Cup greatness
CHRISTY DORAN sits down with Wallabies coach Dave Rennie to talk about his career, his hopes for the next few years and importantly, overcoming the Red Roses when England travel to Australia this July.
Dave Rennie know Australia's World Cup campaign realistically starts this year, against Eddie Jones' England. Picture: Darrian Traynor/Getty Images
Dave Rennie chuckles when he considers which way his career might have gone.
A successful New Zealand under-20s mentor, a two-time Super Rugby-winning coach with the Chiefs, Rennie had every right to believe he was on the path to one day coaching the All Blacks.
Even Graham Henry, the World Cup-winning coach who is the doyen of coaching in New Zealand, believed Rennie should have led the All Blacks, or at least been in the conversation, once Steve Hansen called time on his career following the 2019 World Cup.
"Dave Rennie is a fabulous coach, no doubt. New Zealand Rugby c – ked that up," Henry said during a late-night function following Rennie's first match in charge of the Wallabies in 2020.
"They should have been connecting with Dave and (Japan coach) Jamie Joseph and other people around the world to keep them involved in New Zealand Rugby. (But they) didn't contact Dave Rennie for three years, and Dave Rennie is fabulous, so he's going to do a great job with Australia.
"Whether they've got the personnel to be up there for the World Cup, I think they probably will with Dave Rennie."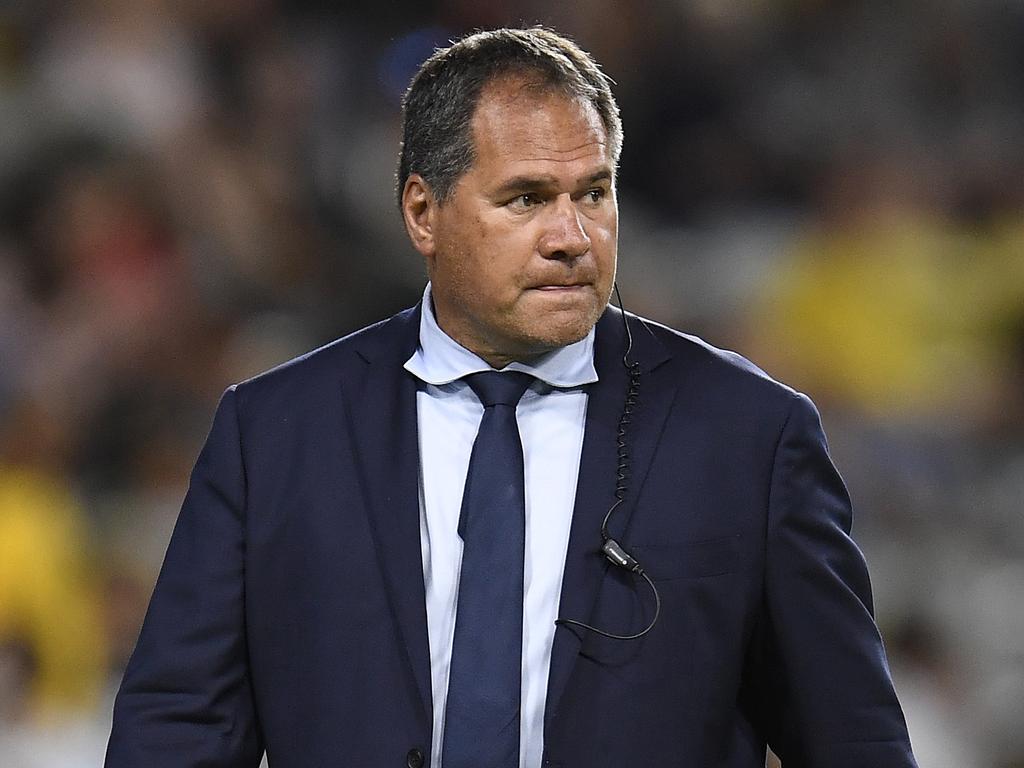 Graham Henry believes Rennie has the ability to win the World Cup with Australia. Picture: Ian Hitchcock/Getty Images
Instead, Rennie, via Glasgow, was headhunted by Rugby Australia and landed Down Under in mid-2020 while Ian Foster was promoted from within to take over from Hansen.
As he approaches his third year in charge of the Wallabies, one series looms large on the calendar: England.
An England series always carries extra meaning, but especially when the Red Roses have won their past eight encounters over the Wallabies and the man who has overseen their success is Australian Eddie Jones.
"The significance of it is not lost on me," says New Zealand-born Rennie, whose first taste of England came during their 32-15 defeat at Twickenham last November.
"There's a lot of history in all sports between England and Australia and, look, it's massive for us."
The importance of next month's series against England can't be overstated.
Off the back of securing the World Cup rights for 2027 (men) and 2029 (women), the three-match Test series is a chance to build on the momentum.
The last time there was such positivity in the air it was sucked right out again.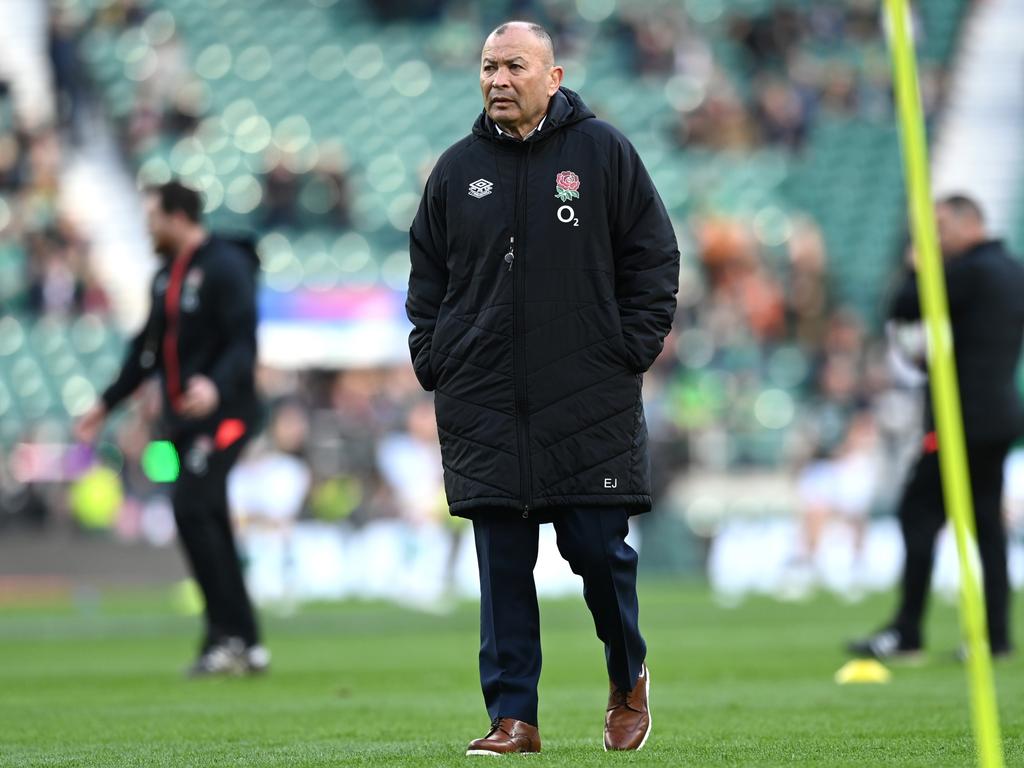 Eddie Jones' side will be the first big challenge for the Wallabies in 2022. Picture: Shaun Botterill/Getty Images
When Michael Cheika's Wallabies stumbled six years ago to his old Randwick teammate Jones, the growing balloon from their brave World Cup achievement was popped in three excruciating defeats. The Wallabies never recovered under Cheika and were left chasing their tails from that Eddie embarrassment.
Fifteen months out from next year's World Cup in France, the wheels must now get in motion.
It's been done before virtually overnight.
As was the case when Rod Macqueen took over from Greg Smith, Rassie Erasmus turned the Springboks around when he replaced Allister Coetzee in 2018 and led them to an enthralling series win over England.
The series gave the Boks the confidence ahead of their remarkable – and game-changing – win over the All Blacks in Wellington.
A year later they beat England in the World Cup Final in Japan.
Rennie approaches the series with a winning percentage of 40 (eight wins, three draws, nine losses).
The number is the lowest of Australian coaches since the game turned professional.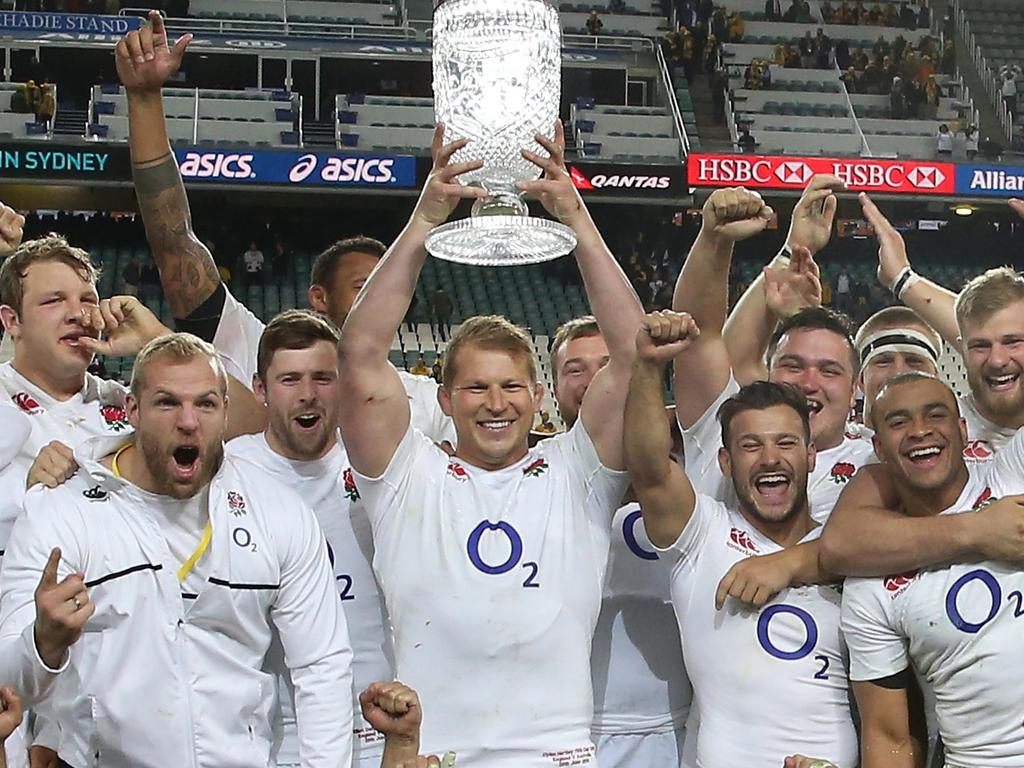 England are prepared for a vastly different Wallabies side to the one they triumphed over in 2016. Picture: David Rogers/Getty Images
Yet given the huge number of debutants (20) since taking over, as well as the mass overhaul of players and regeneration of the squad, there is cause for optimism around the direction of the national side.
Whereas Cheika often only had a strong 15 to pick from, that number has increased so much so that the back-row stocks are three deep, there are multiple options in the halves and centres and Taniela Tupou and Angus Bell provide the Wallabies with two props that rival the world's best on either side of the scrum.
"Look, we always knew there was going to be wholesale changes in that first year because a lot of guys leave after a World Cup to start and, as you said, we wanted to blood a lot of the young fellas," Rennie says.
"A lot of those young men are established now and we introduced more last year but less from the previous year and I think, again, the side we pick this year there will be a big chunk of guys who have been in our environment and will be clear on the type of game we're trying to play and the expectations, which will help."
Yet one stark difference between Cheika and Rennie are the people around him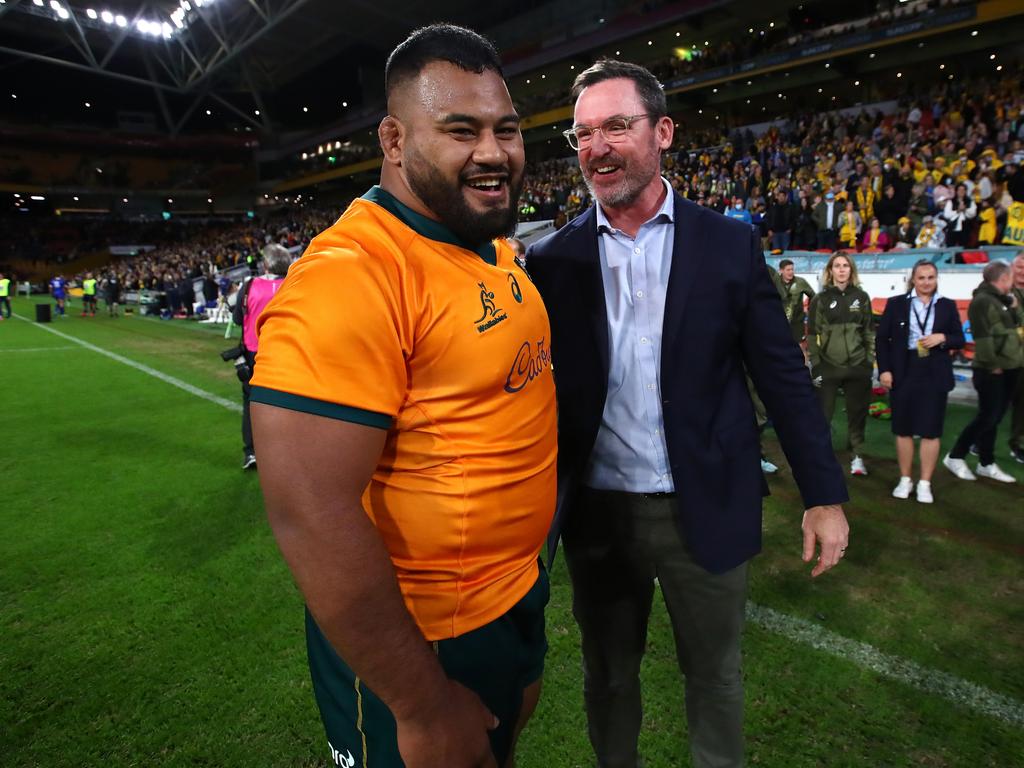 Taniela Tupou will be a genuine superstar for the Wallabies at the 2023 World Cup. Picture: Jono Searle/Getty Images
Where Cheika ran the show and had, in some cases, relatively inexperienced assistant coaches around him who wouldn't fight back, Rennie has assembled one of the most experienced staffs in Australian history.
"You want to keep learning and you surround yourself with good people," the softly spoken Rennie says.
Rennie's hopes have been helped by the recent retention of some key men and the loosening of eligibility laws to pick the best of the bunch overseas.
First-choice halfback Nic White – the only No. 9 in Australia with World Cup experience – has re-signed for a further year, burgeoning playmaker Noah Lolesio has also re-signed while uncapped lock Nick Frost, who shapes as one of the best second-row talents, has also put pen to paper until 2025.
"It's a challenging time from a players' perspective because you're talking about massive sums of money," Rennie says.
"I don't begrudge any of the guys leaving, but we're talking to them all.
"You can't promise these guys (jerseys), but we're trying to create an environment that they want to be a part of and the lure of the Wallaby jersey.
"So, some of those guys are staying because they want to go to a World Cup and they want to play more Tests and their opportunity to go overseas will come at a later date."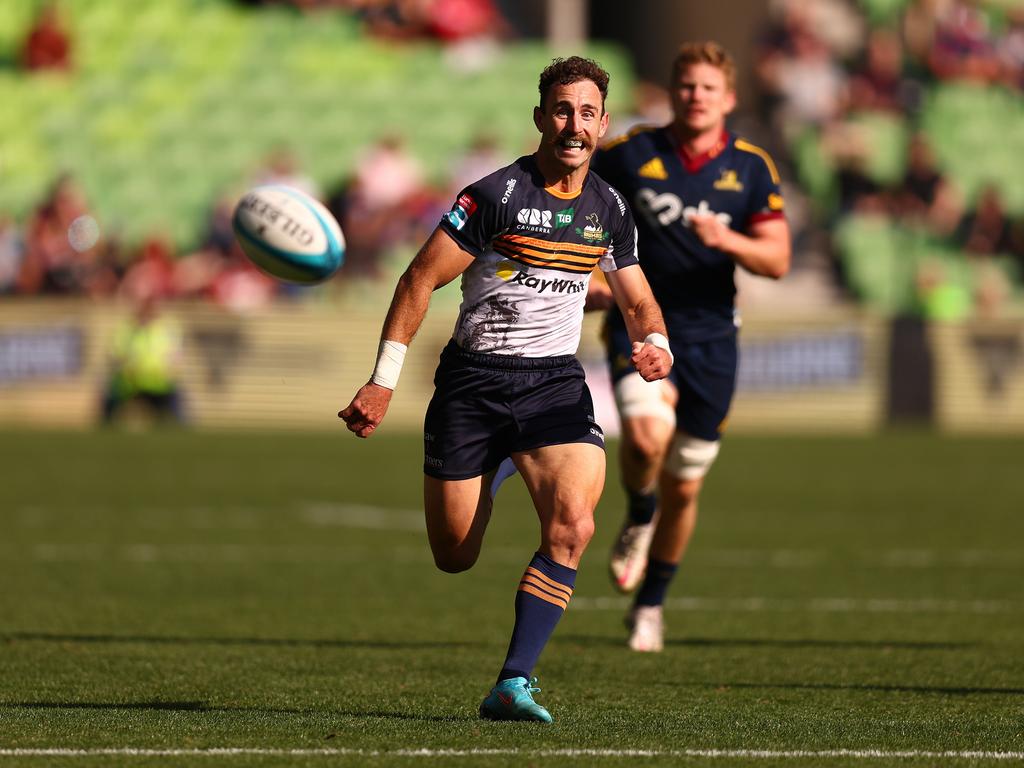 Nic White remains one of the Wallabies' most important players going into this international season. Picture: Graham Denholm/Getty Images
One player who has slipped away is Brumbies star Tom Banks.
While Banks has yet to nail Test rugby during his four-year Test career, where he has been the first-choice No. 15 under Rennie and accumulated 19 caps, the 27-year-old will head to Japan next season on a mouth-watering deal worth an estimated $1.4 million.
Rugby Australia couldn't, and for good reason wouldn't, come near to that price tag.
But despite the World Cup looming large, Rennie looks set to hand the No. 15 jersey for the series against England to Banks.
"Our thinking is each week we pick with an emphasis on beating England," Rennie says.
"If we feel that there's not much between say Tom and someone else then we could potentially pick the other guy knowing that Tom's heading away.
"He's had a great season so far.
"If he plays really well for us this year and goes to Japan and looks after himself, who knows, there could be an opportunity for him to go to a World Cup (as one of Rennie's three overseas picks).
"We fully understand why he's leaving.
"He wants to be here but he's got a great opportunity and he could be back in a couple of years to take on the Lions. That's not lost on us.
"He's still an option this year obviously and next year for the World Cup."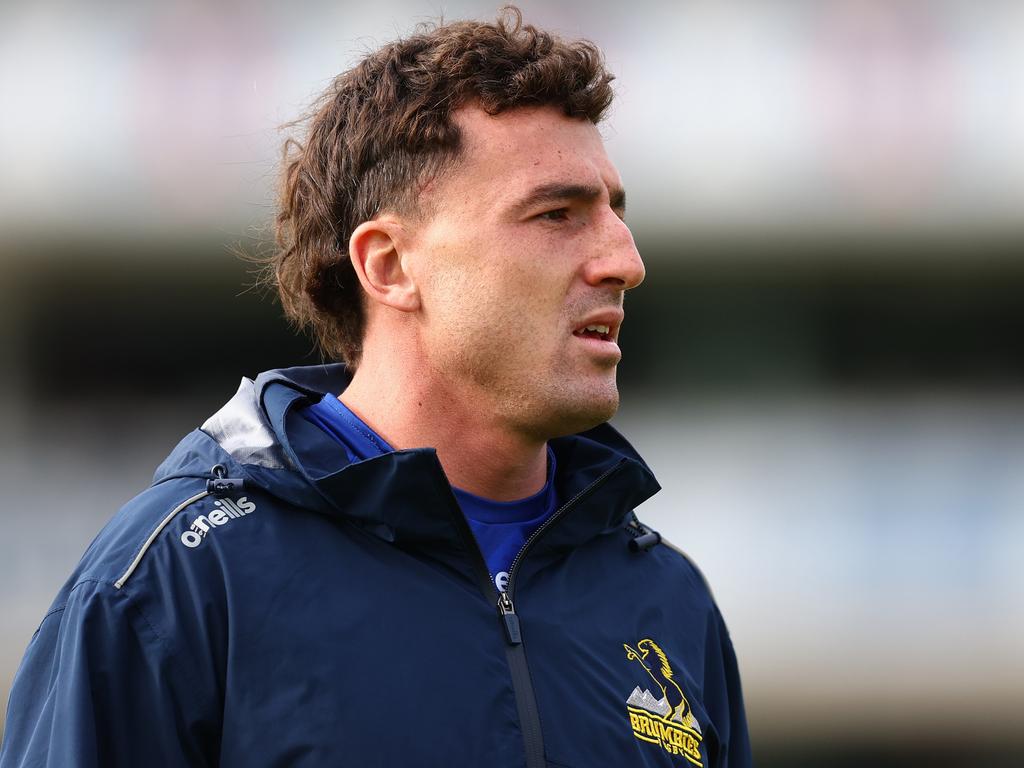 Rugby Australia were unable to hang on to Tom Banks, the fullback signing a million-dollar deal in Japan. Picture: Mark Metcalfe/Getty Images
This close to a World Cup, most coaches would look past a player who won't be there.
But given the lack of Test quality options (Jordan Petaia inexperience in the role, Reece Hodge didn't nail his opportunities under the high ball, hesitation remains over Jock Campbell, Kurtley Beale has been injured and Andrew Kellaway is seen predominantly as a winger), Rennie believes the No. 15 jersey is the most open for the Wallabies, particularly with Banks heading overseas.
"Yeah that's fair to say," he says.
"But maybe because we've used so many 15s in the past couple of years.
"What you know within a squad, you need specialists, but you need versatility as well so we've had a number of guys who have played in that jersey who have played in other spots as well.
"Tom started every Test until he got injured and after that we used Hodgey and then he got injured, we used Kell, and Kurtley got in late. All of those men actually played really well.
"And we got Jordy Petaia and Jock Campbell and even guys like Jake Strachan's had a really good year for the force. We've got some options there.
"Kurtley's been injured for a big chunk of the past three months with a hamstring injury and that sort of thing, so he's got a race against the close to prove he's ready to go.
"It's certainly open, but we've got a number of guys who are playing really well and putting pressure on us for selection."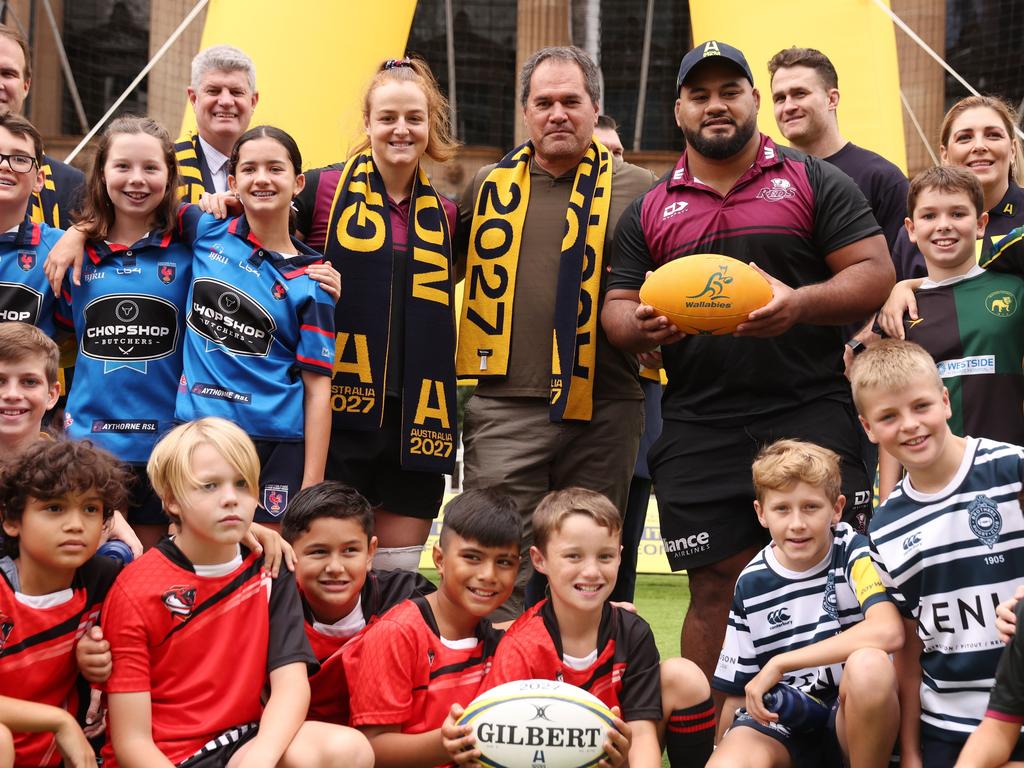 With a deep squad and a World Cup heading to Australia, Rennie believes there's every reason for optimism around the Wallabies. Picture: Chris Hyde/Getty Images for Rugby Australia
One area that Rennie is excited about is the depth at halfback.
"Well I think we'll be as strong as anywhere at nine," he says.
"If you look at all those nines we used last year, Nic, Tate (McDermott) and Jake (Gordon), they've all been in excellent form.
"You've got Ryan Lonergan behind that who's an excellent nine and I reckon going to be a really good Test player in time.
"There's genuine competition at nine. That's the position we've got the most depth in."