Kurtley Beale reflects on the incredible comeback of Quade Cooper and his own return to the Wallabies ranks
Two years after his last Test for Australia, KURTLEY BEALE is back. He talks us through his comeback, his friendship with Quade Cooper and his memorable Test debut against Wales.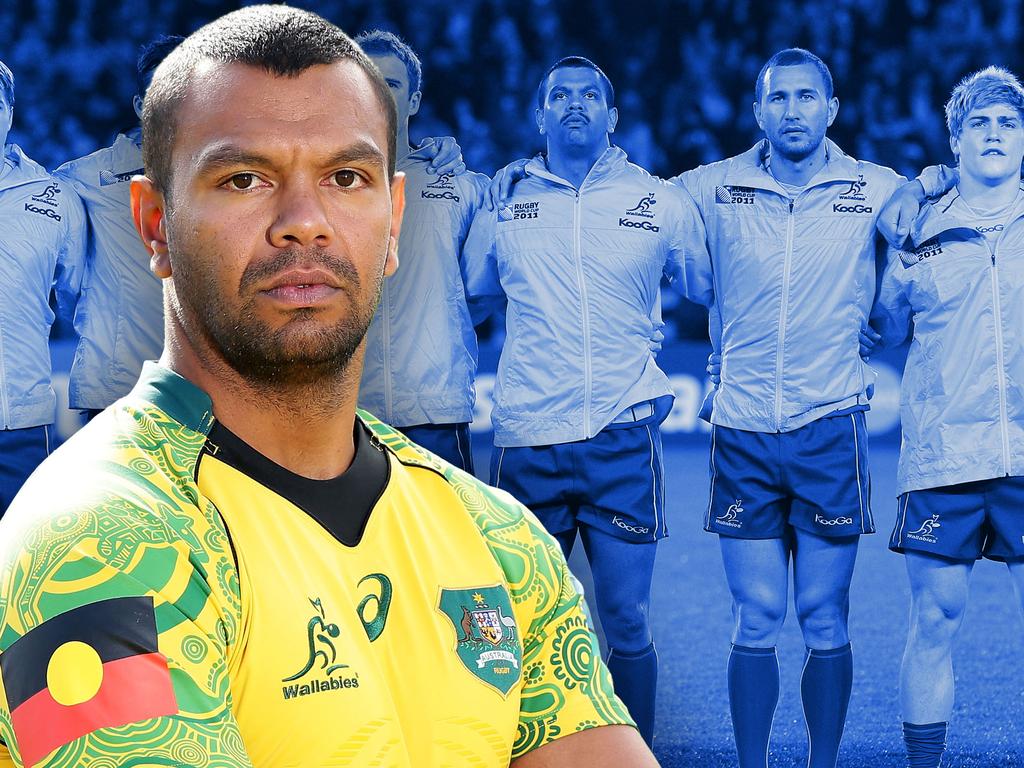 Kurtley Beale reflects on his unexpected Wallabies comeback and his friendship with Quade Cooper
I always knew Quade Cooper was going to return as a leader.
We first met at an under-16s tournament when he was playing for Queensland and I was playing for New South Wales. Queensland was the team to beat back then and had guys like David Pocock, Will Genia, Ben Daley and a few others who kicked on for the Reds and Wallabies.
For that tournament, every team was boarding at Riverview College and if we weren't playing, we'd go down and watch all the other games.
I remember Queensland played ACT and Quade absolutely carved them up. It was a crash hot Queensland team, but you could tell he was going to be something special.
A year later we got to know each other and get pretty tight when we were both selected in the Australian Schoolboys side. That's also where I got an even better look at what made him a great player.
We both played 10, but we could each mix it up at 12 or fullback as well. When we were both on the field, I just felt I could understand his game really well. He was such a natural player, he knew how to suck in the defence and put outside players into space – it was very rare, especially at that age.
What was really special about him was that he was able to do it under pressure, too. There were moments and situations where we were under intense pressure and he was just able to create something out of nothing.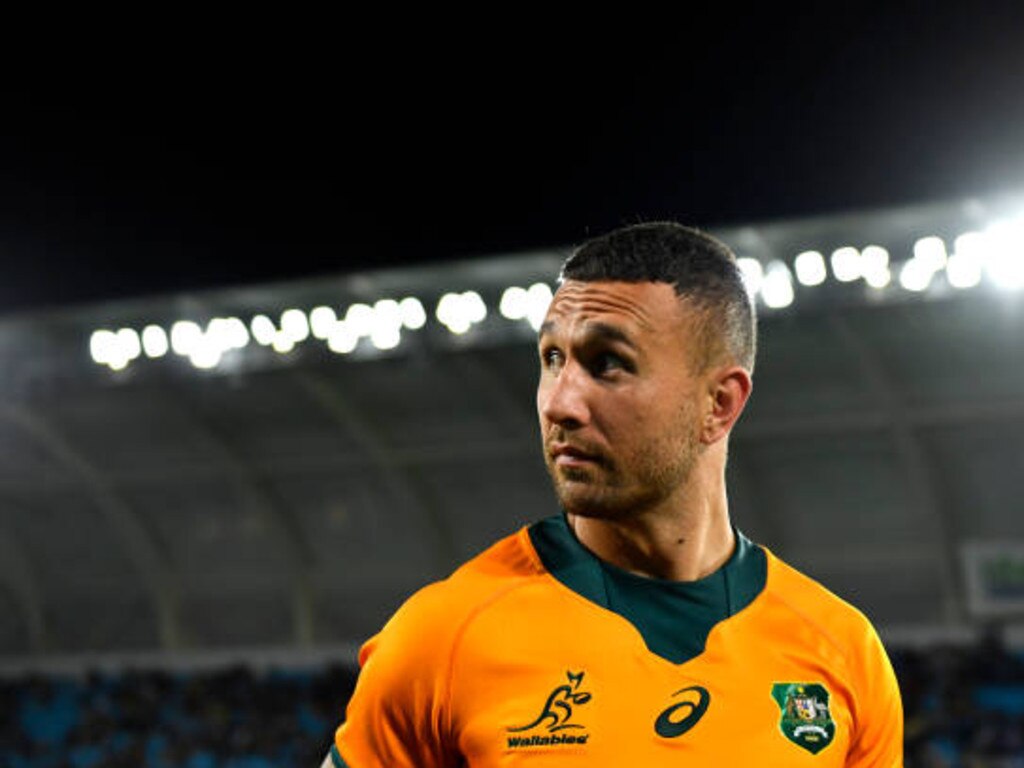 Quade Cooper returned to the Wallabies in this year's Rugby Championship, weeks before Kurtley Beale was returned to the squad for the UK tour. Picture: Albert Perez/Getty Images
It was no surprise to me when, a few years later, Quade was doing it on an even bigger stage as the guy steering the Reds to the Super Rugby title in 2011. I don't think the Reds would have beaten the Crusaders at Suncorp and won the Premiership without Quade.
For a couple of years there – 2010 and 2011 – we were both flying, but it wasn't all smooth sailing.
We've had some really challenging times together as well – mainly off the field.
We were very similar – young, talented school boy stars thrown into professional rugby at an early age. We weren't too exposed to the wider world and there was definitely some poor and immature decision-making going on.
It took us a bit of time to understand the impact our actions were having and the responsibility you have as a professional sportsperson.
That's the journey we've both been on, and it's why I knew he was going to return as a leader when he received his Wallabies call up this year. He's got that maturity and experience now to go with his natural ability.
That's what I've tried to bring to the Wallabies this month as well.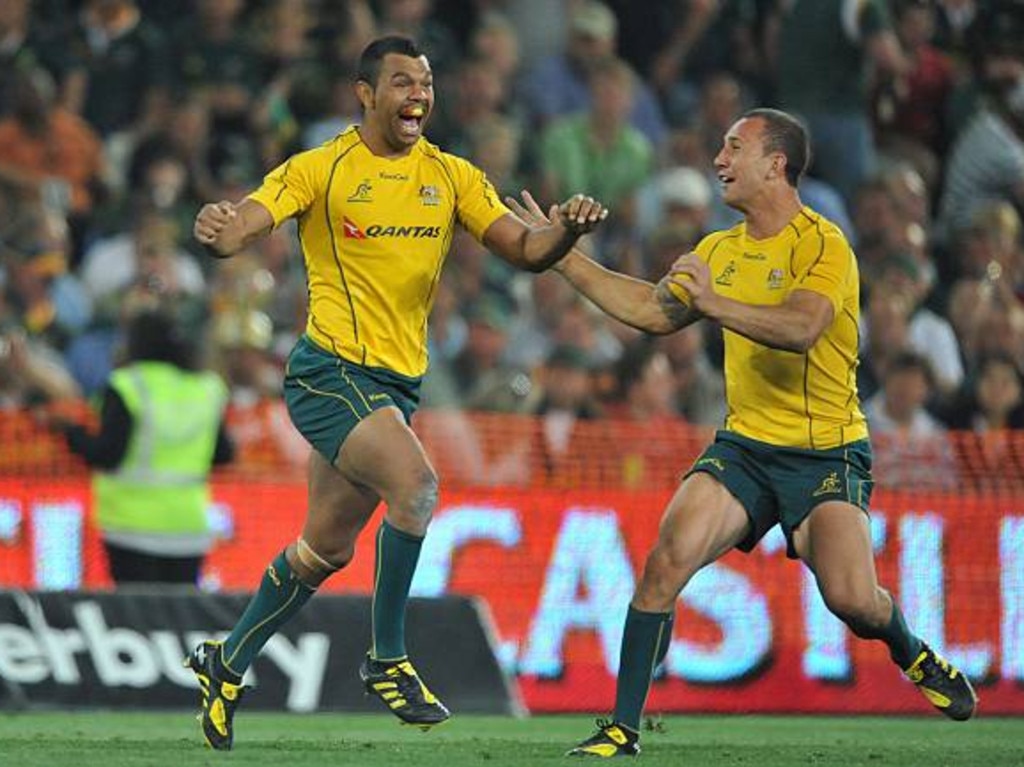 Kurtley Beale and Quade Cooper during a Tri-Nations against the Springboks in 2010. Picture: Duif du Toit/Gallo Images/Getty Images
WALES
This weekend we will line up to play Wales in Cardiff, which is where I made my Test debut in 2009.
I was 20-years-old at the time, and that whole week had been huge for me. I played a midweek game against Cardiff Blues, and Quade and James O'Connor were both in the team as well. I played on the wing and bagged two tries, so was feeling confident when Robbie Deans called me onto the bench for the Test on the Saturday.
Drew Mitchell was named to start the Test on the wing, and he pulled me aside during the week and said, "Mate, if you're not on with 10 minutes to go, I might go down with a fake hamstring injury so you can get on."
I didn't know whether he was being serious. I just told him I appreciated it, but to focus on winning the game first.
Saturday night rolled around and Quade and Gits just ran the show – it was almost like a party atmosphere with those guys creating opportunities and slicing up the Welsh defence all night.
The Welsh fans are some of the most passionate in the world – they absolutely love it – and even though their side was losing, the atmosphere was amazing. I was just sitting on the bench taking in the stadium and the fans and enjoying the best seat in the house as the boys carved up.
With about six minutes to go, it didn't look like I was going to get a run.
The next thing I know, Drew's pointing at his hamstring and I'm like, "Oh, my god, he's doing it. He's actually doing it." I looked down the bench, and realised I was the only outside back left.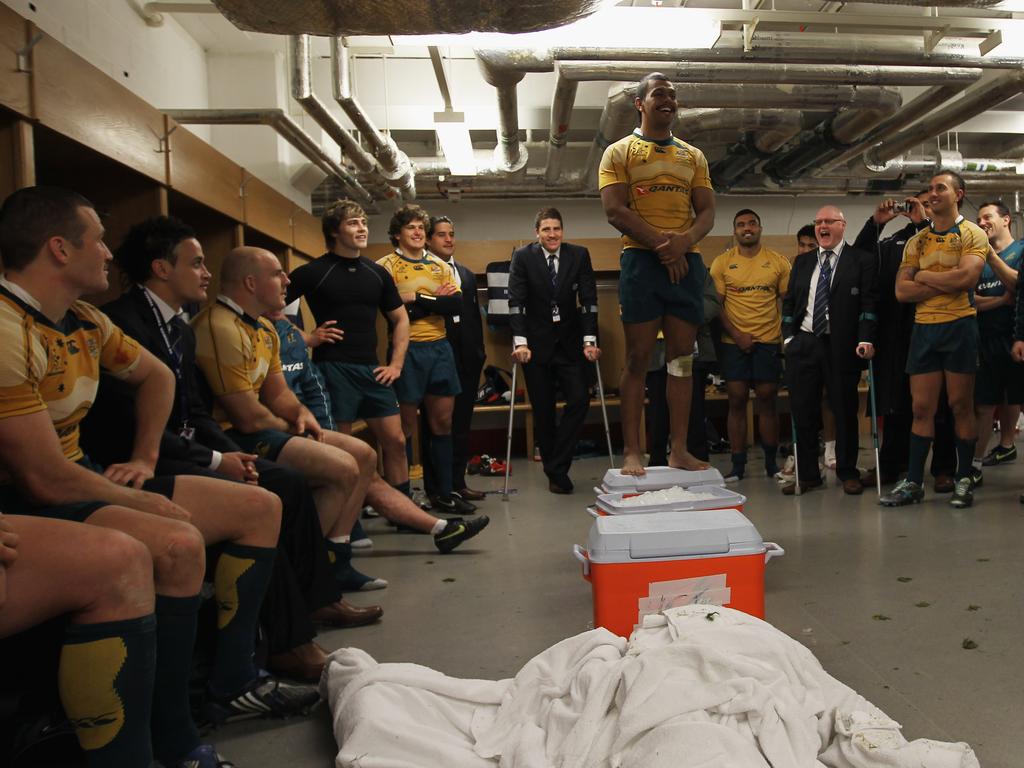 Beale had the opportunity to address teammates in the Millennium Stadium change rooms after his Test debut against Wales, a moment he'll never forget Picture: David Rogers/Getty Images
To this day, I don't know if it was a legit injury. If you know Drew, you know that you don't really know anything with him because he's such a character. But he's a good mate of mine and it was a nice gesture either way.
I've had some great moments playing for the Wallabies against Wales, winning my first seven Tests against them. A particular highlight came in December, 2012 when I scored a last minute try in Cardiff to steal a 14-12 win.
One of the more comical moments of my career also came against Wales when I attempted to pack down in a scrum in 2017. I'd played a bit of league when I was younger, so I thought when you pack in scrums you're supposed to get behind the second row.
But you actually need to put your shoulder behind the front-rower. I remember we packed the scrum first time around and our prop, Scott Sio, turned around and asked what was going on. I had to put my hand up and say it was me – I had absolutely no idea what I was doing.
The game ended on a high, though, when I stole the ball in a tackle and ran 60 metres to score a try a few minutes later, but I think that will be my first and last ever scrum attempt at any level of rugby! I hope this weekend we can put in a good performance and come away with a similar victorious ending.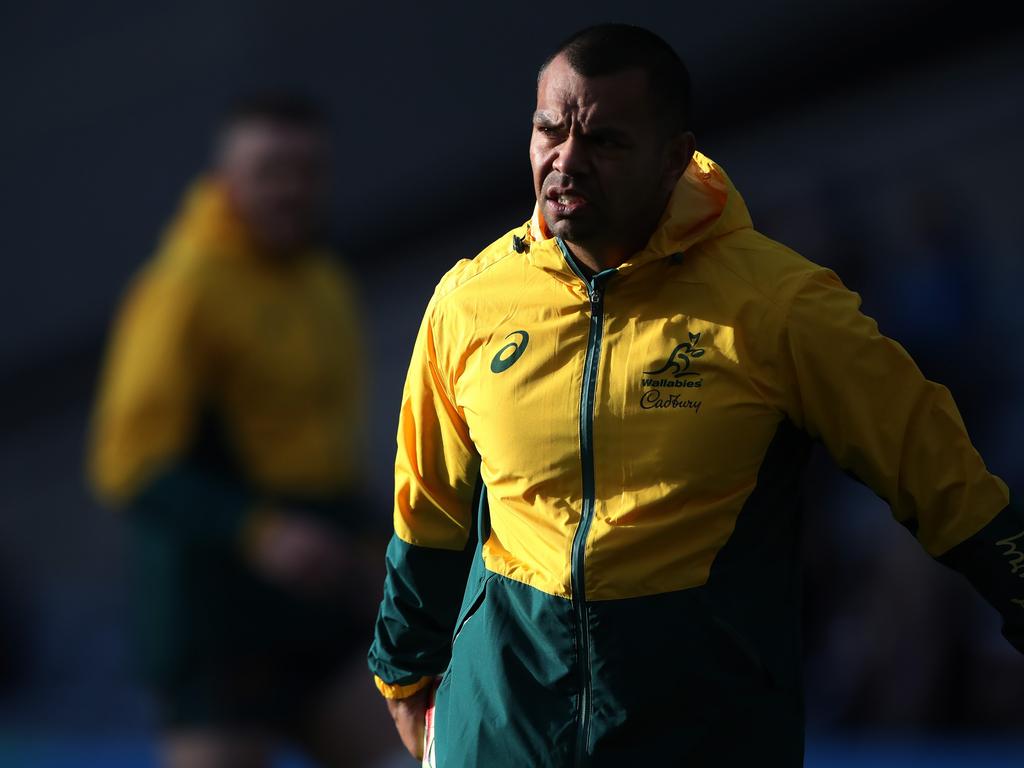 Kurtley Beale ahead of Australia's clash with Scotland, his first game in Wallaby gold since the 2019 RWC. Picture: Ian MacNicol/Getty Images
THE RETURN
I was pretty emotional two weeks ago when the Wallabies team to play Scotland was named.
I'd joined the squad three days earlier in Edinburgh on November 1, but in the whirlwind of those first few days, it hadn't really had time to sink in. Chris Webb, the Wallabies team Manager, went through the squad and my name was read out as number 22.
That's when it really hit me.
In just a few days, I'd be pulling on a gold jersey again for my 93rd Test match for Australia.
I hadn't been that emotional about a team naming in years – it was quite unexpected.
Just a week earlier, I received a phone call from Dave Rennie letting me know they'd like me to rejoin the Wallabies. Gratitude, honour and excitement were the feelings that topped the list but, mainly, it was just surreal to get the opportunity to play for my country again.
I hadn't played for Australia since the Rugby World Cup in 2019, which feels like a long time ago now. We fell devastatingly short in Japan, losing to England in the quarter-final, and it was honestly a mental and physical battle bouncing back from that.
Kurtley Beale (left of Head Coach Dave Rennie) returned to the Wallabies squad for their UK tour, starting at fullback for the first time since 2019. Picture: Harry Trump/Getty Images
It's been good for me making the move to France to play for Racing 92. I enjoy the club and culture, but actually being removed from the Wallabies playing group and seeing them play again, I've realised how special it is.
Watching what the Wallabies have done this year – beating the Springboks twice – helped reignite the flame for me. Seeing and admiring the growth under Dave, the rest of the coaching staff and Hoops, made me even more motivated at the prospect of being a Wallaby again.
I could immediately sense the family feel within this Wallabies team. It's a diverse squad, with a good mix of cultures, backgrounds and experiences and it doesn't matter if you're the youngest or the oldest (that's me … how did that happen?!?) or how many caps you have, there's a real brotherhood here.
Combine that with Dave's incredibly high levels of professionalism and you can sense that the group is working towards a new identity.
I came off the bench against Scotland and didn't get too much of an opportunity to make an impact in a disappointing 15-13 loss. It was a physical, close contest and Scotland are so dangerous with my Racing teammate Finn Russell organising the attack.
A week later, the next challenge came in the form of England in front of 82,000 English fans at Twickenham – one of the best grounds in world rugby.
We were in the fight until the 60th minute, and we showed character in tough circumstances to keep fighting until then. But ill-discipline and some errors cost opportunities to build pressure.
The past two years has made me understand that nothing is a given and I really do miss it.