Samu Kerevi: Eddie Jones has been giving me advice all year
The centre who is set to play for Australia against England said that the head coach has been helping him improve his game as part of his role with Suntory Sungoliath.
The Wallabies' Samu Kerevi has been receiving advice from England coach, and fellow Suntory alumni Eddie Jones. Picture: Shaun Botterill/Getty Images
Samu Kerevi, the Australia centre, has admitted that he has been taking advice from Eddie Jones "throughout the year" as England prepare for a three-Test series down under next month.
Jones, the England head coach, was criticised for his side's poor Six Nations performance — where they won two matches from five for the second year in a row — and then flew to Japan to take up his director of rugby role at Suntory Sungoliath in Tokyo.
At Suntory, where he has been involved for more than 20 years, he coached the Wallabies midfielder Kerevi, 28, who since has been recalled to the Australian team for the series against England. Kerevi is expected to start in next weekend's opening Test in Perth, lining up against Marcus Smith and Owen Farrell.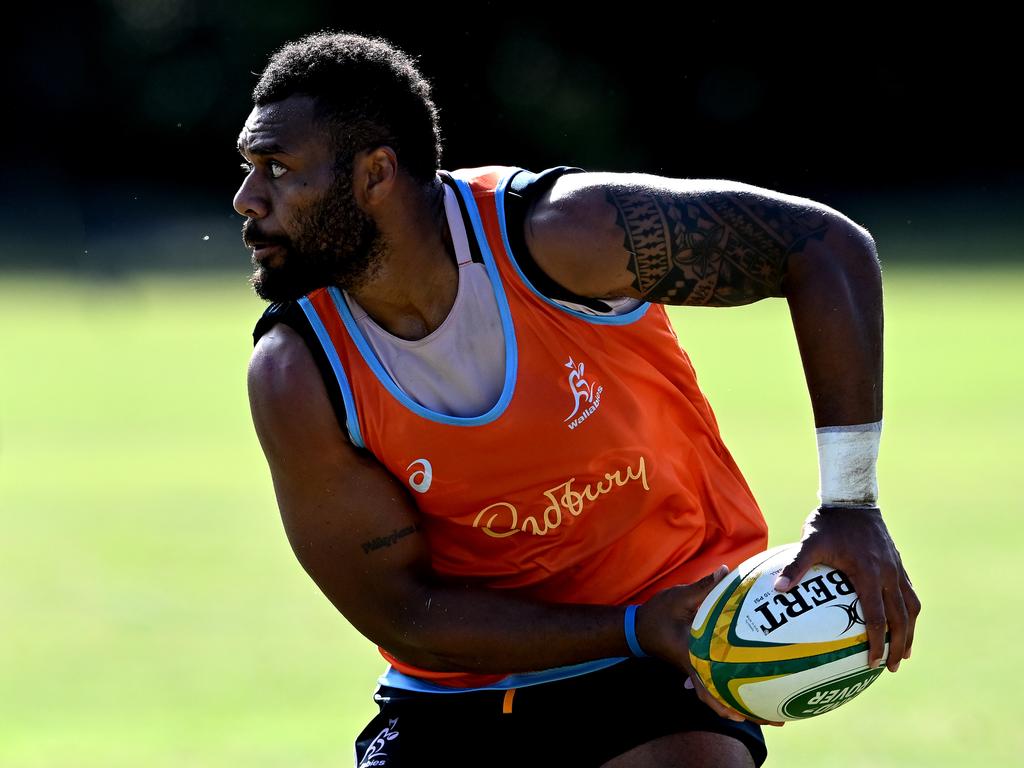 Kerevi has been turning himself into an 'off-the-ball' workhorse in the lead up to the series against England. Picture: Bradley Kanaris/Getty Images
In April Kerevi joked: "I'm mostly trying to get the England secrets away from him [Jones] at the moment. I'm asking him a few questions on how they play and how his centres' movements are, so hopefully I can help if I get selected back into the Wallabies.
"He's improved my physical side, and my work ethic off the ball. He spoke about last year, trying to get more touches in my hands, and has spoken about Manu [Tuilagi] a lot and how he's progressed his game."
And speaking to the Sydney Morning Herald before the England series, Kerevi revealed that he apologised to Jones after those comments for dropping his mentor in it.
"I went to him the next day and apologised," Kerevi said. "He just laughed. He said, 'Don't worry about it.' I think it's a storm in a teacup. It's not like he's giving away any England secrets. He's a really top man."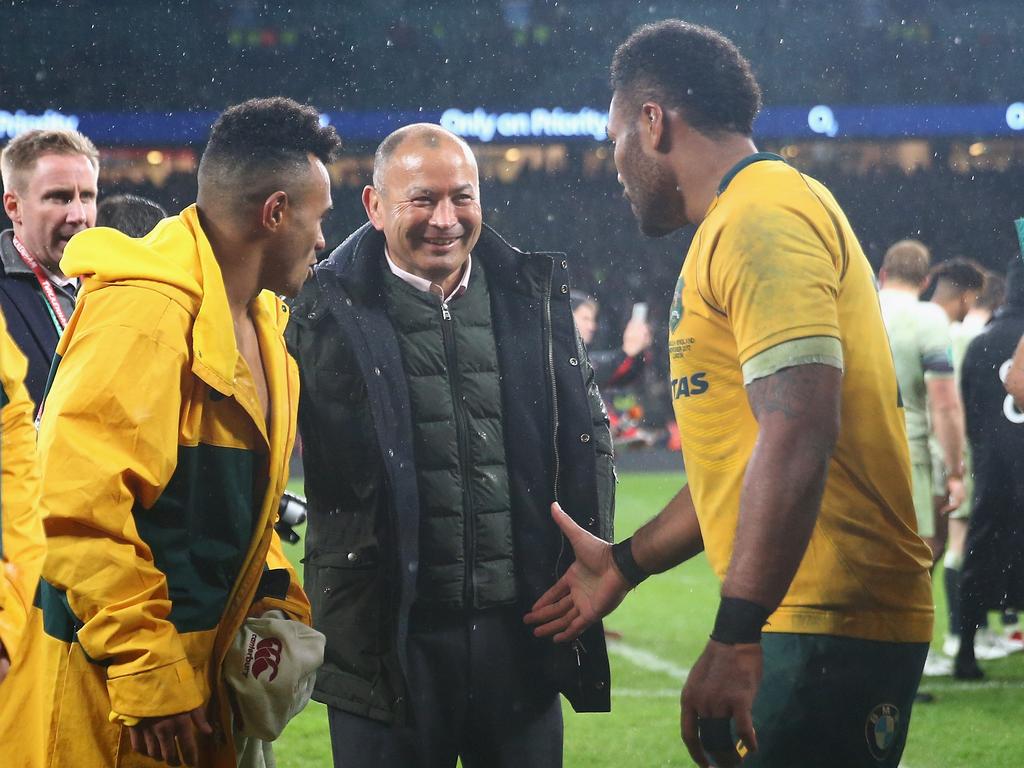 Jones sees Kerevi as a source of advice, despite his role as head of Australia's old enemy. Picture: Michael Steele/Getty Images
But Kerevi also said that Jones, 62, has been a constant source of advice, and the pair chat regularly.
"He's one of the top coaches in world rugby but he's also a top bloke," Kerevi added. "I talked to him throughout the year and he sends me messages. When you sit down with him, he's got some great learnings for me as a football player. That's what I love about him … he gives me pointers of where I can get better.
"When he's at Suntory, he wants the team and the organisation to get better. It's nothing to do with the Wallabies or England. He's just there to help those Japanese players and the foreigners."
Last year Jones was fiercely criticised for coaching the All Blacks fly half Beauden Barrett at Suntory. The New Zealander said Jones would offer him "little pieces of gold".
The RFU said that it has been aware of Jones's Japanese jaunts and would allow them to continue. In April it said: "Eddie has had a relationship with Suntory for more than two decades, he uses his holidays to keep improving his coaching and global rugby knowledge. While on holiday Eddie has also been holding virtual staff meetings and providing detailed feedback on strategy and opposition."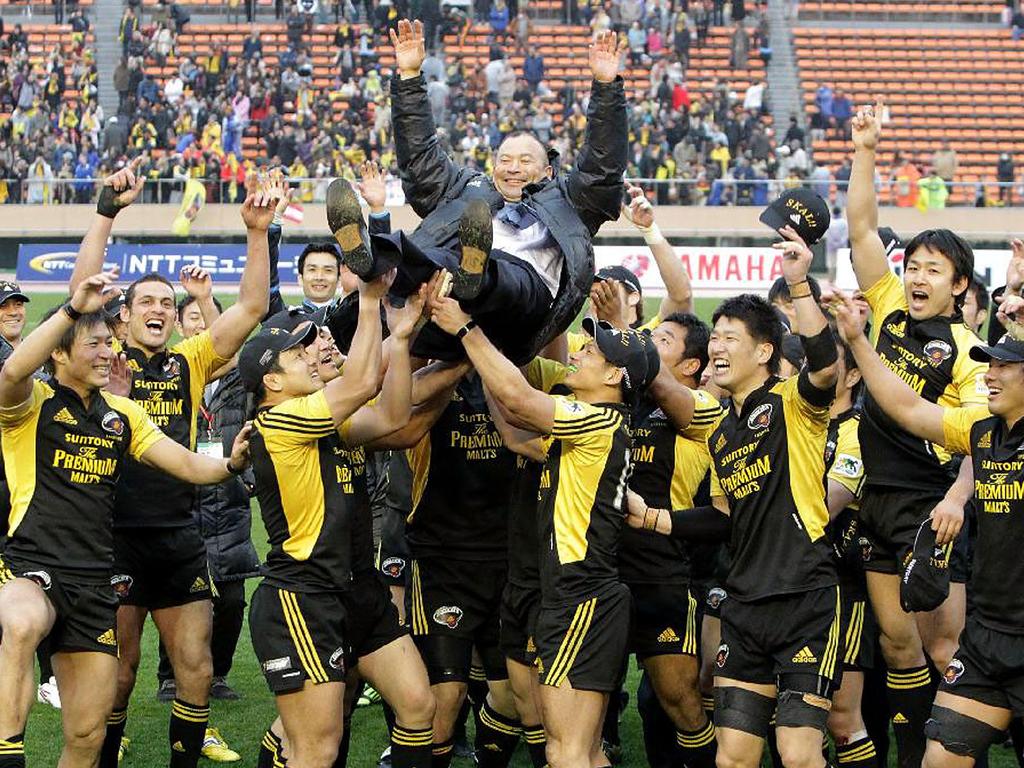 Jones has enjoyed a longstanding relationship with Suntory, who took the team to a Rugby Championship in 2012. Picture: Sankei via Getty Images
Jones arrived in his home country — having flown from London to Perth — yesterday and his England players went swimming in the Indian Ocean at Fremantle beach before the series kicks off on July 2.
On his departure from England Jones riled up the Australians by saying they would have "abusive" crowds and an "aggressive" media. The Australia scrum half Nic White, who left Exeter Chiefs in 2020, was asked about that and said: ""If there's one guy I definitely won't be getting into battle with it's Eddie Jones.
"But you know when they ask that question of who you'd love to have dinner with, he pops to mind straight away. I'd love to pick his brain, he's obviously a mastermind.
"The Aussie versus England rivalry is huge and yeah, we will be up for this series and hopefully be dragging all of Australia along with us. We'll get out there to Perth and it will be packed to the rafters full of gold and hopefully he's right, hopefully we are very vocal over there and we give them something to cheer about."