Australia wins hosting rights for 2027 men's and 2029 women's Rugby World Cup, with windfall to rejuvenate the sport
Australia has won the hosting rights to the men and women's Rugby World Cups and those in key positions believe this is the kickstart the sport needs to pull itself out of the doldrums, writes CHRISTY DORAN.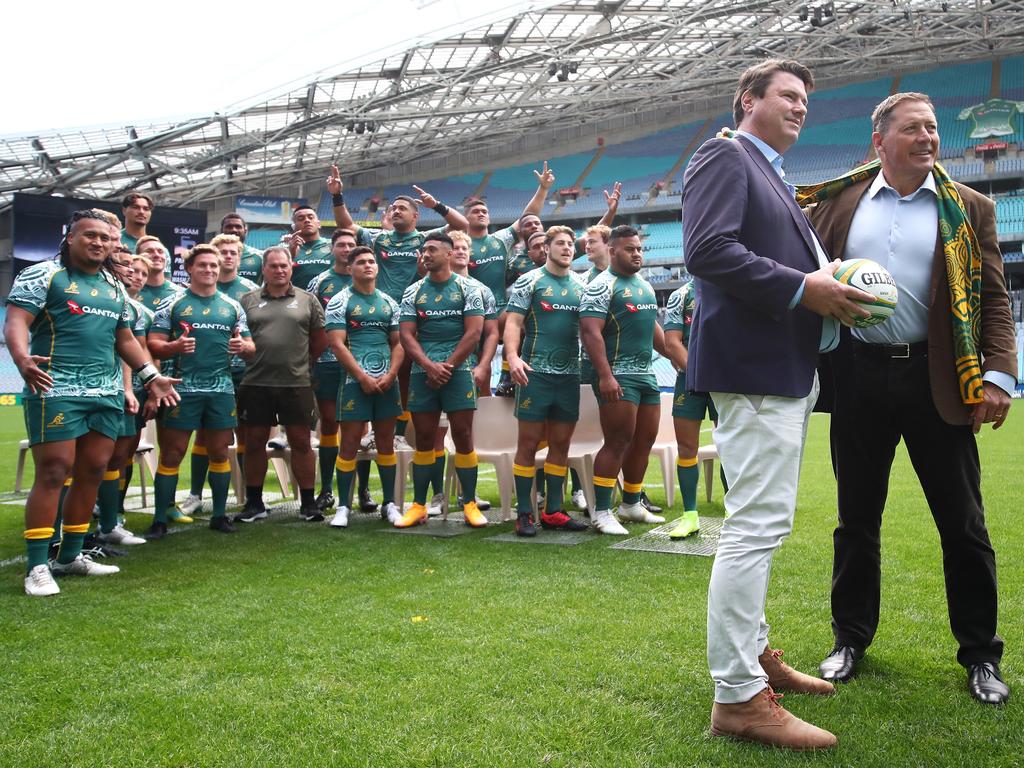 Rugby Australia Chairman Hamish McLennan believes the 2027 World Cup windfall will rejuvenate rugby in Australia. Picture: Cameron Spencer/Getty Images
Almost two years ago, as the world shut down during the onset of Covid, Hamish McLennan walked through the Rugby Australia doors at Moore Park and was horrified at what he saw.
"It was so messy. It was like a war zone, it really was. We were just hanging on by a thread," McLennan says.
"I was stressing over the history of the game, our glorious past and our traditions.
"There was a real possibility that if we didn't get our funding in place we would have gone back to semi-amateur days."
Without a broadcast rights deal, rugby suspended indefinitely, international travel all but impossible, a "leaky board" and an increasingly disgruntled rugby community, the game was in dire straits.
Following an impassioned letter co-signed by 11 former Wallabies captains calling for Raelene Castle's resignation, she stepped down after a turbulent two-and-a-half year tenure.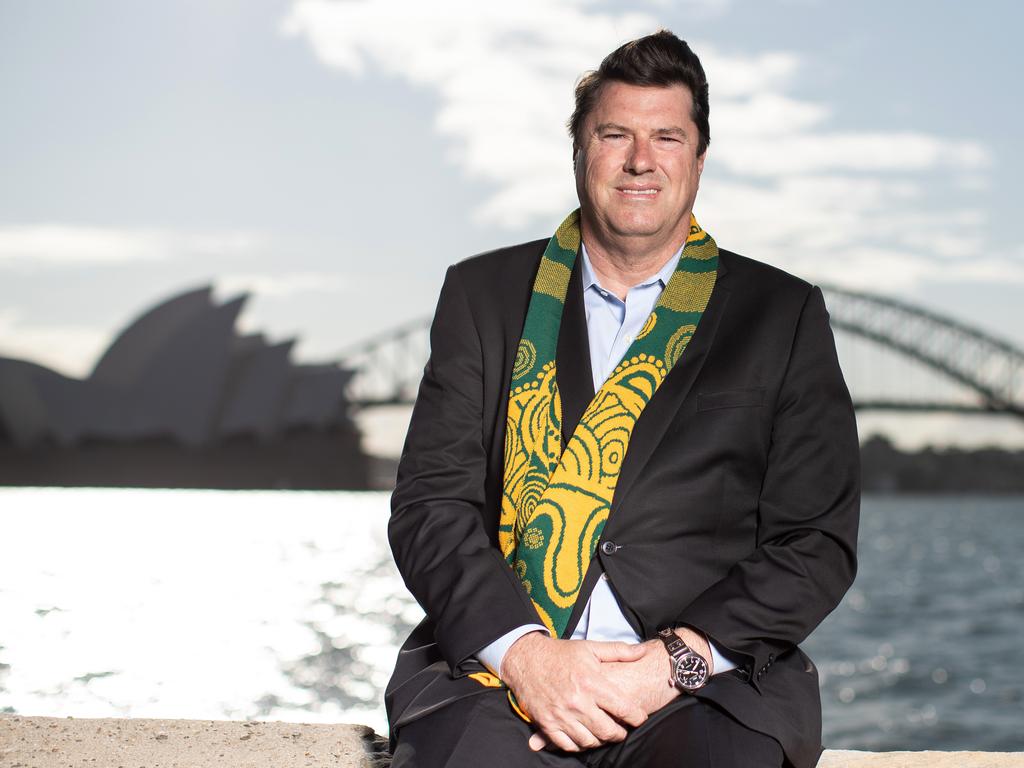 Hamish McLennan picked up the pieces of Rugby Australia following Raelene Castle's departure. Picture: Mark Metcalfe/Getty Images
"In recent times, the Australian game has lost its way," the letter read.
"It is a defeat inflicted not by Covid-19, or an on-field foe, but rather by poor administration and leadership over a number of years.
"Our rural clubs, junior clubs, subdistricts and community clubs have been let down and we firmly believe transformation is needed across the game in this country. There's no time to waste.
"We speak as one voice when we say Australian rugby needs new vision, leadership and a plan for the future. That plan must involve, as a priority, urgent steps to create a much-needed sustainable, commercial rugby business."
Two years on, as the clock ticked towards midnight on Thursday, a sudden wind rose up from behind the game as Rugby Australia were awarded the 2027 (men's) and 2029 (women's) World Cups.
With that announcement from Dublin, the Sydney Harbour Bridge was illuminated in green and gold and for the first time in years, decades, a sense of renewed hope was in the air about the game's direction.
Along with the British and Irish Lions series in 2025, an estimated $100 million will be injected into the game off the back of the three major tournaments.
With a three-Test series against England in July, a World Cup in 2023, as well as a Commonwealth Games in Victoria in 2026 and an Olympics in 2032, rugby can once again make a real splash in a congested sports market in Australia.
As Wallabies captain Michael Hooper said on Wednesday, "What a time to be a part of rugby".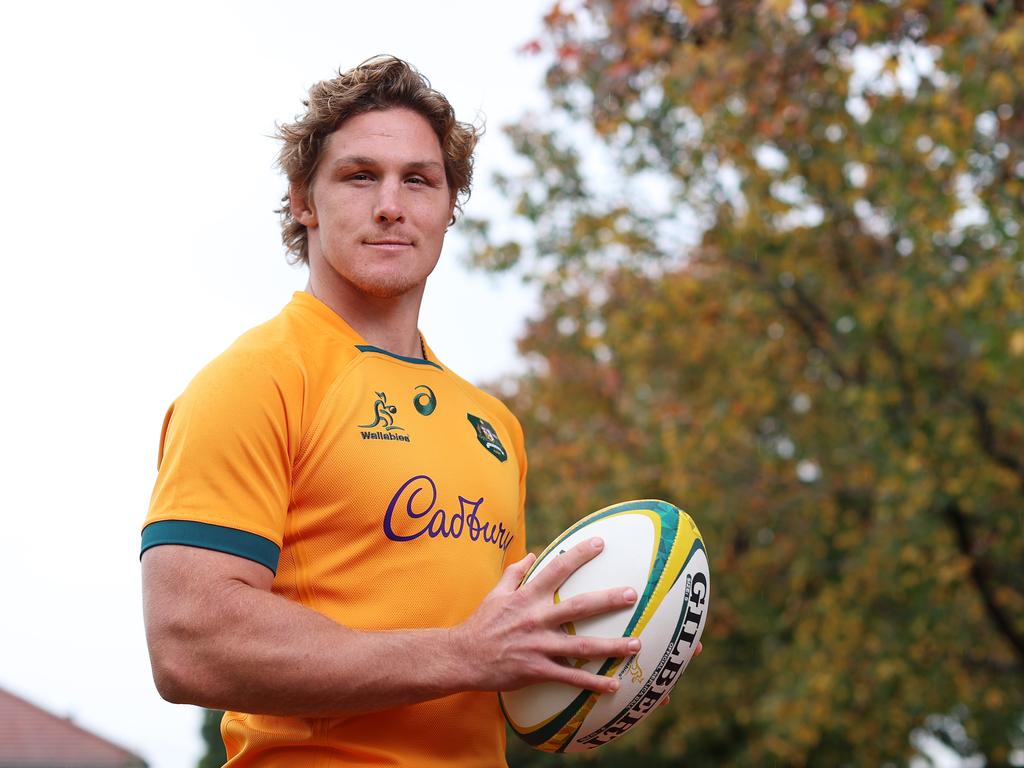 Wallabies captain Michael Hooper is excited by the future of the Australian rugby landscape. Picture: Matt King/Getty Images
The question is, will Rugby Australia capitalise on the golden decade or repeat the same mistakes of the early 2000s when the then-Australian Rugby Union wasted its $45m war chest?
"There's the benefit of looking back a few times and saying, 'What did we get wrong the last few times?'" 1991 World Cup winner and former captain Michael Lynagh reflected from London, having watched the demise of the game back home.
"There were opportunities to do things and people made decisions on what they thought were the best things to do at the time and hindsight shows that some of those weren't as wise as what they could have been.
"I think with the windfall that comes from the England tour, Lions and, ultimately, a Rugby World Cup, that's where you can plan for it and expect to earn something like this, so what are we going to do with it?
"There's a lot of those things that need to be looked at and answered and, with the benefit of hindsight, we can heed those lessons because there will be a lot of people clamouring for all sorts of things. That's where a strong administration and guidance right from the top down needs to be in place."
Thankfully, RA has the people in place to ensure that occurs, according to two-time World Cup-winner Phil Kearns.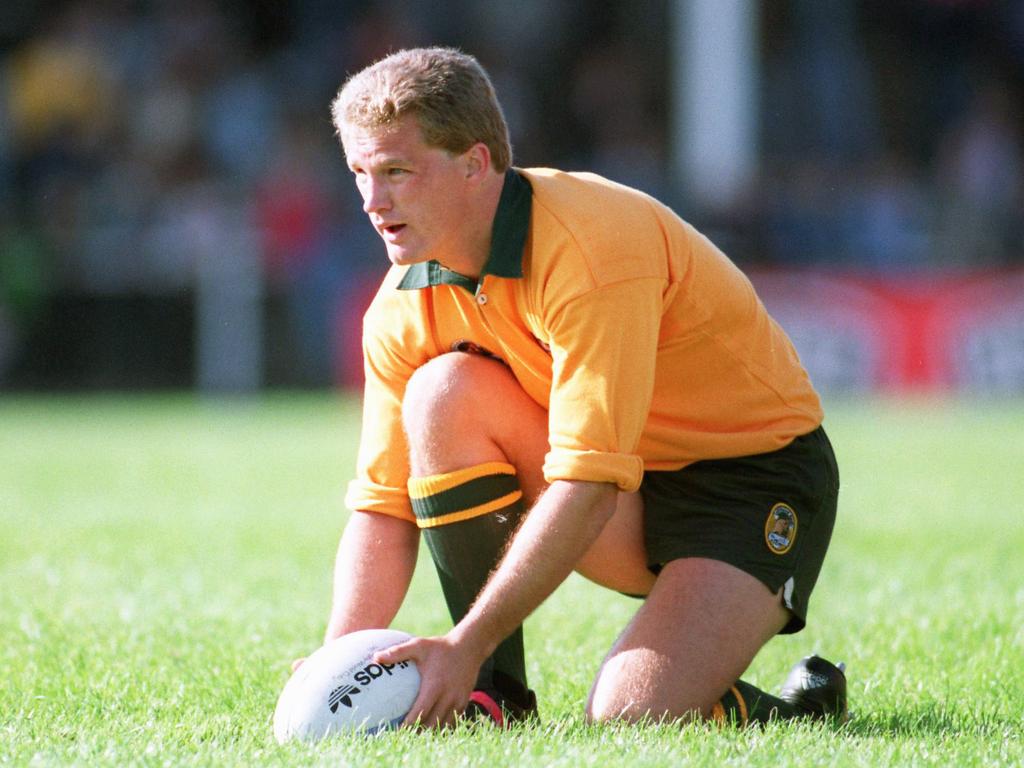 Former Wallabies captain Michael Lynagh believes it's important for Rugby Australia to learn from its previous mistakes. Picture: Ross Kinnaird/EMPICS via Getty Images
Kearns was one of the 11 captains that called for an overhaul of the RA board back in 2020.
For some, the thought was Kearns was bitter after being looked over by RA for the chief executive role when it opened in late 2017.
Yet, in one of his first moves as chair, McLennan shrewdly brought Kearns inside the tent, tapped into his immense knowledge of the game and business capability, and asked the former hooker to drive Rugby Australia's World Cup bid.
Kearns believes "Australian rugby has turned a corner" since the arrival of the 'Hamish and Andy show'.
While there is an element of fortune around the timing of Australia hosting a World Cup, Kearns believes the game is back on track because the right people are overseeing it, with McLennan and second-year chief executive Andy Marinos taking charge after Rob Clarke filled the role on an interim basis in 2020.
"There's been a massive shift in the composition of the board and there are people now on the board that really care about rugby, like really care about rugby," he says.
"This has helped change the attitude of the board to what's really important."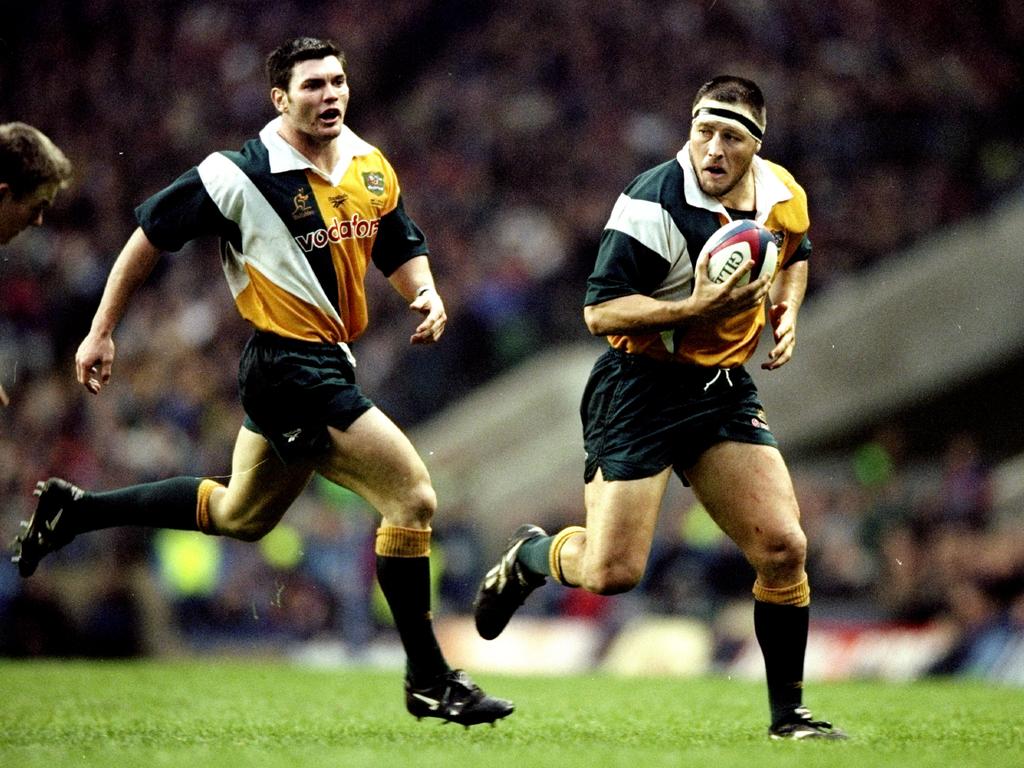 Phil Kearns (R) believes that rugby in Australia is back on track. Picture: Mark Leech/Getty Images
"They are involved in their local clubs, they go and watch local games whereas in the past they (the RA board) didn't go to club games, watch subbies, go to games; they weren't there for the good of the game.
"I think the difference is you've got people who genuinely care about the game in Hamish and Andy.
"Andy in particular is deeply ingrained in that grassroots community. Paul Doorn, who runs NSW, played subbies club rugby and Shute Shield, they know it and are interested in it.
"I would say there was a time where RA and other hierarchy didn't give a stuff about grassroots, but I think there's been a real change in attitude and that's part of my desire to get the World Cup here and Hamish's as well."
Yet, as Kearns points out, money does not solve everything.
"We've already seen, when we had a windfall from the last World Cup, Rugby Australia had to give the money to the states because that's the way the board was structured," Kearns recalled.
"The states actually took the money off RA because they were broke.
"Here we are today and all those clubs are still broke, so we know that money itself doesn't fix the game, but what fixes the game is our volunteers and our grassroots, mums and dads, who love the game and want to be involved with their community."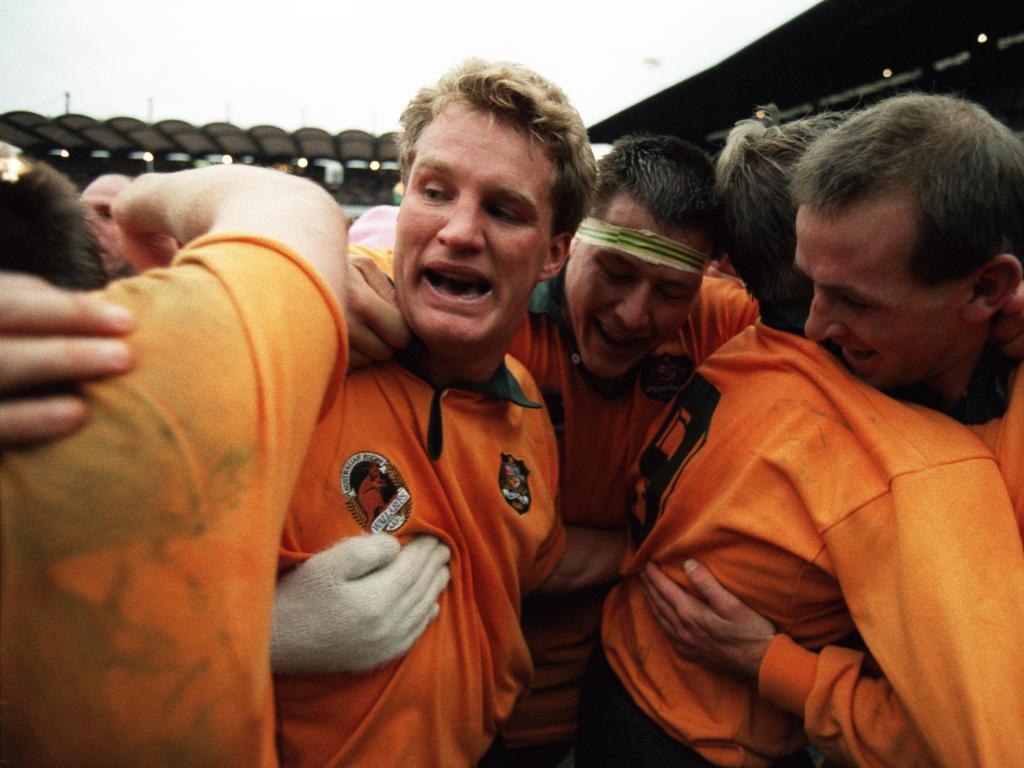 Kearns believes Australia's success at the top (like the 1991 World Cup win), will come from effort at the grassroots level. Picture: Mark Leech/Getty Images
Kearns has been a driver of RA's new 'legacy' initiative, which is intended to help clubs help themselves.
Rather than relying on RA, or the states, to help clubs, which, as Kearns points out, is "not their job", the governing body has set up a model for clubs to turn their fortunes around.
They have hired Michael Flude, a rugby fan with an insatiable work ethic who turned around Mosman Rugby Club as president after arriving from Bathurst, to drive the project.
"Mosman rugby was one of those clubs completely broke," Kearns says.
"We'd gone over 50 years without winning a first grade premiership, 46 years without winning a premiership in any grade, we were down to two grades and one colts team and essentially that was because we were poorly run.
"He turned the club around and now we've won a first grade premiership, a couple of lower grade premierships, we have seven grade teams and three colts teams, and that's because we've turned into a well-run club."
Marinos, who is showing his credentials in the role after more than two decades in the game as a player and administrator, says powering the grassroots is paramount to Rugby Australia's future.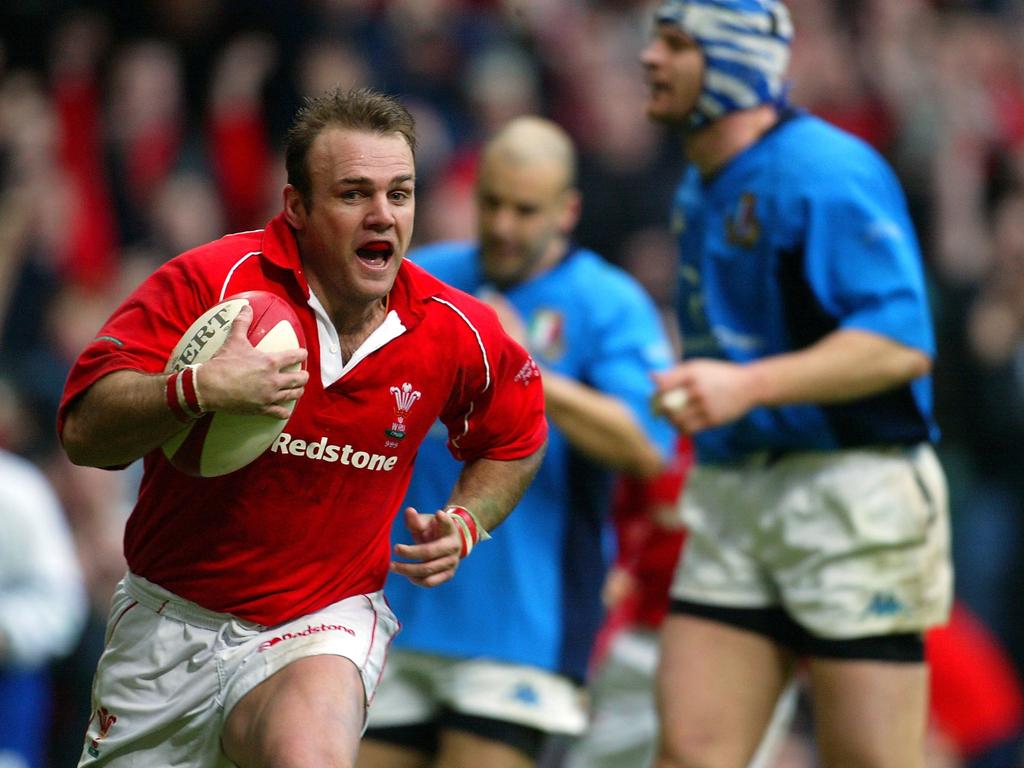 Andy Marinos brings international experience to Rugby Australia, having played eight Tests for Wales and worked in administration in South Africa. Picture: Mike Hewitt/Getty Images
"We've got to start looking at the game from the bottom up as opposed to the top down," he said.
"We've got to create those aspirational pathways for the children coming through and have those competitions and the regularity of the competitions throughout the system.
"We have a fabulous opportunity with the World Cup and that legacy. But the injection into the community game doesn't need to start after the World Cup, you actually want to start it now so the time the World Cup comes you can really maximise that opportunity.
"It remains important, I'm invested in it, my son is playing, I get involved where I can and I'd say I understand it from both sides."
McLennan, too, says it is essential that rugby becomes a game for all.
"No, no, no, it has to be for all," he responds, when it is put to him that the game is predominantly seen as one for private school kids.
"We want all boys and girls playing rugby and involved in our game.
"We need to evolve and develop further, but it won't be a game for private school kids. It's not. But I don't want it positioned that way."
For McLennan, his chairmanship is a "passion project".
He gives his Rugby Australia fee, which includes another smaller sum of money from World Rugby, to Indigenous, women's rugby and the grassroots.
But after bemoaning the direction of the game for years, the Magellan chair said his wife, Lucinda, convinced him to take it upon himself to help the game.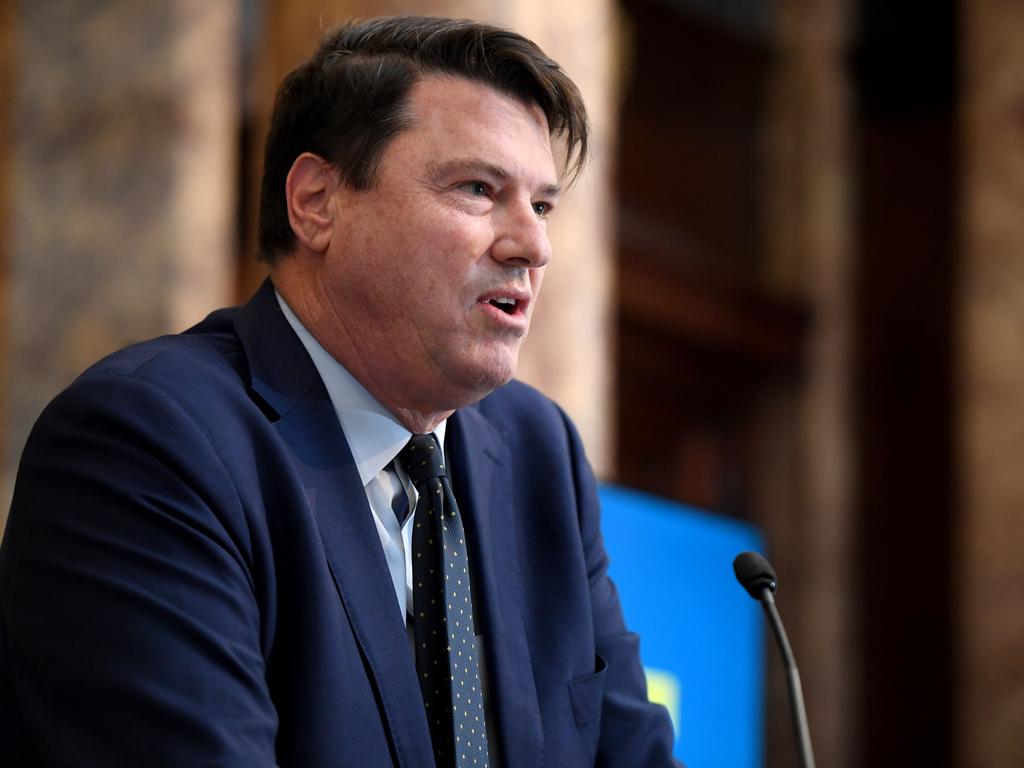 McLennan believes the game is on its way back after a long period of decline. Picture: Tom Dulat/Getty Images
"I was approached by the head-hunters to throw my hat in the ring, but even then my wife Lucinda said, 'You're always complaining about how it's being run, you should go and do it.' She absolutely encouraged me.
"I've always loved the game, so I just saw this continuous decline over a long period and the narrative around the game was lost and I was concerned with where it would end up.
"I thought of the history we had, the glorious heritage of the game and our successes and that we can't let it fail.
"It was one of those moments in life where I was asked to step in and it would have been easier to say no but then I saw it probably would implode and I'd kick myself for the rest of my life.
"There was a lot of risk and hard work attached to getting it right, but we're on our way."
Despite the doom and gloom, McLennan, who was taken aback listening to the bagpipes and hearing the Flower of Scotland at Murrayfield last year, says what has surprised him most about taking on the role is how "important the game is to so many people".
"People really care about it. For some people, it's the most important thing in their lives," he says.
"They go out to community games, they help out at clubs, they volunteer their time and to see that all disappear would have been tragic.
"I still think rugby has the best of old-school Australian values being mateship and doing the right thing."