AFL 2022: All the Port Adelaide news ahead of Round 9 clash with North Melbourne
Ken Hinkley has conceded Port Adelaide will have a major hole to fill after skipper Tom Jonas entered health and saefty protocols.
Port Adelaide are without captain Tom Jonas for its clash against North Melbourne in Tasmania after the Power skipper entered the AFL's Covid-19 protocols.
Jonas was named in the Power 22 to take on the Kangaroos in Hobart, as Ken Hinkley's side look for their fourth-straight win.
But soon after being named Jonas entered the AFL's Covid-19 protocols and will miss the clash against the Roos.
It could also put him at risk of missing out on the Power's trip to Geelong next week to take on the Cats.
"It's a big piece of our team missing," Hinkley said.
"But you know these cases are going to bob up and then you just have to handle them.
"(He found out) last night, just after teams (were released) when we first got confirmation."
Martin Frederick comes into the Power 22, while Ollie Wines will captain the side.
Also out for the Power is Charlie Dixon with Hinkley saying they had to resist a strong urge to fly Dixon to Tasmania this weekend.
But Hinkley says Dixon's lengthy time on the sidelines after two ankle surgeries meant the Power needed "to give him the best chance to succeed" when he returned.
Dixon played in the SANFL last weekend after not featuring at all at any level this season.
Port's SANFL team has a bye this weekend and Hinkley said while there as a temptation to bring the Power's spearhead back into the team for the match against the Kangaroos they needed to do the right thing by Dixon.
Watch every blockbuster AFL match this weekend Live & Ad-Break Free In-Play on Kayo. New to Kayo? Try 14-Days Free Now >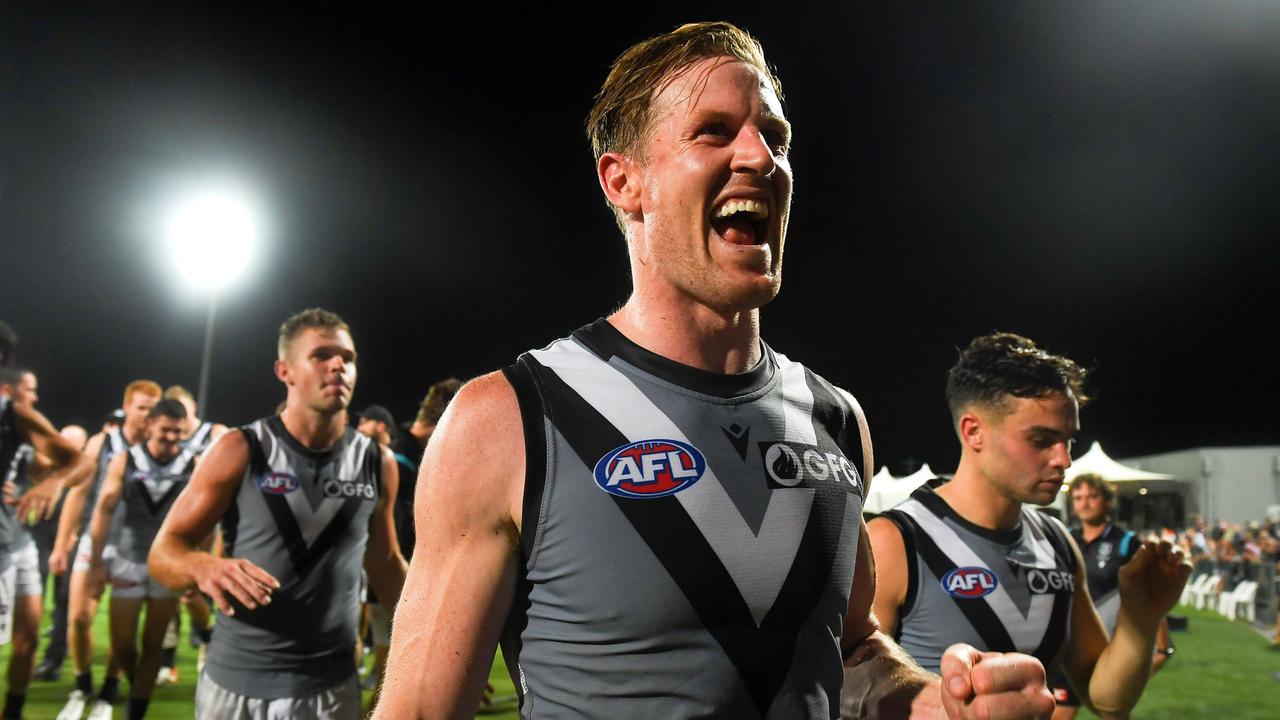 Tom Jonas will miss Port Adelaide's clash with North Melbourne.
"We are mindful of the time he's had out and the surgeries, we are a bit mindful of those things," Hinkley said.
"We want to give him the best chances to succeed. We've been patient to this point and we need to remain so if he plays next week or the week after."
The Power will come up against a North Melbourne outfit that hasn't won a game since Round 2.
But Hinkley said he wouldn't be taking North Melbourne lightly, especially in Hobart where the Kangaroos have an excellent record.
"One hundred per cent, that's what AFL Footy is," he said.
"Everyone thinks against some teams it is just going to be easy to win but we know in the competition that you have to respect every team."
"Especially when teams have their backs to the wall, which we experienced earlier this year."
Port Adelaide hasn't played in Hobart since 2013, when Hinkley could not coach the side through illness - leaving it up to Alan Richardson.
Hinkley said he was confident the Power would be able to keep unrestricted free agent Karl Amon, despite Carlton joining the race for the wingman.
"Yeah our history says that we keep the players that we need to keep," Hinkley said.
"Karl is an unrestricted free agent so he has the opportunity to explore what his rights are as a free agent and we respect that.
"But we are also confident that Karl feels comfortable at being a Port Adelaide player."
PORT YOUNG GUN SUFFERS TRAINING INJURY
Emerging Port Adelaide defender Jake Pasini will be sidelined for the remainder of the season after suffering a serious knee injury at training on Tuesday.
Pasini ruptured his anterior cruciate ligament in a marking contest and the Power confirmed he would undergo reconstructive surgery later this week.
The 21-year-old West Australian is untried at AFL level since being rookie-listed at the end of the 2019 campaign.
He was an emergency for the first time in Round 7 against St Kilda.
Power medical boss Tim O'Leary said the injury was unfortunate for the in-form backman.
"He has had some challenges as a young player already, but we saw how hard he worked coming back from a shoulder reconstruction last year and I have no doubt he will attack his rehabilitation with the same positivity and application," O'Leary said.
Pasini did not play at any level in his first season in 2020 as the Magpies sat out the SANFL due to Covid.
He played eight matches last year after recovering from shoulder surgery.
Pasini has averaged 17 possessions and five marks in his six SANFL games this season.
PORT STARS CLEARED FOR AFL RETURN
Orazio Fantasia will join Charlie Dixon in being available for Port Adelaide's clash in Tasmania against North Melbourne this weekend, Power forward coach Nathan Bassett has revealed.
Fantasia had surgery on knee in February, his third since May last year.
The livewire small forward is now back in the mix for the Power, who have won three games in a row after a 0-5 start.
But the SANFL bye this weekend means the Power still might keep Fantasia on ice, rather than rush him back into the AFL side.
Watch every blockbuster AFL match this weekend Live & Ad-Break Free In-Play on Kayo. New to Kayo? Try 14-Days Free Now >
"Orazio is available to play footy this week so the Magpies bye is not ideal for those guys (him and Dixon)," Bassett said.
"But we will get a full week of training into those guys and make a call later this week."
Dixon played in the SANFL on the weekend after two ankle surgeries, kicking a goal and having 10 disposals.
"He had his first hitout on Saturday and it was good to be able to get him out there
it wasn't a game where the ball moved too free-flowingly because of the conditions," Bassett said.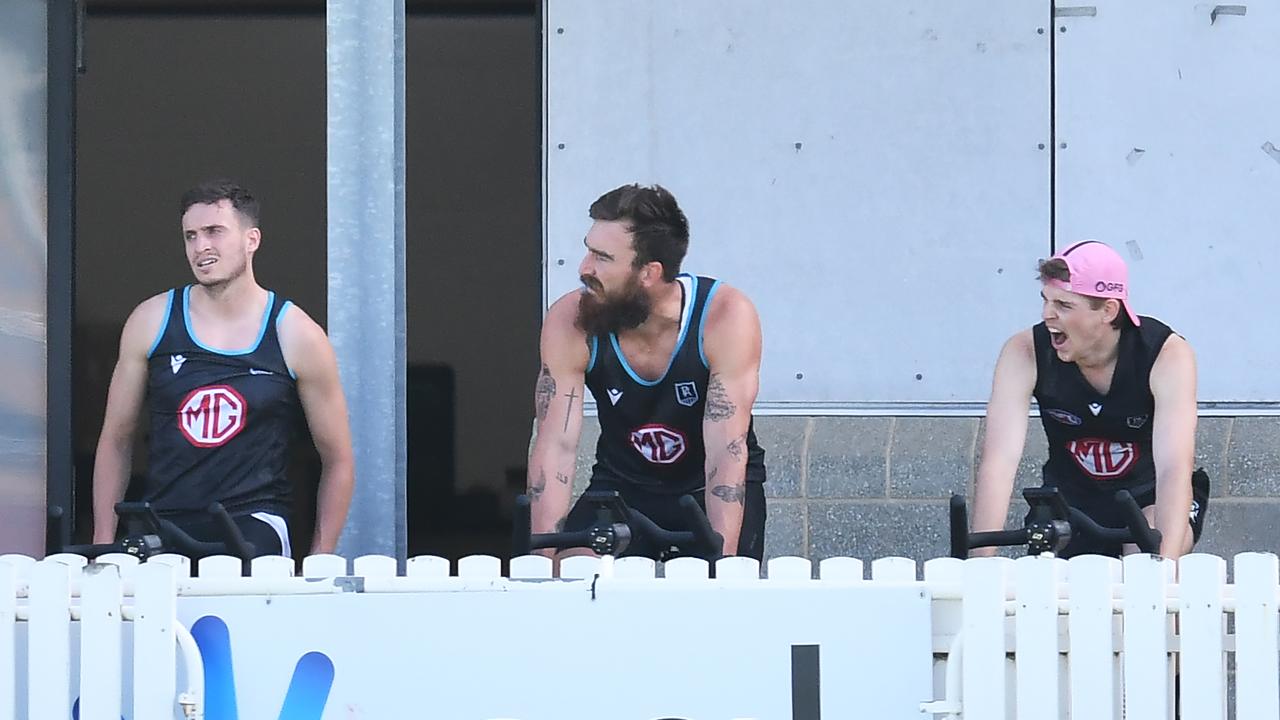 Orazio Fantasia (L) and Charlie Dixon (C) are available for selection. Picture: Mark Brake
"He is a little bit off his usual movement currently but whether that is good enough for this week we will find out as the week goes on."
But Bassett said Fantasia was probably ahead of Dixon in terms of fitness, but it was unlikely that he would be in the Power's 22 to play the Kangaroos.
"He's done a bit more than Charlie in terms of running," Bassett said.
"I think he would be unlikely that we would select him in the 22 this week but he is available."
Dixon and Fantasia's returns give the Power a selection squeeze in the forward line, after Todd Marshall, Jeremy Finlayson and Mitch Georgiades played their best game of the season in the win over the Western Bulldogs.
The Power only lost once last year when they fielded four talls in their attack and Bassett said it was an option.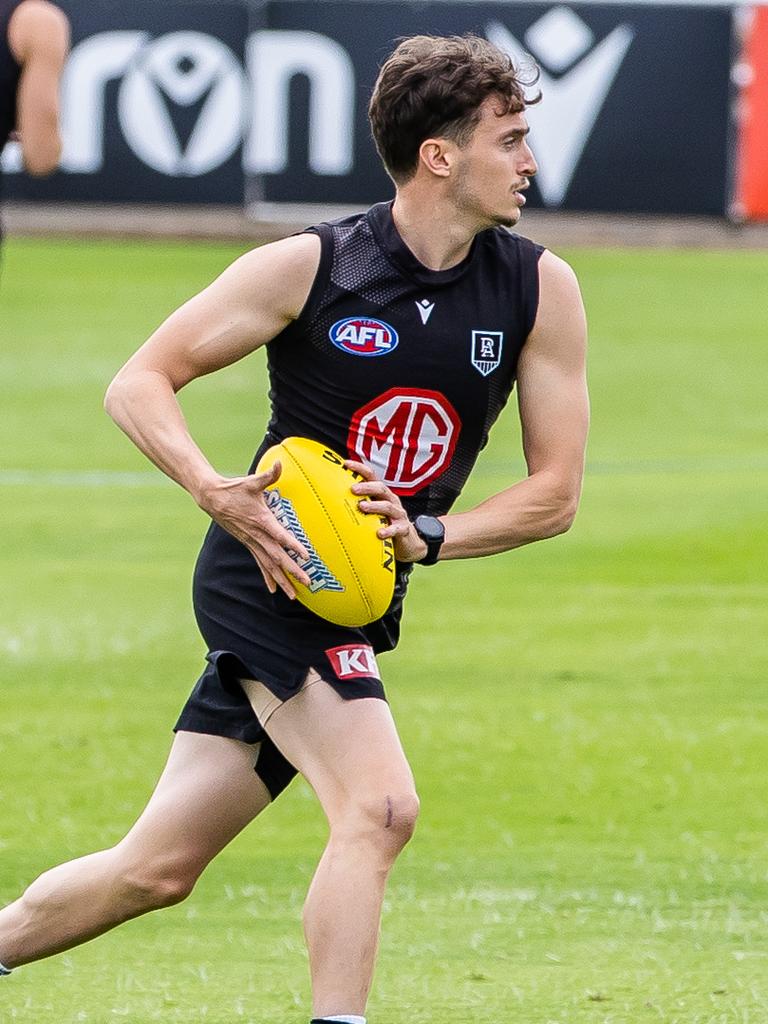 Orazio Fantasia is set to return from injury. Picture: Tom Huntley
"We could it is a matter of having enough legs in the forward line to be able to support our team defence," he said.
Dixon's absence has allowed Marshall to play arguably the best footy of his career, after a slow start to the season.
Bassett said Marshall had grown significantly.
"I really like how he is starting to take ownership of the forward line and putting himself in more contests," Bassett said.
"He can be a little bit too polite, like when he didn't take the advantage in the second quarter on the weekend and gave it back to Ollie you are like you are too polite, go take the ball and be the man, get the ball.
"He is such a nice team player that he forgets that he actually has to put himself in the contest.
"So I've been rapt for Todd and his last month or so, we want to turn it into something sustainable."
Bassett said Zak Butters might have still been feeling the effects of his brush with the flu two weeks ago, which resulted in a visit to hospital, after a quiet game against the Bulldogs.
"He was pretty ill the week before that, sometime there is a bit of a lag in how you are feeling," Bassett said.
Miles Bergman also had to go to hospital because of the flu but has been back in training for the Power.
Port Adelaide lashes star duo
Port Adelaide assistant coach Chad Cornes has provided a blunt assessment of Aliir Aliir and Tom Clurey's games against the Western Bulldogs, saying the two defenders' contest and intent to defend "was nowhere near where it needed to be".
The Power claimed a big win over the Bulldogs on Friday night but Cornes said he wasn't happy with how his two key defenders both played.
Aliir started on Bulldogs star Aaron Naughton, and struggled against him in the opening half, before Clurey took on the match-up.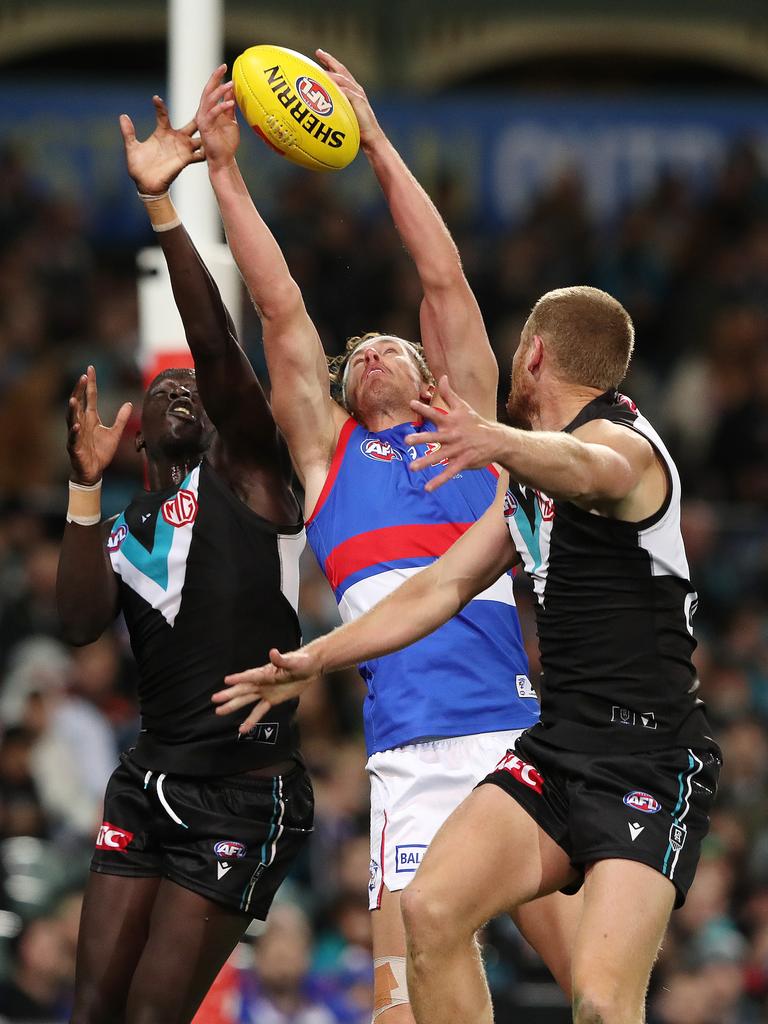 Aaron Naughton outmarks Port Adelaide defenders Aliir Aliir and Tom Clurey. Picture: Sarah Reed/AFL Photos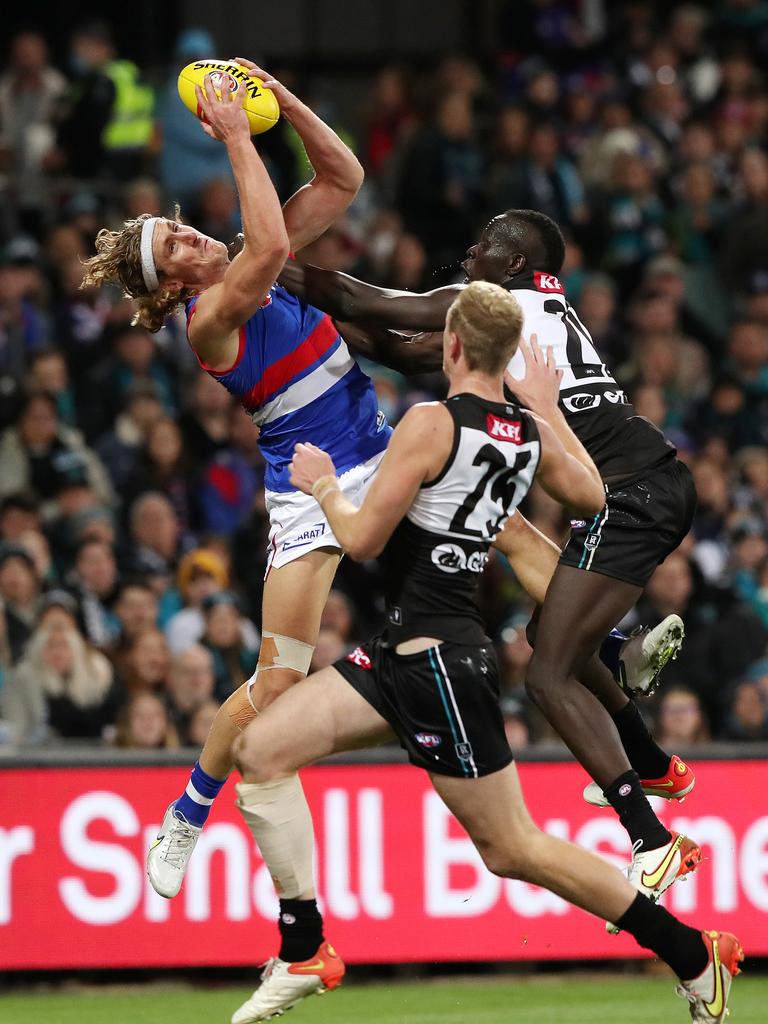 Naughton beating Aliir in the air again. Picture: Sarah Reed/AFL Photos
"Last year in the prelim they tried to do a role on him and take Aliir out of the play so we decided to put him straight to Naughton – our best defender on their forward," Cornes said on SEN SA.
"I didn't love Aliir and Clurey's games to be honest, the rest of the backline battled, but those two would be the first to admit that their contest and intent to defend – the way planned during the week – was nowhere near where it needed to be.
"So we will need a strong response from those two this week."
Cornes said Aliir and Clurey were aware of his thoughts, and were both disappointed in their performances.
"You try and touch base straight after the game, those two are very aware," he said.
"They write a review on their own game and their reviews are as strong as I said then.
"So they are pretty disappointed … they know where they are sitting."
Zak Butters was quiet again. Picture: Sarah Reed/AFL Photos
Zak Butters also had a quiet game against the Bulldogs, only getting 13 possessions.
Cornes said Butters would still be on ball for the Power.
"He was pretty scathing of his own performance," he said.
"He just lacked a bit of his hunt in that centre bounce game, when he gets the ball and breaks lines he stands out which is one of the things we love about him but we just haven't quite seen it enough this year.
"I think he worked himself more into the game when he was in that high half forward role and came up to the contest and resetting from there.
"I think we will persist with him on ball because the potential or what Connor (Rozee), Buttsy, Ollie (Wines) and Boaky (Travis Boak) can do."
Why Dixon might not be automatic inclusion
How Charlie Dixon presents when assessed by Port Adelaide on Monday could be key in whether the Power spearhead plays his first AFL game of the season against North Melbourne.
Dixon played for the Magpies in the SANFL on Saturday, his first match of footy this year after two surgeries on his ankle.
Playing 75 per cent of the game against Woodville-West Torrens, Dixon kicked a goal and had 10 touches.
Dixon will be assessed on Monday ahead of a decision mid week as to whether he makes the trip down to Hobart to take on the Kangaroos.
How Dixon pulls up from his first outing of the season, whether he is fit enough and the Power's forward line mix – following Todd Marshall, Jeremy Finlayson and Mitch Georgiades' best game together against the Western Bulldogs on Friday night – will all come into consideration as to whether Port bring back its spearhead.
Dixon for the Magpies in the SANFL. Picture: Naomi Jellicoe
Dixon himself said his ankle was still "a little bit proppy" following his first game of the season.
"It was frustrating conditions, but it's good to get through and the ankle is still a little bit proppy," he told Port Adelaide's website.
"But, to get through and get in some contests has been really good."
Port's SANFL side has a bye this week.
"We'll see what happens this week, I know the SANFL boys have got a bye this weekend," he said.
"I'll do whatever the coaches want me to do and see how it pulls up tomorrow (Sunday), which is key as well and go from there."
Legendary North Melbourne forward Wayne Carey said with the Power winning three in a row, and Marshall, Finlayson and Georgiades starting to gel, Ken Hinkley did not need to rush Dixon back for the game against the Roos.
"A few of their young forwards are starting to play a little bit of footy together but he comes back and he gives them a different look," he said on Channel 7.
"He gives them competitiveness, he doesn't necessarily have to mark the ball all the time.
"He's a certainty once he gets up and going but all of a sudden they have a bit of momentum and they are not needing now to rush him back.
"A couple of weeks ago you were thinking get him back, get him back but no need to do that now, get him right for when he comes back in."
Hinkley said it was a nice problem to have, his four talls all being fit again, after the win over the Bulldogs.
The Power did go with four talls in addition to a ruckman on multiple occasions last year.
Out of the seven games they fielded four talls in addition to a ruck the Power only lost to West Coast in Perth.
Originally published as AFL 2022: All the Port Adelaide news ahead of Round 9 clash with North Melbourne