AFL 2022: Crows coach Matthew Nicks defends his big selection calls as Taylor Walker is cleared after training scare
Taylor Walker sent a scare through Crows training after reporting dizziness. Coach Matthew Nicks explains what happened and why he made six team changes.
Adelaide veteran Taylor Walker has been cleared to play Brisbane on Saturday night after being dizzy at training and having his pulse checked.
Walker sat out most of the "captain's run" session at Adelaide Oval on Friday and spoke to coach Matthew Nicks about feeling unwell.
But the club confirmed later in the afternoon that the 32-year-old former captain was fine, having improved by the end of training.
"He just didn't really feel quite right at the start of the session so rather than try to push this and maybe do some damage, he just wanted to make sure he was OK," Nicks said earlier, straight after the morning session.
"He just felt a bit dizzy, which can happen at times.
"In the end, he started to feel a little better, got a bit of sugar in."
Watch every blockbuster AFL match this weekend Live & Ad-Break Free In-Play on Kayo. New to Kayo? Try 14-Days Free Now >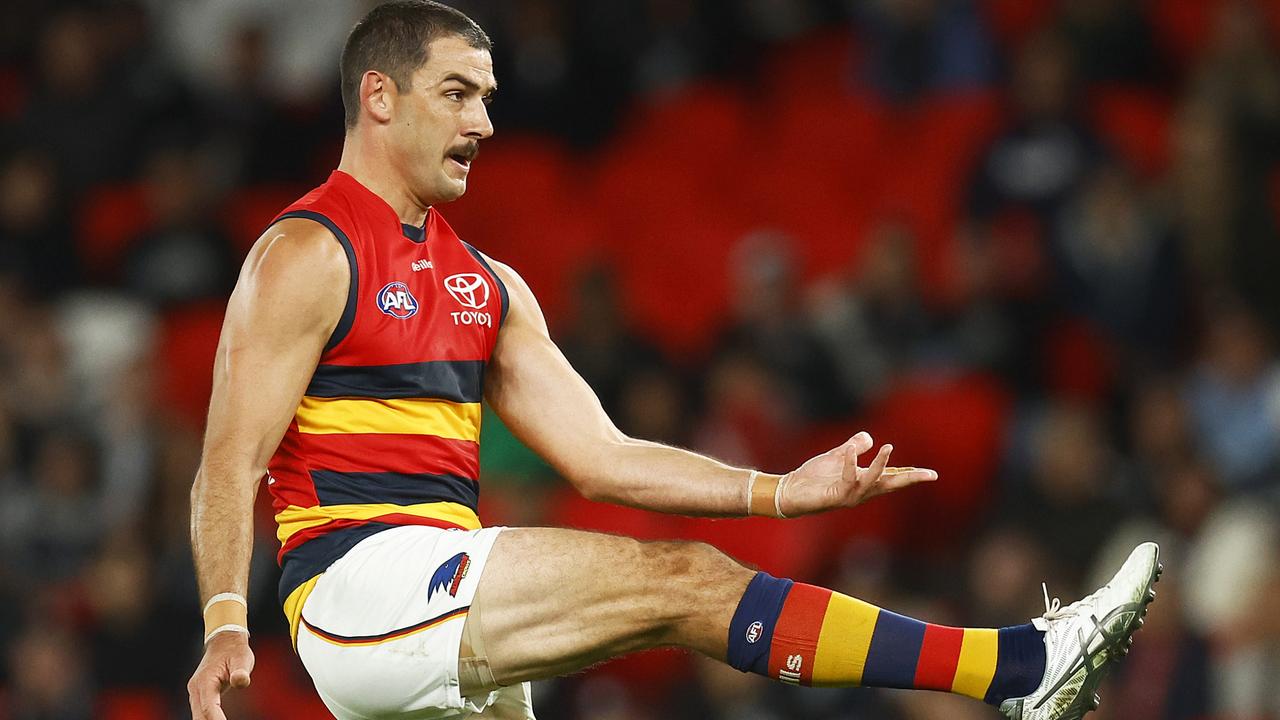 Taylor Walker has been cleared to play on Saturday night. Picture: Daniel Pockett/Getty Images
Coming off two heavy defeats, Adelaide has made six changes to face the 7-1 Lions, headlined by dropping ruckman and leadership group member Reilly O'Brien.
Nicks conceded there was some risk of instability in making so many alterations, but that three of them (Brodie Smith and Ned McHenry returning from concussion protocols and Lachlan Murphy out with neck soreness) were forced.
He said part of the reason behind the axings was "connection" with the rest of the team and how it defended, as well as the SANFL performances of four of the inclusions – ruckman Kieran Strachan, midfielder Jake Soligo, forward Darcy Fogarty and goalsneak James Rowe.
He hoped O'Brien would benefit from having a break this week while the SANFL had a bye due to the state game.
"We know ROB (O'Brien) at his best is a very, very good ruckman and he's not at his best," he said.
Nicks disagreed with external suggestions that Fogarty did not deserve a recall.
He was adamant the 22-year-old had improved key areas of his game in recent weeks that were not reflected in statistics.
"He's not kicking six or eight (goals) at SANFL level, but we didn't ask him to do that," he said.
"We talked about him getting to the footy a lot more and we've been really pleased with that."
HAVE YOUR SAY: WE RANK THE CROWS' BEST ADELAIDE OVAL MOMENTS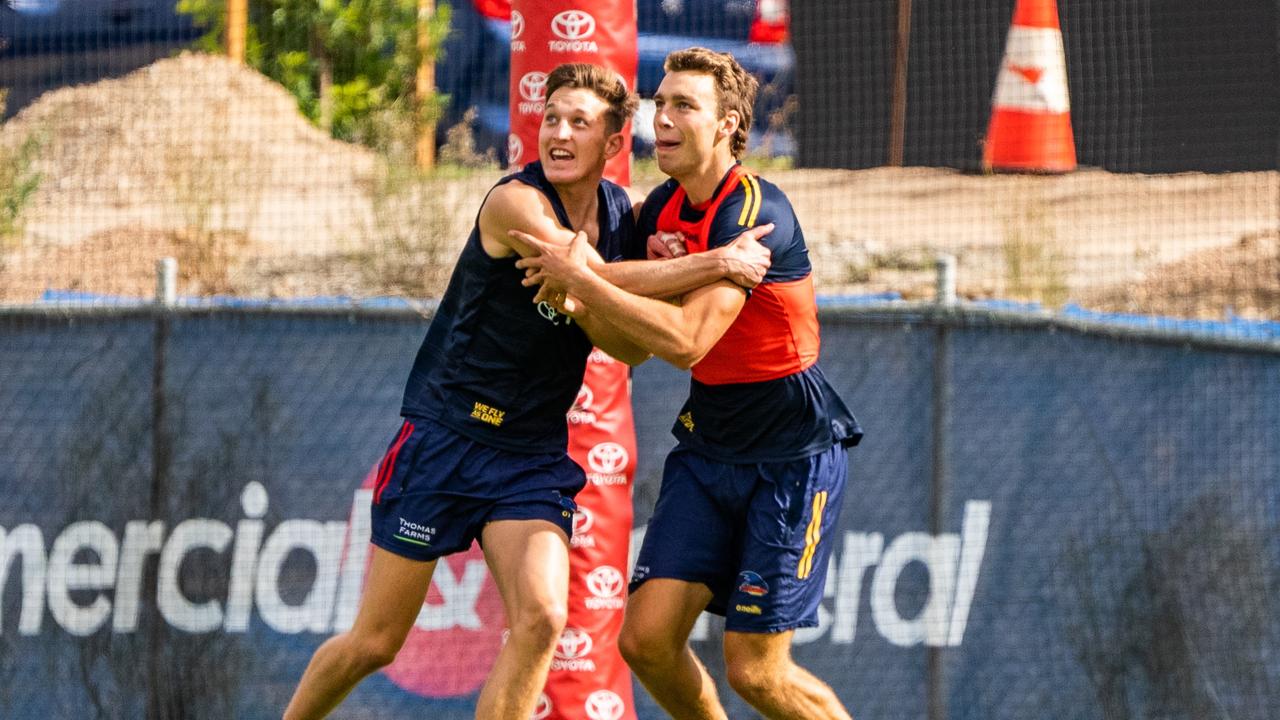 Lachie Gollant and Riley Thilthorpe at Crows training.
Nicks said Matt Crouch was ultra professional in his SANFL return, which featured 36 disposals and 10 clearances, but there was no time frame for him staying in the state league.
As for second-year forward Riley Thilthorpe and half-back Wayne Milera, who were both dropped after Round 1, Nicks said they were very close to returning.
The club did not want to risk Thilthorpe because he had been sidelined for two matches due to Covid protocols.
Nicks was himself sidelined with coronavirus last week and watched the Carlton loss from his couch like a regular supporter.
He hardly had Covid symptoms, which made him a "caged lion" in isolation and an angry one after the loss.
"I'd like to say I enjoyed (watching the game from home) it but it was tough to do – but it was a good experience," he said.
Can the Crows avoid another mid-season slide?
- Simeon Thomas-Wilson
Adelaide fans have been here before.
For the second straight season the Crows are experiencing a slump following a bright start to the season.
After two impressive wins over Richmond and the Western Bulldogs the Crows have gone down to GWS by 59-points and Carlton by 48-points.
The nature of the two losses on the bounce has prompted inaugural Crows coach Graham Cornes to declare that "the optimism of two weeks ago has well and truly evaporated".
So what has gone wrong for Matthew Nicks' side in recent weeks, and how can the Crows break themselves out of their slump.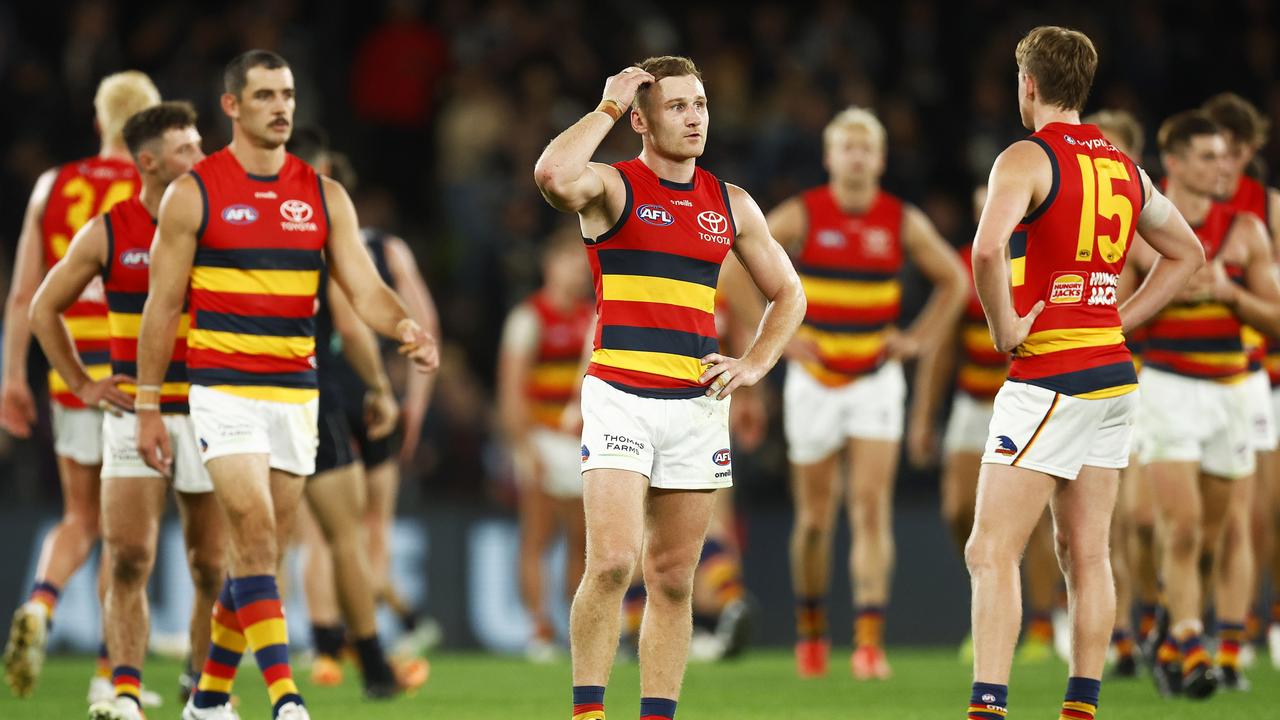 The Crows after going down to Carlton. (Photo by Daniel Pockett/Getty Images)
UNDERSIZED MIDFIELD
Dual Crows premiership winning captain Mark Bickley said it was inconsistency that was hurting.
"It is always a culmination of things in my experience," he told The Advertiser.
"Inconsistency I think is costing them.
"And some of that is around the inexperience of the list and some of that is around players still trying to find their feet at AFL level."
Crows coaches have said that their contest has been lacking in recent weeks.
Bickley said not being able to compete in the midfield was hurting the Crows.
"The midfield has probably been the origin, being able to win the contested ball and that leads into clearances and that's created some other issues," he said.
A question that hung over the Crows in pre-season, and is bound to be revisited is do they have enough size or big bodies in their midfield.
This was stark against the Blues, with the 195cm Patrick Cripps in particular having a field day.
Jackson Hately, the Crows tallest midfielder at 191cm, "tagged" the Brownlow Medal favourite but Cripps still had 35 disposals and two goals as he monstered the Adelaide midfield
Rory Laird (178cm), Ben Keays (186cm), Sam Berry (182cm) all give a lot of effort, but not the size that other teams such as Melbourne, the Western Bulldogs and Carlton have in their engine room.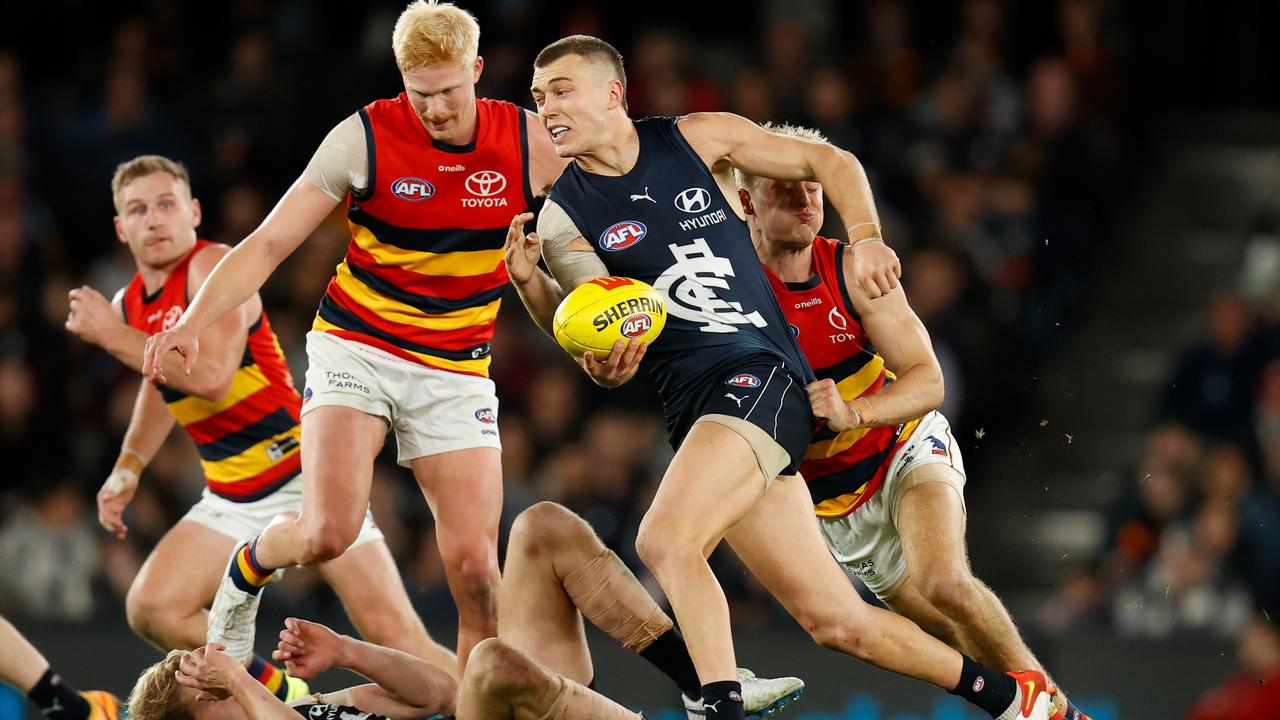 Cripps dominated the Crows midfield at Marvel Stadium. Picture: Getty Images
Outside of the AFL side, Luke Pedlar can tackle like a beast but he is 184cm.
Bickley said the Crows were lacking the "A-Grade high quality midfielder who has size and strength" contenders and challengers had.
"Generally they hard to come by," he said.
"Most of those players are really high picks and you don't get access to them often.
"For whatever reason they haven't been able to secure that big A-Grade midfielder that has the potential or becomes that All-Australian midfielder that can carry you to a finals campaign.
"My worry is that there is a lot of the same in Adelaide's midfield… their depth and quality in the midfield isn't where other teams are."
Boom recruit Jordan Dawson, who stands at 192cm, was earmarked for a role around the ball after moving from Sydney.
But he looks to be settled into a half-back role.
OH NO O'BRIEN
There were probably moments in 2021 where Reilly O'Brien was fortunate to not get dropped by the Crows.
This hasn't translated to 2022, with the 2020 club champion paying the price for some poor form of late.
At 26, and a member of the Crows leadership group, O'Brien should be one of the more dependable players on Adelaide's list.
Yet he was down on form against the makeshift Carlton combination of Tom De Koning and Jack Silvagni, a week after being beaten by GWS's Braydon Preuss.
O'Brien was very good against the Western Bulldogs in Ballarat, but there hasn't been enough of this from a player who was targeting becoming one of the best ruckmen in the competition at the start of 2022.
SANFL SURPRISES
With the Crows' contest lacking you'd expect Matt Crouch to be a walk-up return to the side to take on Brisbane on Saturday night.
The All-Australian and club best and fairest was interestingly demoted to the SANFL and responded with 36 disposals and 10 clearances.
But it wasn't enough for a recall to an Adelaide side whose midfield has been soundly beaten in the past two weeks.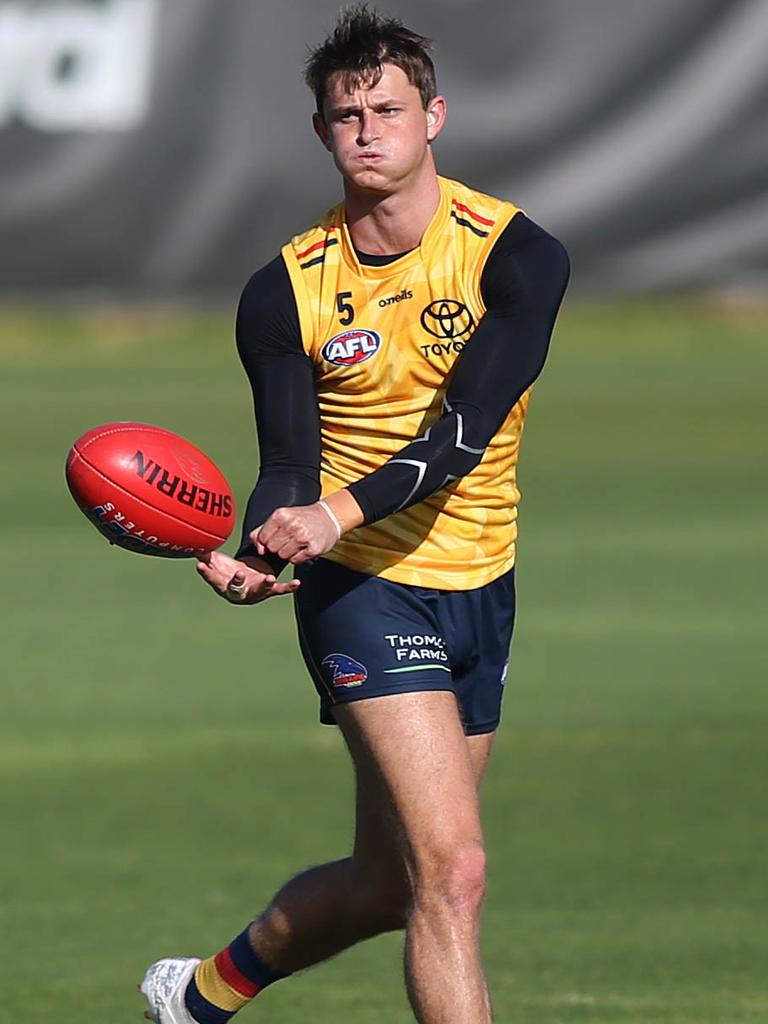 Crouch was dropped by the Crows. Picture Dean Martin
Yes Crouch needs to be more damaging with the ball, with penetration and the depth of it a key focus for him.
But he offers the Crows a point of difference in the midfield, with his pressure game and ability around clearances still strong.
It has been an interesting return for Crouch into the Crows side following his year out with injury.
His time on ground hasn't gotten near the 80 per cent mark once this season, and has been in the 60s at times.
The Crows have said they want to give younger players like Hately, Berry and Pedlar a chance to get a couple of games in a row in the midfield at AFL level.
But do they need a bigger body like Crouch to help them.
Another surprise has been how long Wayne Milera has been in the SANFL for.
Every Adelaide coach and player seems to be in agreement that Milera is in the Crows best 22.
Yet he's been in the SANFL after being dropped in Round 2.
Milera's time in the SANFL was originally going to be three or four weeks, so he could build up his fitness.
Approaching Round 9 he still isn't in the AFL side.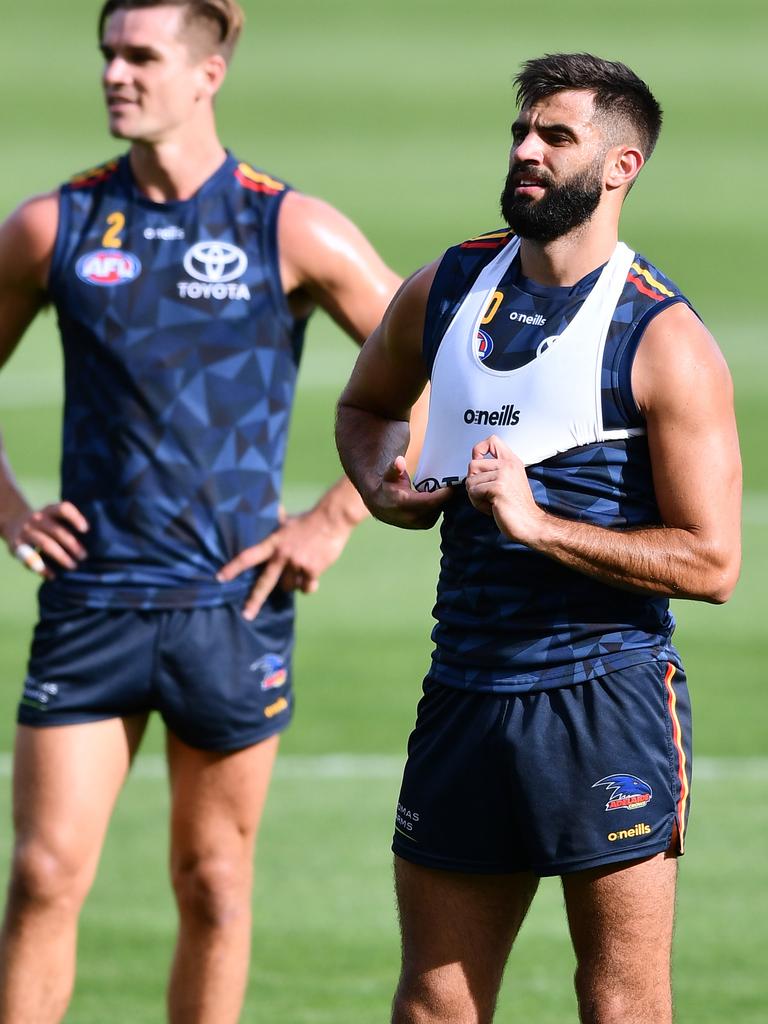 Milera hasn't played since Round 1. Picture: Mark Brake
RILEY'S TIME TO SHINE?
Another player to get dropped after Round 1, and a surprising one at that, was the Crows No. 2 draft pick Riley Thilthorpe.
And as important as Crouch and Milera might be to the Crows side, the status of Thilthorpe is the one that Adelaide fans should care about the most.
Key forwards can take a while to develop, but is playing SANFL better for Thilthorpe's development than learning on the job in the AFL.
And is the Crows rebuild, and fast tracking it, better served by Elliott Himmelberg playing in the senior side ahead of Thilthorpe.
Nicks likes to point to how reigning Coleman Medallist Harry McKay developed at Carlton.
After playing 15 games in his first two seasons, McKay found a consistent role in the Blues line-up in his third season.
Thilthorpe is also at the 15-game mark of his career.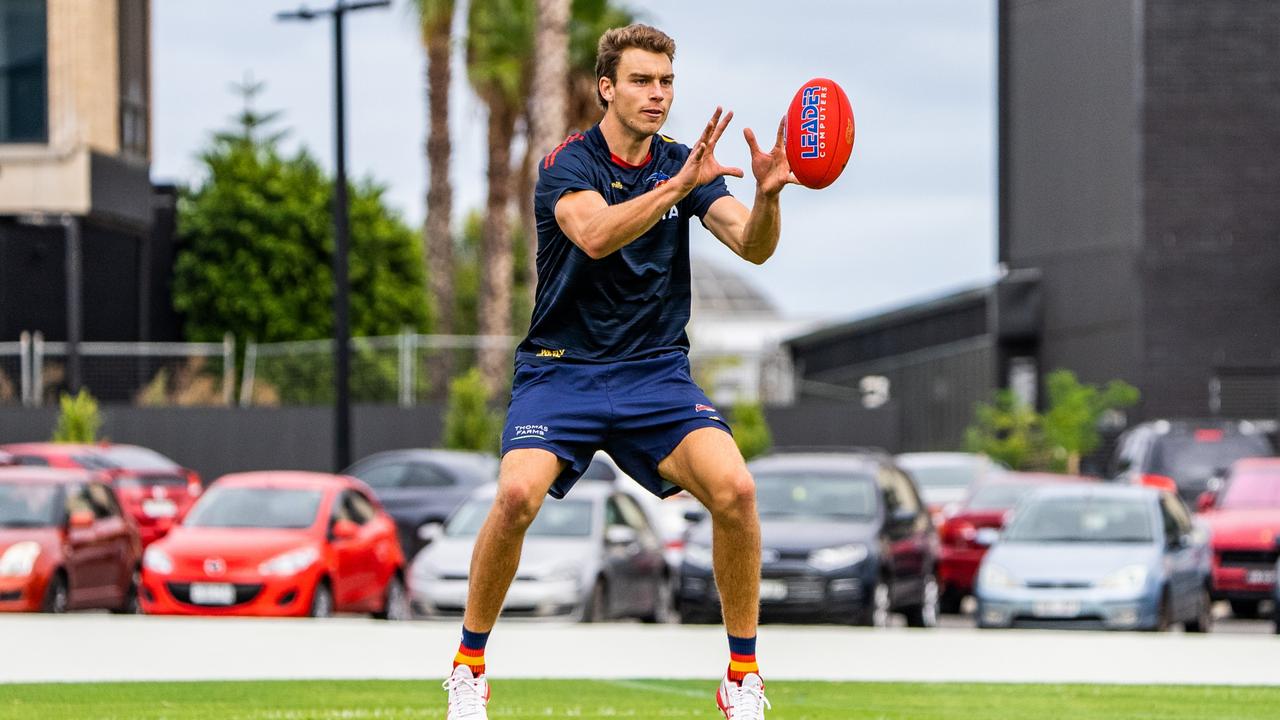 Thilthorpe is pushing for a return to AFL action soon.
On the other scale young key forwards such as Ben King and Mitch Georgiades have just played games at AFL level to start their career.
Bickley said there wasn't a one-size fits all model.
"I think with Adelaide the thing with Riley Thilthorpe in these next 18 months to two years they make really good decisions now so that in two-years time he is playing his best footy," he said.
"There is one eye on the moment and one eye on the future, they are the best judges for that
"I think everyone just has to trust that Matty Nicks if you said to him what is one of his most important jobs going forward it is the way he nurtures and develops these young players and Riley Thilthorpe is probably the main one.
"Matty Nicks has the most to gain and most to lose about how Riley develops."
Thilthorpe looks to have the game and the mindset to be the leader of the Crows forward line, and a star for Adelaide.
What's the best way for Adelaide to get him there.
HIGH DRAFT PICKS NOT DELIVERING YET
Despite Thilthorpe only playing the one game this year the general consensus seems to be that Adelaide made the right decision to take him at No. 2 and also Josh Rachele at No. 6.
The jury is out on a lot of their other high selections.
Chayce Jones (Pick 9 in 2018) and Ned McHenry (Pick 16 in 2018) have had consistent roles in the team this year.
But Darcy Fogarty (Pick 12 in 2017), Fischer McAsey (No. 6 in 2019) and Luke Pedlar (No. 10 in 2020) have played five games between them so far this year.
Bickley said in a rebuild it was essential the higher draft picks shone.
"Adelaide's strategy has been go to the draft and get lots of high picks," he said.
"They've gone to the draft, the aim was to get 40 games into those guys and they have done that now the next thing is to go to the trade table.
"They got Dawson last year, the word is that they are keen to maximise free agency this year.
"So they are halfway through the plan but it still looks like there is still a little bit of a grey area in terms of how it is going."
Fogarty will return to AFL action against Brisbane but McAsey hasn't played a senior game for the Crows since Round 12 of the 2020 season.
Could a move up the ground end his AFL exile after his 2021 campaign was impacted in multiple ways.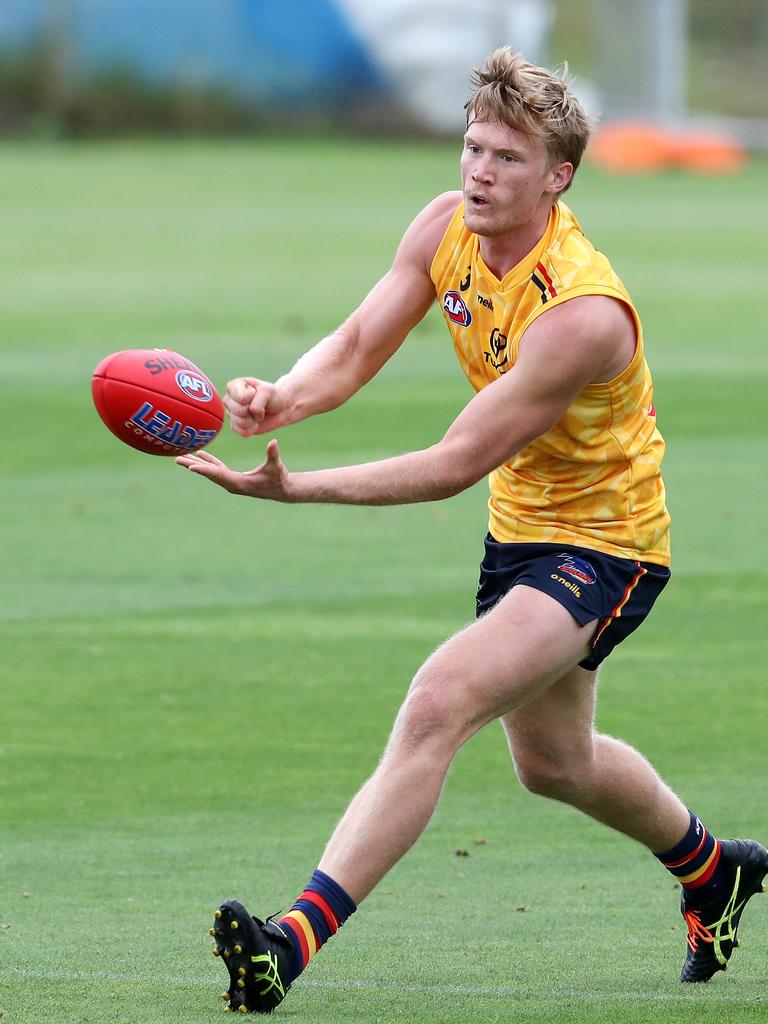 McAsey has been playing as a forward of late. Picture: Sarah Reed
McAsey has been playing as a key forward for the Crows SANFL side in recent weeks and has impressed coaches such as forward coach James Rahilly.
"He has got his body in really good nick and his footwork ahead of the ball has improved a hell of a lot," Rahilly said.
"This has allowed him to mark the footy and he looked really dangerous especially the week before, he took a couple of marks and kicked a couple of goals.
"So I think we will go with that one, we have a lot of backs especially in the SANFL.
"Fisch has played forward before so we will give him a go there."
After his struggles as a defender in his first year at AFL level, with the manhandling by Isaac Heeney for a Swans goal in his debut game a lasting image for many Crows fans, could this move forward be what reignites McAsey's AFL career.
The Crows list management will be especially hoping this is the case.
Originally published as AFL 2022: Crows coach Matthew Nicks defends his big selection calls as Taylor Walker is cleared after training scare