AFL mid-season draft: Blues pluck Bulldogs' discard Will Hayes, former Roos key defender Sam Durdin
Working with his renowned horse trainer father David Hayes, new Blue Will Hayes spent the past eight months "chasing sleep". That will change, thanks to his AFL lifeline.
New Carlton recruit Will Hayes says he is looking forward to some "sleep-ins" as he prepares to give up stable work at Flemington Racecourse in a bid to add some more AFL games beside his name.
The former Western Bulldogs midfielder was a surprise selection by the Blues with the final used pick in Wednesday night's mid-season draft.
Watch every blockbuster AFL match this weekend Live & Ad-Break Free In-Play on Kayo. New to Kayo? Try 14-Days Free Now >
Since being delisted by the Western Bulldogs at the end of last season, Hayes had combined work commitments for his family's horse racing empire with playing for Carlton's VFL team as he searched for another opportunity at AFL level.
That involved days which regularly started with 4am trackwork for his family's Lindsay Park stable and ended with VFL training at Ikon Park late into the evening.
Unfortunately Will won't be unloading horses for us mid training anymore, but a dream come true for him 👏🏻 pic.twitter.com/uLbZBxmOEb

— Lindsay Park Racing (@lindsayparkrace) June 1, 2022
"When you work with animals, there's always something to do," Hayes said.
"So that's what I was doing throughout the day and then often you would have to go racing to VFL training at night.
"I spent a lot of the past eight months chasing sleep and it wasn't easy but I'm glad I've done it now.
"I had a desire to get back to the top level and it wouldn't have been without the support of Carlton Football Club."
The son of renowned horse trainer David Hayes, the 25-year-old managed only 11 games across three seasons at Whitten Oval.
However, Hayes said he believed his best football was still ahead of him after a blistering start to the year in the VFL which has seen him average 33 disposals and 5.3 clearances through the midfield.
Will Hayes has been handed an AFL lifeline. Picture: AFL Photos/Getty Images
"I still think I've got a bit of improvement in me," Hayes said.
"Transitioning back into a full-time program, you're always naturally going to improve and there's always opportunities to get better.
"My One Wood is my running and my ability to get from contest to contest and I imagine that would be in the midfield. However, wherever they want me to play, I'll play. They say 'Jump', I'll say, 'How high?'. I'm just happy to be here."
Hayes was handed the No. 40 jumper at the Princes Park on Thursday.
"I'm just glad it's under 50. It means I'm on the AFL list," he said.
"From what I've noticed the minute I stepped in in November doing the pre-season, the culture of this club is incredible. I think they're building towards something special. So I'm just really happy I've timed my run perfectly to get on the list. I'm just hopeful something happens but I'm just wanting this club to be successful and I'll play whatever role in it that I can."
How an ex-Roo can help save banged up Blues
—Jay Clark
Michael Voss gave the order to his recruiting department to break glass in case of emergency.
Unlike the national draft, when clubs try to simply pick the best talent at the top of the order, the mid-season draft can provide the ultimate sugar hit just where the clubs' lists need it.
And Carlton's biggest hole was obvious after another massive injury setback on Sunday, when star backman Jacob Weitering went down for about six weeks with a shoulder injury, weakening the Blues' already threadbare defensive stocks.
Watch every blockbuster AFL match this weekend Live & Ad-Break Free In-Play on Kayo. New to Kayo? Try 14-Days Free Now >
After spending almost a decade out of finals, Voss's Blues are in prime position to nail down a top-four berth this season, if not for their major key defensive headache.
But when the Blues took former North Melbourne key defender Sam Durdin on Wednesday night to help patch up a defence also missing Oscar McDonald, Mitch McGovern and Liam Jones, the selection provided the most compelling storyline of the mid-season draft and handed Durdin – just like Voss in the coaching ranks this year – a second chance at AFL level.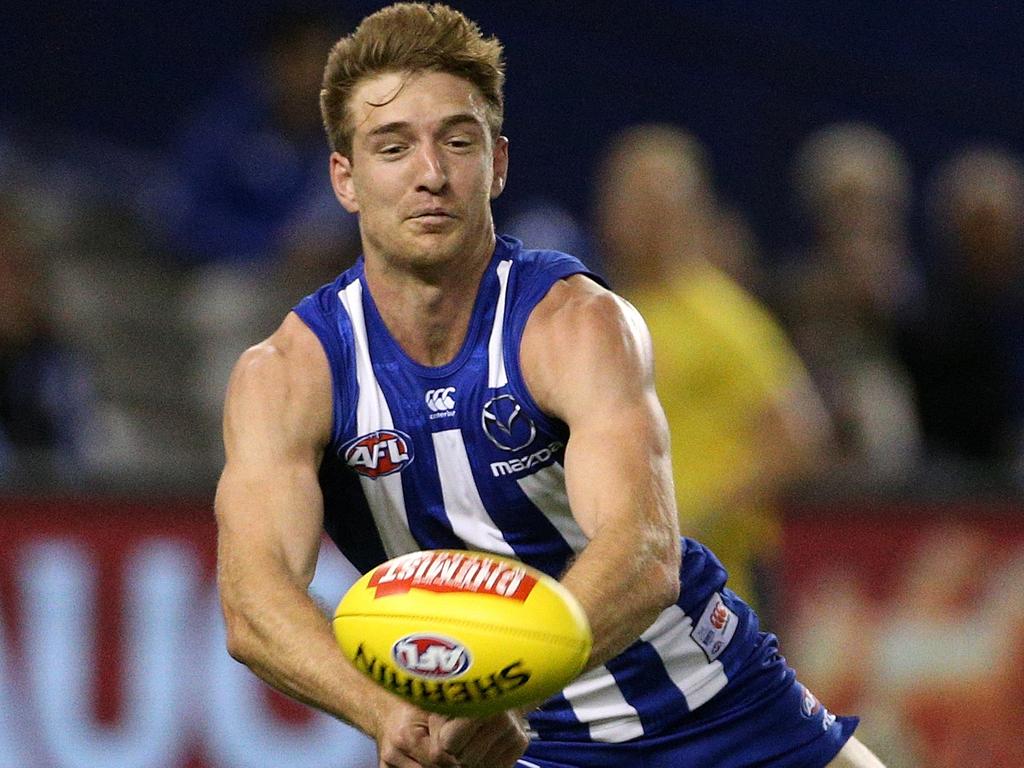 North discard Sam Durdin has won an AFL lifeline with Carlton. Picture: AAP
Last year, the big recruit was Hawthorn hard nut Jai Newcombe, who is not only a frontrunner to win the 2022 Rising Star award but also the Hawks' best-and-fairest, after slotting straight into the best 22 as soon as he arrived at the club last year.
In one week's time, there is a chance Durdin, who has reignited his AFL dreams with strong performances for Glenelg in the SANFL after playing 21 games for the Kangaroos, can step straight into Carlton's back six in similar fashion, depending on Caleb Marchbank's fitness.
Electric playmaker Jai Culley will be a certainty to play at West Coast over the next month or two, North Melbourne's backline definitely needs Kallan Dawson's help, and Essendon, which has done well landing Sam Durham and Will Snelling at recent mid-season drafts, was thrilled to add Massimo D'Ambrosio to its halfback stocks.
Hawthorn found the big man its list build needs, Fremantle's Sebit Kuek will be on highlight reel watch, and Josh Carmichael can add to Collingwood's midfield stocks, if he can improve his transition running. He can certainly find the footy.
At worst, the 25-year-old Durdin will be a reassuring back-up for Voss, but it seems only a matter of time before he steps out onto the MCG in navy blue this year.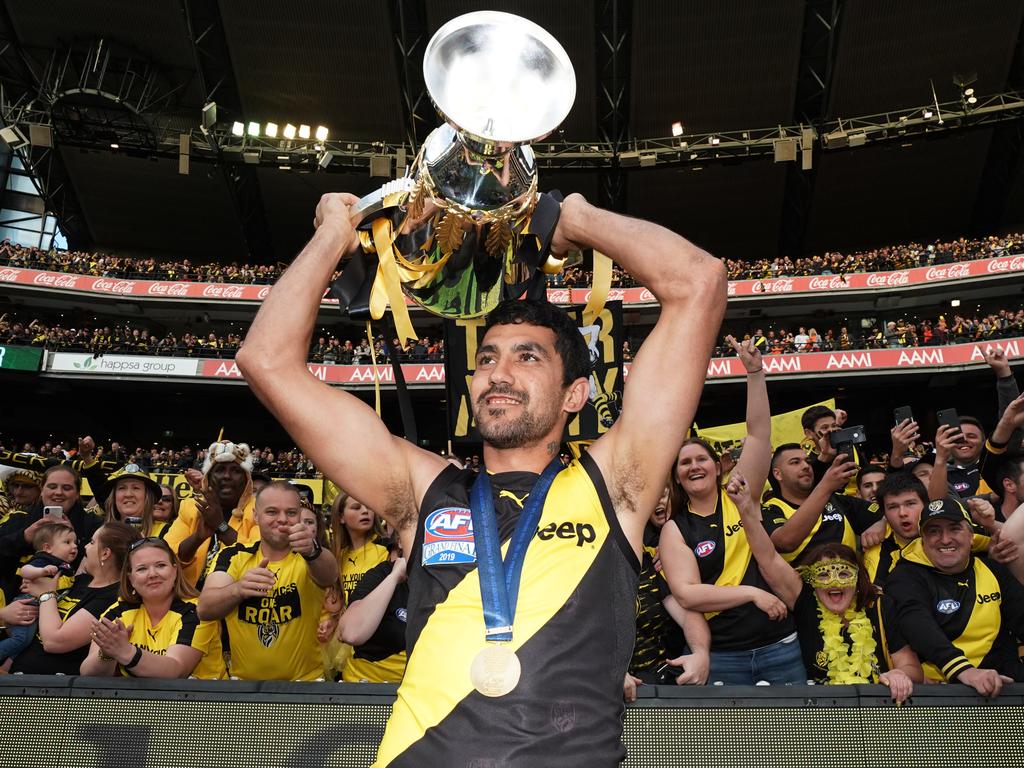 Could Durdin do for the Blues what Marlion Pickett once did for the Tigers? Picture: AAP
Just like Marlion Pickett in 2019, when he played his first game and slotted that unforgettable set shot in the premiership demolition job over GWS Giants, who knows what September may bring for the 198cm Durdin, who was cast on the scrap heap when he was delisted by the Roos in 2020.
Durdin, who was taken pick 16 in 2014 at the Roos, said he wanted to have an immediate impact at Carlton and "give them a bit more of depth" after rediscovering some of his love of the game in the SANFL.
"I just wanted to get back to enjoying footy and working on what makes me a good player, and that is launching at the footy and dominating my opponent," Durdin said.
"At Glenelg it is the most fun I've ever had in a footy environment and I'm sure at Carlton it will be no different.
"I've spoken to them for a few weeks, but wasn't really sure what my chances were like. They were floating in the background a little bit.
"This (pick) was kind of confirmed (this week), because it was unfortunate what happened to Jacob Weitering, but to have it locked away was pretty nice.
"This time I'll really give it a crack and try to get the most out of myself.
"I'm ready to go."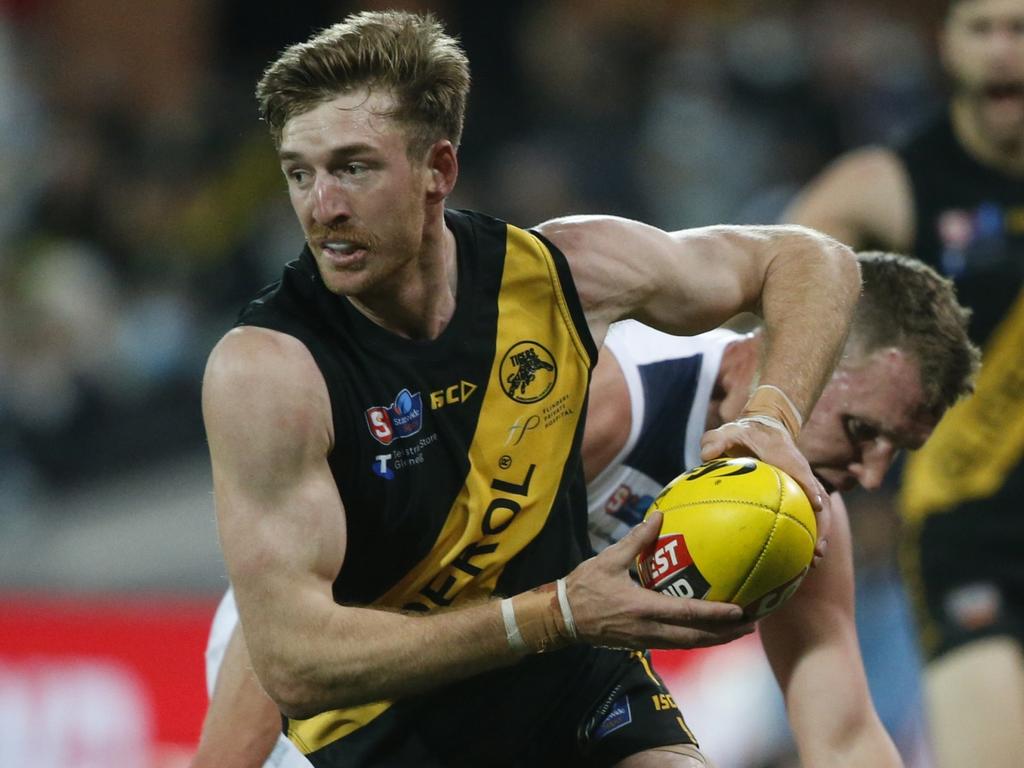 Durdin had been playing in the SANFL with Glenelg. Picture: SANFL
As talk ramps up over the likelihood of a mid-season trade period, this step-straight-in possibility is exactly what the league loves about the mid-season draft, and particularly after a couple of Covid-19 impacted years messed with youngsters' development.
Recruiters on Wednesday thought West Coast's top pick Culley had the potential to be a star at AFL level, and there were five or six others who could carve out very decent careers, remembering they will start as rookies, on $50,000-a-year wages plus match payments.
Only four players from the 2019 mid-season draft remain on lists – Bomber Snelling, Tiger Pickett, Bulldog Ryan Gardner and Collingwood's John Noble.
Expectations might only be moderate considering this was a rookie draft, but Carlton fans are loving the second chance success story that Voss has proven this year. They hope Durdin will be the same.
Mid-season draft could soon be a reality
– Rebecca Williams
AFL Players' Association president Patrick Dangerfield has advocated the introduction of a mid-season trade period to "invigorate" the game and he thinks it could happen in the next two years.
Citing the interest the league's mid-season draft has brought to the game and the flexibility it has afforded clubs, Dangerfield wants the AFL to go a step further and bring in a mid-year trading period to add another "layer of intrigue" and more opportunities for players.
The Geelong star, who was this week reappointed as AFLPA president, said the next CBA presented "interesting and exciting opportunities" to "provide a real spark to the game", adding he had no doubt the league had already had serious discussions about mid-season trading.
While Dangerfield said a mid-season trade period was not a subject the wider AFLPA had engaged much conversation around, his personal view was it would enhance the game.
"I would love to see at some stage mid-season trading come in," Dangerfield said.
"We see it in other codes globally and it certainly adds another layer of intrigue.
"I don't necessarily buy the argument of the art of list management (will suffer), I think it adds to the challenge of list management if we were to add a layer of mid-season trading in.
"It's not something that we have really engaged (in) a huge amount of conversation around as a PA, simply because there has been so much on.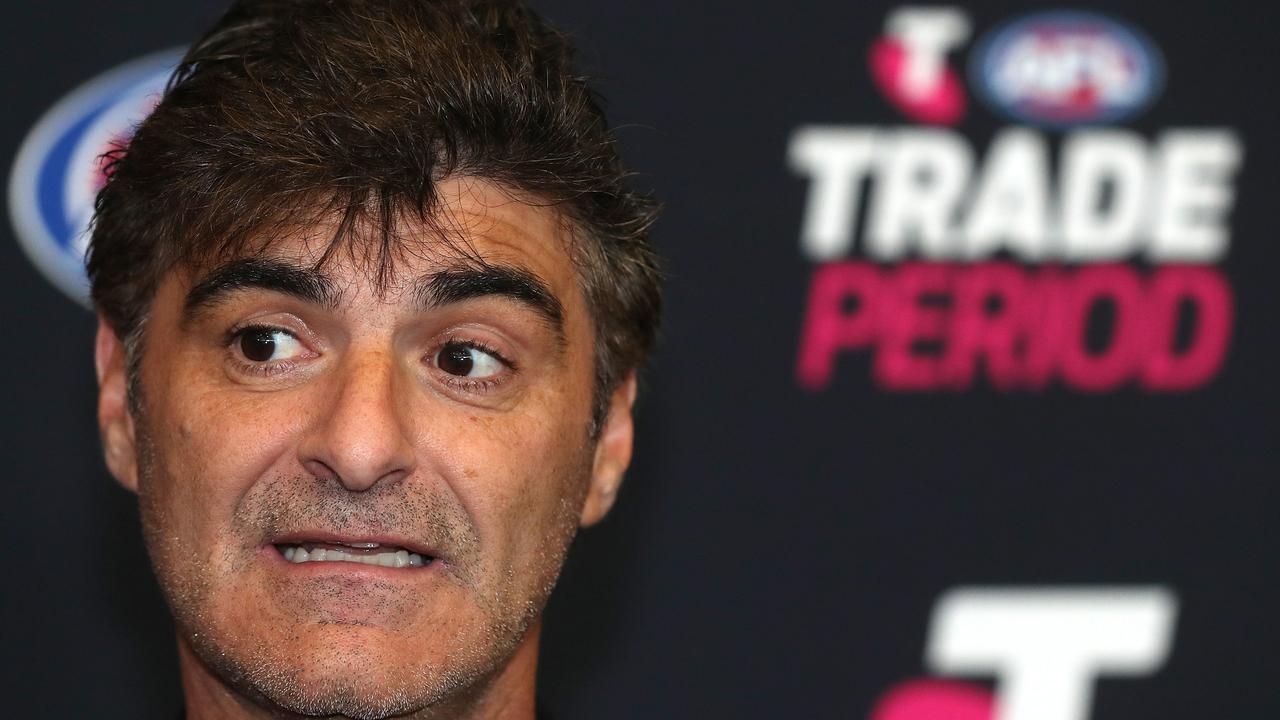 Essendon list boss Adrian Dodoro speaks to media during the post-season trade period.
"I think broadly we would be open to it."
Dangerfield said a mid-season trade period would not only provide more opportunities for player movement, but could energise a season.
"We do have troughs throughout the season … there are times throughout the season where it does feel a little bit like groundhog day and there is a window to invigorate the season potentially in introducing something like this," Dangerfield said on SEN.
"I see there being plenty of good stuff to potentially come out of it and not too many negatives.
"It will never be perfect, but I see it as a mechanism to improve the game and provide opportunities for the players which I think is a good thing."
AFL football operations boss Brad Scott last month cast doubt on whether the "industry and fans" were ready for players to be moving clubs mid-year, but acknowledged mid-season trading would create plenty of supporter interest.
But Dangerfield predicted it could happen within the next couple of years.
"I can see this happening in the next couple of seasons," Dangerfield said.
"There is a potential for quite a bit to change over the next few years and generally these things line up with new CBA's and whether that is changing of the five-day breaks, there being more of them and those sorts of things, it is all up for discussion.
"That is what is so exciting about a CBA, it obviously has a huge amount of challenges that comes with it because there is so much to negotiate now and then you add the other complex layers of working through a new AFLW CBA at the same time. Do you combine them, do you keep it separate?
"There is a lot to work through, but there are some pretty interesting and exciting opportunities that could provide a real spark to the game.
"(I have got) no doubt the league will have had serious discussion around it. And there will be clubs that will support it and there will be clubs that will question it."
Originally published as AFL mid-season draft: Blues pluck Bulldogs' discard Will Hayes, former Roos key defender Sam Durdin