AFL news: Latest injury and team updates from Port Adelaide ahead of Round 8
Reaching 100 games has been no small feat for Sam Powell-Pepper. But the Port hard man has found happiness in life thanks to two special women.
A lot of players have played 100 games in the AFL.
Few have had to overcome what Sam Powell-Pepper has had to get there.
It's a story filled with challenges, sadness, controversy, resilience, growth and toughness.
His mum Maureen and dad Steven split early in his life and Powell-Pepper moved home many times as a youngster.
Stream every match of every round of the 2022 Toyota AFL Premiership Season Live & Ad-Break Free In-Play on Kayo. New to Kayo? Try 14-Days Free Now >
He lived with his dad until he was eight, but Powell-Pepper said in a 2017 interview that he and his brother Jacob moved in with their grandmother because he was "getting picked on" by his father.
Powell-Pepper was the first in his family to finish high school, and at the time he was drafted by Port Adelaide his mother was in prison in Perth.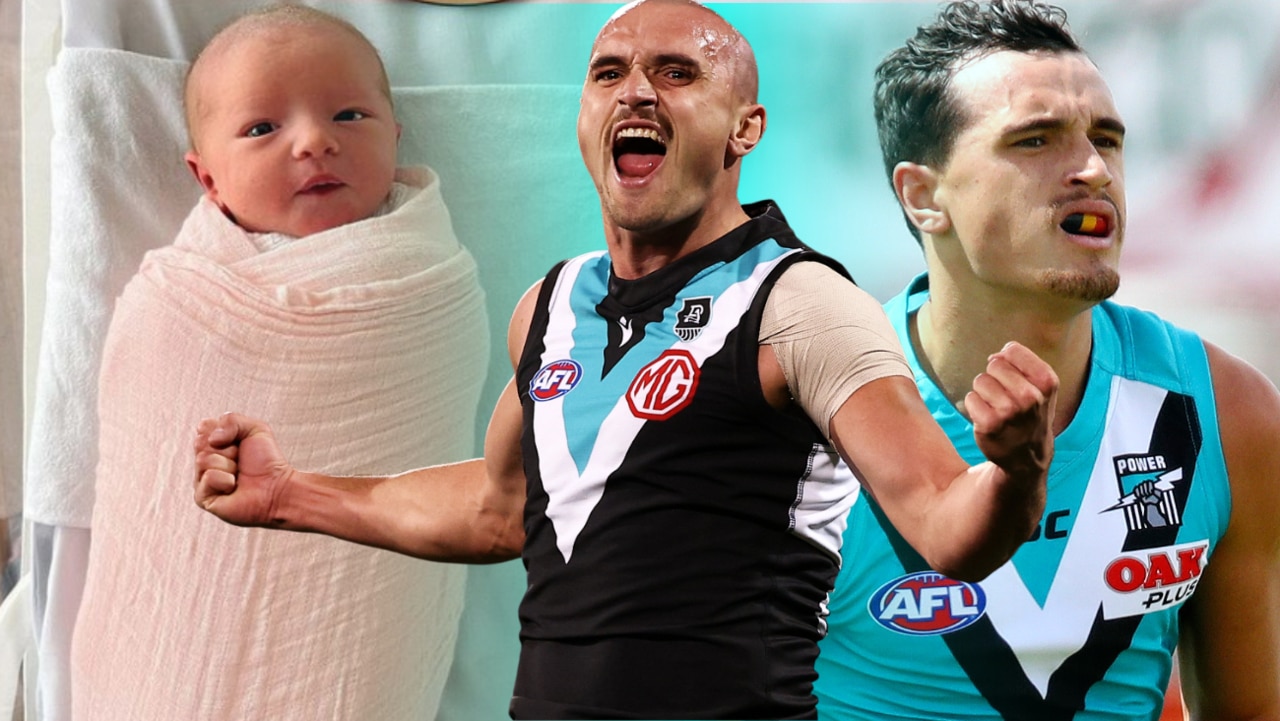 Sam Powell-Pepper says he is happier than he has ever been since the arrival of daughter Frankie.
Right now Powell-Pepper, who plays his 100th game on Friday night against the Western Bulldogs, is the "happiest I've ever been" after he and partner Brya welcomed their first child Frankie into the world in March.
And from those who know and care about the 24-year-old, it is pride after his response to the latest challenge along his journey.
"He's grown as a player, he's grown as a person," Power coach Ken Hinkley said on Thursday.
"Most careers have some challenges and Sam's is no different, but what you are most proud of is someone like Sam who is prepared to keep an eye on what he is needs to improve.
"And he has certainly done that. He has been challenged a number of times but as I said to him last night you are growing as a man but also as a father, not just as a footballer now."
Close friend and former housemate Travis Boak told The Advertiser Powell-Pepper should be proud of his journey.
"A hundred games is a massive achievement for anyone and most people know Pepps story," he said.
"I'm not just proud of the 100 games of footy but how he has grown in those 100 games as a person.
"He is an incredible human, I can't speak highly enough of the person he is and the heart he has."
Powell-Pepper's footy story begins in inner northern Perth.
Steven took Powell-Pepper to Morely Bulldogs to play under-11s.
The following year Powell-Pepper moved in with his Nan and through school, he found himself at the Mount Hawthorn Cardinals with junior coach Stephen Burke.
"We had a lot of players as a community club that were there to play with their mates and they weren't the most talented players," Burke said
"But Sam would always kick the ball to them, if there was an opportunity for him to kick a goal and one of the boys was in the forward pocket or in the forward line he would pass it to them instead of going for goal himself.
"He always included his mates."
Powell-Pepper shone for the Cardinals, who in turn provided him with support when his life circumstances required it.
After"disagreements" with his Nan he lived with Karen and Greg DeLore the parents of a Cardinals player.
"He had a lot of support from the community football club, there were quite a few families that helped out in anyway they could," Burke said.
An Indigenous scholarship at Wesley College, where he would board, allowed Powell-Pepper to start playing Public School Association footy.
But it was a "fluke" phone call by Burke that alerted him and Powell-Pepper – whose mother is Torres Strait Islander – to the existence of the Nicky Winmar Cup.
"I rang up East Perth and I said I have this player who is a bit of a jet, is there any pathway to further his football career," Burke said.
"And they said oh there's this Nicky Winmar Cup next weekend and I said oh I hadn't heard about that and they said there's a bus that's going down the freeway and if you can get him on the bus going to Mandurah we can get him a game.
"So I drove him down to where the bus was going to go and parked on the freeway in Leederville and the bus pulled over off the freeway, which was a bit illegal probably, and he jumped out, jumped on the bus and went down to Mandurah and was best on ground."
From this Powell-Pepper found himself in the WA Indigenous squad, the Australian schoolboys squad and was chosen as captain of his state by his fellow players at the Under 16 Championships.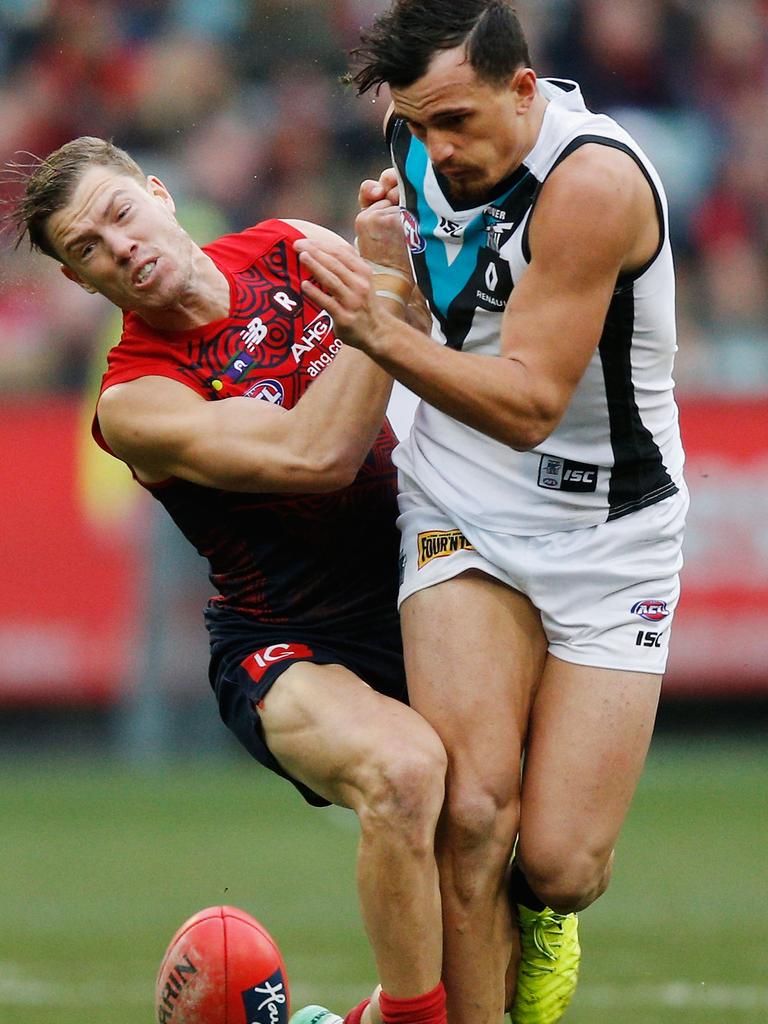 Powell-Pepper took the league by storm in his first season at AFL level. Picture: Getty Images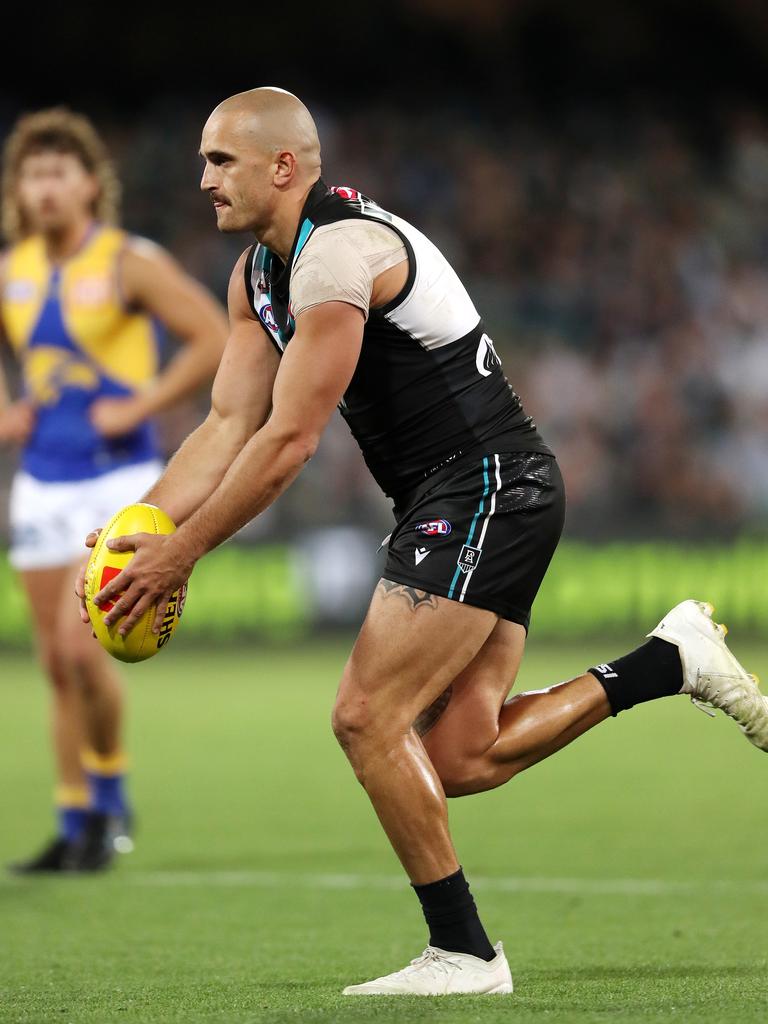 Powell-Pepper will play his 100th game for the Power. Picture: AFL Photos/Getty Images
At 18, Powell-Pepper played colts, reserves and six senior games for East Perth.
Port Adelaide called out his name at pick 18 in the 2016 Draft.
A teenager with the body of a man, Powell-Pepper shone in his first season in the AFL – playing 22 games and finishing third in the Rising Star Award.
He looked like he would continue this momentum in 2018, but then the first big challenge of his AFL career came his way.
Powell-Pepper was banned for three games after an Integrity Unit investigation found he "engaged in inappropriate behaviour that is unbecoming for an AFL player by being intoxicated in a public place and by making inappropriate contact with a female" at an Adelaide nightclub.
He returned to AFL action in the Round 8 Showdown and continued his bullocking style of play but had a quiet end to the 2018 season.
Powell-Pepper's 2019 was an inconsistent one but in 2020 a move into the forward line looked to have given him a new spark in his career.
But in the 2021 season another challenge presented itself.
While recovering from a broken hand Powell-Pepper missed a training session after partying the night before, prompting Power staff to come to his house to look for him.
He would take four weeks away on personal leave, saying there were "other parts of my life that need some work right now".
"I've always tried to give him a few life lessons, I think he listened but it is always easy to stray off the path when you have all these other influences and you are earning good money and are as popular as he is in Adelaide," Burke said.
Hinkley said he had been impressed at the way Powell-Pepper had responded to this.
"He's made a couple of mistakes along the way but who hasn't made a couple of mistakes in life," he said.
He was able to win his way back into the side, but then found himself as the medical substitute for the Power during the finals.
And then he was issued a public challenge by the club to get fitter over summer and return to pre-season in the right shape to prove he had the commitment to play at AFL level.
While it made headlines, it did not bother Powell-Pepper himself because "they didn't say anything that I didn't already know".
So with Brya expecting, Powell-Pepper has wanted to be a father ever since he was young, he "laid low" and did extra sessions with his teammates.
Power staff were impressed with the way that Powell-Pepper returned to pre-season, and he translated this to games as he tore up the Power's internal trial.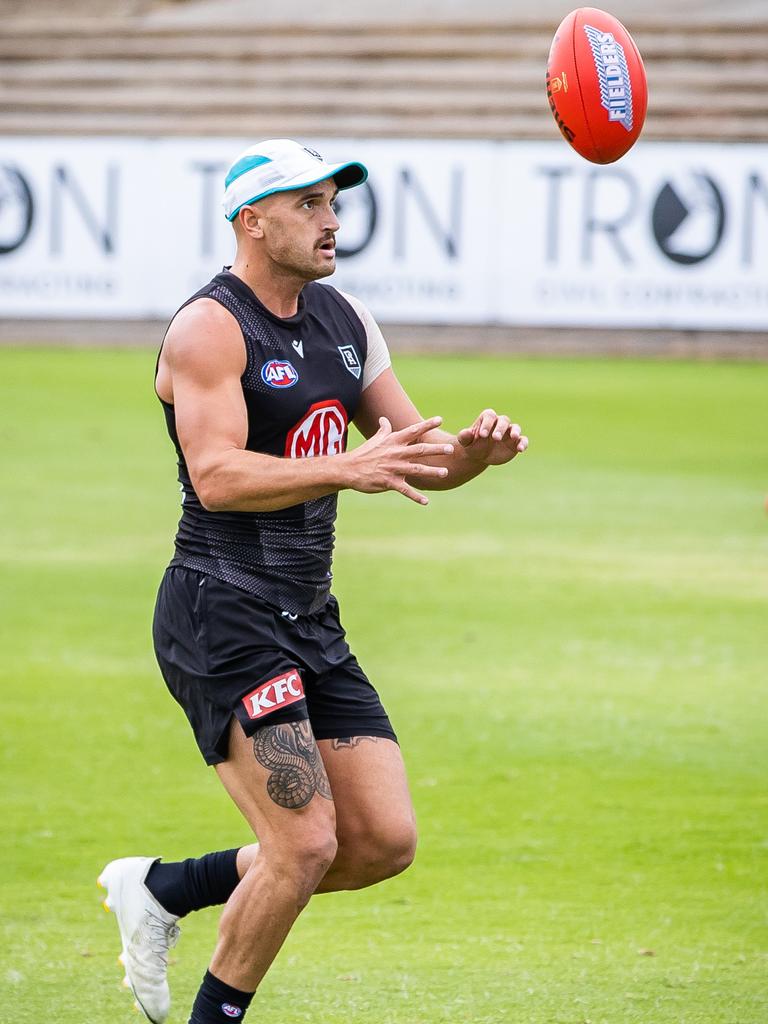 The Power were thrilled with the way Powell-Pepper presented for pre-season. Picture: Tom Huntley
And despite the Power's 0-5 start to the season, before winning the last two games, Powell-Pepper can't be accused of shirking the challenge with the view at Alberton that he has been the teams most consistent effort giver in 2022.
Boak said with Frankie and Brya in his world Powell-Pepper was just enjoying life, which translated onto the footy field.
"I think with anyone who has spoken about fatherhood and especially their first child just how much it changes your perspective on the world and the things that matter the most," he said.
"Once you welcome a little one into the world all your attention goes to that as a No. 1 priority as it should, you are a dad and you want to take care of your little one.
"And there's no doubt that has been the case for Pepp. You just see the biggest smile on his face.
"And that's the way that he shows himself around the club and on the footy field as well. He is just enjoying himself so much because he is just going out there to play a game of footy."
Boak said with 100 games under the belt, and turning 25 next year, "this is it" for Powell-Pepper.
"It doesn't last forever, you have to take your opportunities when they put themselves forward and I've told him that," he said.
"Grab it by the balls and go for it if it is there because it might not be there tomorrow."
Public challenge does the trick for Port 100 gamer
Fatherhood has made Sam Powell-Pepper happier than ever and given him extra purpose on the football field as he prepares to play his 100th game.
The 24-year-old and his partner, Brya, welcomed their first child, Frankie, in March, helping change his perspective on life and turn him into a self-described family man.
It had been a rollercoaster 2021 for Powell-Pepper, who took four weeks leave from the club last March to address off-field matters after missing training.
Then the club publicly challenged him to be more committed during his off-season.
Over summer, the West Australian improved his fitness, including doing extra sessions with his teammates, and "laid low".
Support from Brya, who moved from Perth to Adelaide during last year, her family and the Power helped him through his off-field issues.
Now his new life as a dad has spurred the 2016 No. 18 draft pick to become one of Port Adelaide's most consistent players.
"It just opens your mind so much," Powell-Pepper said of being a father.
"It's a bit hard to talk about because you can't really explain what it is until it happens to you.
"I've always kind of wanted to be a father since I was a young bloke.
"It's come along a bit quicker than I thought but I wouldn't change it for the world.
"She's just the most perfect little girl.
"After a loss you come home to her and it puts everything into perspective.
"You just you want to go back into the club on Monday and just get going again because you've got a purpose and you want to play for something.
"I'm the happiest I've ever been."
Thirteen months on since returning to the club from that personal leave, Powell-Pepper said he was in a much better head space.
"I'm just a family man now and it's helped me so much with my footy and (things are) so much more clear," he said.
"I'm loving my footy now."
Powell-Pepper burst onto the AFL scene in 2017, playing 22 games, finishing third in the Rising Star Award and giving opponents a host of don't argues.
But between then and this year his form has been inconsistent.
He has never finished in the top 10 in the Power's best and fairest, while last season ended with him as the medical substitute during the finals.
Powell-Pepper was linked with a trade to West Coast in October but "didn't know anything about it".
He said the club's public challenge for him to get fitter over summer did not bother him because "they didn't say anything I didn't already know" and he had set similar goals.
"I reached those and the rewards are coming – I'm playing some pretty consistent footy," he said.
"I pride myself on being a great teammate, wherever the team needs me."
Including as a support ruckman.
Powell-Pepper did not know if coach Ken Hinkley was joking when he was told wanted him to play the relief role ahead of the Round 5 match against Carlton.
The forward/midfielder sought advice from close friend and ex-teammate Paddy Ryder before that game.
He then battled Ryder in Saturday night's thrilling win over St Kilda in Cairns.
"I feel like I've held up all right against a few of the boys but on the weekend, it was a bit hard," he said.
"I had Paddy and (Tom) Campbell and they were a bit hard to move.
"Kenny just tells me to go in and have a crack."
Along with Ryder, Powell-Pepper is also very close to his former housemate Travis Boak and forward Todd Marshall.
The Power trio catch up before each game.
Powell-Pepper's debut match – a win over Sydney at the SCG – was Boak's 200th.
"It's gone quick – it's just flown by," he said of his five-and-a-half years in the AFL.
"There's been a fair bit of ups and downs but I reckon there's been a lot more ups."
POWER NOT GOOD ENOUGH TO BE THINKING REVENGE
Charlie Dixon could make a shock return to footy this weekend, with the Port Adelaide star in line to play in the SANFL.
The Power spearhead is yet to play any footy this year after having pre-season surgery on his ankle following a contest at training.
He then suffered a setback in his rehabilitation last month and required a second procedure to clean out some troublesome scar tissue.
The Power said last week that Dixon was targeting a return to football prior to the bye and he was considered to be still four to five weeks away.
But Dixon has responded better than expected after he resumed running.
Port's head of medical services Tim O'Leary said if Dixon got through training this week then the 31-year-old could play for the Magpies against reigning premiers Woodville-West Torrens.
Stream every match of every round of the 2022 Toyota AFL Premiership Season Live & Ad-Break Free In-Play on Kayo. New to Kayo? Try 14-Days Free Now >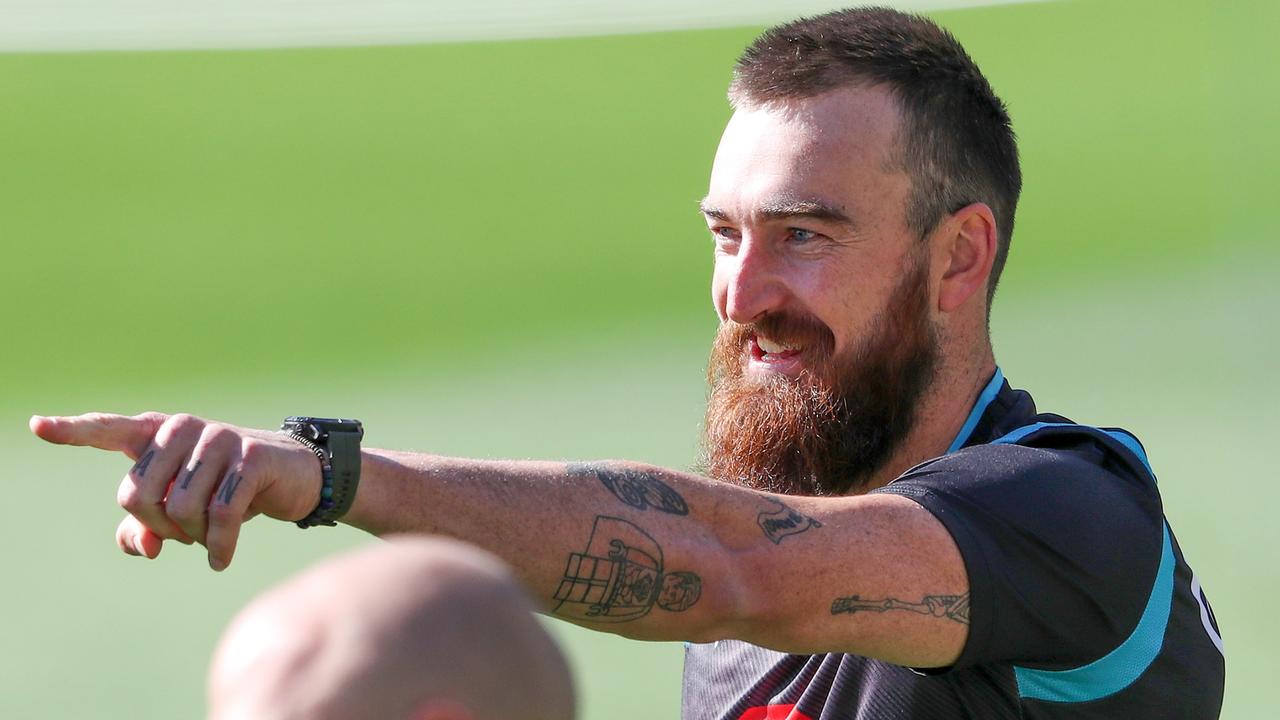 Charlie Dixon is a chance to make a return through the SANFL this weekend. Picture: Sarah Reed/Getty Images)
"Charlie felt better and better as he increased his running, and joined in on competitive training drills last week," O'Leary said.
"He will need to get through training over the next few days, but we expect he will get some game time in the SANFL on Saturday against Woodville-West Torrens, as he continues to get closer to playing at AFL level."
It comes as Port Adelaide assistant coach Brett Montgomery says the Power would be "naive" to think that players won't be affected by last year's heavy preliminary final loss as they prepare to take on the Western Bulldogs on Friday.
But the Power midfield coach says the Power aren't in a position to class the Friday night clash as a revenge match, as they try to continue their winning run.
The Power will face the Bulldogs for the first time since they were thumped by 71-points in the preliminary final at Adelaide Oval last year.
Power players and coaches have maintained they were confident there would be no scars from the prelim horror show, even as Port started the season 0-5.
Montgomery said the Power couldn't think that playing the Bulldogs again would not have some form of impact on the playing group.
"I think we would be naive to think there wouldn't be something there and really there should be something there," he said.
"It is about how you respond to that.
"And I guess that will be something we discuss throughout the week, not how big this game is or not.
"I think what we do reasonably well here is make sure our players are aware of what is about to play out, and not with any guarantee but some guidance and advice for what they are in for."
Mitch Georgiades, left, and Robbie Gray, second from right, both wearing leg strapping after the Power's Round 7 win. Picture: Dean Martin
After going 0-5, the Power have won their last two games, against West Coast and St Kilda, to breathe some life back into their season.
The Bulldogs themselves are 3-4, and Montgomery said the Power just had to focus on getting the wins rather than any redemption.
"I think with this group and where we sit today it won't be necessarily a revenge type of situation for us," he said.
"I don't think we are at that point because of our season so far.
"Whether we are in a position to try and look at get some revenge on a 71-point thumping, I don't think we are having that conversation today.
"Maybe if we were 5-2 then we would be having that conversation but we are not."
Port was blown away by the Bulldogs from the start in the prelim final, and its trend of starting games slowly has continued in 2022.
"There are a lot of things that we can do, we will be discussing them at length no doubt," Montgomery said.
"The contest around the ball was an issue last time but it wasn't the only issue.
"So I guess we start there, but that is no different to any other week our starts have been an issue."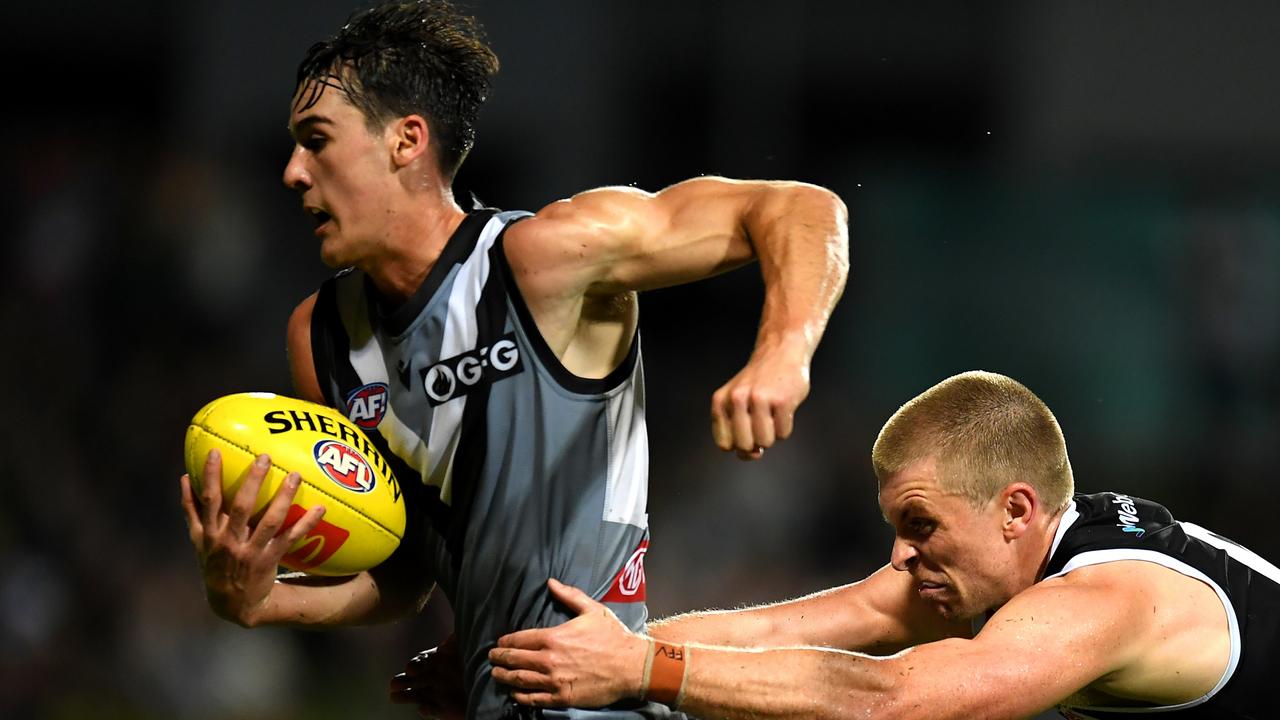 In-form Port Adelaide young gun Connor Rozee in action against the Saints. Picture: Albert Perez/AFL Photos
The two wins in a row, and improved second-half against Carlton, has coincided with Connor Rozee's shift to the midfield, and the young gun shining around the ball.
Montgomery said he had been really impressed by Rozee's move.
"I think the thing with Connor is that we would have loved to have him around the ball earlier on in the season but the facts are we had no Charlie (Dixon), no Robbie (Gray), no Orazio (Fantasia) and you still have to kick a score to win the game," he said.
"He has some talents in that area of the ground that we thought we just couldn't be without.
"Now that some of those pieces have returned we have that luxury to get him in a bit more.
"His contest has improved out of sight, his ability to understand what it takes to be an AFL midfielder is improving out of sight so we are really pleased."
Hinkley fears Power delay could have huge implications
Port Adelaide is sweating on the extent of a calf injury to Mitch Georgiades, with senior coach Ken Hinkley conceding the Power might have been a little slow to withdraw him from the win over St Kilda.
The young gun key forward came into the clash with the Saints in Cairns with some tightness in his calf, with the Power unsure if he could get up in time.
Georgiades ultimately was passed fit but started to feel tightness in his calf in the third quarter and was subbed out of the game.
Mitch Georgiades was subbed out with a calf issue.
The 20-year-old is expected to have scans on Monday to determine the extent of the injury.
Hinkley said post match his was concerned that the withdrawal of Georgiades came too late.
"He was a bit sore coming in, we weren't sure if he was going to get up to be honest," Hinkley said.
"But he got through and then his calf tightened up halfway through the third quarter.
"We've probably left it a little too late but I hope he can play next week."
An injury to Georgiades would leave the Power with Todd Marshall and Jeremy Finlayson for their Friday night clash against the Western Bulldogs.
Spearhead Charlie Dixon is still some weeks away as he recovers from two ankle surgeries.
Power star Travis Boak had to wear a glove on his left hand against the Saints after a kitchen mishap during the week.
Boak was cutting some beef strips for burritos on Thursday night when he sliced his finger.
He couldn't have stitches for the wound and had to have a painkilling injection to numb his finger prior to taking on the Saints.
"I struggled in the kitchen this week," he said post game on Channel 7.
"I was chopping up some beef and chopped off a bit of my finger.
"It (the glove) came in handy."
Originally published as AFL news: Latest injury and team updates from Port Adelaide ahead of Round 8