AFL Geelong v Richmond: Jeremy Cameron through the midfield looms as the Cats' wildcard
Geelong is Melbourne's main challenger for the flag. And one wildcard we didn't expect might just be the final move that gets the cream.
Jeremy Cameron is creeping into centre bounces and Geelong is careering up the ladder.
The Cats are second – yes, second – joining Brisbane Lions, Fremantle and Carlton at 10-4.
They are the challengers to Melbourne and it is tough to choose a clear No.2 seed.
But the Cats can make a strong case and their consistency is unrivalled.
They've won 10 consecutive first quarters. If you can forgive 20 minutes of poor play against St Kilda and a lethargic last quarter against Hawthorn then they are hard to fault this season.
Watch every blockbuster AFL match this weekend Live & Ad-Break Free In-Play on Kayo. New to Kayo? Try 14-Days Free Now >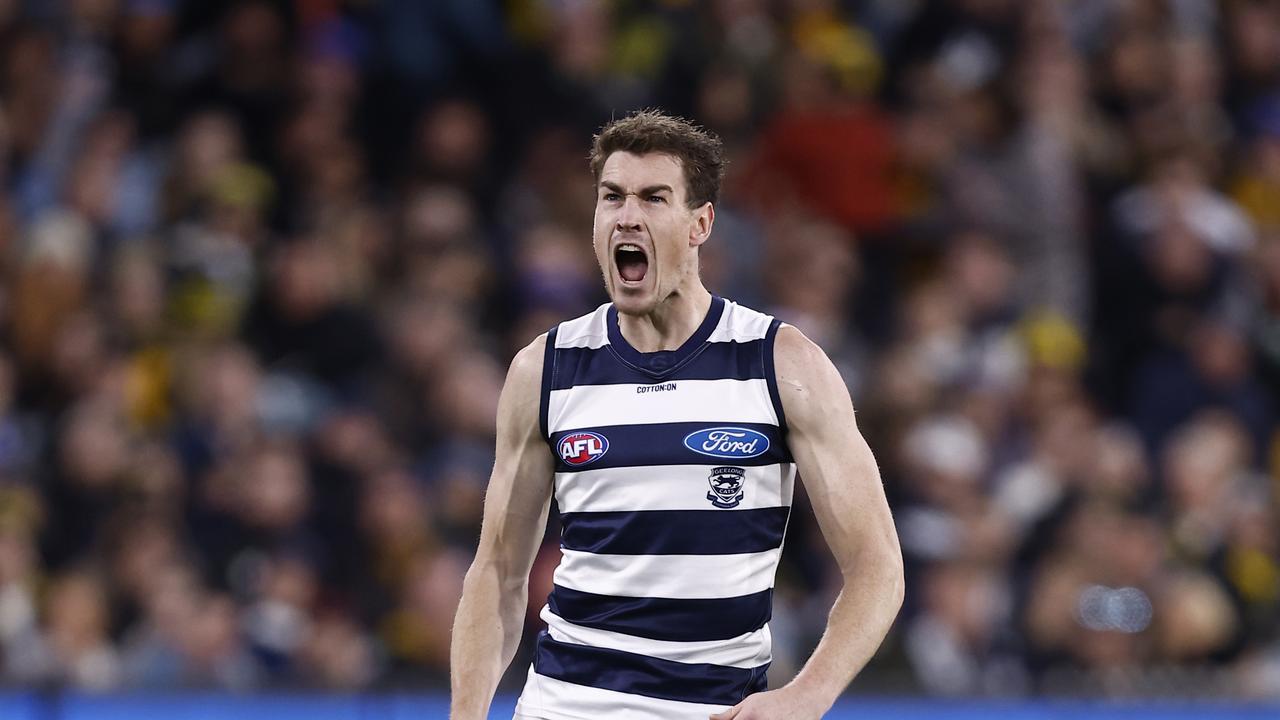 Jeremy Cameron didn't just have an impact up forward against the Tigers. Picture: Darrian Traynor/Getty Images
Trailing Richmond by 17 points in the last quarter on Saturday in a match that felt eerily similar to the 2020 grand final, they found flare and dare.
They recorded 11 consecutive inside 50s to rip back that gap.
"I was really full of admiration for the way they kept backing themselves," coach Chris Scott said.
"The game looked gone a couple of times there and as a collective we didn't play safe."
If we're honest, Tyson Stengle and Cameron changed the game.
Stengle's smarts will have him suiting up on All-Australian night this year.
He's kicked at least three goals eight times under the leadership of Eddie Betts.
Cameron's conditioning has created football's most flexible footballer.
With his 200th game on the line the champion goalkicker kicked captain Joel Selwood out of the centre bounces and created havoc himself.
"He certainly had an impact up the ground," Scott said.
"The best way to get guys in a certain position is their starting point at stoppages.
"There's always the risk if he was deep forward and then we wanted him up the ground and we lost the stoppage he'd end up 100m away from the ball pretty quickly.
"I think we've got some good between-the-arcs ball users – but I haven't seen many better than him.
Tyson Stengle added three goals and plenty of forward 50 spark. Picture: Dylan Burns/AFL Photos via Getty Images
"But it's always the argument – Richmond would ask themselves about this regularly, we want (Dustin) Martin in the goalsquare when it goes there, but we want him at the stoppage when it's there.
"You can't have both all the time."
Teammate Bradley Close told the Herald Sun that Cameron's talent levels meant he could play any position.
"He's a freakish player. Sometimes at training you might think he's not trying because of how composed he is," Close said.
"But he's just got so much skill and he's a once-in-a-generation type.
"He can absolutely play in the middle.
"With the game going against us we can throw him in there and generate a bit of extra grunt."
Richmond coach Damien Hardwick thought he was seeing double.
"(Cameron) and Isaac Smith come down into your defence and get those uncontested marks. They've got huge motors and they look quite similar to each other," Hardwick said.
"There's not many players that have the special aerobic capacity that those guys have to be able to get up and back.
"Their ability to create two-v-ones is pretty important. He's got two crackers there, Scotty."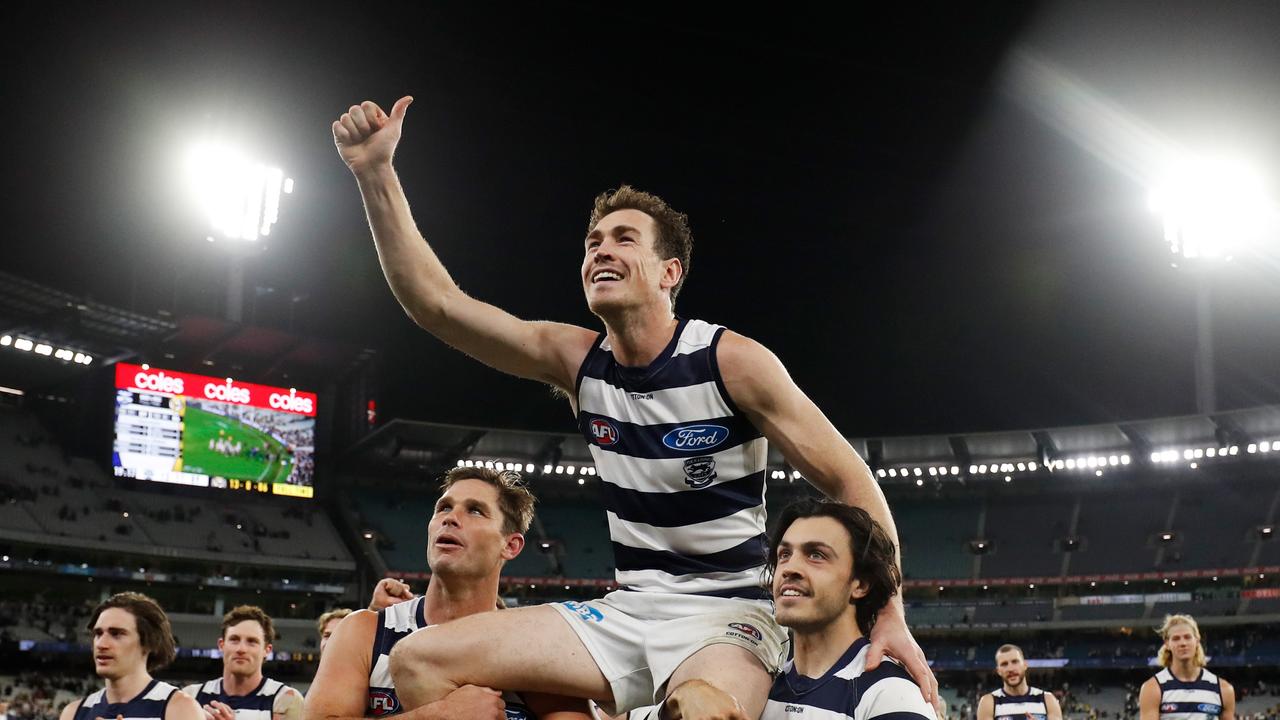 Cameron is chaired off the ground after his 200th game. Picture: Dylan Burns/AFL Photos via Getty Images
So, can Cameron carry the Cats to a flag?
Scott said the lack of chemistry thus far will only help their cause.
"In a perverse sort of way the lack of cohesion we've had can be spun as a positive if we get everyone back and humming towards the end of the year," he said.
"We've seen some players come in and do a job that I wouldn't have necessarily have predicted in February."
Match-winner Jack Henry planned to play backline all week, but when Gary Rohan withdrew with illness he swung forward.
But Henry finished second in the best-and-fairest as a stopper and will likely step in for Tom Stewart when Rohan returns next week.
Patrick Dangerfield could, too. The Brownlow Medallist ran about 10km on Friday and might repeat that on Monday.
It feels like Geelong is plotting this premiership campaign precisely, and Cameron the centreman might just be the final move that gets the cream.
AFL responds to growing send-off calls after ugly hit
— Jon Ralph
The AFL has no intention of reconsidering its opposition to a send-off rule as it awaits a penalty for Geelong defender Tom Stewart.
Stewart will be sent straight to the AFL tribunal for his careless hit on Richmond's Dion Prestia and penalised for his action.
But the events of Saturday that saw Stewart eliminate Richmond's best player then go on to take the match-saving mark as Geelong's dominant player advances the case for a red card rule.
The prospect of the same situation unfolding in a Grand Final with Stewart as the Norm Smith Medallist would send shudders down the spine of football purists.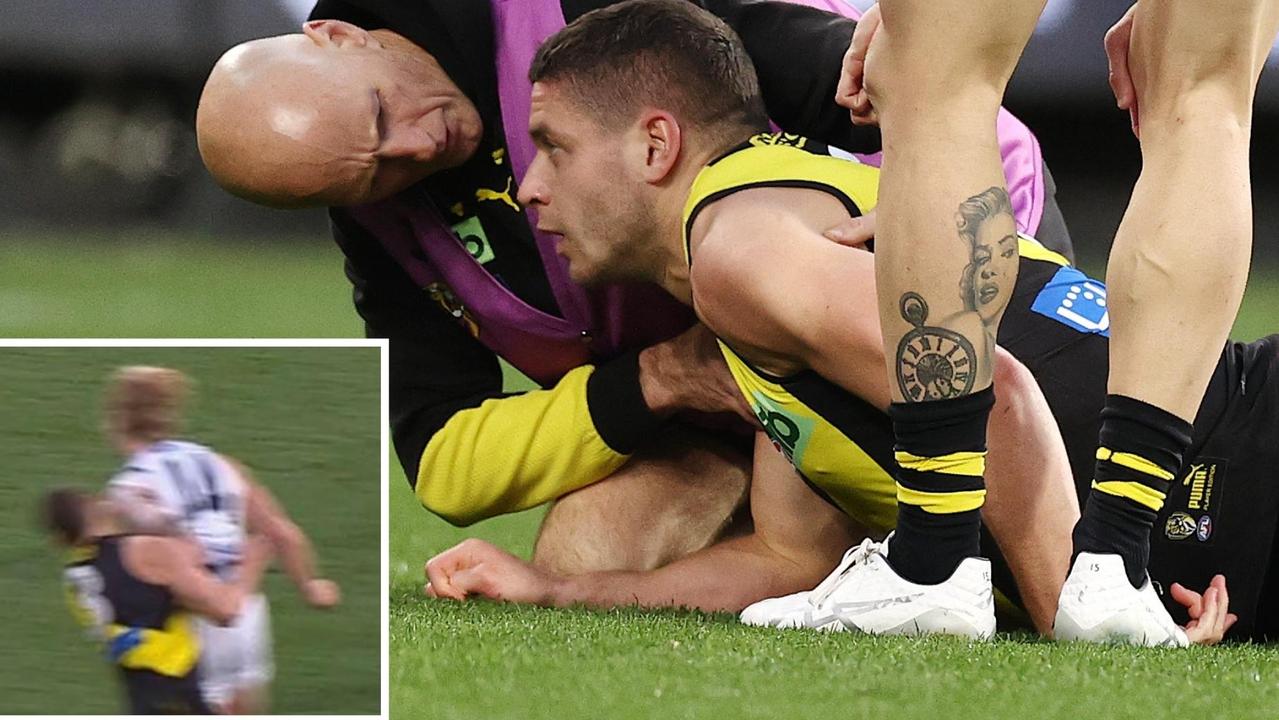 Dion Prestia was concussed in the bump which has Tom Stewart facing suspension.
AFL chief executive Gillon McLachlan is on record saying he does not believe there is a legitimate reason to introduce a send-off rule.
An AFL spokesman said on Sunday the league would not reconsider that position.
"The send-off rule is not something that is being considered. Our position remains the same."
McLachlan said after Port Adelaide's Tom Jonas was handed a six-game ban for an intentional elbow to West Coast's Andrew Gaff the rule was not needed.
"I don't like the red card, I don't like the send-off rule," McLachlan said.
"We have incredible scrutinisation of the game, there is accountability for people's actions on field through the MRP and the processes we have. I think that the send-off rule in the end creates a huge issue because of the significance about where it starts and stops.
"It raises a whole series of potential impacts and challenges for one or two, or very few incidents on a yearly basis."
Geelong coach Chris Scott made clear on Saturday there was too much of a risk in introducing a red card rule that a player could be ruled out for a borderline incident.
"I don't think so," he said of a send-off rule.
"I am strongly of the view and have been for my whole career that when the vision became good enough for things to be tried by video that there shouldn't be match day reports.
"The risk of an ump getting it wrong is far too great. The idea of sending a player off and getting it wrong in a big game is a risk not worth taking."
Danger set for Cats return
Geelong says Patrick Dangerfield will return against North Melbourne next week, adamant he has not suffered a setback in his rehab from a long-running calf complaint.
Dangerfield was set to take on Richmond in Saturday's epic contest but instead put in another training session at GMHBA Stadium.
It is understood Dangerfield has not suffered a fresh injury but still gets tight in specific areas of his calf muscle during sessions.
Dangerfield could slot back into the midfield against the Roos with match-winner Jack Henry easily able to return to defence to replace Tom Stewart, who is set to be suspended for his hit on Dion Prestia.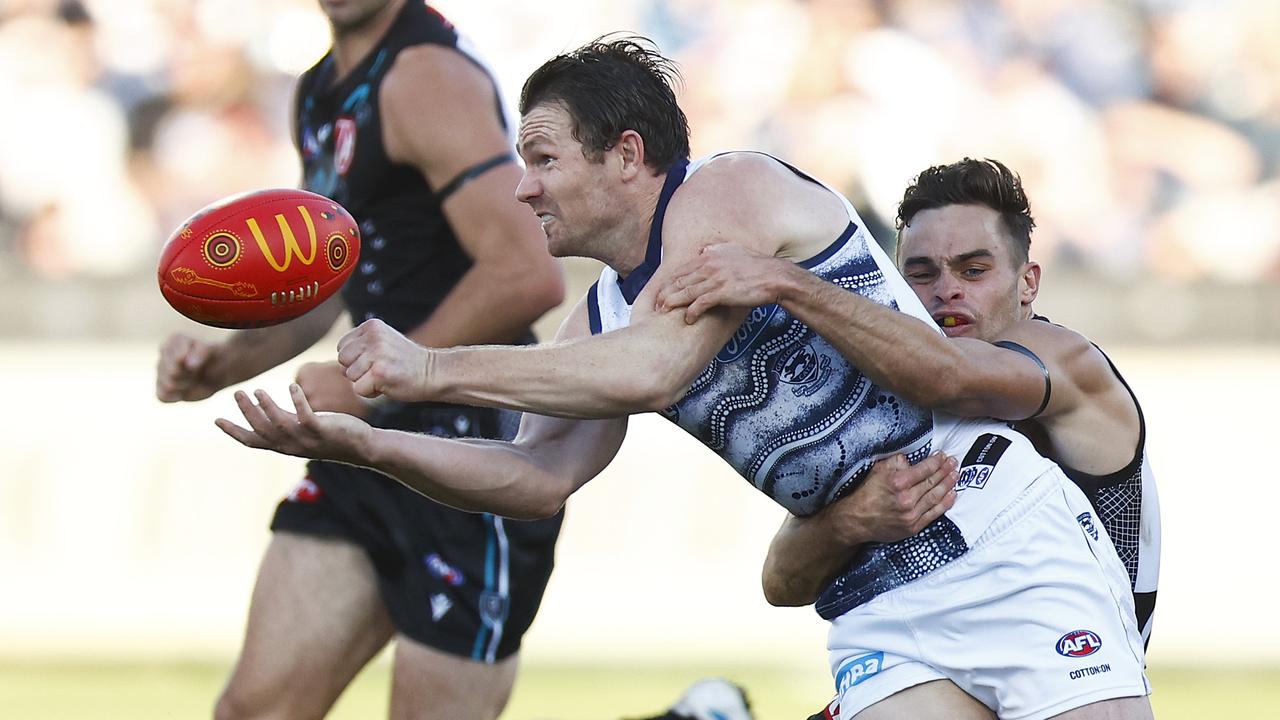 Patrick Dangerfield is set to be back next weeek. Picture: Daniel Pockett/AFL Photos/via Getty Images
But while former players have wondered if Dangerfield might be suffering new calf tears coach Chris Scott says the club is being ultra-cautious with their valuable asset.
He said the only consideration for every coaching and medical decision was how it set the club up for September.
Asked if he would take on North Melbourne he said: "I would expect so.
"He did a 10km training session yesterday. He will do something similar on Monday.
"We have just made a consistent position on these things. It's a bit of a brave call but we have a loose framework.
"At its most superficial, it forces us to ask the question of every decision. Is this going to hurt or hinder us in six or eight or 10 weeks time? And if that answer is maybe then we won't hesitate to make those decisions. I understand some people put it all together and (thought) maybe something has happened."
Stewart: 'I've just made a horrible error'
— Sam Landsberger
An emotional Tom Stewart told Geelong coach Chris Scott "I've just made a horrible error, and I feel terrible about it" as the superstar defender braces for a lengthy suspension.
Stewart, 29, ran past the ball and knocked out Dion Prestia with a brutal bump that left the Richmond onballer looking dazed and confused during the first quarter at the MCG.
But while Prestia was substituted out of the match, Stewart went from villain to hero as he took the game-saving mark as the Cats jumped to second on the ladder with an epic three-point victory.
Stewart will be rubbed out for multiple matches although Scott said it was nonsensical that North Melbourne – Geelong's next opponent – will be advantaged from Stewart's brain fade instead of Richmond.
"Richmond are the one that have suffered the penalty. North Melbourne shouldn't get the benefit next week," Scott said.
"So they get no benefit whatsoever for losing one of their best players.
"That's my version of restorative justice, that the victim should actually be (compensated) in some way."
But Scott was opposed to a send-off rule that hypothetically could've started Stewart's suspension in the first quarter.
"I'm strongly of the view there shouldn't be match-day reports, because the risk of an umpire getting it wrong is far too great," Scott said.
"And the idea of sending someone off and getting it wrong in a big game is a risk not worth taking."
Umpires did report Stewart for rough conduct on the spot and he was loudly booed by Tigers supporters for the rest of the match.
But Stewart's 17th intercept possession was that game-saver with less than 40 seconds on the clock.
He also recorded a game-high 737m gained and a game-high 29 disposals, mostly while Prestia watched on from the bench.
"I've known Tom for a long time, he is a scrupulously fair player and just a fantastic, strong character. Fundamental to what we do at Geelong," Scott said.
"When my time's come and gone I'll look back and say I was honoured to know and to coach Tom Stewart.
"That's partly because when I spoke to him post-game he said, 'I've just made a horrible error, and I feel terrible about it.
"'I ran past the ball and I chose to bump. I didn't mean to do it, but gee it was terrible execution, and I'm going to pay the price for it'.
"He knows he's done the wrong thing. Was it deliberate? Of course it wasn't.
"He's made an error and as people do that I admire he's prepared to stand up and say, 'I was wrong'.
"He should have some comfort in the fact that that's not him and it was an error in execution and nothing more.
"He's a pretty emotional guy. He was feeling it we could see visibly right from the moment it happened.
"And it weighs heavily on him because he's that kind of guy.
"He referenced letting the team down. He'll pay a price, there's no doubt about that."
Teammate Bradley Close told the Herald Sun that Stewart was "pretty upset" at quarter-time." I think he was pretty rattled by the whole situation, he's one of the nicest guys you'd meet. I know he's not feeling the greatest.," Close said.
David King called for a five or six-match suspension.
"We have been trying to stamp this out of the game for years," King said on Fox Footy.
"You have got to take a stand. We can't have our players being carried off the ground like that when their sole focus is the footy."
It took several minutes for Prestia, 29, to make his way from the field. In that time, with the Tigers down a player, Tyson Stengle snapped Geelong's fourth goal.
Prestia, 29, must miss next week's clash against an improving West Coast under the AFL's concussion protocols.
Garry Lyon said Stewart was "in a world of hurt" for the ugly incident.
"He goes past the footy, makes head-high contact and that's as clear cut as we have seen for a while," Lyon said.
"Not a good look at all. He will be disappointed, Tommy Stewart, when he sees that."
The Cats play Melbourne (GMHBA Stadium), Carlton (MCG), Port Adelaide (Adelaide Oval) and Western Bulldogs (GMHBA Stadium) after next week's match against the Roos.
Stewart would be rubbed out for two matches if match review officer Michael Christian grades the incident as careless conduct, high impact and high contact.
An intentional conduct grading would raise that to three matches.
But Christian could send Stewart directly to the tribunal by grading the impact as severe.
AFLW star Daisy Pearce said Stewart was certain to cop a ban, despite attempting to tuck his elbow in.
Just doesn't sit right that Tom Stewart is allowed to continue playing after that.

— Laurence Rosen (@LaurenceRosen) June 25, 2022
That's super yuck from Tom Stewart. Two or three weeks you'd think.

— Rudi Edsall (@RudiEdsall) June 25, 2022
HENRY MOST UNLIKELY HERO IN MATCH OF THE YEAR
Dan Batten
Geelong has fought off a rampaging Richmond comeback at the death in an all-time classic which looms as a preliminary final in waiting.
In a match full of momentum swings, defender turned forward Jack Henry proved to be the unlikely hero with a massive contested mark and go-ahead goal with 80 seconds left on the clock that saw the Cats pinch the thrilling win by three points.
The Tigers had two late inside 50s to try to steal the match but the pantomime villain Tom Stewart, who is set for a holiday after a hit which concussed Dion Prestia, clunked a crucial intercepting mark in the dying seconds which franked a best-on-ground display for the defender.
Richmond looked to have stolen the match late when fan favourite Maurice Rioli Jr stepped up to the plate to slot a goal to put the Tigers back in front.
The Tigers flipped the script after the game looked set to fizzle out as the Cats shot out to a 35-point lead in the second term, piling on ten of the next 12 goals to bring their lead to 17-points in the early stages of the last quarter.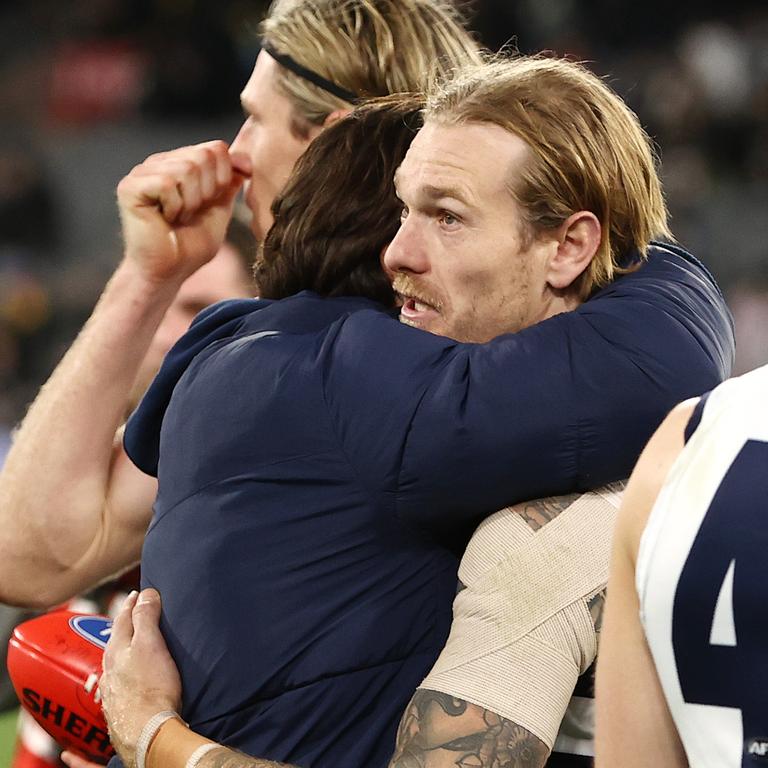 Coach Chris Scott hugs Tom Stewart after he was Geelong's matchwinner. Picture: Michael Klein.
But Geelong kept on coming, with successive goals to Tyson Stengle, Brad Close and 200-gamer Jeremy Cameron (3 goals) putting the Cats back in front, before the heroics of Henry and Stewart.
The Tigers managed to stay in the game despite Geelong's early clearance and inside 50 dominance, punishing the Cats whenever they turned it over with their electric speed.
Public enemy number one Stewart was a rock in defence with 29 disposals, 17 intercept possessions and six marks, while Liam Baker (24 disposals and one goal) and Toby Nankervis (22 disposals and 25 hitouts) were massive in the second half as the Tigers made their charge.
Tyson Stengle was a livewire up forward for the Cats with three goals and 18 disposals.
Geelong moves to second on the ladder while the Tigers remain clinging to the lower rungs on the eight, with a promising run home.
MARKS OVERTURNED
With the Tigers up by five points, Jack Riewoldt flew to take an absolute screamer close 30 metres out with little angle to speak of, but a Tom Lynch block off the ball saw Sam De Koning receiving a free kick.
The Tiger fans who had been booing Tom Stewart all night went up in volume at the umpire, with the free kick proving to be a pivotal moment as Cameron slotted a goal up the other end.
At least the umpires were paying it at both ends, with the Cats denied a set shot in a similar position minutes earlier after a Tom Hawkins hold off the ball.
BOLTON BRILLIANCE
Bolton turned the game on its head in the third term, sparking a blitz where the Tigers booted five goals to one.
The dynamic Tiger was parked at full forward and all three of his disposals were scores, kicking 2.1 and clunking three marks – with the behind a miss from close range after a right foot snap from the set shot.
As Bolton always does, he backed himself in with another snap from further out, which sailed over the goal umpires hat.
Bolton copped heat from his coach Damien Hardwick and teammate Nathan Broad for telling Sam Docherty to come catch him last week, but he continues to walk the walk as a genuine match-winner for the Tigers.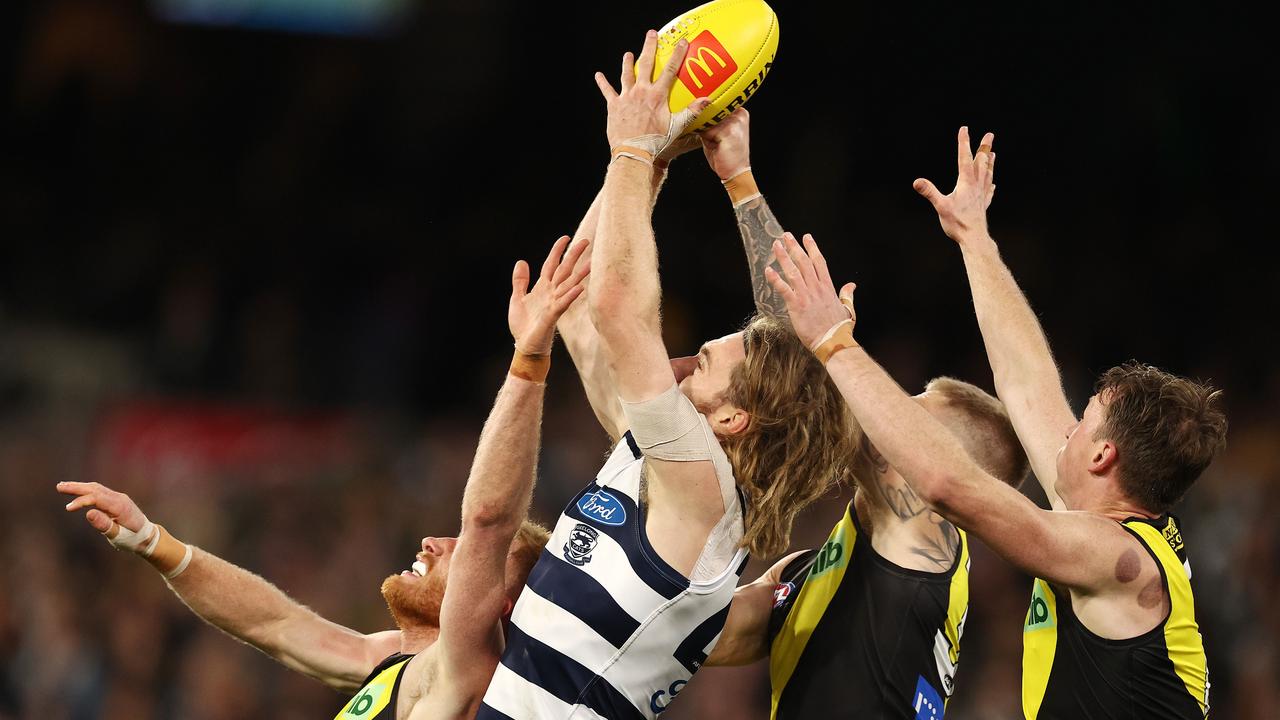 Cameron Guthrie attempts a mark surrounded by Tigers. Picture: Michael Klein.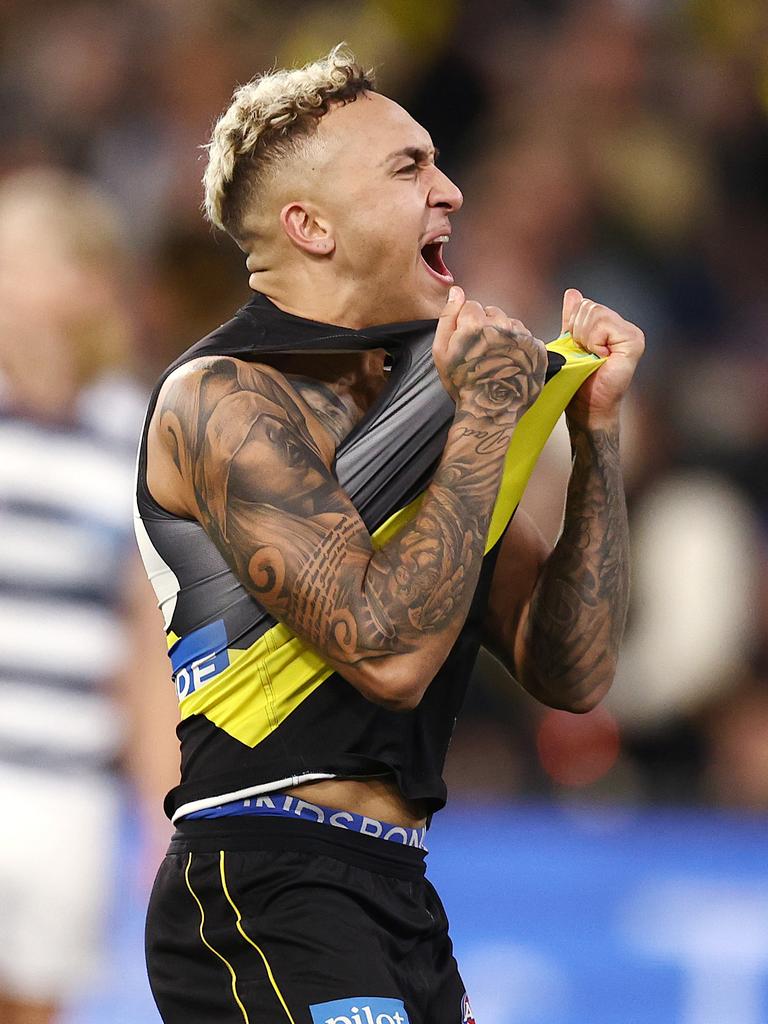 Shai Bolton helped ignite Richmond. Picture: Michael Klein.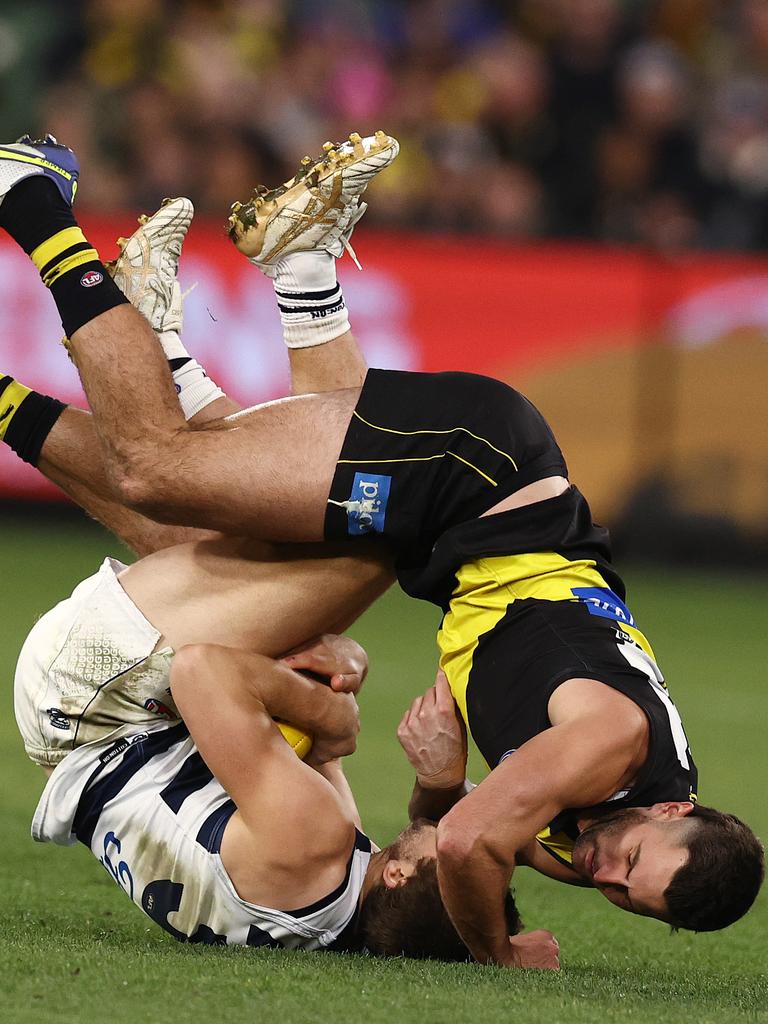 Jack Graham and Tom Atkins come crashing to earth. Picture: Michael Klein.
STEWART SET FOR A HOLIDAY
Stewart will come under heavy scrutiny for an uncharacteristic late hit that ruled out the Tigers' most important midfielder before the first change.
A stint on sidelines is on the cards for the Cats interceptor after he clipped Dion Prestia high after the ball had passed them.
Prestia was left dazed after the hit with Tigers medicos running straight to his aid on the outer wing and walking him off the field, given the subs vest minutes later.
It was hardly a like-for-like substitute either, as the 204 centimetre ruckman Ivan Soldo, a late withdrawal from the 22 pre-match, replaced Prestia, who won 13 clearances in the Tigers' win over Carlton.
A chorus of boos from the Richmond faithful welcomed Stewart each time he got the ball, and their voices got a workout, with Stewart finishing as the leading disposal winner on the ground.
BOLTON'S HEAD RIPPED OFF
After Stewart's unruly act, a coathanger tackle from Cameron on the diminutive Bolton was the last straw for the Richmond playing group.
Vlastuin and Marlion Pickett were among the Tigers to get stuck into the milestone man after their teammate had his head ripped off at high speed.
Pickett and Cameron continued to wrestle on the ground off the ball for another 30 seconds after Bolton received the free kick.
It included a bizarre moment where Cameron looked to put his fingers towards Pickett's face, which didn't appear to connect.
Pickett returning the high-tackle favour to Jed Bews in the third term with a coathanger of his own which gave away a free kick.
WOUNDED TIGERS
The Tigers were in the wars with Prestia (subbed off), Robbie Tarrant and Liam Baker all coming off the ground to get assessed for head-related injuries.
Minutes after Prestia was subbed out, Tarrant was on the deck after a gutsy aerial effort where the key defender saved a certain goal, but landed on his head following a collision with Cat Jack Henry.
He remained on the ground for the remainder of the first quarter but was then tested in the rooms for concussion, with the 33-year-old returning to the field in the second term.
Baker was off momentarily in the third term but returned to the field to have a major impact.
GEELONG 5.2 8.5 9.8 13.11 (89)
RICHMOND 2.0 5.3 10.7 13.8 (86)
BATTEN'S BEST
Cats: Stewart, Stengle, Cameron, Guthrie, De Koning, Duncan
Tigers: Baker, Nankervis, Bolton, Vlastuin, Lynch, Pickett
GOALS
Cats: Stengle 3, Cameron 3, Henry 2, Blicavs, Henry, Miers, Smith, Close
Tigers: Bolton 3, Lynch 3, M.Rioli 2, Baker, Martin, Edwards, Ralphsmith, Clarke
INJURIES
Cats: Gary Rohan (illness) replaced in side by Zach Guthrie
Tigers: Dion Prestia (concussion)
CROWD 59,355
VENUE MCG
PLAYER OF THE YEAR
3. T.Stewart
2. L. Baker
1. T. Nankervis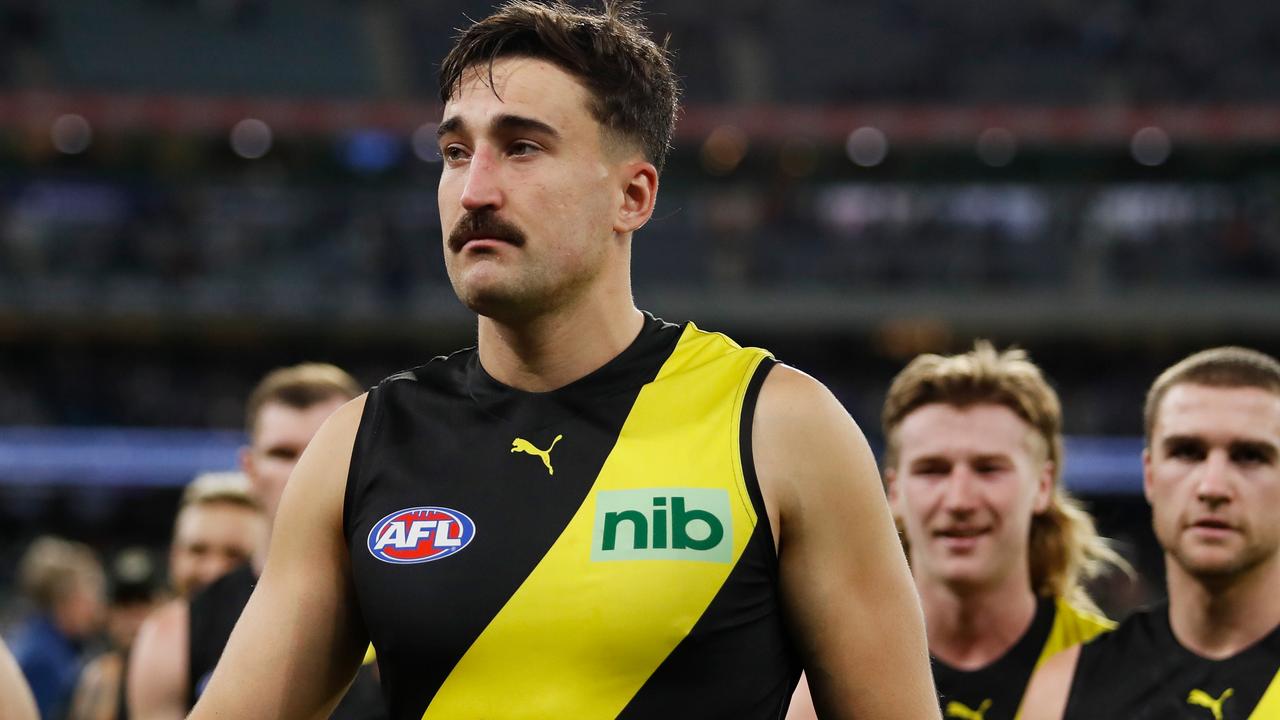 Richmond swung a surprise late change by making Ivan Soldo substitute.
SCOTT STUNNED BY TIGERS' LATE CHANGE
Geelong coach Chris Scott has been left bemused by Richmond's late change that saw Ivan Soldo omitted from the Tigers line-up and named as the medical substitute, describing the move as "very, very strange."
The ruckman had been one of the Tigers' inclusions on Thursday night with Hugo Ralphsmith dropped.
But in a bizarre twist, the Tigers swung a late switch an hour before the Cats' win that left Ralphsmith replacing Soldo in their 22 and the 204cm tall starting in the green vest.
Richmond coach Damien Hardwick said the decision was made on game day to bring the blistering Ralphsmith into the 22, with the Tigers eager to have more runners from the outset.
Scott, who wasn't aware of the rule, questioned the manoeuvre, claiming that it flies in the face of the AFL's "diligent" set of rules, but said it did not have a bearing on the contest.
"In my opinion, and this is worth nothing, you can make changes to your team an hour before the game and that is just if they are in the squad. But I didn't think you could take a guy out of your 22, and then play him as the sub," Scott said.
"My understanding – and clearly I'm wrong – is that if you name the guy in the 22 and take him out before the game, you then can't go and bring him in as the sub.
"It is very, very strange and I think if you're allowed to do that, you're allowed to ask the question, 'why?'"
"Because the AFL are so diligent when it comes to the rules and things are black and white and inflexible when it comes to this sort of stuff.
"But I've spoken too much about it anyway I don't really care. Like in the end, it's not like they can make a tactical sub so I don't think it had that much bearing on the game."
Geelong has pulled the trigger on numerous late changes in recent years and Scott joked that the Cats will "add that to our repertoire."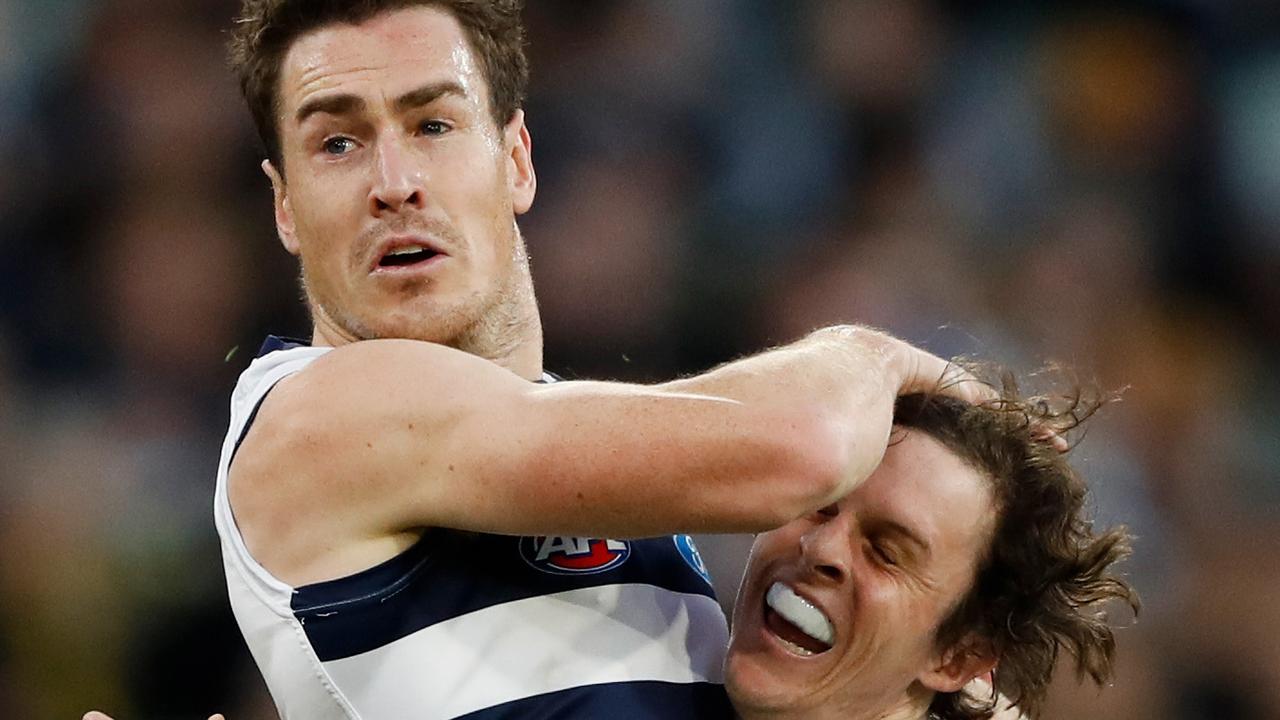 Milestone man Jeremy Cameron was one of Geelong's standouts.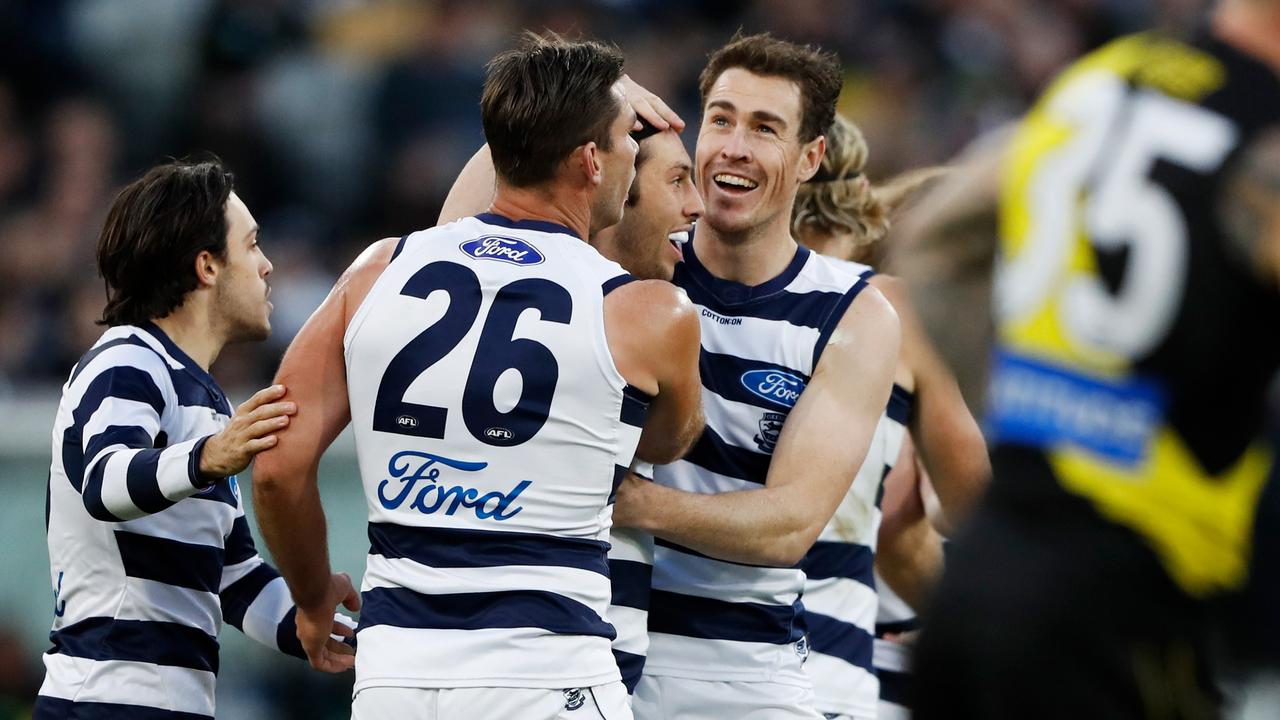 Jack Henry celebrates a rare goal for the Cats after being used as a forward.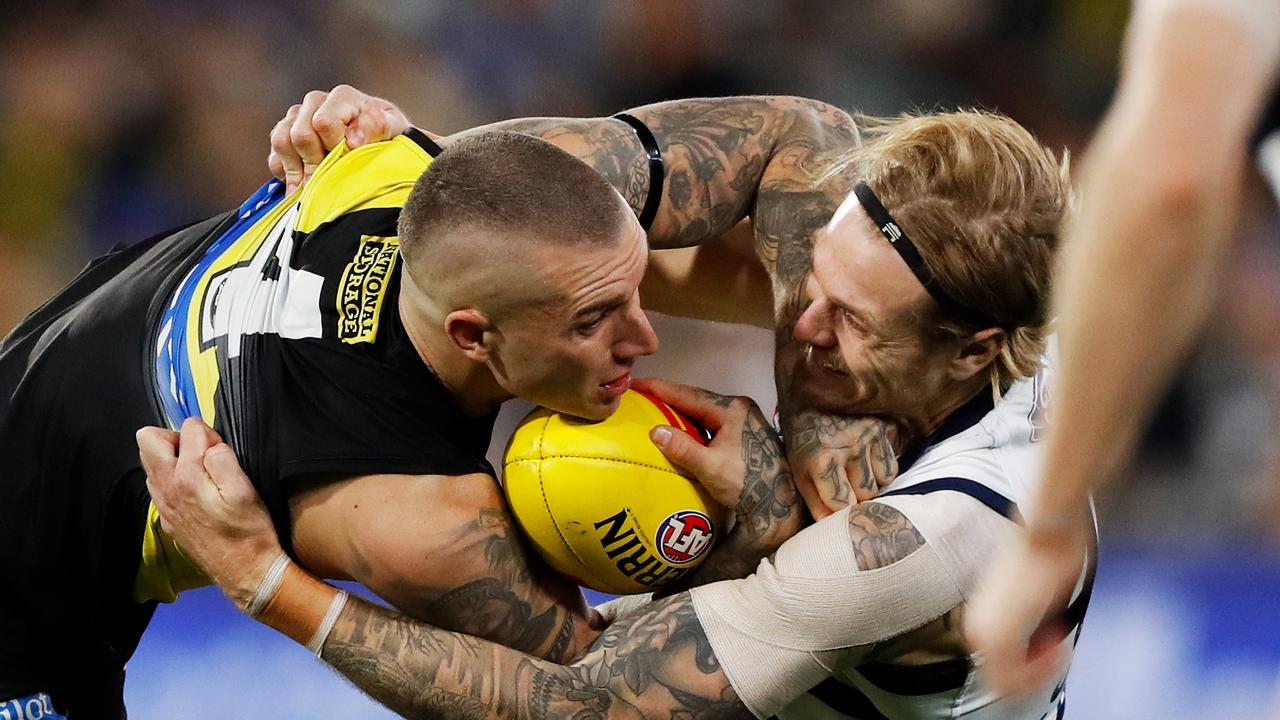 Tom Stewart puts a big tackle on Dustin Martin.
Originally published as AFL Geelong v Richmond: Jeremy Cameron through the midfield looms as the Cats' wildcard