AFL Round 9: Hawthorn v Richmond latest news, scores and SuperCoach points
Shai Bolton started slowly against Hawthorn then set the game alight. See what sparked the turnaround and why Damien Hardwick says he can get even better.
Richmond's hottest player of the first eight weeks was ice cold at quarter-time.
Shai Bolton entered the clash with the Hawks as the Tigers' No.1 rated player by Champion Data.
At the first change, he had a single kick and two tackles to his name, leading to a few stern words from development coach Xavier Clarke.
"Xavier gave him a little bit of a rocket and he got to work," Hardwick said.
By halftime, Bolton was the second-ranked player on the ground after setting the game alight in the second quarter with 12 touches, three tackles, six inside-50s, two score assists and one goal.
The 23-year-old finished with eight score involvements and two goals from 20 disposals.
Watch every blockbuster AFL match this weekend Live & Ad-Break Free In-Play on Kayo. New to Kayo? Try 14-Days Free Now >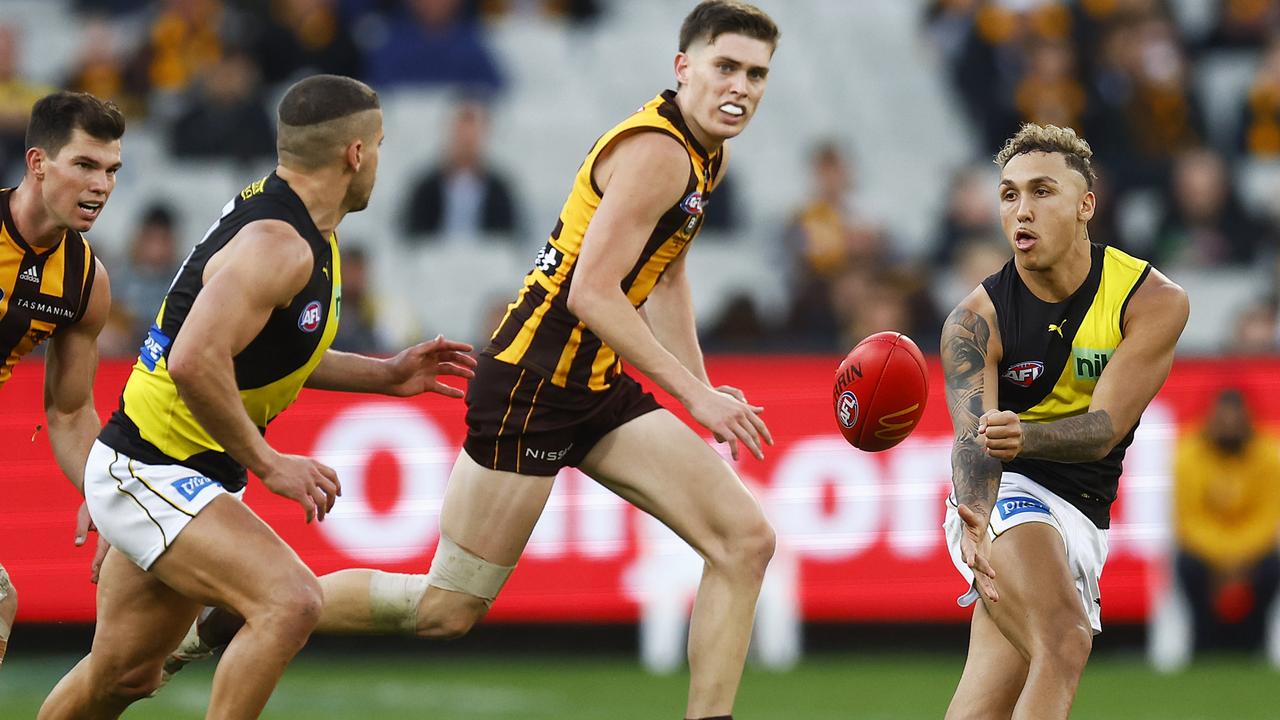 Shai Bolton sparked Richmond's second-quarter surge. Picture: Daniel Pockett/Getty Images
If Bolton is not leading Richmond's best-and-fairest, he would not be far off.
His offensive brilliance is extremely well complimented by a defensive game that the Tigers value very highly.
Bolton finished the match with seven tackles – equal-second on the ground behind only Kane Lambert (8) – among 17 pressure acts, which had him ranked equal-fifth for his side.
"Shai offensively is stunning, brilliant," Hardwick said.
"Defensively when he plays to that level, his game becomes the elite level. He'll realise it and he'll grow and he'll mature. But when he does those simple things really, really well, defensively he becomes an incredible player.
"Don't get me wrong, he still played a good game today. But he can still get so much better in a lot of areas of his game, which is a harsh judge on me. But we see him and what he can become and he can be quite special."
SIMPLE STAT THAT SUMS UP TIGERS
Damien Hardwick calls it "simple brilliance" and it has helped Richmond get on a roll.
"Simple brilliance – the fundamentals of the game," Hardwick explained.
"That's what the game has been built on for 150-odd years and it's funny – the sides that generally are the very best sides do those things very, very well."
The Tigers called upon some "simple brilliance" from their defenders after a lacklustre start against Hawthorn on Saturday, and got the response they were searching for.
At halftime, the Hawks had kicked 7.1 (43) of their 8.5 (53) from marks at their attacking end.
They were finding more holes in the Richmond defence than a block of Swiss cheese.
"At the end of the day – spoil," Hardwick said.
"They've got some big boys down there, but we expected better in the contest. We tidied that part of our game up after halftime. Kingas (assistant coach Adam Kingsley) did a good job getting his backs to get back to simple brilliance. So we nullified that and the game started to flow our way."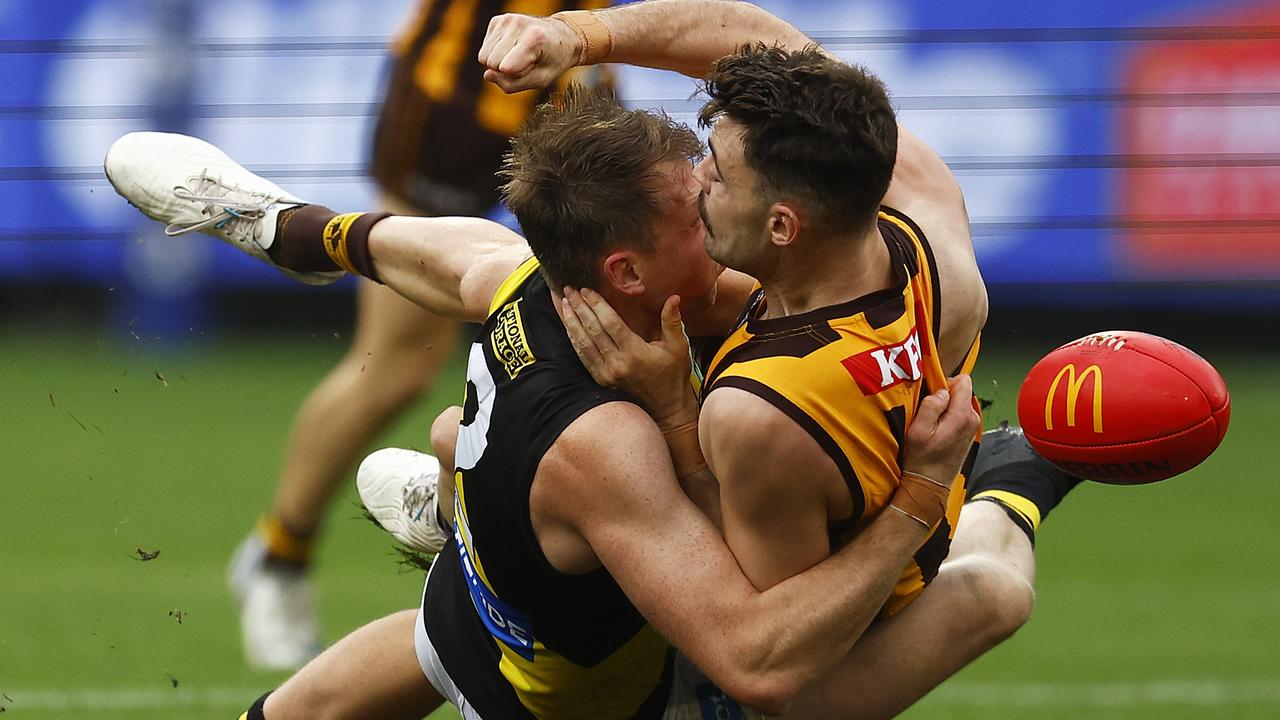 Dylan Grimes makes sure Conor Nash is going nowhere. Picture: Daniel Pockett/Getty Images
Confusion was strife in the backline in the opening half – and it showed.
But from the main break to the 20-minute-mark of the last quarter, the Richmond defence did not allow Hawthorn to take a single mark inside its attacking 50.
"We were just losing too many one-on-one contests," Tigers defender Nick Vlastuin told News Corp.
"We were trying to do too many jobs at once rather than just doing our own jobs. Everyone was just rolling off their man a little bit early on and then everyone didn't know who was on who, and the Hawks were just flying and marking them. So we just had to go back to more one-on-ones so that we could read each other a bit better."
A watertight defence was the backbone of Richmond's premiership years, combined with a front-half turnover game that is also hitting its straps once again.
The Tigers kicked 10 goals against the Hawks from forward-half intercept possession chains, among 16 goals overall that were generated from their front half.
That all came on the back of a pressure and tackling performance that was off the charts.
The side's pressure rating for the match was a sky-high 196, including 217 during a second-quarter surge.
Richmond entered the clash having averaged 43 tackles a game from its first eight matches.
The side wrapped up the Hawks on 75 occasions with fierce intent, 17 of those tackles coming in the forward 50.
"How good was it?" Hardwick responded when asked about his side's fierce tackling.
"It's been an emphasis all year.
"It just looked like a Richmond-type performance, stepping in mentality. It has been evident. It has been growing."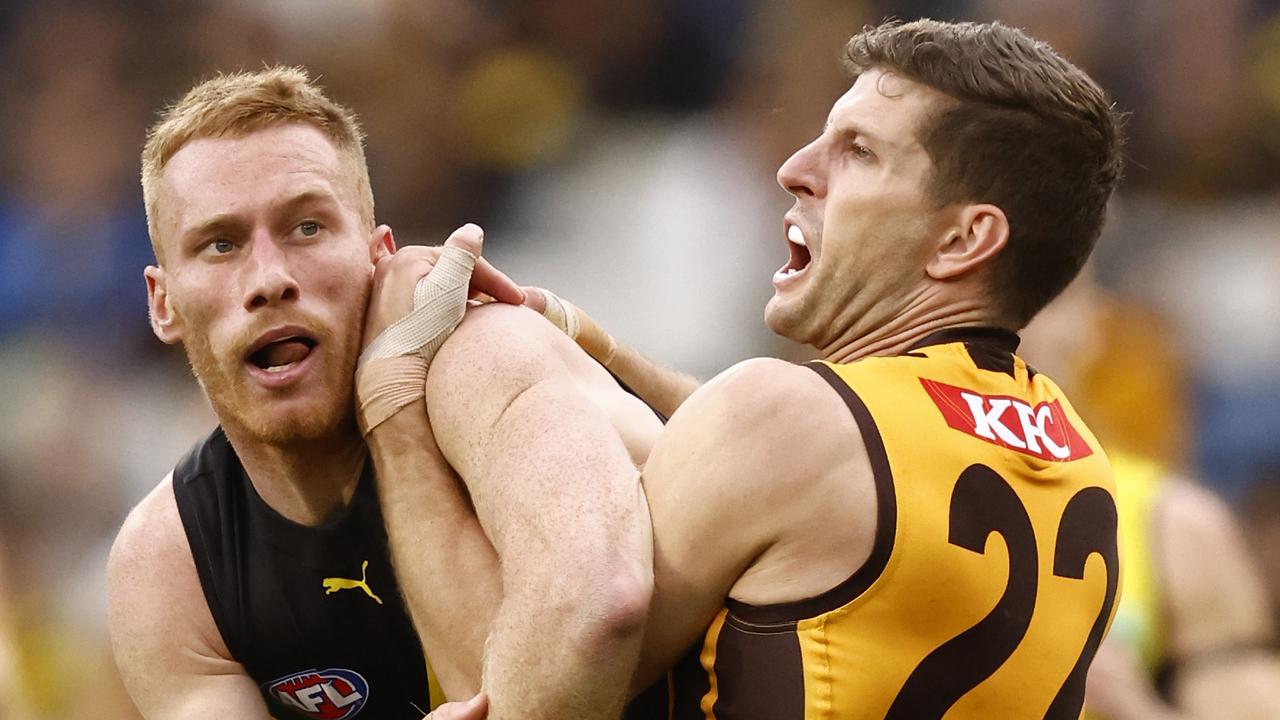 Nick Vlastuin tries to get the better of Luke Breust. Picture: Darrian Traynor/AFL Photos/via Getty Images
Those who were delivering with tackles were prominently recognised on Hardwick's whiteboards at the breaks. It was another case of "simple brilliance" getting results.
"We had 34 forward-half turnovers, so it looked like a Richmond game," Hardwick said.
"We can certainly play a hell of a lot better but I thought probably, from our point of view, we were reasonably happy with how the game looked and played."
Not for the first time this season, Hardwick pointed to the quarters won table as an indicator of how his side is going.
The Tigers have won 23 of 36 quarters this season, placing them behind only Melbourne and Fremantle.
It's too early to declare they are officially back, given their biggest scalp to date has been the inconsistent Western Bulldogs.
But they are certainly starting to look like the Richmond of old once again, with confidence quickly building.
Honeymoon over for hard-to-watch Hawks
Hawthorn coach Sam Mitchell described his team's performance against Richmond on Saturday at the MCG as "difficult to watch".
The Hawks were their own worst enemies in many respects as they committed basic errors throughout the game which played right into the hands of the more experienced Tigers who ran out 23-point winners.
"The fundamentals of the game were quite difficult to watch today," Mitchell said post-match.
"Smothered in open play, and dropping handballs and handballing to peoples' feet and that sort of thing.
"I think we invited a lot of pressure from them and that was a frustrating part of the game."
Mitchell viewed Richmond as the kind of team his Hawks should aspire to become in future years.
"How can we minimise the damage when the other team is on top? I thought we took a step forward today, but we weren't able to have long periods of momentum ourselves either," he said.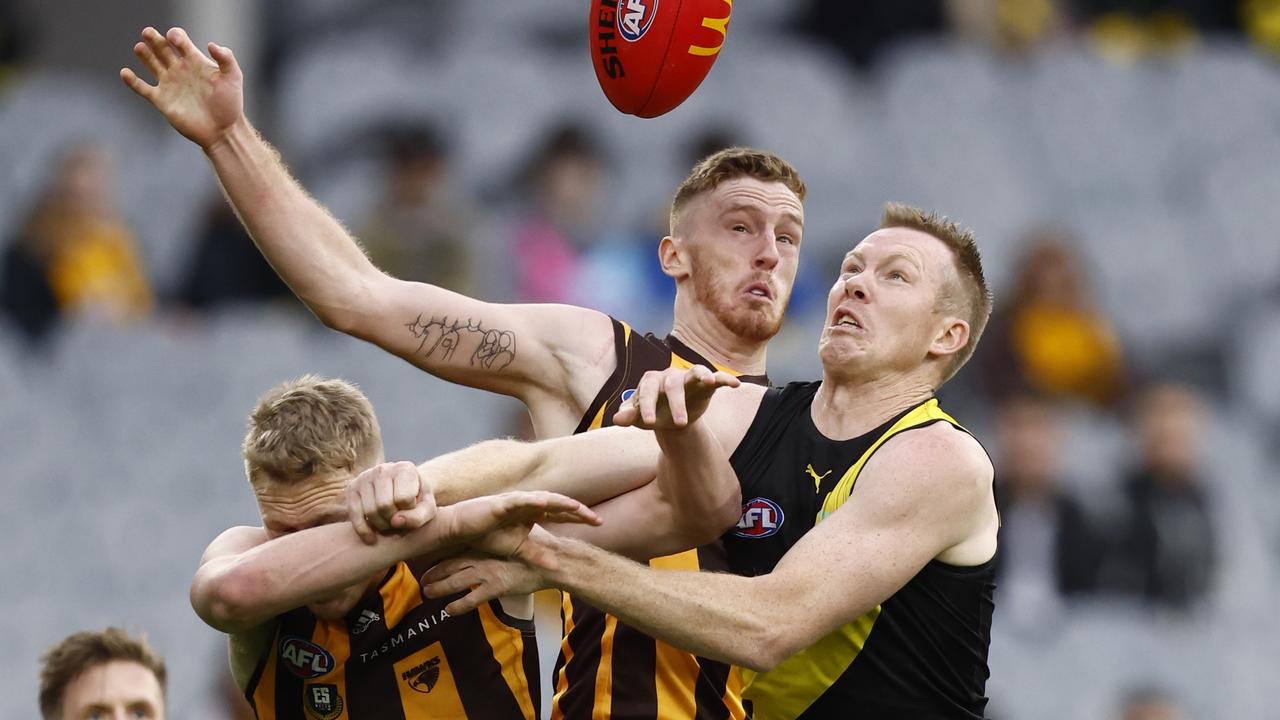 Denver Grainger-Barras of the Hawks competes for the ball with Jack Riewoldt.
"That's what happens when you play an experienced side. I won't give you a Craic McRae married-with-three-kids type of analogy but everything that we did, it wouldn't work for too long against a side that's had a coach for a long time, experienced players who have played under him for a long time.
"They were able to shut down the holes in their game pretty quickly once we were able to exploit them and that's what good teams do."
The Tigers finished with a comfortable lead in the tackles (75-54), but they also dominated the Hawks in centre clearances (23-9).
And while Mitchell will gladly welcome back Tom Mitchell (managed) next week against Brisbane in Tasmania to help fix up that massive discrepancy, the coach wasn't keen to be too reliant one player.
"He's an important part of that midfield mix," Sam Mitchell said.
"Tom will come back into the side next week and he'll be better for the run and he'll be fresher and feeling more on top of the ground.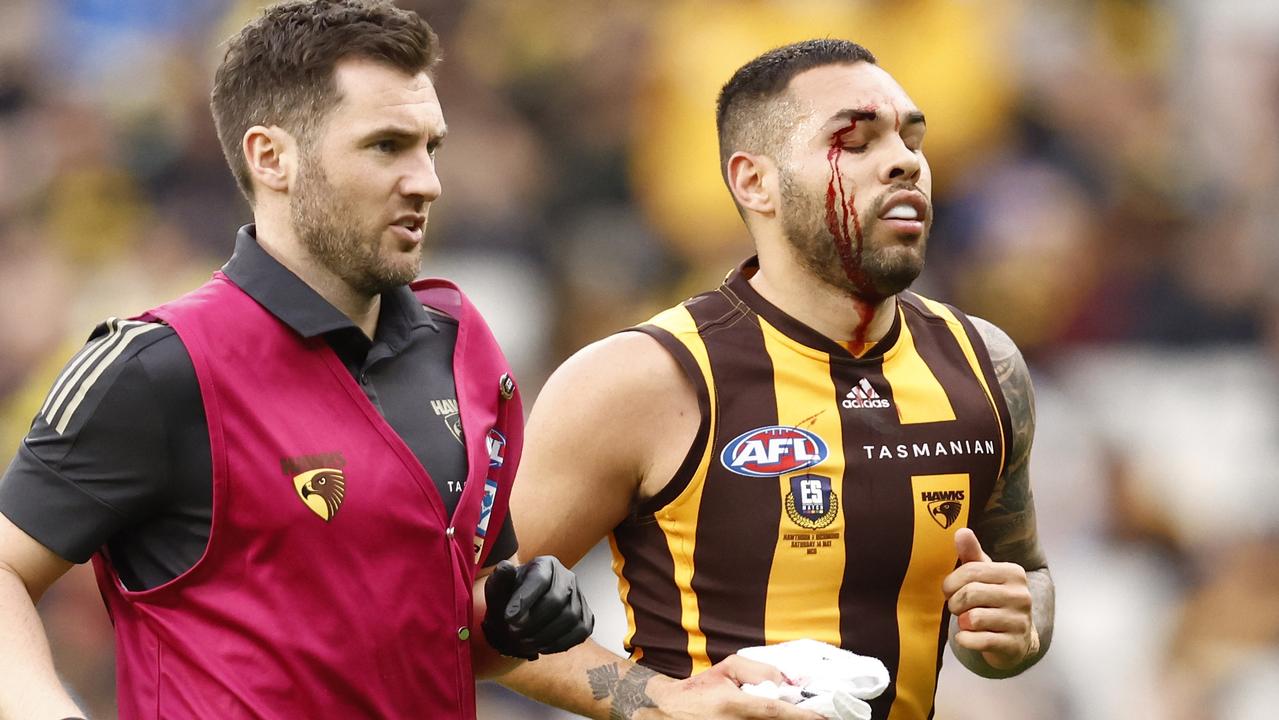 Jarman Impey leaves the field under the blood rule.
"His centre bounce numbers weren't as strong over the last few weeks so we're looking for him to go back in there this week ... get back on the horse and go again.
"We're looking to make some improvement around centre bounce — you can't afford to have it like that again."
Star forward Jack Gunston is in doubt to face the Lions after injuring his ankle at quarter-time and being subbed out in the second term.
Sam Mitchell commended his backline's performance in the face of a minus-19 inside-50 differential and was also proud of his players' ability to give themselves a sniff of victory late when they kicked four goals in a row to get within 10 points with just over two minutes remaining.
"We decided to repack the guns and go for it again and see what we could get out of it," Mitchell said.
"They executed that really well and got right back into the game. We weren't good enough in the end but I thought their mentality to try and fight it out right to the end and put genuine effort in was really pleasing."
James Sicily's performance down back on in-form Richmond forward Tom Lynch was particularly pleasing for Mitchell. The pair were involved in an entertaining duel, with the points probably shared in the end.
"It was a really good match-up," Mitchell said.
"I'm sure the fans appreciated it because they're two brilliant players aren't they.
"To keep him (Lynch) to 16 (disposals) and four (goals) doesn't sound great on the stats sheet but it could easily have been a lot more goals than that. I thought 'Sis' did a really good job."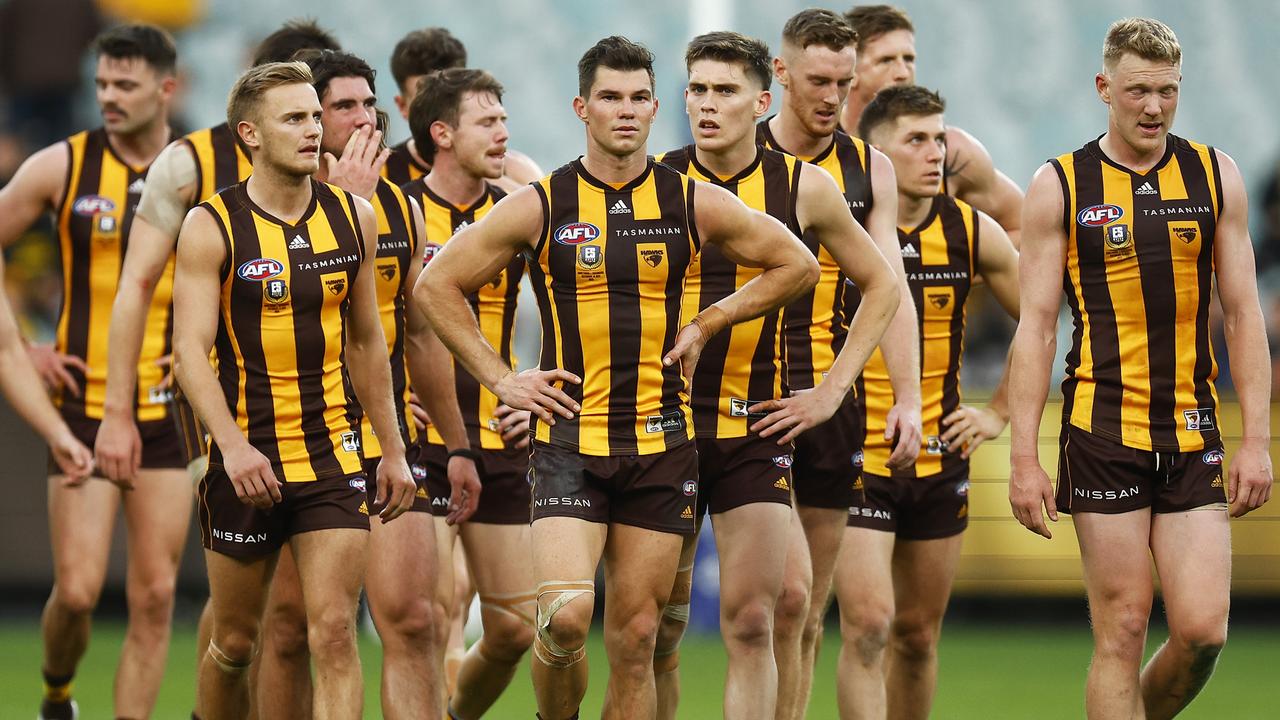 Hawthorn players lament their loss to Hawks.
BIGGIE JOB AWAITS TIGERS DEBUTANT AFTER BALTA BLOW
A fierce tackling performance and centre bounce domination helped spearhead Richmond to a third-straight win on Saturday as the Tigers continue to get back to "simple brilliance" and rediscover their DNA.
Richmond held off a fast-finishing Hawks side by 23 points at the MCG, surviving a late scare which saw Hawthorn close to within 10 points in the dying minutes.
The desperate Tigers almost doubled their season average of 43 tackles as they wrapped up the Hawks on 75 occasions, while the two-pronged ruck duo of Toby Nankervis and Ivan Soldo helped Richmond to win centre clearances 23-9.
"How good was it?" Hardwick responded when asked about his side's fierce tackling.
"It's been an emphasis all year. I thought we really tackled well, we probably just didn't get the reward a couple of times when we did tackle.
"I thought our blokes really stepped in hard.
"It just looked like a Richmond-type performance, stepping in mentality. It has been evident. It has been growing."
Shai Bolton laid the second-most tackles of any player on the ground with seven and was the fire-starter for the Tigers in the second quarter after Richmond fell 25 points behind.
After logging just one disposal in the opening quarter, Bolton set the game alight with 12 touches, three tackles, six inside 50s, two score assists and one goal in an eye-catching second term.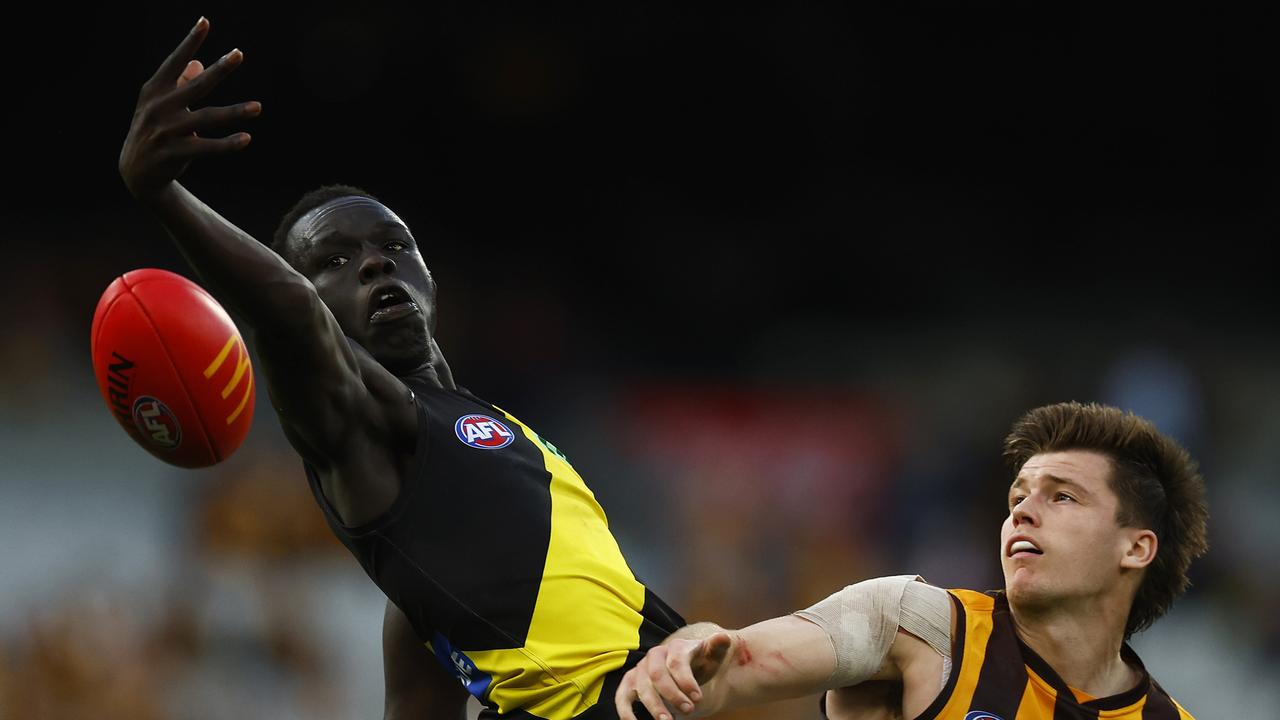 Bigoa Nyuon is likely to fill the void left by Noah Balta's injury.
The 23-year-old finished as the equal-fifth ranked player on the ground.
"Funnily enough it was all related to his defensive intent," Hardwick said of Bolton's turnaround.
"He probably wasn't as good as he could have been that first quarter. Xavier (development coach Xavier Clarke) gave him a little bit of a rocket and he got to work. Shai offensively is stunning, brilliant. Defensively when he plays to that level, his game becomes the elite level."
In his second game back, Dustin Martin was also brilliant with 20 disposals and three goals, while Tom Lynch booted four majors in a good battle with Hawthorn defender James Sicily across the afternoon.
Hardwick said that performance was a "by-product of our players", having had almost a full list to pick from for the first time this season.
However, the win was soured by a hamstring injury to key defender Noah Balta, who hobbled from the field late in the third quarter and is likely to be sidelined for matches against Essendon and Sydney over the next fortnight.
Hardwick said Balta's injury would likely see fellow key defender Bigoa Nyuon hold his place in the side after the 20-year-old had some nice moments in his AFL debut.
"We sort of threw him in the deep end, but you can play 50 games at VFL level, you play one game of AFL you're going to learn a hell of a lot more," Hardwick said of Nyuon.
"So he'll grow, he'll learn from it."
DUSTY MAGIC INSPIRES TIGERS PAST FAST-FINISHING HAWKS
A couple of star Tigers could find themselves in match review trouble as Richmond continued their resurgence this season with a hard-fought 23-point victory over a fast-finishing Hawthorn outfit at the MCG on Saturday.
Tom Lynch was one of Richmond's best players with a game-high four goals, but he could be in trouble after collecting Jarman Impey in the face as the Hawk tackled him on the wing in the third quarter. The hit left Impey with blood streaming from a cut above his right eye.
And Marlion Pickett might also be in hot water for a big hit on Dylan Moore which forced the young Hawk to be concussion-tested in the second quarter. Moore was able to continue playing.
Watch every blockbuster AFL match this weekend Live & Ad-Break Free In-Play on Kayo. New to Kayo? Try 14-Days Free Now >
Both teams suffered significant injuries too. Hawthorn star Jack Gunston was subbed out in the second term after injuring his ankle in a marking contest on the quarter-time siren. He tried to play on, but succumbed before time-on.
Meanwhile, Richmond defender Noah Balta was subbed out at three-quarter time after injuring his hamstring.
The Tigers fought back from 25 points down early in the second quarter to execute an impressive 48-point turnaround and finish up 17.15 (117) to 14.10 (94) winners, after leading by 35 points in the final term.
To Hawthorn's credit, they refused to give in and kicked four goals in a row to get back within 10 points with just over two minutes to go.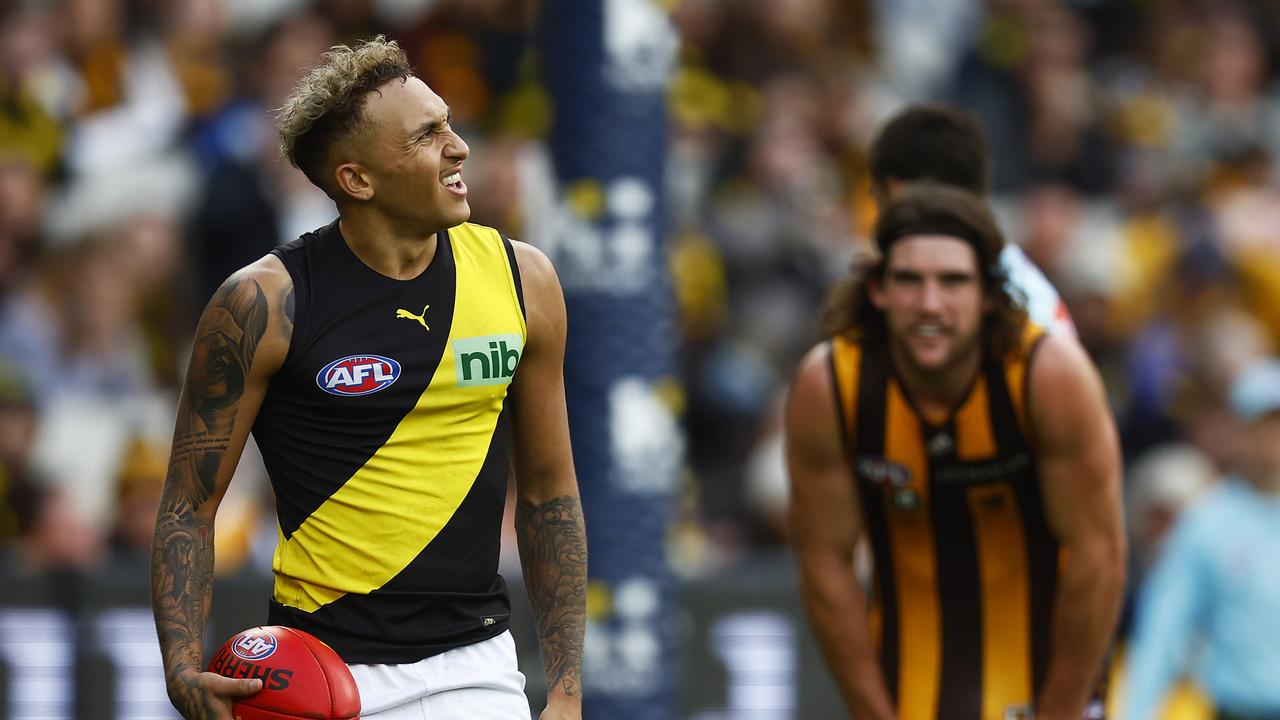 Shai Bolton was inspirational for Richmond.
However, Richmond goalsneak Jason Castagna produced the matchwinning play when he smothered Denver Graingar-Barras' rebounding kick, collected the crumbs and eventually snapped truly from the pocket.
The result sees the Tigers maintain their foothold inside the top eight, and it's also the first time they've won three games in a row since they strung together five victories on the trot from the 2020 semi-final to Round 2 last year.
As for the Hawks, their honeymoon period under new coach Sam Mitchell is well and truly over. After starting the year 3-2, Hawthorn have now lost four consecutive games.
Shai Bolton was central to Richmond's revival, finishing with 20 touches and two goals, while Dustin Martin continued his impressive return to the senior side with 20 disposals and three goals. Ruckman Toby Nankervis, Liam Baker, Dion Prestia and Lynch also played key roles.
In the end Richmond's domination of the centre clearances (23-9) proved critical and their pressure was superb throughout, finishing with 21 more tackles (75-54).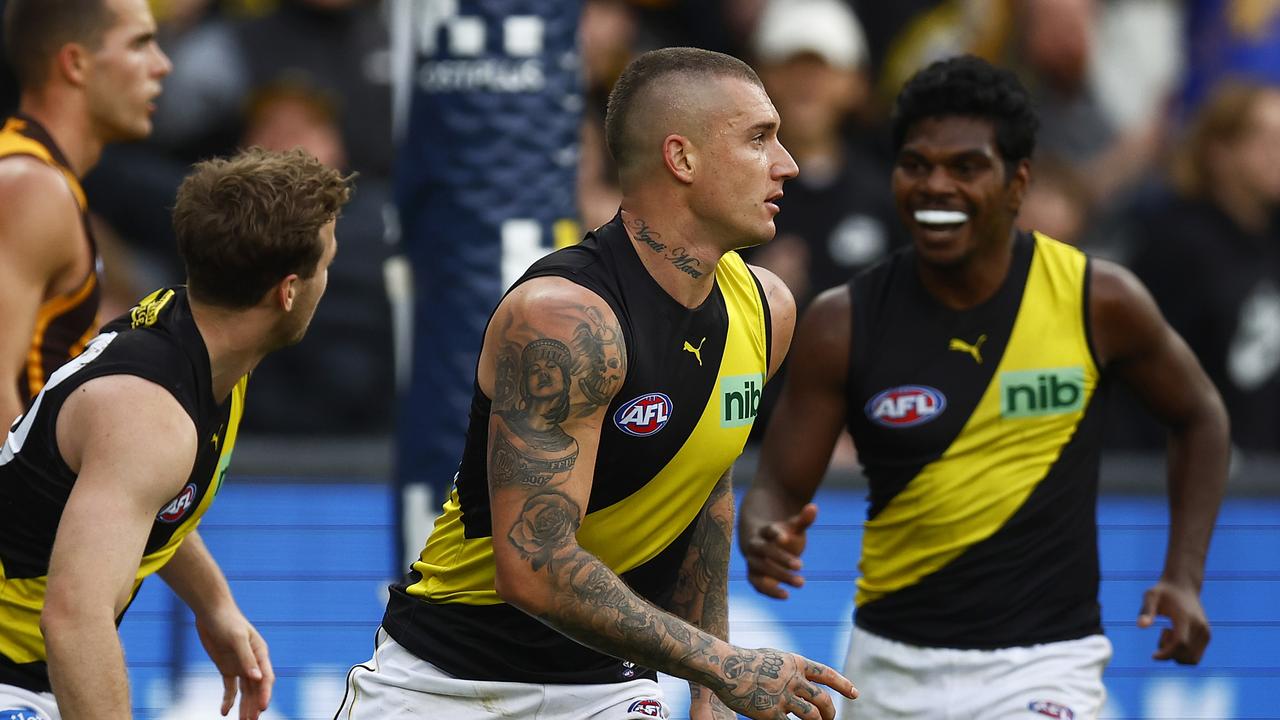 Dustin Martin was in vintage form against Hawthorn.
HAWKS THREATENED EARLY
After trailing by 12 points early, the Hawks kept taking the game on and booted seven of the next eight goals, including pairs to Luke Breust and Jacob Koschitzke.
Hawthorn were finding it far too easy to transition the footy up the middle of the ground, allowing them to dominate territory and exploit Richmond's backline, which was looking vulnerable.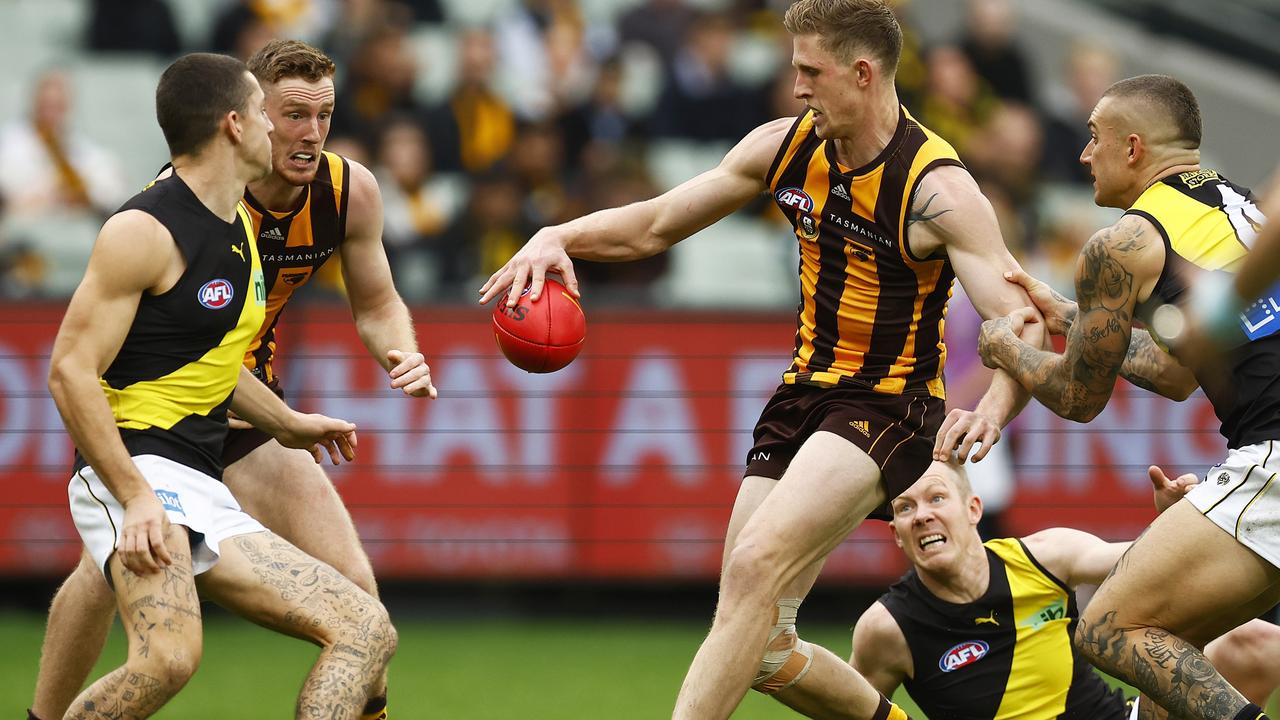 Dustin Martin gets a grip on Sam Frost.
RICHMOND RESPOND MIGHTILY
But in the blink of an eye, Richmond responded by dominating the clearances, kicking eight of the next nine majors, to lead by 19 points early in the third quarter.
Bolton woke up after a quiet first term to stamp his authority on the contest in the second term, as Richmond's dramatically-improved pressure resulted in numerous goals from turnovers.
After quarter-time, Richmond led the inside 50s by 21 (52-31) and their centre-clearance domination continued in the final term as they opened up a six-goal lead.
GRAHAM, NANK INSPIRE TIGER TURNAROUND
Richmond seemingly needed something special to turn the tide in the second term, and they got that in spades courtesy of two of the goals of the year so far.
Firstly, Jack Graham instinctively soccered one off the ground from 20m out under pressure from Will Day in an effort that Liverpool's Mo Salah would've been proud of.
Then a couple of minutes later, captain Nankervis grabbed the ball out of the ruck with one hand and, while being spun around and tackled by Max Lynch, he slapped it on his boot and floated it home from 25m out in the pocket to get the Tigers within 13 points.
Those rippers sparked Richmond into gear as they kicked nine of 11 goals to take a firm grip on the contest by three-quarter time.
DUSTY'S DAZZLER
Not to be outdone, Martin might've trumped them both when he emerged from the pack with the ball deep in the Tigers' forward line late in the third quarter and, from the impossible angle, somehow squeezed it through the big sticks with his left foot in the left pocket while surrounded by a nest of Hawks to extend the Tigers' lead to 18 points.
TIGERS BENEFIT FROM 'FROST BALL'
Hawthorn defender Sam Frost is no stranger to producing heart-in-mouth moments down back, and on Saturday he provided a couple of vintage instances of 'Frost Ball'.
Late in the first quarter, he dropped the mark deep in defence then, after collecting the loose ball, 'fresh-aired' a handball attempt, allowing Tom Lynch to pick up the pill, before spinning out of the traffic, evading James Sicily and dobbing a ripper from the pocket to put Richmond back in front.
And in the shadows of halftime, Frost dropped a simple chest mark that he should've gobbled up at the top of the Richmond goalsquare. Bolton collected the crumbs and duly snapped it through the big sticks from close range.
TIGERS LOSE DEFENSIVE GUN TO HAMSTRING
Richmond has been dealt a major injury blow, with star defender Noah Balta suffering a hamstring injury during Saturday's clash with Hawthorn.
Balta hobbled off late in the third quarter and was subbed out of the game at three-quarter-time, replaced by medical substitute Shane Edwards.
Balta has shored up the Tigers' defence in recent weeks since returning to the backline after starting the year as a third-tall in attack.
The Tigers held a 19-point lead at the final change when Balta was subbed out of the game, after the Hawks had held a 25-point advantage during the second term following a hot start.
The injury means Balta is likely to miss matches against Essendon and Sydney over the next fortnight heading into Richmond's Round 12 bye.
HAWKS HIT BY HUGE GUNSTON BLOW
Hawthorn forward Jack Gunston has been subbed out of his side's clash with Richmond after sustaining an ankle injury on the quarter-time siren.
Gunston hurt his right ankle when he landed in a marking contest as the siren sounded to end the opening term.
He was taken down to the rooms and had the ankle re-strapped, before returning to the field early in the second term.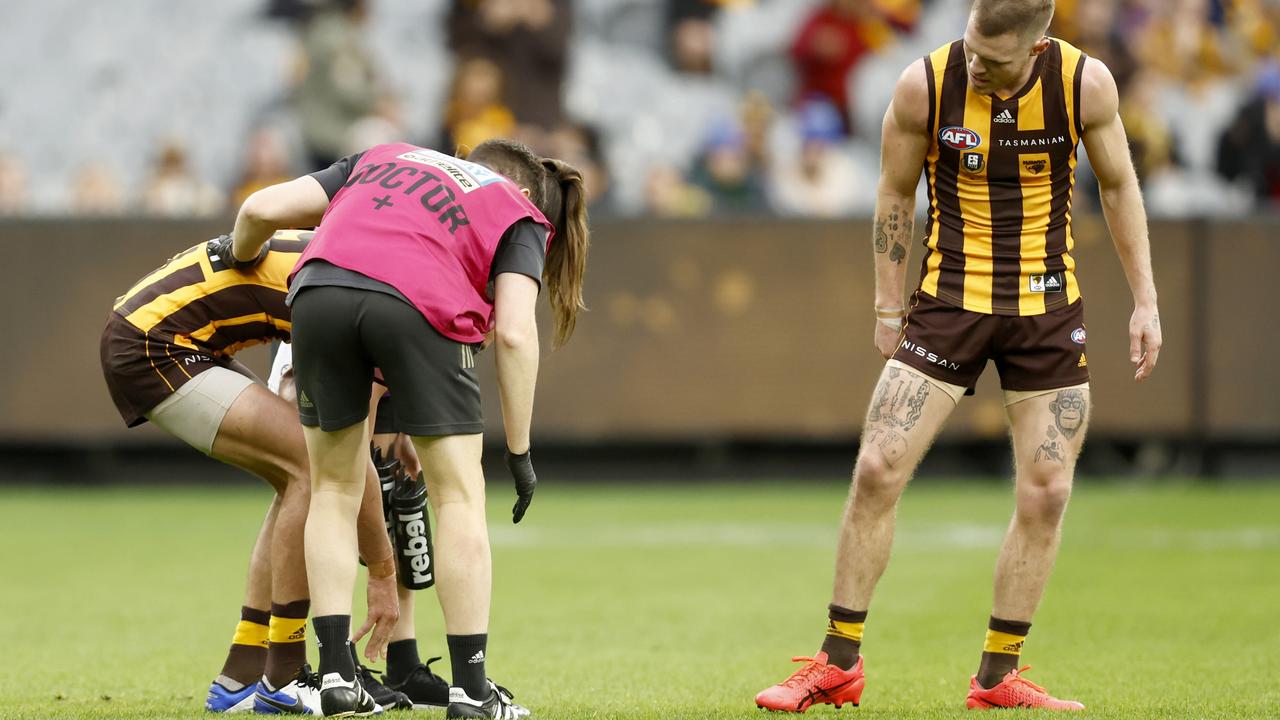 Jack Gunston is assessed by a doctor.
However, Gunston looked ginger in a few minutes on the field before being pulled and taken out of the game.
Gunston had kicked one goal from five disposals in the first quarter.
Hawks teammate Dylan Moore was assessed for concussion after copping a heavy knock in a shepherd by Richmond's Marlion Pickett during the second term, but was cleared by doctors and returned to the field.
First-year midfielder Connor Macdonald was subbed on to replace Gunston.
The Hawks held a 25-point lead midway through the second quarter, before the Tigers got rolling and kicked four consecutive goals in 11 minutes to hit the lead.
Originally published as AFL Round 9: Hawthorn v Richmond latest news, scores and SuperCoach points