AFL Round 9 North Melbourne v Port Adelaide: Power skipper racing the clock as Ken Hinkley ponders big call
Geelong's twin towers Tom Hawkins and Jeremy Cameron will be waiting for Port Adelaide on Saturday – it's why the Power need Tom Jonas back. But will he be ready?
Port Adelaide captain Tom Jonas will have an extremely tight window to prove his fitness for the Power's huge clash against Geelong.
After a 0-5 start to the season, the Power have now won four in a row, after defeating North Melbourne by 69-points in Hobart.
This puts them a win outside of the eight but, to get there, and even up their record, the Power have the daunting task of the Cats in Geelong.
And their captain will face a tight race to be involved in the Round 9 fixture.
Jonas missed the win over North Melbourne after he entered the AFL's Covid-19 protocols following the Power naming their side on Thursday night.
He will get out of isolation on Thursday ahead of the Saturday afternoon clash at GMHBA Stadium.
Watch every blockbuster AFL match this weekend Live & Ad-Break Free In-Play on Kayo. New to Kayo? Try 14-Days Free Now >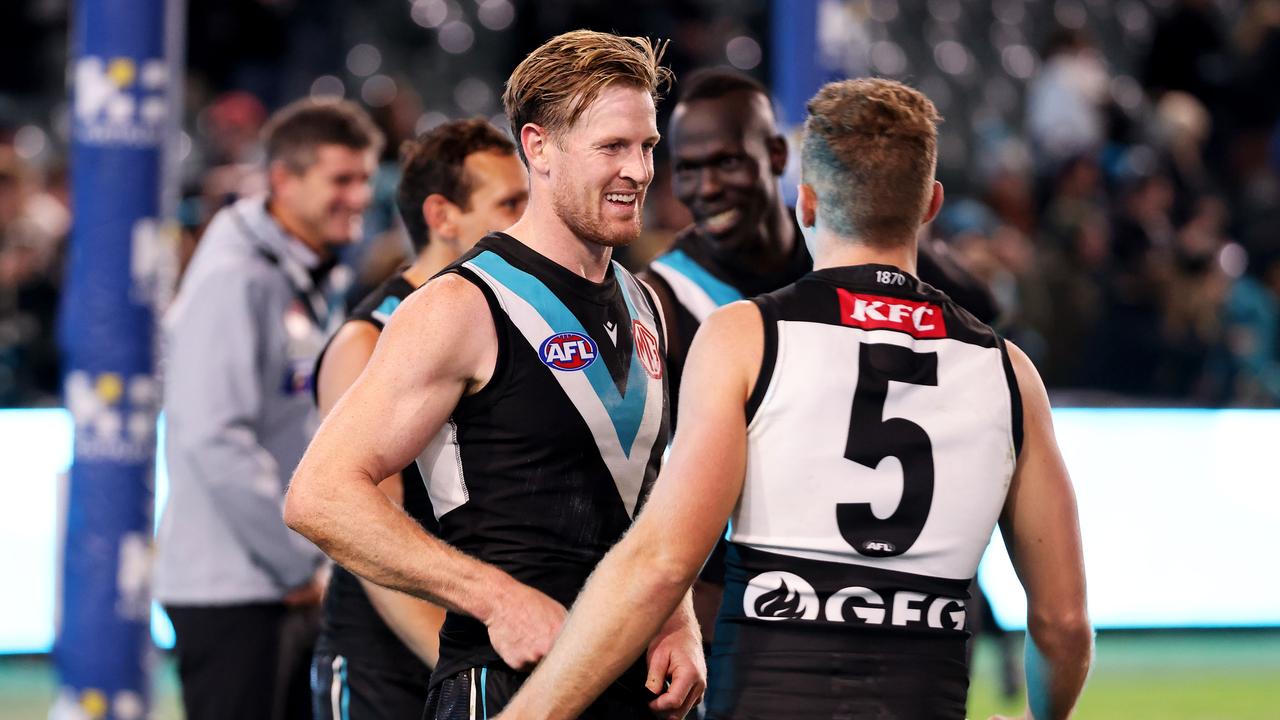 Tom Jonas faces a race against time this week. Picture: James Elsby/AFL Photos
Jonas, like all players coming out of isolation, will be subject to tests to see how he is physically when he returns to the club.
This will be vital in determining whether Jonas can line-up against Geelong star forwards Tom Hawkins and Jeremy Cameron on Saturday.
Forward Kane Farrell returned to action against the Roos a week after he was a withdrawal from the win over the Western Bulldogs and had to isolate for seven days – a similar time frame to what Jonas has to overcome.
But young midfielder/defender Miles Bergman missed multiple weeks after a he also caught the flu in addition to entering the protocols.
Wingman Trent Dumont will also be out of Covid-19 protocols ahead of the game against Geelong.
The Power will also have decisions to make as to whether Charlie Dixon and Orazio Fantasia take on the Cats.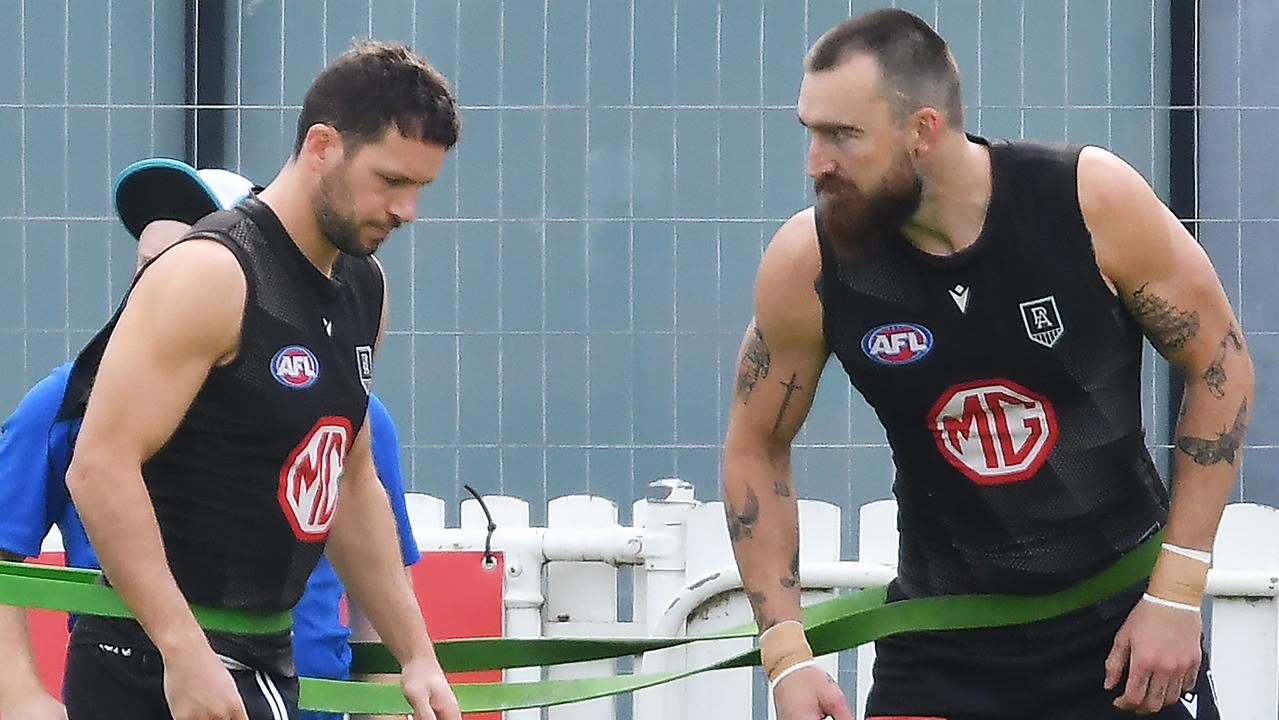 Charlie Dixon, right, and Travis Boak at training last week. Picture: Mark Brake
Fantasia was the medical-substitute in Hobart, but was not called upon, while Dixon played in the SANFL last week.
After the win over the Roos Power coach Ken Hinkley said ideally Dixon would have played SANFL this weekend, but the Magpies did not have a game because of the state game.
Todd Marshall and Mitch Georgiades kicking three goals in Hobart, and Jeremy Finlayson two further adds to Hinkley's welcome headache.
"The three tall forwards are looking like a threat more and more as they go," Hinkley said.
"Whether (Dixon) comes in or doesn't come in will be based around where we think he's at in his preparation."
Power blitz leaves Hinkley with huge headache
- Ed Bourke
Port Adelaide was not always convincing but kept within striking distance of the eight after booting North Melbourne out of the game early to win by 69 points at Blundstone Arena.
The Power's forward line was at its most impressive all season in an explosive six-goal opening term, with Mitch Georgiades and Todd Marshall nailing set shots to finish with two goals apiece at quarter time.
Ollie Wines and Connor Rozee both had nine first quarter possessions as Port's midfield spread away from clearances too quickly for a North on-ball brigade which crucially lost Jy Simpkin to hamstring tightness before the game.
Luke Davies-Uniacke often had first hands on the ball at stoppages, finishing with 25 disposals and a game-high six centre clearances, but the Roos were constantly plagued by poor foot skills and gave the Power too many chances to kick uncontested into their forward 50.
Marshall and Georgiades each bagged three goals and Jeremy Finlayson slotted two, with the trio stretching North too thin without its defensive linchpin Ben McKay.
Cameron Zurhaar's relentless efforts in attack were a shining light for the Roos, with the 23-year-old's third goal cutting the margin to only 32 points at the final break.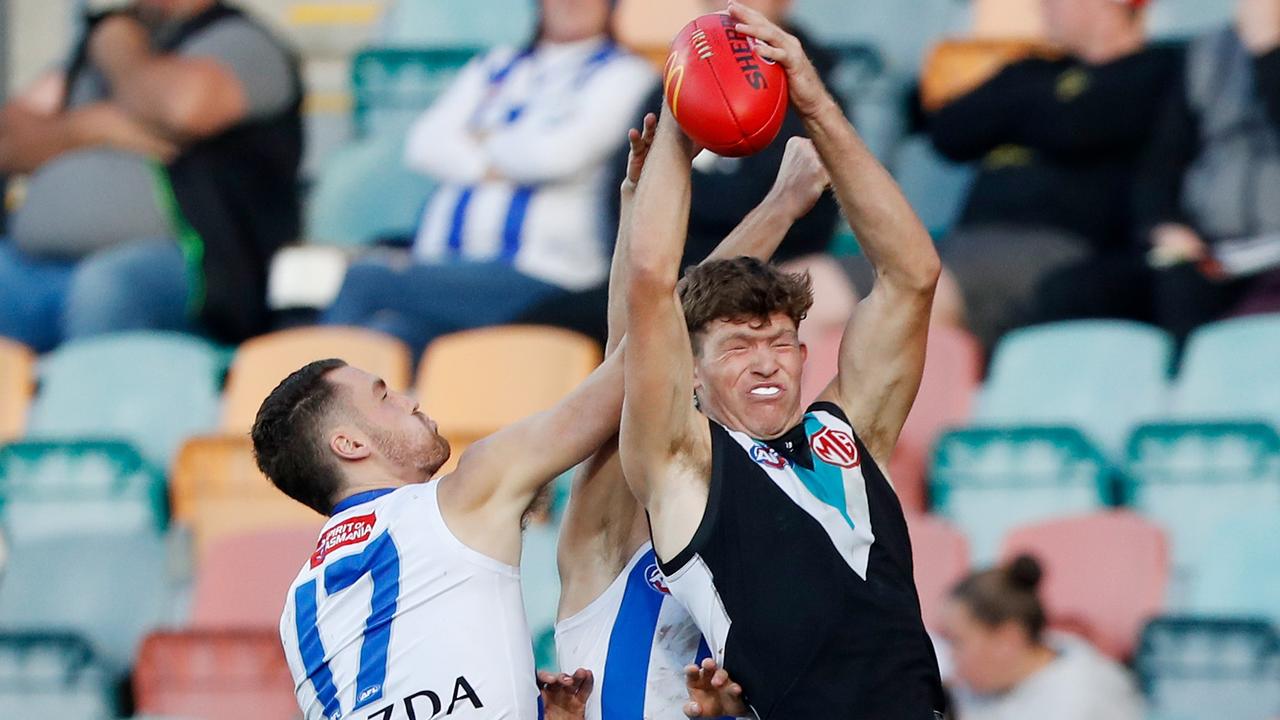 Mitch Georgiades reels in a mark in Port Adelaide's victory.
REMINDER FROM ROBBIE
Robbie Gray worked up into the midfield more than any other game this season and Port looked all the better for it.
The dynamic 34-year-old appears to have overcome hamstring and knee issues and played a key role as the Power burst away from North in the first quarter, amassing seven disposals at 100 per cent efficiency.
Along with Connor Rozee, Gray's explosive spread from stoppages often saw him completely unmarked on the outside, as Port thumped the Roos in the uncontested possession count.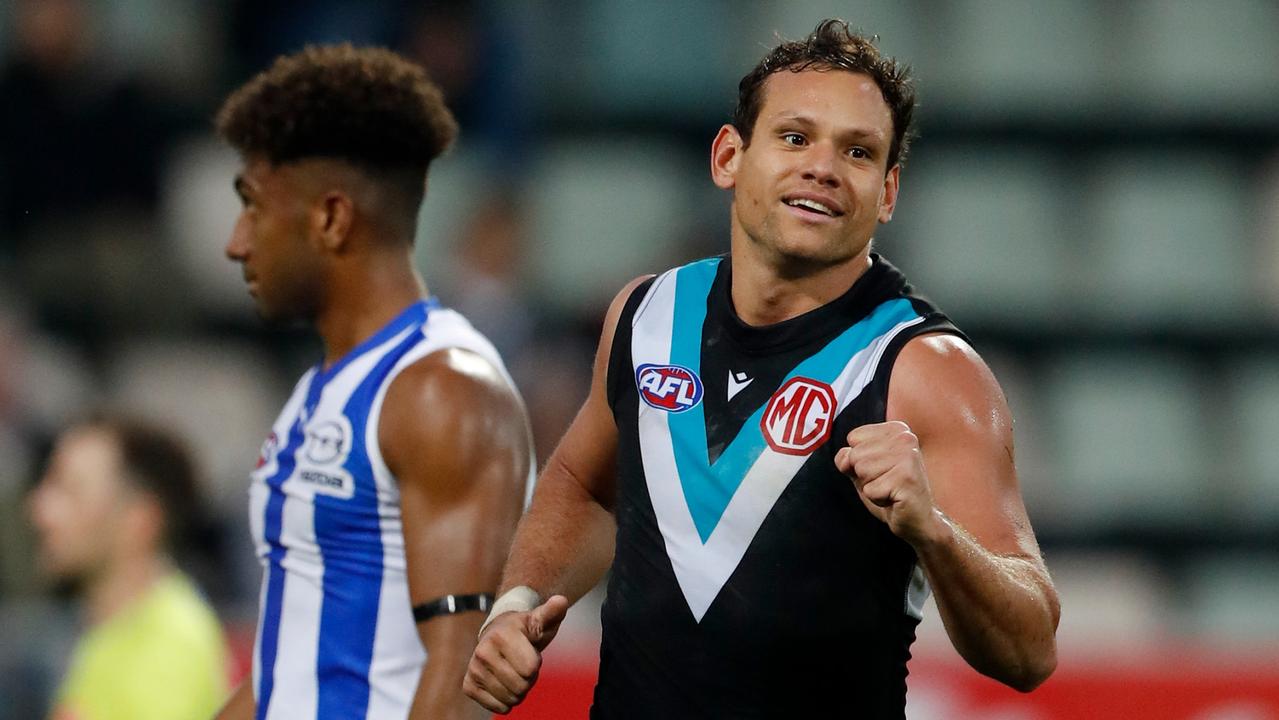 Steven Motlop enjoys a goal.
WHERE DOES BIG CHARLIE FIT?
Monster forward Charlie Dixon's path back into the Port Adelaide side may have suddenly become unclear.
The trio of Todd Marshall, Mitch Georgiades and Jeremy Finlayson are starting to gel nicely, with all having significant scoreboard impact across the four quarters.
Finlayson's sublime left-foot kicking was on full display in Hobart, and the new recruit is too damaging to omit now he is getting more of the ball in his hands.
Neither Marshall or Georgiades put a foot wrong on Sunday, and unless Ken Hinkley wants to tweak a forward structure that is just beginning to click, Dixon may be looking at more time in the SANFL.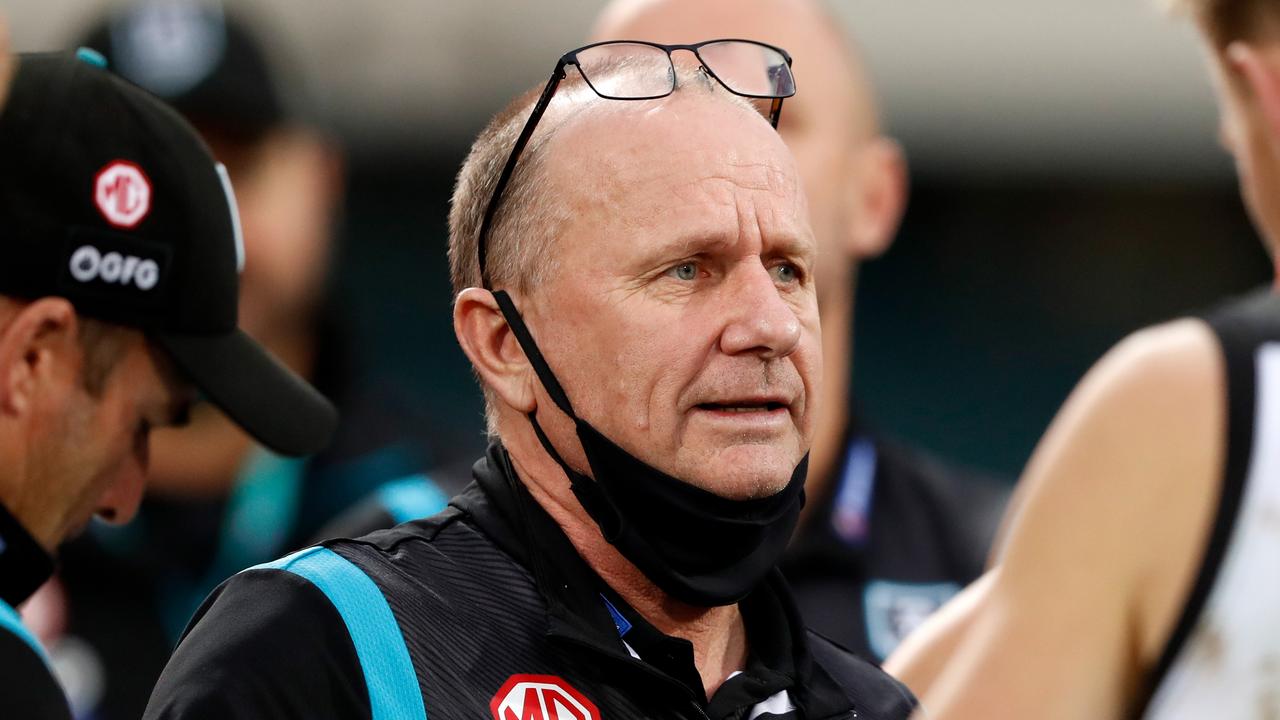 Ken Hinkley will need to work out who makes way for Charlie Dixon.
NORTH'S TALL ORDER
Port's key forward trio drew more attention to North's continued struggles against tall targets on the lead.
Josh Walker intercepted strongly but with the key posts left to him and Aidan Corr in Ben McKay's absence, Marshall, Georgiades and Finlayson took 12 marks inside 50 between them.
Kyron Hayden (186cm) was the makeshift third tall defender, with Aiden Bonar (188cm) filling the role last week and the raw Matt McGuinness the only tall option in reserve.
With draftee Miller Bergman out for the season, North can open up a list spot to select a key defender in the mid-season draft - otherwise Charlie Comben or Tristan Xerri might find themselves in defence upon return as David Noble tries to stem the bleeding.
KANGAROOS 1.3, 3.7, 5.9, 6.10 (46)
POWER 6.5, 8.8, 10.11, 17.13 (115)
BEST Kangaroos: Zurhaar, Davies-Uniacke, Anderson, Young. Power: Rozee, Wines, Powell-Pepper, Butters, Gray, Georgiades.
GOALS Kangaroos: Zurhaar 3, Larkey, Thomas, Powell. Power: Marshall 3, Georgiades 3, Wines 2, Motlop 2, Duursma 2, Finlayson 2, Powell-Pepper, Farrell, Byrne-Jones.
UMPIRES Hosking, Gavine, Toner.
INJURIES Kangaroos: Simpkin (hamstring tightness - replaced in selected side by Hayden). Power:
CROWD: 5,114 at Blundstone Arena.
BOURKE'S VOTES
3. C.Rozee (Port)
2. O.Wines (Port)
1. S. Powell-Pepper (Port)
HINKLEY PRAISES POWER RESILIENCE WITH SEASON ALIVE
Ken Hinkley has praised his side's "incredible resilience" as Port Adelaide secured its fourth win on the trot since slumping to a 0-5 start.
The Power remained a work in progress but had shown significant improvement that had come with key players finding form, Hinkley said.
"I think we've worked hard to remain positive about what we're trying to do, we haven't changed too much - we've got some personnel who have been in a bit better form," the Port coach said after the 69-point win over North Melbourne.
"I think through the midfield we look sharper and a bit quicker through the middle of the ground.
"It was a really good last half to see Aliir getting back into some nick too."
Todd Marshall celebrates a goal with Sam Powell-Pepper and Travis Boak.
Hinkley said morale had remained high among the playing group even after the Round 5 loss to Carlton, despite internal frustration at the surprising start to the season.
"We didn't get distracted by the ladder, which was hard not to," Hinkley said.
"It's incredibly resilient the way we've stuck at it, we knew we had to stay at work and it was pretty hard I'm sure for outside people to accept what we were saying.
"We believed we could still turn things around ... we're certainly not solved, but we're better than we were."
Hinkley said Charlie Dixon would come back into the side when he was deemed ready, despite the improvement and cohesiveness of Marshall, Finlayson and Georgiades.
"The three tall forwards are looking like a threat more and more as they go," Hinkley said.
"Whether (Dixon) comes in or doesn't come in will be based around where we think he's at in his preparation.
"Ideally he would've played another game of football this weekend at SANFL level but unfortunately that wasn't available to us."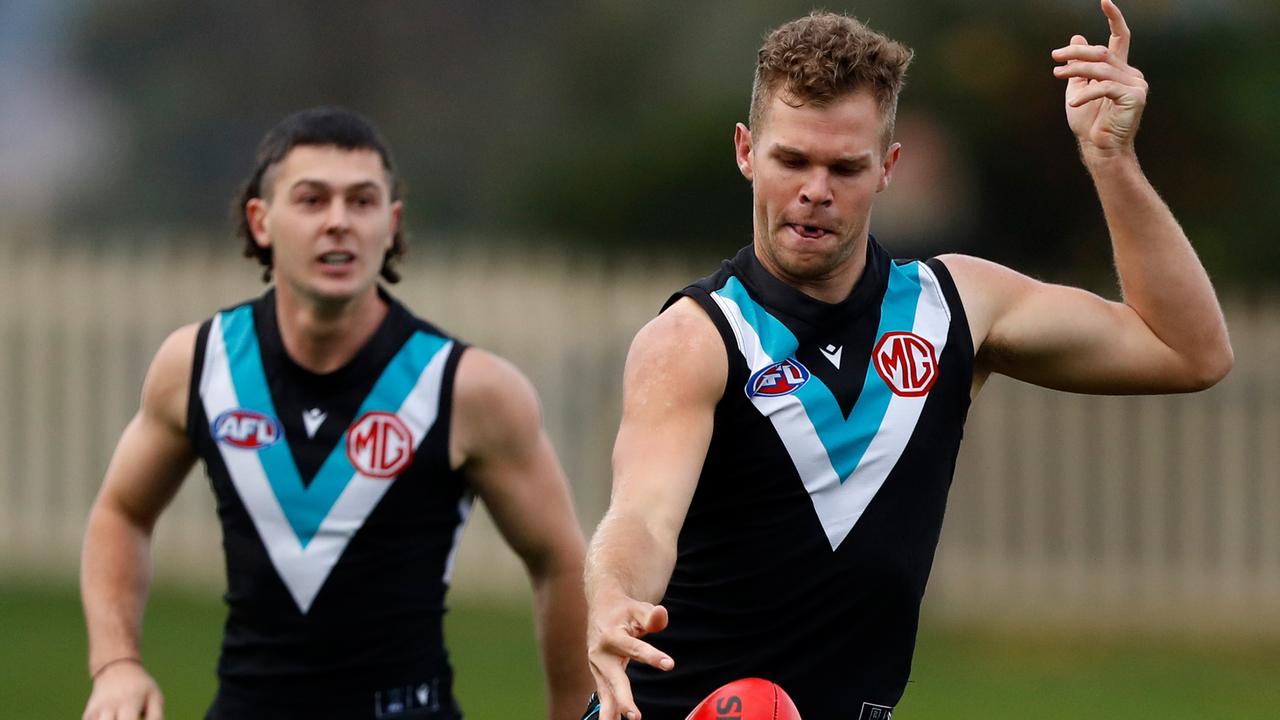 Dan Houston launches Port Adelaide forward.
Hinkley said he was not concerned by the mid-game lull in between the Power's six-goal bursts during the first and final quarters in Hobart.
"I was really pleased that we were able to just consolidate late in the game to put a significant gap on the scoreboard by the end of the game," he said.
"You can sometimes lose your way in battles like this but I thought our boys stuck to it really well.
"It was a bit scrappy and untidy through the middle ... North to their credit obviously got some things going in the second and third quarter that made it a bit more of a contest."
The Power emerged unscathed from the game, with Aliir (thumb) and Georgiades (corky) playing out the game unhampered.
Travelling emergencies Ollie Lord, Taj Schofield and Miles Bergman were put through an intense 45-minute session on Blundstone Arena after the game, along with unused medical sub Orazio Fantasia.
NOBLE REVEALS PLAYER SUPPORT AFTER SPRAY REVELATION
North Melbourne coach David Noble says his side rallied around him during a difficult week but lamented injuries and illness as the Roos were outgunned by Port Adelaide.
Noble praised the Kangaroos' "consistent energy and effort" but said being forced to use a much larger midfield rotation had affected their rhythm during their 69-point defeat in Hobart.
He said the team had addressed the news breaking of his apology to the players after a stinging Round 3 spray and had come closer together.
"Internally we've talked about it as a group, we wanted to use it to galvanise ourselves a bit today," Noble said.
"I had great support from the players and a lot of people externally ringing in and checking in, which is great."
The absences of Hugh Greenwood (Covid protocols) and Jy Simpkin (hamstring soreness) led to the Roos throwing out their midfield plans, he said.
"I think there's a lot for us to take away from it … I think we had 12 or 13 blokes going through the midfield today, so some terrific experience for those guys through the centre bounce and the wing," Noble said.
"We got the ball on our terms a fair bit in the second and third term … Port were too strong in the last quarter, they ran us hard and we couldn't stop that flow."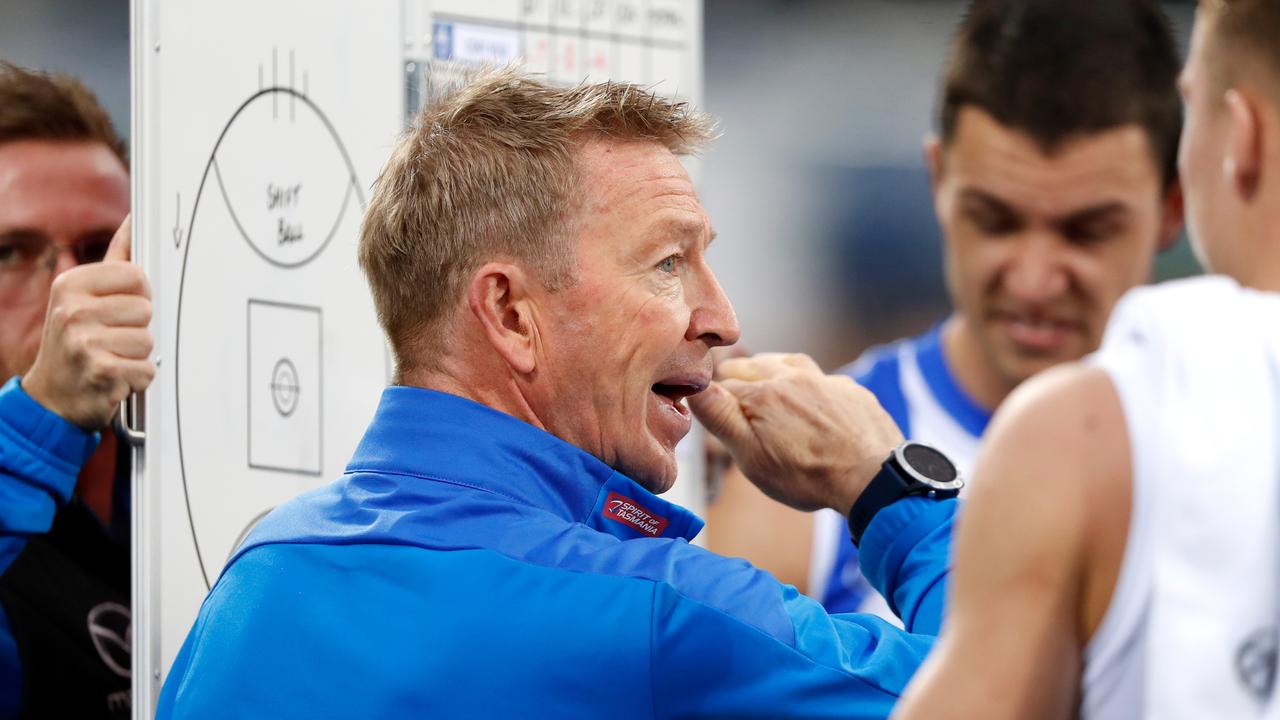 David Noble says his players rallied behind him.
Noble said the one-goal-to-six opening quarter where Port threatened to blow the game out was not a complete reflection of the contest.
"We didn't take our chances in front of goal, it should've been a bit closer we thought at quarter time," he said.
"We'll pull apart the good quarters today, when we look at those we think our numbers actually look pretty good.
"Delivering those on a consistent basis is where you get the fluctuations."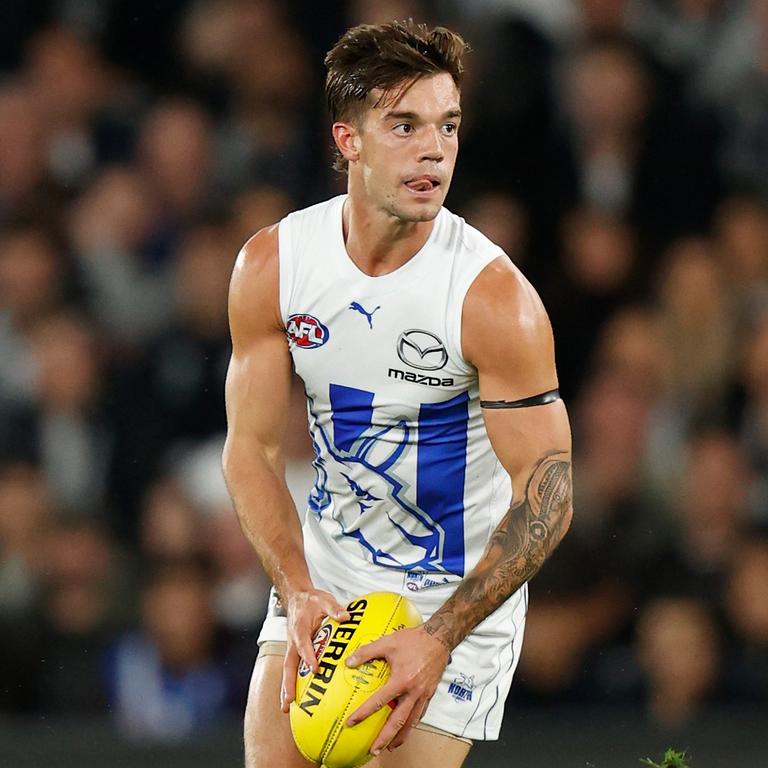 The Roos lost Jy Simpkin on the morning of their clash with Port Adelaide.
Noble said the 12-man midfield rotation, around twice the size of the average on-ball brigade, meant the Roos could not "generate synergy" with so much movement between their midfield and forward units during quarters.
Illness in the squad meant North had also flown a player over as extra cover hours before the game.
"We had a couple of other guys who weren't great this morning and to their credit they dug in and played which was great. We actually flew another over this morning just in case," Noble said.
The time frame for Jy Simpkin's recovery was uncertain but Noble said the injury was not serious.
"It's only been 24 hours, it was only a small bit of soreness yesterday, I don't think we're even going to scan it," he said.
"I'm not actually sure if it's even a hamstring – that might be a good thing if it's a bit more back-related."
Originally published as AFL Round 9 North Melbourne v Port Adelaide: Power skipper racing the clock as Ken Hinkley ponders big call