AFLW 2022: All the latest trade, contract and fixture news
Port Adelaide's player raid shows no sign of slowing, nabbing a two-time All-Australian forward a day after securing a rival midfielder. TRADE LATEST
Port Adelaide has secured a major coup as it builds its inaugural AFLW list, nabbing two-time All-Australian forward Gemma Houghton from Fremantle.
She will sign with Port as soon as the AFLW's sign and trade period opens – but the AFL is yet to announce that date.
The 28-year-old is a 179cm key forward, who has kicked 40 goals from 46 games in the Dockers' jumper and as an inaugural AFLW player ,brings six seasons of experience with her to Alberton.
Houghton, who grew up a Port Adelaide supporter despite being a West Australian, said she was excited to stand alongside AFLW superstar Erin Phillips in the Power's inaugural forward line set up.
"I can't wait to catch up with Erin and the other players that have committed to the club already," she said.
"In some ways, it's definitely emotional for me, it's a big change, but I'm feeling really happy with my decision."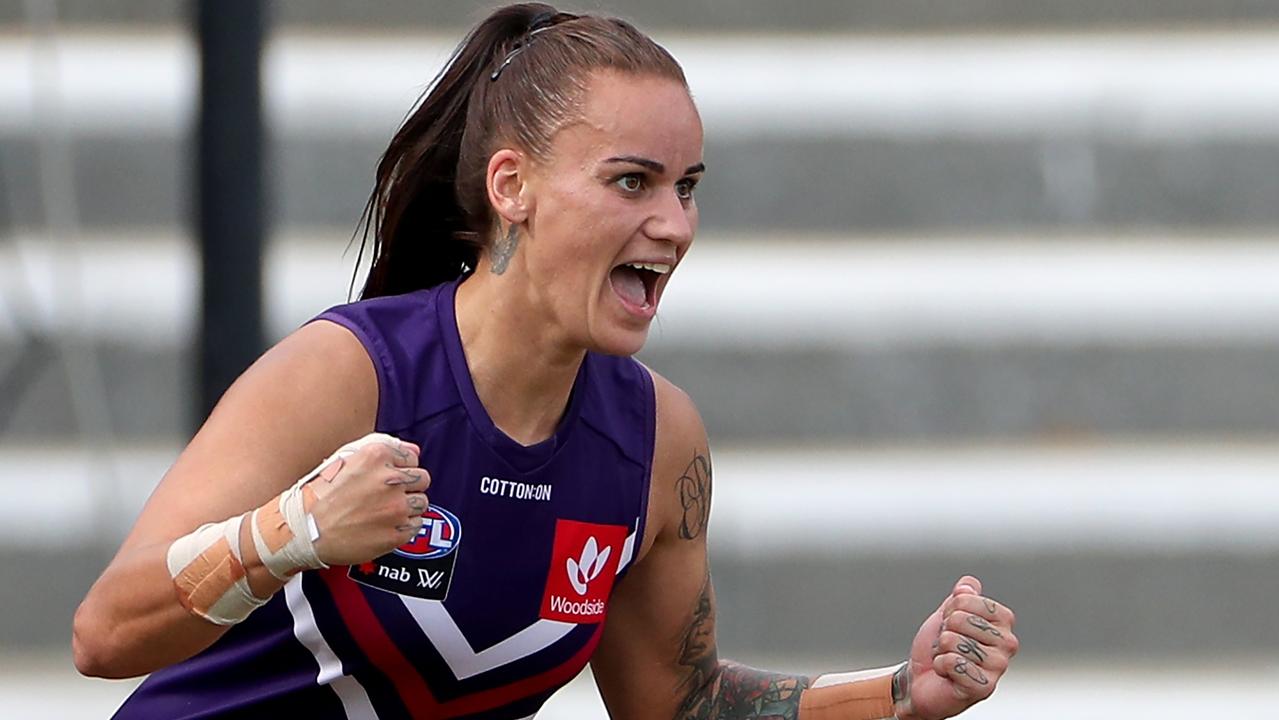 Fremantle forward Gemma Houghton is set to join Port Adelaide. Picture: AAP Image/Richard Wainwright
Port Adelaide's head coach Lauren Arnell described her new star signing as "one of the athletic players in the competition".
"She is really experienced, successful, a two-time All-Australian … she has a really nice leap, is very quick and has the ability to bring pressure and turn games around," Arnell said.
Houghton said she was leaving Fremantle – having played in five finals with the Dockers, including two preliminary finals – to challenge herself.
"I wanted to … take on a new opportunity and when I looked at the Port Adelaide list, the management and coaches in place, it just got me really excited," she said.
"I'll be surrounded by such strong women and being an expansion team, I've got my own career path to continue to forge."
Houghton, who also works as personal trainer and was originally a basketballer, is affectionately called "Aunty" – a moniker stemming from both her warm, maternal nature and her Indigenous roots, as a proud Yindjibarndi woman, from the Pilbara region in the north of WA.
She said she was looking forward to working with Indigenous youth in SA.
In the 2022 season, Houghton played 12 games, kicked nine goals and averaged 9.6 disposals, 2.0 marks, 2.2 tackles and 2.1 inside 50s per game.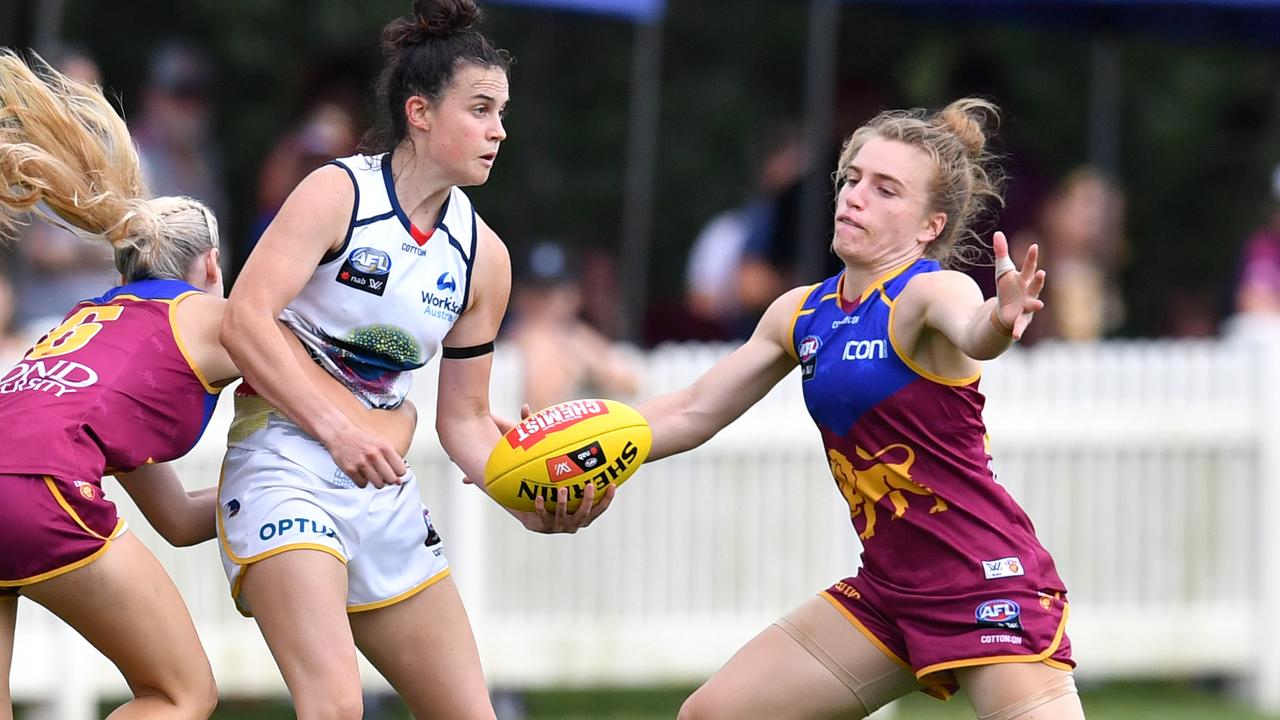 Maria Moloney (right) will be part of the Power's inaugural AFLW season. Picture: AAP Image/Darren England
The news came a day after Port Adelaide swooped on Brisbane midfielder Maria Moloney, who has told Alberton hierarchy that she will sign as a Power player once the AFLW's sign and trade period officially opens.
Moloney's commitment takes Port's tally of inaugural AFLW signings to four, with the 27-year-old joining former Crows Erin Phillips, Angela Foley and Justine Mules at the expansion women's team.
Under AFL expansion rules, Port can sign up to 14 contracted players from other clubs (up to eight from the Crows).
Moloney has played 11 AFLW games since debuting in 2020 and in the 2022 season played three games, averaging 6.7 touches, one mark and 2.7 tackles per game.
She said she was looking forward to taking up the new opportunity.
"It will be a great challenge to move to an expansion team and be part of the inaugural squad at Port Adelaide," she said.
"The opportunities are endless, you get to be there right from the start and contribute to the environment from the get-go."
Moloney arrives at Port Adelaide with a personal connection, having been teammates with Power head coach Lauren Arnell in the 2020 and 2021 seasons.
Arnell said it was Moloney's team-first approach that had made her a target for Port recruiters.
"We really wanted Maria here from the very beginning to help establish the culture of the women's program," Arnell said.
KELLY GANG TO FLY FROM EAGLES
The Kelly gang is set to leave West Coast. With speedy midfielder Niamh having already requested a trade to Adelaide, the Eagles are also set to lose older sister Grace to St Kilda after she too asked to depart the club, picking the Saints as her intended destination. The pair of Irishwomen are both foundation West Coast AFLW players. The Eagles could also lose young gun Mikayla Bowen, but have interest in Gold Coast's Jamie Stanton.
IRISH STARS JOIN KANGAROOS
A pair of Irish Gaelic stars are set to land at Arden Street.
As reported by the Herald Sun last week, Gaelic All-Star Erika O'Shea and young gun Vikki Wall will travel to Australia incoming weeks to play AFL Women's.
And they will find a home at North Melbourne, with the pair to link up with countrywoman Aileen Gilroy and blue and white.
O'Shea, 19, will be the youngest Irish player to make the trip to Australia, and said last week that she was "over the moon" to be making the move.
"It is going to be a big leap and it won't be easy, but it is something I felt I had to do because it was a dream of mine for so long," she said.
"The club want me over in June as I haven't had anything to do with Aussie rules. They want me over as soon as possible for gym work, as well, because I am obviously a bit petite compared to some of the other girls."
Collective bargaining agreement negotiations remain ongoing between the league and the AFL Players' Association with the pre-season start date still up in the air.
Wall is the reigning Footballer of the Year in Ireland, where she starred for Meath, and has been tipped by Gaelic superstarturned Giant Cora Staunton to have "a massive impact" on AFLW.
Staunton told Ireland's The 42 this week that there would only continue to be an appetite for Irish players in AFLW, many of whom are having to make the choice between Gaelic duties and the Australian game.
"In the short-term, in the next couple of years, there will be a huge need for Irish girls," Staunton said.
"With four new teams, that's 120-plus girls. They are not sure what the (playing) panels will be but it's 30 for now and that could be increased to 32 (players).
"In the men's game they work off 38 to 40 so in time it will go to that.
"In the short-term, there is a need for Irish.
"In a couple of years' time, it is going to be fully professional and it's going to be a very well-paid job, so it's a very hard opportunity to turn down."
CRICKETER'S DAUGHTER TOUTED AS TOP PICK
The AFLW merry-go-round is in full swing.
As teams wait to learn the start date for the first season with 18 clubs, some of the best players from recent seasons are up for grabs.
Plus, there's been huge news in the coaching ranks, the latest on collective bargaining agreement talks and the all-important 2022 fixture (take two).
Find out the latest chat in AFLW Moneyball.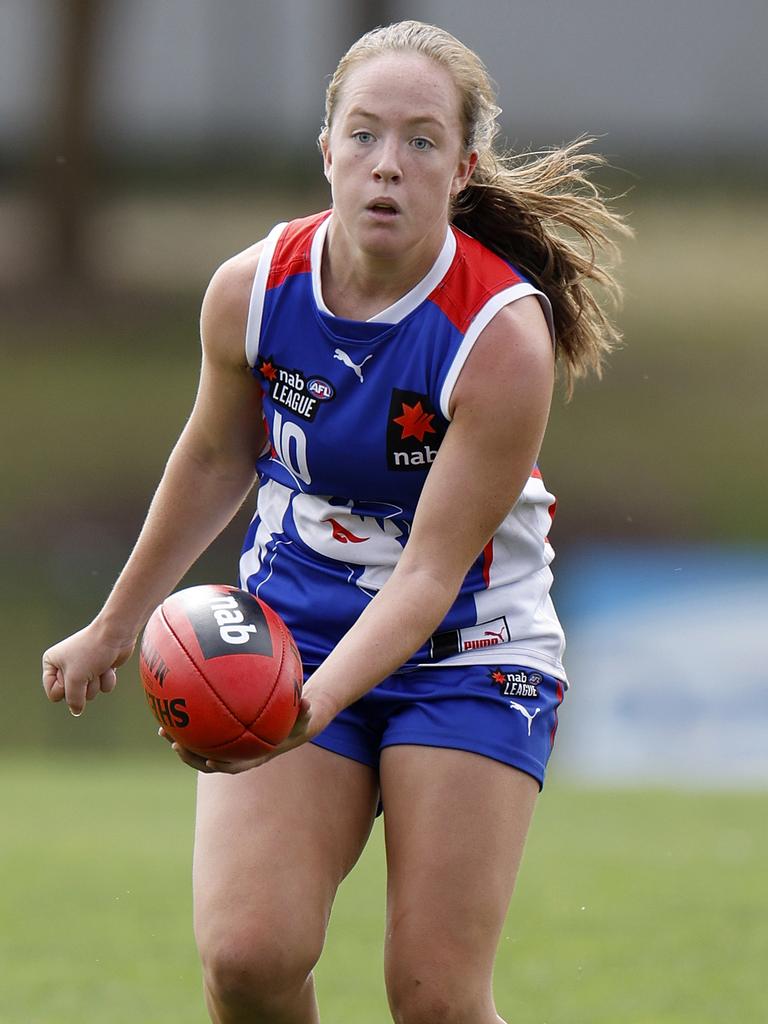 Jasmine Fleming in action for Oakleigh Chargers.
Jasmine Fleming and her dad, former Aussie cricketer Damien Fleming.
FLEM FOLLOW-ON
Former Australian Test paceman Damien Fleming might soon be playing second fiddle to daughter Jasmine, who was on Wednesday named in the AFLW under-18 All-Australian team. The versatile Fleming junior is expected to be an early pick in this year's draft, but like her father she is also an outstanding cricketer, having been earmarked as a player of the future through the Cricket Victoria development pathway. Now that's some serious swing.
ALL-AUSTRALIAN SET FOR EXPANSION SWITCH
All-Australian and cross-code star Jess Duffin is in the frame to join her third AFLW club over the coming weeks. Duffin, who turns 33 next month, has interest from Hawthorn and could depart North Melbourne to join the expansion Hawks. Duffin's sporting career has been extraordinary, playing for Australia across all three formats in cricket before launching a successful AFLW career for Collingwood and then the Roos, where she was an All-Australian defender in 2019.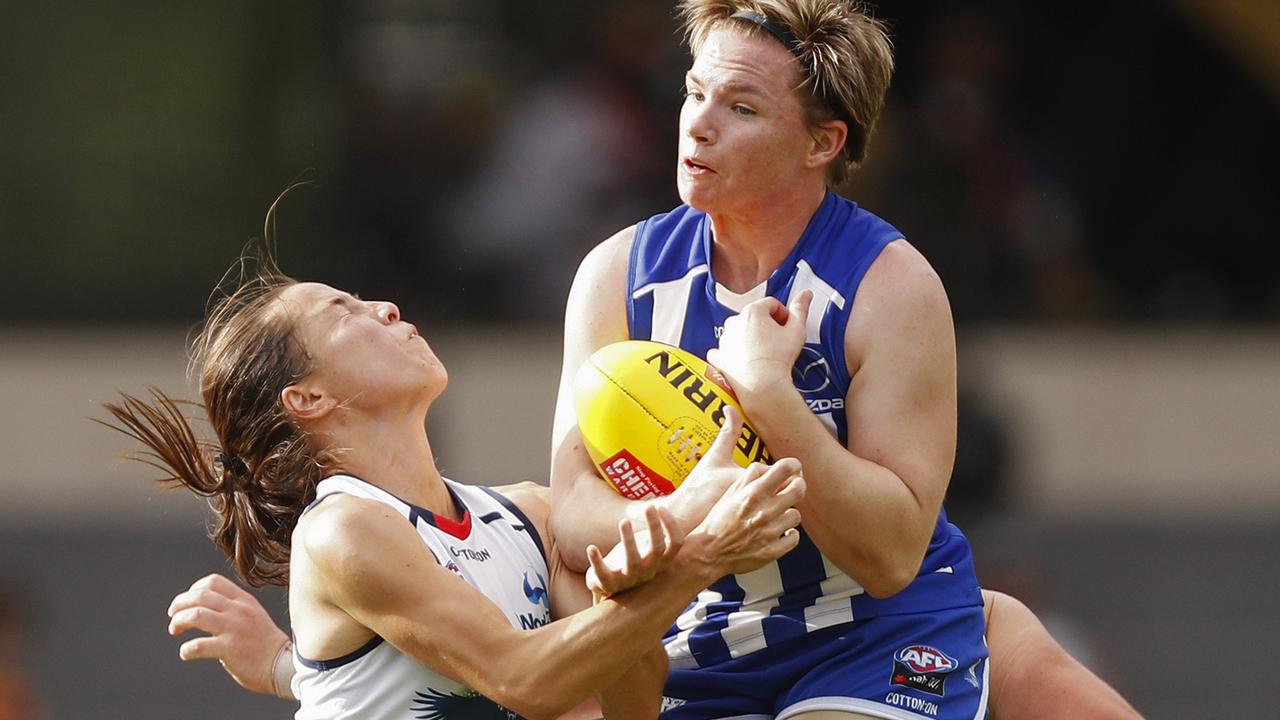 Jess Duffin is in the frame to join her third AFLW club.
Duffin has continued to play cricket for the Melbourne Renegades, winning player of the tournament accolades in the Women's Big Bash League, which briefly catapulted her back into national team calculations. Having taken the 2020 season off due to pregnancy, Duffin returned to the Kangaroos but fell out of favour towards the back half of the 2022 season.
While Hawthorn have kept a low profile by contrast to Essendon and Port Adelaide, the Hawks have been working hard in the background to build a squad, and are likely to secure Richmond defender Akec Makur Chuot. Hawthorn have thus far not announced any player moves from rival AFLW clubs, only naming state league players Dominique Carbone, Bridget Deed, Zoe Barbakos and Sophie Locke as confirmed signings.
Roos pair Daisy Bateman and Kaitlyn Ashmore could also be out the door.
ANOTHER CROW CROSSES TOWN
A third Adelaide premiership-winner will fly the Crows' coop, headed to Port Adelaide as the Power's raid on their cross-town rivals continues.
Three-time premiership winner Justine Mules has told Adelaide officials she intends to sign with Port when the AFLW's trade period opens, with that date yet to be announced by the AFL.
The 27-year-old winger joins former Crows teammates Erin Phillips and Angela Foley in signing with the expansion club, as the Power builds its list ahead of its inaugural season.
Mules, Phillips and Foley have each played for the Crows since the AFLW's inception in 2017 and have a combined 135 AFLW games and eight grand final medals between them (Phillips and Mules won the 2017, 2019 and 2022 grand finals, while Foley won in 2017 and 2019).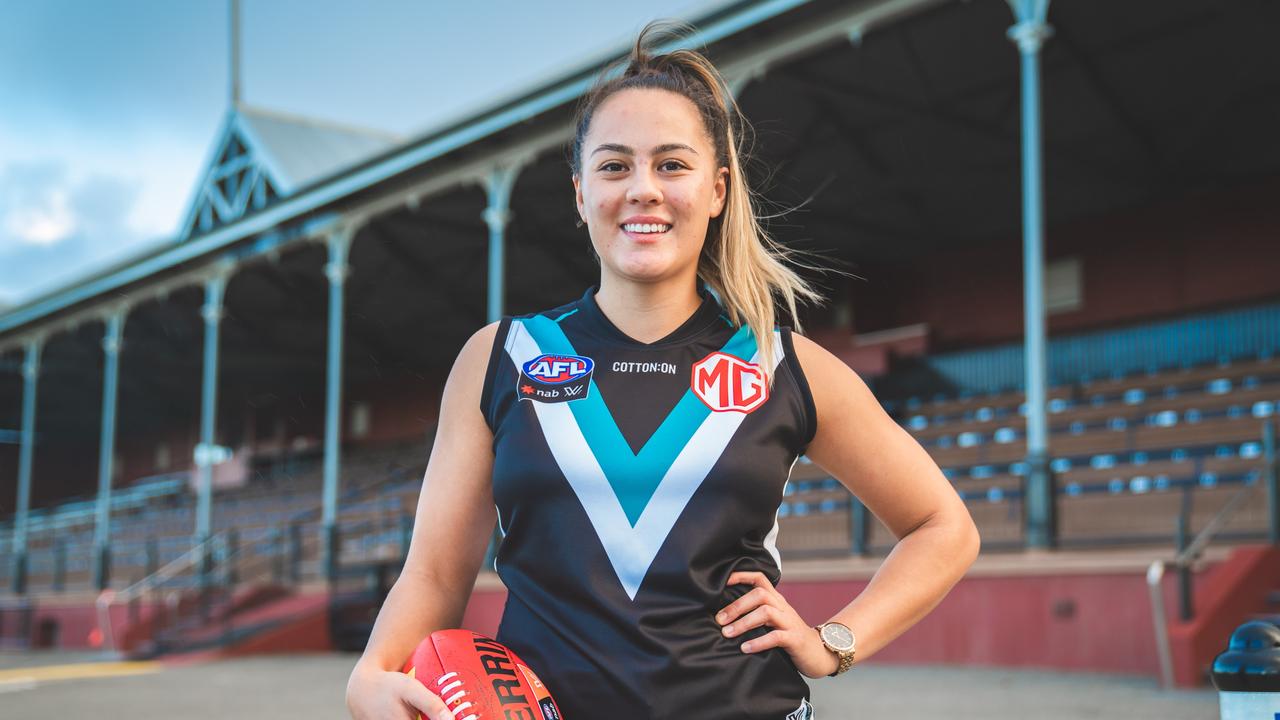 Justine Mules will join AFLW newcomer Port Adelaide.
Port has made no secret of its strategy to lure experienced footballers from across the league as support for the younger players who will fill the majority of spots on its inaugural list.
Under AFL expansion rules Port Adelaide can sign up to eight currently listed Crows players and 14 in total from across the competition.
When Mules plays her first game for Port, she will reach the significant milestone of 50 AFLW games (only three other Crows have so far reached that milestone, including All-Australian Ebony Marinoff).
Mules said after a successful career at West Lakes she wanted to chase greatness in the Power jumper.
"I'm absolutely ecstatic, just so ready to be on board and I'm really looking forward to supporting the younger players coming through over the next few months," she said.
"I came for a tour last week through the clubrooms, and to see the memorabilia and history on display here is just so exciting.
"For us girls to now be a part of that is just the next step toward chasing greatness for this club."
In 2020 Mules was named as Adelaide's "Defensive Player of the Year" and Power coach Lauren Arnell said her new recruit would bring a combination of youthful energy and seasoned maturity to Alberton.
"Justine is that Port Adelaide-moulded player, tough and tenacious at the contest, super competitive and has a bit of speed about her," Arnell said.
"I think what we are most excited about, outside of her on-field talent is her leadership ability, which is becoming a theme for us in the players that we've signed so far … (she) will be a wonderful asset to the team and a role model for our younger, less-experienced players."
Mules, who works for the Adelaide City Council away from football, said she was looking forward to playing alongside Phillips and Foley in their new colours.
"I've looked up to Erin and Ange while they were in the leadership group at the Crows," Mules said.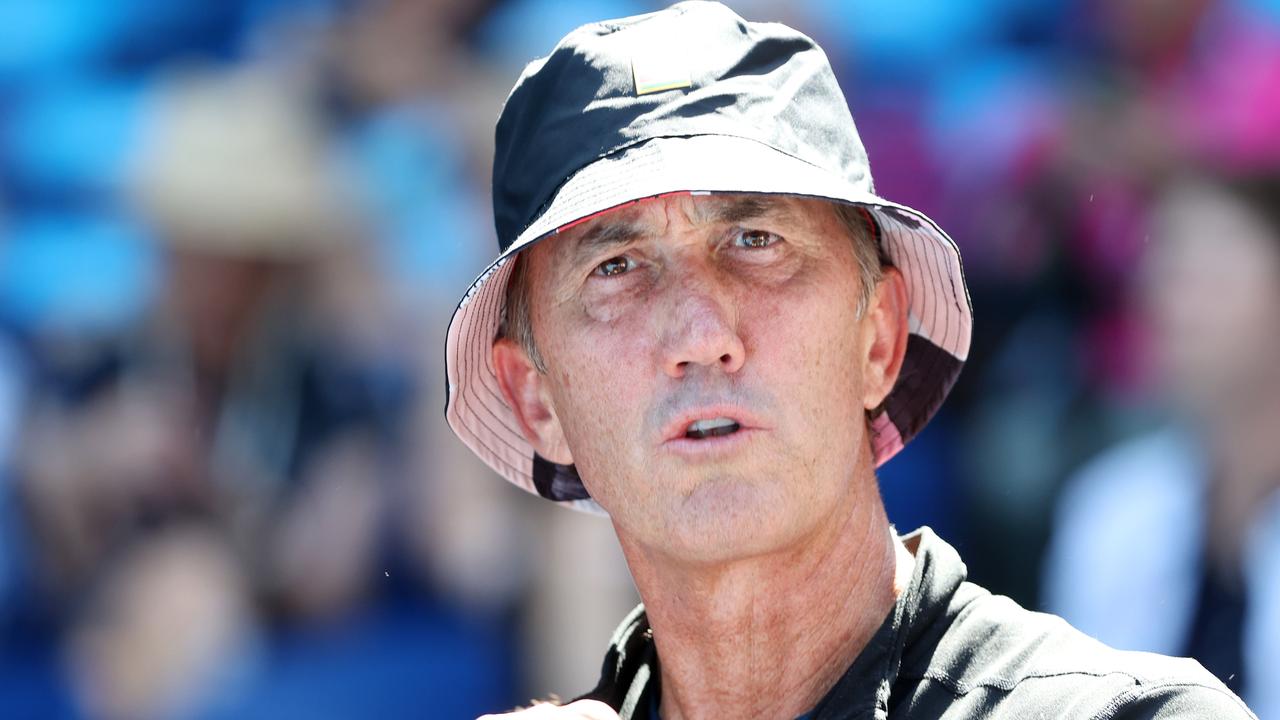 Renowned tennis coach Darren Cahill will help Port Adelaide's AFLW coaching team.
PORT TURNS TO COURT
An international tennis coach – with deep connections to Port Adelaide – has joined the club as a mentor to the AFLW coaching group.
Darren Cahill, who has coached a number of the world's leading tennis players including former World No. 1 players Simona Halep, Andre Agassi and Lleyton Hewitt, has been officially appointed Coach Mentor for the entire AFLW coaching group, which currently includes head coach Lauren Arnell and former Power vice-captain Hamish Hartlett, with more to be employed soon.
Cahill is the son of legendary player and coach Jack, who won 10 SANFL premierships with the Magpies.
Cahill's appointment is part of a broader coaching mentor program that has been established at Alberton, with Adelaide Thunderbirds netball head coach Tania Obst also joining as a coach mentor specifically for Arnell.
Head of Port's AFLW program, Juliet Haslam said: "We are really excited by the calibre of people we are bringing into our program around our head coach and look forward to adding to them in the coming weeks."
AROUND THE GROUNDS
The proposed August start date for the next AFL Women's season has prompted questions around ground usage.
As it stands, the season will begin on the bye weekend before the men's AFL finals — slated to be August 26-28.
It means the season could have the grand final landing on either the last weekend of November or first weekend of December, depending on scheduling and, of course, coronavirus playing ball.
Moneyball has spoken to several club figures who have wondered whether this season — given all of the challenges of expansion and bringing the season forward — might be the year to take another variable out of the mix and just lock in a grand final venue now.
The AFL has been set on a home decider for the top-ranked competitor, but with the T20 World Cup and West Indies then touring for a Test series, on top of plenty of other cricket commitments including the besieged Big Bash, securing a ground in the week of the game might prove anything but easy.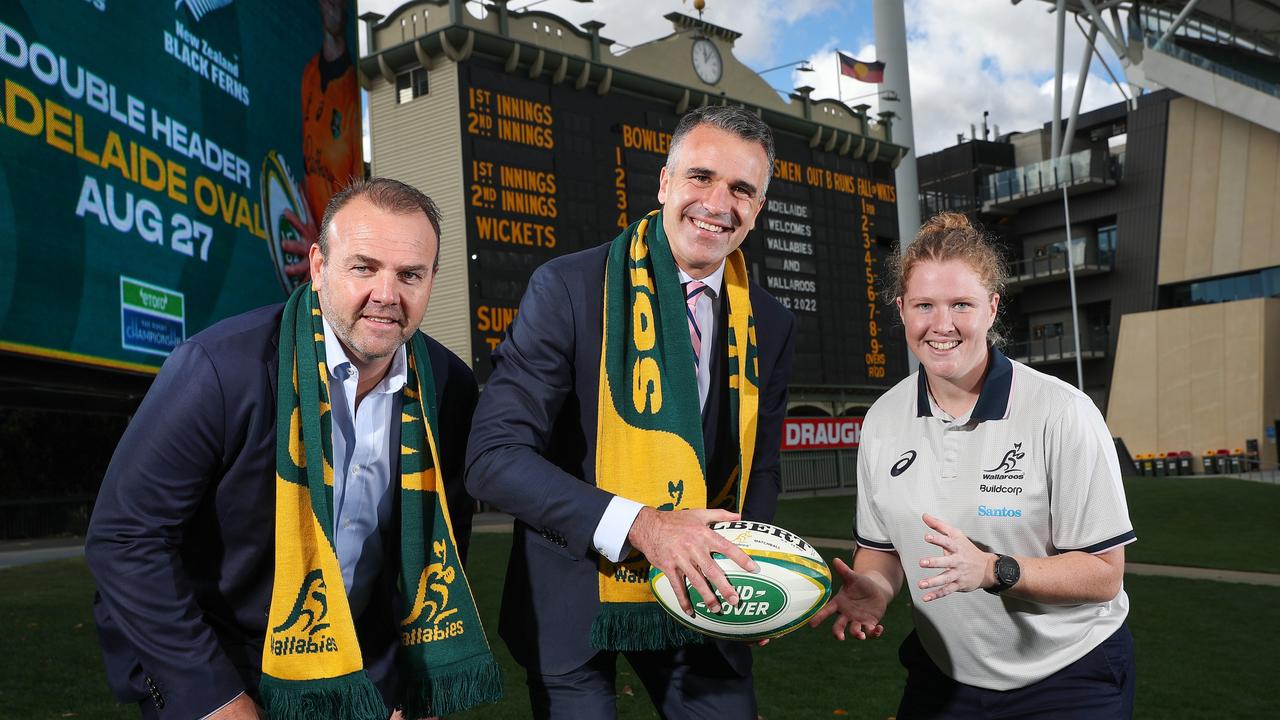 Rugby AU CEO Andy Marinos, South Australian Premier Peter Malinauskas and Classic Wallaroo Averyl Mitchell at Adelaide Oval.
Eagle-eyed SA footy fans also raised their eyebrows on Monday when Rugby Australia announced a double header of rugby Test matches would be played at Adelaide Oval on Saturday, August 27.
That's the date that has been pencilled in as the opening round of the AFLW's seventh season.
It means the dream Round 1 scenario of Port Adelaide playing its historic first AFLW game in an equally historic first women's Showdown at Adelaide Oval is now off the table.
With the AFLW's much-anticipated Showdown I capable of selling out Adelaide Oval, it's hard to imagine the game being played at a suburban ground: either Port's home ground of Alberton Oval, or the Crows' base — traditionally — Norwood Oval.
Of course, the AFL still needs to announce the season start-date, but it looks likely players, coaches, staff and fans alike will need to wait until early September and Round 2 to see women's footy pick up one of football's greatest rivalries at Adelaide Oval.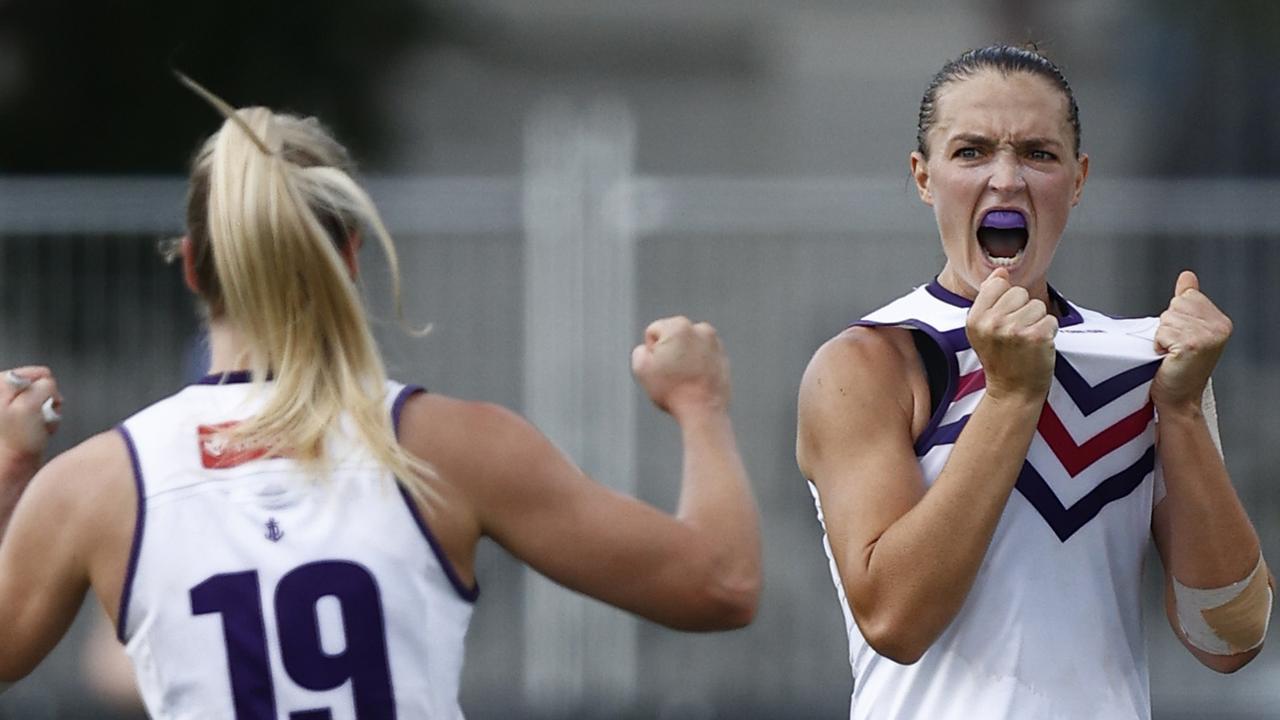 Ebony Antonio (right) could be kicking goals in different colours next season.
ANTONI-ON THE MOVE?
Fremantle veterans Ebony and Kara Antonio have put off recommitting with the Dockers amid interest from several expansion clubs on the east coast.
The trailblazing pair, the first married couple ever to play together in AFLW, have been mainstays across Fremantle's years in the competition, but are yet to tell the Dockers whether they will remain at the club for next season, due to begin in August.
Ebony spent the weekend in Victoria, speaking to at least one expansion club.
It is unclear whether the two 30-year-olds are seriously contemplating leaving the Dockers, but it is a space worth watching.
Former captain Kara, previously Donnellan, was an All-Australian in 2017 while Ebony made the team in 2018.
LIONS HAVE CLUBS LURKING
While the Brisbane Lions managed to secure the services of league best and fairest Emily Bates following major plays from both Sydney and Hawthorn, it hasn't stopped other clubs from continuing to vie for several other Lions.
Greta Bodey has interest from elsewhere, while intrigue surrounds tight-knit trio Natalie Grider, Orla O'Dwyer and Jade Ellenger, the first two of whom were both All-Australians this year.
The trio have all been courted by the Swans, and there is a widely-shared school of thought in AFLW circles that if one of that trio leaves, the other two could follow.
Another potentially complicating factor is that Grider's partner Connor McFadyen is on Brisbane's men's list.
And the future of retired Lions premiership captain Emma Zielke is also up in the air, with at least one club inquiring about the potential for her to make a comeback.
TWO IN '22?
It's been less than a month since the Crows won their third premiership, staking a clear claim as the best women's footy team in the early history of the AFLW.
But word on the street is that Adelaide's players haven't let grand final celebrations go on too long and they aren't done yet when it comes to premiership wins.
We hear a number of Crows are already back into their off-season fitness sessions away from the club in preparation for the impending pre-season, with many already pondering: Can the Crows go "2 in '22?"
ALL-STAR ON HER WAY
Gaelic All-Star and young gun Erika O'Shea is on her way to AFLW.
The 19-year-old will be the youngest Irish player to make the journey, landing in Australia before the end of May.
O'Shea — who starred for Cork this season — had reportedly received interest from North Melbourne and St Kilda, and said things had been sewn up with one AFLW club with an announcement to come next week.
"The idea of being able to play a professional sport at 19 and be the youngest girl to ever go over from Ireland, it really excited me and is something I want to give a go," O'Shea said this week.
"To get the offer, I was over the moon. It is going to be a big leap and it won't be easy, but it is something I felt I had to do because it was a dream of mine for so long.
"The club want me over in June as I haven't had anything to do with Aussie rules. They want me over as soon as possible for gym work, as well, because I am obviously a bit petite compared to some of the other girls."
O'Shea said her Cork boss Shane Ronayne had been worried about the other aspects of her life including her studies at the University of Limerick, which she intends to juggle.
"Erica will be a huge loss to Cork this season and will be missed by all involved," Ronayne said.
"But we wish her all the best on the sporting side of it, but we're concerned about the education side and the fact she is very young. We parked the football side of things to try help her get the right advice before she heads to Australia and the door is always open for her to return."
COLLECTIVELY WAITING
Collective bargaining agreement negotiations have rolled into another week.
The AFL and the players' association have gone back and forth with offers in recent weeks with the ball currently in the league's court for a response to the players' second proposal.
AFLPA boss Paul Marsh told the Herald Sun last week that it remained the association's highest priority to get a deal done to ensure clarity for players.
Clubs are holding fire on signing players until the full CBA details are known, with some players still in limbo as to their future.
All-Australian defender Meg McDonald said this week that the uncertainty was "a challenge".
"I feel like I'm in a privileged position to know that I'm playing next year and the club I'm playing for … for players more broadly, the uncertainty is unfortunately something we've come to be used to over the six years of the competition," she said on KRock.
"It's a challenge that we have continually accepted.
"The uncertainty impacts our work outside of football, but in terms of our motivation … that's been consistent.
"The (communications) have been good, but at the same time, there is a degree of uncertainty that's difficult for different players depending on their life circumstances."
DUFFY DOUBTFUL
Star Dockers forward Sabreena Duffy is considered unlikely to play this season after suffering a foot injury.
The two-time leading goalkicker was on the club's inactive list last season as she pursued her career, but the league's wish to bring next season forward to August looks likely to spell the end of Duffy's 2022 playing hopes.
Her recovery from foot surgery remains ongoing meaning the quicker turnaround might be a little too quick to be ready in time.
ONE NEST TO ANOTHER
West Coast's speedy midfielder Niamh Kelly is looking to fly the Eagles' nest and land in that of the Crows when the AFLW's sign and trade period opens.
Kelly, who joined West Coast as an international rookie from Ireland's Gaelic Football code for the 2020 season, has expressed an interest in signing with the reigning premiers after 22 games in the Eagles jumper.
The former captain of County Mayo's representative Gaelic football side, played nine out of a possible 10 games for the Eagles in 2022, averaging 10.3 touches, two marks and 1.7 inside-50s per game.
A Crows spokeswoman confirmed the club was aware the 26-year-old had expressed an interest in signing with Adelaide and that the club would work to strike a deal with West Coast once the AFLW's sign and trade period opens. The AFL is yet to announce the date.
Should she join Adelaide, she will become only the second Irish international to play for the Crows, alongside Aislish Considine who has now won two premiership medals with the club.
Originally published as AFLW 2022: All the latest trade, contract and fixture news