AFLW Moneyball: All the trade and player news as next season looms large
Port Adelaide has secured a double recruit, with the twin nieces of a Power goalsneak joining its inaugural team. Meanwhile, Sarah Perkins is on the move again.
Teenage twins with a deep family connection to Port Adelaide have become the latest in a string of footballers to join the Power's inaugural women's team.
Talented 19-year-old Queenslanders, Laquoiya and Litonya Cockatoo-Motlap – nieces of former Power forward Che Cockatoo-Collins – will officially sign on as Port players when the AFLW's sign and trade period opens in the coming weeks.
Born in Cairns and now based on the Gold Coast, the twins were introduced to football aged 14 through school programs and went on to play for Queensland in the state's under-18 representative side, with the pair having been been involved with the Gold Coast Sun's AFLW Academy.
While Litonya is a defender across halfback, Laquoiya plays in the forward pocket like her uncle, Che, who kicked 106 goals from 75 games in the Power jumper from 1999-2003.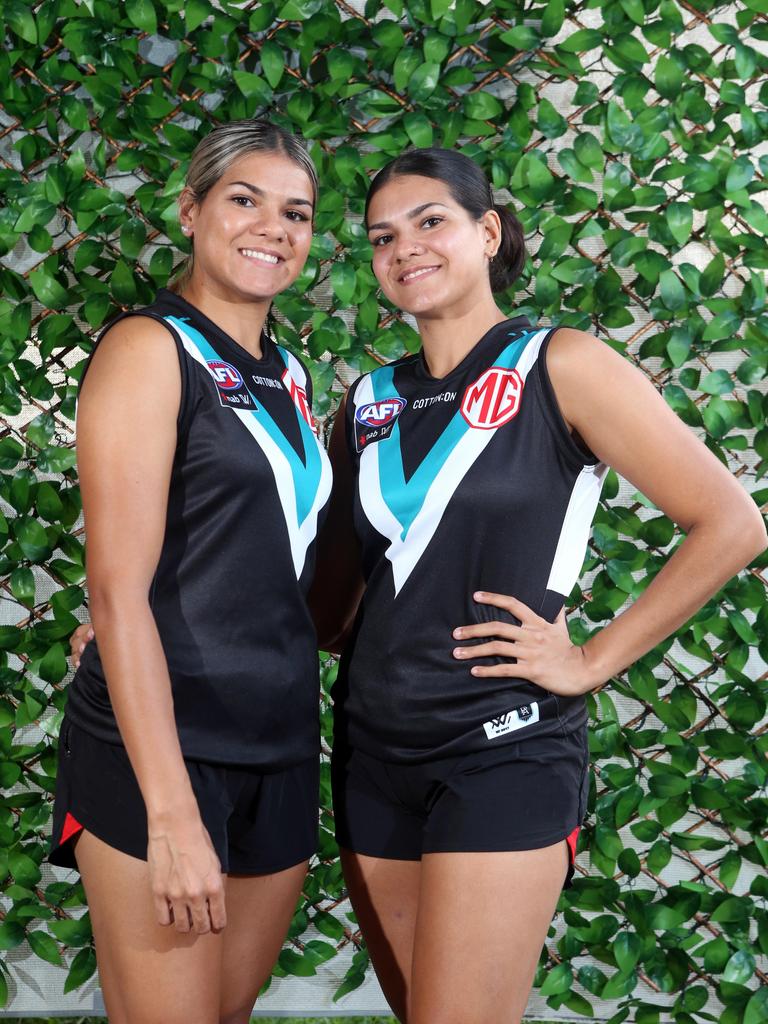 Port Adelaide's latest AFLW signings are the nieces of former Power forward Che Cockatoo-Collins, twins Laquoiya (right) and Litonya Cockatoo-Motlap. Picture: Richard Gosling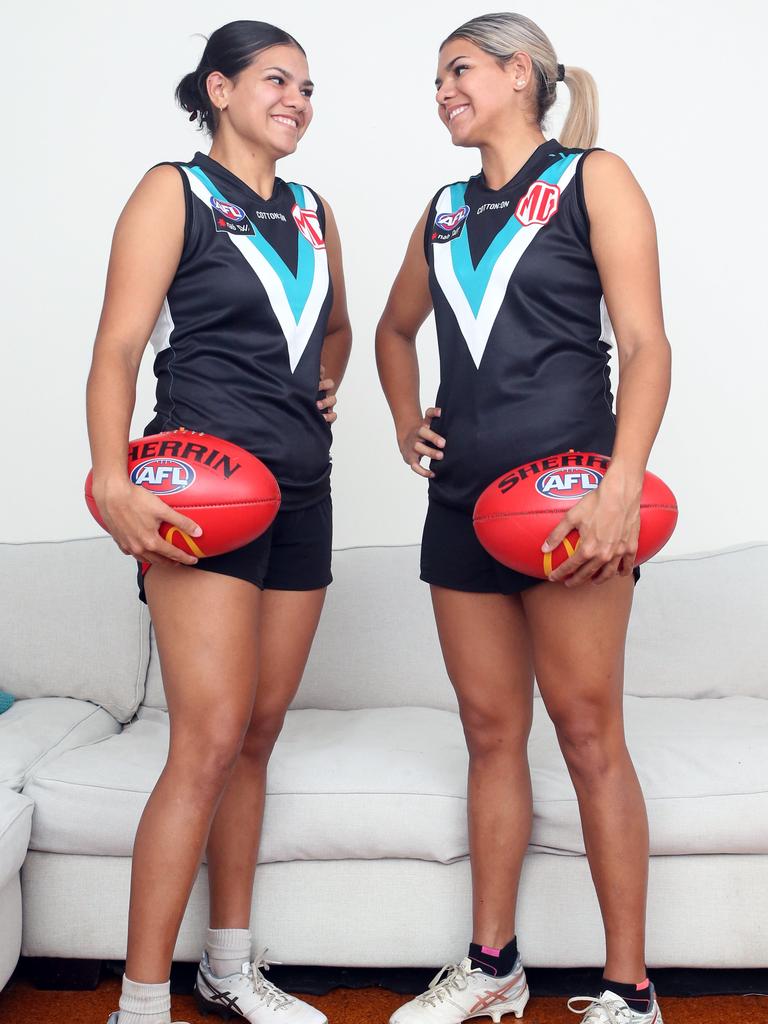 Picture: Richard Gosling
The Cockatoo-Motlap connection to Port Adelaide is not only through their Uncle Che, but all their uncles on their mother's side.
Laquoiya said: "All my mother's brothers – Uncle Che, Uncle David and Uncle Donald all played for Port Adelaide in the SANFL, and Uncle Jason Cockatoo.
"We have a strong family history with the club and for my sister and I, it just made sense to continue our family's legacy … our uncles are like father figures to us."
Uncle David and Uncle Donald, like their nieces, are twins and both went on to play a handful of games for Melbourne in the AFL after stints with the Magpies in the SANFL.
Uncle Che also played 85 games for Essendon from 1994-1998.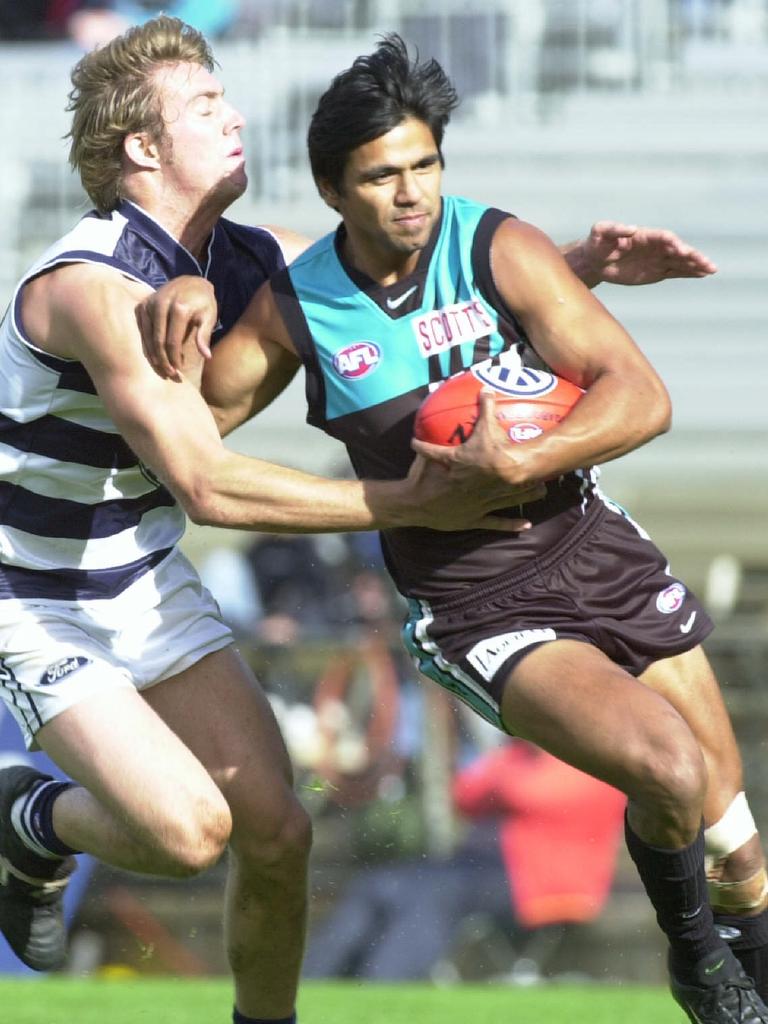 Che Cockatoo-Collins in action for the Power in 2022. Picture: Advertiser Files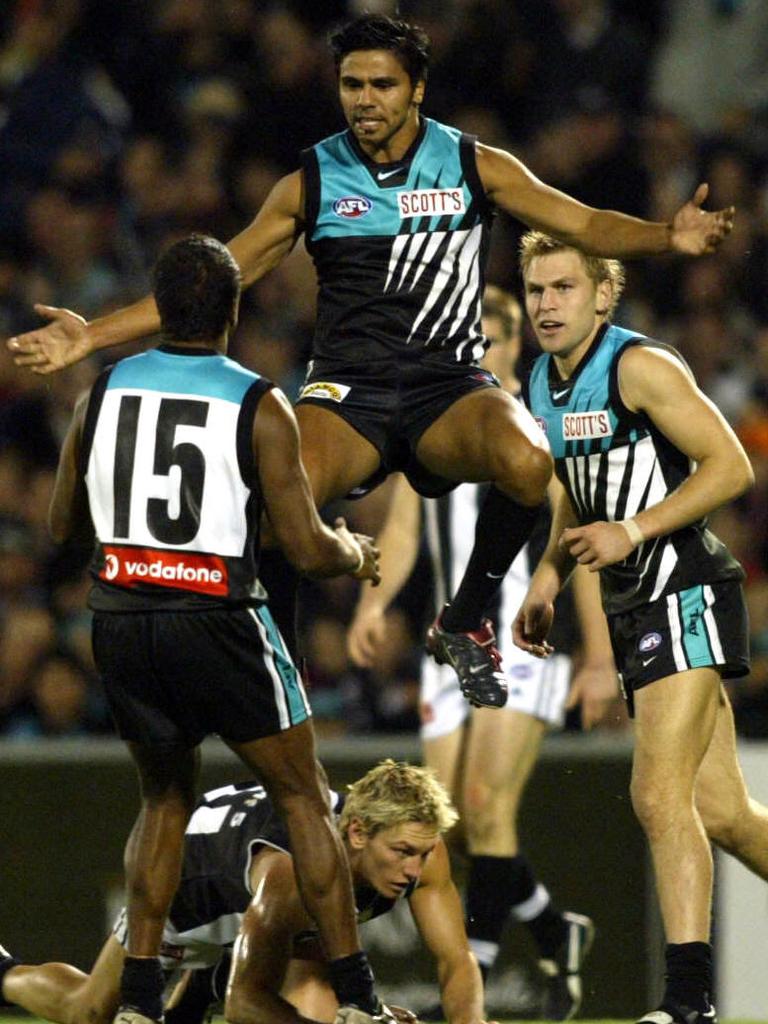 Cockatoo-Collins celebrates a goal with teammates in 2003. Picture: Advertiser Files
Litonya said for her and her sister to be the first girls in their family to head to Alberton was something they were exceptionally proud of.
"Family is really important to us and I think it's really special now that my sister and I are the first girls in our family to get picked for Port Adelaide," Litonya said.
"My twin uncles got drafted together so we're lucky that we both got picked up together as well.
"We're actually still pinching ourselves."
The footballers are proud Aboriginal women, with Yupungatti, Gangalidda and Kuku-Yalanji mobs on their mother's side and Mbarbarum/Ngadjon on their father's.
Laquoiya said the sisters were excited to join Port Adelaide, in part, because of the club's Indigenous programs.
"I've heard that Port has a strong Indigenous program, and it makes me feel excited and happy that our club will have an understanding of the importance of culture," she said.
"For me, being connected to the community is important.
"We've always taken part in our community through our parents and the work they do and to be a part of a club that acknowledges the contribution of our people is amazing.
"We're both proud to be a part of this club."
The duo take the number of players who have committed to Port's historic first women's team to seven, alongside experienced stars including Erin Phillips (Crows), Angela Foley (Crows) and Gemma Houghton (Fremantle).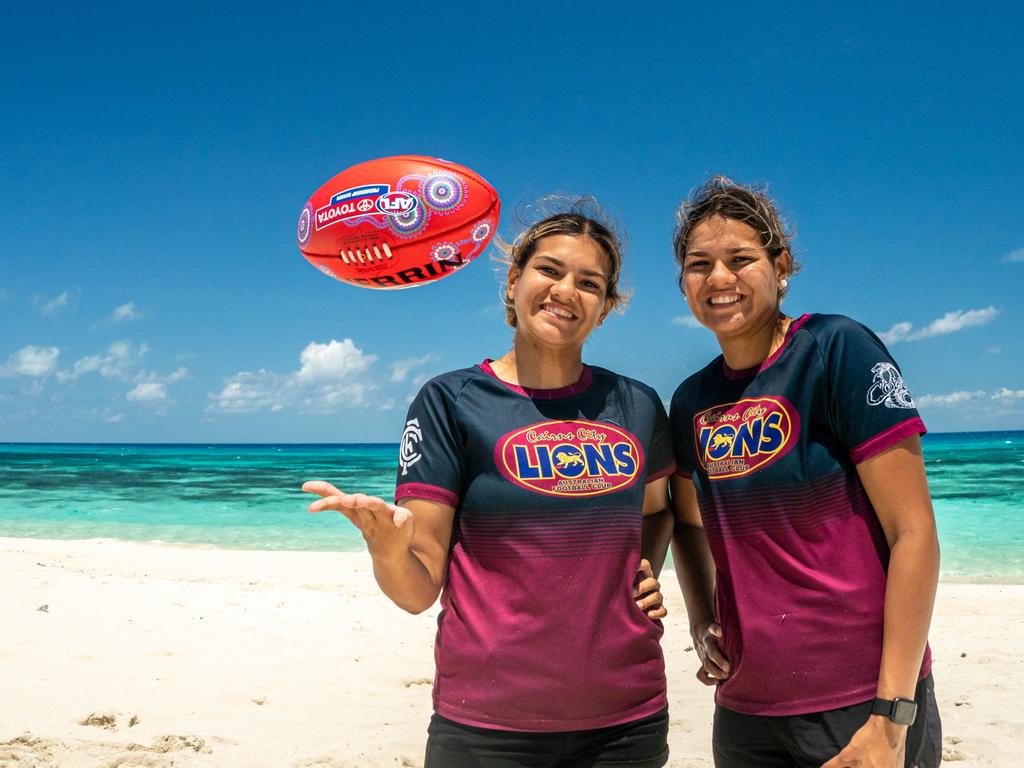 Laquoiya and Litonya Cockatoo-Motlap pictured in 2020 when they were playing for the Cairns City Lions. Picture: Supplied
More players are expected to be announced this week as Port builds its squad of 30.
Power head coach Lauren Arnell said both players had accomplished kicks and were balanced offensively.
"When the ball turns over, they've got great ability to get the ball back, plus they're fierce with their tackling, which we love here at Port Adelaide," she said.
"Litonya is more of a halfback who offers good pressure defensively, while Laquoiya is a creative forward.
"While right now they're both at different ends of the ground, they offer similar traits so we're really looking forward to them bringing a lot to our club."
Port's head of AFLW Juliet Haslam said it was an honour to bring two more footballers into the program whose connections ran so deep to the club's history.
"We value care and connection at Port Adelaide, and we can already see those qualities in Laquoiya and Litonya," she said.
AFLW favourite joins new club
— Daniel Cherny and Lauren Wood
St Kilda is set to land one of the biggest fish in the club's AFLW history with Greater Western Sydney ruck Erin McKinnon requesting a trade to the Saints.
Moneyball understands McKinnon, an All-Australian ruck in 2018, will seek a move to Moorabbin.
Her likely move will ease the pain of gun midfielder Tilly Lucas-Rodd's departure to Hawthorn.
The Saints are also poised to gain Grace Kelly from West Coast.
GWS has lost Bec Privitelli to Sydney, while Ally Morphett has also sought a move to the Swans.
Earlier, Hawthorn confirmed a quartet of AFLW signings from existing women's clubs.
After interest was revealed by the Herald Sun last week, cross-coder Jess Duffin will move from North Melbourne to Hawthorn for its inaugural AFLW season.
Sarah Perkins has joined Hawthorn.
Star Saints defender Tilly Lucas-Rodd has also signed as a Hawk, alongside former Tiger Akec Makur Chuot and ex-Sun Janet Baird.
The Hawks have also landed Gold Coast forward Sarah Perkins in another coup for the club ahead of their debut season.
Perkins kicked nine goals in 15 games for the Suns in her two seasons up North.
Hawthorn will be the one-time All Australian's fourth club after stints with Melbourne and Adelaide where she won the 2017 premiership with the Crows.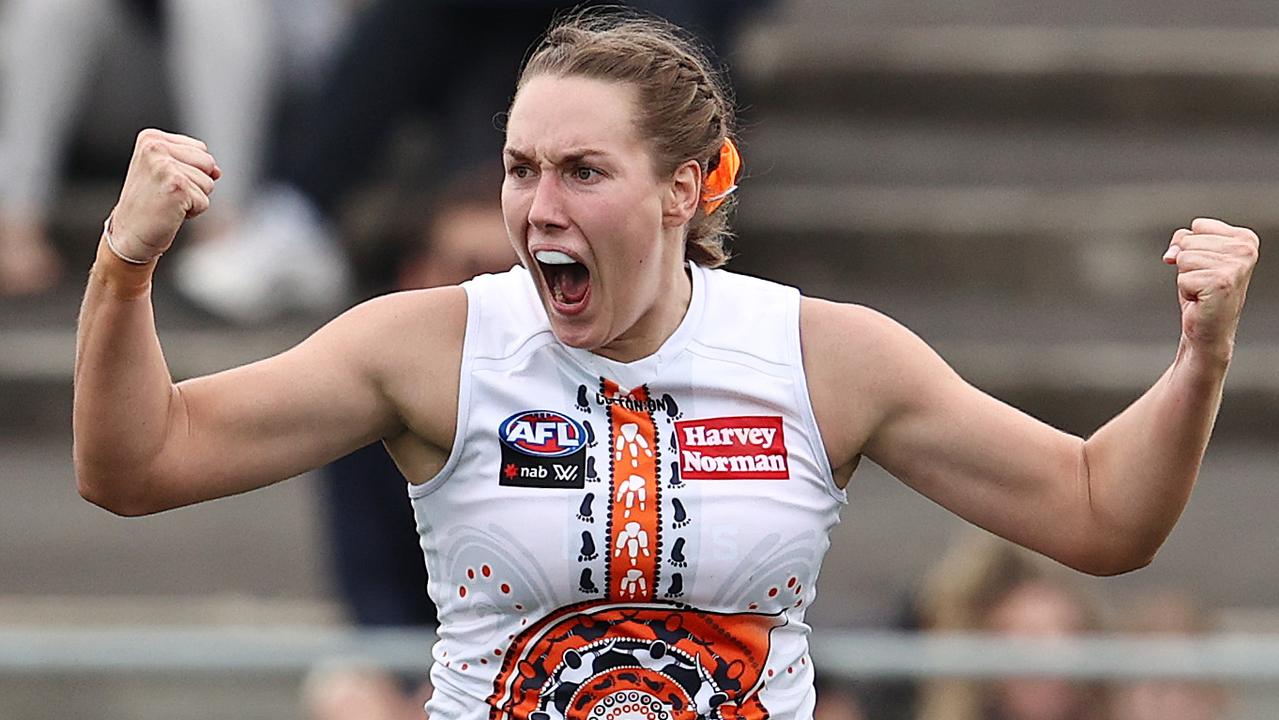 Erin McKinnon has requested a trade to St Kilda. Picture: Michael Klein
Hawks general manager of AFLW Josh Vanderloo said the four players were key to shaping the inaugural list.
"We're really excited to announce this group of talented players with AFLW experience, all of whom have strong leadership credentials," he said.
"With a mix of AFLW, VFLW and NAB League Girls experience in our side, we are well prepared to enter the competition and start an exciting new journey with our fans and the wider Hawthorn community."
The news comes after Tegan Cunningham was given a second AFLW shot, with her signing announced last week.
And there's more to come.
"Our program is not only focused on recruiting great football players and staff but also great people, and our fans will continue to see that shine through as we announce further signings over the coming days and weeks," Vanderloo said.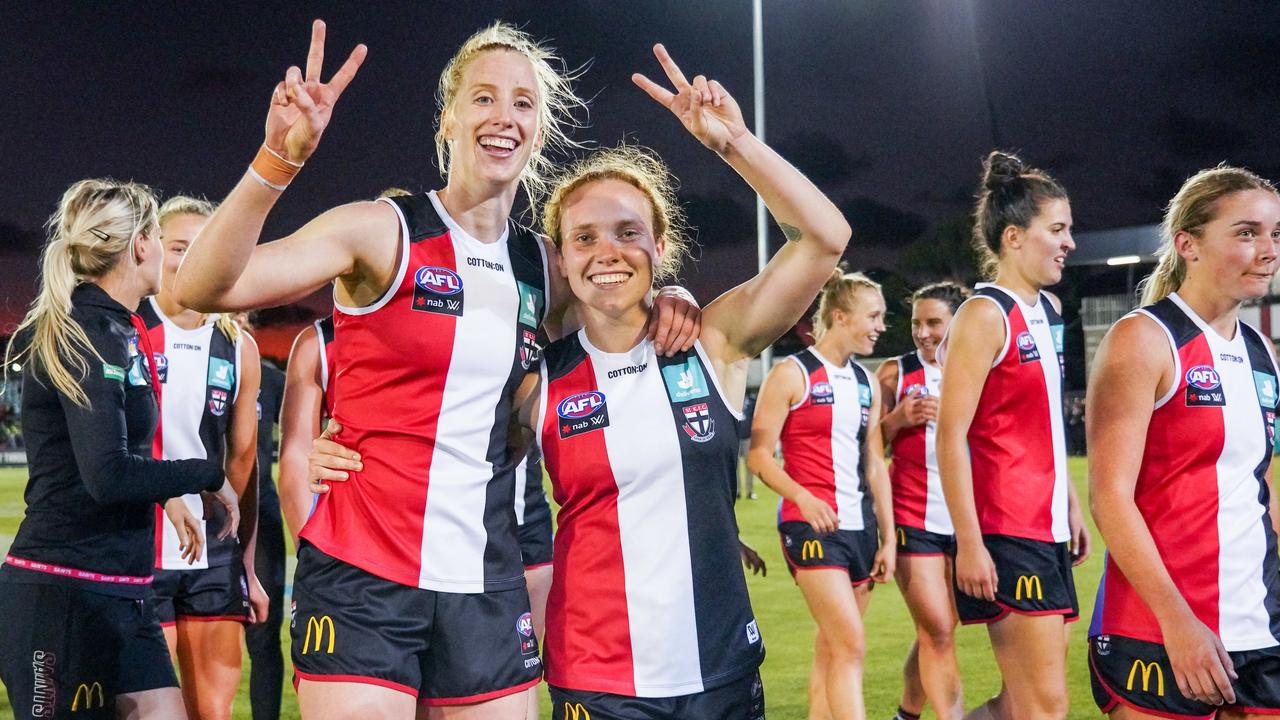 Tilly Lucas-Rodd (right) with former teammate Kate Shierlaw after a Saints win.
PIES DUO TO DEPART
The AFLW trade merry-go-round continues with Collingwood pair Ebony O'Dea and Bella Smith to explore their opportunities elsewhere. O'Dea is set to return to her home state of South Australia while Smith will join expansion side Sydney. Collingwood Head of Women's Football Jess Burger said the club respected both players' decision as the league expansion continues to shake up the player movement market.
"Now that the competition enters its final stage with the introduction of all AFL teams into the AFLW competition, many players that have previously relocated to play at the elite level will seek a return home," Burger said.
Former rowing gun Imogen Purcell has also been let go by the Pies.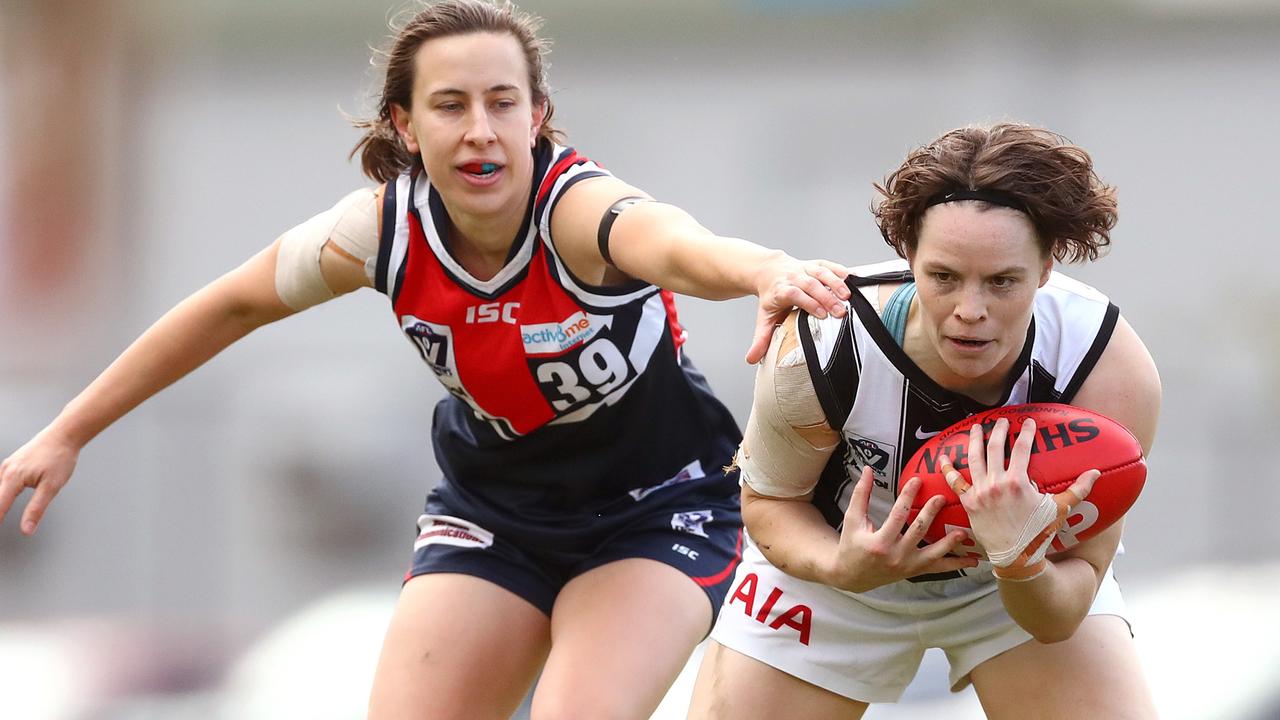 Ebony O'Dea is on the move from Collingwood.
CLUBS IN DARK, OFFICIAL AFLW PLANS UP IN AIR
Clubs remain in the dark but are working towards a loose mid-June timeline for the AFL Women's pre-season to begin as official plans remain up in the air.
Collective bargaining agreement negotiations remain ongoing between the league and the players, much to the stress of players who are desperate for certainty.
The silence from headquarters has been deafening for some players, who have hit out amid growing disquiet regarding the lack of clarity.
The league received the players' latest position last week with the ball now firmly in the AFL's court for a response.
The AFL commission — which gave provisional approval to an August start for next season in March — meets on Tuesday where the looming sixth season of the competition is sure to be discussed.
Most players have already begun their own training programs in a bid to be ready to hit the ground running should the August season start get the green light, with clubs putting early plans in place to begin their full program in mid-June.
It has also put a halt to current players being re-signed as clubs await their total list capacity and player payment allowance.
It has been suggested that as soon as the CBA is ticked off, the sign and trade period could begin within a matter of 48 hours and the draft to follow swiftly.
It's a difficult prospect for part-time players who may be forced to shift interstate, find employment or secure leave arrangements with employers at short notice, prompting the call from Collingwood forward Sabrina Frederick this week that the state of play is "absolutely mental".
It is understood that in recent weeks the league had not been particularly keen on increasing the amount of games in coming seasons, as the players eye turning fully professional by 2026 and with a full 17-game home and away fixture along a similar timeline.
Things are hotting up.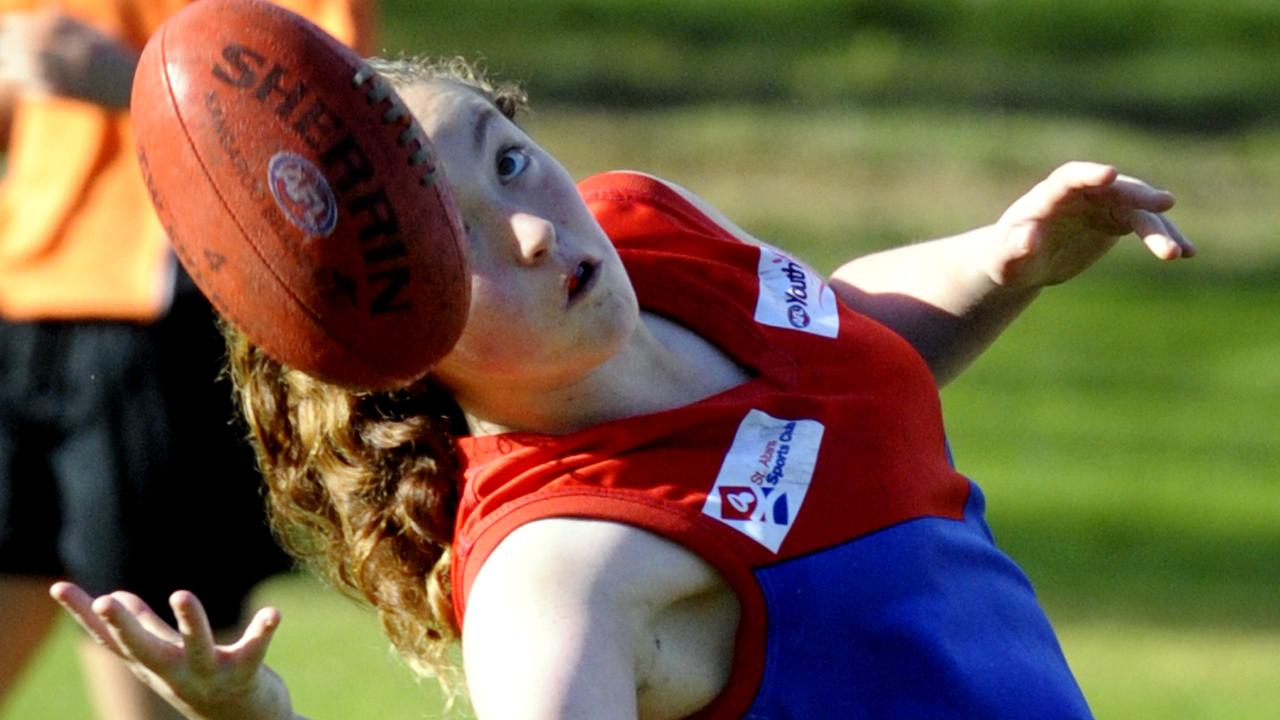 Emily Smith playing junior football for St Albans.
MAGPIE SWITCH HIT
With expansion clubs picking off players around the league, existing sides are needing to get creative in their recruiting.
One such example is Collingwood, who is expected to land cricketer Emily Smith as a rookie. Smith, 27, is a wicketkeeper who played most recently for Sydney Thunder and Tasmania's women's team.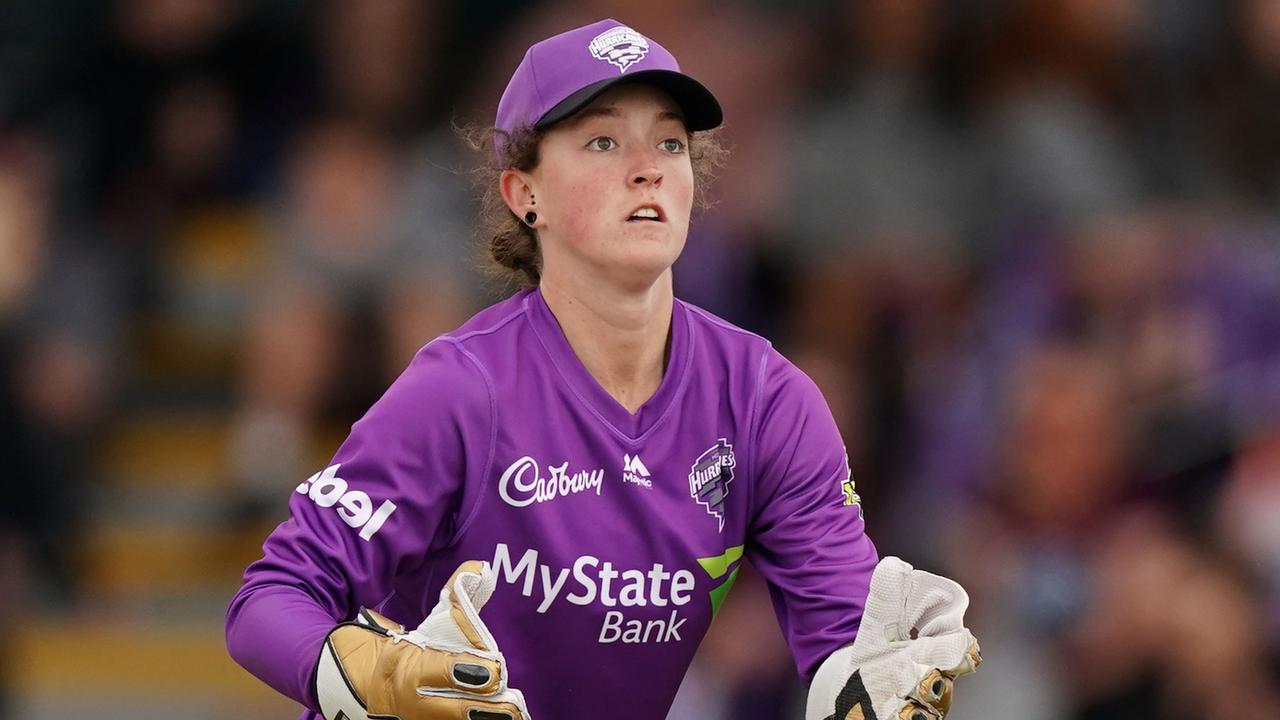 Emily Smith the cricketer looks likely to become Emily Smith the Collingwood rookie. Picture: AAP
In 2019 she made headlines after being banned for sharing team information via Instagram as part of an attempted joke.
But Smith was also a very handy footballer when she was younger, playing for St Albans and the St Kilda Sharks.
Cricket Tasmania announced its female contract list early this week, with Smith coming out of the squad after missing selection for the Tigers' side that beat South Australia in March's Women's National Cricket League final. The Magpies will lose Sophie Alexander to Essendon.
DEE-PARTING DOWN THE HIGHWAY
Agonisingly close to a breakthrough premiership last month, Melbourne has been reasonably untouched by expansion, thus far holding most of their experienced core together, most notably captain Daisy Pearce, who is playing on for at least another season.
But the Dees won't be completely spared.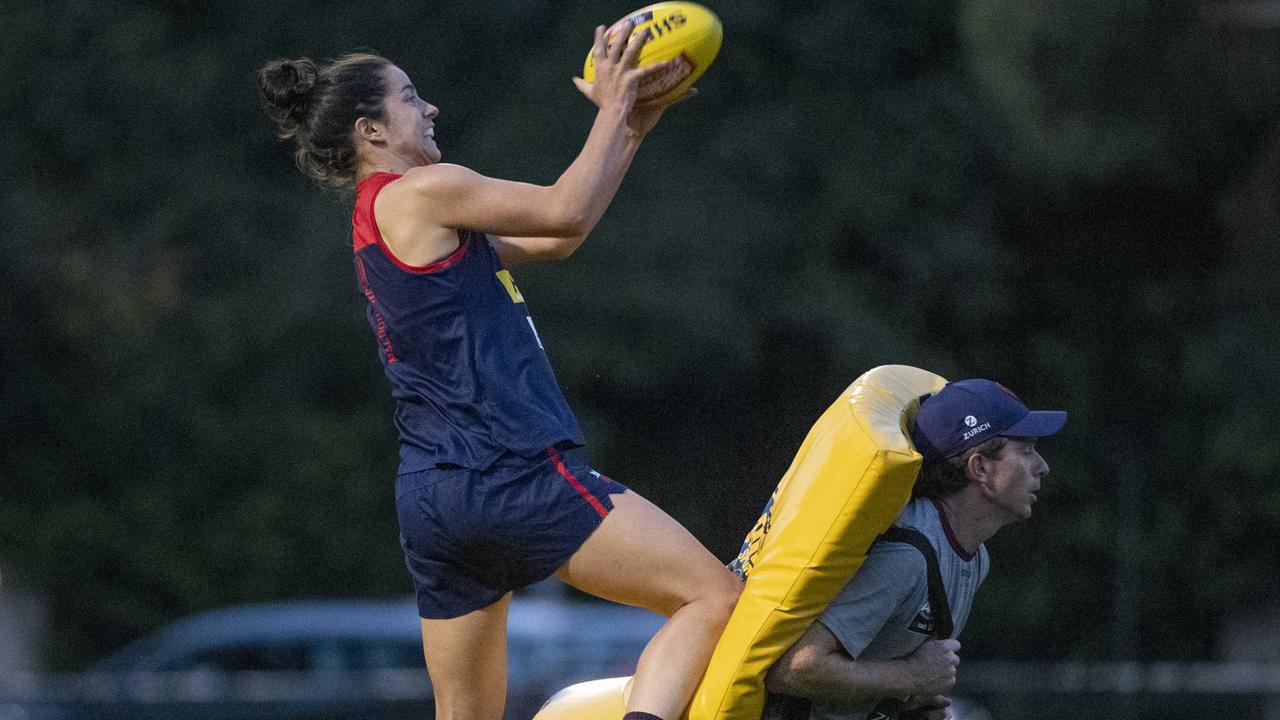 Jacqueline Parry might be on the move from Demons to Cats. Picture: Jake Nowakowski.
Forward Jackie Parry, who played eight home and away matches this year for Melbourne and was an emergency for the grand final, is set to move, with Geelong her preferred destination. The Demons have also lost versatile youngster Brenna Tarrant, who is heading to Sydney. Tarrant, originally from NSW, played in Melbourne's first three matches of the season.
LIONS LINGERING
Brisbane's All-Australian defender Natalie Grider has turned down interest from the Swans to remain at the Lions, following league best and fairest Emily Bates in recommitting. Premiership player Jade Ellenger is also staying after interest from Sydney.
And while there had been speculation that premiership captain Emma Zielke could come out of retirement to play for another AFLW club, it's understood that Zielke, an assistant coach in 2022, will stay at Brisbane in an off-field role.
The future of Irish dasher Orla O'Dwyer, however, is still up in the air. All-Australian O'Dwyer — who has travelled back to Ireland — has a host of suitors around the league.
Teenager Indy Tahau is also understood to be weighing up her future amid interest from Port Adelaide.
ALL IN ON W
Key Irish players have made it official that they'll be opting out of their home country's top football competition in favour of AFL Women's.
Despite the uncertainty surrounding the next season, the Irish inter-county team rosters have been submitted with Mayo stars Sarah Rowe, Niamh and Grace Kelly and Aileen Gilroy all notable omissions having had the best of both worlds in previous years.
Aileen Gilroy is among the Irish Gaelic football stars who have withdrawn from their local code to focus on the upcoming AFLW season Picture: AAP
Gilroy told the Herald Sun earlier this year that players were going to face a difficult choice amid clashes between the premier Gaelic competition and AFLW, and it's evident early which is winning out.
Star Gaelic players Erika O'Shea and Vikki Wall are destined for North Melbourne, much to the dismay of their local coaches.
Originally published as AFLW Moneyball: All the trade and player news as next season looms large