Alastair Clarkson 2022: Eight clubs have made inquiries about coaching future of Hawthorn's four-time premiership coach
Alastair Clarkson has set his mind on coaching at AFL level again next year. And he will be mulling over a host of clubs in markedly different positions.
Hawthorn four-time premiership coach Alastair Clarkson has been sounded out by up to eight AFL clubs as he considers his options in what is a certain return to the AFL next year.
Clarkson on Wednesday returned from a fact-finding and educational trip in the US that included him being embedded with NBA side Golden State alongside coach and friend Steve Kerr.
Clarkson has set his mind on coaching at AFL level again next year after his gap year working for the Tasmanian AFL taskforce and upskilling himself through a series of overseas trips.
Stream every match of every round of the 2022 Toyota AFL Premiership Season Live & Ad-Break Free In-Play on Kayo. New to Kayo? Try 14-Days Free Now >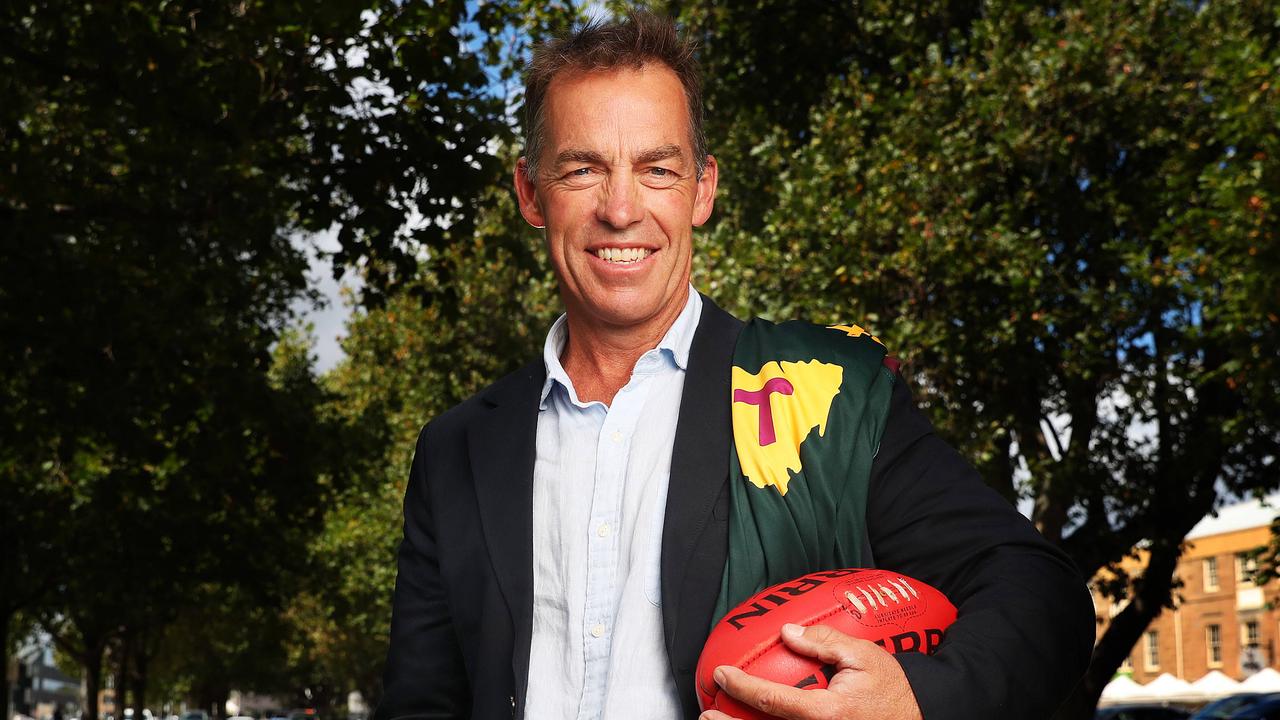 Former Hawthorn premiership coach Alastair Clarkson in Tasmania as part of the taskforce to get the state an AFL team. Picture: Nikki Davis-Jones
But the Herald Sun can reveal up to eight AFL clubs have already made contact this year to assess his availability.
Clarkson's decision on where to coach next year will come down to whether he wants a fifth flag, is intent on a legacy item or is only after the biggest pay cheque.
The legacy items would come with winning a flag for Greater Western Sydney or taking Gold Coast into their inaugural AFL finals series.
Clarkson is expected to wait until July or August as clubs consider the future of incumbent coaches.
Then he will likely meet with as many as three clubs that would seem to be an ideal fit to assess whether coach and club would make a perfect marriage.
While those clubs have not been revealed, it would be negligent if Gold Coast, GWS, Essendon, North Melbourne, Port Adelaide and St Kilda had not at least made informal inquiries.
Some clubs such as GWS and Gold Coast must be seen as red-hot contenders while others might have inquired before they recontract their own coaches to assess their chances of securing him.
GWS must be seen as a clear contender to secure his services given Clarkson is happy to move interstate with his children having finished school in 2023, with one of his daughters living in Queensland.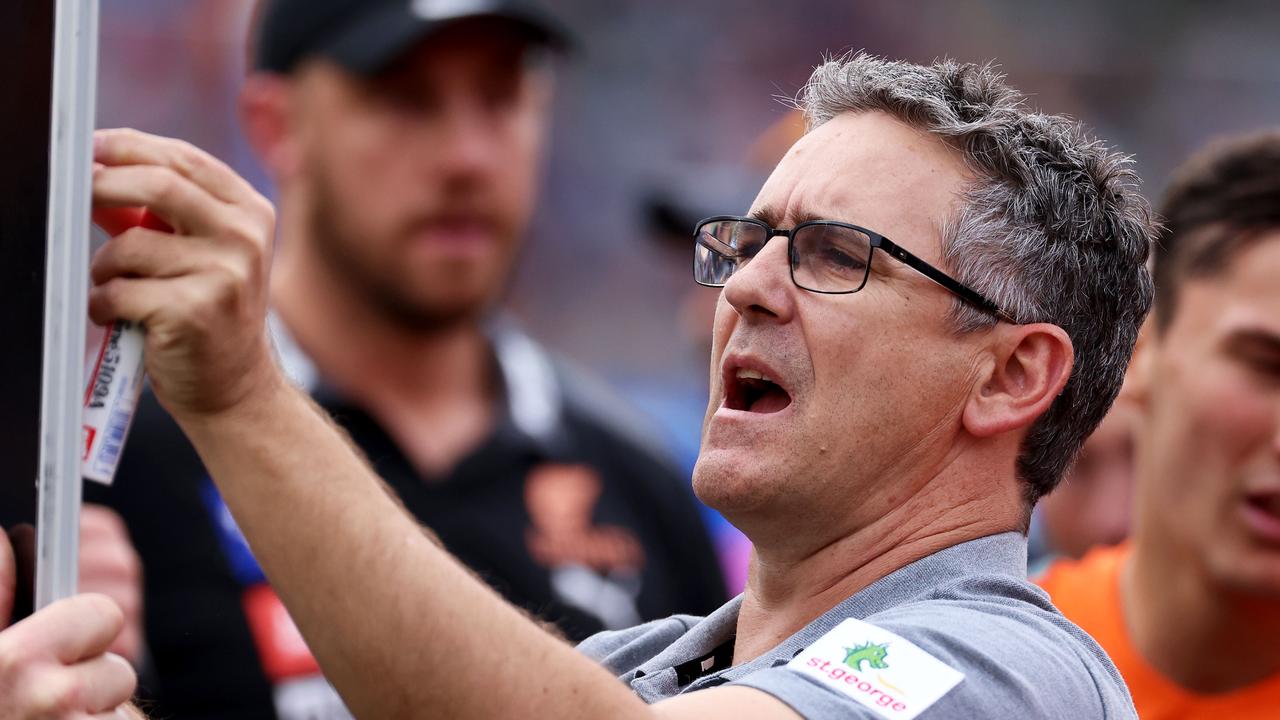 Leon Cameron's coaching career at Greater Western Sydney is under the microscope.
And given Leon Cameron's tenure looks likely to end this season the star-studded midfield and array of elite young talent including Tom Green, Finn Callaghan, Sam Taylor, Connor Idun, Lachie Ash, Tanner Bruhn, Conor Stone and Ian "Bobby" Hill would be putty in master coach Clarkson's hands.
But the AFL would see Clarkson as a perfect fit for a Suns team that has consistently underperformed in its decade-long tenure.
Gold Coast clearly would provide the blank cheque given he would be handed a salary under the AFL's soft cap but also could secure an AFL ambassadorship as the face of football in Queensland.
All other clubs would be offering a fairly similar salary under the AFL's $6.5 million soft cap, presumably around $1 million per season.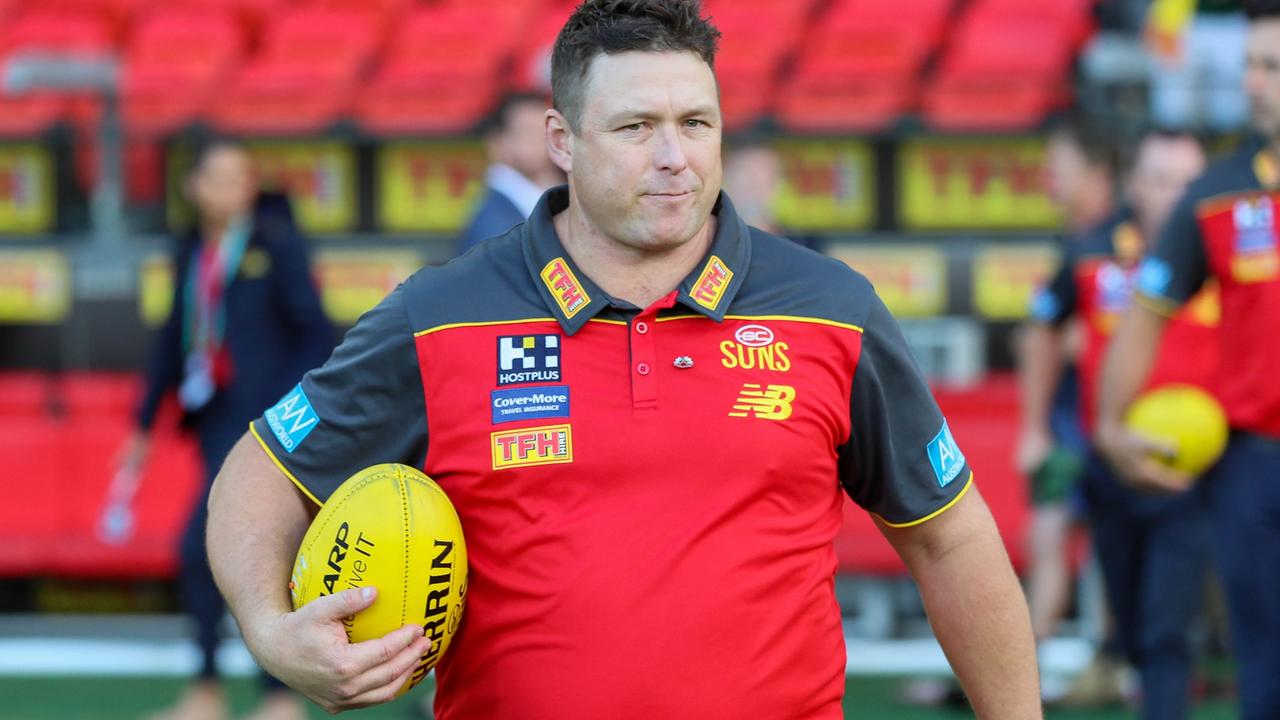 Stuart Dew is still a long way off from steering Gold Coast into a finals series.
Coaches out of contract this year are St Kilda's Brett Ratten, Dew, Cameron and Chris Scott.
Scott is close to a new deal, with Scott becoming sensitive in recent weeks to repeated inquiries about his deal after a handshake agreement he would coach on.
Delaying any contact with clubs until late in the season will keep his options open but also allow clubs like Gold Coast to make calls on Stuart Dew before he engages with them.
Clarkson remains close with Dew, luring him to the club to win the 2008 premiership, and would be desperate to avoid being seen as positioning himself for his job or putting pressure on the fifth-year coach.
Clarkson is being paid $900,000 by Hawthorn this year as part of their settlement after the Hawks agreed to let him exit a succession plan with Sam Mitchell that seemed doomed from the start.
The Hawks have moved on under Mitchell's strong leadership and are paying little football department tax on a figure they have split in $450,000 instalments over two seasons.
AFL chief executive Gillon McLachlan raised a proposal this year to clubs that could see part of the senior coach's salary exempt from the cap as a way to help clubs critical of the $6.5 million soft cap.
That is likely to rise by as much as $500,000 this year but there are heavy taxes applied for clubs which go over the limit.
Clubs that spend more than $500,000 over the soft cap are taxed 200 per cent per dollar in the first year.
In the second year that tax is 300 per cent and the third year it is 400 per cent.
Even clubs going over the limit by $250,000-$50,000 are taxed at 150 per cent in the first year, 225 per cent in the second year and 300 per cent in the third year.
So clubs attempting to break the bank to secure Clarkson — as Melbourne did paying Paul Roos $1.5-$2 million per year — would have to pay ridiculous taxes that their boards would never approve.
Originally published as Alastair Clarkson 2022: Eight clubs have made inquiries about coaching future of Hawthorn's four-time premiership coach