A-League Women's grand final: Melbourne Victory go back-to-back with 2-0 win over Sydney FC
Sick all week and feeling light headed at halftime, Melbourne Victory goalkeeper Casey Dumont has delivered a performance for the ages in the A-League Women's grand final.
Who would've thought the sequel would have been more dramatic than the original.
Just like last season, Melbourne Victory went the long way to the Grand Final, travelled to the Harbour City as underdogs and knocked off the premiers, Sydney FC in the decider — but this time, it was to secure back-to-back A-League Women's championships.
On this occasion, however, it wasn't an 'Olympico' in the final-minute of extra-time to secure silverware, with the result decided in a frantic, end-to-end second-half.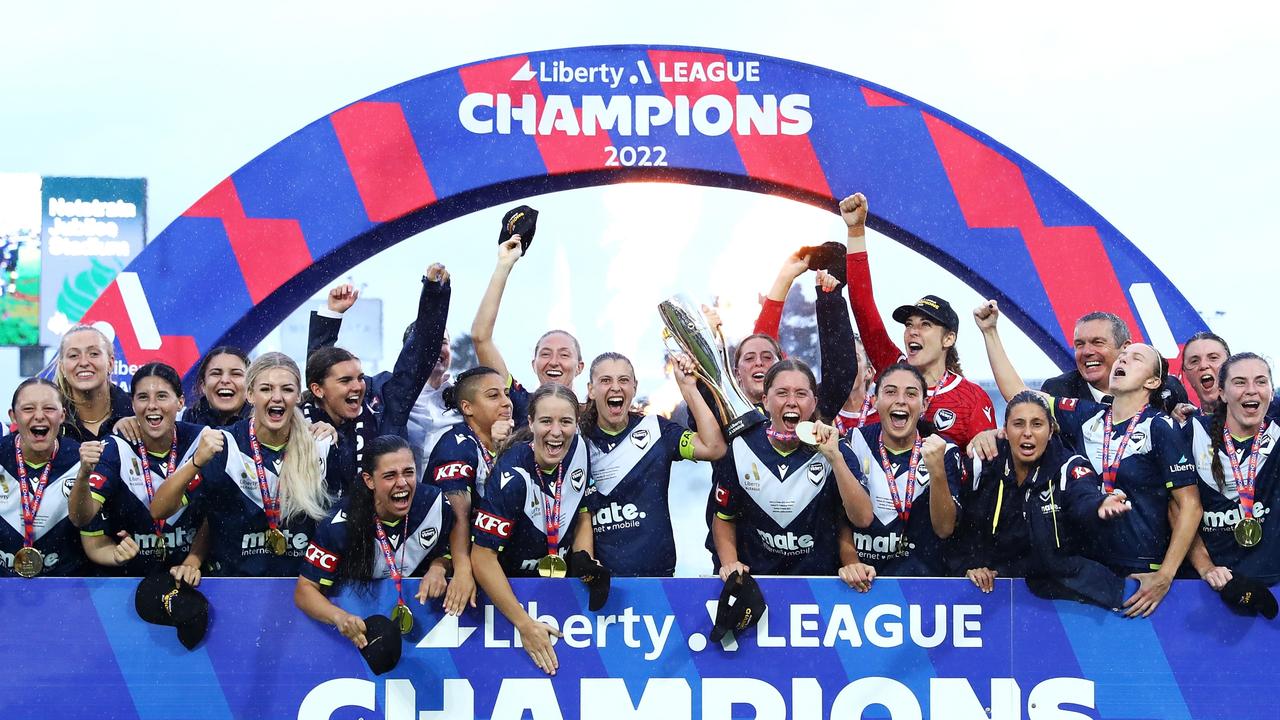 The 2022 A-Leagues Women's champions, Melbourne Victory go back to back. Picture: Getty Images
Victory soaked up the initial pressure in the first-half, with Casey Dumont making a number of key stops, before hitting the Sky Blues with a double just after halftime as Amy Jackson and Catherine Zimmerman fired the visitors ahead.
Cortnee Vine pulled one back for Ante Juric's side moments after Zimmerman's strike, but Victory were able to hold tight and secure the club's third championship.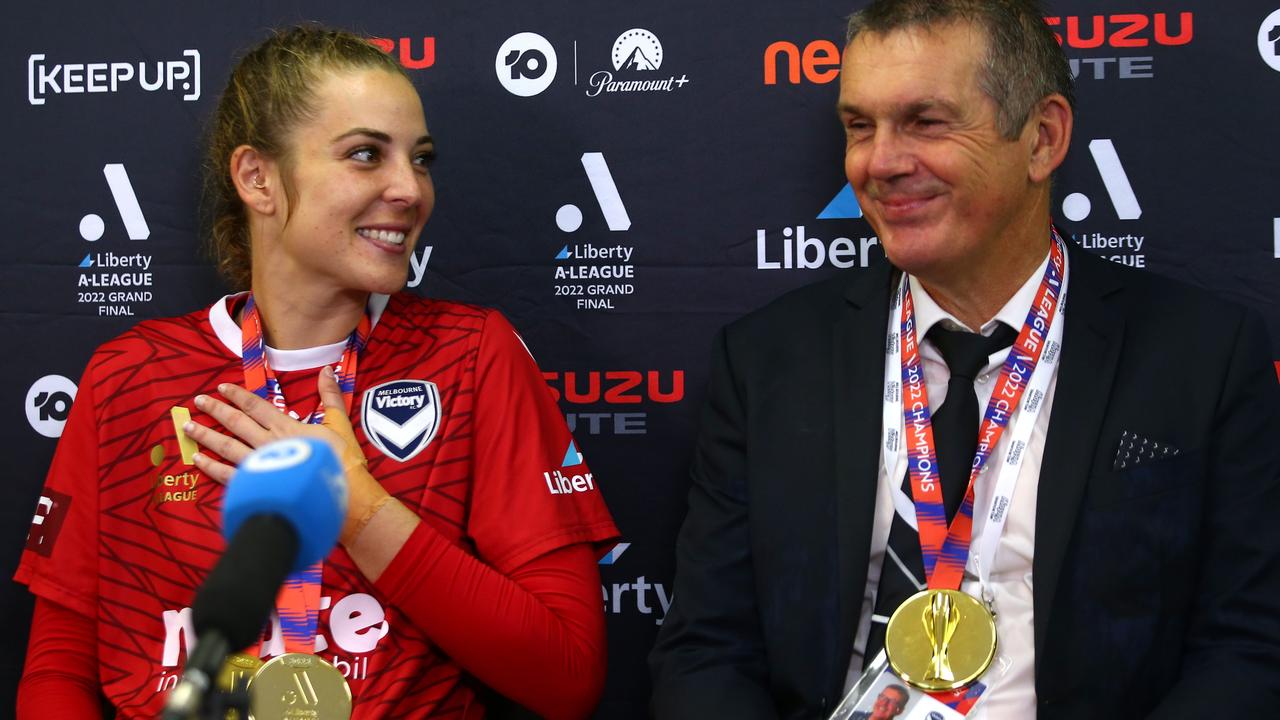 Star Victory keeper Casey Dumont with coach Jeffrey Hopkins after the match. Picture: Getty Images
Dumont's inspirational performance between the sticks saw her come away with the medal for player of the match as she battled through illness throughout the game.
"I just wasn't feeling well this week and they were monitoring me and making sure I was all right to play," Dumont said post-game.
"Unfortunately, in the game I just started feeling light-headed again so when I came into the change-rooms they were just trying to get my blood pressure up and my sugars up and help me recover to play the second-half."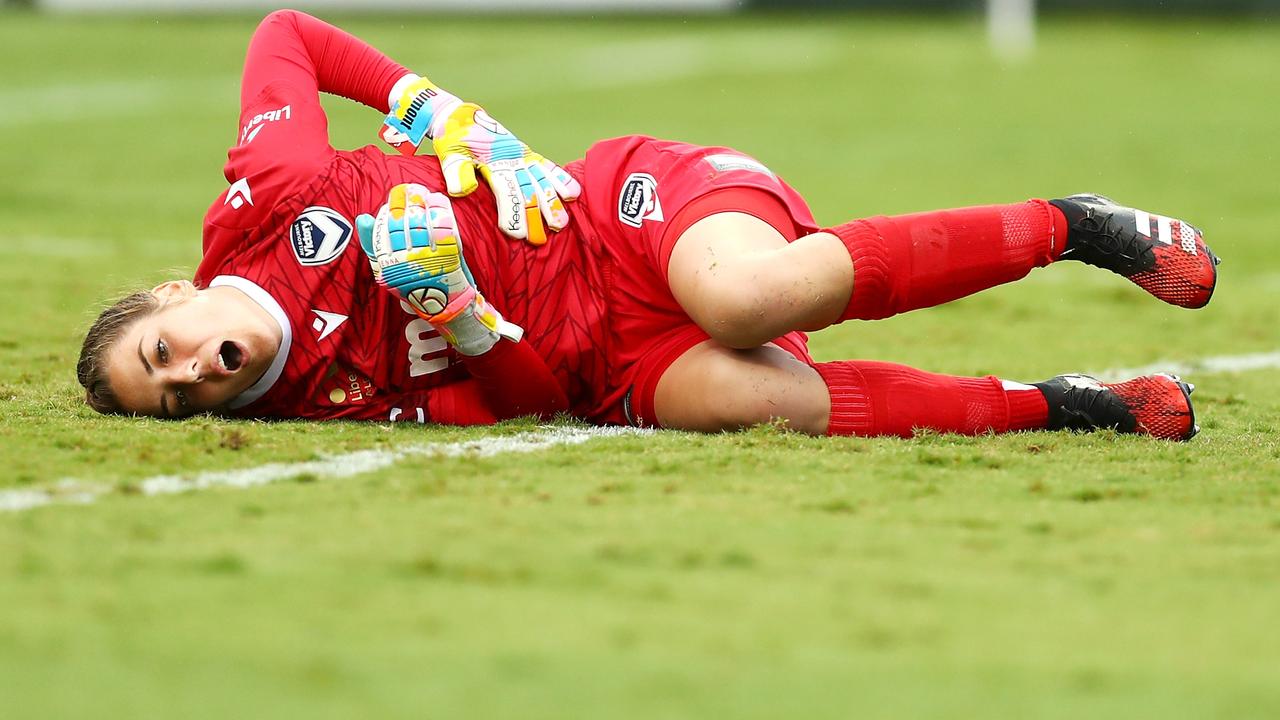 Dumont was feeling light headed at halftime of the match. A collision with Sydney FC's Charlize Rule would not have helped her case. Picture: Getty Images
Victory coach Jeff Hopkins hailed her performance between the sticks, especially praising her character during the big games this season.
"That's what we pay her the big bucks to do," Hopkins said.
"Nah, look she's been a great performer this season. She's been in fantastic form … One thing you know about Casey is when the chips are down in big games she'll perform."
For Victory, it's reward after a season of adversity and disruption, having lost a number of key players for large portions of the season and stumbling their way into the top four following a horrific run to the finish – which saw them play seven-games in a month.
Dumont was a goliath in between the sticks for Victory. Picture: Getty Images
As a result of a fourth-placed finish, Melbourne had to beat all the sides who finished above them and they did exactly that – seeing off Adelaide, its cross-town rivals City and now, Sydney – capping off a memorable finals series.
"We were under some unbelievable pressure and the girls managed to do what they've done all season and come through it," Hopkins said.
"It wasn't a pretty game for sure but we said at halftime it's about our character … it's about winning the game and we really had to roll our sleeves up and we dug really deep and we found a way to win the game."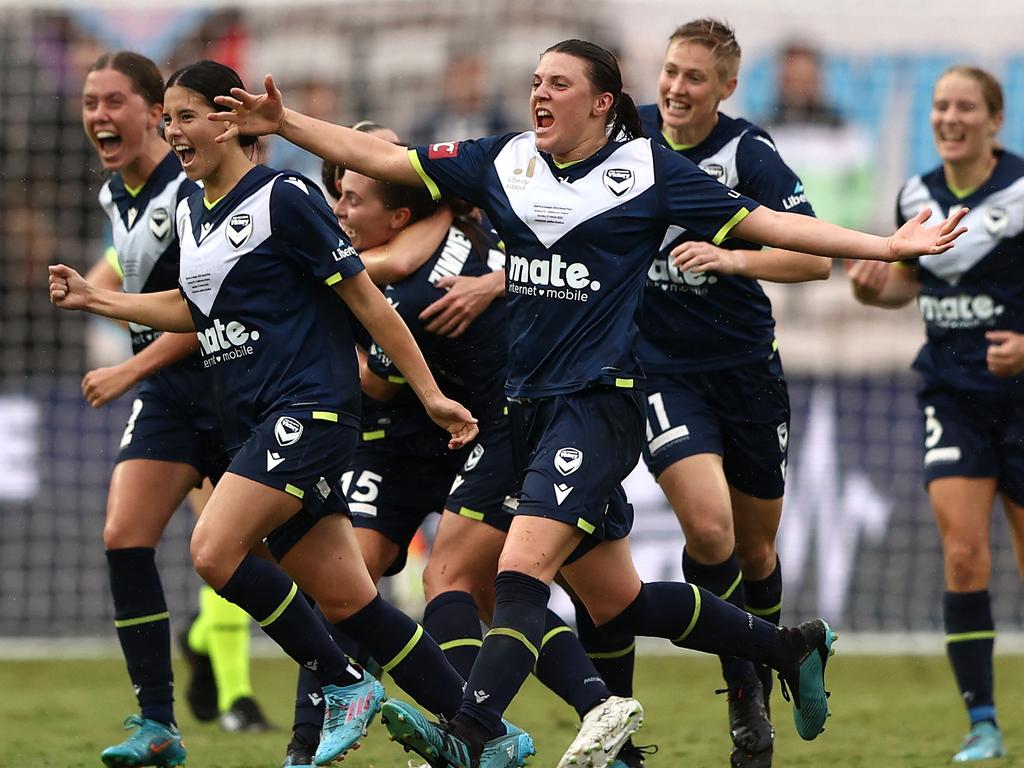 Cue the Victory celebrations. Picture: Getty Images
After receiving her Championship medal, Victory stand-in captain Lia Privitelli handed her medallion to injured captain Kayla Morrison, who missed basically the entire season, on stage.
"To the ladies on my left, we bloody did it. I'm so proud of you," Privitelli said.
"Round one we lost our captain, Kayla Morrison … Kayla's been our rock this season and she deserves this more than anyone."
The 2-1 win also solidified Hopkins as the most successful coach in Australian women's football, winning his fourth Championship – with the other two coming in his last spell at Brisbane.
Sydney, on the other hand, will be rueing its wastefulness in-front of goal especially in the opening-half when it had Victory on the ropes and for the taking.
The Sky Blues, as a result, have now squandered yet another chance to take home a Championship – having now lost four of the last five Grand Finals it's been in.
"Football gods, maybe," Sydney boss Juric said about his side's misfortune.
"It's heartbreaking. The girls are devastated … I've always said this for a long time: if you put everything into something and you lose, that's still winning."
DUMONT, THE WARRIOR
When Melbourne Victory had its backs against the walls, it was Casey Dumont who stood up and helped her side over the line with a memorable performance between the sticks.
The Victory shot-stopper was called into action on a number of occasions as Sydney pressed in the opening-half, making a number of integral saves to keep her side in it – which was made all the more incredible considering she battled through a number of knocks which almost saw her subbed off at halftime for Melissa Maizels.
Dumont watched on from the stands last-season as Victory hoisted up silverware, but made her inspirational return from a host of almost career-ending injuries to fill the role of Gabby Garton to aplomb with one of the great comeback campaigns in competition history.
Originally published as A-League Women's grand final: Melbourne Victory go back-to-back with 2-0 win over Sydney FC