Richie McCaw fears for southern hemisphere teams at Rugby World Cup 2023
All Blacks legends Dan Carter and Richie McCaw see a lot to like in the northern hemisphere nations in the leadup to next year's World Cup, but McCaw questions whether Australia and New Zealand have the intensity to win.
Two of the greatest rugby players in history have revealed their struggles in adjusting to life off the field.
All Blacks legends Dan Carter and Richie McCaw, who both retired from international rugby after winning the 2015 World Cup together, have yet to settle into full-time jobs.
The pair have largely kept low profiles in New Zealand since stepping out of the limelight, but after signing on as ambassadors for fitness franchise F45 this week, have opened up to News Corp Australia about the challenge faced by many contemplating a change of career.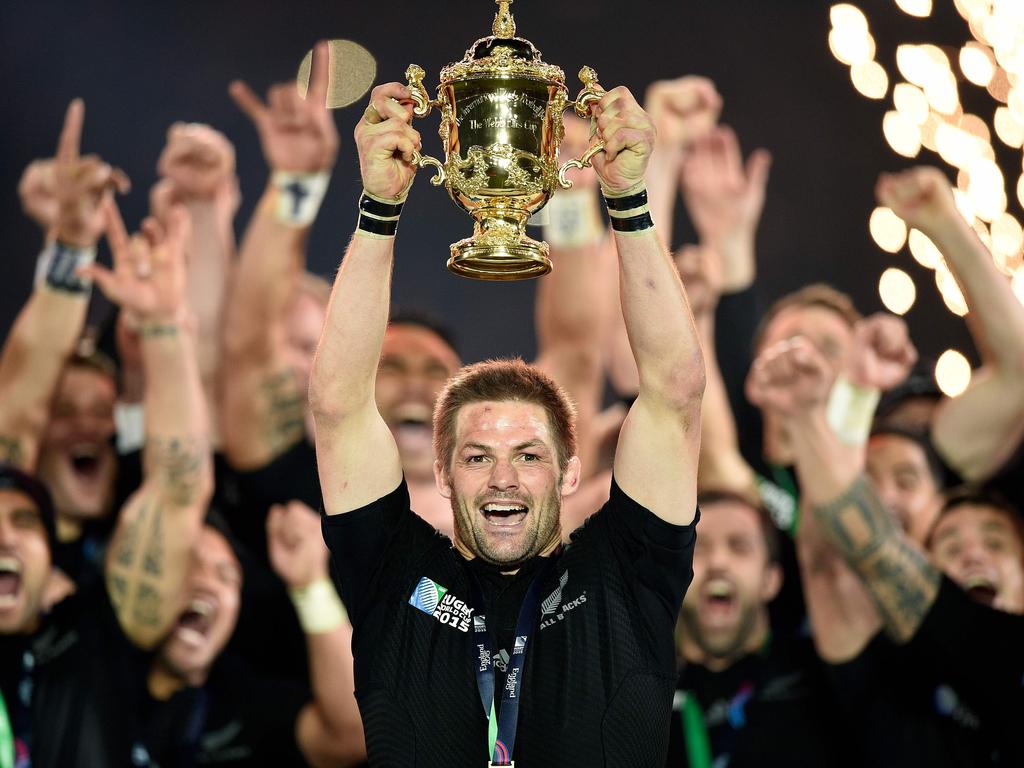 Richie McCaw holds the Webb Ellis trophy after New Zealand triumphed over Australia in the 2015 Rugby World Cup.
LIFE AFTER RUGBY
Carter: "I'm still trying to figure out life after rugby.
"There's a temptation to feel like, 'I've finished playing, I need to be working'. You get asked all the time, 'What are you doing now?' I'm still figuring it out, I didn't have an answer, I was mumbling my words and finding excuses.
"And also a tough thing is that people say 'Oh, you're retired now?' It's that word retirement, I just turned 40. I'm not supposed to hear that word retirement until I'm 65.
"You think, 'Gee, am I no longer of value to society because that's what people know me for?' I changed my mindset around that, not be defined as a rugby player.
"So what impact am I going to leave over 10 or 20 years, that's what I'm working out at the moment. I'm really lucky to have supportive people around me, it's not like that for all athletes when they put their heart and soul into something and it finishes, that transition is really hard whether you play 10 Test matches or 100 Test matches.
"It's a real challenge for athletes and I'm experiencing that now.
"When you put everything into your passion and your purpose – and that for me was to be the best rugby player I could be, that was driving me for 20 years – when that finishes, you need to try find that thing, what is it that drives me when I get out of bed in the morning?
"I went through a repurposing process, it took about six months, it was quite confronting having to work out what my beliefs are, what my character is, what I really enjoyed about being a rugby player and bringing that to the next chapter of my life.
Carter questioned his worth post-rugby.
"One thing I learned is my obsession for winning, and the art of winning, so dealing with pressure, resilience, building cultures, a lot of the things I learned through rugby.
"I'm actually using this time, while trying to figure out what will get me out of bed, to give back. I'm really grateful for the life my family and I live, and a lot of that is off the back of rugby.
"I'm doing a bit of work with Oxford University in the UK to mentor the students around leadership, helping the future leaders of this world. But also wanting to help underprivileged children, the work I've done with Unicef over the past seven years, I've been on the ground in Syrian refugee camps, it's quite challenging for a lot of kids out there and it really hits home, hence setting up my own fund, the DC10 Fund to help the children of this world fulfil their dreams (Carter recently raised nearly $500,000 for schools and medical centres in the Pacific Islands to access clean water by kicking goals continually for 24 hours at Eden Park)."
McCaw: "I'm still trying to figure it out. It didn't take me too long to leave behind the rugby, there's people that finish and whether it be because of injury or whatever, they wish they were still playing.
"But I didn't end like that, I was excited and interested to see what was next. But that doesn't mean I've got it sorted at all.
"One of the things I did, which was good, was get straight into the commercial helicopter flying. That gave me a real purpose to start with, and I still fly commercially, but a lot less than I was.
"It gave me some purpose and something to get interested in straight away, but Covid's changed that affair, and since I've been doing less, I'm working out what it is that gives you that excitement and get those butterflies in your stomach.
"Everyone that comes from professional rugby, that's what you loved and got joy out of, you don't want to fake it and dive into something that's going to put a heap of stress on, you want to know you're going to have an impact on whatever you do.
"And you're never going to know what's right straight away, you've got to try a few things.
"I'm still very much in that stage, but I'm not worried. I realise I haven't got quite got to the point of learning what it is that I'm really going to give attention to for the next 10, 15 years.
"For myself, it won't be one thing, it will be a few things I'm involved in.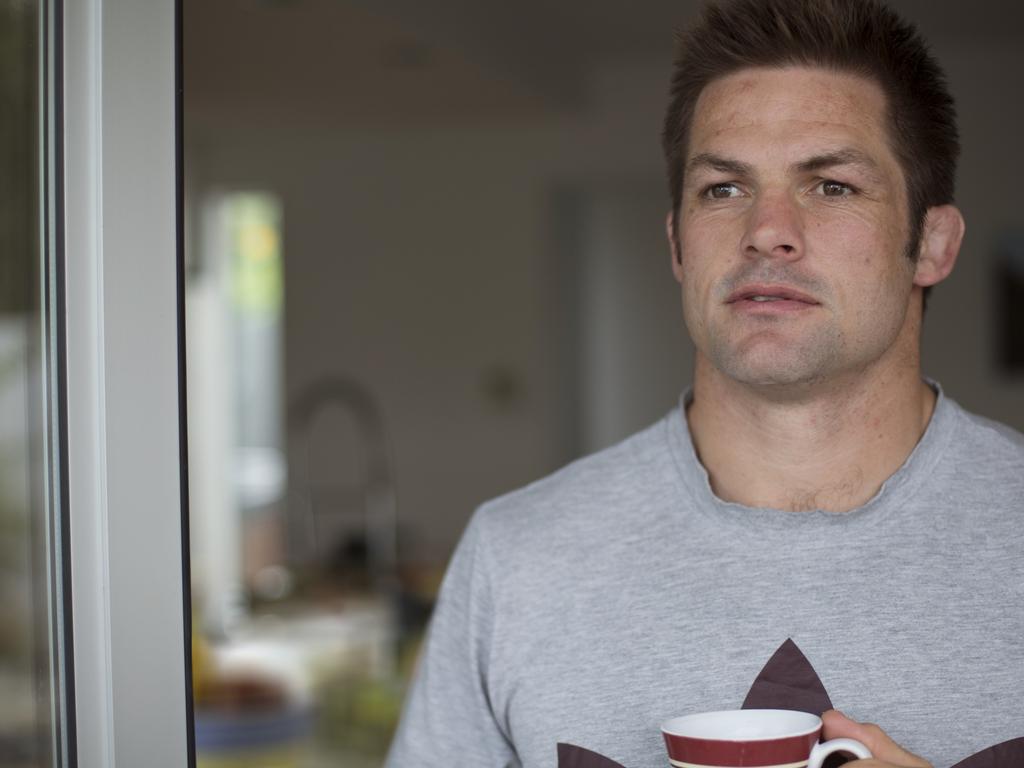 McCaw is still searching for what he wants to do.
"It's exciting being in that situation, but also daunting. You have moments where you think 'God, what is it that I'm going to do?'
"It's a hell of a big decision to determine you're not going to do what you're doing and make a big change. As a rugby player you don't have a choice, you have to change because you can't play forever.
"But I was like this when I was playing rugby, you don't want to look back when you're retired and think 'I should have changed' or actually not being scared of getting into something different.
"It won't be coaching. I know I want to give back and contribute in some way to the game because of what I got out of it, but what that looks like, I haven't figured out."
WORLD CUP 2023
With the World Cup in France only 18 months away, both Carter and McCaw predict a serious challenge by northern hemisphere nations despite the south winning eight of the nine tournaments.
Carter: "There's half a dozen teams that could be there in the World Cup final.
"It's exciting to see the growth of Irish rugby in particular. England will build, this July series will be huge with England playing in Australia, that will be a challenge to see where England are at, they've had a bit of success in Australia.
"Ireland completely outplayed the All Blacks last November, their three-match series in New Zealand is going to be great for the All Blacks to see where they are and what they need to improve on 18 months out from the World Cup.
"If you tried to pick it 18 months out from the last World Cup you wouldn't have picked South Africa, but this is the time teams need to start putting combinations and giving reassurance to players to really start establishing.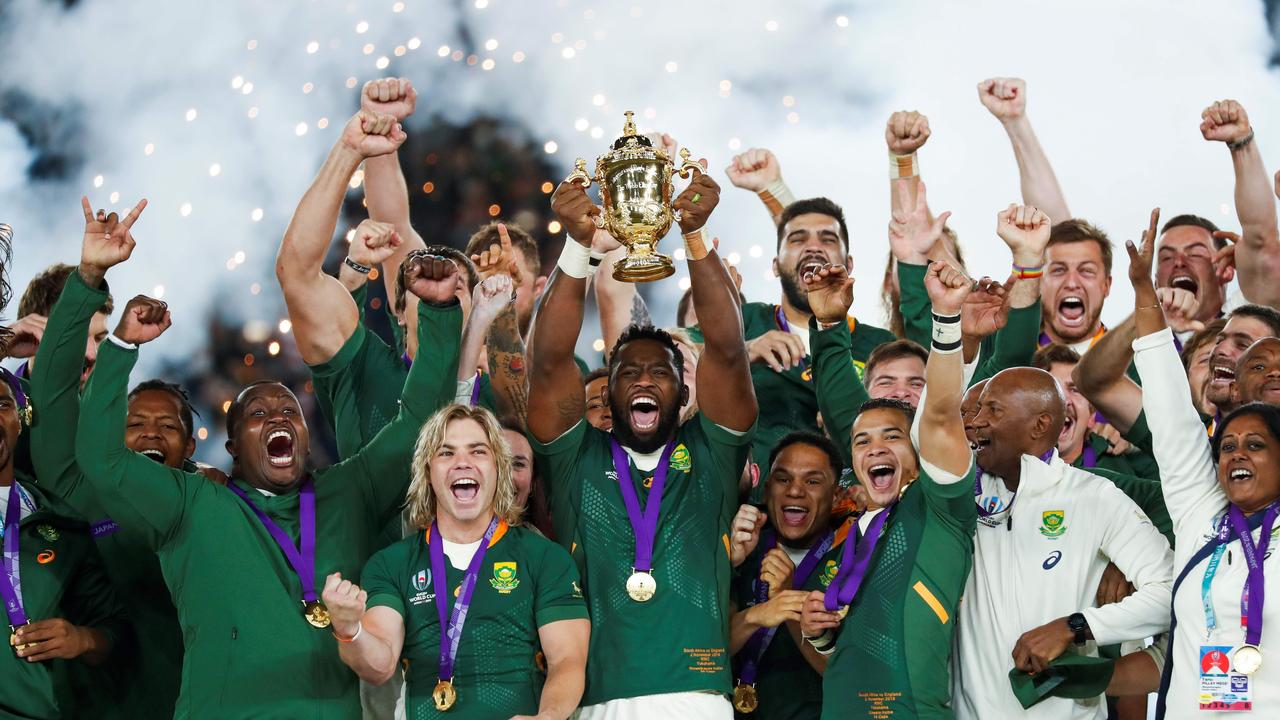 South Africa after winning the 2019 Rugby World Cup. Picture: AFP
"And you need to know the players that are being backed around you as well, because you've got to build combinations and that's something the All Blacks haven't been able to do for whatever reason over the past couple of years.
"It's normal post World Cup to give guys a go, but there comes a time when you need to establish, you can't be doing that next year at the World Cup, you need to do it this year."
McCaw: "There's going to be a handful of teams that are always going to be thereabouts. From New Zealand's perspective, to be playing France in the opening game, they're two teams that could easily be in the final.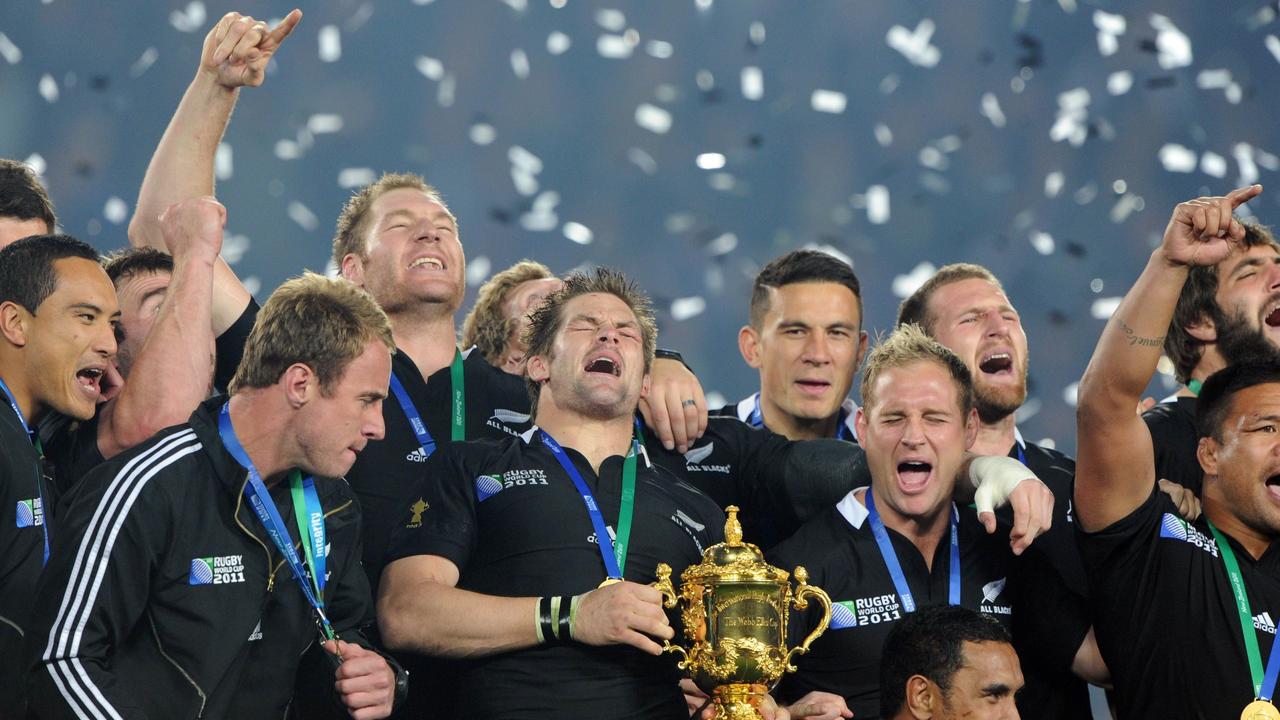 McCaw and the All Blacks after the 2011 Rugby World Cup. Picture: AAP Image/AFP, Gabriel Bouys
"They'll end up on either side of the draw, it could easily be like 2011 (New Zealand beat France 8-7 in the final after being in the same pool), so it's an intriguing start.
"The thing with World Cups, to play three knockout games in a row, they're all big games and you've got to be on the job.
"We saw that against England last time in the (2019) semi-final, they played a hell of a game in the semi-final and couldn't quite get to that same level (in the final against South Africa).
"And in 2011 we were like that against the Wallabies, we had an amazing performance in the semi, and we couldn't get back to that. It didn't cost us the game but it certainly made it tough.
"It's about getting the momentum right, sometimes there's a bit of luck, there's a whole lot that goes into it, not getting injuries.
"You can probably name four or six of the teams that will be in the quarters, the others now have the ability to cause issues to some of those teams.
"We saw on the tour at the end of last year, a few things contributed, from a New Zealand point of view, they were away for 14 weeks, so you've got to be a little careful what you read into it.
"But there's no doubt the northern hemisphere are going to be a real force over the next 18 months. The July series and the end of year tours are going to be really intriguing.
"One of the things you see with northern hemisphere, the contact area, they've always been really good at. One of the differences you see, from the rugby I've seen, our intensity is not quite there."
BLEDISLOE CUP
The All Blacks have held the Bledisloe since 2003, a horrendous 19-year streak for Australian rugby that won't get easier now the series has been peeled back to just two games a year. But surely the Kiwis aren't still as motivated to hold the Cup now as they were 20 years ago?
Carter: "I was part of the team in 2003 that won it back off Australia, and I saw grown men in tears, that's how much the Bledisloe Cup meant to my teammates, and that was my first experience.
"I was like, 'Wow, this trophy matters'.
"So each year I played, I did everything I could to make sure we retained this Bledisloe Cup, it was a personal and a team goal each year and we put huge focus on it.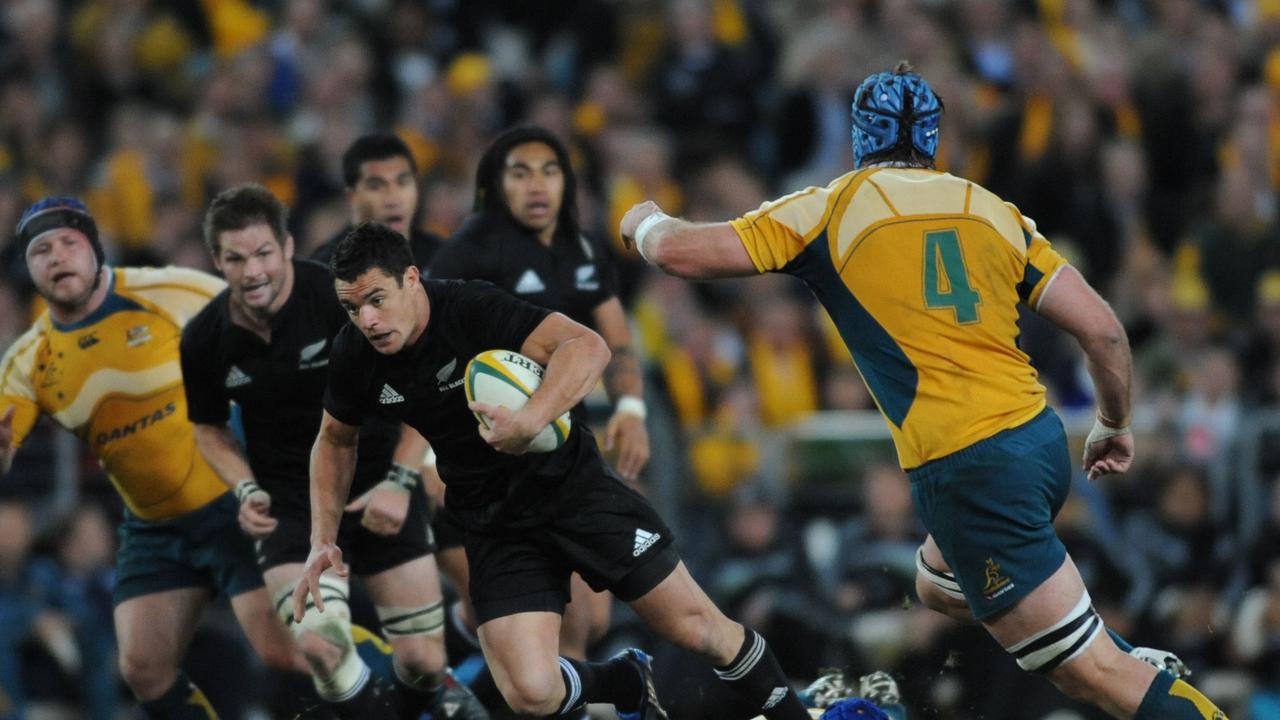 Carter in action in a Bledisloe Cup final in 2009. Picture: AAP Image/Dean Lewins
"I'm sure the Wallabies do exactly the same.
"Two games now, you've got to beat the All Blacks in the first one and then put them under huge pressure in the second.
"All I know is that the All Blacks put huge emphasis on retaining the Cup, it means so much to the team, the players, the country as a whole. If the Wallabies win it back they've thoroughly deserved it because I know our boys will put everything into it.
"I've seen some growth in the Wallabies under Dave Rennie, they're backing him which is great.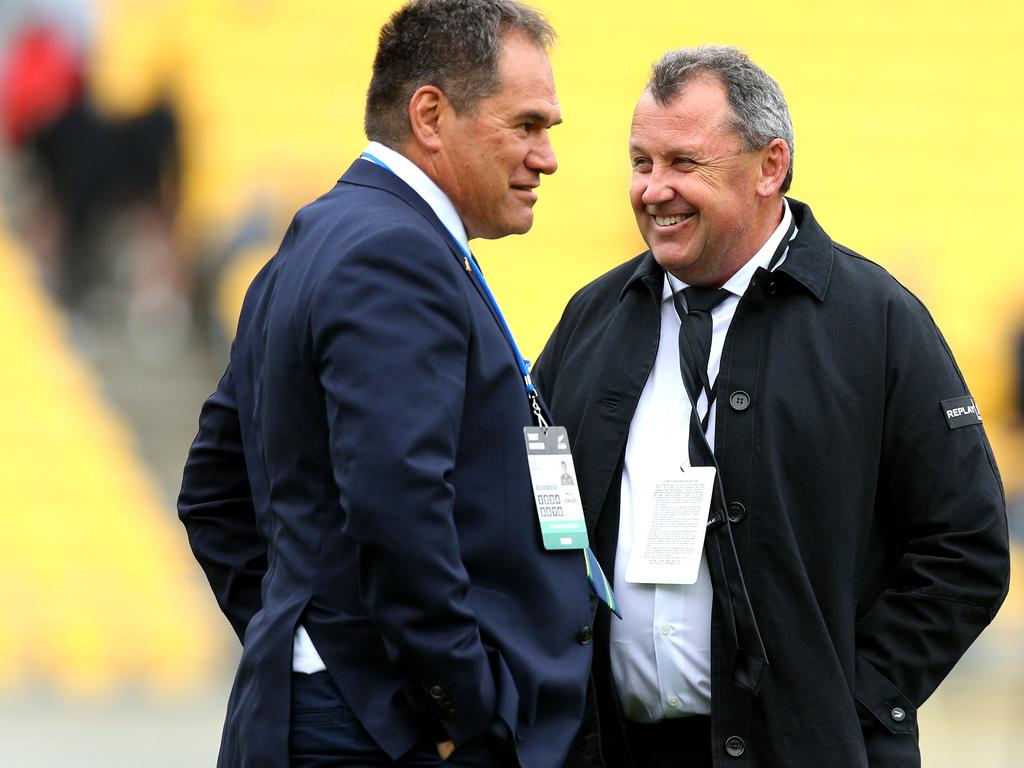 Ian Foster of the All Blacks and head coach Dave Rennie of the Wallabies Picture: Hagen Hopkins/Getty Images
McCaw: "It would be easy to say 'You don't know what you've got til it's gone'. But I know the team, they make sure everyone in the team understands how important the Bledisloe is to New Zealand and the All Blacks.
"It has been there a long time, you don't want to be the team that gives it back, you use it as motivation.
"But on the other side, it would be pretty cool to be the team that does get it back, because it will happen one day I suppose.
"The All Blacks know that the Wallabies are trying to do something that no one in the current team has done, it puts plenty on it.
"But you've got to do it twice, it makes it pretty tricky.
"You lose the first one, it's done when you're trying to win it back. That's the key one."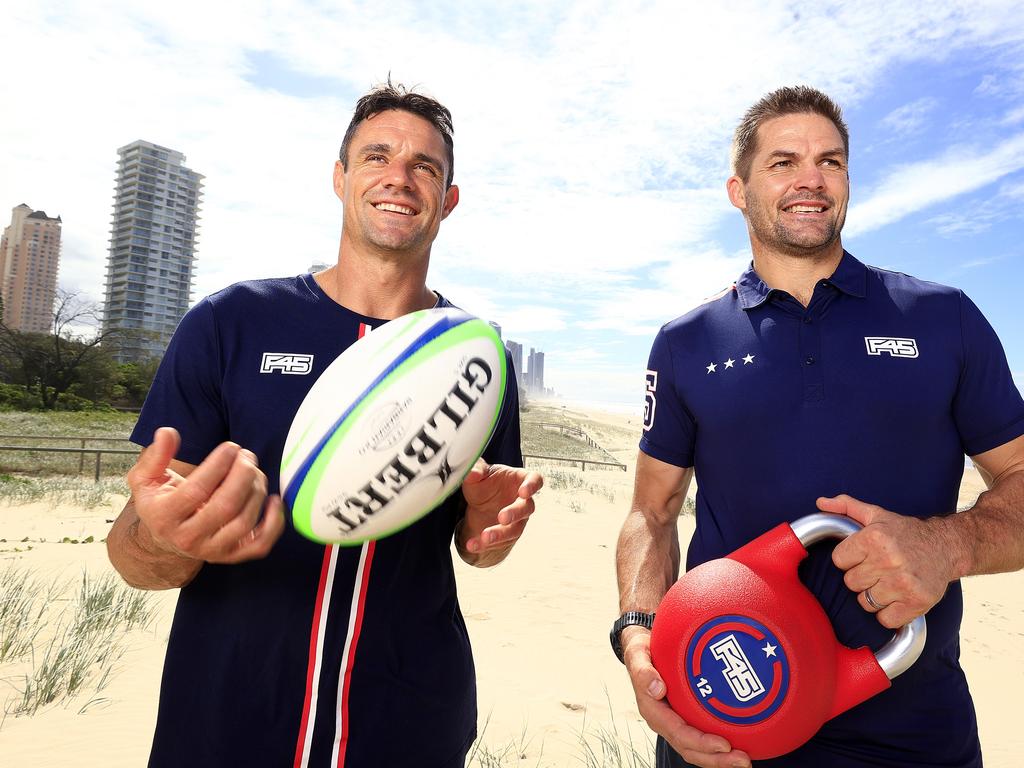 McCaw and Carter are now F45 ambassadors. Picture: Adam Head
BECOMING F45 AMBASSADORS
When F45 was floated publicly last year, the high-intensity fitness training business was valued at worth more than $1 billion, and founding businessman Adam Gilchrist (not the cricketer) made $500 million overnight with his shares.
The company's shareholders includes Hollywood star Mark Wahlberg, while England football icon David Beckham is another ambassador.
Carter: "One of the things that attracted me to F45 is that community, and having recently retired I missed it.
"I went to the gym and I trained, and it was tough because you're doing it by yourself. I need like-minded people to train with, and these classes are incredible.
"And also my situation at home, I've got four young kids, so I don't have time to go to the gym for an hour-and-a-half, 45 minutes is perfect, I can squeeze it into my schedule, health and fitness is an essential part of my daily routine."
McCaw: "I wasn't someone who was so much into that stuff when I stopped playing, I wanted to get outdoors and keep fit and got into the long endurance stuff.
"The opportunity came up when Dan and I met Adam Gilchrist and got explained how it all works.
"I realised that when you're in a team playing footy, you help each other out. When you haven't got that it's a lot harder.
"And the other thing was I'd not done much strength work since finishing but you need it, and something like this is perfect to satisfy that.
"If you've got people you're training with, you can't let them down and it becomes a habit."
Originally published as Richie McCaw fears for southern hemisphere teams at Rugby World Cup 2023