AFL 2022: Keep up to date with the latest Port Adelaide news ahead of Round 1
There's enormous hype around a couple of youngsters at Port Adelaide, so why did they rush to sign on again despite a new Collective Bargaining Agreement for AFL players in the wind?
The hype around Zak Butters is building but the young Port Adelaide star says the expectations around him are nothing more than the ones he has himself.
The Power has continued their contract frenzy with the ninth re-signing in three days announced on Saturday — and it was arguably the biggest and most anticipated yet.
Along with Butters fellow young star Connor Rozee inked a two-year extension, tying the two to at least the 2024 season.
Ahead of a long awaited move into the midfield Butters is now considered as one of the young players to watch in 2022 with coach Ken Hinkley saying he was as good as any other up and coming midfielders in the competition.
Stream every match of every round of the 2022 Toyota AFL Premiership Season Live & Ad-Break Free In-Play on Kayo. New to Kayo? Try 14-Days Free Now >
Zak Butters and Connor Rozee have extended their time at Port. Picture: AFL Photos via Getty Images
Strong showings in pre-season has only built the hype around the No. 12 pick of the 2018 draft.
But Butters said this wasn't any different to the goals he had himself.
"I don't think it is expectation, I want to be good, I want to be great as well so I think I have that expectation on myself," he said.
"Others are going to put that on me but at the end of the day I just want to go out there and perform.
"And for me to be honest when I go out there and play I just think I'm from Darley, I'm from Bacchus Marsh and I don't think too much of it to be honest."
Butters says there was no real lure to return to Victoria. Picture: Brenton Edwards
Rozee is currently in the AFL's Covid-19 protocols as a close contact, but is expected to be available for Round 1.
He told the Power's website signing Butters, and other young Victorians Josh Sinn and Dante Visentini among others, was a big endorsement for what was being built at Alberton.
"Him (Butters) and a lot of the other boys who have done that over the last couple of years shows the club is in a really good state culturally," Rozee said.
"We're in a really good spot and it definitely proves that the boys from interstate, especially with the boys from Melbourne and Western Australia, wanting to recommit and not wanting to go home.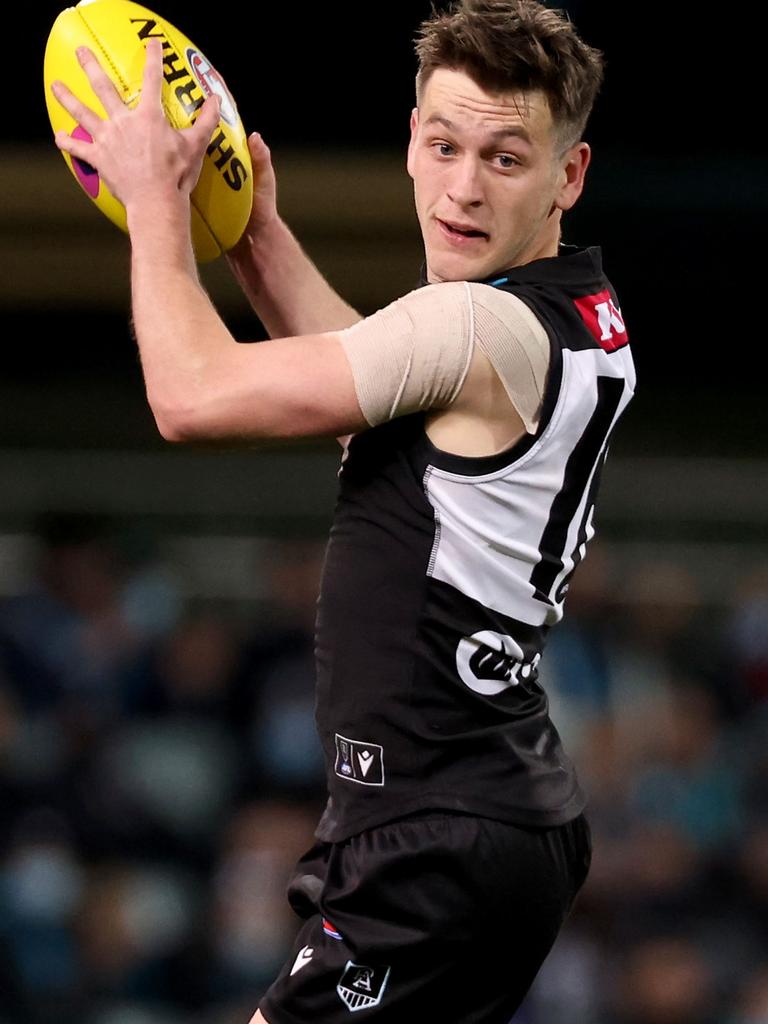 Butters has impressed in the midfield. Picture: AFL Photos via Getty Images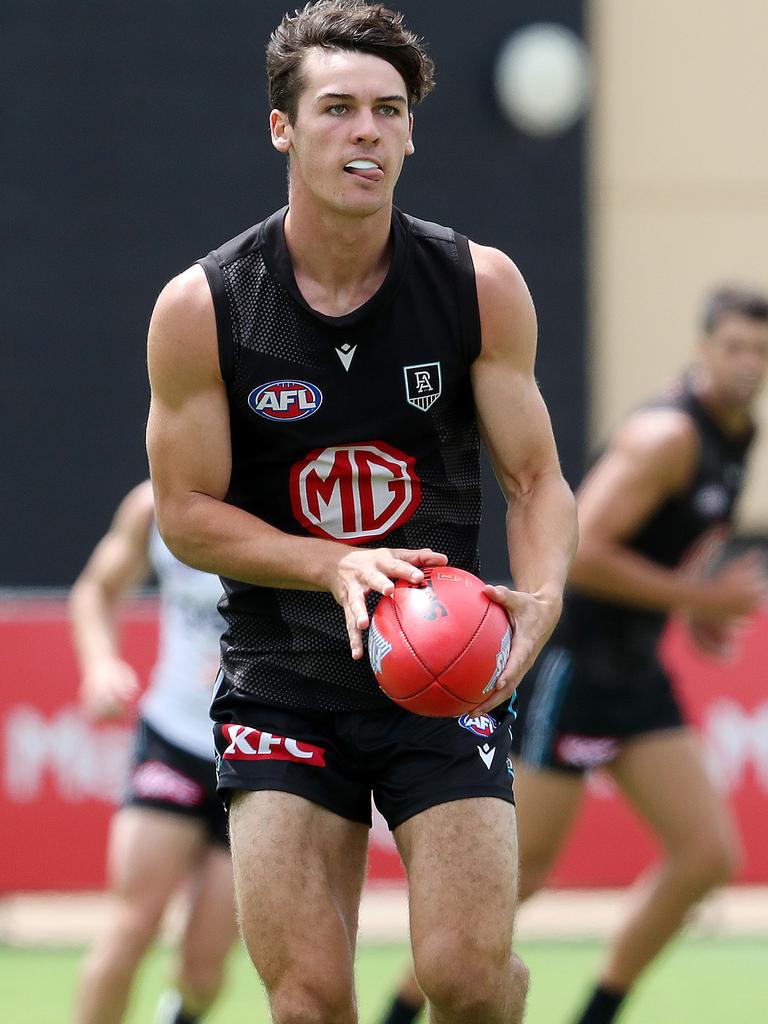 Rozee says he wanted a new deal as soon as possible. Picture: Sarah Reed
"It seems we don't really have that go-home factor at this club and I think it says a lot about the group and the staff and everyone involved in the club that everyone wants to be here and be here for the long run."
The two new contracts ahead of the season for Butters and Rozee come despite a new Collective Bargaining Agreement for AFL players to soon be struck up.
Rozee said he was keen to get a new contract done as soon as possible
"We wanted to get something done before the start of the season and I'm obviously really happy at Port Adelaide and I want to be here for the future so it was best for both parties to get something done before the season and probably takes a bit of stress off my shoulders and I can just focus on football now," he said.
Butters said he was happy with the two-year deal and there was no real lure to return to Victoria.
"I think you always think about it from a Victorian point of view being around family and friends and special people back home," he said.
"But the pros outweighed the cons, I've built some really good friendships with Ollie, Darcy Byrne-Jones and some of the other older boys."
POWER LOCK AWAY FOUR MORE STARS
Port Adelaide's re-signing frenzy has continued with the Power getting four key players to agree to new contracts.
After tying down top draftee Josh Sinn before he had played a senior game to a new two-year deal, along with fellow draftee Dante Visentini as well as a one-year deal for young key forward Ollie Lord, the Power have announced four more re-signings.
Ryan Burton, Dan Houston, Tom Clurey and Willem Drew have all put pen to paper on new deals.
Houston has inked a five-year deal, Burton a three-year extension, Drew a two-year one and Clurey, who was under contract until the end of 2023, has penned a new deal that runs until the end of 2025.
Port Adelaide list manager Jason Cripps said Houston was about to enter the prime of his career.
"He has performed at a very consistent level for the past four seasons and is a member of our emerging leaders' group," he said.
"Dan is highly valued for his elite decision making and kicking skills."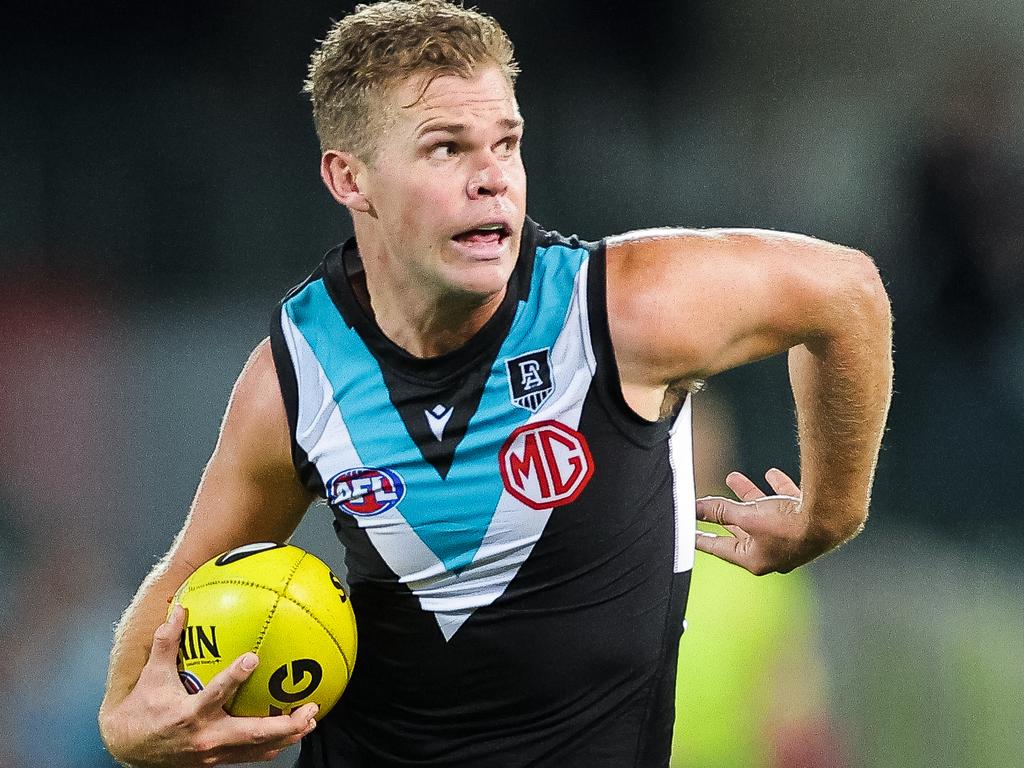 Dan Houston is entering his prime. Picture: Getty Images
Clurey will miss the start of the season after he was booked in for arthroscopic surgery on his knee.
Cripps said it was a great sign for the club that Clurey had gone early on a new deal.
"Tom is an outstanding person and has shown faith in our program by recommitting early," Cripps said.
"He has proven to be a reliable key defender and plays an important role in driving the standards of our defensive group."
Burton's three-year deal comes after he put some injury problems behind him and played every game in 2021.
"Ryan was a player we targeted a few years ago knowing he still had significant upside in his game," Cripps said.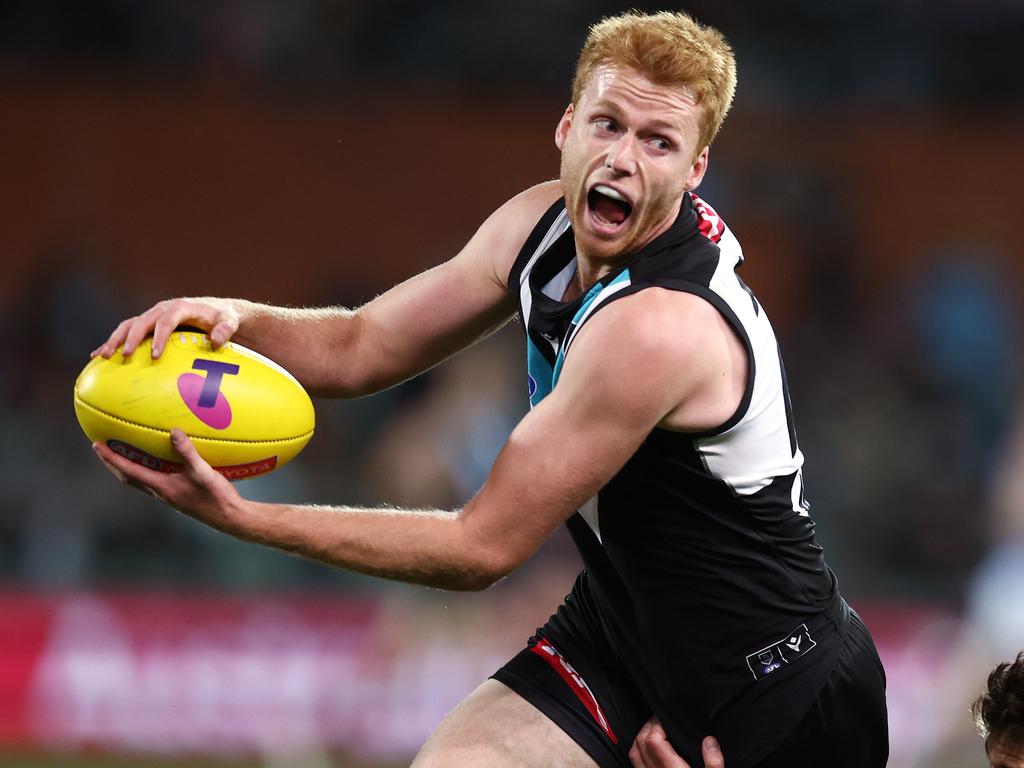 Willem Drew is ready to go after struggling through injury last season. Picture: Michael Klein
"He has the ability to play various roles within our system and has great attributes such as his speed and foot skills. He has built real consistency into his game and we look forward to seeing the next phase of his career at Alberton."
Drew is another one to have put injury problems behind him in 2021.
"Willem has had a fair bit of bad luck with injury since we drafted him back in 2016 but he has shown resilience and a strong work ethic to come back and play an important defensive role in our midfield since making his AFL debut in 2019," Cripps said.
"With further opportunities through our midfield, he will continue to improve as the offensive part of his game evolves."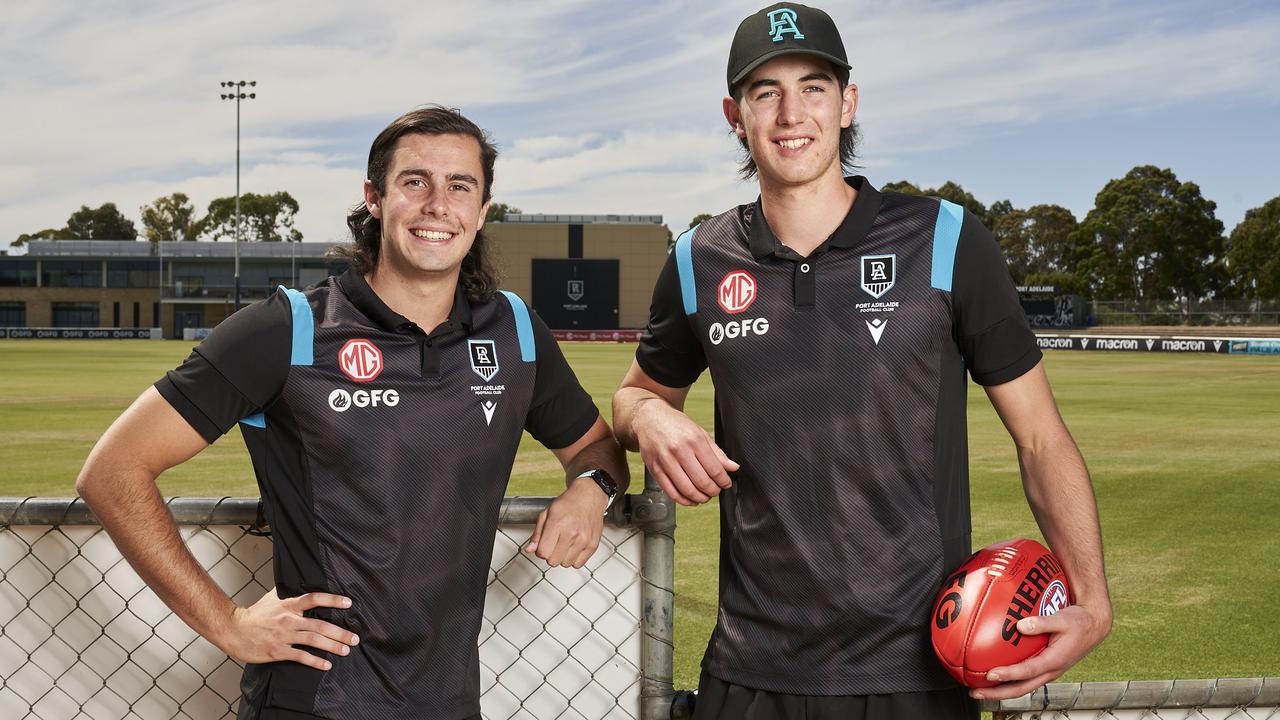 Young guns Josh Sinn and Dante Visentini have inked new deals at Port. Picture: Matt Loxton
Power keeps prized draftee guessing over Round 1 debut
—Matt Turner
Port Adelaide's two newly re-signed draftees say they had no hesitation in committing their futures to the club before playing a game.
Wingman/halfback Josh Sinn and ruckman Dante Visentini extended their initial two-year contracts until the end of 2025 on Thursday – a little more than three months since joining the Power.
It took only two weeks before Sinn felt at home at Alberton and the No. 12 pick already wanted to be a one-club player.
"I don't see myself being anywhere else," said Sinn, the Power's top choice in November's draft.
"The club has done such a good job making us feel so welcomed at the club.
"Waking up every morning, it always puts a smile on my face knowing that I'm coming into Alberton.
"The club is putting faith in me by picking me so I've got to repay the favour."
Sinn has impressed at AFL level in two practice matches to put himself in the frame for a Round-1 debut.
He was hopeful but unsure if he would be picked to face Brisbane at the Gabba on March 19.
"The club doesn't really give too much away," he said.
"I think it's such a tough side to crack into.
"I'm just doing everything I can week by week, day by day to put my best foot forward."
Friends from their time with Sandringham Dragons, Sinn and Visentini also share the same manager, Paul Connors.
Visentini, who was taken at pick 56 in last year's draft, said it was a no-brainer to re-sign.
"My manager let me know something was in the works with the club and after a couple of weeks of talks, we locked in the deal," Visentini said.
"It's a little bit of peace of mind and I'm very grateful for the confidence the club's put into me."
Visentini said his transition from Melbourne to Adelaide was smooth.
First, he lived with Power captain Tom Jonas and recently moved in with Lachie Jones and Marty Frederick.
He said it helped having Sinn alongside him.
"It's the most ideal situation you could have moving to a different state with a really good mate and someone you've played a lot of footy with," he said.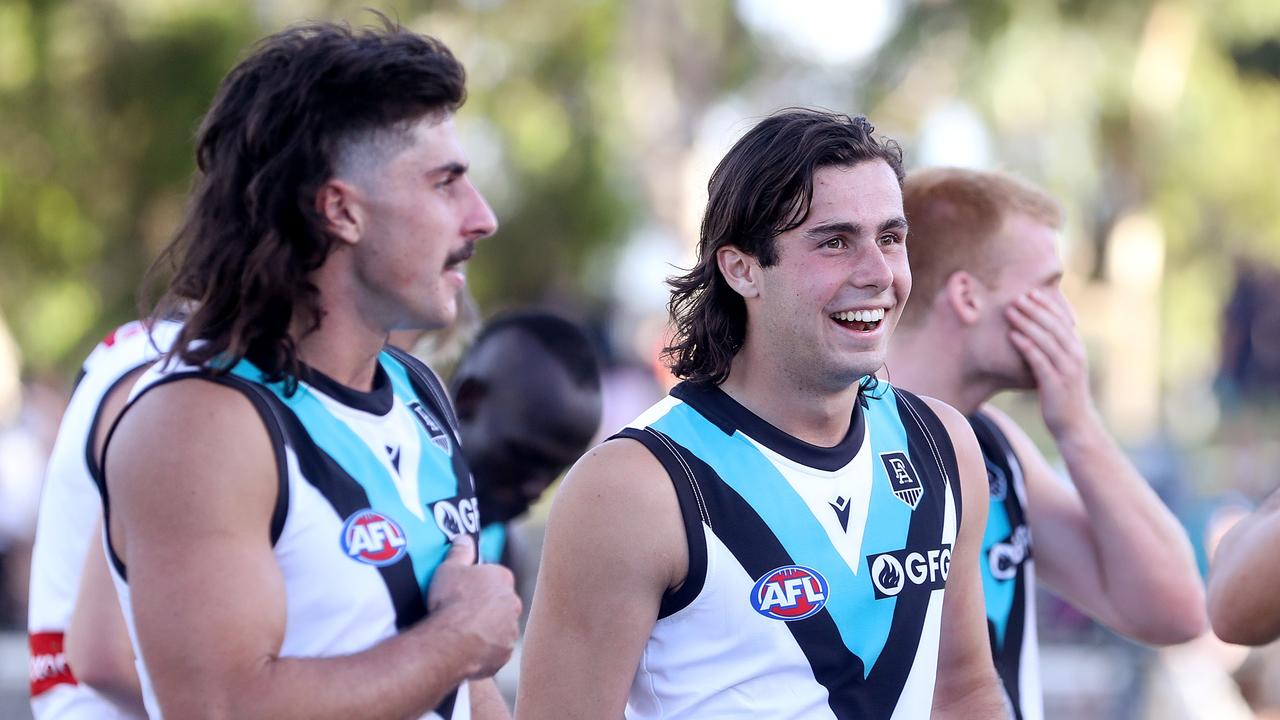 Josh Sinn of the Power all smiles with Lachie Jones.
Power list manager Jason Cripps said the Victorian duo had barely put a foot wrong since arriving at the club.
"We knew the talent they had when we drafted them but to see them train hard and show a desire to learn and improve has been really impressive," Cripps said.
"It's a show of faith from the club to extend their contracts but also a show of faith from Josh and Dante that they want to remain at Alberton and be part of what we are building."
Second-year forward Ollie Lord, who had been without a deal beyond this year, also re-signed until after the 2023 campaign.
Drafted with pick 49 in 2020, Lord booted 10 goals in 14 SANFL games last year.
"Last year was a real test for his body after not playing any footy in his draft year because of the pandemic, but we have been pleased with his ongoing development as he settles into the AFL environment," Cripps said.
Dante Visentini flies against Jeremy Finlayson during a pre-season trial. Picture: Sarah Reed.
WHY PORT EMBRACED PRE-SEASON REALITY CHECK
Port Adelaide captain Tom Jonas says getting another reality check about the mindset required at AFL level is a positive for the club ahead of Round 1.
Six months after it was taught a lesson on attitude and contested football in the 71-point home preliminary final loss to the Western Bulldogs, the Power received another reminder in its first practice match, a 21-point defeat to Gold Coast.
Port Adelaide faces a tough start to the 2022 campaign, playing Brisbane at the Gabba, and Jonas believes the team is well placed after its latest wake-up call.
"I think it's been kind of nice to get a bit of a reality check about mindset and where we need to be," Jonas said at AFL captain's day on Wednesday.
Stream every match of every round of the 2022 Toyota AFL Premiership Season Live & Ad-Break Free In-Play on Kayo. New to Kayo? Try 14-Days Free Now >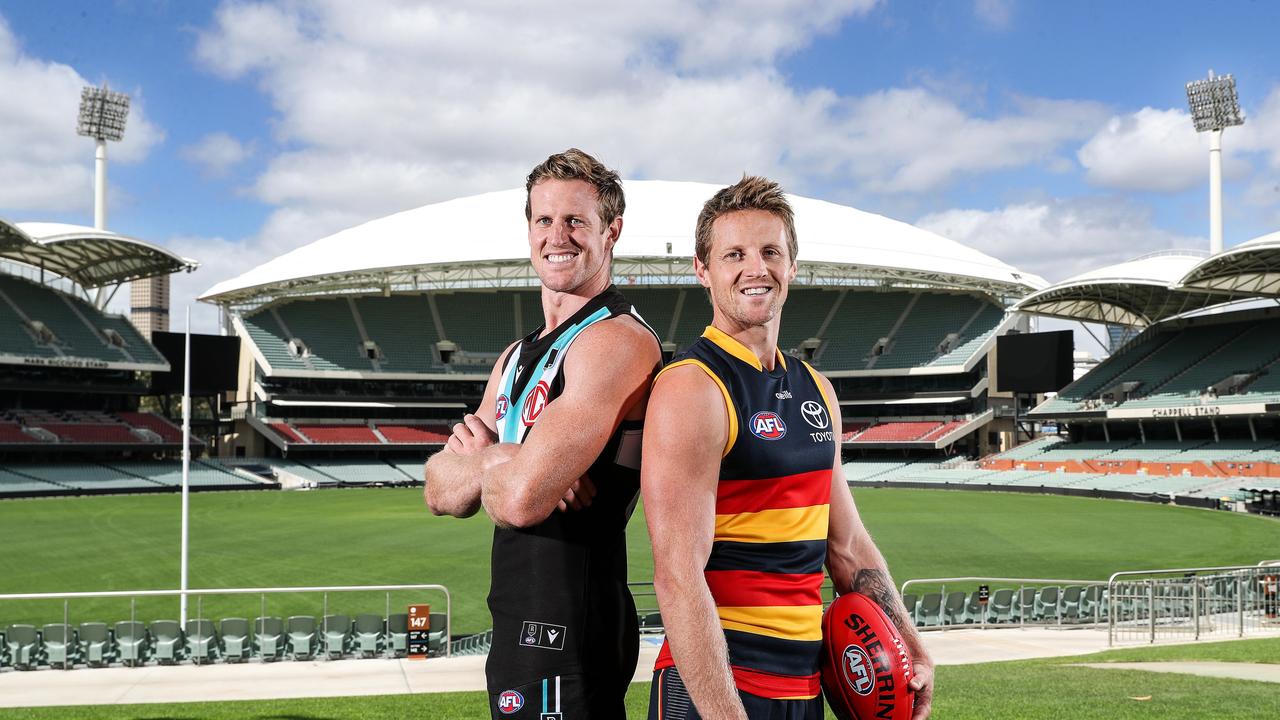 Tom Jonas says the reality check was welcomed. Picture: Getty Images
"We got one of them at the end of last year and it was really important that we realise you've got to turn up and play at 100 per cent every single week.
"If you're not right there, willing to do the work and play contested footy, you're going to get burnt.
"It was nice to get it right at the beginning of the year, we can recalibrate and go into Round 1 with that same attitude, especially given we've got an incredibly tough game."
Outsiders might wonder why Port Adelaide needed another reality check after the Bulldogs game.
But Jonas said five months of match simulations meant you could get away with some things at training you could not in games.
The 31-year-old defender said the Power had acknowledged its "very disappointing" preliminary final loss and assessed how it would beat the Bulldogs when they next faced off.
It was now looking to move on from the game and Jonas was confident any mental anguish was behind it.
"We're not the sharpest tools in the shed, us footballers, we like to just get out there and chase the footy and have a bit of fun," he said.
"That's the great thing about pre-season, it's sunny, it's warm, you're out there with your mates, getting fit and enjoying it, and when it comes to game time, you just go about your business.
"You could say at times we have a memory of a goldfish so with a really young, untainted group I think we're keen to improve as individuals and as a team, and I think that's going to hold us in good stead."
The Power last year launched an ambitious plan dubbed "Chasing Greatness" that aimed for the club to win three flags in five seasons.
Jonas, entering his fourth campaign as captain, said the squad's goal was again to win the premiership but was just focusing on "winning Round 1 then going from there".
He said the team's game style had been slightly tweaked, wanting to carry the ball and score more.
As part of the annual captain's survey, all bar one skipper tipped Port Adelaide to reach a third consecutive finals series.
Jonas said that was a nice acknowledgment but did not count for much.
Star's deal to signal signing 'frenzy' for Power
— Simeon Thomas-Wilson
Port Adelaide is edging closer to re-signing Zak Butters and Ryan Burton in a huge boost for the Power.
While no terms have yet to be agreed regarding the star pair, The Advertiser understands that negotiations over new contracts for the duo have been progressing strongly.
Talks have been positive between both parties as the Power looks to lock away two of their most important players as soon as possible.
Re-signing Butters in particular will be a huge boost for the Power on the eve of the 2022 season beginning.
The 21-year-old is regarded as one of the most talented youngsters in the AFL and is primed to explode to another level in 2022.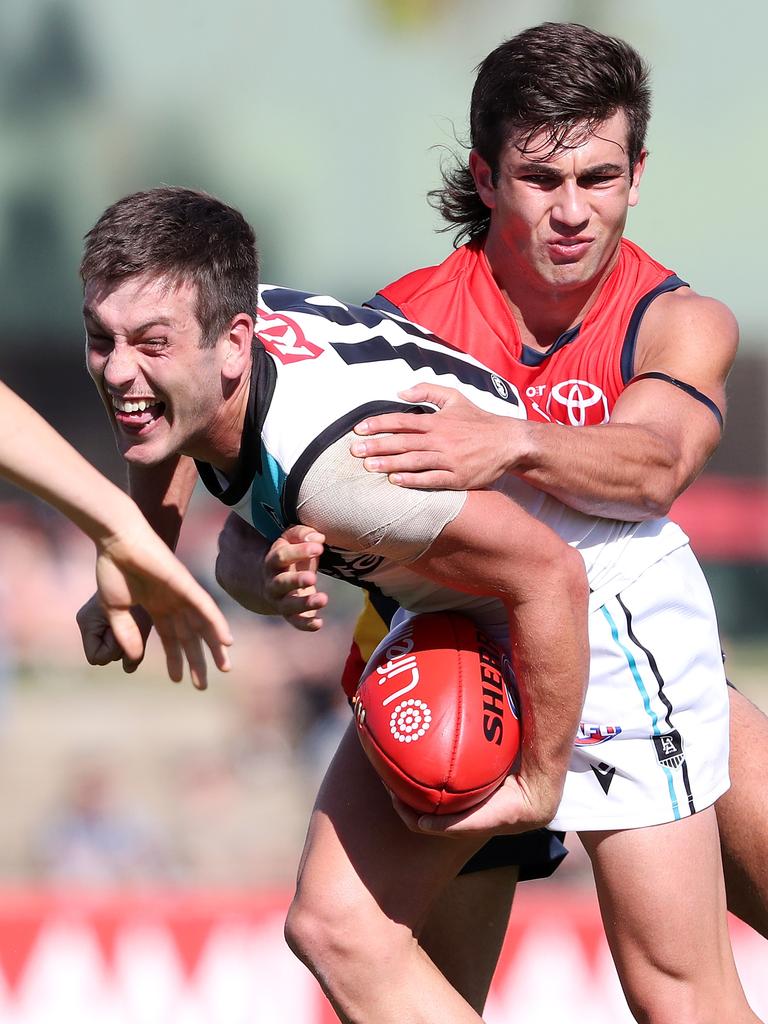 Butters was sensational against the Crows. (Photo by Sarah Reed/AFL Photos via Getty Images)
After his 2021 was impacted by injury, when the Power were set to unleash him in the midfield, Butters is to get the sustained run in the middle of the ground.
And the early results are extremely promising for Port Adelaide with Butters the outstanding performer from the Power's two pre-season games so far.
He had 32 disposals, four clearances and a goal against the Crows on Saturday.
Butters was recently described by Ken Hinkley as being as good as any young midfielder in the competition.
Burton, 25, arrived at Alberton at the end of 2018 as part of the trade that resulted in Chad Wingard going to Hawthorn.
The defender had to battle with soft-tissue injuries in this first two years at the Power.
But a call to increase his training ahead of the 2021 pre-season helped Burton play every game last year.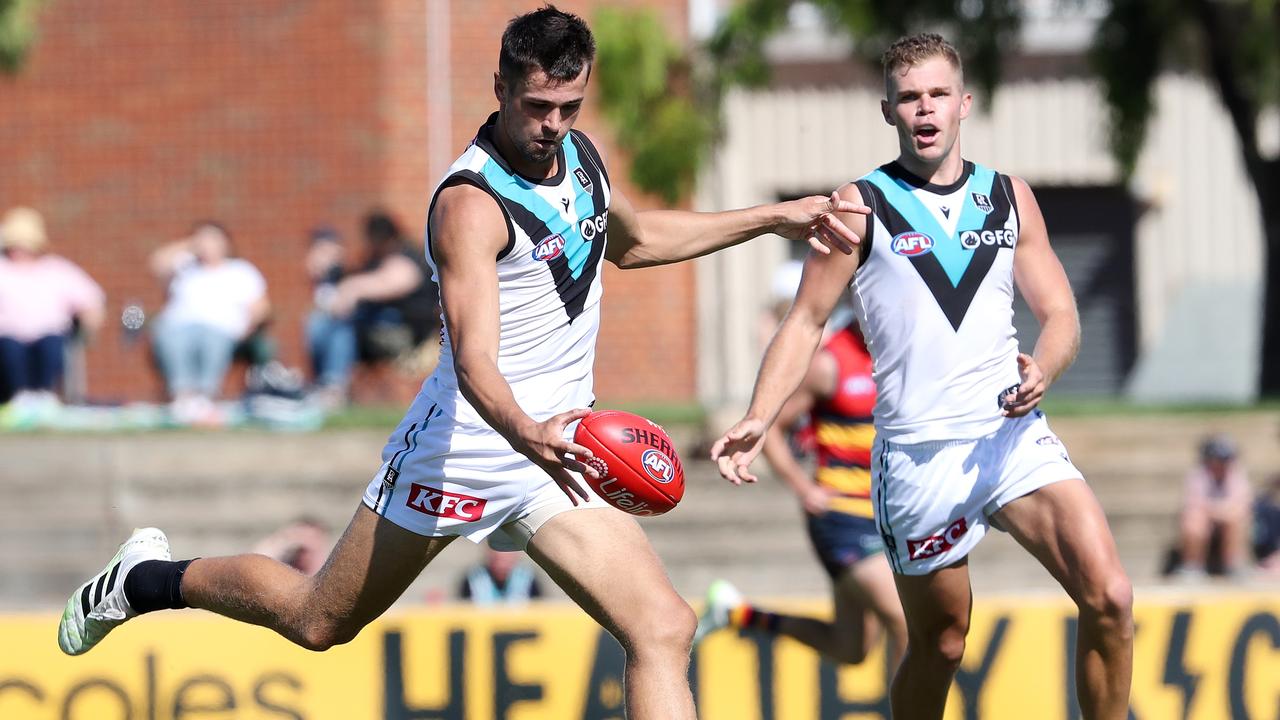 Burton is key for the Power backline. (Photo by Sarah Reed/AFL Photos via Getty Images)
Burton has now established himself as a key part of the Power backline.
They are set to kick off a signing frenzy for the Power, with a number of Port stars out of contact at the end of this season.
This includes Connor Rozee, Karl Amon, Dan Houston, Darcy Byrne-Jones, while veterans Robbie Gray and Travis Boak are also out of contact at the end of the season.
Originally published as AFL 2022: Keep up to date with the latest Port Adelaide news ahead of Round 1