Ange Postecoglou leads Celtic to Scottish Premier League title
Ange Postecoglou has received support from some of the biggest names in AFL and NRL on his way to European glory, including Eddie McGuire and Craig Bellamy.
Postecoglou quipped earlier in the season that Google crashed with Celtic fans frantically scrambling to find out who he was, after the Australian was appointed manager of the famous club.
Watch the world's best footballers every week with beIN SPORTS on Kayo. LIVE coverage from LaLiga, Bundesliga, Ligue 1, Serie A, Carabao Cup, EFL & SPFL. New to Kayo? Try 14-Days Free Now >
On Saturday, Postecoglou, 56, will hoist the Scottish Premiership trophy having hauled down his club's mighty rival Glasgow Rangers, who finished 25 points ahead last season and have only improved, preparing for a Europa League final next week.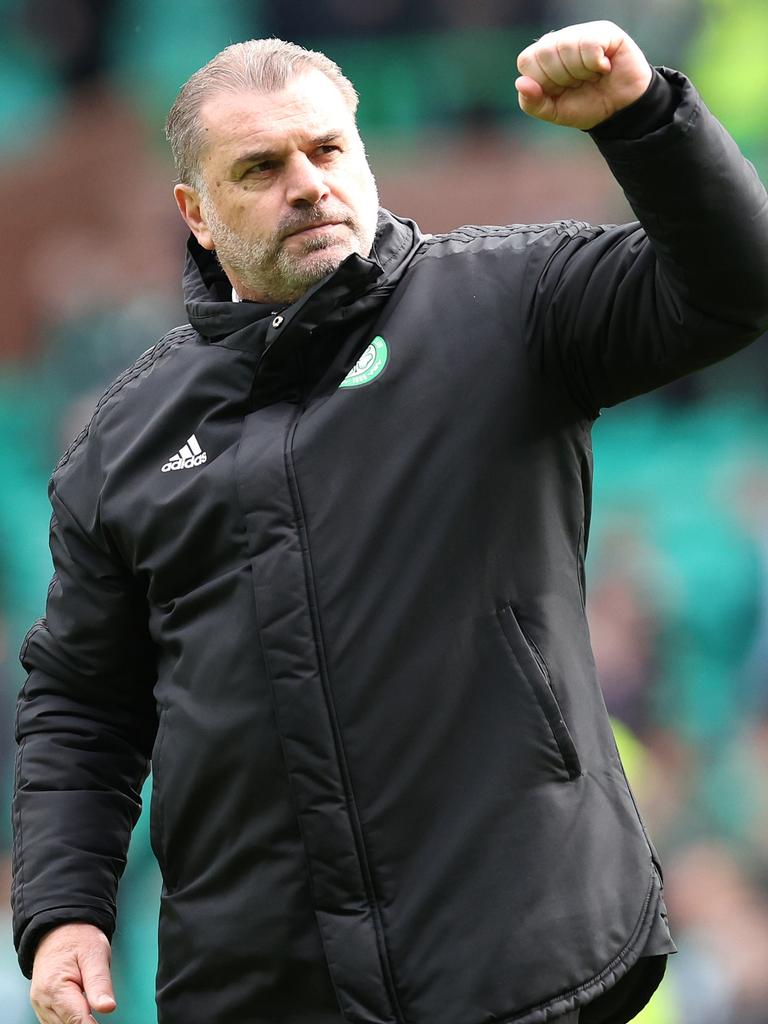 Ange Postecoglou has defied the naysayers to lead Celtic to the Scottish Premier League title.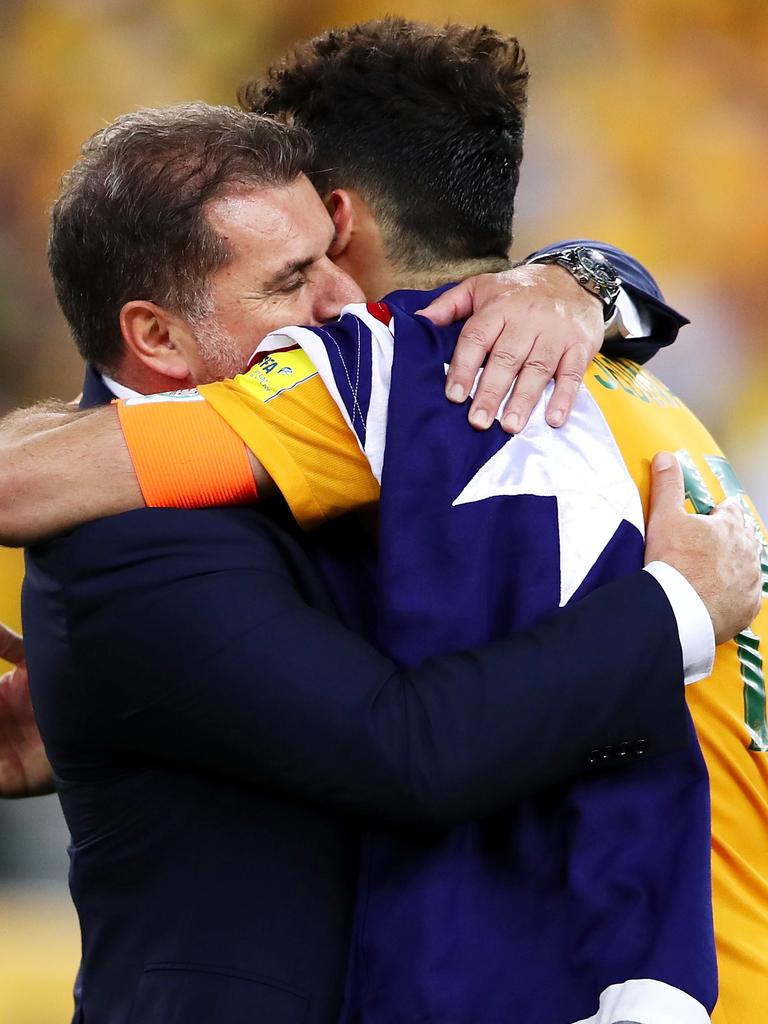 Postecoglou embraces Mile Jedinak after a Socceroos match.
"This is special. It's been a lifelong ambition of mine to come over to Europe and manage a big club, it's all I have ever wanted," Postecoglou said.
"It's just one of these historic clubs that most people around the world know. It's unique and it's intense. And for fans it's not just sport, it's their life.
"It was surreal (on Thursday when the title was confirmed). I said it was the first time this season I'd been lost for words.
"The title win was overwhelming. I put everything into it. We started from so far back. It was a huge job.
"It was a massive rebuild, everyone (at the club) knew that. But I knew I had to put down a marker and deliver (something) this season. A club like this, again, really can't go two years without winning anything."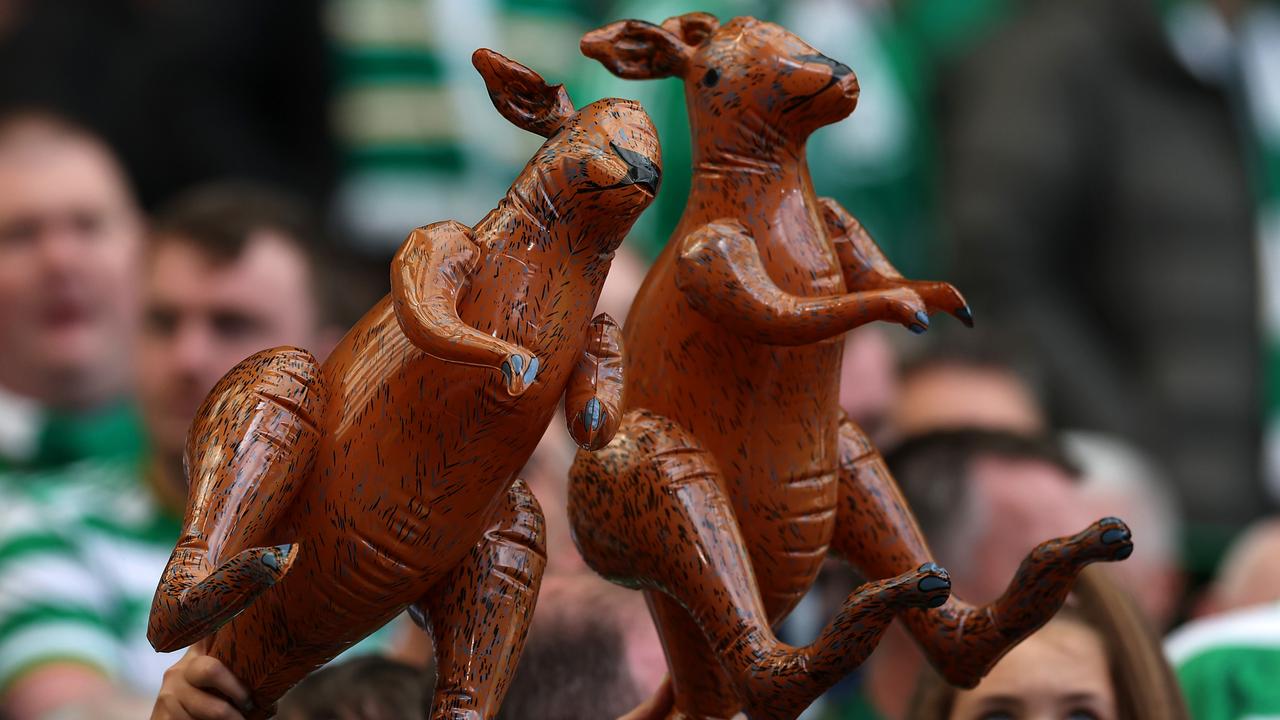 Celtic fans hold kangaroos during their Glasgow derby clash with Rangers.
Postecoglou's sixth career title win and eighth trophy for club and country is the first major trophy for an Australian men's coach in a top European league.
It's also shattered the perception that our coaches are not good enough for Europe, blazing the same trail that Craig Johnston, Eddie Krncevic, Mark Bosnich and company did decades ago as players.
Ange Postecoglou delivered A-League success before heading overseas.
It comes 10 years after Postecoglou claimed his fourth and final Australian domestic title – his second with Brisbane Roar after winning two with South Melbourne – and three years since his last, with Yokohama F. Marinos.
Celtic hosts Motherwell on Saturday night at Celtic Park and it promises to be a celebration, after Celtic's 1-1 draw at Dundee United secured the title, sitting four points clear of Rangers.
More than 10,000 fans greeted the Celtic squad after midnight on Wednesday night at Celtic Park and roared with delight when Postecoglou took to the megaphone to thank fans.
The ex-Socceroos boss will receive a grand reception on Saturday, credited as the mastermind behind the turnaround.
"I'll really try to enjoy the game and the occasion. The atmosphere is something else at Celtic Park," he said.
"The people have been fantastic, very welcoming, the city's great, it's got a bit of a Melbourne feel about it because it's very multicultural.
"If you get appointed as manager of one of the two big clubs – half the city hates you, half of the city loves you, that's only if you're successful."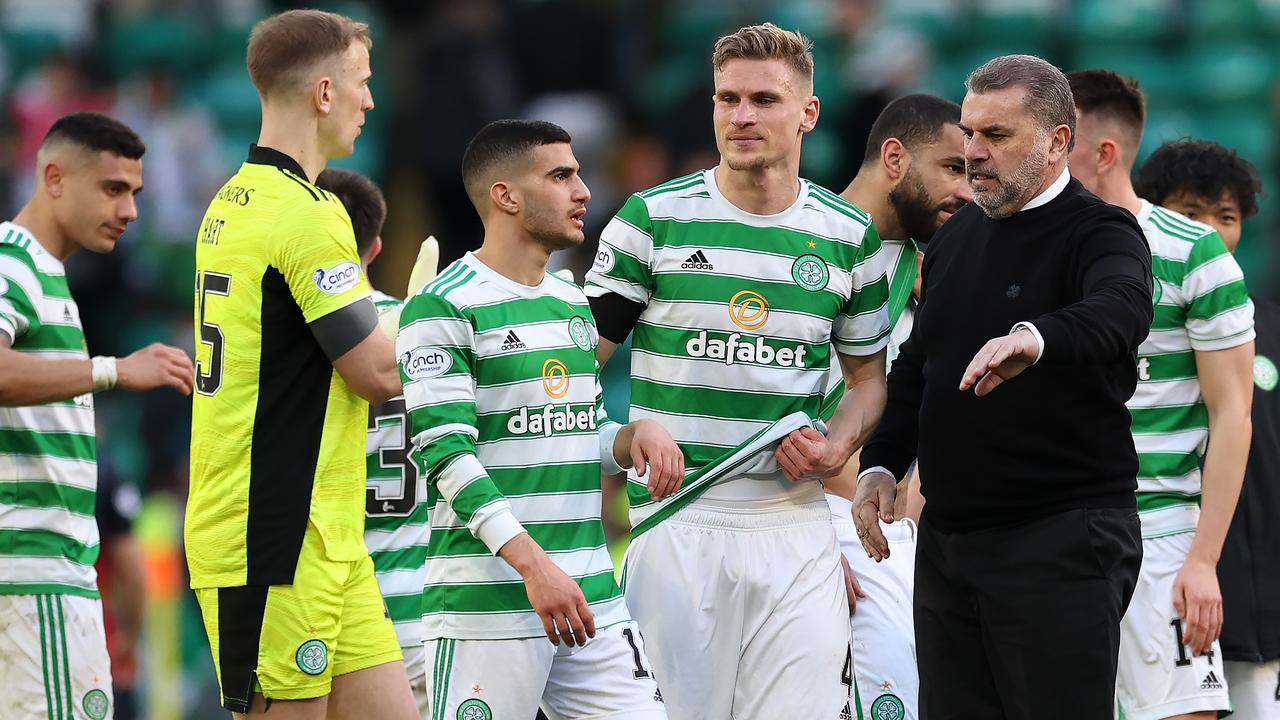 Ange Postecoglou chats to his players after a SPL match against Ross County.
HOW ANGE WON OVER CELTIC'S WORLDWIDE FANBASE
Once upon a time, Australian football powerbrokers screened calls from an unemployed coach desperate for work.
These days, Ange Postecoglou's phone buzzes as if it's malfunctioning, with well-wishes, even adulation flooding his inbox from some of the biggest names in Australia and Scotland.
"I've had all sorts. You find that so many people support this football club. You get messages from, whether it's someone like Rod Stewart (musician), Lewis Capaldi (comedian), Kevin Bridges. I had a great clip from one of the guys from Peaky Blinders," Postecoglou said.
"It's been brilliant. Apart from what they do, they're passionate supporters.
"You kind of realise just the reach of the football club. They're all passionate supporters."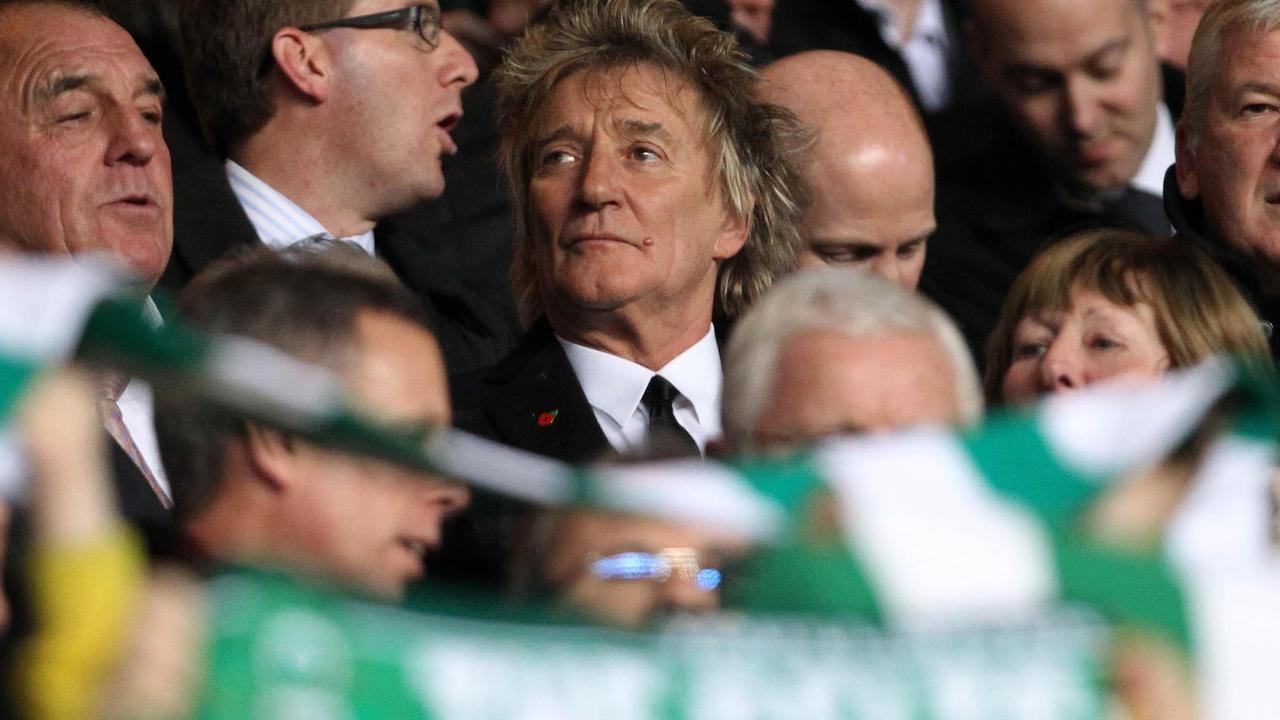 Rod Stewart in the stands a Celtic game.
Armed with nine million fans and 200-plus supporter groups around the globe, headlined by a full-house each week at Celtic Park that creates one of the best atmospheres in world football, FC Celtic are a big deal.
But the Scottish and European giant was on the canvas 10 months ago – finishing a mammoth 25 points behind local rival Rangers.
Enter Postecoglou, a football disrupter who had enjoyed success in Asia, but was still an unknown in Europe.
The turnaround has been so remarkable, even US rapper Snoop Dogg posted his intent to join Celtic's celebrations. Postecoglou is now becoming a household name in the UK and Europe, with former England and Chelsea star John Terry among those seeking him out after the Rangers clash a fortnight ago, while he's become a regular presence on Sky Sports across the UK.
The former Socceroos coach can make further inroads into the famous football continent when he plays in the prestigious UEFA Champions League next season, with Celtic earning direct qualification.
His trailblazing feats have been acknowledged back home, with Australians abuzz at the former Melbourne Victory coach's heroic feats.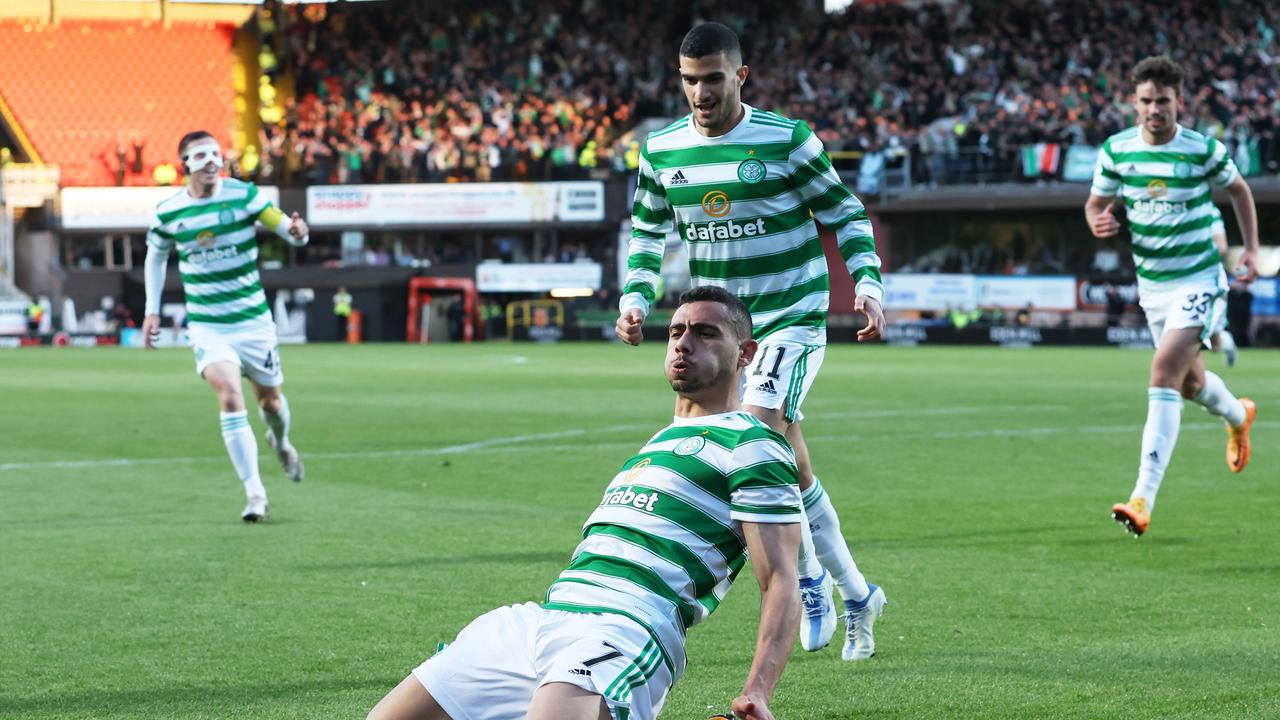 Giorgos Giakoumakis celebrates the goal which sealed Celtic's title win.
It's a far cry from 11 months ago when his appointment was scoffed at, and with pressure mounting early in the season as the Steven Gerrard-led Rangers – he was replaced by Dutch great and ex-Arsenal and Barcelona star Giovanni van Bronckhorst when Gerrard was headhunted by Aston Villa – threatened to run away with it.
Postecoglou revealed that he was feeling the love from 15,000km away, from all codes.
"Absolutely. People that know me know I love my sport. I love my AFL, love my cricket, I follow basketball, rugby league," he said.
"If you're raised in Melbourne, you're a sports lover and I've always admired coaches from the other codes. My only frustration was that I wanted us to be seen in the same light in our code.
"I've had a lot of messages from people in AFL, rugby league, cricket. They're all reaching out and congratulating me. It's brilliant, because for somebody like me who's just a fan, to know that those kind of people are following my journey, it's brilliant.
"Pretty significant people across the board. Eddie McGuire's a massive Celtic fan because of his dad. I'm pretty close to Luke Beveridge, Craig Bellamy, Brian Goorjian, Neil Craig, Eddie Jones and many others.
"Even Brian Cook at Carlton, he's been supportive since he's been at Geelong. It's brilliant for me to know that they're following that journey."
Matt O'Riley celebrates a goal with defender Anthony Ralston.
Postecoglou, whose life has changed, said this had reminded him and justified his decision to sensationally quit the Socceroos and pursue a coaching career in Europe.
First, he had to conquer Asia – again, after winning the 2015 Asian Cup – and claimed a stunning title win with Yokohama F. Marinos in 2018.
Postecoglou said criticism never bothered him, but rather the apathy that is in stark contrast to the raw passion and emotion he's encountered in the Glasgow fishbowl, where he even has his hair cut at home.
"I didn't mind (criticism). They're the ones who were praising me. Of course you love that. But it's a fact that a large section, even the football sort of population, weren't as passionate about it as I was," Postecoglou said.
"And that was never going to fulfil me. And particularly when I'm coaching my own country to a World Cup you kind of hope that apathy doesn't exist.
"But coming here, it's everywhere. I literally can't walk out my front door without it being there."
Postecoglou has not been seduced by his new found fame and adulation, nor by his impressive bar stocks, courtesy of a generous cohort of celebrity and mystery fans.
Big Ange Postecoglou putting Rangers firmly back in their place 🍀👏👏

— Chris Sutton (@chris_sutton73) May 11, 2022
☘️When Ange Postecoglou was announced at Celtic:

📱"Sacked by Christmas" etc

🗓Since then;

🏅5 x Manager of the Month Award
🎖SFWA Manager of the Year
🏆Won the Scottish League Cup
🥇Won the Scottish Premiership

ðŸ´ó §ó ¢ó ³ó £ó ´ó ¿ðŸ†The 𝒇𝒊𝒏𝒆𝒔𝒕 team in Scotland! #CelticFC🍀|#UCLpic.twitter.com/JJbSaApZMt

— #ChampionsLeague (@alimo_philip) May 11, 2022
He is our favourite son and he's once again lifting silverware as a Championship winning coach.

Congratulations Ange Postecoglou on another incredible achievement, we are extremely proud. https://t.co/ZUgW04XeM2

— South Melbourne FC (@smfc) May 11, 2022
"It's everywhere. Any person that knows me hands me a bottle of whisky," Postecoglou said.
"It (his love) came from the current FFA chairman (Chris Nikou), he kind of introduced me to it. Me, Chris and an old friend of ours, Nick, came to Scotland around 25 years ago, maybe longer.
"Just the three of us, a golfing tour and football tour of Scotland. We went to a few distilleries and the chairman introduced me to the finest of scotches and it's continued on since then.
"It's my preferred choice of a quiet drink. I'm not a massive drinker."
And rock star Rod Stewart – a diehard Celtic fan who posed on social media in a Celtic strip from Los Angeles – is also believed to be among the gift givers, donating wine to Postecoglou.
"There's a selection to be fair. I don't mind a red wine, either," he said.
And while previous Celtic managers have been tempted to paint the town red – or green and white – Postecoglou said he wouldn't get carried away with title celebrations.
"I go back home with the family, that hasn't changed in terms of my routine. I love sharing those moments with my wife and my boys. Not that I'm not a social person," Postecoglou said.
"My good mates who I grew up with and hadn't seen were here a few weeks ago and – I'm a bit embarrassed by it – they came over and watched the St Johnstone game we won 7-0 and then they stuck around for the (FA Cup) semi-final (against Rangers) at Hampden.
"My wife had booked dinner for all of us after the game because they were all leaving back home the next day. And I didn't turn up.
"They all came back to my place afterwards just to console me, and they understood. But some things haven't changed for me, I don't take defeats well. And in terms of celebrating wins, there's just a close group of people that I like to share it with."
And that is the essence of the Postecoglou success story. He hasn't changed, it's merely about perception and opportunity.
Celtic's "gamble" is paying it a rich dividend.
Originally published as Ange Postecoglou leads Celtic to Scottish Premier League title