Rugby World Cup: Wallabies and Wallaroos need to win both trophies to make lasting impact
If rugby is serious about getting back to the golden days, then being a good host of the 2027 and 2029 World Cups won't cut it, writes JULIAN LINDEN.
If rugby is serious about getting back to the golden days when it would fill any stadium in the land and attract the most talented kids players in the country, then being a good host won't cut it.
To make a lasting impact, Australia needs to win on the field as well. And not just one or two games, it needs to win the World Cups on home soil.
Stream Over 50 Sports Live & On-Demand with Kayo. New to Kayo? Try 14-Days Free Now >
And to do that, it may have to go raiding the NRL's player ranks, just as it did in 2003 when the Wallabies came with a Jonny Wilkinson field goal of winning the World Cup.
That seems like a lifetime ago because it's been 23 years and counting since the Wallabies last got their hands on the Webb Ellis Cup, while the Wallaroos have never made a final.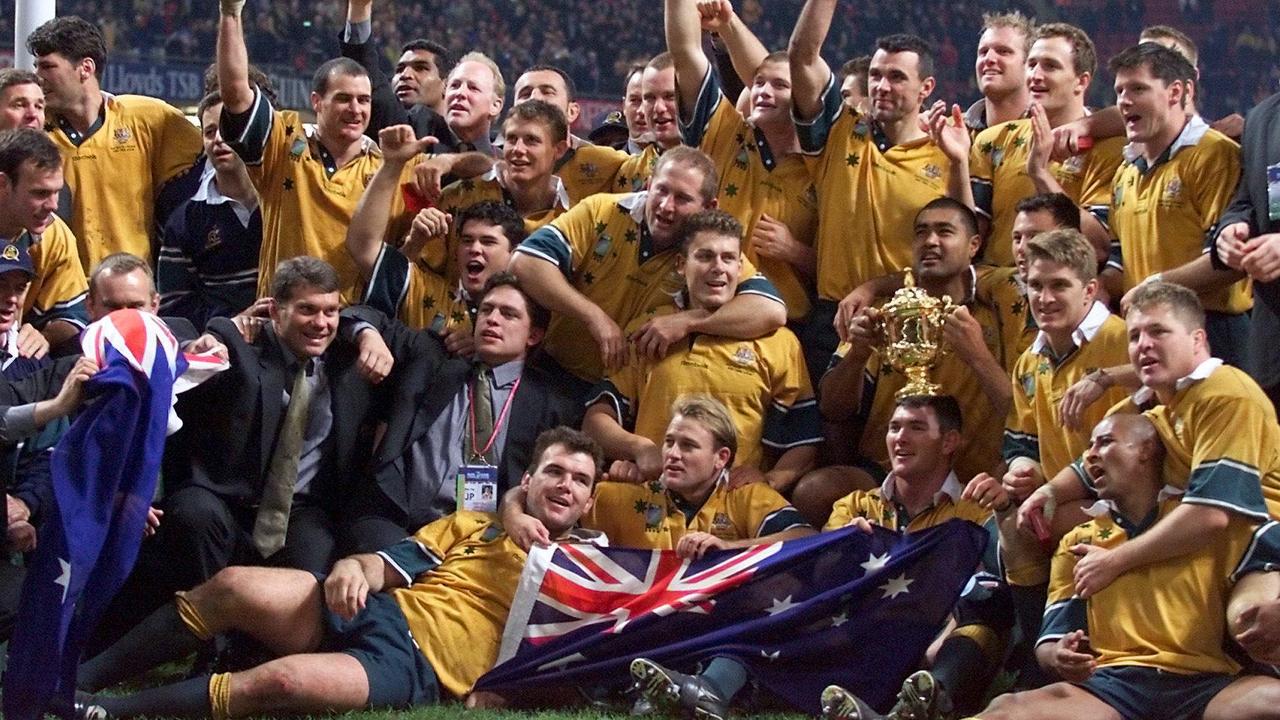 The Wallabies haven't won a Rugby World Cup since 1999 in Cardiff.
That has to change in 2027 and 2029 or the opportunity will be lost for an entire generation because that's how long it will be before either tournament returns to these shores.
The dilemma facing Rugby Australia is how it does it without blowing all the money it expects to make from the tournament.
It's no secret rugby in Australia is in a dire financial position and unable to retain its best talent from richer foreign clubs.
INSIDE STORY: WHY AUSTRALIA'S BID ALMOST FELL OVER
The quandary facing administrators is whether they dip into their pockets and start paying their best players more to get them back, or whether they relax their strict qualification rules so players can remain overseas and still be selected for the national side.
With the 2027 World Cup still five years away, there's no need to panic yet because there's plenty of time to develop new and emerging talent such as Waratahs prop Angus Bell, Reds playmaker Tom Lynagh and Brumbies hooker Billy Pollard.
Rugby Australia officials are banking on time working in their favour, believing the lure of the 2025 British and Irish Lions series, then a home World Cup, will be enough to keep the poachers at arm's length.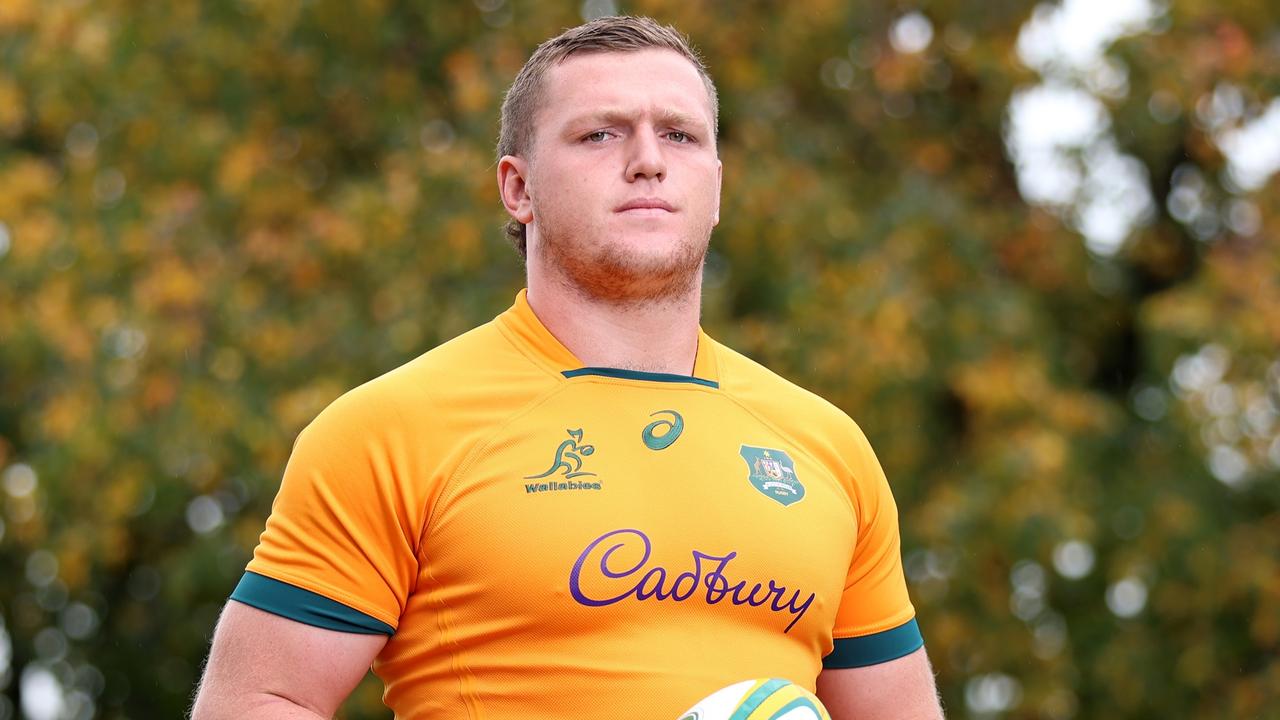 Wallabies prop Angus Bell will be in his prime when the 2027 Rugby World Cup is held in Australia. Picture: Matt King/Getty Images
"It's an attractive value proposition for any player that might be abroad or might be thinking about going abroad," RA chief executive Andy Marinos said.
"You only get to play the Lions once in your career if you're lucky, then there's the opportunity for a home World Cup in 2027."
Then there's the other option, less spoken about: pilfering from other football codes.
It happened before when Wendell Sailor, Mat Rogers and Lote Tuqiri all switched from league to union to help the Wallabies reach the 2003 World Cup final.
With little cash to go around, RA has paused its pursuit of NRL recruits for now, but is open about the possibility of making another raid as 2027 gets closer.
"There are, unashamedly, a number of quality players playing in other codes that we believe could absolutely add value to a Wallaby structure as we go forward," Marinos said.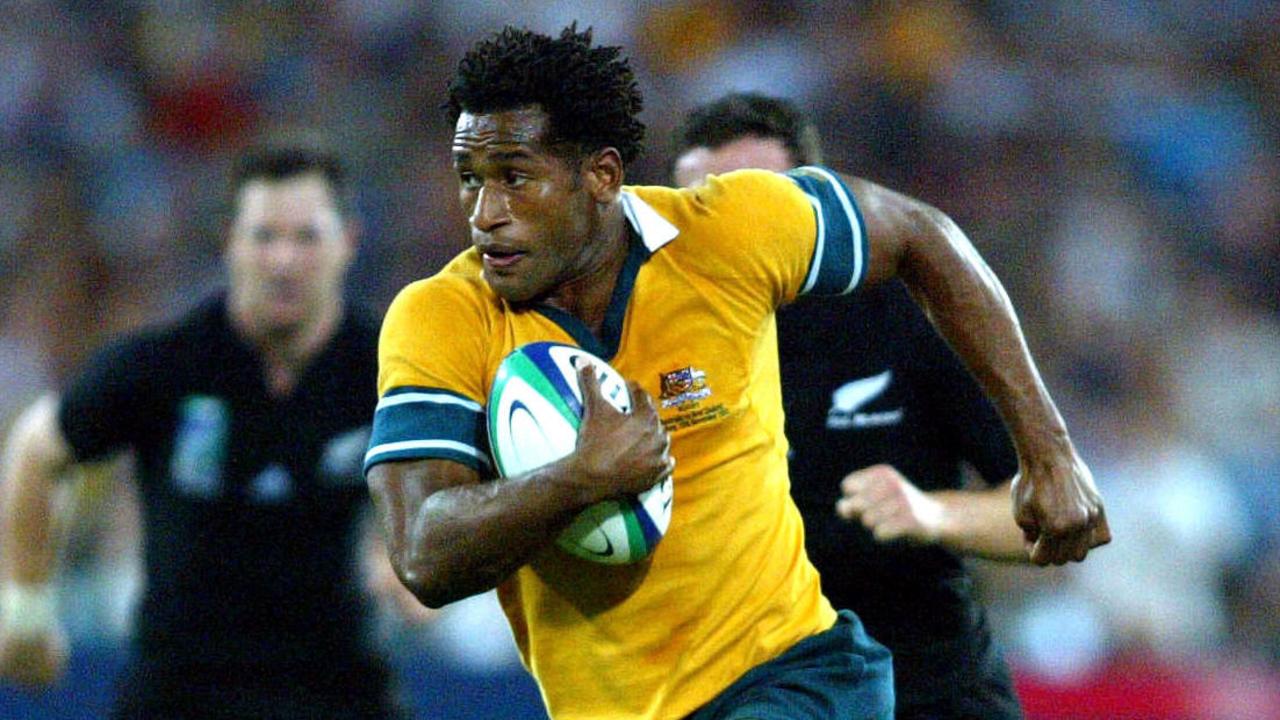 Former NRL splayere Lote Tuqiri was a star for the Wallabies at the 2003 Rugby World Cup in Australia. Picture: Gregg Porteous
"So we will have a multi-pronged attack in terms of how we retain and repatriate and how we very astutely approach and attract new talent from other codes.
"We want to make sure that when we have 2025 or when we have 2029 and 2027 that we've got the best players because what we want to do is replicate what happened in 2003 — except for the last 30 seconds of that extra time, where a drop goal really decided the fate.
"It's going to be really important for us that we can lift a trophy in 2027 and lift a trophy in 2029.
"But we don't want to be too patient because we realise very acutely that on-field success is going to drive a lot of off-field interest as well, so there's a heightened awareness around the on-field performances needed to mirror what we're trying to achieve through what we call the golden decade."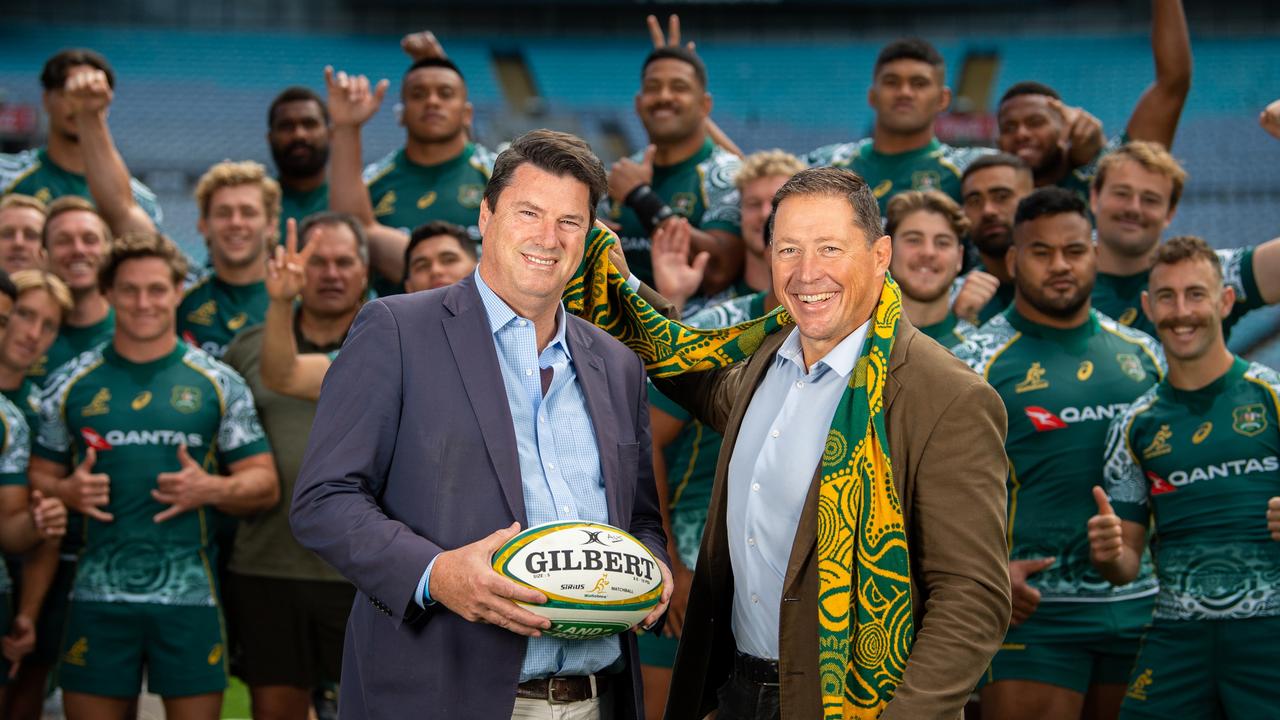 Former Wallabies skipper Phil Kearns, right, believes the lure of playing in a Rugby World Cup on home soil will be huge for the game. Picture: Stuart Walmsley/Rugby Australia
Former Wallabies skipper and double World Cup winner Phil Kearns believes the pot at the end of the rainbow will be irresistible.
"If I'm a 15 or 16 year old kid now and I've got a little bit of ability, I'm thinking I can play in that thing in 2027 or 2029," Kearns said.
"That's a fantastic thing for kids to aim for. And if you're quick and you can play in the Olympics in 2032, and that's just a fabulous message to be able to send.
"As I often say to people, if you want to be the best rugby league player or the best AFL player in the world, well, you're really only the best player in Australia.
"But if you want to be the best rugby player in the world, you can genuinely be the best rugby player in the world."
IT'S OURS: AUSTRALIA AWARDED 2027 AND 2029 RUGBY WORLD CUPS
Rugby is back.
After almost a quarter of a century, the Rugby World Cup is returning to Australia – in 2027 then again in 2029.
Previously held in Australia in 1987 and 2003, the men's World Cup will take place in 2027 – bigger than ever before — then followed two years later by the women's tournament.
Both events were confirmed late on Thursday night at a meeting of the sport's world governing body in Ireland – where the United States was awarded the 2031 and 2033 double – and the party has already kicked off in Australia.
INSIDE STORY: WHY AUSTRALIA'S BID ALMOST FELL OVER
Stream Over 50 Sports Live & On-Demand with Kayo. New to Kayo? Try 14-Days Free Now >
The Sydney Harbour Bridge was lit up in green and gold while a series of celebrations are scheduled to take place in each of the capital cities across the country on Friday.
The Wallabies haven't won the Webb Ellis Cup since 1999 but for the team's long suffering fans, the return of the world's third biggest sporting event to Australian shores is cause enough to crack open the champagne.
Johnny Wilkinson lands the telling blow in the last World Cup held in Australia.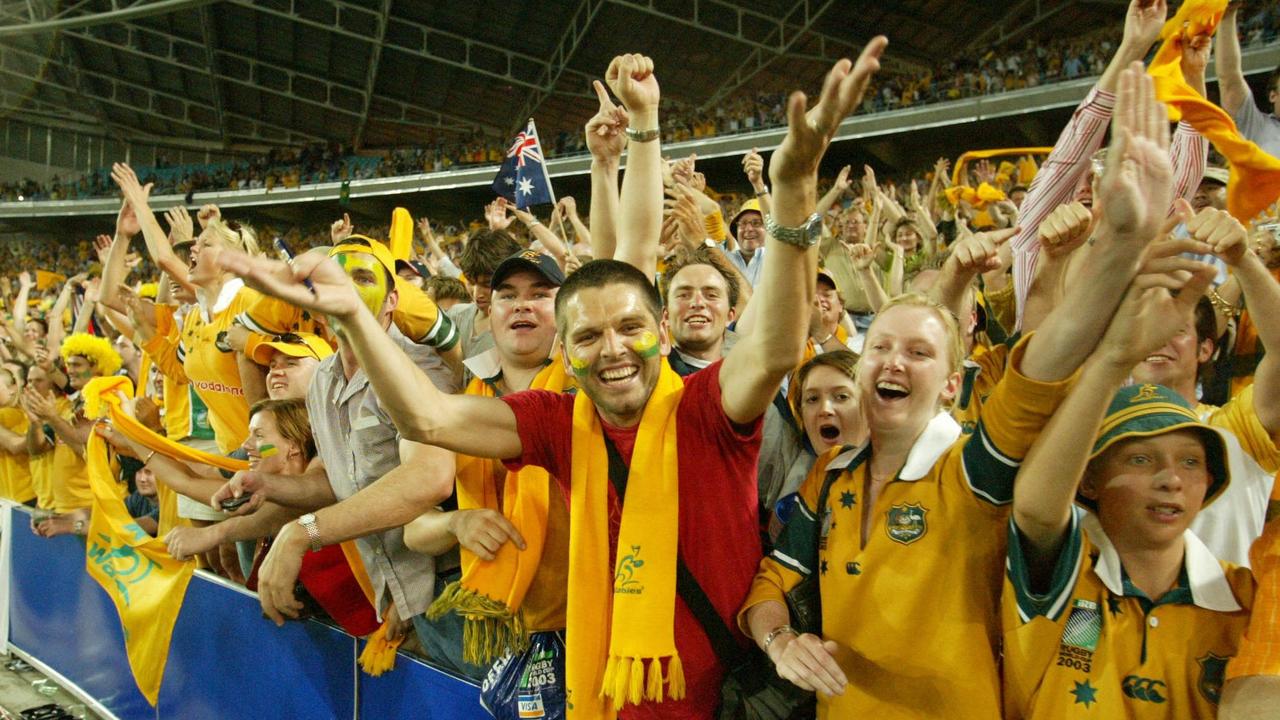 Wallabies supporters lap up a game in Sydney during the 2003 World Cup.
There's no disputing that rugby in Australia has fallen on hard times in the past two decades through poor management and disappointing on field results but if anything can return the game to its past glories, it's the return of the game's showcase event.
But it comes with a warning – that the game's custodians don't stuff it up and blow all the profits as they did after the 2003 World Cup.
"We are very cognisant of the fact that while we get the World Cup in 2027 and 2029, we don't know when another big marquee event like that is going to land on our shores," RA chief executive Andy Marinos told News Corp.
"So we've got to be very, very, very careful and manage it and that is at the forefront of this board's mind."
With the game struggling financially, the stakes this time have never been higher, particularly as the World Cup has grown from humble beginnings into a virtual licence to print money.
Rugby Australia has forecast that the 2027 tournament will generate $2.8 billion in economic impact and will be watched by a global cumulative television audience of four billion.
They expect to sell more than two million tickets while attracting 217,000 international visitors, most with deep pockets and expensive tastes.
The Sydney Harbour Bridge turns green and gold to celebrate Australia's successful bid. Picture: Karen Watson.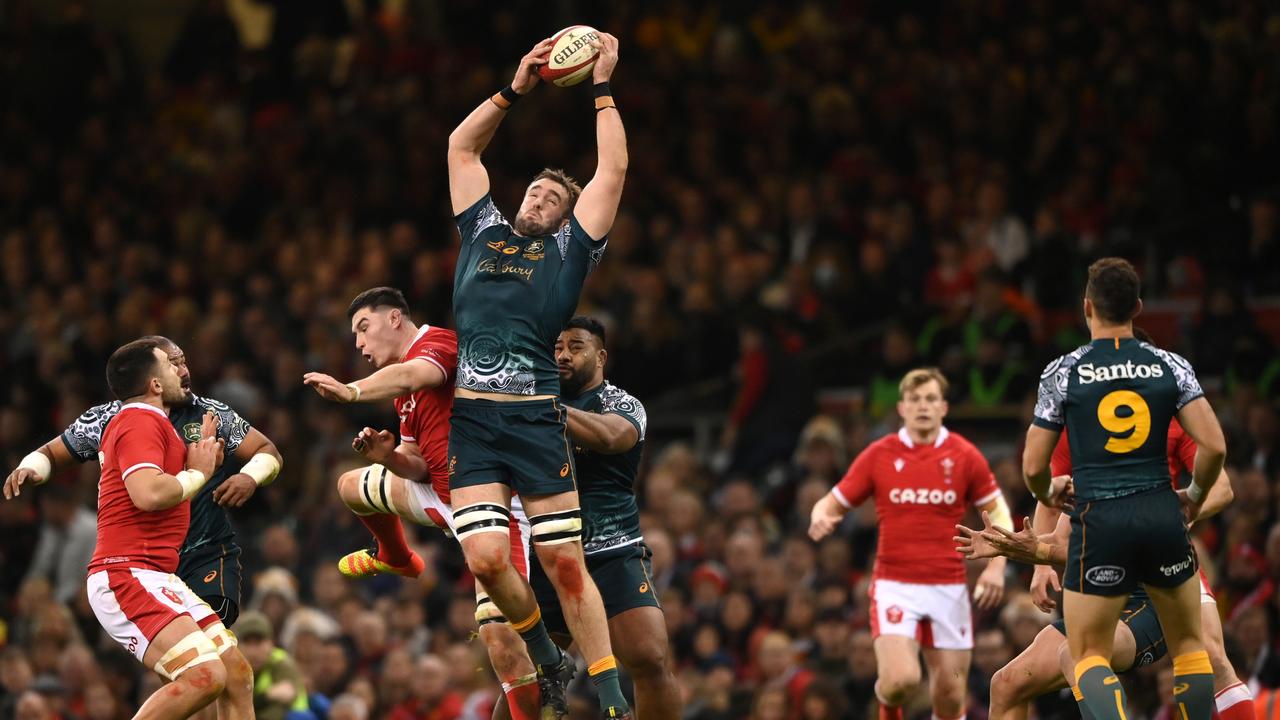 Wallaby Izack Rodda climbs high in a Test against Wales.
With the British and Irish Lions touring in 2025 followed by back to back World Cups then the Brisbane Olympics looming in 2032, Rugby Australia is hoping to hit the sort of numbers they expect to safeguard the game's future for decades.
Wallabies captain Michael Hooper said the news brought back memories of when he attended Australia's famous 2003 semi-final win over the All Blacks.
"I was 12 years old, so I was a pup. I was at the semi-final. Stirling Mortlock takes an intercept against the Kiwis and runs what felt like 150 metres but 70 odd metres to get a try and wins that game," he said.
"Obviously the next week (losing the final to England in extra time) wasn't as enjoyable but fond memories of just being an absolute celebration not only of rugby but Australia. So to see that a bit later and come a bit further is pretty cool."
But the bidding team's executive director Phil Kearns, a former World Cup winner and Wallabies skipper, has wisely ruled out any wild spending splurge, saying the money needed to be invested properly this time.
"The legacy of the World Cup doesn't start in 2027, it starts as of now," he said.
"We've got this runway of five years to work on that legacy program and then execute it beyond, which is when essentially the money will come in.
"But money by itself does not solve the problem. It helps clubs to be run better and be self-sufficient but it can't be the saviour of everything. We saw that with the last World Cup."
The venues for both the men's and women's tournament are still to be confirmed though there's hardly any secrets.
The men's tournament is expected to be played in seven cities: Sydney, Melbourne, Brisbane, Perth, Adelaide, Newcastle and Townsville.
The 2003 final was held at Accor Stadium and Sydney's Olympic Park is the obvious choice to host the 2027 decider but will face stiff opposition from the Melbourne Cricket Ground and Perth's Optus Stadium – the only other venues that meet the minimum requirement of 60,000 seats for the biggest knockout matches.
A decision on the finals will be made before the end of this year but for now it's a rare moment for the code to look ahead with optimism.
"If I'm a 15 or 16 year old kid now and I've got a little bit of ability, I'm thinking I can play in that thing in 2027 or 2029," Kearns said.
Originally published as Rugby World Cup: Wallabies and Wallaroos need to win both trophies to make lasting impact