Brisbane 2032 Olympics: Federal minister accuses premier of choosing love over 'Team Australia'
The Federal Sports Minister has called out Queensland premier Annastacia Palaszczuk for snubbing key Indigenous and Paralympic figures at a recent meeting with IOC president. And inviting her boyfriend instead.
Federal Sports Minister Richard Colbeck has taken aim at Queensland Premier Annastacia Palaszczuk for snubbing Paralympians and Indigenous Australians at a major Brisbane 2032 Olympic meeting where her boyfriend got a surprise seat at the table.
Colbeck confirmed he never received an invite to the first face-to-face meeting between Brisbane 2032 Olympic organisers and senior members of the International Olympic Committee including IOC president Thomas Bach on Sunday, but it was two other notable absentees from the invitation list that had the Federal government upset as a major "lost opportunity" to show the inclusivity of "Team Australia".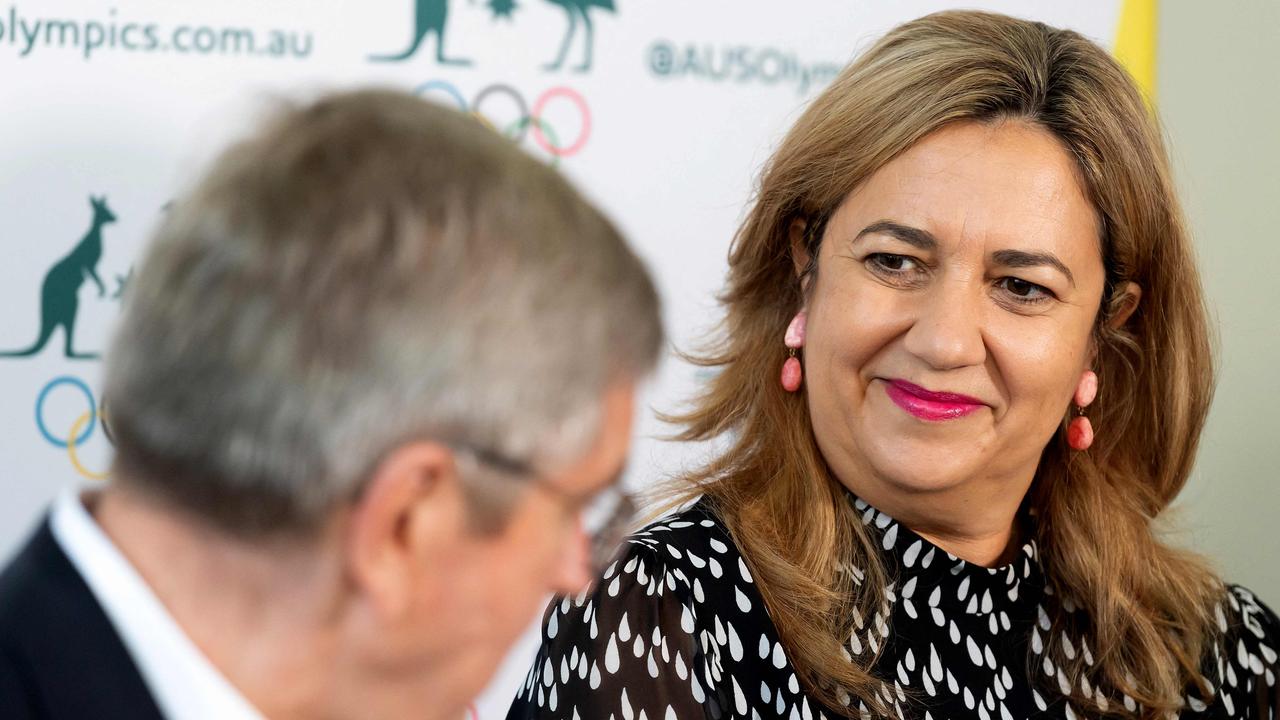 Queensland Premier Annastacia Palaszczuk with IOC President Thomas Bach Photo: AFP
The Premier's partner, surgeon Reza Adib, was pictured at the one-hour meeting in Sydney along with Australian Olympic Committee presidents John Coates and Ian Chesterman, Brisbane Lord Mayor Adrian Schrinner and Andrew Liveris the boss of the 2032 Organising Committee.
But, according to Colbeck, neither Paralympic Australia boss Jock O'Callaghan or Indigenous representative Patrick Johnson were invited to the landmark meeting despite both being in Sydney that weekend for the AOC annual general meeting.
"I think it was an opportunity lost in showing what we were all about, rather than just a photo op for the Premier," Colbeck told News Corp on Monday.
"I've spoken to Jock O'Callaghan and he wasn't invited. I think it would've been pertinent to have one of the Indigenous representatives from the board there too.
"From my point of view it's an opportunity lost to show what we want these 2032 Games to be, the inclusivity, and so the fact that particularly an Indigenous representative, Partick Johnson was at the AOC thing so it wouldn't have been difficult to have him along and to flick an invitation to Jock O'Callaghan who is also on his way to the Pacific Forum (with Bach) as well.
"He is certainly looking to be engaged across the platforms as part of what he is doing towards 2032. So it's disappointing, an opportunity lost to show what we were seeking to achieve as Team Australia."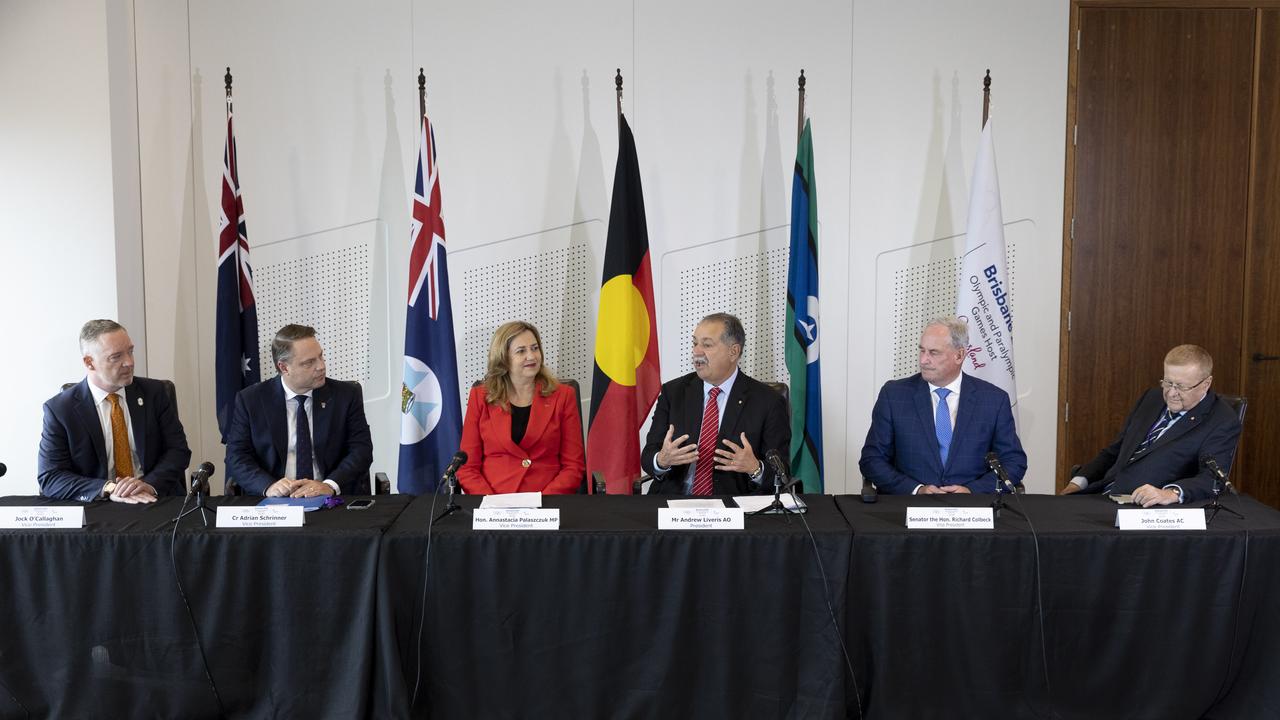 The Organising Committee in Brisbane last week. Picture: NewsWire/Sarah Marshall
Colbeck added that he was surprised to find out the Premier's partner had got a start at the event ahead of the Federal Government, Indigenous and Paralympic representatives.
Colbeck and O'Callaghan were the only two vice presidents of the Organising Committee not invited to the Sydney gathering.
"Let's say I was bemused, but for me it was more that there are a number of vice presidents and you're aware of who all those are so Jock wasn't there as a representative of Para Sport and of course they are an important part of the overall 2032 sport event. There was no Indigenous representation there," he said.
"It did draw a bit of stark contrast when I saw that (photo) in the papers this morning."
Colbeck said as part of the "50-50" funding split between the Federal and Queensland government it was important the Games don't become a political powerplay and he'd been pleased with the progress made behind closed doors in their first meetings.
He plans to talk to OCOG boss Liveris to ensure there is no repeat of Sunday's snubbings - although at this stage he is aware IOC boss Bach may be touring Brisbane facilities later this week but there has been no invitation for a Federal Government representative to attend those tours.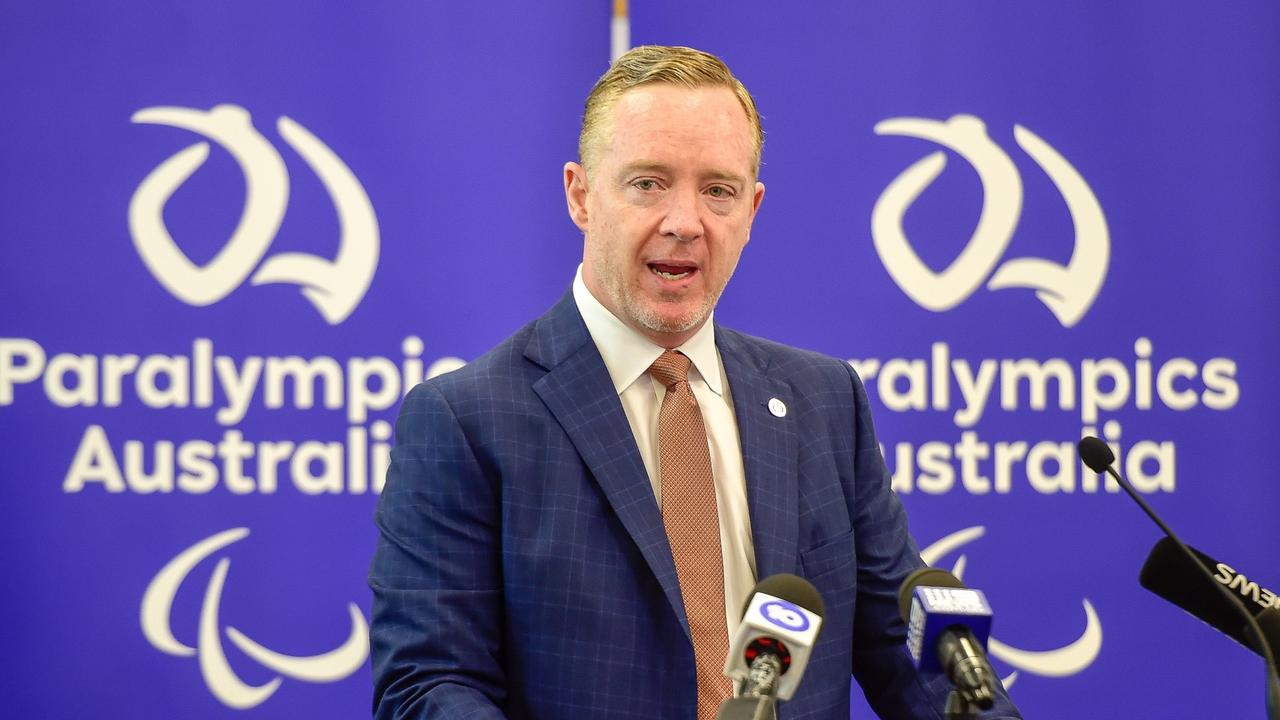 Richard Colbeck and Jock O'Callaghan, pictured, were the only two vice presidents of the Organising Committee not invited to the Sydney gathering.
"One of things that impressed me about the meeting we had last week was that everybody lifted our eyes to the objective to delivery of the Games and there was no perspective of anything else," Colbeck said.
"I was talking to (Queensland Minister for Sport) Sterling (Hinchcliffe) on Saturday night and the engagement that he and I had in the process to establish the structure of the OCOG was really good. Everything we have talked about has been delivered in the legislation. We weren't expecting something of this nature (to happen).
"I understand that they're looking to have something in Brisbane on (the IOC's) way back through later in the week, but again we haven't been advised of that either.
"They're touring facilities over the next couple of days and again as 50-50 partner in funding of those (facilities) while I am aware of it because of what the discussions have been there is no invitation to participate in it.
"I'm going to be talking to Andrew Liveris just to have a chat to him about it because as president of the OCOG I think he needs to be alert to ensuring that all the key players are part of these things.
"He perhaps hadn't anticipated he was being invited by the Premier as part of this process so I'm not blaming anything at his feet at this point in time but I will be talking to him about it."
Originally published as Brisbane 2032 Olympics: Federal minister accuses premier of choosing love over 'Team Australia'