Kernahan, Bradley face huge debt including to premiership teammate Fraser Brown
A massive debt has come between Carlton premiership teammates Stephen Kernahan, Craig Bradley and Fraser Brown. But debt wise, Kernahan and Bradley have even more pressing concerns.
It's September 30, 1995, the Blue Baggers' army rejoice in the MCG stands after their heroes have smashed Geelong by 61 points.
On the hallowed turf, Carlton's favourite son and long-time skipper Stephen Kernahan, running machine Craig Bradley and tough nut Fraser Brown are arm in arm, euphoric.
For Kernahan and Bradley, who had landed at Princes Park from the SANFL in a massive recruiting coup a decade earlier, it is a second taste of flag success after the Blues' grand final triumph over Hawthorn in 1987.
They are the wise old heads in a powerhouse team.
Watch every blockbuster AFL match this weekend Live & Ad-Break Free In-Play on Kayo. New to Kayo? Try 14-Days Free Now >
Brown, seven years younger but hard as nails, is another vital contributor to the Blues' record-breaking 16th premiership, the Sweet Sixteen as it is dubbed.
Twenty-seven years on, the picture is far different.
After hanging up his boots in 1997, the statesmanlike Kernahan would go on to serve as Carlton president from 2008 to 2014.
Kernahan was also making big moves in the printing game, alongside close friend Bradley and others.
Big clients for their firm Waratah Group included Australia Post, Spotlight and World Vision.
Brown was forging another path, building an incredibly successful property development business.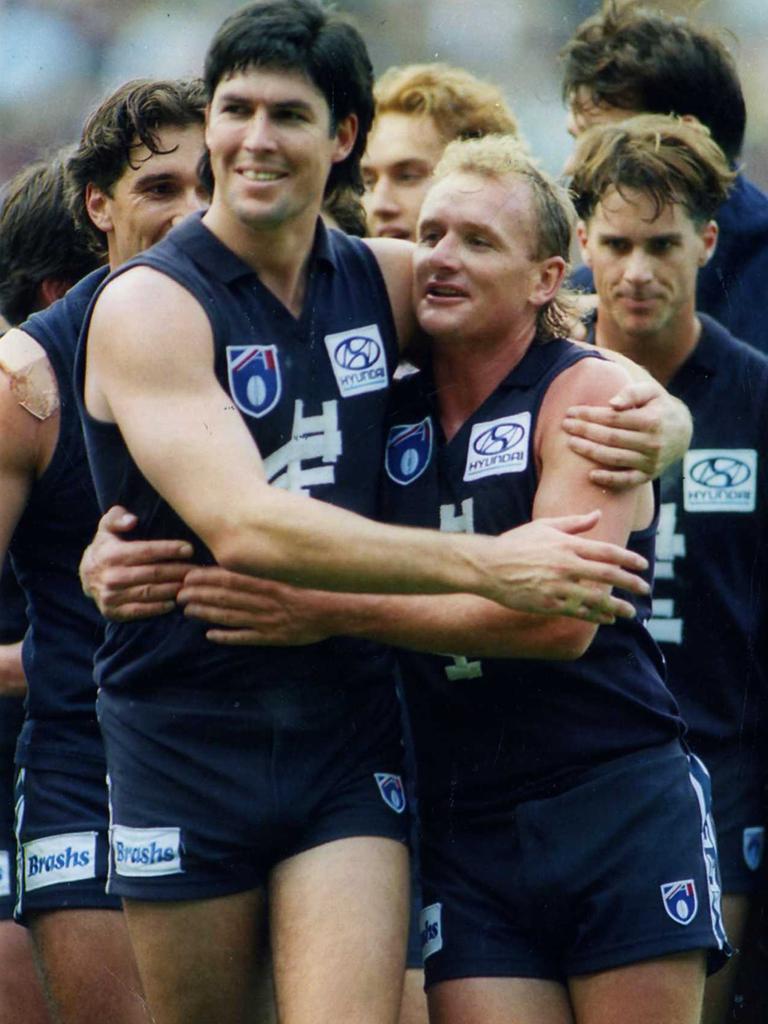 Kernahan and Bradley have amassed massive debt
Then for Kernahan, Bradley and their group, fortune took a sharp turn south.
In 2018, Kernahan and Bradley turned to Brown for help, borrowing $1.5m from his burgeoning company.
A year later, a group linked to their printing business which included Kernahan and Bradley took out more loans – totalling $4.12m.
This time the cash was coming from Oak Capital and First Mortgage Capital (FMC), with astronomical interest rates in the deal.
But the Waratah Group had overreached and fell into administration in late 2019.
Three years later, one of the partners had already been forced to hand over $1.5m to Oak and FMC after selling his family home.
And Kernahan and Bradley, now both 58, are facing possibly a bigger fight than the 1995 Grand Final.
Instead of the Cats, this time it is against Oak and FMC in the Supreme Court of Victoria.
At stake are their family homes.
Brown, 51, is not a player in this contest, but with $1.5m of his company's cash also on the line, will be a very interested spectator.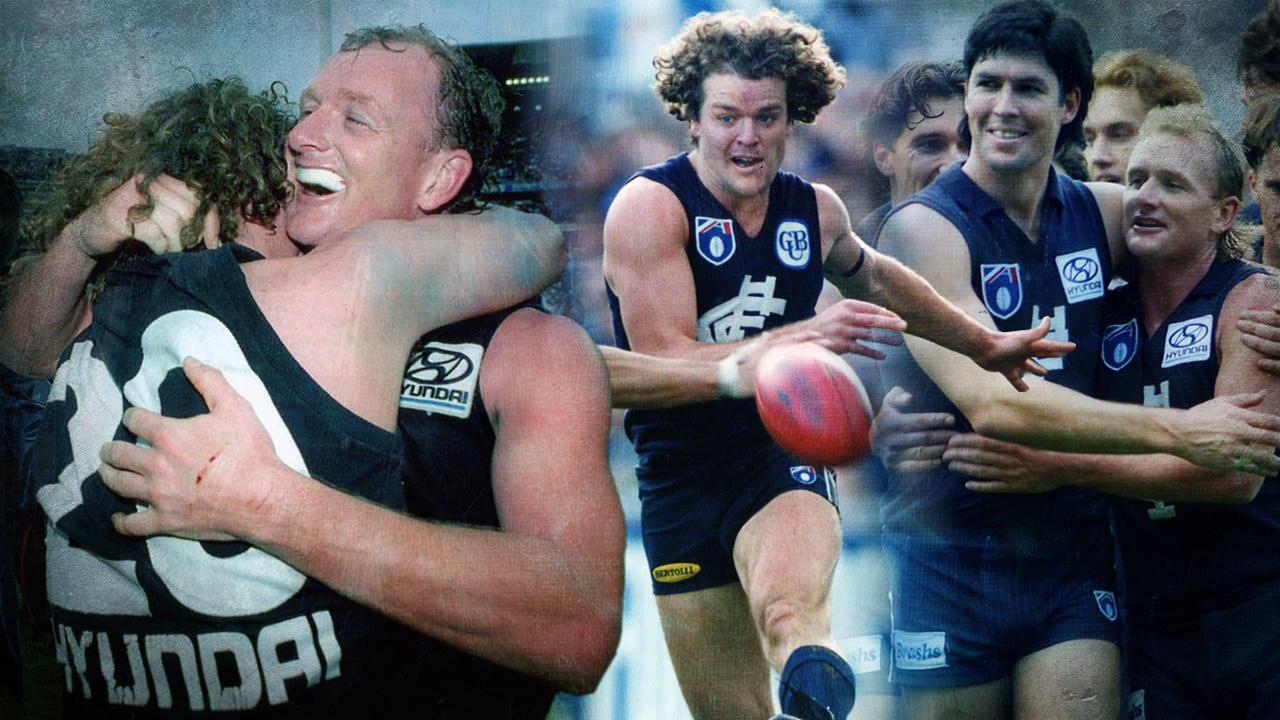 Stephen Kernahan and Craig Bradley face losing their family homes in a bitter stoush over a $4.5 million debt
Blues legends caught up in $6m bitter debt stoush
Carlton premiership greats Stephen Kernahan and Craig Bradley face losing their family homes in a bitter stoush over a $4.5m debt.
Former Blues hardman and close friend Fraser Brown is separately owed $1.5m by the pair.
Supreme Court documents reveal mortgage fund providers Oak Capital and its offshoot First Mortgage Capital are demanding Kernahan and Bradley surrender their homes in Essendon and Eaglemont for failing to repay $4.12m they borrowed in 2019.
With interest and legal costs, the total amount being pursued is more than $4.5m.
In a counterclaim, Oak Capital and FMC are being accused of having "conspired to cause financial harm" to the Blues legends and their business partners "by imposing a lending regime which was bound to cause the borrower to fail".
The debt dispute centres on the collapse of the Waratah Group, a Port Melbourne printing business part-owned by Kernahan and Bradley.
Oak Capital and FMC agreed to lend $4.12m to MW Assets Pty Ltd – the Waratah Group's corporate vehicle in March 2019 – just eight months before it fell into administration.
Court documents reveal the interest rate on FMC's loan peaked at 60 per cent, with monthly repayments reaching $52,492, despite the company only having advanced about a third of the $2 million it was lending.
Oak Capital charged up to 18 per cent interest on its loan.
Kernahan and wife Jennifer and Bradley and wife Donna personally guaranteed the loans by providing their family homes as security.
Their business partners, who also put up their properties as security for the loans, were Brett Chalmers (not the former Port Adelaide and Adelaide player of the same name) and ex-wife Michelle, Moody Aboughattas, Abdel Aboughattas, Kathryn Aboughattas and Choppers Noona Pty Ltd.
Fraser Brown is owed $1.5m by the pair.
The Chalmers have already surrendered $1.5m to Oak Capital from the proceeds of the sale of their former family home.
Court documents reveal Kernahan and Bradley also borrowed $1.5 million from Brown's construction firm BPG in 2018 – prior to them taking on the Oak and FMC debts.
In 2021, the duo again agreed to hand over their homes as security to Brown's company.
BPG is closely monitoring the Oak-FMC standoff.
In the court fight, FMC asserts in documents: "In breach of the terms of the Essendon mortgage … Mr Kernahan and Mrs Kernahan have failed, neglected and or refused to pay to FMC the secured money owing, namely the sum of $764,877.39.
"FMC is entitled to possession of the Essendon property pursuant to the terms of the Essendon mortgage.
The finance firm also demands that Donna Bradley (the sole proprietor of the Bradley family home) "immediately" pay $765,000, declaring it is "entitled to possession of the Eaglemont property".
But lawyers for Kathryn Aboughattas, who is among those being pursued, allege Oak and FMC "acted unconscionably" in facilitating the loans and in their subsequent conduct.
They have lodged complaints to the Australian Securities and Investments Commission and the Australian Financial Complaints Authority, alleging they engaged in a system of conduct to avoid regulatory scrutiny.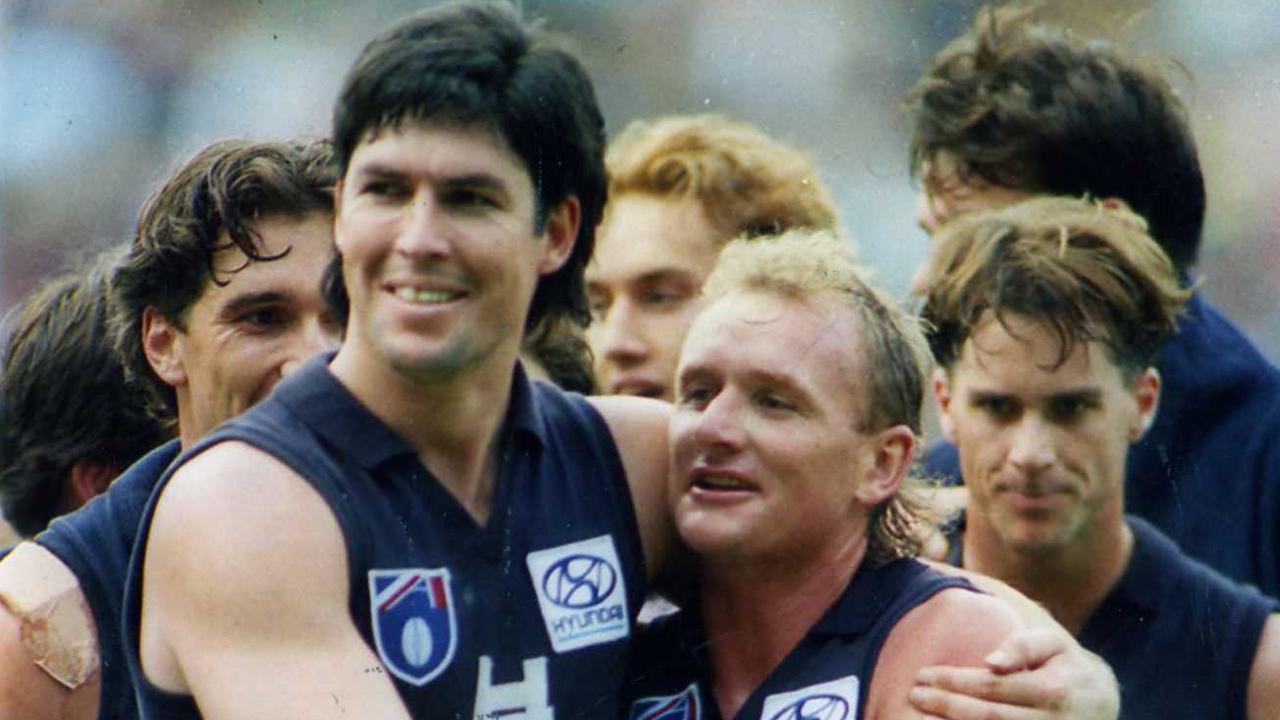 Stephen Kernahan and Craig Bradley are in significant debt and face losing assets
John Sinisgalli, a commercial litigation specialist acting for the debt-ridden Blues, told the Herald Sun: "The Kernahans and the Bradleys are very disappointed by the lending practices and conduct of Oak Capital and FMC.
"They will be defending their position as alleged guarantors of these loans fully and without hesitation. A strong stand has to be taken against these lending practices."
Michael Landy, director of Eagle Financial Solutions, which is advising the Aboughattas family, said Oak's operation model was "a matter of public interest" and needed to be "investigated in order to protect borrowers and guarantors".
"While Oak is an Australian Financial Services licence holder and thus bound by AFCA's dispute resolution scheme, FMC, its related entity, is not – so, when there is a problem with a borrower, Oak assigns the debt to an unlicensed related entity, like FMC, which prevents ASIC and AFCA from investigating its conduct," Landy said.
Solicitor Nicola Lally, acting for Choppers Noona, said: "My observation is that the lending practices of these two companies have been extremely oppressive and burdensome, and have caused considerable stress for the borrower and guarantors. These practices will rightly be exposed to the scrutiny of the court."
Lawyers for Oak and FMC responded in a statement.
"In 2019 MW Assets Pty Ltd, Moody Aboughattas (including Kathryn Aboughattas), Stephen Kernahan, Craig Bradley and others (MW Assets Group) borrowed money from Oak Capital Mortgage Fund Ltd (Oak) and First Mortgage Capital Pty Ltd (FMC) to refinance their existing defaulting loans with Wentworth Capital Pty Ltd (Oak/FMC Loans).
"The MW Assets Group promised to repay the Oak/FMC Loans by selling and refinancing various assets. Unfortunately, the MW Assets Group did not repay the Oak/FMC Loans as it had promised to do resulting in the current recovery proceedings involving Oak, FMC and other lenders owed money by the MW Assets Group including the Commonwealth Bank of Australia.
"As this matter is still before the Court, Oak and FMC is unable to provide any further comment."
A directions hearing in the Supreme Court is scheduled for May 13.
Originally published as Kernahan, Bradley face huge debt including to premiership teammate Fraser Brown