Collingwood AFL news: Magpies cheer squad given no-go zone words in cultural awareness training
Collingwood's cheer squad has been issued with a list of "no-go zone" expressions in a move the club says has already helped improve behaviour.
The club says the sessions have helped improve behaviour as it attempts to promote cultural change as part of the Do Better report.
The education sessions include what the club calls "no-go zones" or "zero tolerance" areas with specific reference to "numerous words that are offensive to Aboriginal and Torres Strait Islander people".
Watch every blockbuster AFL match this weekend Live & Ad-Break Free In-Play on Kayo. New to Kayo? Try 14-Days Free Now >
In the Zoom presentation, the cheer squad is told "the following words should never be used", with reference to the N word and several other offensive references to indigenous people.
They are also told the expression Aborigines is deemed offensive "due to past policies" and has a negative connotation.
Collingwood fans celebrate their big win over Essendon on ANZAC Day (Photo by Dylan Burns/AFL Photos via Getty Images)
Collingwood's cheer squad completed a training education session last week under the supervision of indigenous programs manager Deb Lovett, with all cheer squad members under a strict code of conduct since 2018.
Collingwood told the Herald Sun on Tuesday the club introduced the cultural awareness training along with its cheer squad code of conduct in 2018.
"The purpose for cultural awareness training is to ensure all people of Collingwood uphold the club values to provide a welcome and inclusive environment for all," the club said in a statement.
"Collingwood's cheer squad all agreed and were open to having a code of conduct and all members signed a 'Declaration of Commitment' which states their obligation to uphold club values, to provide a welcome and inclusive environment, and exhibit appropriate behaviours on game days."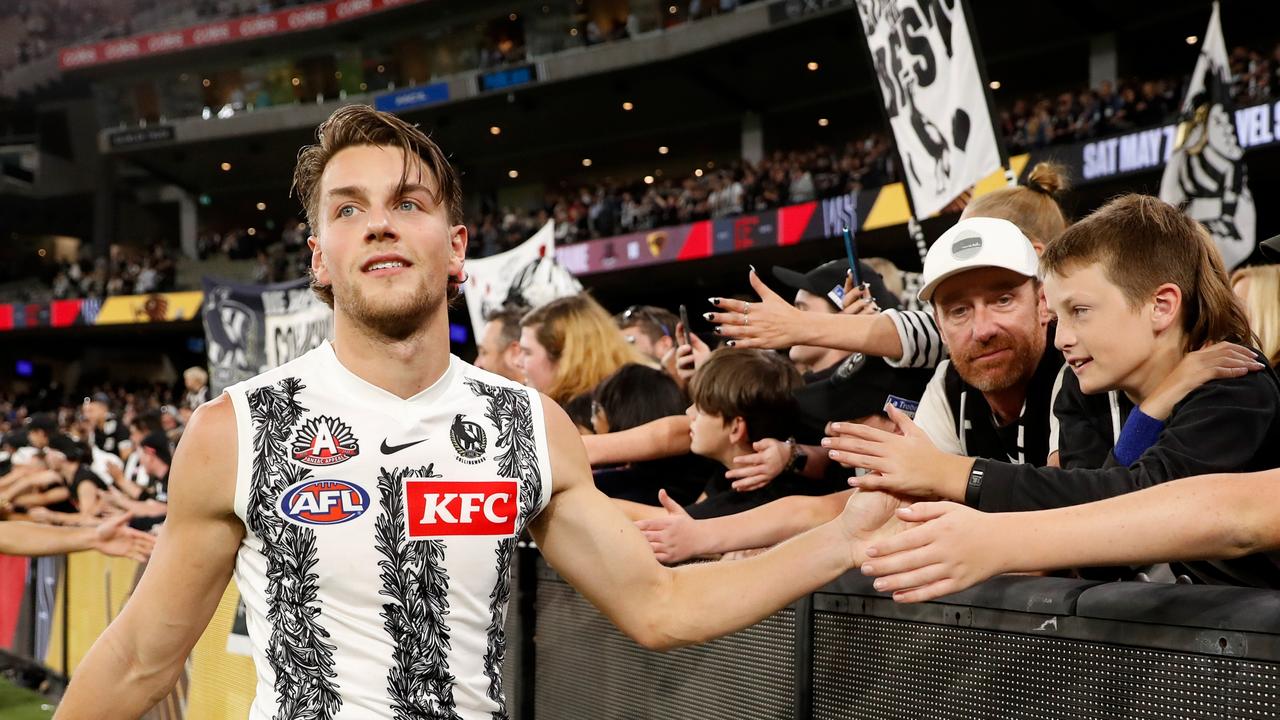 The Pies cheer squad all agreed to having a code of conduct for its members (Photo by Dylan Burns/AFL Photos via Getty Images)
The club's cheer squad initiative predates the Collingwood Do Better report, which has seen 18 recommendations and a yearly report handed to the club's board and expert group on anti-racism.
But ex-Collingwood defender Heritier Lumumba said on Tuesday the club "cannot be trusted to pursue genuine reconciliation with its past" and accused the club of "continued misconduct".
He said senior Collingwood figures had "expressed their disgust with Eddie McGuire's comments at the initial Do Better Report press conference", but did not hold "a public press conference to address and distance the club from these comments".
Collingwood said on Wednesday the cultural awareness training had been part of a whole-club attitude to learning about race.
"Feedback of cultural awareness training has been positive with members of the club enthusiastic to educate themselves further and be a part of the club's Aboriginal and Torres Strait Islander community programs and initiatives. Our people have been open to listening and learning about how we create a welcoming and safe club environment for all," the Pies said in a statement.
GINN AND TONIC: MCRAE'S SOBERING ADVICE FOR YOUNG PIE
— Glenn McFarlane
Collingwood coach Craig McRae has urged Jack Ginnivan to share his goal celebrations more with teammates as he confirmed the young gun had been "spoken to" for breaking a team rule after having a few beers at a pub with friends in the wake of his Anzac Day heroics.
Ginnivan kicked five goals against Essendon to win the Anzac Medal, but a quick trip to the pub afterwards broke team's rules surrounding drinking ahead of a six-day break.
Watch every blockbuster AFL match this weekend Live & Ad-Break Free In-Play on Kayo. New to Kayo? Try 14-Days Free Now >
McRae backed the club leadership group for giving the 19-year a reminder of his obligations ahead of the Magpies' Round 7 victory over Gold Coast.
The young forward wasn't sanctioned, but he responded well with three goals against the Suns.
"Jack did go out after the Anzac game with some mates and it was all innocent and nothing untoward, but he had a beer or two," McRae said on SEN.
"I hate rules … but I like clear boundaries and one clear boundary was that on a six-day break, we don't do this.
"I think our leaders dealt with it really well.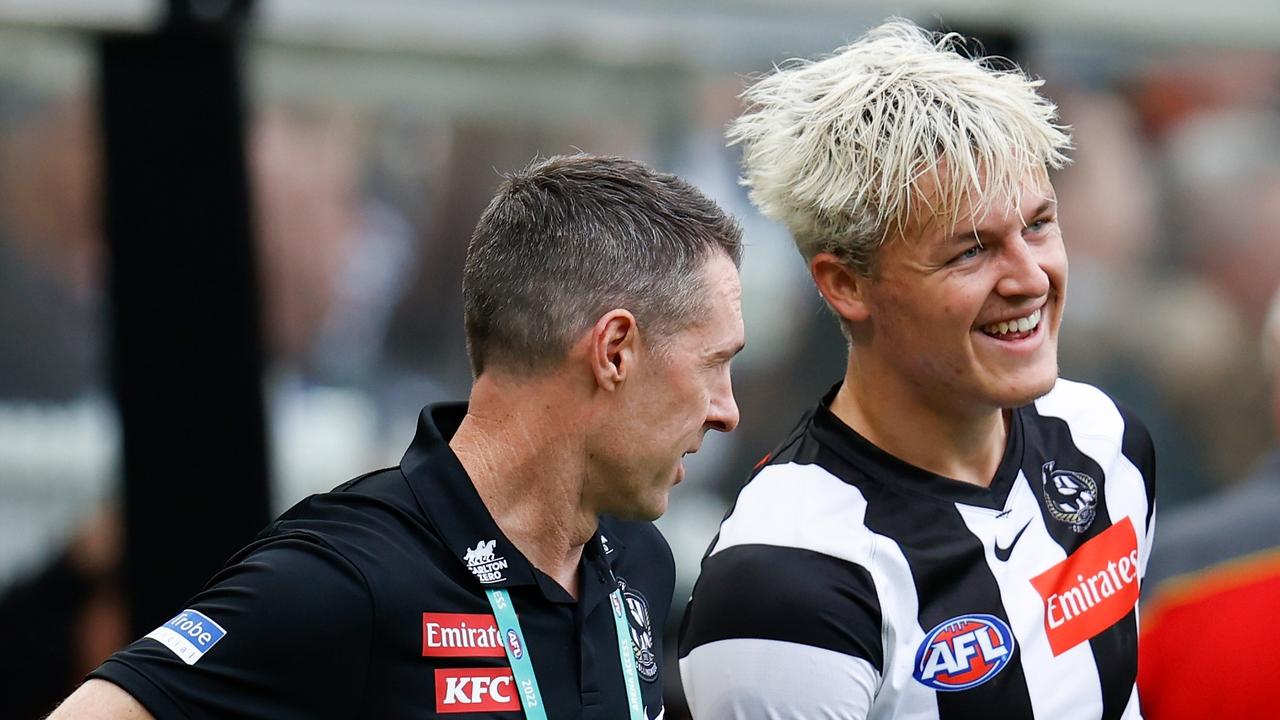 Craig McRae speaks with Jack Ginnivan during a game.
"The leaders set these boundaries we want to work within. We want to act like winners all the time and the behaviours of being a winner (require) certain things."
McRae said he couldn't have been happier with Ginnivan's impact this season, kicking 14 goals from his six games in 2022.
But the Magpies coach revealed he had spoken to Ginnivan about striking a better balance between celebrating his goals in the moment and celebrating with his teammates.
"One thing I did say to him … I love it when we kick a goal, that it is our goal," McRae said.
"After the Anzac Day game I just said to Jack, 'Hey look, find the balance between celebrating your goals … but (remembering) it is our goal (as a team).
"When we get a goal, celebrate it (more) with your teammates.
"I am not saying don't ever do it … (but) we want to celebrate it as our goal."
Ginnivan has kicked at least one goal in each of the six matches he has played this season, with the Magpies averaging 10 individual goalkickers per game.
"We must remember until this year he had never played in front of an AFL crowd," McRae said.
Originally published as Collingwood AFL news: Magpies cheer squad given no-go zone words in cultural awareness training