Commonwealth Games 2022: Tahlia McGrath tests positive for Covid ahead of T20 final against India
There was drama at the T20 cricket final at the Commonwealth Games with Australia's gun allrounder Tahlia McGrath testing positive to Covid but allowed to play despite India's protests.
Gun allrounder Tahlia McGrath tested positive to Covid but was cleared to play under the Games team's health protocols as Australia claimed gold with a tense nine-run T20 cricket victory over India at Edgbaston.
McGrath took a crucial catch en route to Australia's victory and in the most bizarre scenes, she ordered her teammates to stay away from her when they rushed at her to celebrate.
Australia made 8-161 after captain Meg Lanning won the toss and elected to bat in front of a full house of 20,500.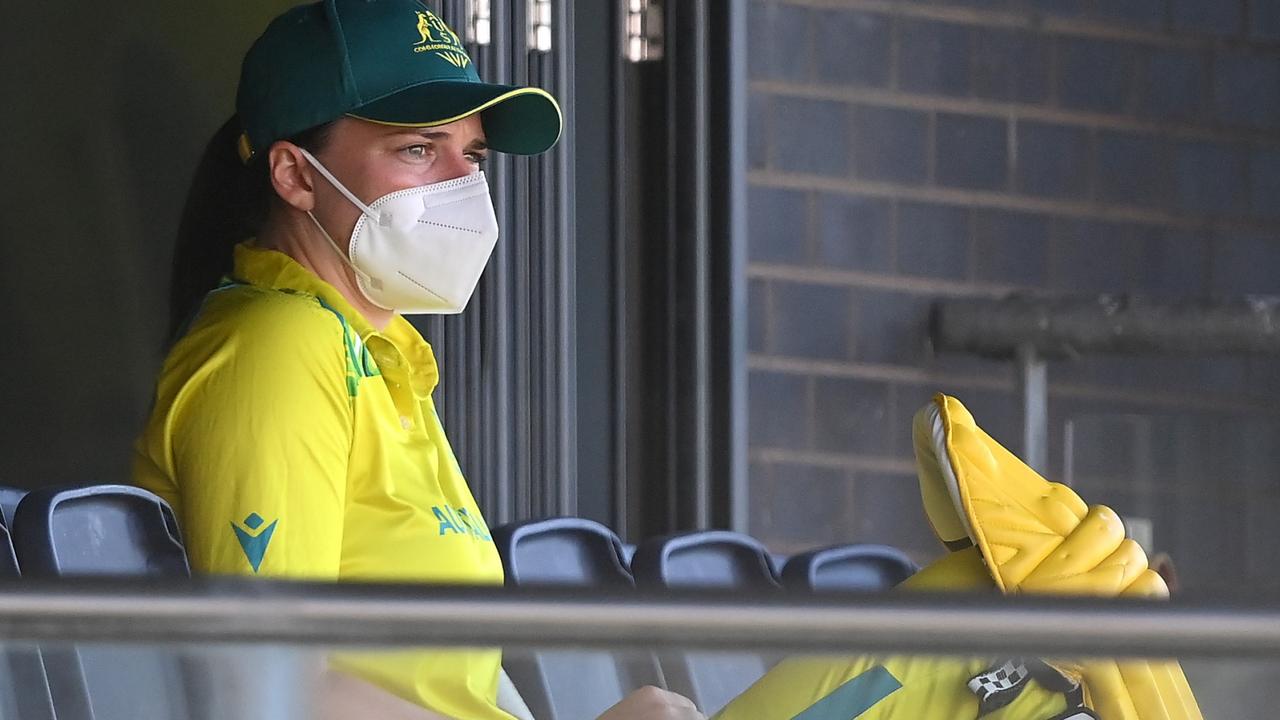 Tahlia McGrath of Team Australia looks on whilst wearing a face mask
The toss was delayed for 12 minutes amid claims India wanted McGrath to be ruled out. Her name appeared on the team sheet but she was nowhere to be seen during the national anthems … or in the Australian dugout. She sat on a chair in the players' tunnel, wearing a mask, awaiting her turn to bat. The loneliest cricketer.
Commonwealth Games Australia said in a statement: "McGrath presented to team management with mild symptoms on Sunday and subsequently returned the positive test. She was named in the starting XI at the toss and the International Cricket Council approved her participation in the final."
Tahlia McGrath look on from outside the circle ahead of the India innings. Picture: Alex Davidson/Getty Images)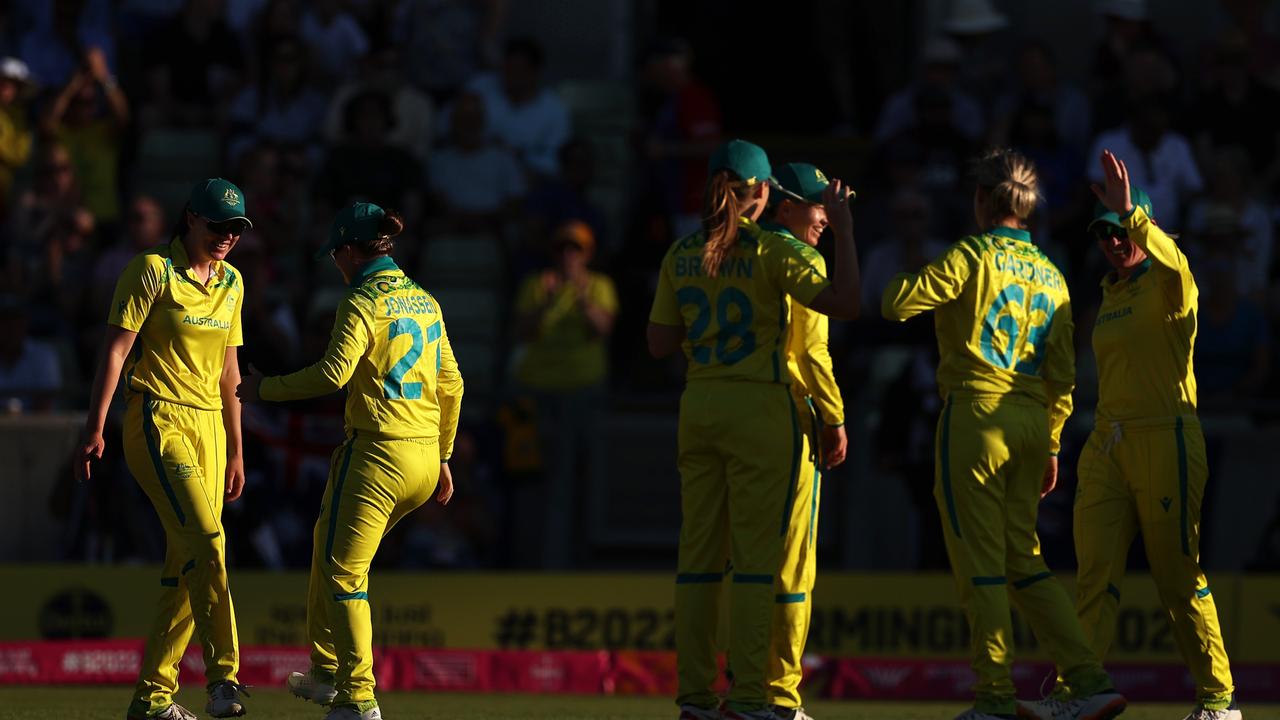 Tahlia McGrath celebrates with Jess Jonassen by tapping ankles. Picture: Ryan Pierse/Getty Images
Australia lost Alyssa Healy (seven) cheaply before Lanning hit a sparkling 36 from 26 deliveries. McGrath walked well away from Lanning when it was her turn at the crease, but she did a mid-pitch conference with Beth Mooney.
Arguably Australia's most valuable T20 player, she made just two runs before returning to her seat.
When she took a skied catch to dismiss Shefali Verma in India's innings of 152, the Australians ran at her for the normal routine of back-slaps and high-fives. McGrath called them off like she was aborting a quick single, shouting, "No! No!"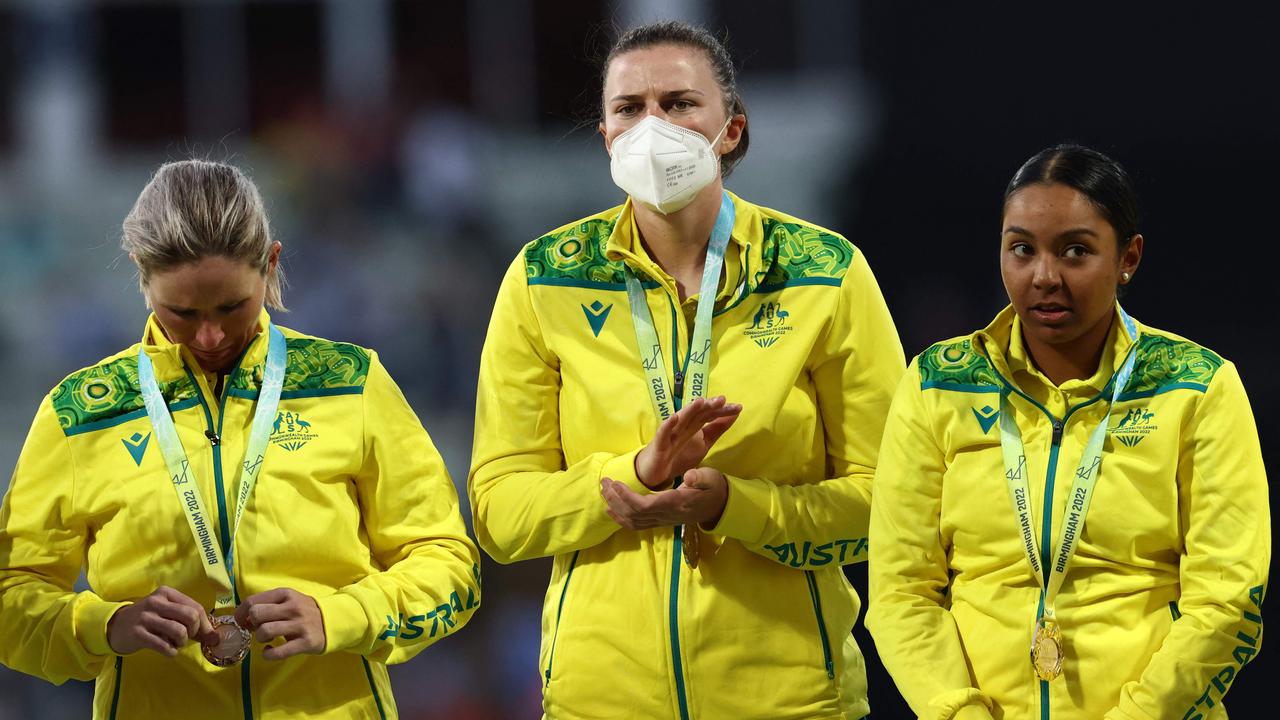 Gold medalists team Australia, including Australia's Tahlia McGrath (C) wearing a face mask, on the podium during the medal ceremony. Picture: Darren Staples / AFP
Bowler Jess Jonassen said the aborted celebration felt "very weird, very foreign".
"But it's one of those things," she said. "We were told not long before we were leaving for the ground. Our medical staff laid out all the protocols that were in place from the whole Commonwealth Games association perspective. Things such as, she was going to be separate from the group. Limiting contact with wicket celebrations and those sorts of things.
"There's obviously a few of us who have had Covid in the past and the risk for us was not necessarily the same as for our players who haven't had it.
Australia team celebrates as Tahlia McGrath wears a mask Picture: Darren Staples / AFP
"It's sort of the times we live in, hey? We've just got to take every precaution we can but at the same time try to live with it and try to keep everybody safe."
Mooney peeled off a measured 61 from 41 balls before falling to the catch of the tournament by Deepti Sharma, not dissimilar to John Dyson's catch of the century at the SCG in 1982.
In pursuit, India openers Shafali Verma and Smriti Mandhana got off to a flyer, taking 12 runs from Megan Scutt's first over, before Darcie Brown knocked back Smriti's leg stump.
McGrath's catch sent Verma on her way for 11 before India captain Harmanpreet Kaur (65 off 43) and Jemimah Rodrigues (33 off 33) put on 96 in 12 overs to nearly steal the match. India was looking good at 2-118 in the 15th over, but Ash Gardner dismissed Kaur in a crucial breakthrough while taking a matchwinning 3-13.
Gardner also executed a difficult run-out in the tense final overs, as did Grace Harris with a dynamite direct hit, and the Australians were heading for the historic first Commonwealth Games T20 gold medal. "Today's more about the whole game of cricket," Jonassen said. "I feel like it was worthy of a gold medal match."
INTO THE FINAL TO MAKE HISTORY
Australia have only twice been tested in their Commonwealth Games debut — and on Saturday it nearly cost them a historic gold medal.
New Zealand fired their best shots – first with the bat, then with the ball, and finally in the field – at their fierce rivals in Saturday's semi-final, and it was so very nearly enough.
But once again it was left to the unlikely pairing of Ash Gardner and Grace Harris to save the day, just as they did against India in the opening pool match, to set up a rematch against India in Sunday's final.
And, yet, despite admitting their best cricket has eluded them throughout their Birmingham experience, Australia's confidence never waivered against New Zealand – even as wickets tumbled in the tense run chase before Harris and Gardner sealed the five-wicket win with three balls to spare.
These superstars are just blessed with the 'clutch' gene, it seems.
Australia had several wobbly moments in its run chase.
"I think we just generally really survive in the clutch moments," said star quick Megan Schutt, who finished with 3-20.
"We've had so many close games and we focus a lot on being able to compose ourselves in those close moments, and a lot of us have played a lot of cricket together.
"It's just kind of having faith in our talent as well as backing our skillset in the moment."
Chasing 145 for a guaranteed medal, Australia were pushed as hard as they've been all tournament as they notched it, five wickets down, with three balls to spare to set up a mouthwatering final against India at Edgbaston.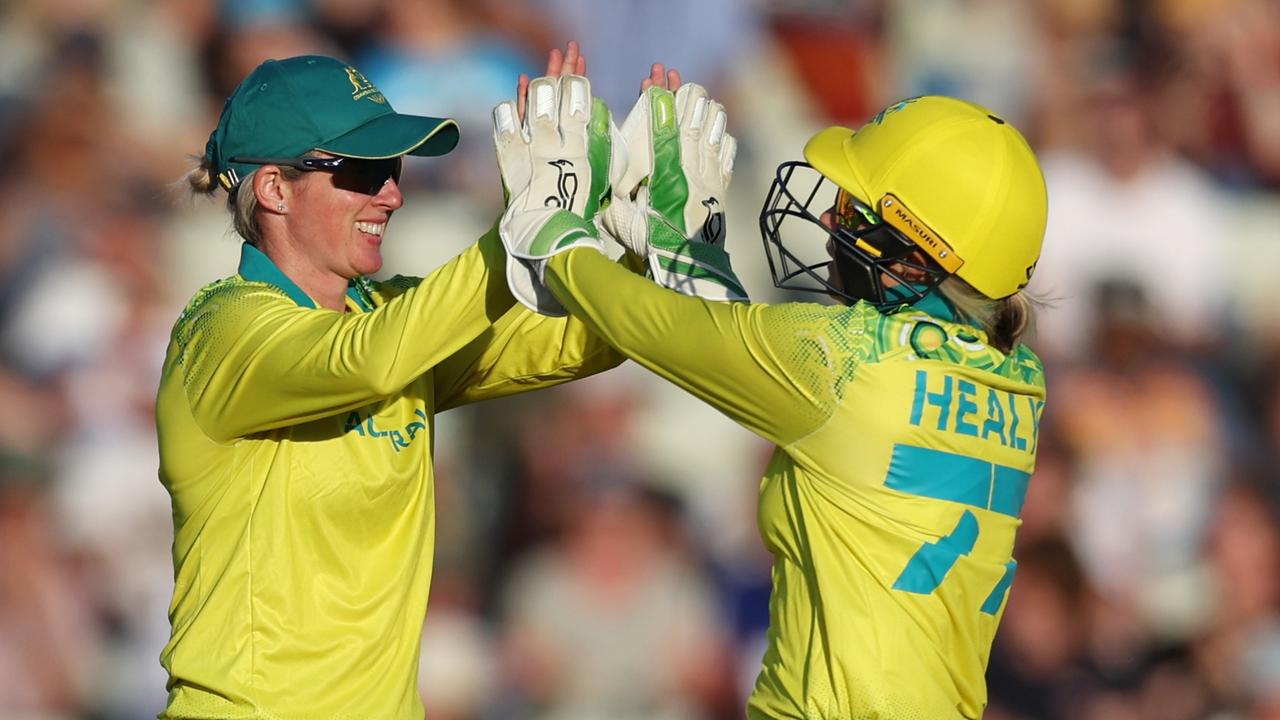 Beth Mooney and Alyssa Healy celebrate a wicket.
Australia regularly found themselves in sticky situations against New Zealand, but as it was against India, Gardner (19 not out) and Harris (eight not out) were called on to save Australia's bacon, coming together with 16 runs required – and leaving with the result secured.
"It is nice to be tested and we knew coming into the game, and the round games here, we were going to be tested in different moments – certainly we were tonight," said Beth Mooney, who scored a pivotal 36 before falling late and watching the tense final moments from the grandstand.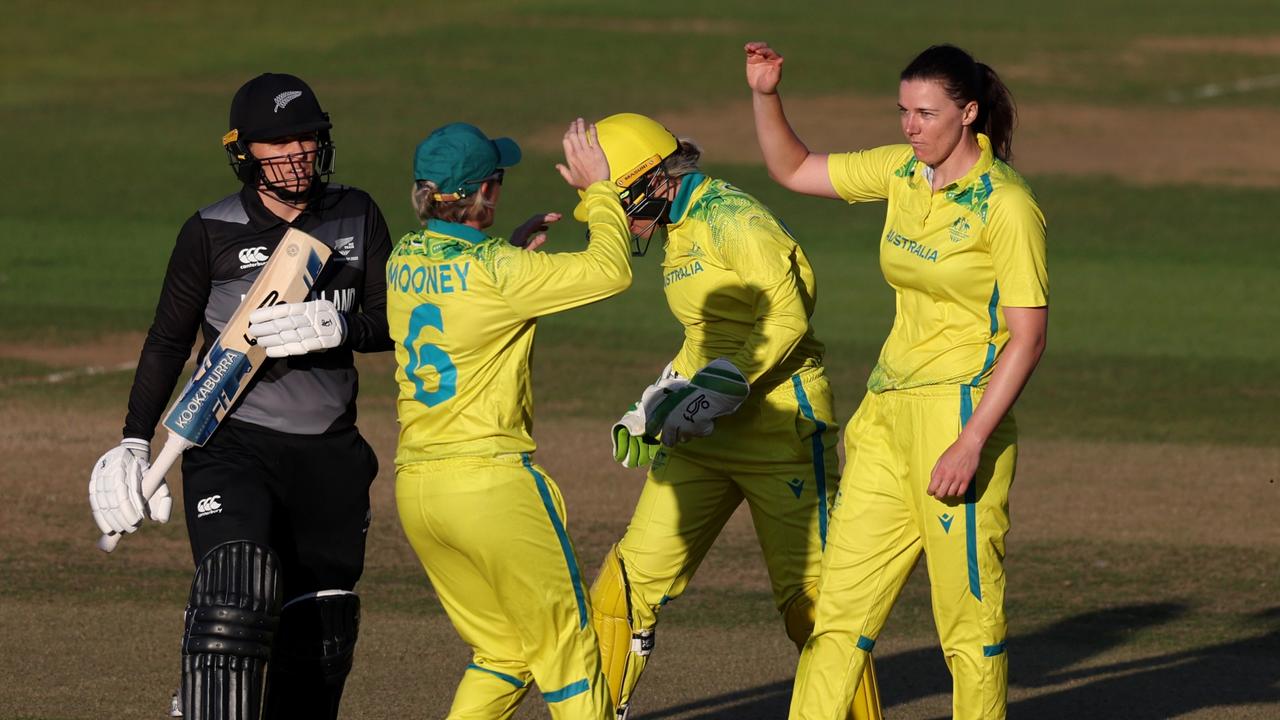 Tahlia McGrath celebrates with Beth Mooney after bowling Lea Tahuhu.
"The beauty of our team and where we're at at the moment is there's so much belief within that dressing room that we can always get the job done no matter what it looks like and we can sometimes accept it can look pretty ugly.
"But if we can scrap our way to a win, that's the result we're after."
The result Australia wants now is gold – and a historic victory in the maiden Commonwealth T20 tournament, to go into a very full trophy cabinet.
"We always mark (the day of the final) in our diaries," said Mooney.
"We were on the side of some good luck tonight and some bad luck, but at the end of the day we get to fight for that gold medal."
Earlier, India upset host nation England by four runs with star opener Smriti Mandhana plundering a blistering 61.
Originally published as Commonwealth Games 2022: Tahlia McGrath tests positive for Covid ahead of T20 final against India