Commonwealth Games 2022: James Magnussen on Ariarne Titmus, Mollie O'Callaghan and Australian swimming
Australia has three 'generational' female swimmers and there is another coming. James Magnussen on the moment Mollie O'Callaghan reminded him of an American great.
Mollie O'Callaghan will be the next household name in Australian swimming.
We've got three current female swimmers in Ariarne Titmus, Emma McKeon and Kaylee McKeown that are kind of generational swimmers and Mollie she is the next one up off our production line.
She is a once in a generation talent. Mollie could be our big star for the Paris 2024 Olympics, what we are witnessing at these Commonwealth Games is just the stepping stone for bigger and better things.
Mollie's 200m freestyle the other night was just like Michael Phelps.
He is the only person I have ever seen do eight butterfly kicks off the wall on the last turn of a 200m and Mollie did that to almost swim past Ariarne which is just super impressive.
Her skills are out of this world, she is more skilful than Ariarne and Emma.
COMM GAMES DAY 4: FOLLOW ALL THE ACTION LIVE HERE
The fact she is already a world champion and has given Ariarne the race of her life in the 200m freestyle just shows she is the one to watch.
The 100m freestyle final on Tuesday night (Wednesday morning AEST) against Emma McKeon will be a cracking race.
Emma had the faster splits in the relay — 52.04s to 52.66s — but you have to give Mollie a chance and she would believe she can beat the Olympic champ.
Even if Mollie doesn't win, it's almost better for her.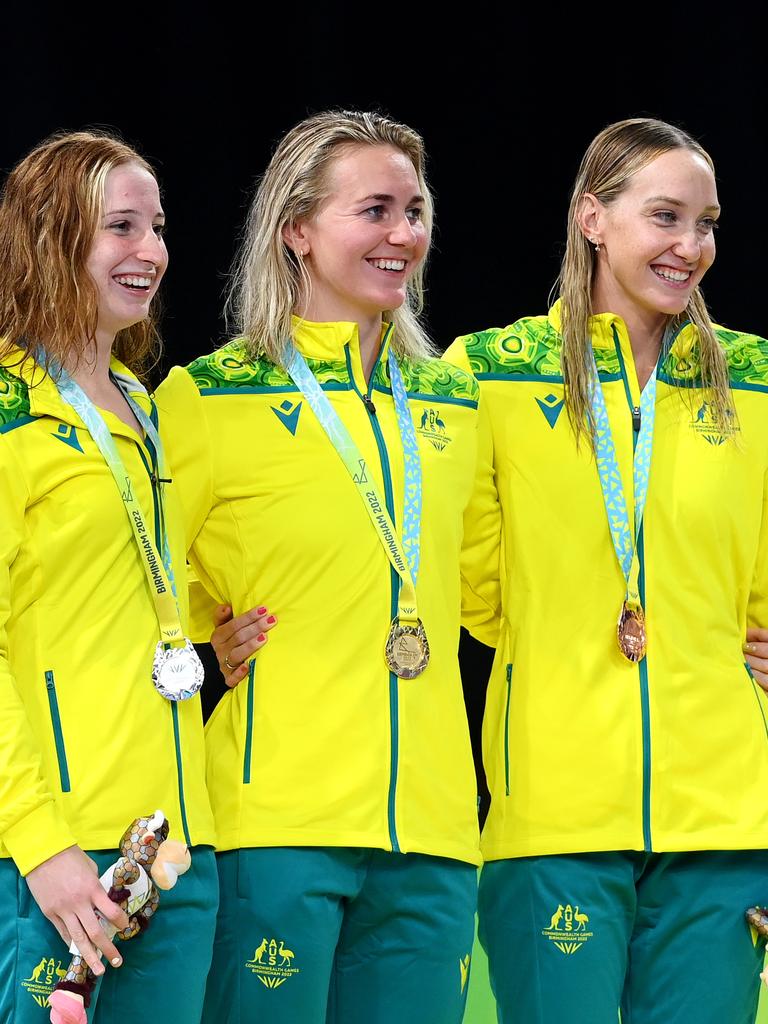 Mollie O'Callaghan, Ariarne Titmus and Madison Wilson filled the podium in the 200m freestyle.
The Aussie trio embrace after their medal moment.
She will be the hunter not the hunted, which is such a powerful position to be in two years out from the Olympics.
I remember talking to my manager about 18 months out from Tokyo, he wanted to sign one swimmer leading into the Olympics and asked who I thought.
I said, "Yeah, there's a girl from Queensland, Kaylee McKeown, I reckon she has got 'it'."
"It" is hard to put your finger on, but it's the mentality and desire to do whatever it takes to win that tells me she's got "it."
By that stage Kaylee hadn't had any big results, but I said just have a crack and he ended up signing her. Kaylee then just kind of exploded and in Tokyo she won three gold medals.
It's similar with Mollie, you can see she has got "it."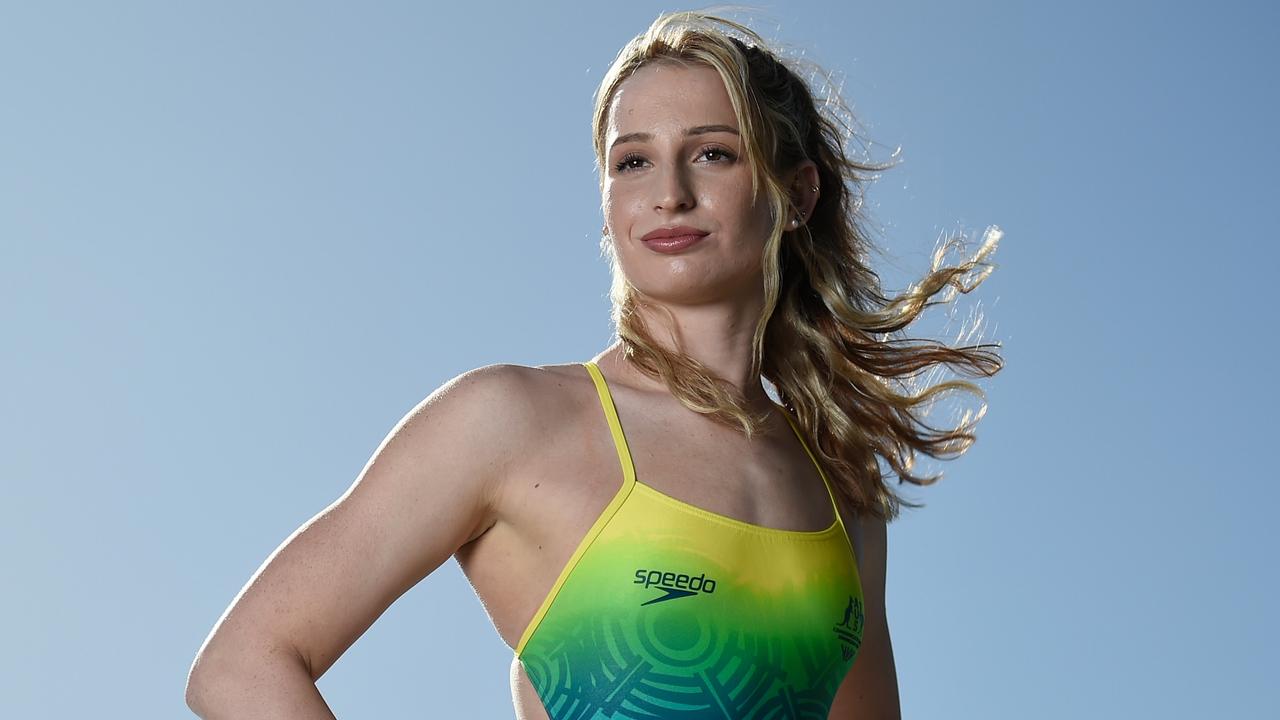 Mollie O'Callaghan is a 'once in a generation' talent. Picture: Matt Roberts/Getty Images
Even after the 200m freestyle final, when she got silver just 0.12s behind Ariarne you could see she wasn't happy. She is a killer.
She obviously thinks she can beat Ariarne and that is the mentality you need.
You have to believe you can win it before you win it and she is clearly already believing.
Training with Ariarne she gets a chance to compare herself with the best in the world every day which is an incredible advantage.
I can't think of another example where you have the No.1 and No.2 in the world training in the same squad.
For Ariarne, it's actually pretty cruel. I definitely could not do it, I would hate knowing that my biggest rival for Olympic gold is next to me every step of the way.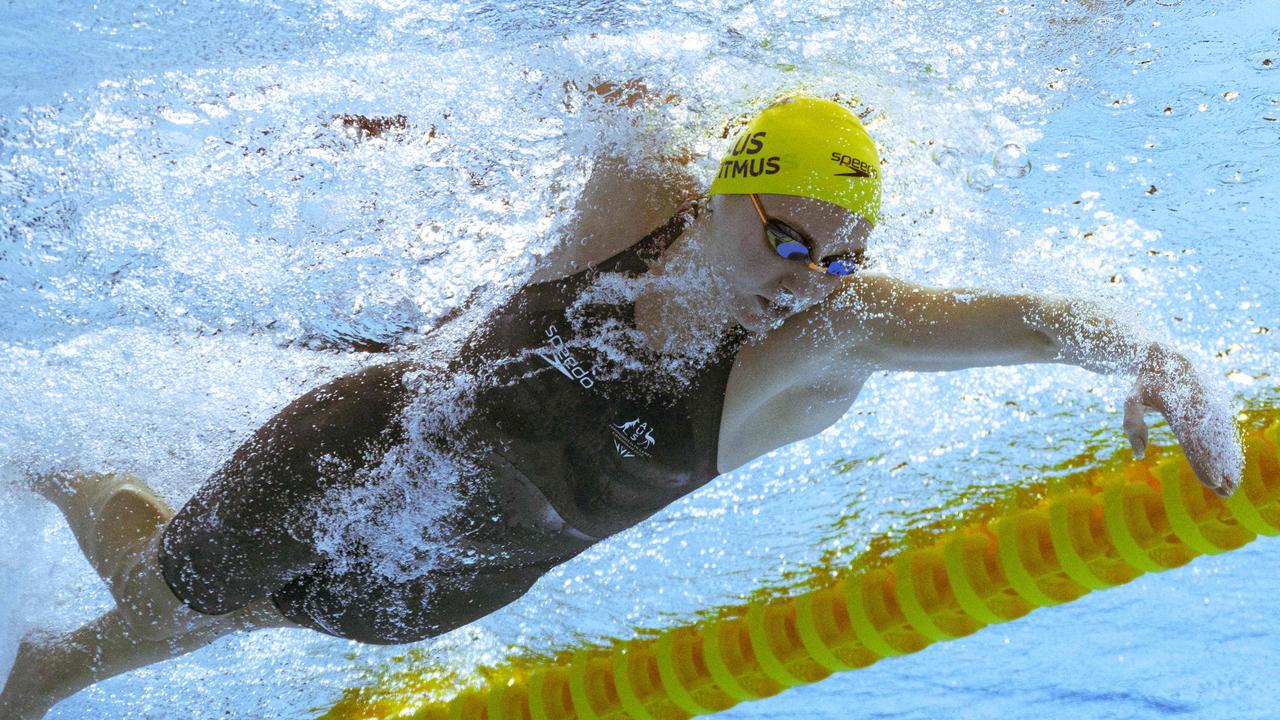 Australia's Ariarne Titmus charges to the wall.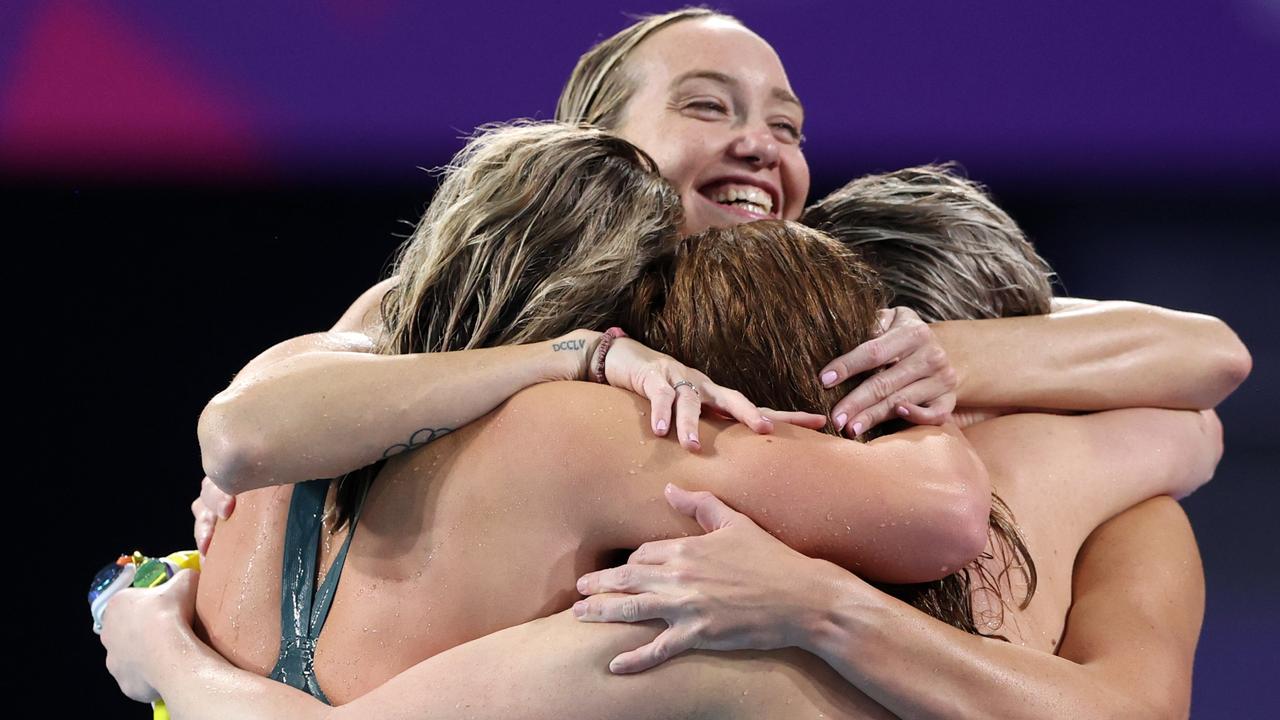 Madison Wilson, Kiah Melverton, Ariarne Titmus and Mollie O'Callaghan celebrate.
I remember when our squad under Brant Best was coming up and we joined Grant Stoelwinder's "Super Squad" at the AIS for time trials.
They had established guys Eamon Sullivan, Geoff Huegill, Andrew Lauterstein, Matt Abood and Libby Trickett and it was dead set nearly coming to blows because all the young guys were beating the older guys and there was a bit of lairing up.
Stolly was so off it, we basically had to separate and not train together after that.
It was awesome for us though, we used to look across the pool and watch those older guys training and talk about how we were going to beat them.
So for Ariarne, it's a lose-lose scenario and nothing really to gain for her by having Mollie in the pool training with her.
And what she is going to experience now is that it's super hard once you scale the peaks of winning Olympic gold to keep refocusing and setting your goals.
Maybe Dean Boxall knows that and thinks having the threat of Mollie every day will bring out the best in Ariarne. He knows she likes to be challenged.
But the fact Mollie is just 18, she is just so young and so relaxed and has so much potential to improve. You can see she has got the mindset where she can clearly handle the big stage so what she does over the next two years will be incredible to watch.
Emma and Ariarne are the two biggest scalps in women's swimming right now, and Mollie O is coming for them both. Bring on Paris.
Originally published as Commonwealth Games 2022: James Magnussen on Ariarne Titmus, Mollie O'Callaghan and Australian swimming