Commonwealth Games 2022: Aaron 'Disco' Wilson wins gold in lawn bowls and rips off shirt
Aaron 'Disco' Wilson has made a name for himself by ripping his shirt off and he was at it again after defending his Commonwealth Games title in incredible style.
He may wish he has a "better rig" but what Aaron Wilson does have is back-to-back Commonwealth Games gold medals in the men's individual lawn bowls as the man called 'Disco' danced his way to glory.
When he claimed the win on the Gold Coast the now 30-year-old got himself into Commonwealth Games folklore as he famously celebrated his victory by ripping off his shirt.
And the shirt again came off at Victoria Park in Leamington Spa as Wilson became the first man since England legend David Bryant to win back-to-back singles titles 44 years ago.
So dominant was Wilson that his opponent, Gary Kelly of Northern Ireland conceded with the Australian 19-3 in the lead.
And almost immediately the shirt came off as Wilson savoured another Commonwealth Games title.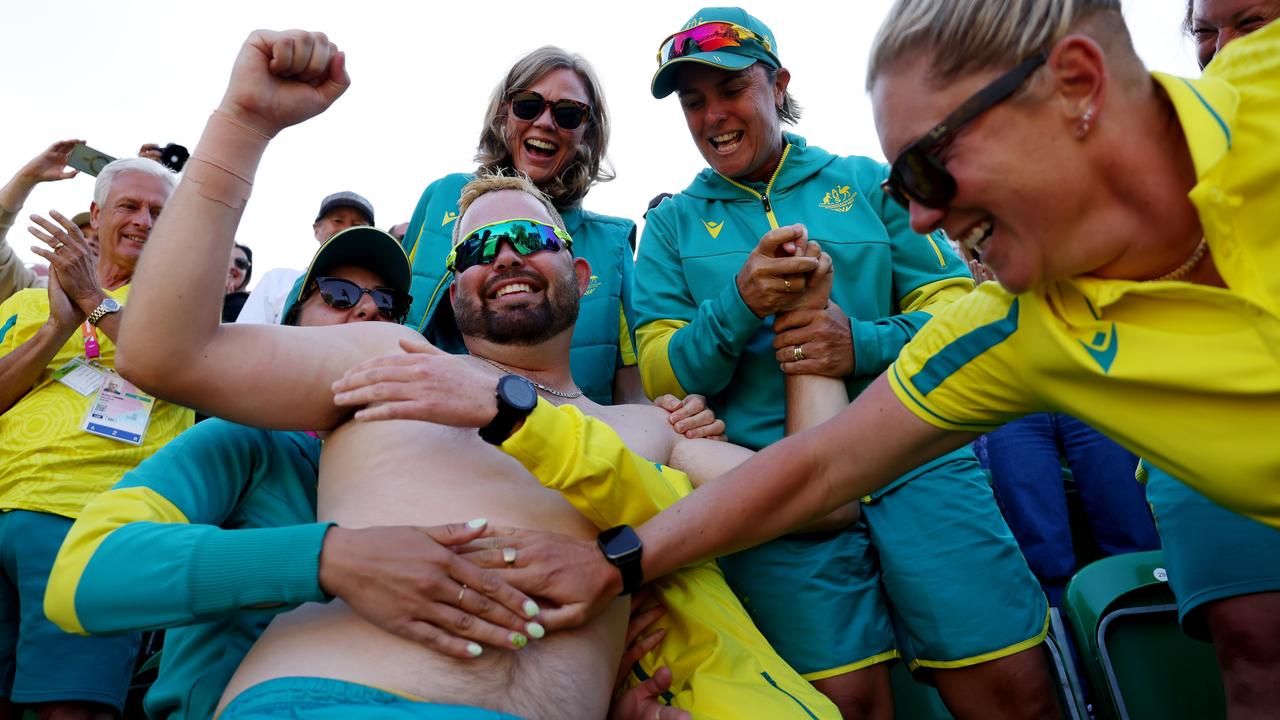 Aaron Wilson of Team Australia celebrates winning gold
"I never really thought about it that way but yeah I think it was always going to happen if it went that way," he said of the repeated celebration.
"I just wish I had a better rig but oh well that's life.
"I certainly was pretty happy with my performance."
It was a dominant display by Wilson in the rink.
He provided a taste of what was to come when he was able to knock the jack away from Kelly's closest ball right at the very start of the match, and then getting closest to the jack and on the board straight away.
And that was the closest Kelly ever got to Wilson, who went 12-0 before the Northern Irishman even got on the board.
"Obviously he started really well, had a good tempo and to win the first end is really big start and you get momentum on your side so I was pleased," he said.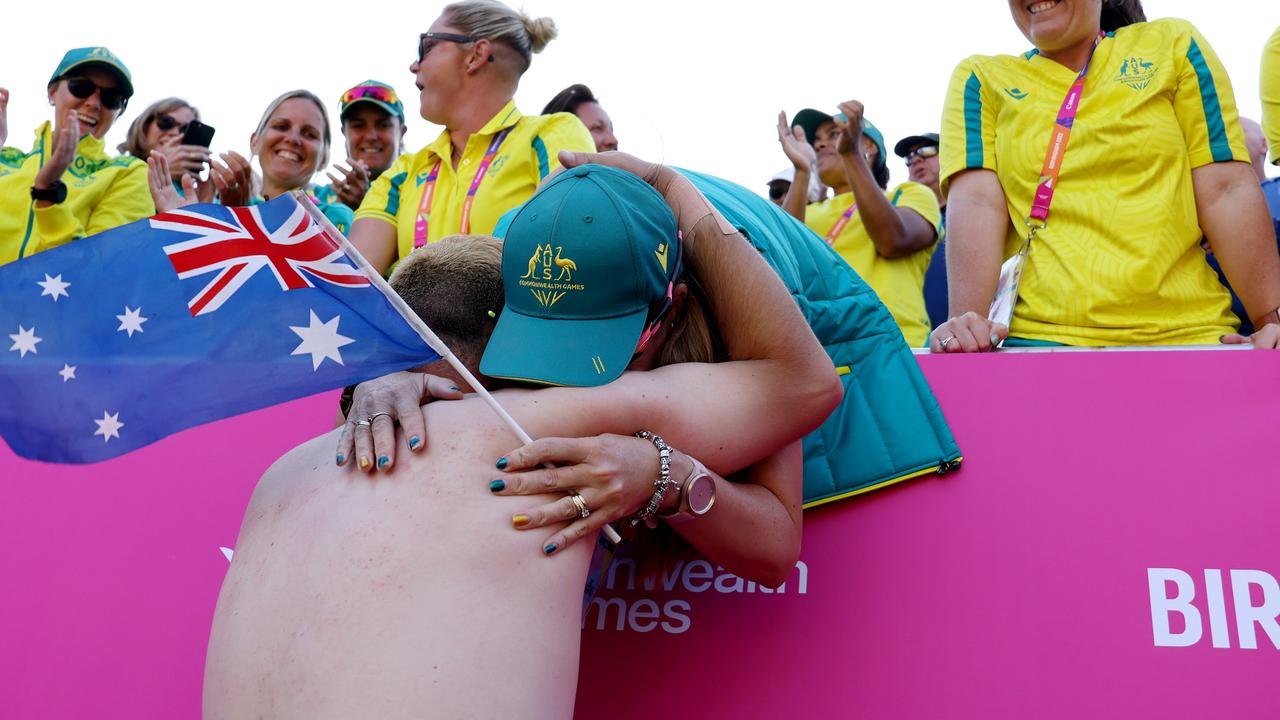 Aaron Wilson of Team Australia celebrates
It also has him join one of the greats of the sport in Bryant.
"I've got no words for it really, I didn't really think about it until I was told afterwards," he said.
"But it is pretty special, 44 years (since a back-to-back) it is pretty amazing.
"He is the greatest of all time, so it is really special when you think about it.
"I've heard he was pretty special on his day and it's pretty cool hey."
Wilson has the nickname 'Disco' because of his love of the nightlife as a youngster.
The celebrations are bound to be large after he made history with his second Commonwealth Games gold.
But they won't be as raucous as they were previously.
"I think they are all closed these days, but nah I'm a family man these days. I've got a little bubba Summer who is seven months old and my partner," he said.
"I've traded that life in for this one and I couldn't be happier."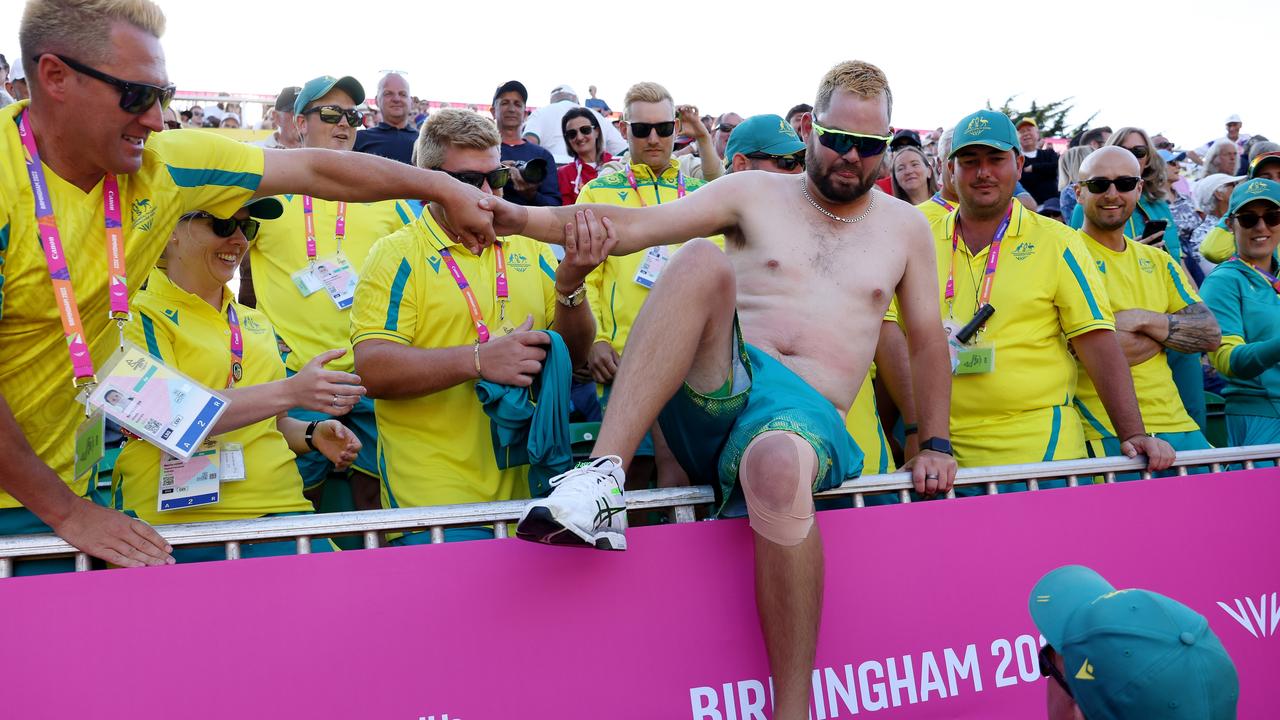 Aaron Wilson ripped off his shirt as soon as he won the gold
By Eliza Barr
The Aussie beach volleyballers are in the fight for gold after storming through their quarterfinal matches at the Commonwealth Games.
Men's team, including 2018 Commonwealth Games gold medal winner Chris McHugh and new partner Paul Burnett, are set for a rematch of McHugh's Gold Coast final with Canada after Australia overcame Rwanda and Canada took out England in the quarterfinals.
"The first set they definitely brought it, but in the end I think it's experience that sone through – they are young guys and we've probably played a lot more tournaments than them," McHugh said.
"They are playing really well, I hope they win tomorrow because it would be amazing for the Commonwealth and amazing for Rwanda."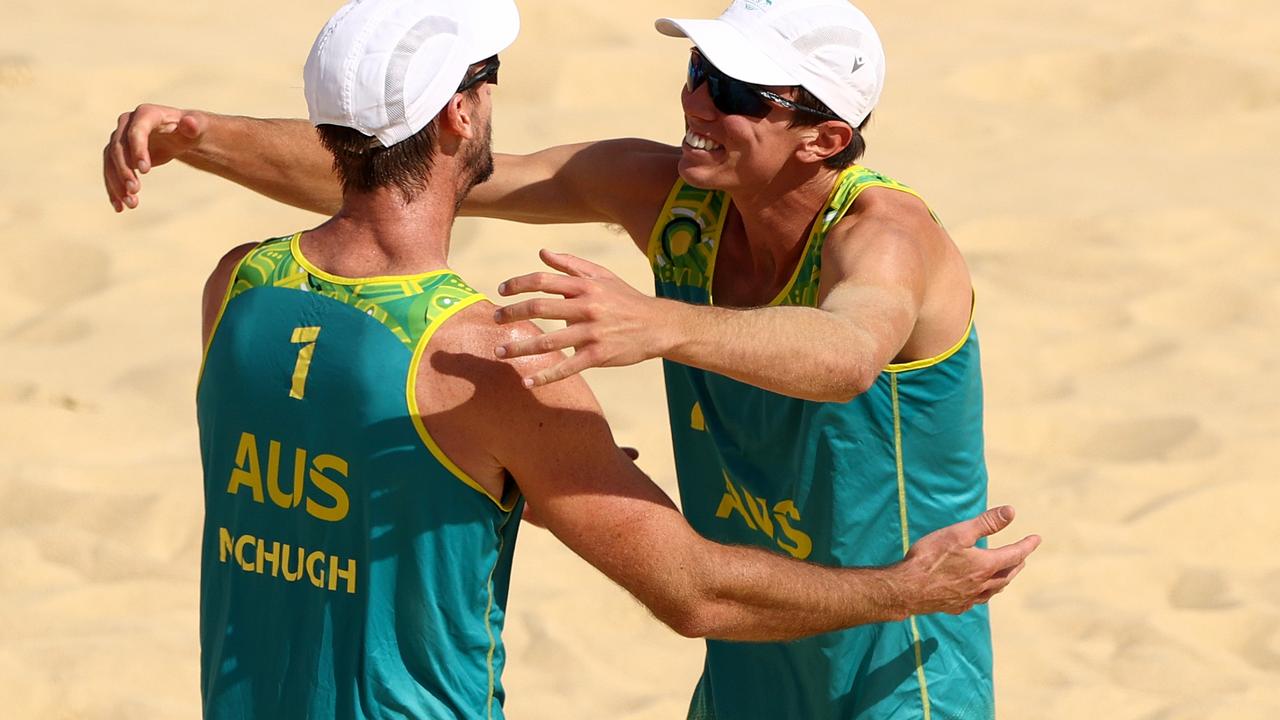 Chris McHugh and Paul Burnett.
The par are now psyching up for their tilt at gold on Sunday afternoon.
"Every game so far has been good prep, we've really got a feel for the environment already," Burnett said.
"I take confidence from having been out there in the big arena, I just want to enjoy it – it's the biggest crowd I've been in front of, it's a crazy atmosphere."
Women's team Taliqua Clancy and Mariafe Artacho del Solar will also take on Canada in the gold medal match, after their tightly fought quarterfinal against New Zealand.
New Zealand will take on 2018 Gold Coast bronze medallists Vanuatu in the bronze medal match.
Vanuatu came out firing in the first game, with Australia down four points at one stage before clawing their way back up to take it 26-24.
At the beach volleyball venue in Smithfield – which has come to be known as the Games' party venue – the home crowd have co-opted the "Aussie Aussie Aussie, oi oi oi" chant – and turned it into the rather less parochial "volley volley volley, oi oi oi".
Even if you had your eyes closed, you'll know every time the Australians claim a point - you'll hear Mariafe del Solar's cry of victory on the wind.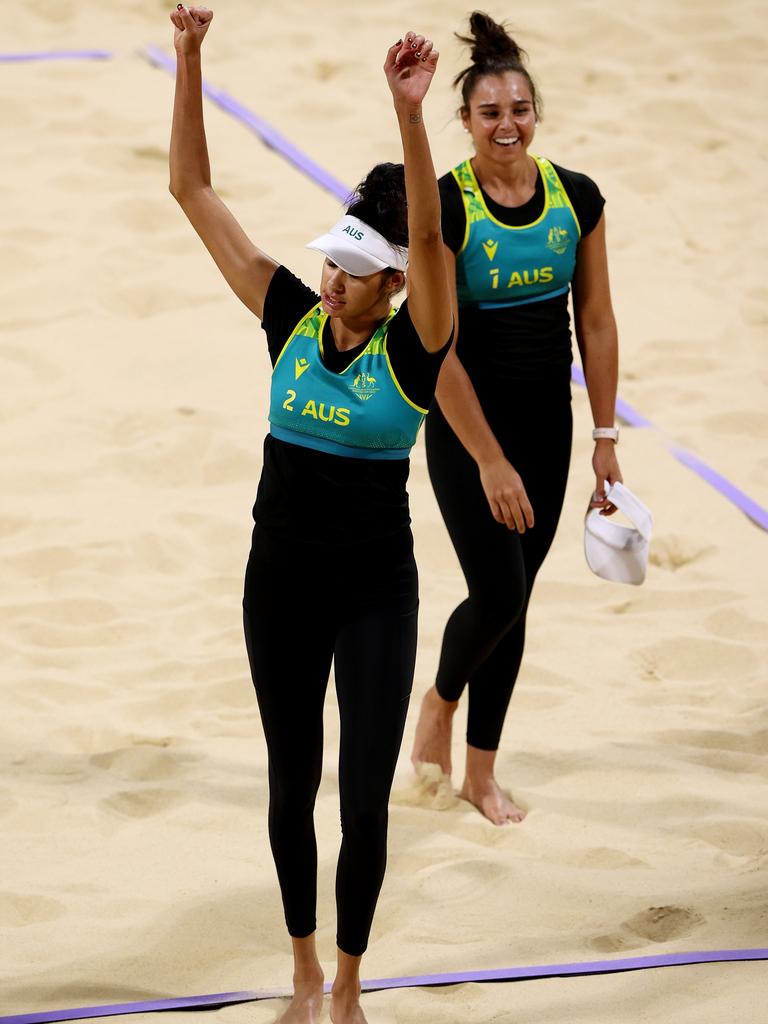 Taliqua Clancy and Mariafe Artacho del Solar of Team Australia celebrate.
del Solar and Clancy entered the final without dropping a single set in the pool matches - and after Vanuatu gave them a good scare in the first, they made easy work of the second, finishing 26-22 and 20-15.
"We're happy, we're really happy," del Solar said.
"We knew they were a great team and it was going to be a long game but we're happy to do it in two."
After a tight contest in the first, Clancy said not much needed to change to get a bigger margin in the second - the key is simply persistence.
"I don't think too much changed between the two games, we just stayed really patient," Clancy said.
The pair know they are up against a strong pair in the Canadian team in the gold medal match, who they have faced many times in other match-ups.
"We know they are a really strong team," Clancy said.
By Scott Gullan
Kurtis Marschall has joined a select company in defending his Commonwealth Games pole vault title.
The South Australian now sits alongside the man who inspired him to take up the sport, Olympic champion Steve Hooker, as vaulters to win back-to-back titles.
Marschall showed his quality by producing when it matters most after an indifferent season, claiming the gold medal with a clearance of 5.60m.
It's been a big week for his coach Paul Burgess, himself a former Olympic pole vaulter, given Marschall joins training partner Nina Kennedy as Commonwealth champions.
"Yes, we finally got something," he said to Burgess as they embraced afterwards.
The 25-year-old only needed three clearances to claim the victory although he did have a scare at 5.50m when he missed his opening two attempts.
After managing to get it on his third he then sailed over 5.60m on his first attempt which proved to be the winning jump.
England's Adam Hague finished second on 5.55m with his countryman Harry Coppell third (5.50m).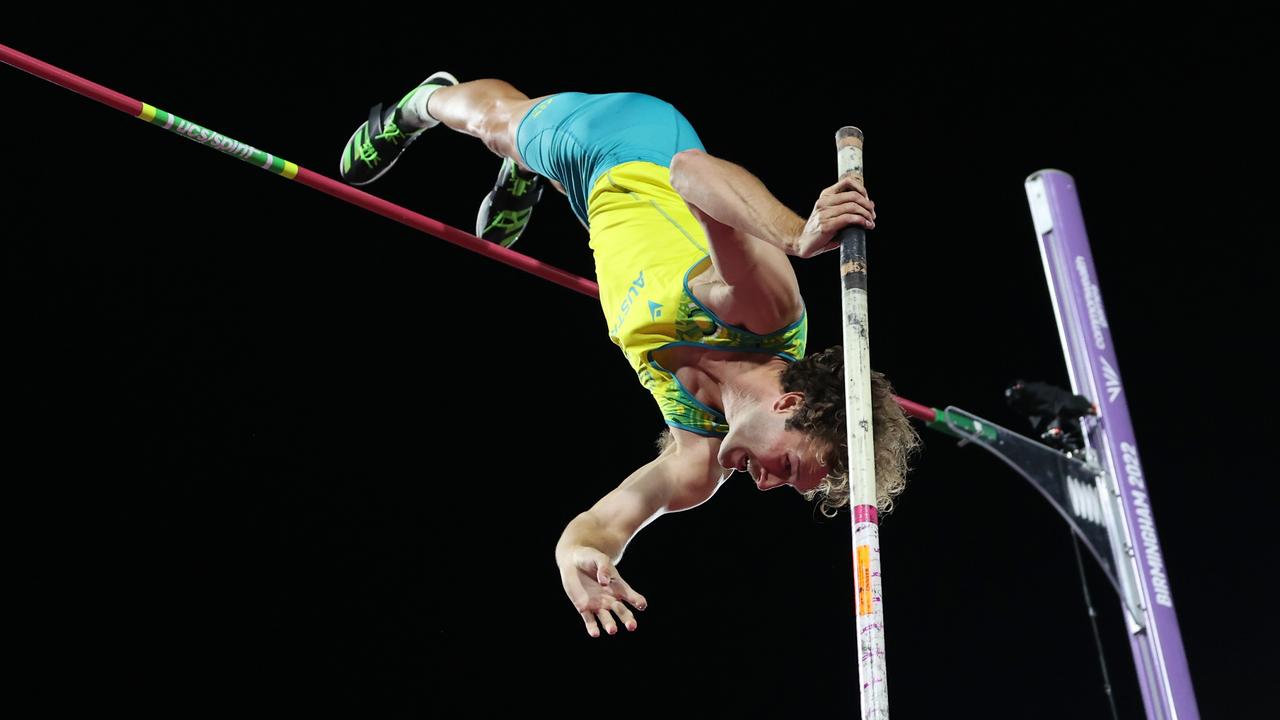 Kurtis Marschall of Team Australia won gold in the pole vault
By Will Swanton
The Kookaburras have overcame a major scare to beat England and reach the gold medal match in the men's hockey at the Commonwealth Games. Eddie Ockenden's team had a parochial Saturday night crowd and classy England side against them and they trailed 2-0 at the University of Birmingham before roaring home for a 3-2 victory. The Kookaburras will face India for gold on Monday. They've won every Commonwealth gold since the sport was introduced at the 1998 Kuala Lumpur Games and the streak is a chance to stay alive.England's Phil Roper (12th minute) and Zach Roper (19th) gave the hosts a shock lead to put an unusually flustered Australia under the pump. Blake Govers converted a 27th-minute penalty corner just before halftime to peg the deficit to 1-2 and momentarily hush a crowd that had booed the Australians when they first appeared. Jacob Anderson converted incredible skillful lead-up work to level at 2-2 in the 44th minute. Daniel Beale found the net in the 50th minute and after a length video review, it was allowed had all they needed. A lead they kept until the end.
By Joe Barton
You come at the Queens, you best not miss.
New Zealand fired their best shots – first with the bat, then with the ball, and finally in the field – at fierce rivals Australia in Saturday's semi-final, only to have Ash Gardner and Grace Harris once again send the world's most dominant cricket team into the gold medal match.
Chasing 145 for a guaranteed medal, Australia were pushed as hard as they've been all tournament as they notched 5-145 with three balls to spare to set up a mouthwatering final against India at Edgbaston.
Australia advanced to the knockout rounds undefeated, having previously only really tested in the Games' opening fixture by India, but regularly found themselves in sticky situations against New Zealand.
As it was against India, Gardner (19 not out) and Harris (eight not out) were called on to save Australia's bacon, coming together with 16 runs required – and leaving with the result secured.
By Erin Smith
One is Australia's most successful women's diver - the other a newbie with just one international competition to her name - but together they have won a Commonwealth Games gold medal.
Watching them flip, twist and tumble off the 10m platform as one - it is hard to believe Olympian Melissa Wu and 14-year-old Charli Petrov only started diving together four months ago.
Wu made the move from the individual 10m platform back to synchronised diving after sustaining a debilitating back injury while participating on SAS Australia.
The duo blitzed the competition in the women's 10m synchronised dive this morning to claim the gold medal.
It is Wu's third gold Commonwealth Games medal from five Games, and comes off the back of her first individual Olympic medal in Tokyo last year.
The Games are Petrov's first and just her second international event - at her first, the recent worlds, alongside Wu, they finished seventh.
But Wu and Petrov pulled off high scoring dives, round after round.
Fellow Aussie synchro pair Nikita Hains and Emily Boyd didn't stick their second dive and with just six teams in the competition it was always going to be hard to work their way back on to the podium.
The two English teams finished in second and third.
4:55AM BOXING
Tina Rahimi, Australia's first female muslim boxer, has lost her semi-final bout at the Commonwealth Games after a bruising contest with tough Nigerian Elizabeth Oshob.Rahimi fought back strongly after losing the opening round, but the judges awarded the win to the African on a split decision after landing the better shots when the pair slugged it out in the deciding third and final round.
By Joe Barton
Australia have been set a target of 145 runs to reach the gold medal match at Edgbaston.
New Zealand had looked on track for a threatening target, but had to settle for a 'tricky' one after Megan Schutt (3-20) and Tahlia McGrath (2-30) helped trigger a collapse of 5-32 in the final five overs.
Veteran Sophie Devine (53 off 48) and young star Amelia Kerr (40 off 36) build the foundation of New Zealand's total of 7-144, putting on 73 for the third wicket.
But the sting went out of the batting when Devine was caught on the boundary off Jess Jonassen.
Beth Mooney, who took two catches, was a star in the field and delivered a beautiful direct-hit runout on the last ball of New Zealand's 20 overs.
The winner will on Sunday face India, after they defeated England by four runs in a nailbiting finish earlier on Saturday.
NETBALL POLE DANCING
Four years is a long time to wait but the Diamonds have avenged the heartbreak of the Gold Coast 2018, destroying England to secure a place in the gold medal match.
Australia, criticised against Jamaica for being too predictable and lacking in defence when it mattered, dominated the four terms to win 60-51.
There were bizarre scenes after just four minutes when the match was halted while a new goal post was brought on court after a freak accident involving an England defender.
Layla Guscoth found herself straddling the post like a koala as she fought for the intercept just four minutes into the clash with Australia, resulting in the post being bent so out of position that a replacement was needed."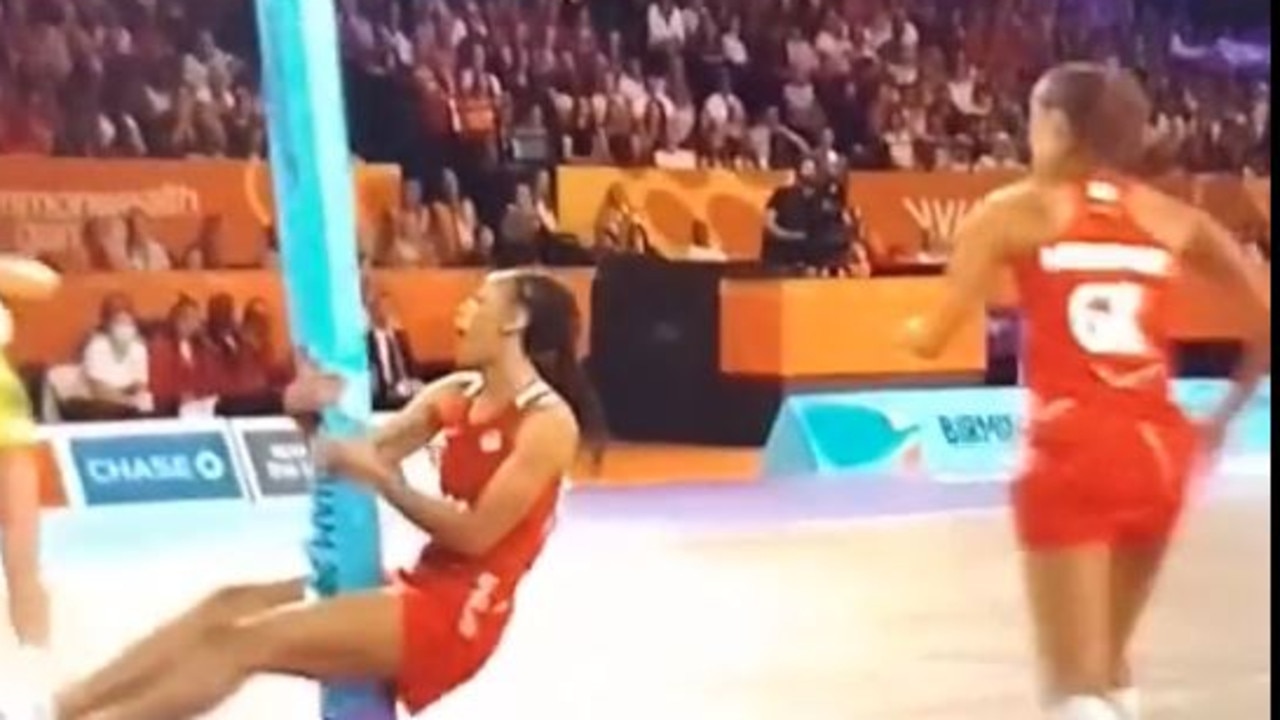 Guscoth ran into the goalpost resulting in a new one being put in
She literally straddles and lowers herself," former Diamond Cath Cox said.
"I've never seen that in a game!"
"Extraordinary footage," Sue Gaudion added. "We never thought we'd be paused at three-all to fix a goal post."
Guscoth was not injured in the incident, the England GD actually seeing the funny side as the moment was replayed in front of a packed out stadium.
A new goalpost aside, it was an incident free performance from Australia who will play Jamaica for gold on Sunday.
DISCO LAWN BOWLS GOLD
Aaron 'Disco' Wilson has defended his men's singles Commonwealth Games crown with an absolute dominant display over Northern Ireland's Gary Kelly.
Wilson was looking to become the first player to win back-to-back men's singles title since England's four-time gold medallist David Bryant.
And the 30-year-old, who has the terrific nickname for his love of a night on the town, put on a masterclass in the rink as he danced to another Commonwealth Games gold medal in one of the most dominant performances seen in lawn bowls.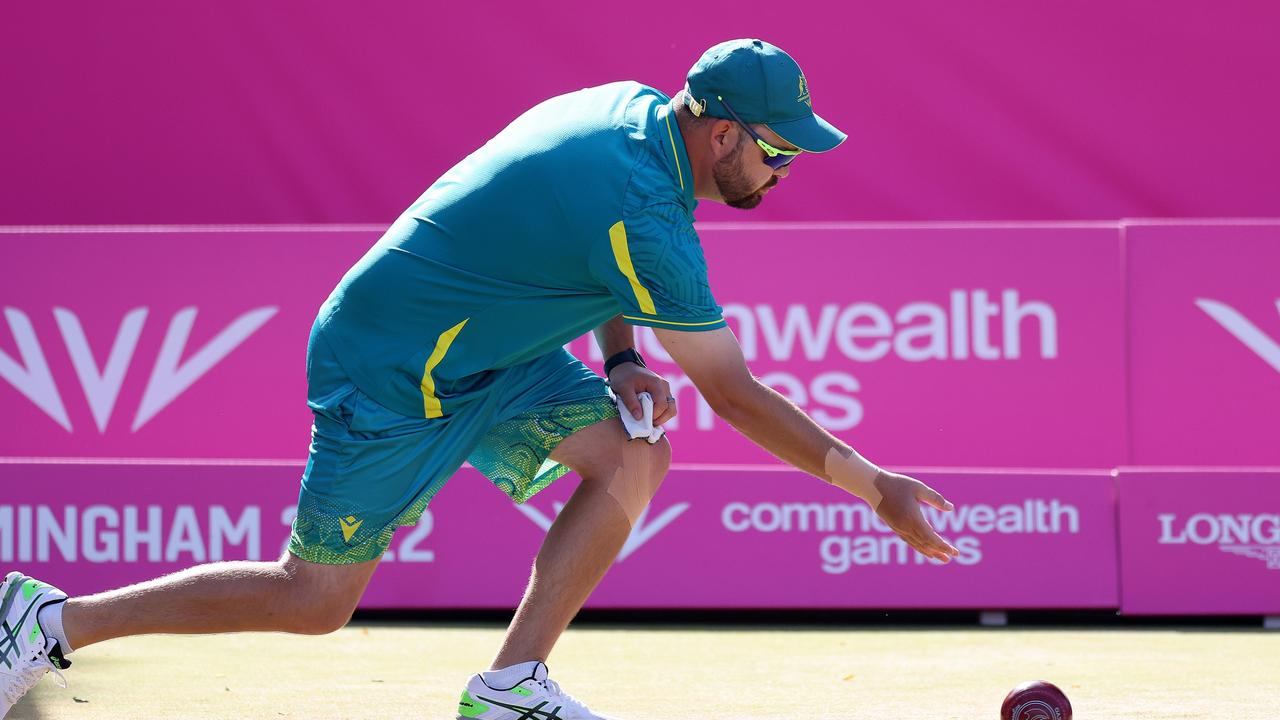 Aaron 'Disco' Wilson has won gold in the lawn bowls. Picture: Stephen Pond/Getty Images
A fine roll to knock the jack away and then get closer to it at the first end set the tone for Wilson's dominance as Kelly couldn't get close to him.
He incredibly went 12-0 up before Kelly, who is based in Australia, could get on the board.
And despite Kelly pulling a fine shot out of his hat the Australian did not ease up as he romped away to a 19-3 win.
ENGLAND DOWNS AUSSIE IN HEAVYWEIGHT BOUT
Aussie heavyweight Edgardo Coumi has lost his semifinal bout against towering Englishman Lewis Williams at the Commonwealth Games.
Williams - who stands 1.98m tall - used his superior height and reach to claim an unanimous points decision and advance to the gold medal fight.
Coumi was awarded a bronze medal for reaching the semi-finals.
'STUFF OF LEGENDS': HOARE'S INCREDIBLE 1500M WIN
Australia's Ollie Hoare has won an incredible 1500m final, joining the great Herb Elliott in the history books with an extraordinary last-stride victory.
Kenya's Timothy Cheruiyot looked to have the gold medal in his keeping but Hoare kept closing, getting the bob in on the line to claim the win by just .09sec.
The US-based 25-year-old becomes only the second Australian to win the event, joining Elliott in winning the historic middle-distance event. (Elliott won the mile at the 1958 Games in Cardiff).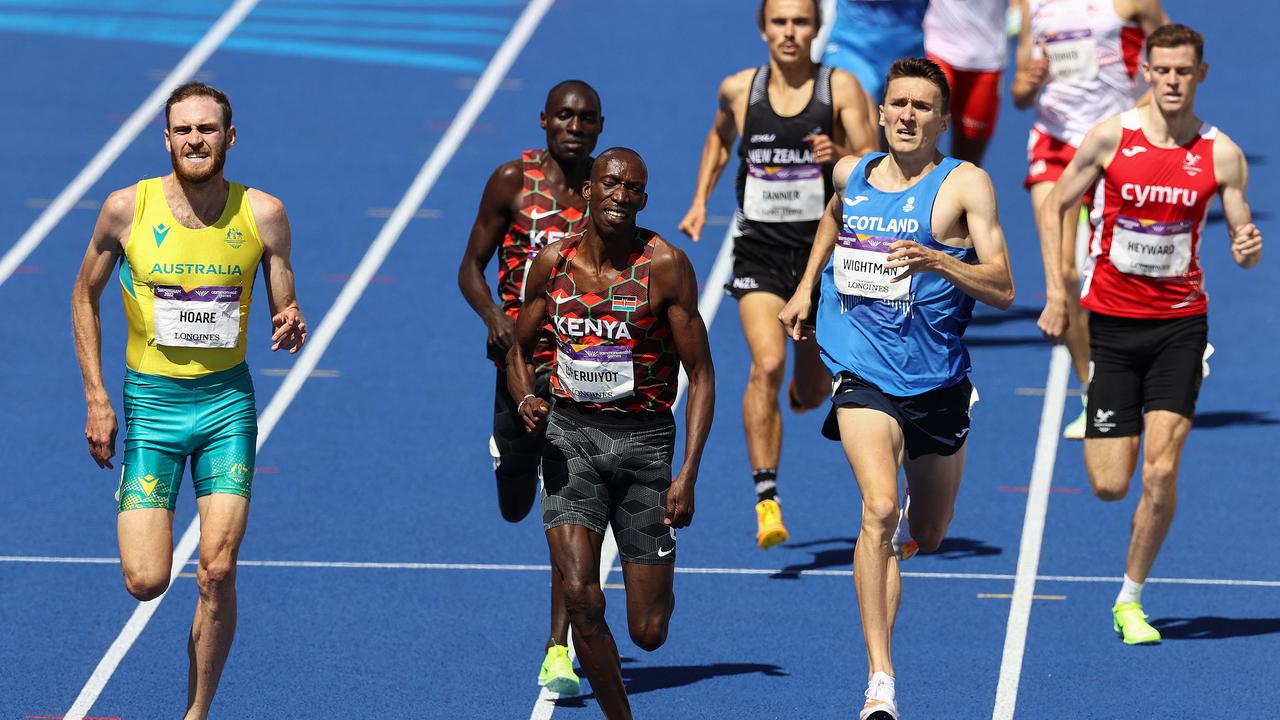 Oliver Hoare storms down the outside to win the 1500m Picture: Michael Klein
Hoare won the biggest race of his career in a Commonwealth Games record of time 3min30.12sec with Cheruiyot, the 2019 world champion, second in 3:30.21, with new world champion Jake Wightman a stride away in third (3:30.53sec).
BROWNING FALLS, AUSSIES OUT OF RELAY
Australia's fastest man Rohan Browning stumbled and fell on the last leg of the 4 x100m relay heats, crashing the Australian team out of the final and any medal contention.
The mishap occurred when Browning began his acceleration to be near top pace for when he was to receive the baton from the third runner, but he inexplicably tripped before the exchange took place.
The moment was shattering for Browning who was immediately consoled by his team mate Jack Hale as he walked alongside the straight and to the finish line.
10.35PM: PETERS NAILS SHOT AT GOLD

By Julian Linden
Exciting Aussie teenage boxer Callum Peters is through to the gold medal bout at the Commonwealth Games after a devastating semi-final performance.
The middleweight bashed South Africa's Simnikwe Bongco in a one-sided contest to get an unanimous decision in Birmingham.
Just 19, the South Australian looked at ease in his first international tournament, where he will now face Scotland's Sam Hickey for the gold medal on Sunday night.
"Well, I've been fighting for a while. It was like a home fight with the family, mum and dad watching," he said. "I can see why people get nervous, but over time, you keep doing it and you get used to it."
One of nine kids, Peters looks to have a bright future in the fight game.
Crafty, and able to switch his lead hand, he's already caught the eye of some promoters in professional boxing but has his heart on getting major silverware in the amateur ranks first.
"This is my first international tournament so I'm still learning the ropes, some new events, new people, I'm very excited," he said. "I take it one step at a time. I want to try and get to the Olympics. That's my biggest goal, to be the first to get gold for Australia. That'd be pretty nice."
One of five Aussie boxers through to the semis — where everyone is guaranteed at least a bronze medal — Peters joined Kaye Scott in advancing to the gold medal round.
The three other Aussies, Edgardo Coumi (heavyweight) Tina Rahini (featherweight) Caitlin Parker (middleweight) were due to step in the ring early Sunday morning.
9.10PM: HOLOCAUST TRAUMA BEHIND EMOTIONAL GOLD
Australia's premier race walker Jemima Montag has successfully defended her Commonwealth Games title, winning the Birmingham edition with a superb record breaking time of 42min34.30 and she crossed the line and kissed her bracelet.
Montage was streets ahead of the Indian champion Priyanka and Emily Wamusyi Ngii from Kenya who won the minor medals. Other Australians walkers, Rebecca Henderson was fourth and Katie Hayward was seventh.
Whenever the going gets tough for Montag, a 24 year old from Brighton, Victoria she glances down at her wrist. For her bracelet is an extra special charm from her beloved late grandmother, Judith a holocaust survivor from Auschwitz.
Montag's nana died just before the Tokyo Olympic Games and it is only since her death that the family has uncovered the traumatic holocaust experience.
Her nana's special gold necklace was gifted to Montag and she and her two sisters decided to make bracelets for each other as important keepsakes.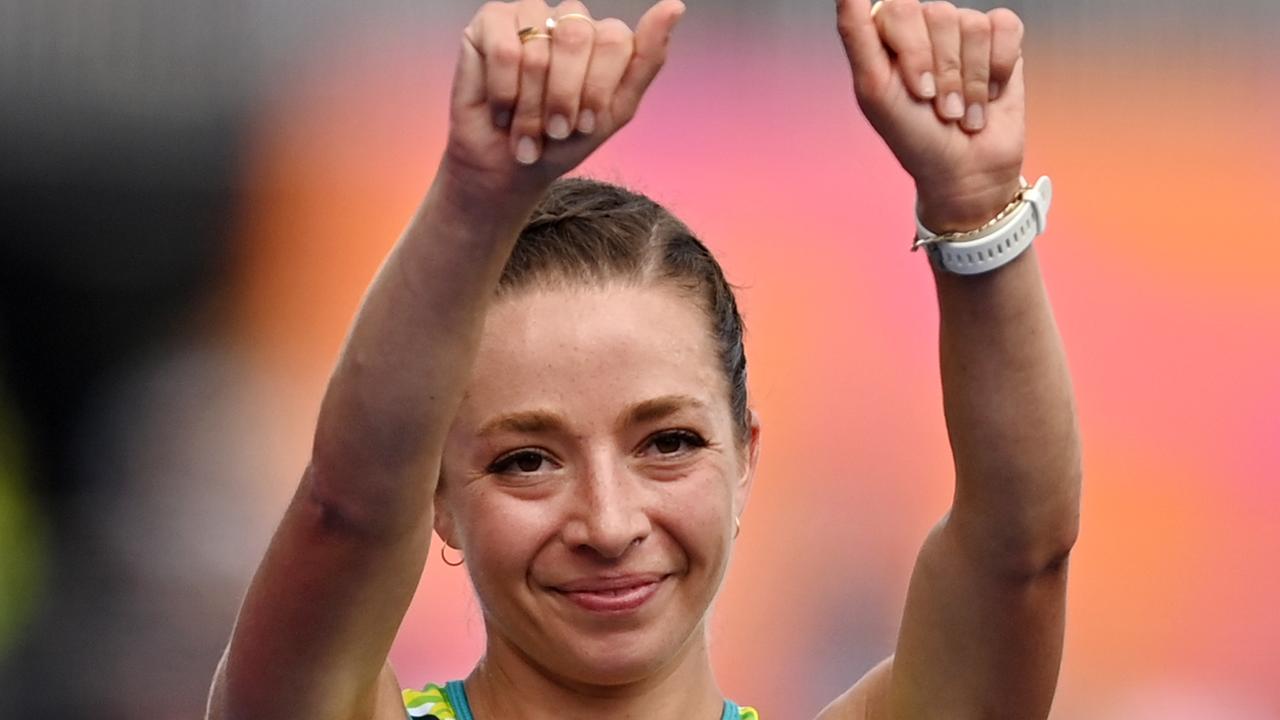 Jemima Montag of Team Australia celebrates after wining the gold
Montag's sunny nature is born of that resilience. She finished fourth at the recent world championships and in defending her victory on Saturday backing up her win at the Gold Coast 2018 Games, she even improved her best time by several seconds and set a new Games record.
"Similar to last Commonwealth Games, I was pulled along by the crowd, it was amazing,'' she said.
" I wanted to enjoy that opportunity and enjoy the crowds, you don't often hear 20,000 people, so I was enjoying it.
"It is a different beast on the track, it is an added challenge going ten seconds faster per kilometre."
Montag said the judges had warned her "not to absolutely burst off at the start" as it draws their attention.
"They wonder if you are breaking the rules,'' she said, explaining a conservative start for the first couple of laps.
By Simeon Thomas-Wilson
The redemption story for Maddison Keeney and Anabelle Smith is complete after they won the gold in the women's synchronised 3m diving springboard final.
Four years ago at the Gold Coast the two Australians were the favourites to take out the gold medal but finished last when they wiped out on their final dive.
The pair were leading going into the final dive but Keeney lost her way in the air on the forward two and a half somersault two twists pike and landed awkwardly in the water.
But there was no such drama for the Olympic bronze medallist as they put in a dominant display to claim Commonwealth Games bronze with a score of 316.53.
The Australians were a class above the rest of the field, especially with their synchronisation as they claimed gold easily.
The other Australian pair of Brittany Mae O'Brien and Fan Qin finished last after a shocker of a fourth dive ended their chances of a medal.
9:05PM: MASSIVE UPSET FOR AUSSIE CHAMP
By Scott Gullan at Alexander Stadium
Australia's Eleanor Patterson has suffered a shock defeat in the final of the women's high-jump.
The newly crowned world champion was a red-hot favourite to win her second Commonwealth Games title after the withdrawal of her main competitor, fellow Australian Nicola Olyslagers.
But Patterson didn't follow the script with three failures at 1.95m meaning she had to settle for a silver medal.
Jamaica's Lamara Distin took the gold medal.
A stunned silence went over Alexander Stadium when the Australian missed her third attempt at a height which normally doesn't offer too many issues particularly given she cleared 2.02m - equalling the national record - to win the world title in Eugene two weeks ago.
Patterson, who won the 2014 Commonwealth title at the age of 18 in Glasgow, looked shocked and stayed on the mat with her head down for an extended period after her third miss.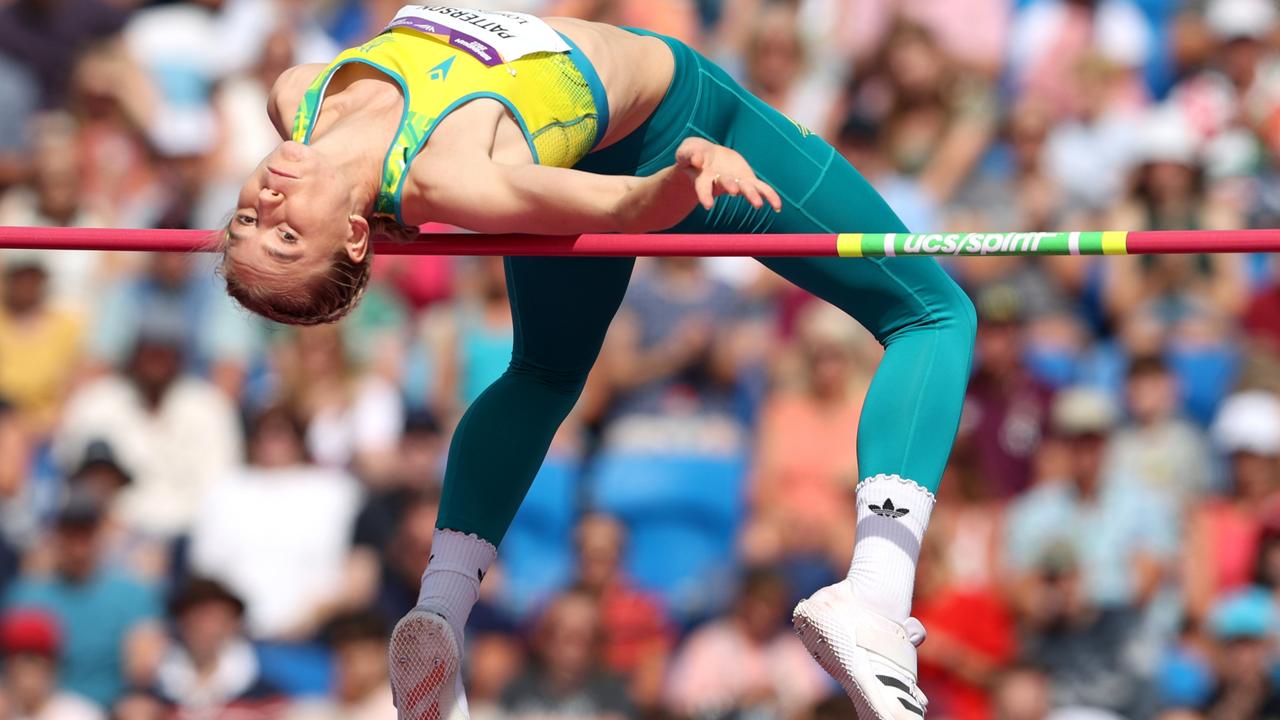 Eleanor Patterson suffered a shock upset in the high jump
She had entered the competition at 1.85m and made first attempt clearances there and at 1.89m. She then missed her first attempt at 1.92m which raised eyebrows before correcting it on her second attempt.
But she was all at sea at 1.95m with her exit one of the biggest shocks of the track and field program in Birmingham.
Olyslagers, the Tokyo Olympic silver medallist, withdrew the night before the final because of a torn calf which she suffered during Thursday's qualifying round.
8:50PM
By Eliza Barr
At last, Australia's Alexandra Kiroi-Bogatyreva has come out on top - with a gold medal in the clubs final at the Commonwealth Games rhythmic gymnastics competition.
The self-confessed perfectionist took silver in the team final, and bronze in the all-around - but the top spot on the podium had remained elusive.
But when the Melbourne gymnast shot ahead of the competition with a score of 29.400, the usually stoic Kiroi-Bogatyreva could not contain tears of joy.
Kiroi-Bogatyreva missed out on a medal in the ball final, with a tidy performance placing her in equal fourth.
She is also out of contention for a medal in the ribbon final.
Brisbane teen Lidiia Iakovleva came sixth in the hoop final, improving by one ranking on her qualification position with a score of 26.000.
8:15PM 'HATED' AUSSIE FEARS ABUSE AFTER PENALTY FARCE
A Hockeyroos star caught up in a penalty shootout farce swore off social media amid enormous backlash after India's coach slammed an amateur umpiring decision.
Australia booking their spot in the gold medal match was overshadowed by a massive controversy when Rosie Malone was given a re-do after her initial penalty was saved - only to bury home her second attempt, to loud boos from the crowd.
While it was by the rules the decision was wildly contentious with former international Georgie Parker describing the decision as "amateur and unfortunate."
The crowd turned on the officials with boos ringing out.
The shootout continued with Australia's goalkeeper Jocelyn Bartram the hero saving all three of India's efforts.
Malone said she wasn't going to go near social media - fearing the wrath of 1.38 billion Indians in the wake of her controversial retake.
"When they called the retake I was thanking the universe for a second chance. I knew all of India would hate me if I put it in," she said.
"But I was just trying to think about my team and that final and I said to myself, if I get a second chance at this I'm not missing it.
"I'm not going to be opening up my social media tonight.
"I felt for India at the time, but all our other girls got our shootouts in so it's not like that one shootout was the be all and end all."
By Joe Barton
Australia has a new lawn bowls hero, and her name is Ellen Ryan.
The 25-year-old spearheaded a stunning extra-time comeback on Saturday to seal her second gold of the Birmingham Games alongside teammate Kristina Krstic in the women's pairs, with a 19-18 win.
Ryan and Krstic looked dead in the water early doors, trailing 11-2 after six ends, before roaring back to prevail in an extra-time contest that had the normally sedate Leamington Spa crowd giving off football fan vibes.
But the Australians rattled off a 14-1 run to open up a four-point gap after 13, before England fought back over seesawing final five ends.
But on a morning of outrageous bowling, it was the clutch plays of 'Flash' Ryan on the final end that delivered Australia a heart-stopping victory – and added to her gold medal collection, having already won the women's singles.
Trailing by one point headed into the 18th, and final, end of play, Ryan capitalised on the elite lead-up play by Krstic to send the match into a one-end shootout – with Ryan holding the final ball.
And she came up with two incredible drives to blast England's hopes to smithereens and trigger raucous celebrations with Krstic.
Ellen Ryan and Kristina Krstic of Team Australia
7:27PM NETBALL BLOODBATH
By Erin Smith
Jamaica pulled apart New Zealand's defence, then put up a brick wall between their shooters and the post, demolishing them in the first semi-final clash and earning a spot in their first gold medal match play off in any major international competition.
The Sunshine Girls, full of confidence after securing their first ever win over Australia in their final round game, put four goals on New Zealand in the opening minutes of the game and the demolition job just continued for the remainder of the match, which ended 67-51.
By the end of the first quarter they were up 18-9. It was 36-22 at the end of the first half.
No matter what New Zealand did, Jamaica did it better.
Super shooters Jhaniele Fowler and Shanice Beckford didn't miss a shot in the first half.
The third quarter was a lot closer with just two goals the difference but it still left New Zealand behind, 52-35.
Jamaican substitutes were cheering, dancing and waving flags from the sideline, while the Kiwis sat stunned, their heads in their hands.
There was little New Zealand could do in the final quarter, which Jamaica once again took control of.
Prior to these Games Jamaica's best performance had been a bronze medal.
Jamaica will take on the winner of the England and Australia game in the gold medal match. The Kiwis will go up against the loser in the bronze medal play off.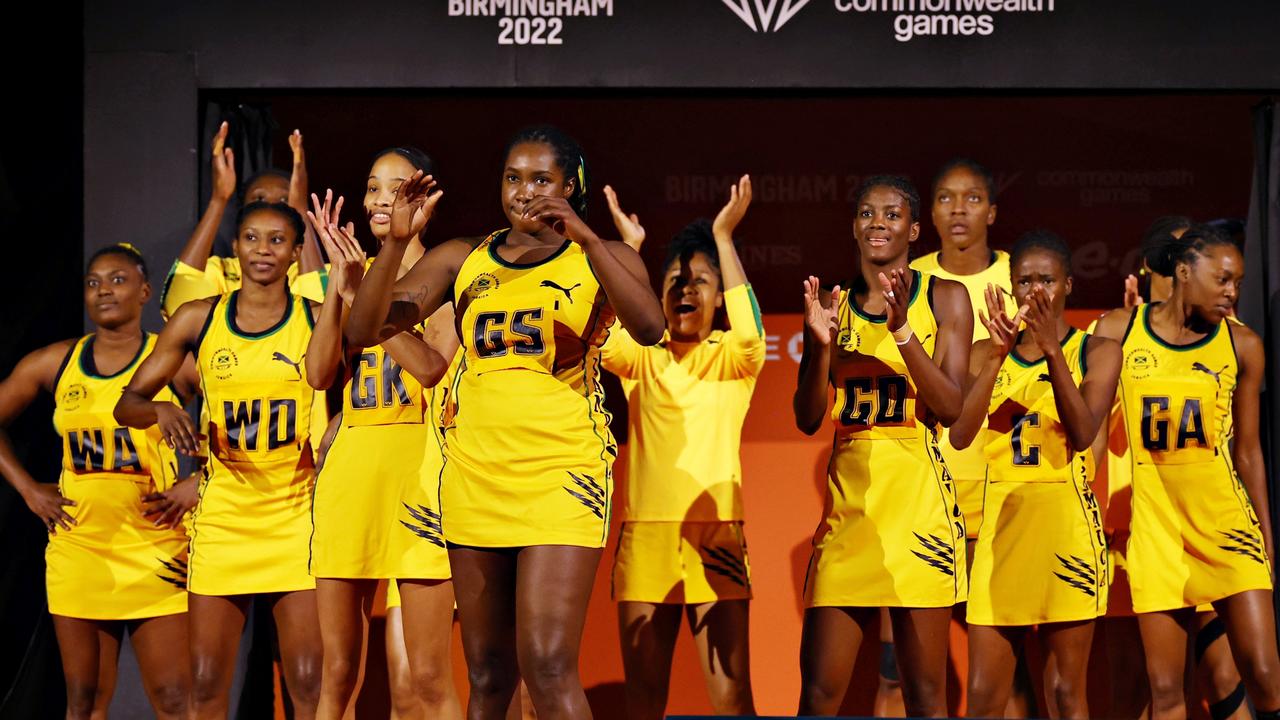 Team Jamaica are into the gold medal match
6:00PM CODY'S MESSAGE AFTER OVERHWLMEING GAMES
Popstar turned Commonwealth Games medallist Cody Simpson says he has been overwhelmed by support since returning to social media.
Posting on Instagram for the first time since the games started, Simpson said to his 4.6 million followers: "I had remained off social media for the duration of the Commonwealth Games and a few days thereafter, but today I've redownloaded it to an overwhelming flood of supportive and congratulatory messages," he wrote.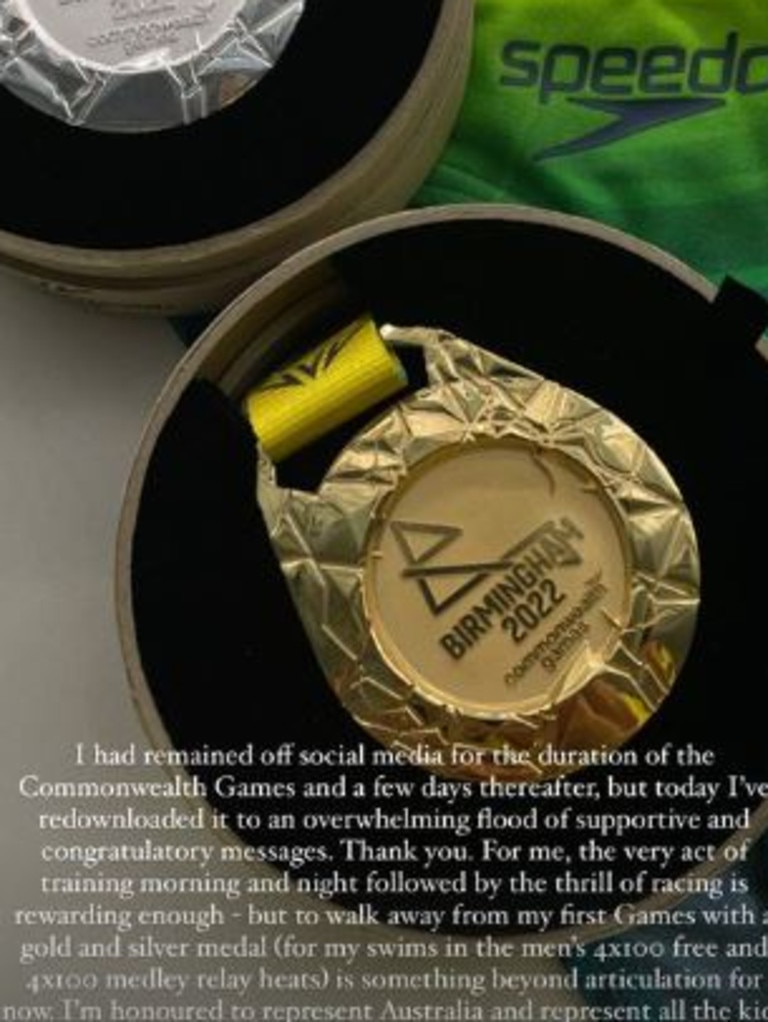 Cody Simpson's Instagram post.
"Thank you. For me, the very act of training morning and night followed by the thrill of racing is rewarding enough — but to walk away from my first Games with a gold and silver medal (for my swims in the mens 4x100m free and 4x100m medley relay heats) is something beyond articulation for now.
"I'm honoured to represent Australia and represent all the kids who decide to walk steadfastly in the direction of their dreams."
Simpson finished fifth in the 100m butterfly final in Birmingham.
Simpson's relationship with golden girl Emma McKeon was one of the talking points of the Commonwealth Games swim meet.
The couple have headed to Italy have a well-earned break after the Commonwealth Games' swimming events wrapped up.
MCKEOWN TAKES HER TRADEMARK TO LONDON
Kaylee McKeown has taken her new trademark to the streets of England.
The Commonwealth Games and Olympic gold medallist was snapped by News Corp photographer Michael Klein "flipping the bird" after one of her triumphs in Birmingham.
And it appears the Aussie star has that same cheek out of the water too.
Her sister Taylor, who swam her last meet for Australia last week, posted a picture of Kaylee in a British phone box with her middle finger raised.
She captured the snap: Typical tourist pic done Kaylee style.
Australia's swimmers have taken to social media in recent days to share their holiday snaps, including glamour couple Cody Simpson and Emma McKeon in Italy.
The McKeons have stayed more local to the games, sharing pictures from their travels around London.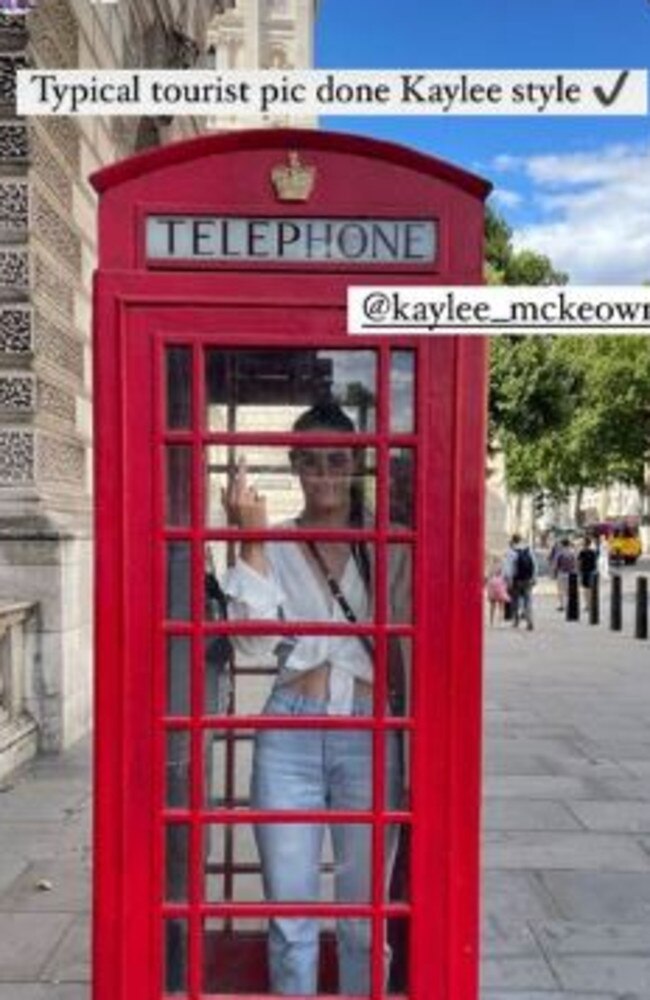 Kaylee McKeon in London.
Originally published as Commonwealth Games 2022: Aaron 'Disco' Wilson wins gold in lawn bowls and rips off shirt