Commonwealth Games 2022: Brielle Erbacher falls in 3000m steeplechase final
Australian Brielle Erbacher fought on bravely to finish after two brutal falls in the 3000m steeplechase before a special moment captured the spirit in the Aussie athletics team.
Brielle Erbacher smashed to the track in two brutal falls over the barriers in the women's 3000m steeplechase, but the Queenslander won the hearts of the crowd at the Alexander Stadium by completing the last 1000m of the race by stopping before each hurdle and then climbing over them.
"I was not going to not finish, as hard as it was,'' she said after the extraordinary race.
Erbacher first fell at the hurdle at the 2000m mark but bravely continued on.
But then, fatigued by the quick pace of the leaders Jackline Chepkoech of Kenya and Ugandan Peruth Chemutai, she fell over a second hurdle just 200m further into the race.
"(I'm feeling) pretty s***, to be honest. I tried to stick with it but my legs just went,'' she said, her stomach looking red raw from the falls, and appearing in shock.
"I hit a couple of barriers, I am not sure what happened, I just couldn't jump,'' she said.
"That is what happens when you start out a bit hard I guess."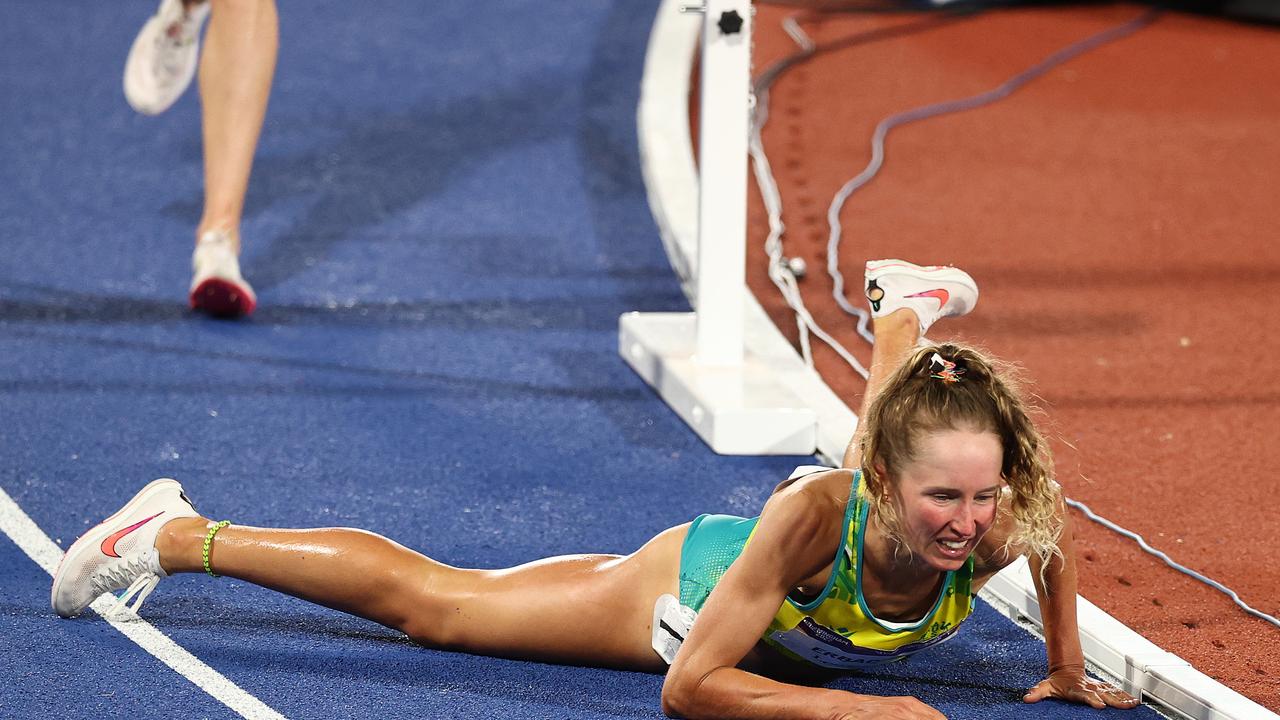 Australian Brielle Erbacher falls mid race. Picture: Michael Klein.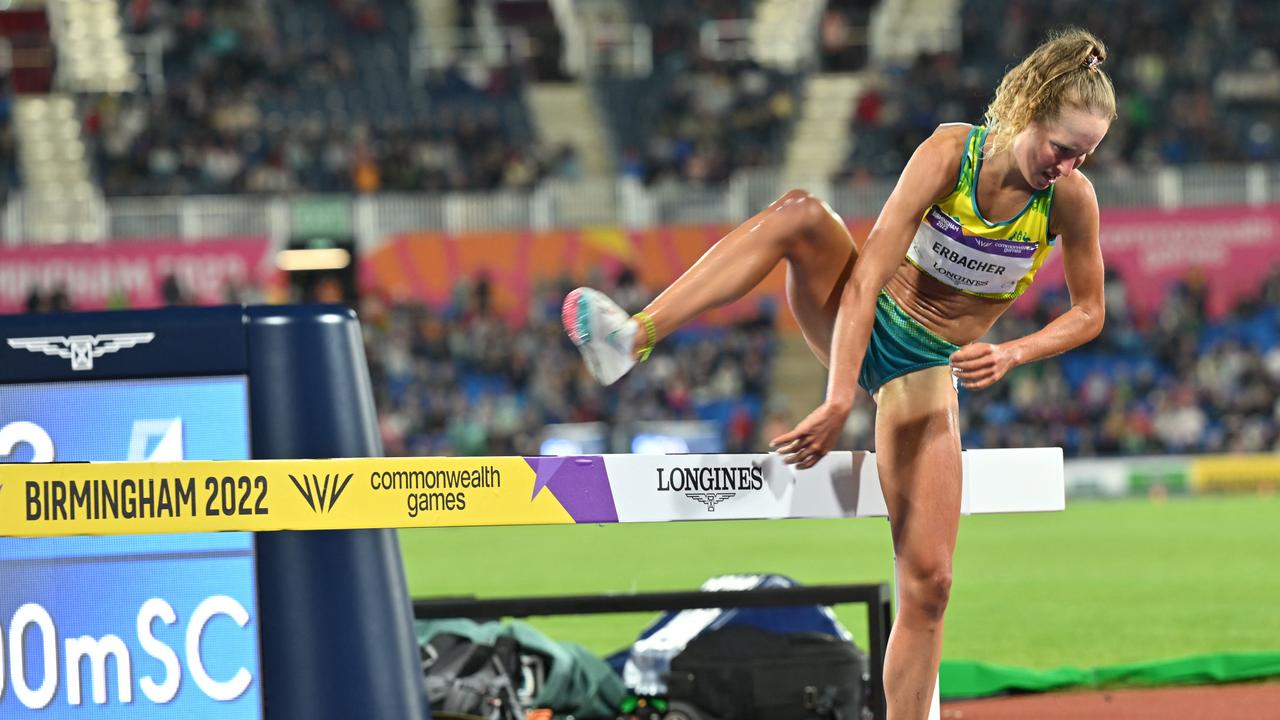 Australia's Brielle Erbacher climbs over a steeple after falling.
At that point the event was clearly over for Erbacher and she was well out of contention but she wanted to finish, and at each subsequent hurdle she stopped and by using her hands to steady herself she climbed up and over the barriers and the water jump.
With the roar of the crowd encouraging the 23-year-old to keep going Erbacher, from Toowoomba, finished in 10min 59.64s, nearly a lap behind winner Chepkoech's 9min 15.68s, a games record and her personal best.
English runner Elizabeth Bird stormed home in the final straight to overhaul Chemutai for silver.
Australian's other competitor Amy Cashin who had been battling for the minor medals for most of the race finished fifth in 9min 35.63s and then waited for Erbacher at the finish line to give her a huge hug.
But while Erbacher who was bewildered, walked off the track to talk to reporters, Cashin, who was to the side, burst into tears and was consoled by team officials before being led away.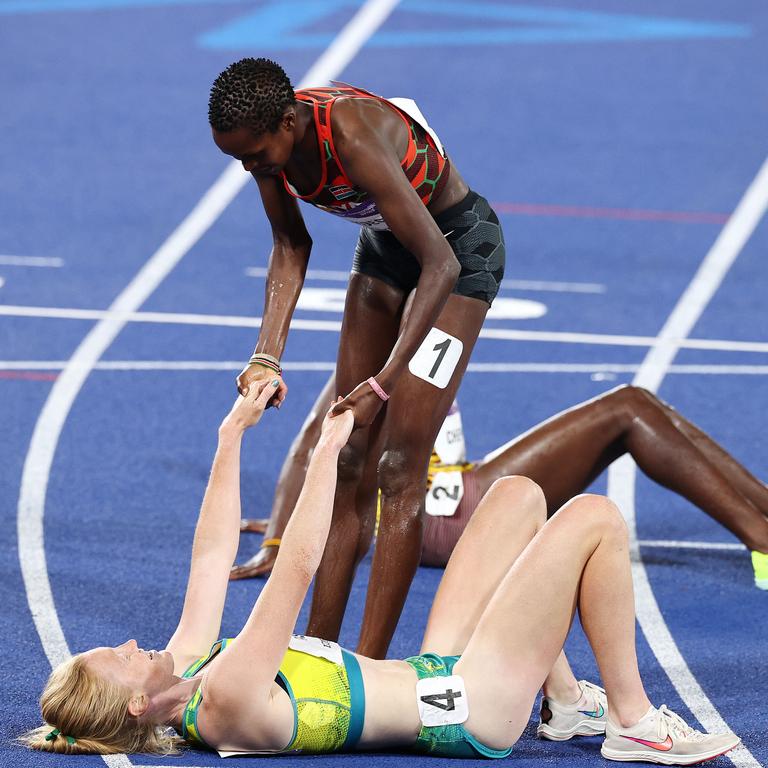 Australian Amy Cashin is helped to her feet by gold medallist Jackline Chepkoech after race. Picture: Michael Klein.
Adding to the drama the bronze medallist Chemutai was surrounded by medics and then taken from the track in a wheelchair at the end of the race.
Erbacher said she was feeling "pretty shit to be honest'' and was the hardest race of her life.
"Definitely, It would be weirder to pull out, its easier to finish and get to the line rather than falling off to the side,''she said.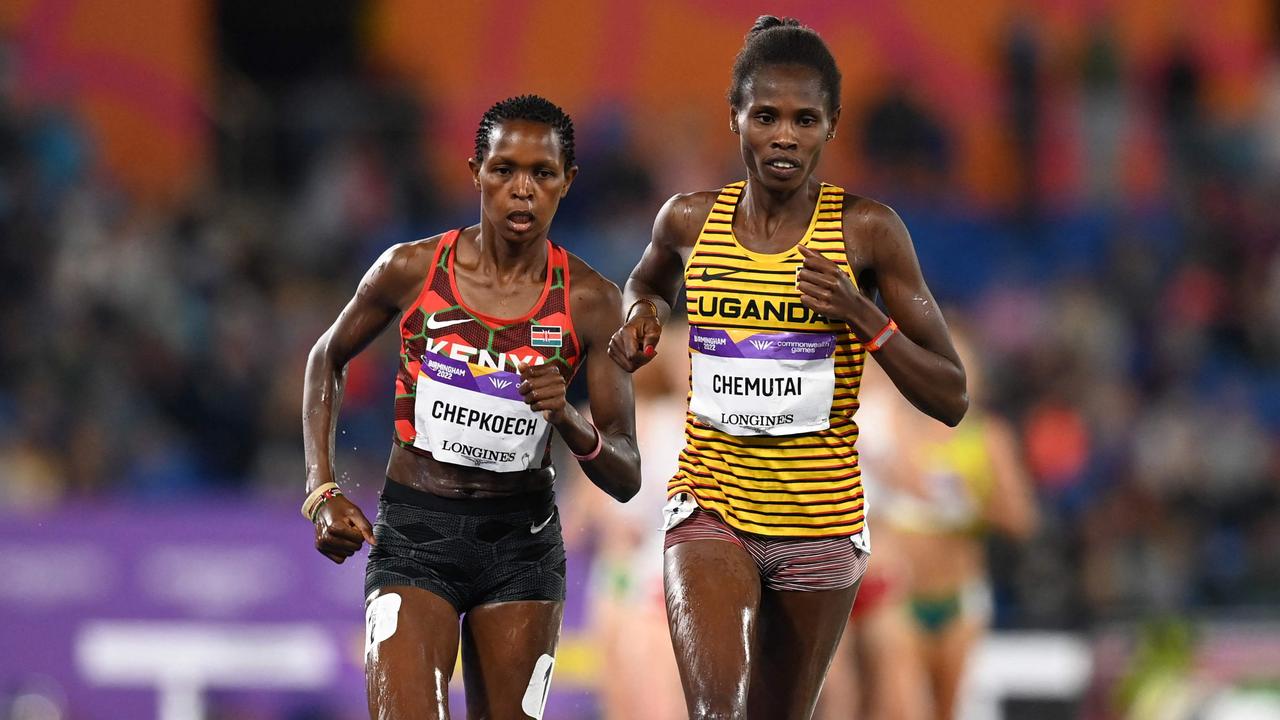 Kenya's Jackline Chepkoech (L) competes for first place alongside Uganda's Peruth Chemutai.
Madi emulates Olympics with double gold
– Scott Gullan
Olympic champion Madi de Rozario has continued her dominance of wheelchair racing, winning a second Commonwealth title in five days.
After taking out the marathon on Saturday, Australia's Paralympic superstar won an enthralling battle for gold in the 1500m with her teammate Angela Ballard grabbing second on the line.
De Rozario, who won the marathon and T53 1500m on the Gold Coast four years ago, was forced to counter an attack from Scotland's bronze medallist Samantha Kinghorn at the top of the home straight.
Madison de Rozario was all smiles after surviving a close finish.
"It was a cagey race and a bit tricky towards the end there," De Rozario said after her 3min53.03sec victory.
"It wasn't what I was expecting and it was definitely surprising but I'm happy to come away with that one.
"I've not done a lot of track work and the track is so technical and so you get out of the habits of it. I was trying to come in from the marathon this weekend and I definitely made a few mistakes out there but it all came together and I'm really happy about that."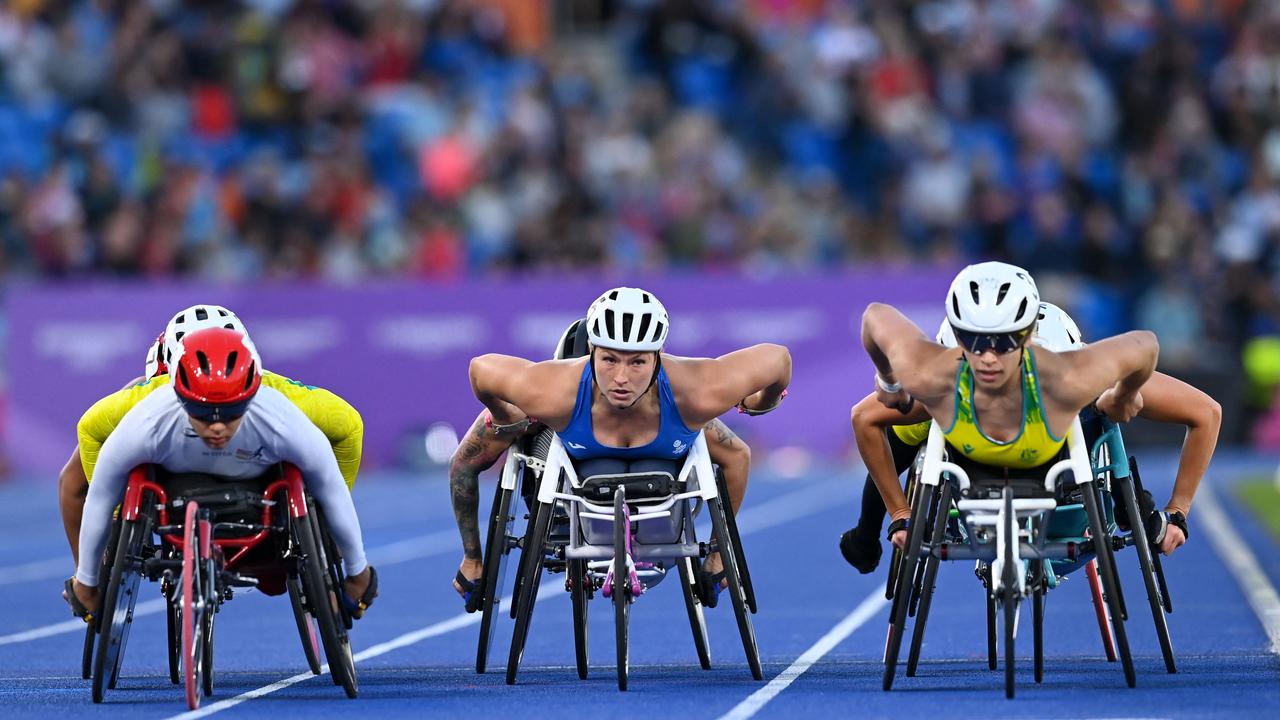 Scotland's Samantha Kinghorn (C) charges after Australia's de Madison Rozario (R).
De Rozario, 28, forced her way to the front in the opening lap which proved to be a winning move.
"I think I realised I was going to be out front, maybe a lap in and I was also aware of not giving that up," she said.
"I think once you are committed to knowing you are taking that you switch your mindset and back yourself to have to be able to do and mentally win it from the front.
"It is a different kind of confidence you have to have in that you kind of second guess yourself in that moment because one mistake and it is all gone and I nearly did make it with Sam (Kinghorn) nearly came around with that last 200 so it was an interesting race."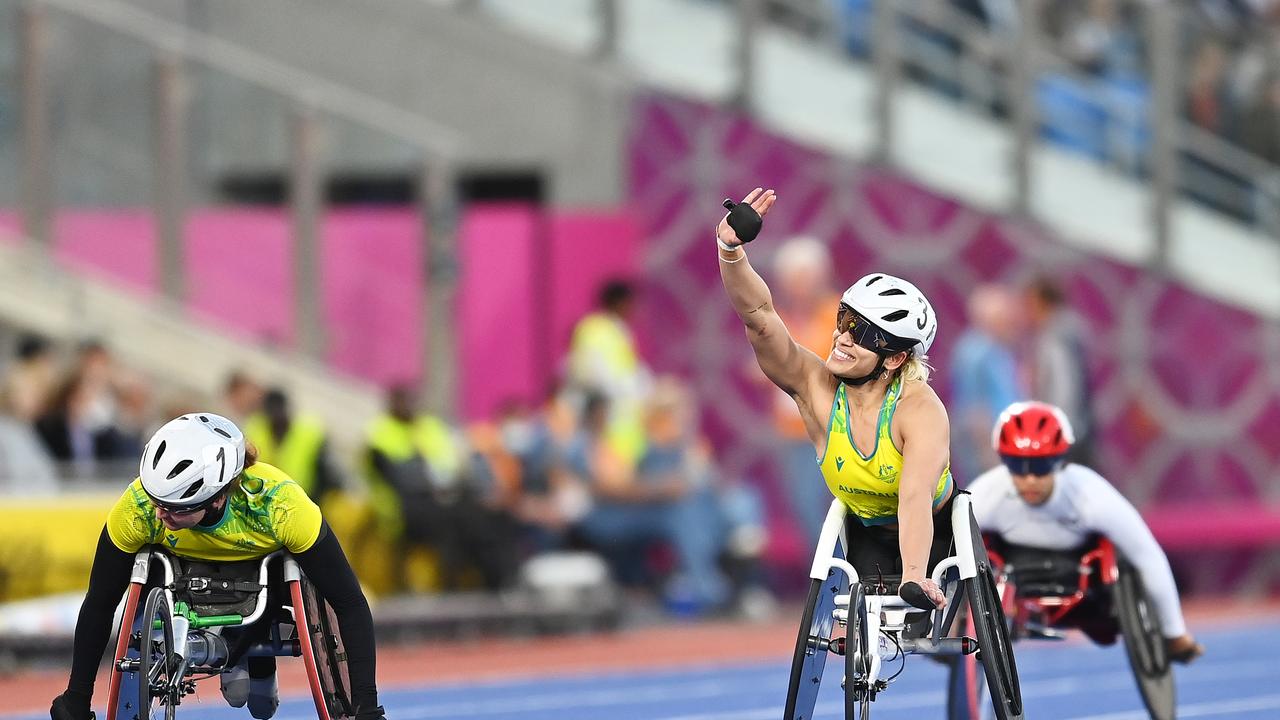 Madison de Rozario holds on after leading for most of her 1500m final.
Earlier, Sarah Edmiston added to Australia's medal haul with a silver medal in the F44 discus throw.
It took a F42 world record throw of 36.56m form Nigeria's Goodness Chiemerie Nwachukwu to claim gold with Edmiston producing a best effort of 34.96m.
Originally published as Commonwealth Games 2022: Brielle Erbacher falls in 3000m steeplechase final