The 'nightmare' butterfly saga between Chalmers and Simpson that is all the media's fault
Kyle Chalmers defeated Cody Simpson in the 100m butterfly at the Australian swimming trials, but that was just the start of the story with the Aussie champion now blaming the media for what he describes as a 'nightmare'.
Looking more like an episode of Married At First Sight than the tryouts for the national swimming team, the Australian championships have suddenly got everyone talking about the sport again.
But this time none of the chatter is about gold medals – the fuss is all centred around a spat between the team's alpha male Kyle Chalmers and the former pop star Cody Simpson, and the "love triangle" they have been caught in.
Simpson, who used to date Miley Cyrus but has now been linked with Chalmers' ex flame Emma McKeon, is on the verge of being selected for his first Australian team after finishing third in the 100m butterfly.
Simpson's stunning performances in the pool have made international headlines, but his participation in next month's world's championships in Budapest is reliant on Chalmers – who finished second in the race behind his good mate Matt Temple – giving up his spot because each country is limited to two competitors per event.
Stream Over 50 Sports Live & On-Demand with Kayo. New to Kayo? Try 14-Days Free Now >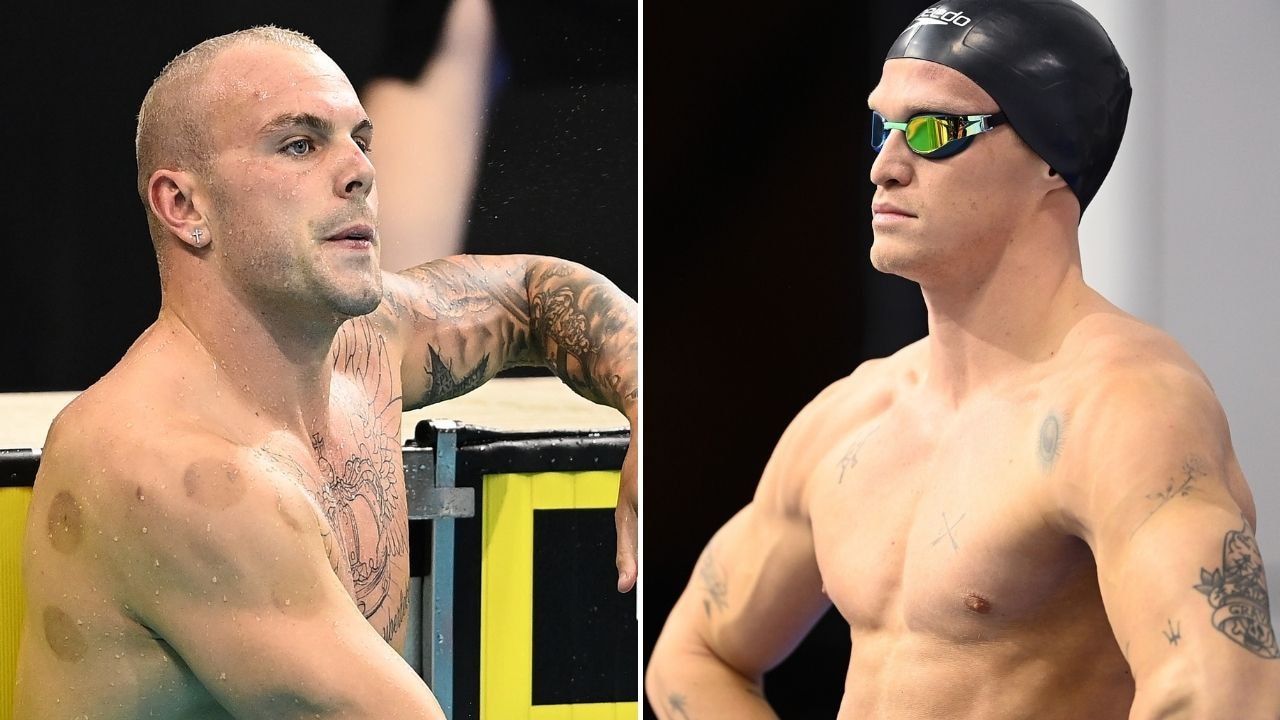 Cody Simpson and Kyle Chalmers are in a 'love triangle'.
Chalmers, who normally swims freestyle and has only ­recently returned from shoulder surgery, had initially said he had no desire to go to the world championships because his focus was on the Commonwealth Games in Birmingham, starting late July.
But he had a sudden change of heart when he became annoyed by all the attention Simpson ­received for finishing third, prompting him to say he would go to Budapest after all, leaving Simpson's international debut in doubt.
Accused on social media of ­behaving like a jilted lover, Chalmers has gone on the attack, rejecting suggestions he only ­entered the butterfly as payback to Simpson for stealing his girl, telling 2 Day FM the idea was "hugely pathetic".
"It's the biggest joke I've ever heard, to be honest with you," he said. "Unfortunately I'm the one who has to stand up and apologise and be made out to be the villain."
By finishing ahead of Simpson, the 2016 Rio Olympic champion has every right to decide himself whether he will go to the world ­titles.
After promising that he would make a snap decision after speaking to his coach Peter Bishop on Thursday night, sources said he has now decided to wait until Sunday, just before the team is announced, leaving Simpson to sweat it out for another two days.
If Chalmers does go to Budapest, he won't be allowed to swim any individual freestyle races ­because he didn't enter them at the trials, but Australia's head coach Rohan Taylor said he'd be considered for the relays while Simpson was still in line for selection at the Commonwealth Games.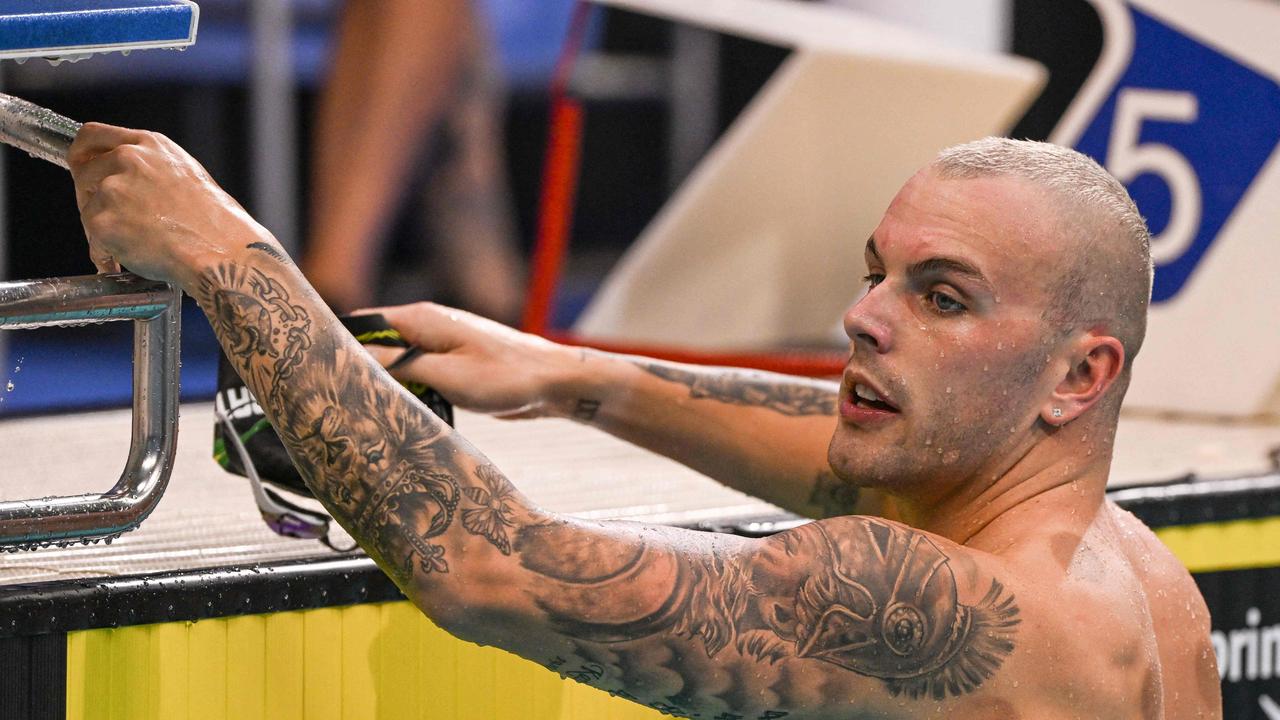 Chalmers has said described the accusations about him as a joke. Picture: Brenton Edwards
"Our men's 4x100m freestyle relay at the moment on paper is not strong so we're not really going to have a lot of choices," Taylor said. "If you've got somebody like him (Chalmers) on the team (you would select them).
"We're looking at Comm Games (for Simpson) because he's qualified for that third spot inside the FINA A (time) so he's eligible to go to Comm Games."
Opinions are strongly split about what Chalmers should do, with his supporters trolling Prime Video commentator and Olympic champion Giaan Rooney for asking him whether kicking Simpson off the team was a consideration.
Chalmers – to his credit – provided an unapologetic response about the cutthroat nature of the sport then doubled down when he fronted the written press, leaving no one in any doubt that he was unimpressed by all the fanfare Simpson was getting.
Simpson's father Brad backed his son's bid to be on the team, saying he had won plenty of admirers for what he had achieved.
"We're just so proud of him," he said. "He was a rock star in Venice Beach, California, and said to me, 'Dad, I can sing forever. I can only swim for a few years. I don't wanna die wondering.' "
Double Olympic champion and Prime commentator Grant Hackett has also given his seal of approval to Simpson being on the team, saying he had proved his ­detractors wrong so deserved his spot.
"There would have been a lot of people out there thinking it's a publicity stunt, that he's coming back to draw more profile for his music or whatever it might be," Hackett said."There's always going to be the naysayers out there and people who want to go straight to the negative or cynical side of things. I just love seeing that he's committed himself."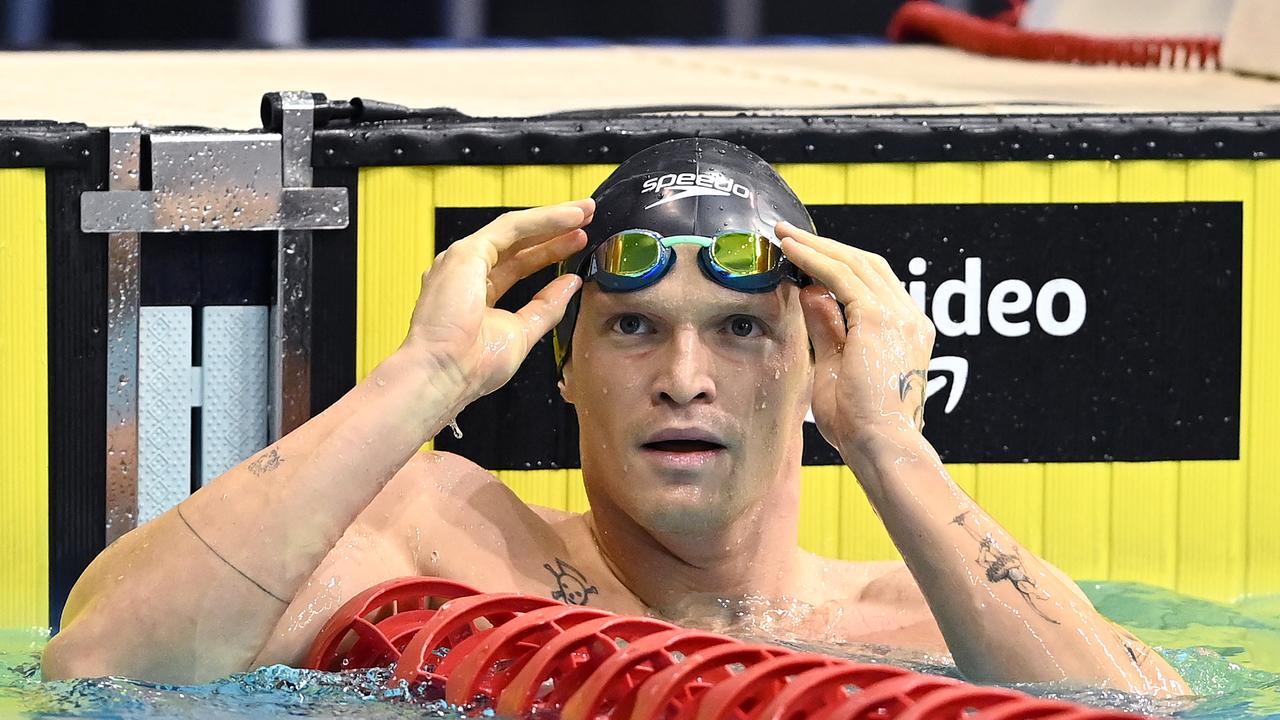 Cody Simpson has opened up on his conversation with Chalmers. Picture: Quinn Rooney/Getty Images
Simpson appeared on Prime Video's coverage to reveal that Chalmers had contacted him to explain his decision and that he was fine with it.
"He was cool, he sort of reached out and we sort of cleared the air about it. So it's all good in that sense. I would sort of respect his decision either way," Simpson said.
"I sort of realised he'd changed his mind as he has every right to do obviously.
"He has the spot. I didn't finish second, I finished third. So for him to have done that (finished second) especially with the limited prep he has had is pretty remarkable."
Chalmers posted a note on his Instagram account where he described the whole saga as a "nightmare" which he blamed on the media.
"If I knew this was going too (sic) be the reaction and the respect I get, I would've never entered the race," he said.
"What was supposed too (sic) be an enjoyable new stimulus has turned into a unnecessary nightmare!
"I hope the media get the clicks they want, never forget athletes are humans like everyone else."
Swim 'villain': Chalmers explains shock backflip
Kyle Chalmers has revealed he was close to quitting swimming just seven weeks ago as he attempted to explain a sudden change of heart that has put Cody Simpson's spot on the Australian swim team in jeopardy.
Simpson finished third behind Matt Temple and Chalmers in the 100m butterfly at the selection trials on Wednesday night, but with Chalmers planning to skip the world titles in Budapest it was believed the former singer had completed a dream transition from music star to Dolphin on the Australian team.
However, Chalmers has since changed his plans and expressed a desire to race in Budapest leaving Simpson's Australian swim team dreams in tatters. His spot on the Commonwealth Games team remains under threat with a nervous wait until Sunday where a team of 46 swimmers will be named.
The late change of mind by Chalmers has created headlines, not the least because Simpson is now dating Chalmers' ex-girlfriend and Olympic star Emma McKeon.
But Chalmers attempted to explain the cut-throat nature of swimming on pool deck after winning the 50m butterfly on Thursday night, then took to social media to further list his reasons for wanting to race at worlds.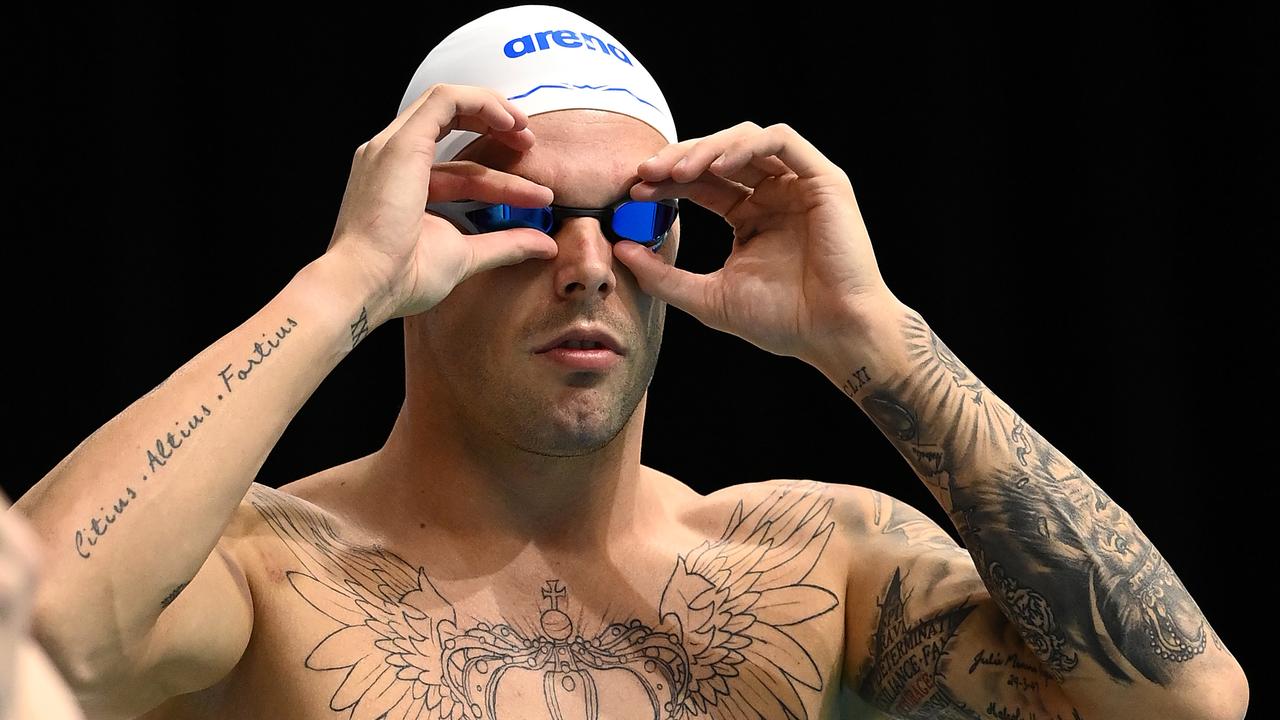 Kyle Chalmers has detailed his reasons for wanting to race at the world titles Picture: Getty Images
"Just wanting to clear the air and also keep this short. 7 weeks ago, I was not swimming and had no intentions of swimming this season if ever again," Chalmers wrote on Instagram.
"I needed too find myself away from the pool and find my love and enjoyment for swimming again.
"For me getting back in the pool, changing the stimulation and swimming some butterfly which I grew up doing helped me find that passion again!
"I've dreamed of being a butterfly and racing it internationally my whole career, my body has just never allowed me to do so (it's nice to have finally earned the opportunity).
"I can be made out to be the villain but just like everyone who stands behind the blocks I want to win and represent my country at the highest level.
"For me this is an exciting new chapter I'm about to embark on, that'll keep me motivated, hungry and stimulated to be the best I can possibly be.
Insane that people seem to think that #KyleChalmers, OLYMPIC Champion and WORLD RECORD holder, (who has suffered injury and made a comeback of his own) should just "step aside" for the sake of a good comeback story...THIS IS HIS CAREER? 👀 https://t.co/7WYufuHkV3

— Harry Maishman (@HarryMaishman) May 19, 2022
"I could continue on, but I just want to say a massive shoutout to the people who have stuck by me and been in my corner through this process.
"It really has not been easy for me physically, mentally and emotionally.
"I've learnt a lot about myself, and have refined who I am as a person, what I want in life and who I want in my life.
"I hope I can continue to make you all proud in and out of the pool. It's nice to be important, but it's more important to be nice."
Former Australian Olympian Brett Hawke, one of Simpson's first coaches in the comeback who helped him during his time in the US, replied that Chalmers had done nothing wrong.
"Never apologise for your success. It's your career," Hawke wrote.
Chalmers' shock backflip could end pop star's dream
Cody Simpson's international swimming career is already in limbo even before it begins after Kyle Chalmers sensationally declared he was having second thoughts about giving up his spot to the pop star.
Simpson was all set to make his international debut at the world titles in Budapest after he finished third in the 100 metres butterfly final at the Australian championships but Chalmers could change all that.
Although each country is only allowed to enter a maximum of two competitors in each event, Simpson thought he had done enough for selection because Chalmers - who finished second behind race winner Matt Temple - had already ruled himself out of the world titles to save himself for the Commonwealth Games in Birmingham.
But after winning the 50m butterfly final on Wednesday, Chalmers declared that he had changed his mind and wanted to go after all - meaning Simpson would definitely miss out on the world titles and possibly the Commonwealth Games.
Stream Over 50 Sports Live & On-Demand with Kayo. New to Kayo? Try 14-Days Free Now >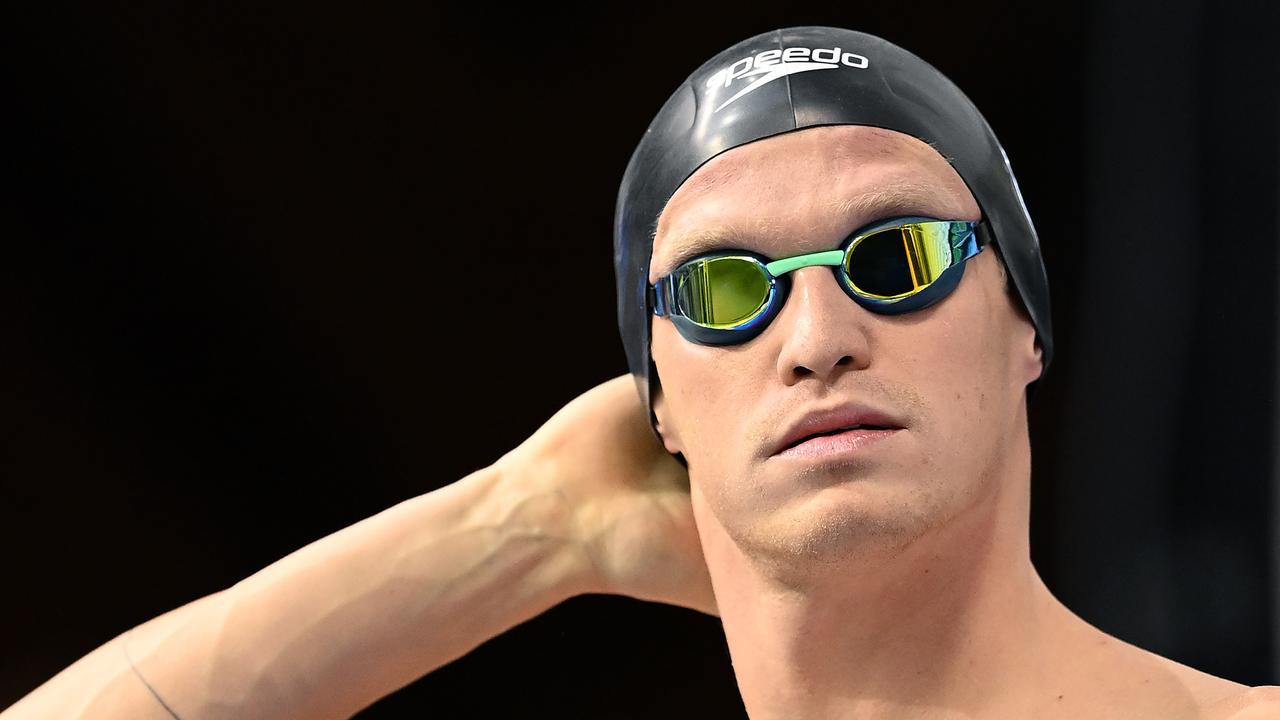 Kyle Chalmers' change of heart puts Cody Simpson's swimming career in doubt. Picture: Quinn Rooney/Getty Images
"You can't make me out to be the villain, right?" Chalmers said.
"Unfortunately, I started out as a butterflyer and I've been swimming this past 12 years.
"I've been on the team now for eight years. I've watched the 100m butterfly from afar and always wanted to do it. My body hasn't allowed me to do it to this point.
"It's unfortunate that it probably takes Cody's spot away, but it also takes away five other guys who were in the race … there's a bunch of guys. It's not just Cody."
Chalmers normally swims freestyle. He won the Olympic gold medal in 100m at Rio in 2016 then silver in Tokyo last year. His entry into butterfly was a late surprise.
The 23-year-old recently underwent surgery to his shoulder, announcing that he was not interested in going to the world titles, but would enter butterfly at the trials in the hope of swimming it at the Commonwealth Games.
He said he only changed his mind about wanting to go the worlds after finishing second to Temple, who received little fanfare for winning the race with all the focus on Simpson.
Chalmers was unimpressed.
"The thing with that is my training buddy, Matt Temple, who is the Australian record holder, he won his back to back titles last night," Simpson said.
"There's no attention or hype around him which is for me what I struggle with the most.
"It's great, there's all eyes on Cody but the eyes deserve to be on Matt Temple. He's an Olympic finalist.
"Last year he was in those relays carrying us to bronze medals. And he's the Australian record holder. He's the one that deserves the attention and the eyes on him.
"I see him train every single day. I see how hard he works. I know how good he is. He's going to be great moving forward. And he deserves that spot more than anyone."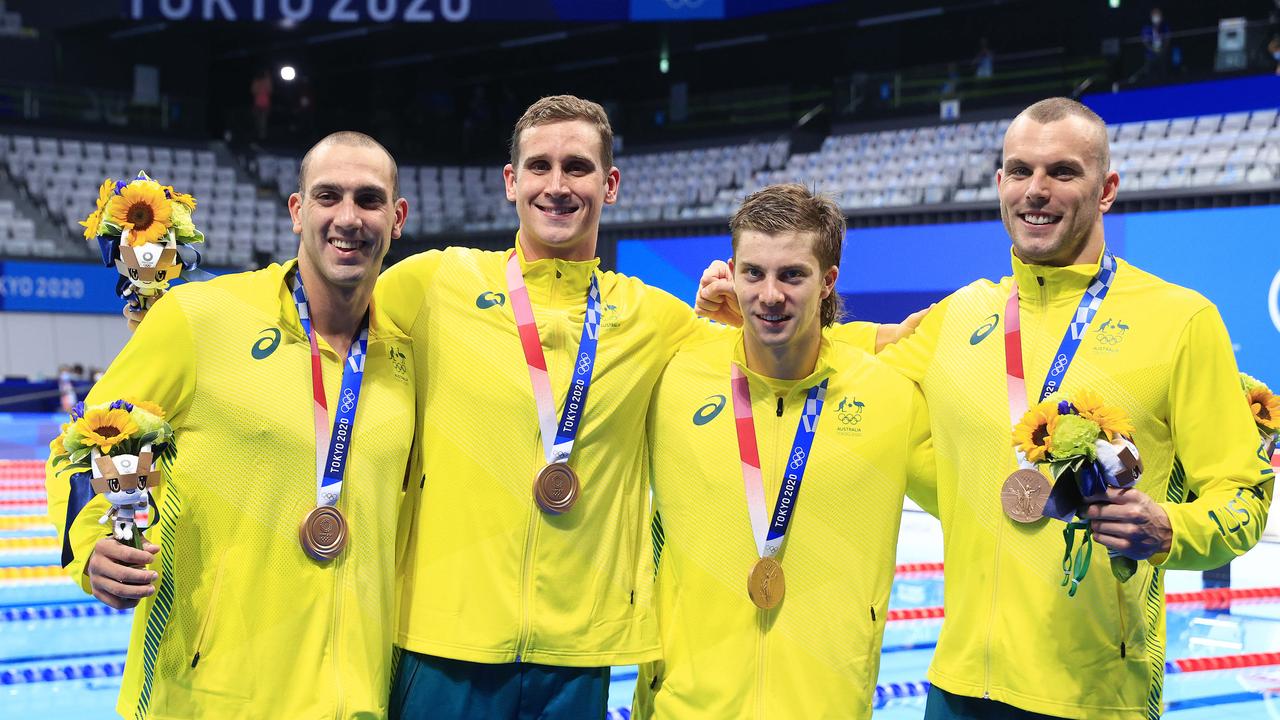 Matt Temple (middle right) and Kyle Chalmers (right) after winning bronze at the Tokyo Olympics. Picture: Adam Head
If Simpson misses the team for the world championships, he could still be selected for the Commonwealth Games, where countries can select up to three swimmers for each event. However, head coach Rohan Taylor said there was a limit of 46 team members so it would depend on how many spots are available when the trials end on Sunday and the team is picked.
Chalmers said he would consult with his coach Peter Bishop before deciding whether to go to Budapest or not but was leaning towards going.
"Personally, I think it's going to be the best thing for me moving forward because I know that my coach, my squad go to Europe, I'll be left here by myself, training by myself, so going away at least gives me two more decent blocks with my coach, my training partners," he said.
"It gives me another opportunity to race long course before Commonwealth Games. So to me it makes a lot of sense."
Simpson has recently begun dating Olympic golden girl Emma McKeon, the ex flame of Chalmers.
The former Hollywood-based singer and the 11-time Olympic medal winner are said to be "completely smitten", and are believed to have moved in together in recent weeks.
The pair have been spotted numerous times out and about on the Gold Coast, and travel to and from training together each morning.
Fastest teen in history: Australia's newest golden girl
Just when the rest of the world thought it was safe to get back in the water, a new wave of Australian swim stars is coming to the boil.
And although it's still early days, the early leader of the next generation of Aussies could turn out to be among the best ever if her incredible performances so far are an indication.
If the Americans thought they might have a chance of beating the Aussie women at next month's world championships after Emma McKeon, Cate Campbell and her sister Bronte all pulled out, then they had better think again.
And the reason is because of the arrival of new teen sensation Mollie O'Callaghan, who is leading the charge.
Just 18 but already with two Olympic gold medals under her belt, O'Callaghan is a star on the rise, turning heads all over the world.
She set the junior world record for 200m freestyle at last year's Tokyo Olympics and is now the fastest teenager in history for 100m freestyle.
She just won her first Australian senior title on Wednesday in a blistering 52.49 seconds, the fastest time in the world this year, and a time that would have won her the bronze medal in Tokyo last year.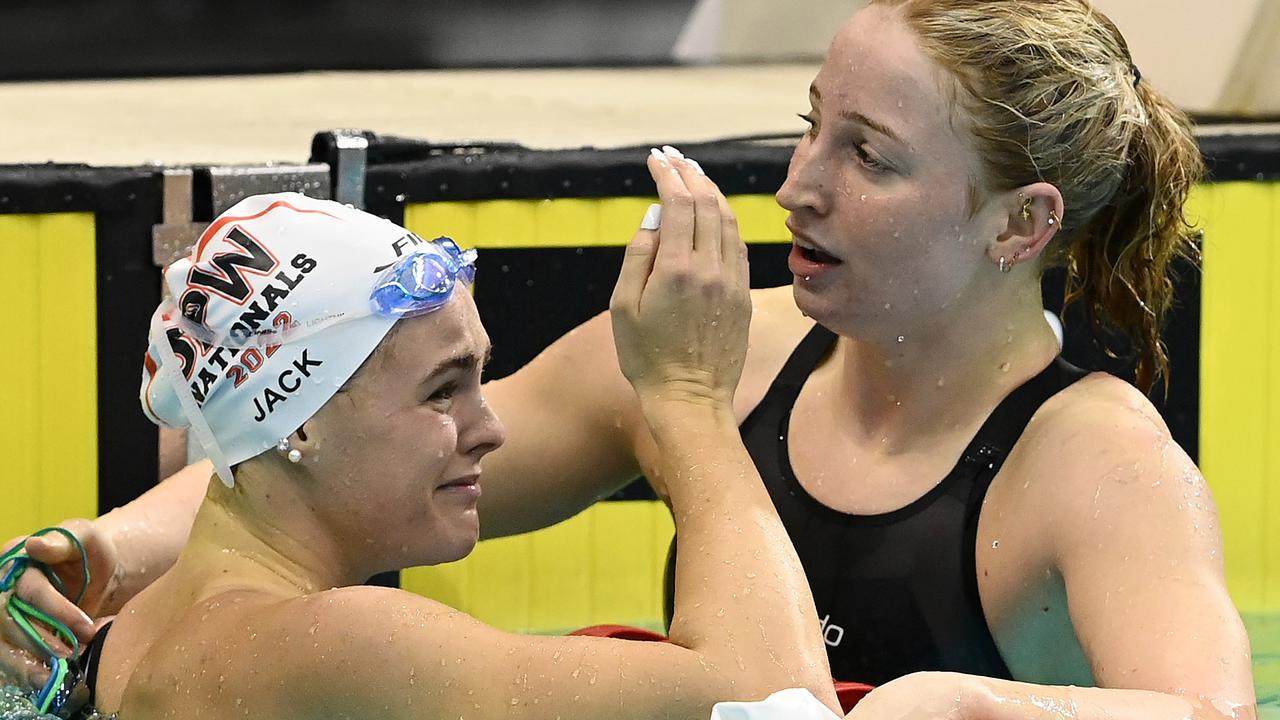 Shayna Jack of Australia reacts and hugs Mollie O'Callaghan after finishing second in the Womens 100 Metre Freestyle Final.
To put that performance in perspective consider this: no teenager from any country in the world has ever gone as fast and the only other Australian teenage woman to break the 53 second barrier is Meg Harris, who went 52.92 at the 2021 Olympic trials.
O'Callaghan is already the fourth fastest Aussie ever and admitted she startled herself with her rapid improvement but does not see herself as a leader of the new wave.
"I kind of sometimes doubt myself a little but so I'm really surprised that it was like such a big jump," she said.
"I just stick to my normal race plan. I just think about myself. It's always nice to race against some amazing girls, but it's just more of the fact I just have to focus on myself and execute my race plan.
"Before, I was kind of like the underdog but this year … it's quite crazy."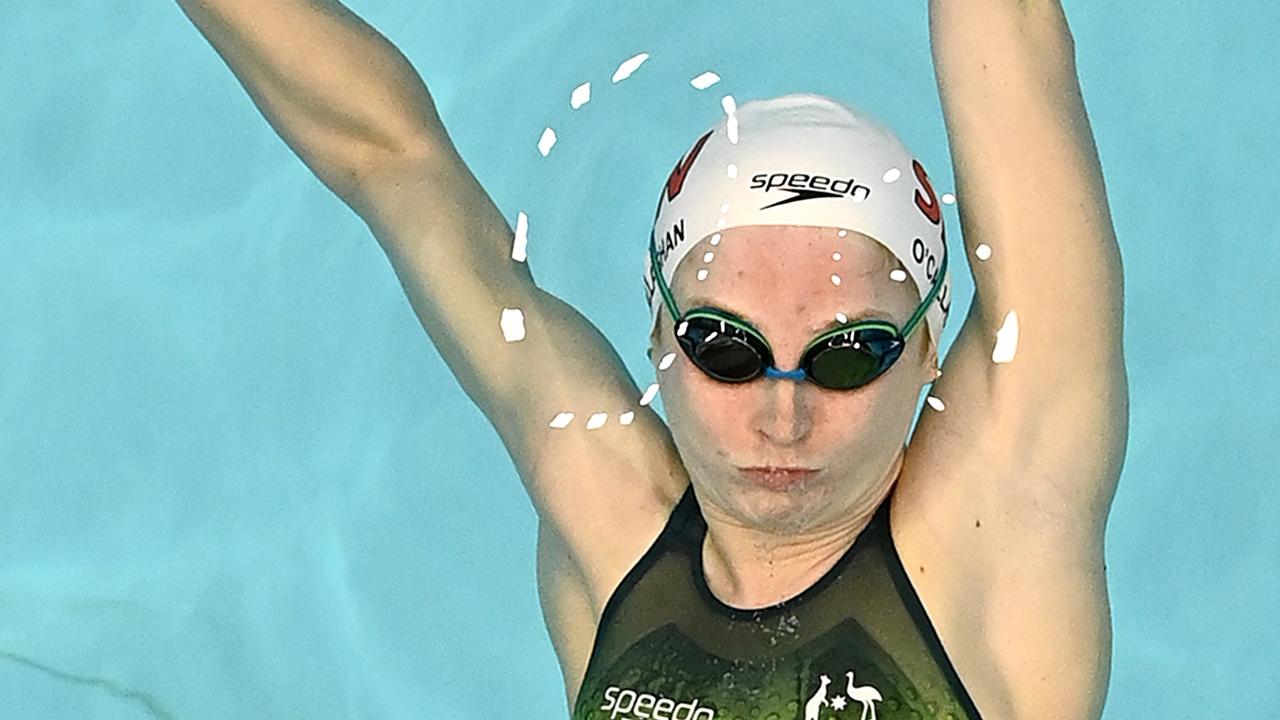 Mollie O'Callaghan competes in the 50m backstroke.
While O'Callaghanis keeping her feet on the ground and taking things in her stride, the warning to the rest of the world from the Aussie team is ominous.
Even without their three big guns, the Dolphins currently boast four of the top five women in the world rankings for 2022 with Shayna Jack (52.60) second, Harris (53.09) equal third and Madi Wilson (53.19) fifth - ensuring the Dolphins will start as odds-on favourites to win the 4x100m freestyle relay at the world titles.
For O'Callaghan, that could just be the tip of the iceberg because she has entered a staggering six individual events at this week's Australian championships three in freestyle and three in backstroke.
She has a real shot at qualifying in all of them for the world titles and Commonwealth Games, but won't contest them all if she does make the lot because she'll also be heavily involved in relays.
Women's 100m freestyle - top 10 rankings
51.71 - Sarah Sjoestrom (Sweden) age 23
51.96 - Emma McKeon (Australia) age 27
52.03 - Cate Campbell (Australia) age 26
52.04 - Simone Manuel (USA) age 22
52.07 - Britta Steffen (Germany) age 25
52.27 - Bronte Campbell (Australia) age 23
52.27 - Siobhan Haughey (Hong Kong) age 23
52.49 - Mollie O'Callaghan (Australia) age 18
52.59 - Penny Oleksiak (Canada) age 21
52.59 - Mallory Comerford (USA) age 19