'Dementia clauses' may be included in athletes' contracts as concussion takes its toll
The growing awareness around concussion is changing the games we love. Expect rules changes and less tackling in kids sport than ever before.
Batter Will Pucovski after been struck at the crease in 2020 Picture: Getty Images
Concussion expert Dr Alan Pearce believes "dementia clauses" may soon be written into professional athletes' contracts as the long-term effects of sporting traumatic brain injuries.
Dr Pearce says major codes such as the AFL, NRL, rugby and cricket, may be forced to include clauses formally outlining the risks footballers and cricketers face, because of the increasing likelihood of legal action.
"I believe there is definitely going to be a contractual point, so players will be signing up to acknowledge they may suffer a long-term brain injury from the sport, like dementia," Pearce said.
"We're just seeing more and more evidence of the long-term harmful impacts of collision sport and so in order for sports to say to keep people in the game, they will have to formally outline the risk, and say: 'Obviously we'll try and do everything to look after you'."
It's a burning issue in sport and Dr Pearce sees "waivers" as one potential adjustment in professional sport as we know it.
In the just the past week cricketer Will Pucovski, 24, who is said to have suffered at least 11 concussions, was sidelined after he was hit in the head by a volleyball in training. Meanwhile former Australian captain Steve Smith was left concussed after going for a spectacular catch in the outfield in a T20 match.
Last week concussion campaigner Peter Jess announced he had calculated 32 AFL players had retired from concussion related injuries since 2009 and he is pushing for WorkSafe Victoria to prosecute the AFL for allegedly failing to provide a safe workplace with its return-to-play protocols.
In the NRL, Ben Ikin, who played for the Broncos and Queensland, and is now head of football at the Brisbane club, said he would not be surprised if major codes included waivers specifically around brain injuries in the future.
"The thing about contact sport is it's a choice made by a fully formed adult, playing a sport that happens to have mass appeal and therefore can earn the participant a lot of money … but there's a level of risk associated with earning that money," Ikin said.
"I won't pretend to know how that reshapes contracts into the future but I guess with the way the world is heading and everybody wanting to be given more certainty around safety in the workplace that, you know, that has to shape what we do in professional contact sports."
Concussion has cost some top footy careers in the last 12 months. West Coast Eagles players Brad Sheppard and Daniel Venables were both forced to retire from the AFL in 2021 because of the ongoing effects from concussions and St Kilda's Paddy McCartin is one of several players who have battled with the impact of repeated head knocks. In the NRL, Roosters captains Jake Friend and Boyd Cordner are among those forced to retire.
Dr Pearce said footballers often said "they knew what they were getting into", pointing out a discussion had by ex-South Sydney superstar Sam Burgess and former Giants AFL star Heath Shaw on SAS Australia last year. In the exchange Burgess said he was "not dirty on the game". Shaw replied: "I am exactly the same … I wouldn't change it, you sign up."
"Watching that, I just thought, well, no players haven't signed up for it," Dr Pearce said. "And Alix Popham, the former Wales (rugby) back-rower who was diagnosed with early onset dementia aged 40, and England rugby star Steve Thompson, who was diagnosed with dementia at 42, they said: 'We've never signed up for dementia risk. We knew what the risks were, but not dementia'."
Will Pucovski of Victoria is taken off injured after being hit by the ball during a Sheffield Shield game
Last year on SEN radio, rugby league "immortal" Andrew Johns admitted he still would have played rugby league even if knew he might sustain a brain injury. Johns said he had developed epilepsy and seizures "later in life", which he believes "may have" occurred because of concussion"
"But, if someone lined me up when I was in my early twenties and said, look here's what could happen later in life; mate, I would sign the contract," Johns said.
Former Dragons and Bulldogs star James Graham tells The Weekend Australian he feels the same.
"I agree with Joey, I would do it all again because, rugby league, it's been my life and it's given me so much and it looks like it's going to continue to give me a lot as well," Graham said.
While some athletes retire and don't delve deep on how their playing career changed them, Graham remains curious about the impact the game had on his brain.
In 2019 he became the first active player to pledge his brain to science upon his death in order to aid further research into concussion. He happened to be in Melbourne on Friday and managed to get an appointment to be tested by neurophysiologist Dr Pearce.
"What I am certainly not going to do, going into the next chapter of my life, is I will not plead ignorance," Graham said. "I am not going to say; 'Oh I didn't know this was going to happen'. I've got to take responsibility for the game that I played, the way I played it and the situations I put myself in."
To keep his brain in good health, a year out of the game, Graham has sought advice from several experts, trying to gather as much information as possible, staying up to date "with the science" and now monitoring his brain.
"I am also trying, and I emphasise the word trying, to live a healthy lifestyle that includes a good diet, exercise, being careful around alcohol," Graham said. "I am also trying to challenge my brain daily … to maintain reading and do difficult things to stimulate the brain as much as possible."
World Rugby has published guidelines stipulating that professional teams should limit full-contact training to 15 minutes a week and there's talk the bouncer should go in cricket — how does Graham see rugby league changing at all in the next decade?
Graham, who has become an unofficial student in the concussion space, expects "huge developments" in technology to monitor the immediate impact of concussion. He foresees possible rule changes in rugby league to make it safer.
"It's kind of that fine balance between what makes our game great, that creates a spectacle, that makes these people tune in," Graham said.
"Then there's safety and risk. I believe that the greatest potential for a big impact is off the kick-off … I think the greatest area of impact, with players travelling at high speed at each other, and it may get to a point where the game says, 'OK, well, we're just going to take that away because it's too dangerous'."
"I know a lot of people look back at last year (the NRL's crackdown on high contact) and for me, that wasn't a rule change, that was basically policing the game how it's supposed to be. Head-high shots have never been allowed. I think in the future we could potentially design the game to be a safe environment for players and of all levels."
James Graham of the Bulldogs leaves the field after sustaining a head injury
In recent years the threat of legal action has been rising. In the US in response to a class-action lawsuit filed on behalf of more than 4500 ex-NFL players, the governing body agreed to a settlement of $US765m ($1bn) in 2014.
AFL player manager Jess, acting on behalf of dozens of former players, alleges between September 2009 and December last year that the AFL owed players a duty of care and didn't do enough to address clinical and subclinical concussions.
Jess doesn't believe in focusing on whether "waivers" will be signed by athletes in the future, instead he's intent on encouraging major codes like the AFL to introduce more testing.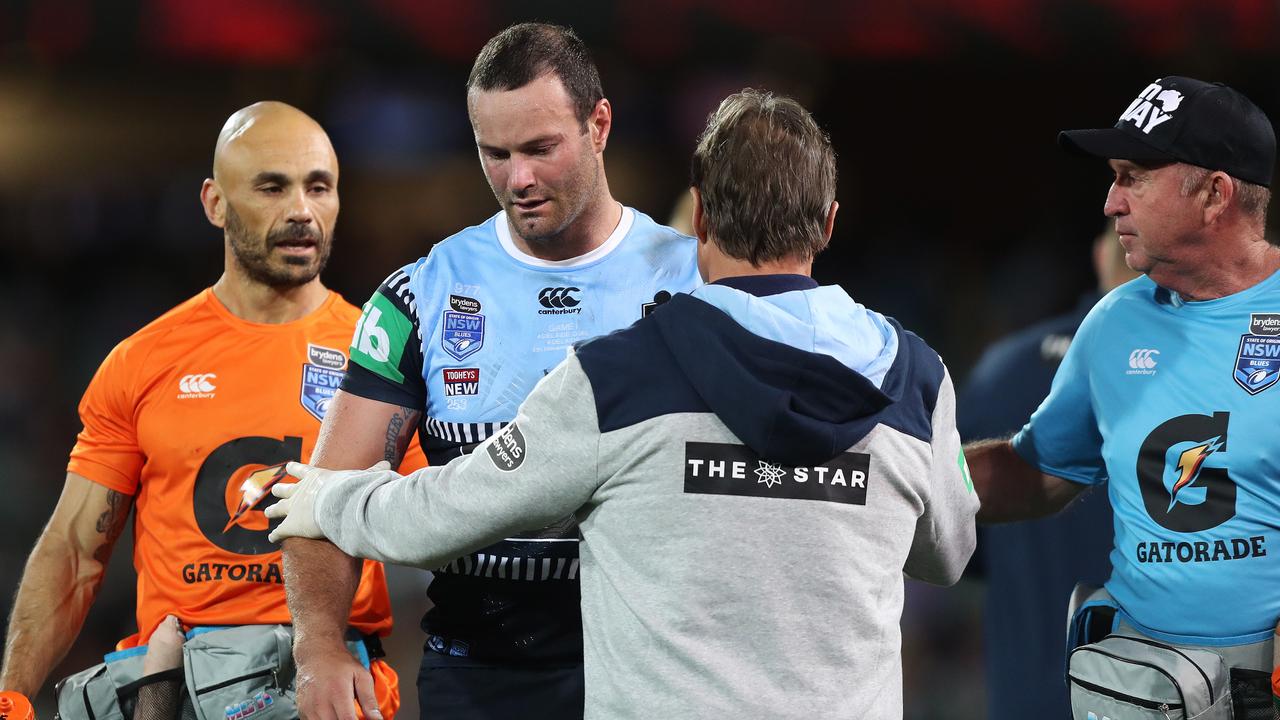 Boyd Cordner suffered a concussion in State of Origin I in 2020. It was his last game. Picture: Brett Costello
"I've asked the AFL to bring in a system whereby every new person who comes into the system via the draft and every existing person who's playing football is tested for structural integrity of their brain and functional integrity of their brain using objective biomarkers," Jess said.
"Once you do that, you then know what you're dealing with at the start of the season. Right? We know that the obligation to mitigate damage is to understand what is happening; you can't put your head in the sand and say; 'OK, I play football, I get clobbered and nothing happens to me'. I know that's not the case, so therefore, unless you have the AFL engage in a multi-modality testing regime, that looks at every aspect of the player's brain health, then they are, in my view, negligent."
Jess said that because of "what we now know", the game must change to save itself. "I don't want to destroy the game, I just want the game to be safer," Jess said.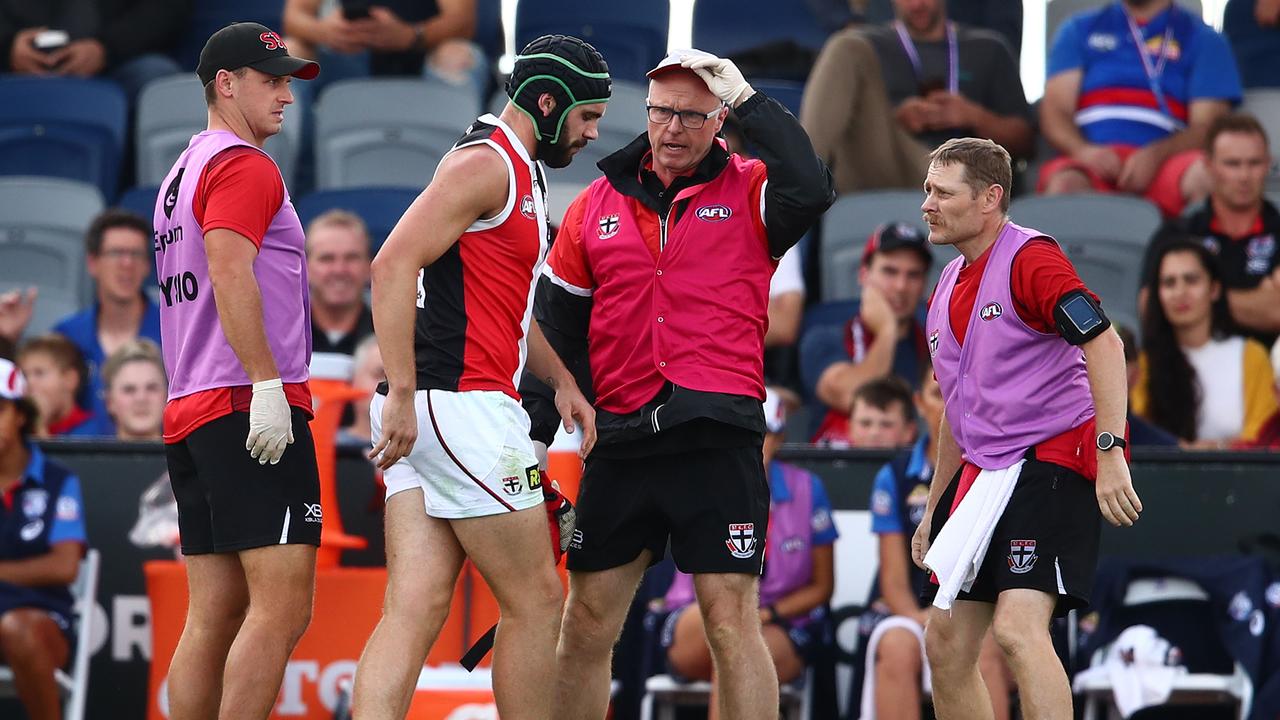 Paddy McCartin of the Saints leaves the field with possible concussion in 2019
While Dr Pearce doesn't believe professional sports will evolve "too much" in the next decade, junior sports absolutely will.
"People are getting concerned, we're getting more evidence that long-term consequences of concussion and head trauma, such as subconcussive impacts like the bumps and the tackles getting hit on the ground," Dr Pearce said. "We are seeing those impacts increase the risk for long-term neurodegenerative diseases, such as dementia, CTE, Parkinson's … and so what I think will happen is that at the junior levels, they will have non-contact versions."
Sports are aware of how the "gladiatorial" contests do not convert to junior numbers. In fact in rugby league they have been waning.
This season the NSW Rugby League will ban tackling in under-6s, for the first six rounds. It is the final state to adopt the Rugby League Ready model, which was recommended in the player development framework drawn up by Panthers coach Ivan Cleary, Ikin and others in consultation with the NRL.
Ikin "absolutely" anticipates the junior game will continue to evolve and tackling could be dropped from more age groups. He didn't dismiss the notion the game could in the future become non-contact for players under 13.

"It's hard to get people to shift, some administrators in grassroots are wedded onto a version of the game that's been around for a long time," Ikin said. "But eventually we'll be forced to evolve at the junior level to make it safer as we're presented with new information.
"We looked at the US ice hockey development framework and they were suffering a steep decline in participation in the junior levels. And as part of their framework, they removed body checking on the ice until the age of 13 … they became wholly non-contact."
The future of sport will most definitely be different — and most are hoping for it to be safer.
Originally published as 'Dementia clauses' may be included in athletes' contracts as concussion takes its toll