Sergio Perez wins Monaco Grand Prix, Charles Leclerc fumes after Ferrari error
A bitterly disappointed Charles Leclerc was seething after an inexcusable blunder cost Ferrari and opened the door for Red Bull in the Monaco Grand Prix.
Sergio Perez took full advantage of his Red Bull team's superior strategic decisions to resist late pressure from Ferrari's Carlos Sainz and win Sunday's rain-delayed and crash-hit Monaco Grand Prix.
In a breathless race, completed under a two-hour timing rule, the 32-year-old Mexican came home 1.1 seconds clear of his Spanish rival with Red Bull teammate, series leader and world champion Max Verstappen third, a further second adrift.
Local favourite Charles Leclerc finished fourth in the second Ferrari after a confused double pit-stop cost him his position as leader.
For the Monegasque driver, there was little consolation in finishing the race for the first time after starting from pole.
"I have no words," said a bitterly disappointed Leclerc on team radio. An altogether happier Perez was basking in getting his hands on one of the jewels in the F1 calendar.
Watch every blockbuster AFL match this weekend Live & Ad-Break Free In-Play on Kayo. New to Kayo? Try 14-Days Free Now >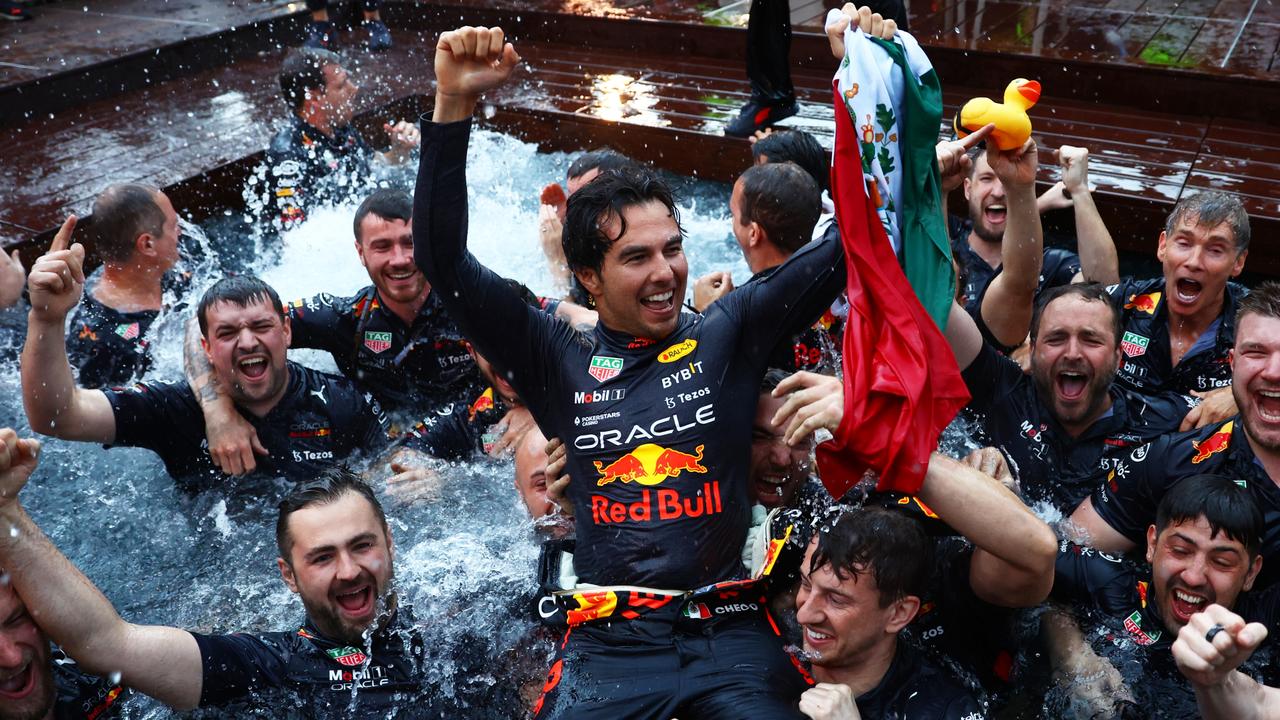 Sergio Perez celebrates after his impressive win. Picture: Getty Images
"It's a dream come true," he said.
"As a driver you dream of winning here. After your home race, there is no other more special weekend to win. It's a massive day for myself and my country."
It was Perez's first win of the season, ending the domination of Verstappen and Leclerc, and the third of his career, making him the most successful Mexican F1 driver, moving one clear of Pedro Rodriguez.
Verstappen was philosophical with a result that moved him nine points ahead of Leclerc in the drivers' championship.
"I tried the best I could and as a team we did a really good job with the strategy," he said, congratulating Perez on his win.
George Russell came home fifth for Mercedes with a well-judged drive ahead of fellow-Briton Lando Norris of McLaren, two-time champion Fernando Alonso of Alpine and a frustrated Lewis Hamilton, the seven-time champion unable to make passing progress in his Mercedes.
Valtteri Bottas finished ninth for Alfa Romeo and four-time champion Sebastian Vettel 10th for Aston Martin.
Vettel's fellow-German Mick Schumacher survived a spectacular crash when his Haas car split in two after hitting the barriers.
After an hour delay due to heavy rain and a sequence of cautious decisions by Race Control, followed by two laps behind the Safety Car, the race finally began with a rolling start.
Despite the tension, Leclerc made a smooth start and led Sainz through Ste Devote and up the hill, followed by the rest in grid order amid plumes of spray.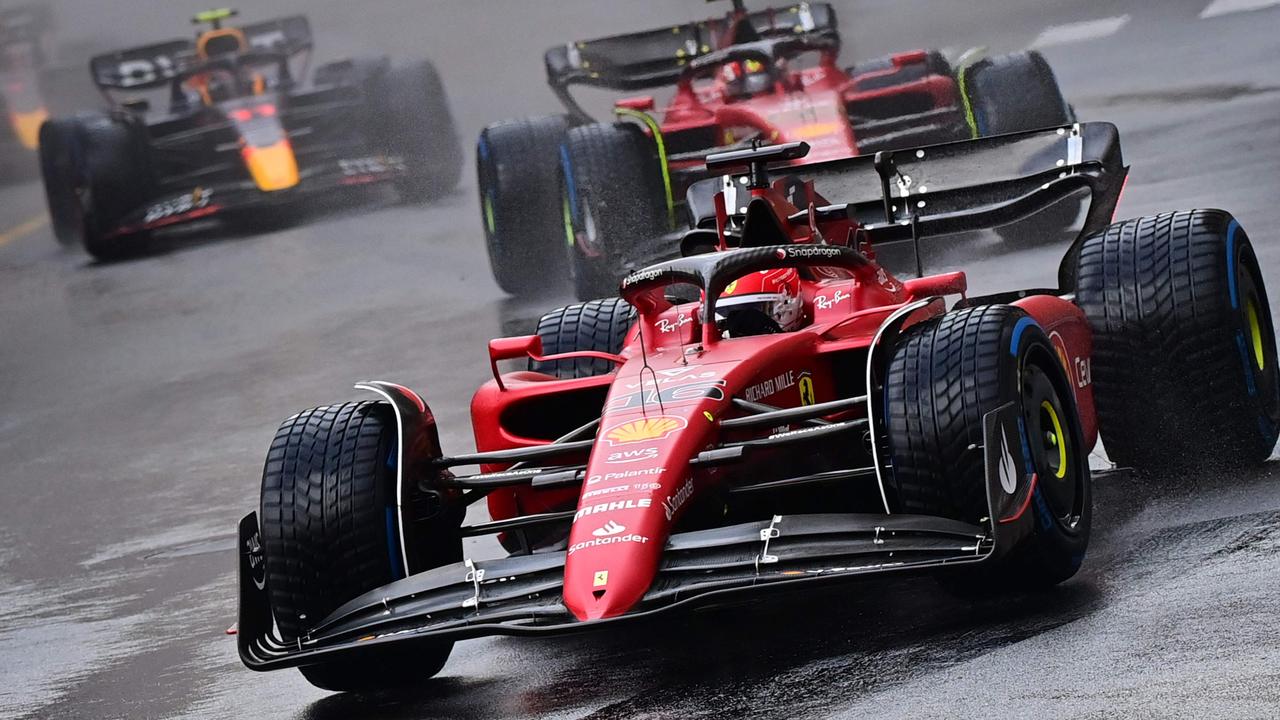 It was a day to forget for Charles Leclerc. Picture: AFP Images
BREAKING DOWN THE KEY MOMENTS
Leclerc led by 5.4 seconds after 16 laps with Sainz 2.3 clear of Perez who traded his wet tyres for 'inters' allowing Verstappen to take third, followed by Norris and then on lap 19, Leclerc, who rejoined third 13 seconds behind new leader Sainz and Perez.
Ferrari, on lap 21, pitted both Sainz and, unexpectedly, Leclerc in a 'double stack' stop for slicks that left the Monegasque driver in a fury, complaining it had cost him places.
In a blur of confused radio messages, Leclerc was called in and then asked to stay out as Ferrari realised that Red Bull were also pitting their men for slicks, but it was too late.
As he ranted, Red Bull pitted and emerged on slicks ahead of their respective Ferrari rivals. By lap 26, Perez led ahead of Sainz and Verstappen, with the luckless Leclerc in fourth.
Two laps later, the race was halted again when Schumacher lost control and smashed into the barriers in the Swimming Pool complex.
His Haas car was severed in two, the gearbox, rear axle and rear wing cut apart, but he emerged unhurt as the Safety Car was deployed again followed by a red flag to allow for the barriers to be repaired.
When the action restarted, behind the Safety Car on lap 31, Ferrari had switched to used hard dry tyres, and the rest to mediums, for the estimated final 32 laps to the flag as racing resumed in a 'timed' contest.
But overtaking proved difficult, if not impossible.
With 10 minutes remaining, the top four were separated by two seconds, with Perez hanging on with his worn tyres and Sainz attacking him.
Russell remained fifth, eight seconds adrift, but ahead of Norris as the race ended with a two-hour cut off.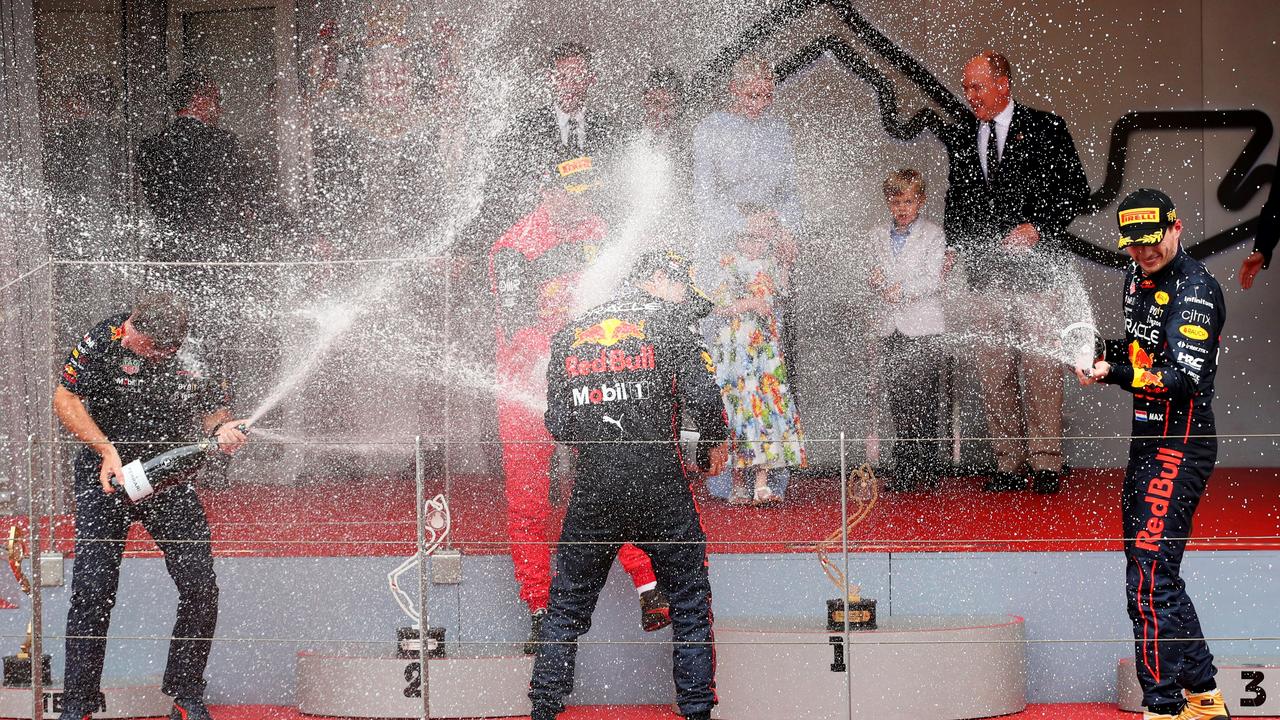 Sergio Perez celebrates on the podium. Picture: Getty Images
MONACO GRAND PRIX RESULTS
1) Sergio Perez, Red Bull
2) Carlos Sainz, Ferrari
3) Max Verstappen, Red Bull
4) Charles Leclerc, Ferrari
5) George Russell, Mercedes
6) Lando Norris, McLaren
7) Fernando Alonso, Alpine
8) Lewis Hamilton, Mercedes
9) Valtteri Bottas, Alfa Romeo
10) Sebastian Vettel, Aston Martin
RICCIARDO'S HORROR SEASON HITS WORRYING NEW LOW
Charles Leclerc secured pole position for his home Monaco Grand Prix with a sigh of relief and a smile on Saturday after a crash-hit finale to a dramatic qualifying session - as Daniel Ricciardo's horror season hit another disastrous low.
Ricciardo, who crashed out in practice and whose future has been a hot topic as McLaren boss Zak Brown acknowledged he hasn't met expectations since being signed from Renault, suffered another grim outing and will start 14th on the grid — well behind teammate Lando Norris in fifth.
Ricciardo was 11th fastest in Q1 before being knocked out in Q2 at one of his favourite circuits in the world.
It's another disastrous result for the Aussie, whose best finish this year of sixth at his home grand prix has been the only highlight in a season from hell. His next best result after that was 12th at last week's Spanish Grand Prix — where he dropped from ninth on the grid.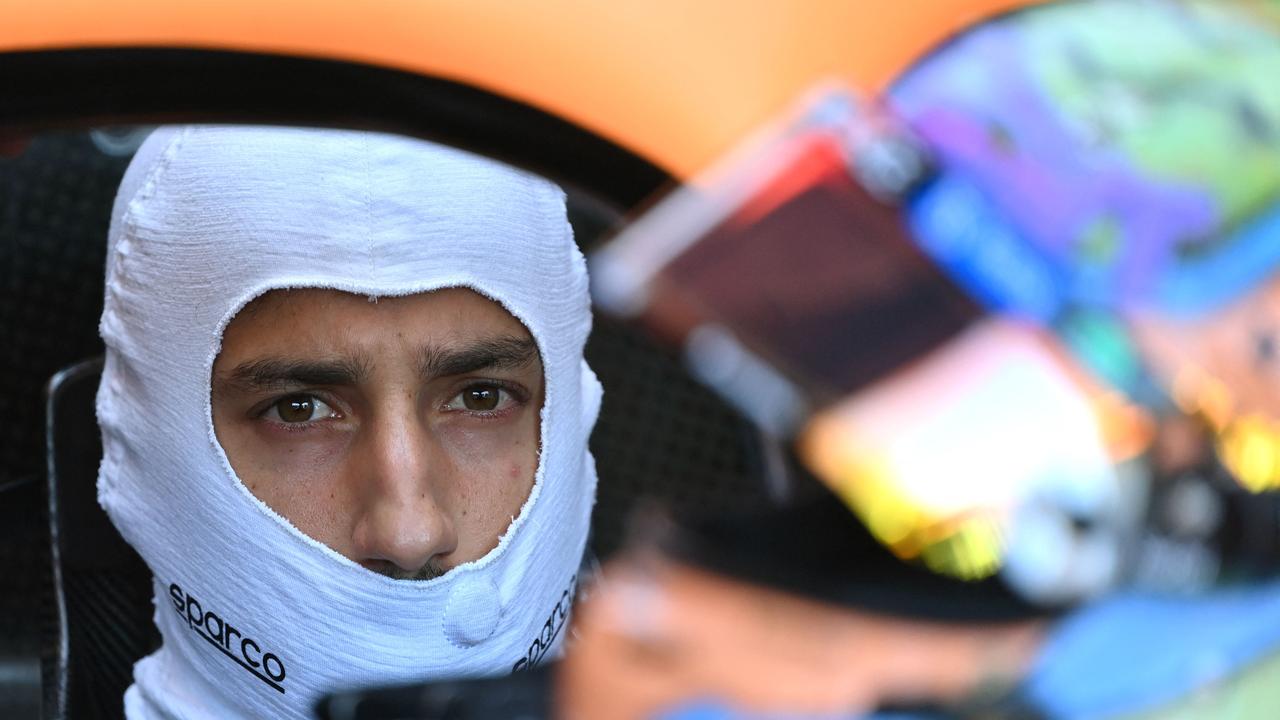 Very little has gone right for McLaren's Australian driver Daniel Ricciardo this season. Picture: AFP
The 24-year-old Leclerc topped the times ahead of teammate Carlos Sainz in a commanding Ferrari front row lock-out to claim his fifth pole of the season and the 14th of his career.
Sainz's hopes of snatching the prime grid position from Leclerc were dashed on his final lap when he collided with Sergio Perez's Red Bull, seconds after the Mexican had slammed his Red Bull into the barriers at Portier.
"It's such a shame," said Sainz. "I tried to avoid him the best I could. It's another year when a red flag has cost us at the end of a session and I could not go for pole, but that's just so typical of Monaco." Perez qualified third ahead of his Red Bull teammate series leader and defending champion Max Verstappen, who was a frustrated fourth.
Last year, Leclerc crashed after securing pole, but he was unable to start the race and remains in search of his first finish on the streets of his native Mediterranean principality.
"It's so very special for me," said a delighted Leclerc, who is six points behind Verstappen in the title race. "I'm so incredibly happy!
"It's been a very smooth weekend until now. The pace was in the car, I just had to do the job. It went perfectly and that last lap, before the red flag, was really, really good, but it didn't change anything for us.
"It was really on the limit, but the car felt amazing and it's great to have Carlos with me on the front row."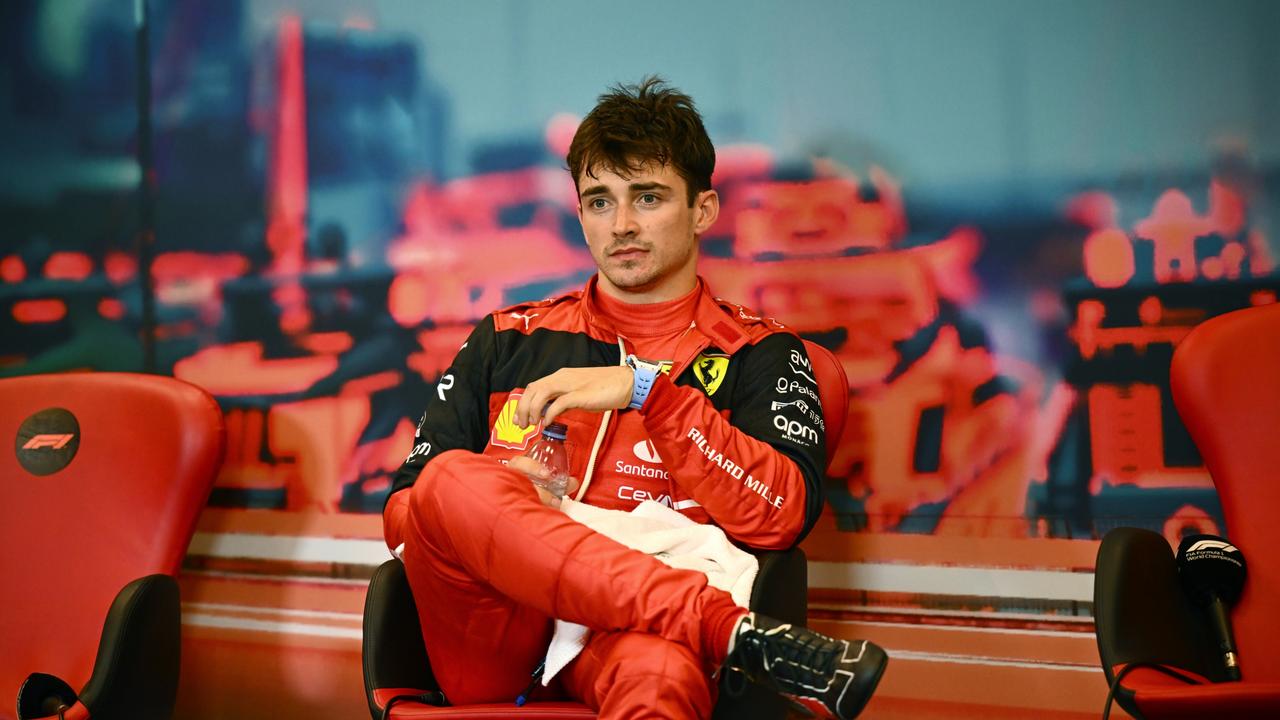 Pole position qualifier Charles Leclerc. Picture: Getty
With dark clouds looming and rain forecast for Sunday, he added: "I think dry is a bit more predictable, but whatever comes we are competitive so we are fine." Sainz added: "We had really good pace all day just building it up for 'quali' but we will never know. Anyway, let's try and finish the job tomorrow. I think we are in a great position to score a great result for the team. The car has felt amazing and we'll go for it." Leclerc clocked a best lap in one minute and 11.376 seconds to outpace Sainz by more than two-tenths in a scrappy end to an intriguing day's action ahead of Sunday's classic 78-lap race.
Behind the Ferraris and Red Bulls, Lando Norris led the rest of the pack for McLaren taking fifth ahead of friend and fellow-Briton George Russell of Mercedes, Fernando Alonso of Alpine and Lewis Hamilton of Mercedes.
Alonso also survived a late crash unscathed as the teams checked weather forecasts carefully with rain expected to sweep into the Mediterranean principality on Sunday.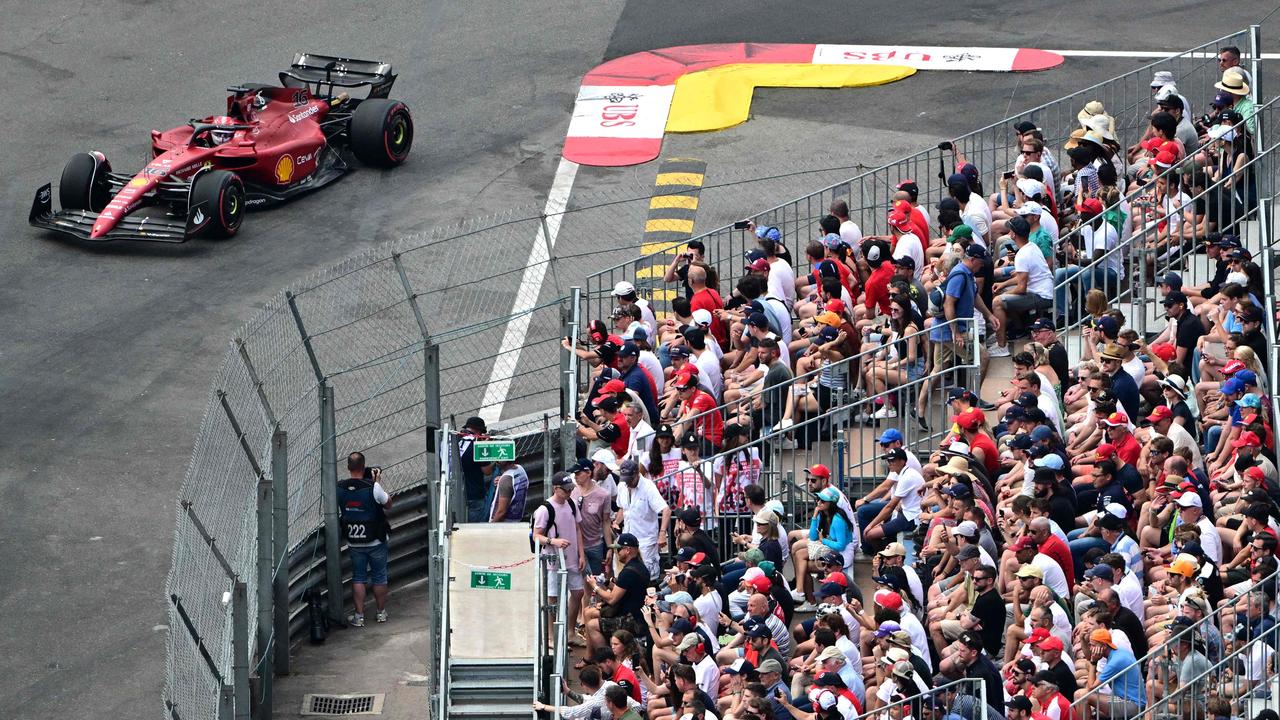 Ferrari's Charles Leclerc drives during the qualifying session at the Monaco street circuit. Picture: AFP
Norris was first out for the season's most famous qualifying hour, his time quickly beaten by Hamilton before Verstappen went top.
The track was clearly evolving in slightly changed conditions with clouds and cooler weather prevailing. The air temperature was 25 degrees and track 47, having been 52 for final practice.
"I have no grip whatsoever," reported Russell on team radio, a complaint reflecting a general early struggle before tyres warmed and grip improved.
He persevered as Ferrari swept to the top with Leclerc leading Sainz before a late red flag halted the action when Alfa Romeo's Zhou Guanyu clipped a barrier at the 'Nouvelle' chicane, suffering a puncture.
Only four minutes remained, just time enough for another flying lap, but not sufficient for Hamilton, Bottas, Pierre Gasly or Zhou, the only rookie in the field, who missed their opportunities in a frantic finish.
Out in a stream of profanities went Williams' Alex Albon, Gasly of Alpha Tauri, Aston Martin's Lance Stroll, Nicholas Latifi in the second Williams and Zhou. It was the first time Gasly had failed to progress from Q3 in Monaco.
In the second session out went Alpha Tauri's Yuki Tsunoda, Valtteri Bottas of Alfa Romeo, Kevin Magnussen and his Haas teammate Mick Schumacher, along with McLaren's under-pressure driver Ricciardo.
Leclerc, however, showed no such concerns as he set the pace again in the top-ten shootout with a stunning lap, two-tenths faster than Sainz.
RICCIARDO: ONLY ONE THING MATTERS AT MONACO
- Todd Balym and Rebecca Clancy, The Times
Monaco is the ultimate test of a driver's skill. The tight, twisty track through the streets of Monte Carlo is unforgiving of even the smallest mistake. The difference between pole position and the mechanics having to spend the night rebuilding the car is mere millimetres.
Ferrari's Charles Leclerc knows this all too well. The 24-year-old, who was born in Monaco, claimed pole last year with his first run in the final qualifying session only to crash moments later on his second. He did not even start the race on the Sunday.
Leclerc has, in fact, never finished a race at his home grand prix. Crashes and a lack of reliability have cursed him since his first race in 2018 but he is adamant that there is no such thing as bad luck.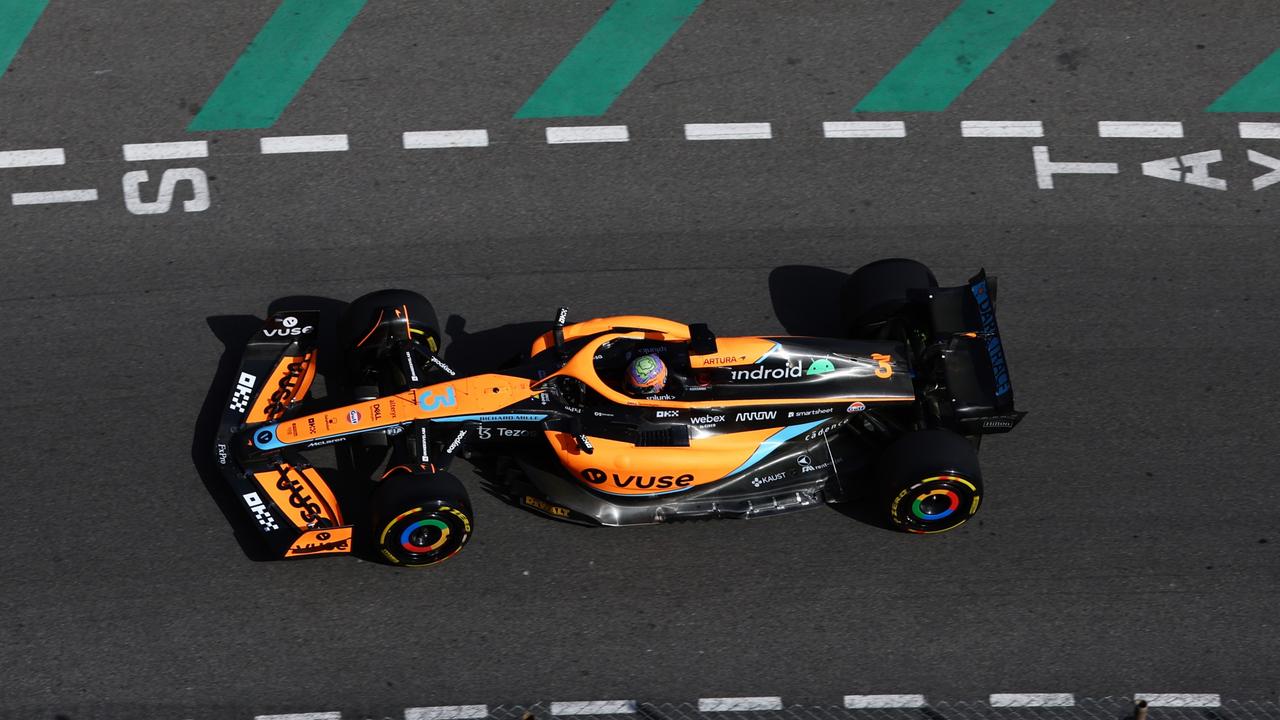 Daniel Ricciardo needs to improve dramatically during qualifying at Monaco.
He was impressive in practice on Friday, when he topped the time sheets in both sessions, though perhaps it would be wise to avoid telling him that no driver has won a race this season after leading at first practice.
Monaco, however, is unlike any other grand prix on the calendar.
For a start, the race is not the most important part of the weekend. Yes, that is when the points are awarded, but it is the qualifying session that really matters because pure racing and overtaking is almost impossible on such a narrow track.
With the cars this season bigger and heavier than ever, racing has become even more difficult.
When Lewis Hamilton was asked what he expected from this weekend, the Mercedes driver did not sugar-coat his answer.
"We all know what kind of race it is, the actual Sunday . . . it's all about qualifying," the seven-times world champion said. "Saturday is the day."
Hamilton said teams needed luck with strategy on race day, because of the lack of opportunities for overtaking.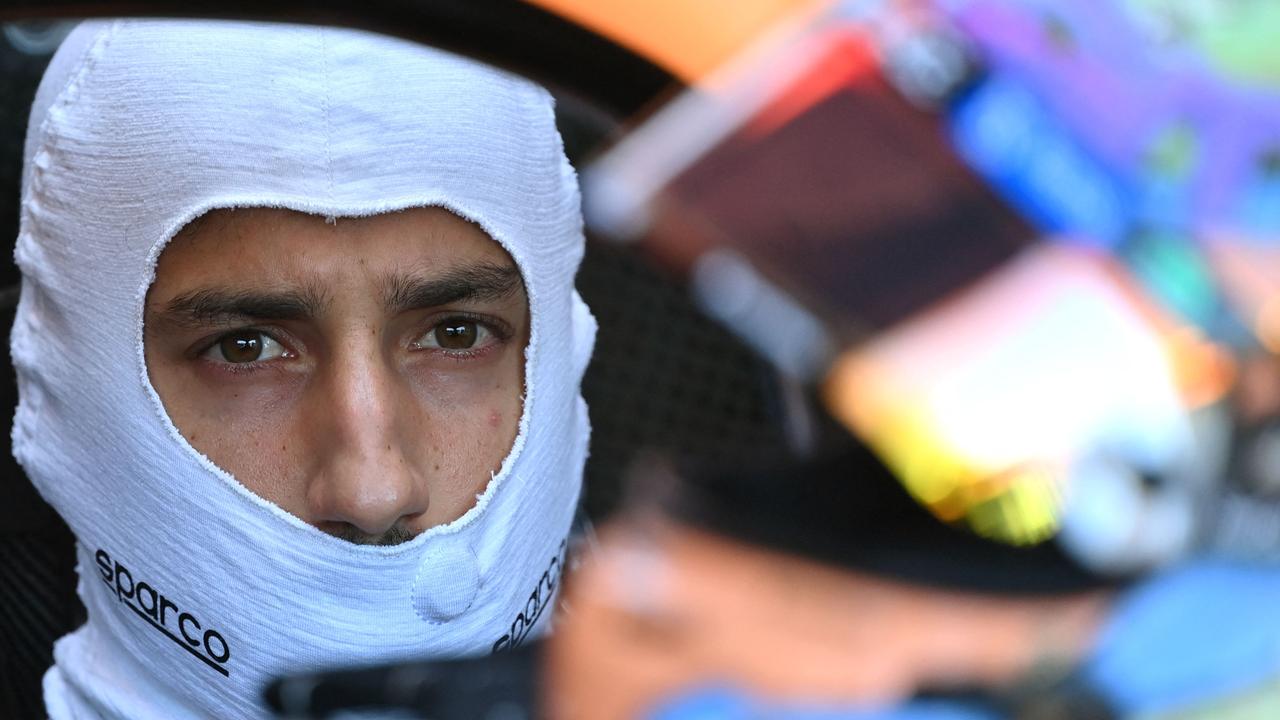 Speculation is growing that Ricciardo could leave at the end of his season.
Daniel Ricciardo, of McLaren, who has been on pole twice in Monaco and won the race in 2018, described Saturday as "probably the biggest day in F1 over the year, if you get it right".
"Every circuit requires full commitment, but this is another [thing]," the Australian said.
"There's more variables, there's more factors, there's just something else. And you also don't really have time to think: there's no real long straights; there's no fresh air coming through because it's so tight and twisty through the streets.
"You feed off each corner. Every corner you do well, you link the next one up, and it's a pretty beautiful feeling. It's a privilege for us to race these cars around here. It's ridiculous. In the best way possible."
Ricciardo did not get it right on Friday and crashed into the wall at the swimming pool complex during the second practice session, adding further pressure to the 32-year-old's position at McLaren.
Speculation is growing that he could leave at the end of his season, despite having a contract through to the end of 2023.
His woes are being magnified by the fact that his teammate, Lando Norris, is consistently outperforming him, even when he has tonsillitis.
The 22-year-old Briton is still recovering from the virus and was excused from all media duties on Thursday and Friday morning, to allow him more time to recover.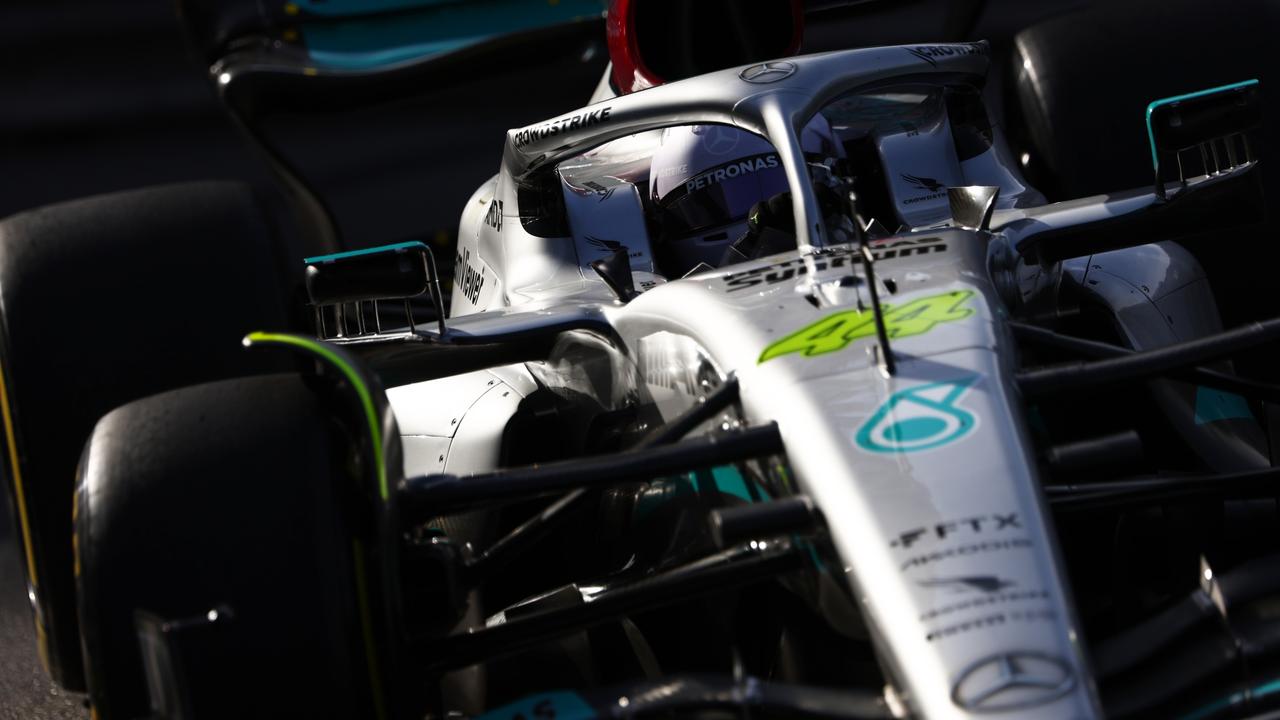 Lewis Hamilton again had difficulties with his Mercedes bouncing on the Monaco circuit.
It certainly did not seem to affect him as he was fifth-quickest in both sessions. Ricciardo was last in the second session, having completed only two laps before his crash.
Hamilton also struggled. After a strong outing last weekend in Barcelona, the hope was that Mercedes's progress would continue but that was not the case as the 37-year-old was only 12th-fastest in the second session.
Bouncing has been an issue for Mercedes all season, but having seemingly fixed their "porpoising" issue in Spain, they struggled to get to grips with the street circuit on Friday, which tends to be bumpier than a traditional track.
"It's so bouncy out here man, I am losing my f---ing mind," Hamilton said over the radio during second practice. "I need elbow pads in this cockpit it is bouncing so much."
"It is the bumpiest track I have ever driven," Hamilton said afterwards. "So, one, that makes it difficult and, two, our car bounces a lot. It is different bouncing to what we have experienced in the past.
"It is in the low speed, and the bumps in the track are making it worse, so it is not a case of learning how to drive the track, it is just fighting the car. Putting the lap together is, wow, holy crap . . . I have not experienced it like that before."
Hamilton said he did not expect to be fighting it out at the front this weekend and said his "battle" would be to "try to stay ahead of the McLarens".
Mercedes' British driver Lewis Hamilton drives around the famous circuit.
"I remember back in the day, my first years here, a light nimble car was so much better," he added. "But now we have these super heavy cars and the braking zones are different.
"It is crazy — it is 2022 and the tracks aren't as smooth when they are resurfaced. Technology is still against us, but I think we made some improvements going into that session and when you do put a lap together the grip doesn't feel too bad.
"It just [feels like] eyeballs coming out [of] the sockets so we have some work to do overnight and as I anticipated, we are not as quick as the Ferraris or the Red Bulls."
Leclerc, who is second in the world drivers' standings, was quicker than the Red Bulls of Max Verstappen — the championship leader and the winner of the past three races — and Sergio Perez, who were nearly fourth 10ths back in the second session. Leclerc will be looking to keep that momentum going into Saturday and be on pole at his home race for the second consecutive year.
A win for Leclerc would help him to regain the lead in the championship, and the best chance he has of that is to start from the front.
Then, for the first time, he just needs to do the easy bit — finish the race.
Ricciardo responds to F1 retirement talk
Daniel Ricciardo has hit out at conjecture over his Formula One future, declaring he has a firm contract for 2023 before adding he has thick enough skin to cope with the scrutiny.
Ricciardo's future with McLaren has been the subject of much debate this season and further fuel was thrown on the fire when team CEO Zak Brown declared the Australian had not lived up to expectations in his second season at the team.
The 32-year-old addressed his future at a press conference ahead of the Monaco Grand Prix, where he confirmed his contract was a firm three years, not a speculated two years plus one option, meaning any end of his deal for 2023 would require a multi-million dollar payout.
"It's clear I've got a contract until the end of '23," he said. "Covid messed me up so I just get confused with the years."
The eight-time Grand Prix winner, who won in Monza last year for McLaren, was asked about Brown's Sky Sports comments that "short of Monza and a few races it's generally not met his or our expectations".
"It's not false, it's pretty true," he said.
"Firstly, comments I don't take personal. My skin is tanned, beautiful and also thick.
"No-one's going to be harder on me than myself. And I know that I don't want to be racing around 10th to 12th places, I still believe I can be at the front and belong at the front.
"So it's been a little bit more certainly testing at times in terms of trying to get up and maximise myself in this car.
"But we're working together hard at it and the team want it, I want it so we're just working through it.
"There's still more that I'd like to be getting out of it, which sometimes I can see and sometimes is less clear.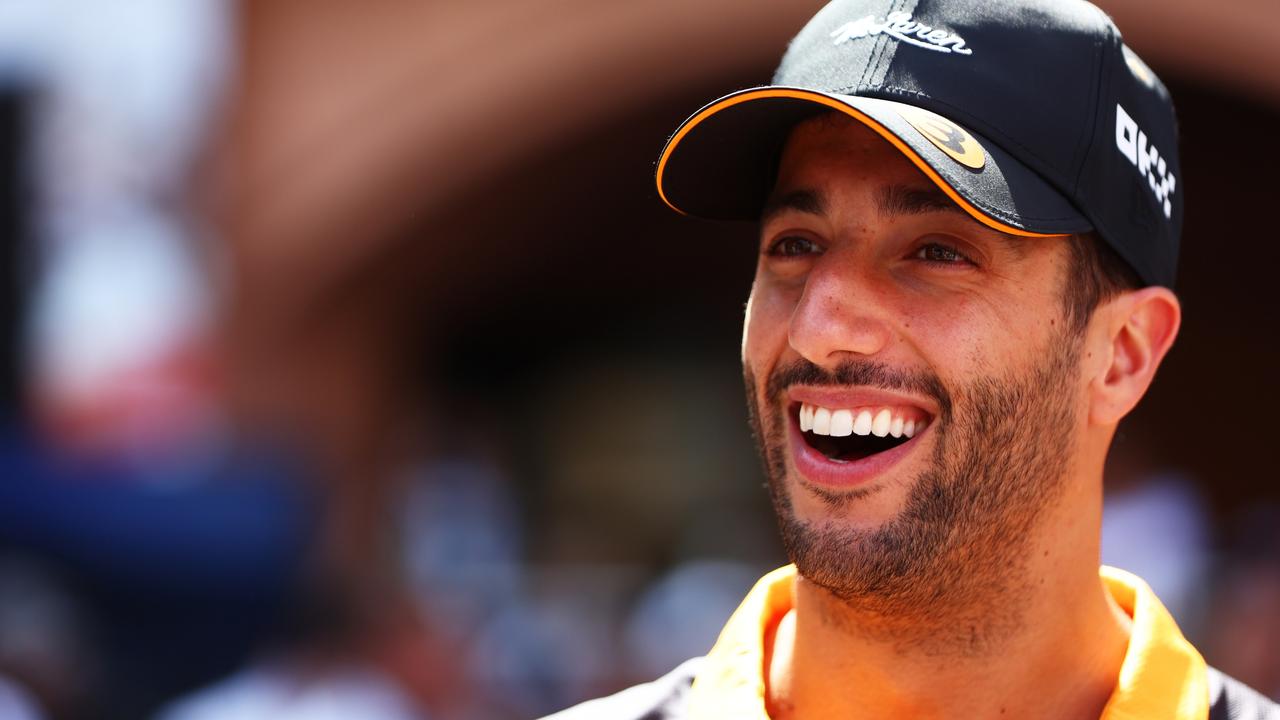 Daniel Ricciardo has addressed conjecture over his future in Monaco.
"We've also had a few things that have not gone our way and interrupted some of the sessions. So it's a combination of a few things.
"But I think even putting that aside it's still been a little bit tricky for me to always gel 100% with the car and feel like I can pull out these spectacular laps.
"There's been some races and times where I'm doing good so, honestly, still working at it.
"I'd love to say that I'm maybe half a second quicker and awesome every race from now. I'm working to get that but still it's a bit of a process."
Ricciardo has both fond and dreadful memories of Monaco, where he is based when not in Australia.
He won with Red Bull in 2018 but last year was embarrassingly lapped by his McLaren teammate Lando Norris.
With practice set to begin on Friday Ricciardo was confident the issue which plagued him in Barcelona had been fixed so there was no excuse not to be pushing for the top 10 or better.
"We basically found an issue on the car," said Ricciardo. "So it's rectified.
"Coming into this weekend, we're all set for a fresh start."
WHY ICONIC MONACO RACE IS AT RISK OF EXTINCTION
At first glance, everything in Monaco is as expected. The multimillion-dollar yachts are crammed into the Monte Carlo harbour, the excessively large Red Bull motorhome sits near them, the grandstands line the tight and twisty track, while the principality is full of Formula One fans all wanting to catch a glimpse of the action this weekend. But it does not take long to sense a change in the paddock.
Watch every blockbuster AFL match this weekend Live & Ad-Break Free In-Play on Kayo. New to Kayo? Try 14-Days Free Now >
"Do you think we'll be here next year?" Just a few years ago the question would have seemed absurd but it is being asked genuinely now.
Monaco is out of contract after this weekend and while the promoter is adamant that a new deal will be signed, there is no guarantee any more that it means a race every year. The idea of rotating the grand prix is being floated.
Monaco has appeared on the calendar since the start of the modern championship in 1950 and has missed out on only a handful of races, most recently in 2020 because of Covid.
It has long been a blue-riband event and a firm favourite among the drivers who feel it is one of the greatest challenges of the year. To drive at such high speeds, so close to the barriers, with not even a millimetre of forgiveness, will produce the sort of adrenaline rush that most will never experience.
However, the problem for Monaco is that the track has remained relatively unchanged while the Formula One cars have continued to develop. They are much bigger and heavier now, unsuited to the narrow streets, and the result is usually a dreary procession on the Sunday. The race is mostly decided by the qualifying order on Saturday, barring a few reliability issues or crashes in the grand prix itself.
While it may be one of the favourites for the drivers, it is certainly not one for the spectators. Indeed, with racing and overtaking so difficult now, even the drivers are not so convinced. In 2018 Lewis Hamilton described the race as "one of the most boring" of his career and said he was relieved it was over.
With Formula One attracting a huge new audience courtesy of Netflix's Drive to Survive, the sport's owner, Liberty Media, will be acutely aware that those fans will need to be entertained by the racing. The enormous yachts and endless celebrities against a backdrop of the glistening sea and blue skies are not enough to sustain a viewer's attention for nearly two hours. There must be hard and fair racing.
Monaco was once the place where teams brought partners and sponsors to impress them as multimillion-dollar contracts were agreed. The inclusion of places like Miami this year and Las Vegas in 2023 means Monaco does not have a monopoly in that regard now.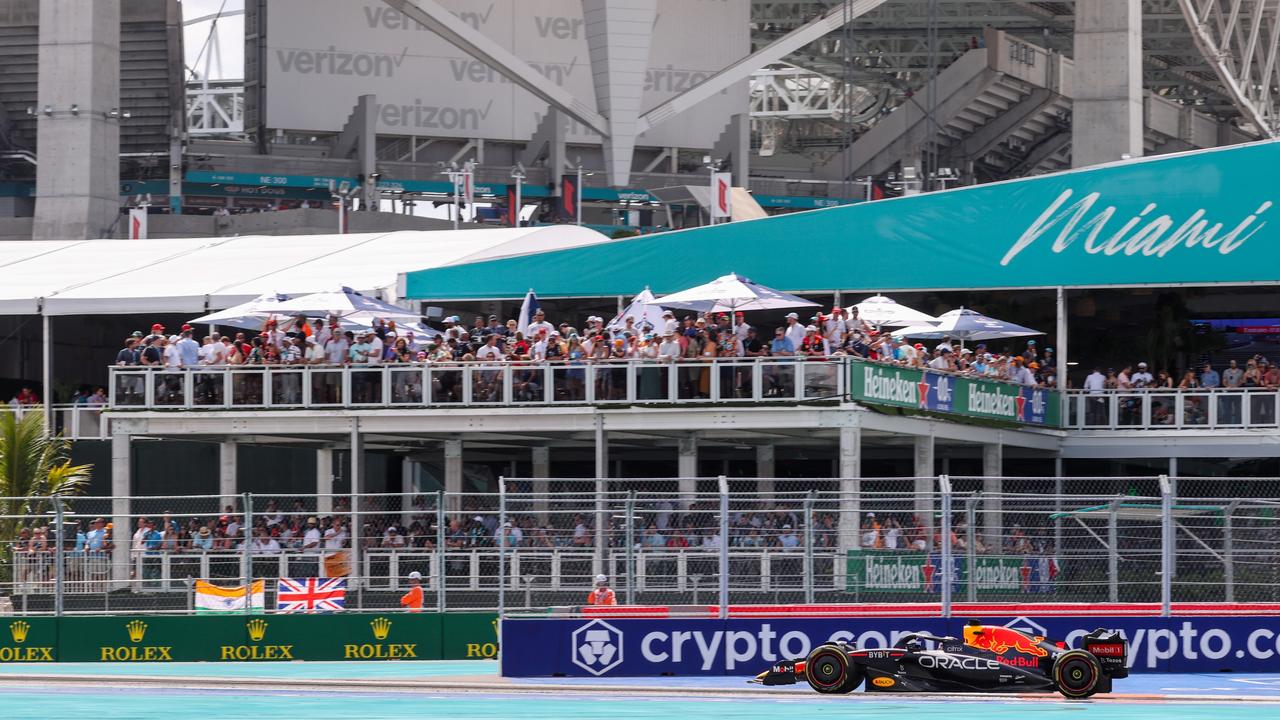 High profile new venues like Miami make Monte Carlo less necessary to show off F1 Picture: Getty Images
And then there is the financial side. In the Bernie Ecclestone era, Monaco did not pay a fee to host the race, unlike every other circuit on the calendar. Under Liberty that has changed, but the fee is still very low and with the likes of Saudi Arabia and Qatar paying dollars 50 million a year, Liberty will be closely looking at the business model to determine if Monaco is worth its spot. There has been a suggestion that Liberty wants to raise the race fee but that Monaco has pushed back, something which Michel Boeri, president of the Automobile Club de Monaco, denied last month.
"It was implied that the fees required were too excessive for Monaco and that the grand prix would no longer be held. That's untrue. We are still in talks with them and must now seal the deal with a contract," Boeri said in April.
"I can guarantee you that the grand prix will keep taking place beyond 2022. I don't know if it will be a three or five-year contract, but that's a detail."
In reality, there is likely to be a race in Monaco next year, with Russia's contract cancelled and China in doubt with the ongoing Covid crisis there, so there will be space on the calendar. However, with up to 24 races allowed each year and a new race in South Africa expected to be added from 2024, tracks are, more than ever, having to justify their place and that has led to the suggestion of rotating some races.
Monaco has been earmarked to be one of the European races which is rotated on the calendar. France and Belgium have also been touted.
Tracks need to evolve to keep up with these ever-growing cars. In Monaco that is no easy feat, with space limited.
It would be sad to see Monaco drop off the calendar completely but a biennial race would make sense and, arguably, make it even more special.
Originally published as Sergio Perez wins Monaco Grand Prix, Charles Leclerc fumes after Ferrari error