George Kambosos v Devin Haney: June 5th showdown set to surpass Horn-Pacquiao as highest grossing fight in Australian boxing history
George Kambosos promised big things for Marvel Stadium. Now, his big-fight mirage could be about to become a record-breaking, money-spinning reality.
George Kambosos is on track to celebrate the richest fight in Australian boxing history with his unification blockbuster against Devin Haney set to deliver a box-office bonanza worth more than $9 million.
As Haney touched down in Australia on Thursday morning, News Corp understands almost 40,000 tickets have already been sold for Kambosos' maiden world-title defence at Melbourne's Marvel Stadium on Sunday, June 5.
From the moment Marvel was announced as the scene of Kambosos' first Australian fight in five years, 'Ferocious' pledged to have the 56,000-capacity venue packed to the rafters.
Now, Kambosos' glorious big-fight mirage could become a record-breaking, money-spinning reality.
Seventeen days out from the lightweight multi-belt bout, the Kambosos-Haney showdown is threatening to usurp the Jeff Horn-Manny Pacquiao spectacular at Suncorp Stadium in 2017 as the highest grossing event in Australian boxing history.
Watch George Kambosos Jr. fight Devin Haney for the Undisputed Lightweight Title, Sunday 5th June from 11AM AEST. Stream all the action LIVE with Main Event on Kayo. No Kayo subscription needed to order. ORDER NOW >
The shadow of Devin Haney looms large over lightweight champion George Kambosos.
The 'Battle of Brisbane' turned over $8.5 million when 51,052 fans flooded Suncorp Stadium to watch Horn clinch a maiden world title with an epic boilover of Pacquiao that won the hearts of Australian sports fans.
Early forecasts indicate the Kambosos-Haney mega fight will generate at least $7 million. A Marvel sellout could see Kambosos star in the greatest event Australian boxing has witnessed, just as he predicted after his stunning upset of Teofimo Lopez last November.
"The promotional side of things has been huge," he said.
"A lot of money has gone into promoting this fight and the interest has already been massive.
"A few weeks ago, the sales have been huge and the Pay Per View numbers are going to be massive as well.
"We've had major interest from Kayo, Main Event and Foxtel ... the fight is moving towards a sellout."
It is understood Kambosos could personally pocket $10 million when PPV sales are included. It's a long way from the paltry $800 he earned in his professional debut against Jayson MacGura at the Croatian Club in Sydney nine years ago.
In his most recent bout in America, Kambosos (20-0, 10KO) prised the WBA, IBF and WBO belts from Lopez.
If he disposes of WBC champion Haney (27-0, 15KO), the 28-year-old Sydneysider will become just the eight undisputed champion of the four-belt era after Jermell Charlo joined the elite club last week with his stoppage of Brian Castano.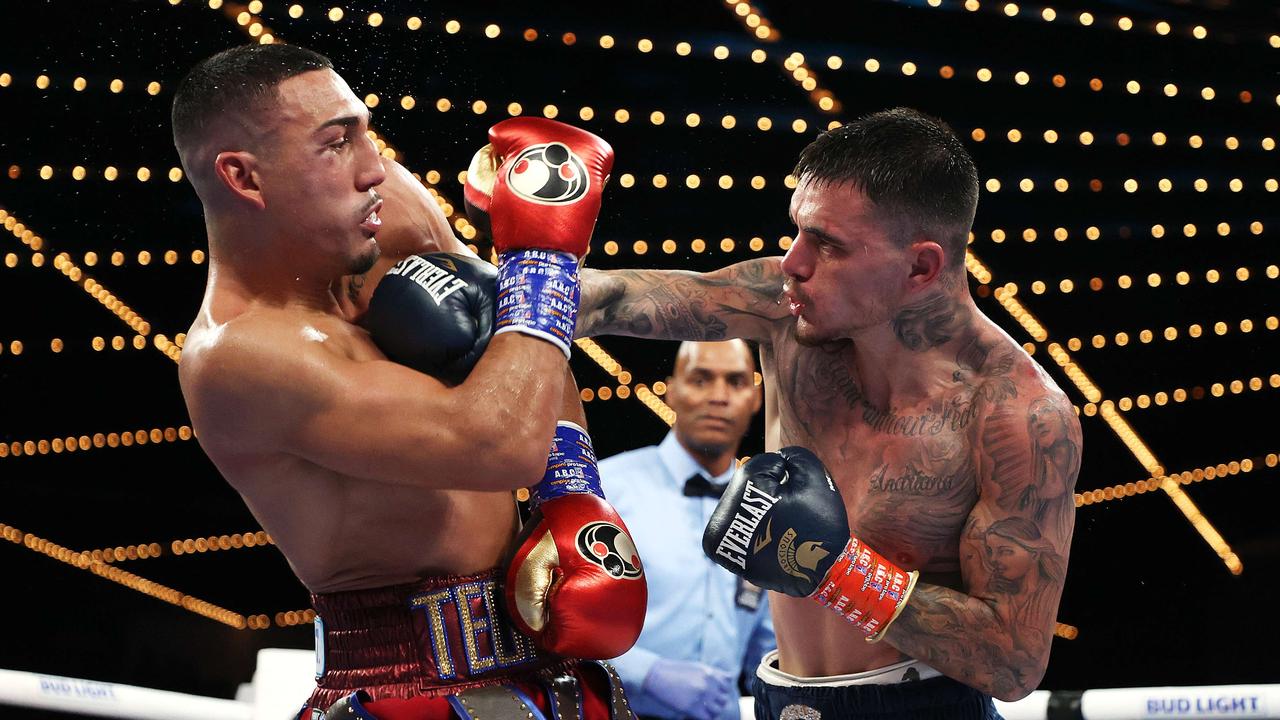 Kambosos shocked the boxing world with his stunning upset of Teofimo Lopez.
There is a view Kambosos got lucky against a complacent Lopez, but he is determined not to be a one-hit wonder against Haney.
"The scary thing for Haney is I have gotten better," he said.
"I have more speed, more power, more conditioning, better footwork ... I have gone to a new level.
"I am feeling amazing. The hands are extremely fast. I am seeing the shots perfectly in training. I am sparring so well and my body is in prime condition. I have gotten hungrier. I have gotten more obsessed.
"I always wondered when I became world champion, would I become content or complacent? But now I have the belts, I have realised I am hungrier. This shows my passion for the sport is pure.
"I went overseas to fight Lopez and came back with these beautiful belts. I am the top dog now and when I beat Haney, I will put the full stop on this and be the undisputed champion."
Battler to world beater: Aussie boxing's true underdog tale
- Phil Rothfield
George Kambosos started out with nothing.
He ran his own meat-tray raffles in pubs to raise enough money for overseas flights and accommodation to get competition against international fighters.
His first job was washing cars at Rent A Bomb car hire near Sydney Airport. "I got more money from the loose change customers would leave in the cars, which I put straight into my pocket," he said with a laugh.
"I was about to fight on a Sonny Bill Williams undercard," the 28-year-old said. "The promoter gave me some tickets so I sold them to pay for the dinner."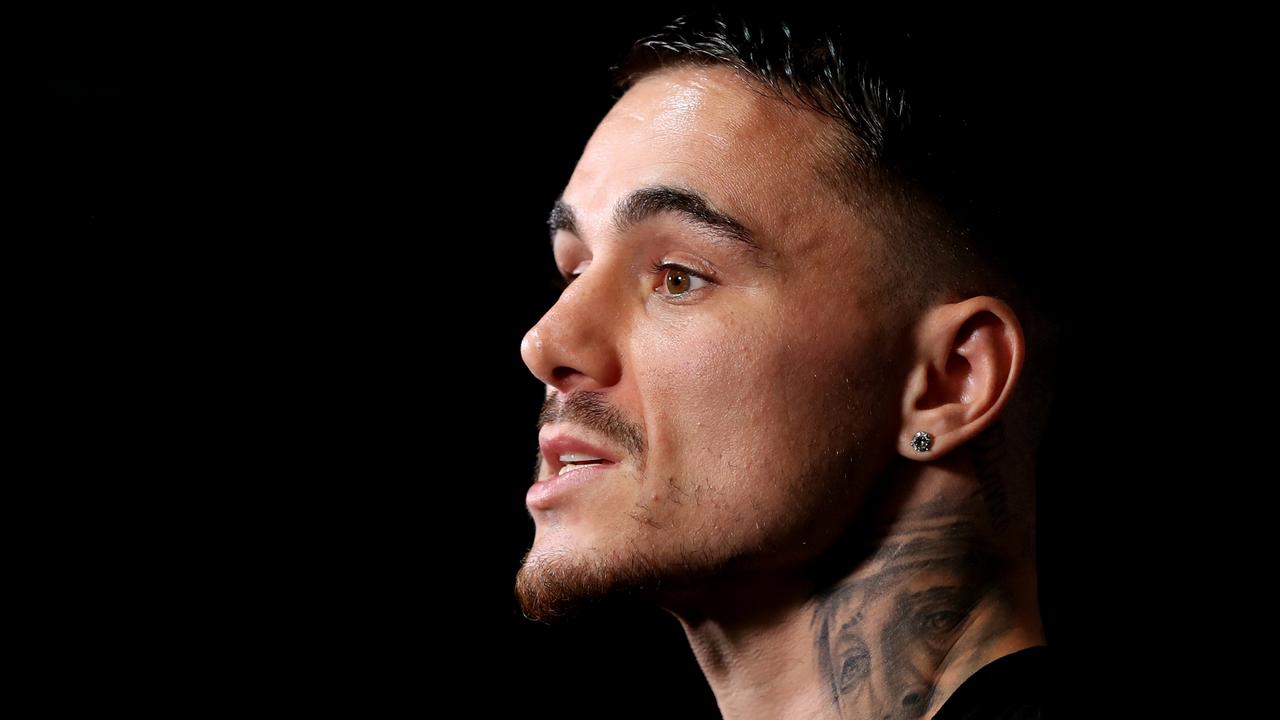 George Kambosos started boxing as a way to deal with bullies.
FROM BATTLER TO WORLD BEATER
Coming from such a modest beginning is very much part of the motivation that has driven Kambosos to become a boxing world champion. How nothing ever came easily.
How he has done it the hard way, working his butt off in and out of the ring, with no shortcuts.
Kambosos's super fight in Melbourne on June 5 against the undefeated American Devin Haney, who holds the only world lightweight belt that the Sydney boxer doesn't already have, will be one of the biggest in boxing history in this country.
More than 50,000 fans will pack into Marvel Stadium in Melbourne for a Sunday afternoon fight that will be beamed live into America in prime time. Ringside and corporate seats sold out in 30 hours.
The Kambosos story is remarkable: an overweight junior footballer from the Gymea Gorillas who has turned himself into a machine inside the ring. From chubby to chiselled.
He's never had a scrapbook of newspaper clippings like Tim Tszyu because he didn't have the famous surname. George's dad was a tradie electrician, Tim's was one of Australia's greatest boxers.
George Kambosos in the Gymea Gorilla's U10's in 2003.
Kambosos played league before finding boxing as a youngster.
HOW BOXING CHANGED THE KAMBOSOS FAMILY
It's what makes his father, Jim Kambosos, now his manager, so proud. "I was a tradie getting out of bed at 4.30 every morning," he said. "We were just a normal family.
"George has done all this himself, just his sheer determination to achieve his goal to become a world champion."
When George was just 11 years of age, overweight and sick of being bullied, Jim dropped him off one afternoon at Rockdale Police Boys Club. It was there his life would change forever.
"This was about George's mental health and being picked on as a fat kid," Jim says. "It was about getting him some self-confidence, some fitness and being able to defend himself.
"I honestly didn't expect it would lead to him stepping into the ring.
"But he fell in love with boxing and it's all happened since then."
George became so obsessed it would land him in trouble in school, not that he took his new pugilistic skills into the playground.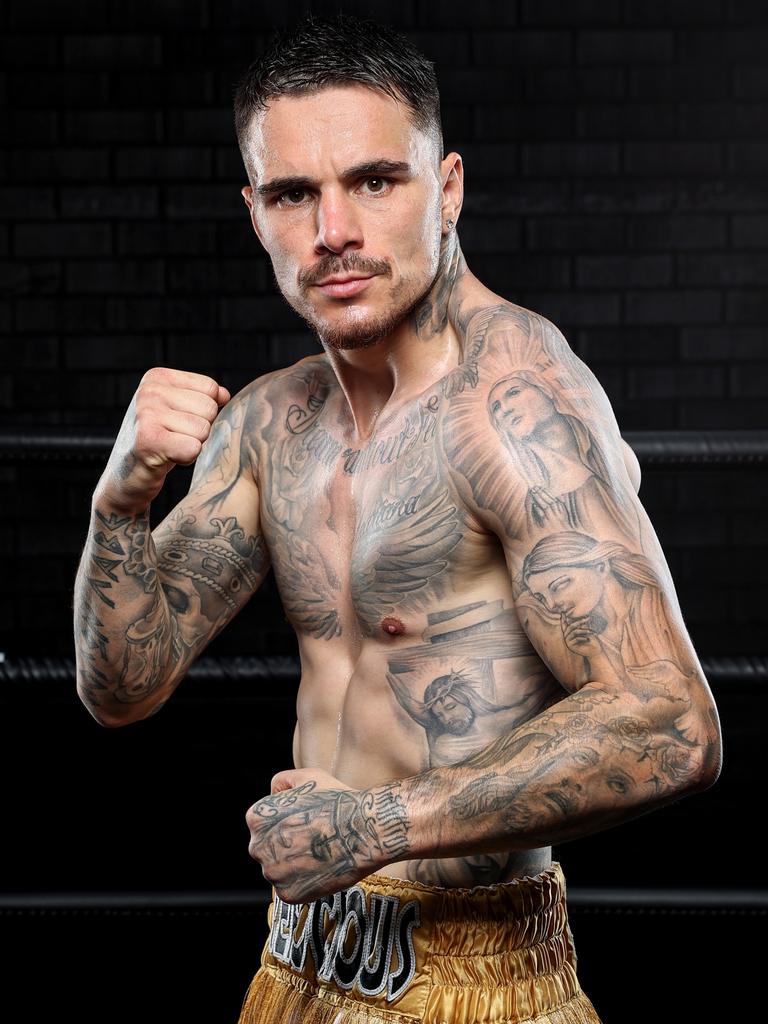 George Kambosos became so obsessed with boxing it landed him in trouble at school.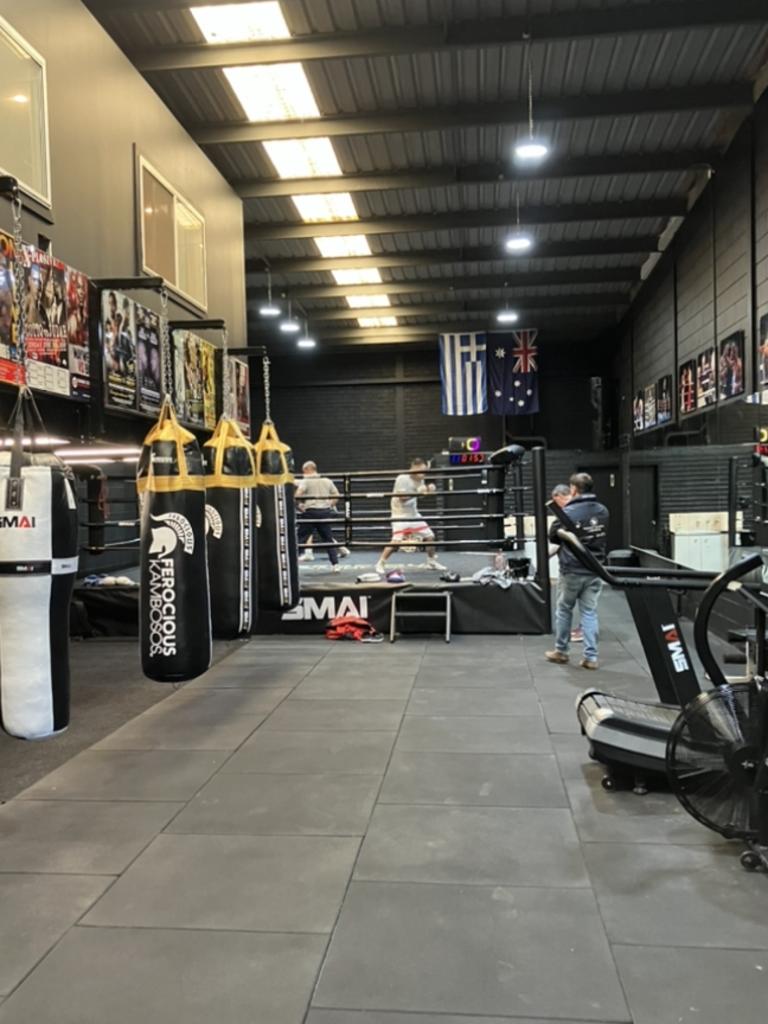 The old storage warehouse George Kambosos has transformed into a gym.
BOXING BECOMES AN OBSESSION
In classes, he was more interested in holding his mobile on his lap to study the skills of the world champions on YouTube rather than the lessons and exams.
"The teachers ended up confiscating my phone," he said.
George can still remember the afternoon he walked into the Police Boys Club about 15 years ago to start this remarkable journey.
"I was really frightened," he said. "Dad dropped me off and went away to do some other stuff. At first I didn't know what to expect. It was scary.
"But I look back now and think, you know what, that's what built the fire. That's what motivated me. That's why I'm so focused now."
Before that, the bullying had got to an extent where George would often hate going to school.
"I was picked on because I was overweight," he said. "I came last in everything I did. Sometimes I didn't want to go to school. It was horrible.
"(Bullying's) become a bigger issue in society now and that's a great thing. I don't want to see other young fellas treated like I was."
LEARNING TO COPE WITH BULLIES
These days Kambosos has learnt to deal with it in a sport where verbal sledging is so common.
"I don't care what people say about me now on social media because I'm stronger for what happened to me all those years ago," he said, "I can now ignore it or laugh about it."
In one of the biggest upsets in boxing history, Kambosos defied impossible odds to win a split decision over superstar Teofimo Lopez at Madison Square Garden last November.
It's been the story of his life in being able to overcome hurdles, no matter what.
Like when he had no money in his amateur days and needed to travel to Russia for an international tournament. The Stella Inn hotel in Tempe became his fundraising base on Friday nights.
"It's actually good that I had to do it the hard way because you learn to appreciate the good times and the big wins a lot more."
These days Kambosos is still renting while waiting for his big payday next month. He still loves the simple things – like his little old four-metre tinnie, a small outboard and a day's fishing on Botany Bay or Port Hacking.
He is guaranteed a $3.5 million payday from the big fight in Melbourne and life will change.
Not that money is the motivator.
"Honestly, I'm not in this for the money," he says. "It's the belts that drive me, I promise you that's what is.
"Plus I've got three kids and I obviously want to set them up for life.
"Eventually I'll buy the dream house for the family."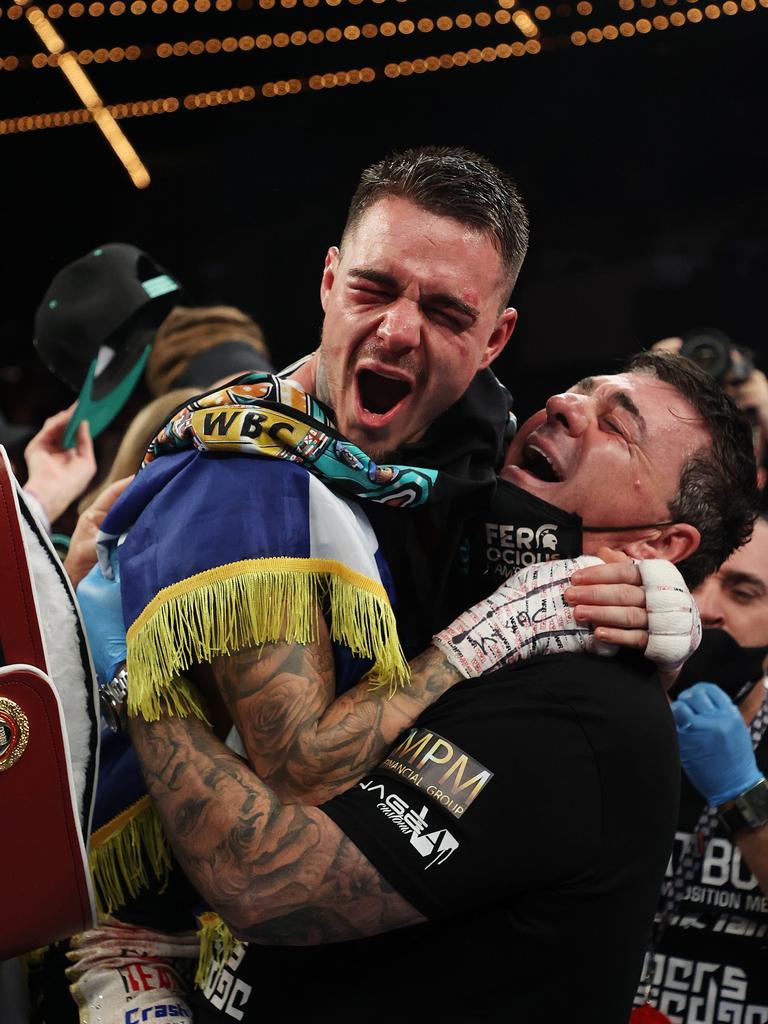 George Kambosos celebrates his split decision win against Teofimo Lopez.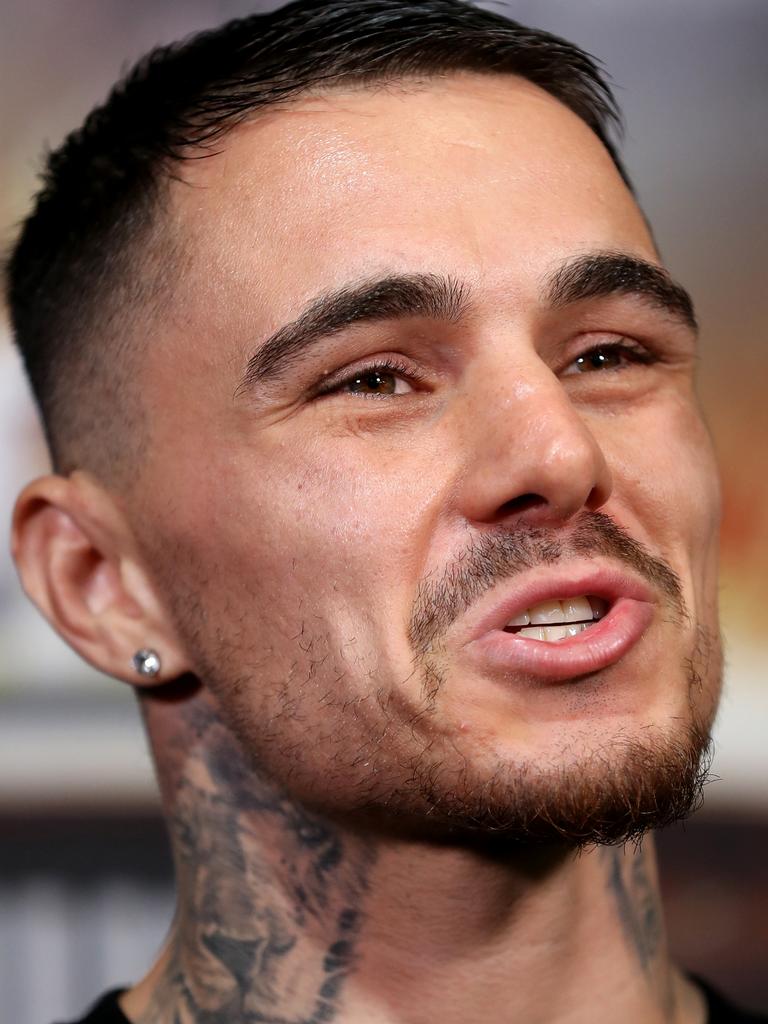 Kambosos started out selling meat trays to fund his boxing dream.
SELLING TICKETS TO PAY FOR SUSHI
This is such a long way from the days when he was starting out as a pro boxer.
"I remember I was dating my wife Rebecca early in our relationship," he said. "We started hanging out but I hardly had a cent. I'm thinking she won't want to stay with me, not someone who couldn't even afford a dinner.
"Lucky I was about to fight on a Sonny Bill Williams undercard. I had been given tickets to the fight so I sold them to pay for the sushi.
"I could have asked my grandparents or my dad, but I always wanted to be able to do things myself.
"You can always find a way. I've carried that attitude into my fighting. No matter how hard it gets, there's always a way."
Being a world champion has changed nothing. If anything it has made him hungrier.
"I was always wondering what my mindset would be like if I became a world champion," he said. "Would I become even more obsessed or would I lose a bit of that drive?
"Your life changes. Everyone stops you for a chat and wants a selfie. I like that but I've had to stay very focused. I am still obsessed with boxing.
"My attitude hasn't changed and I look for improvement every day, every time I walk into the gym."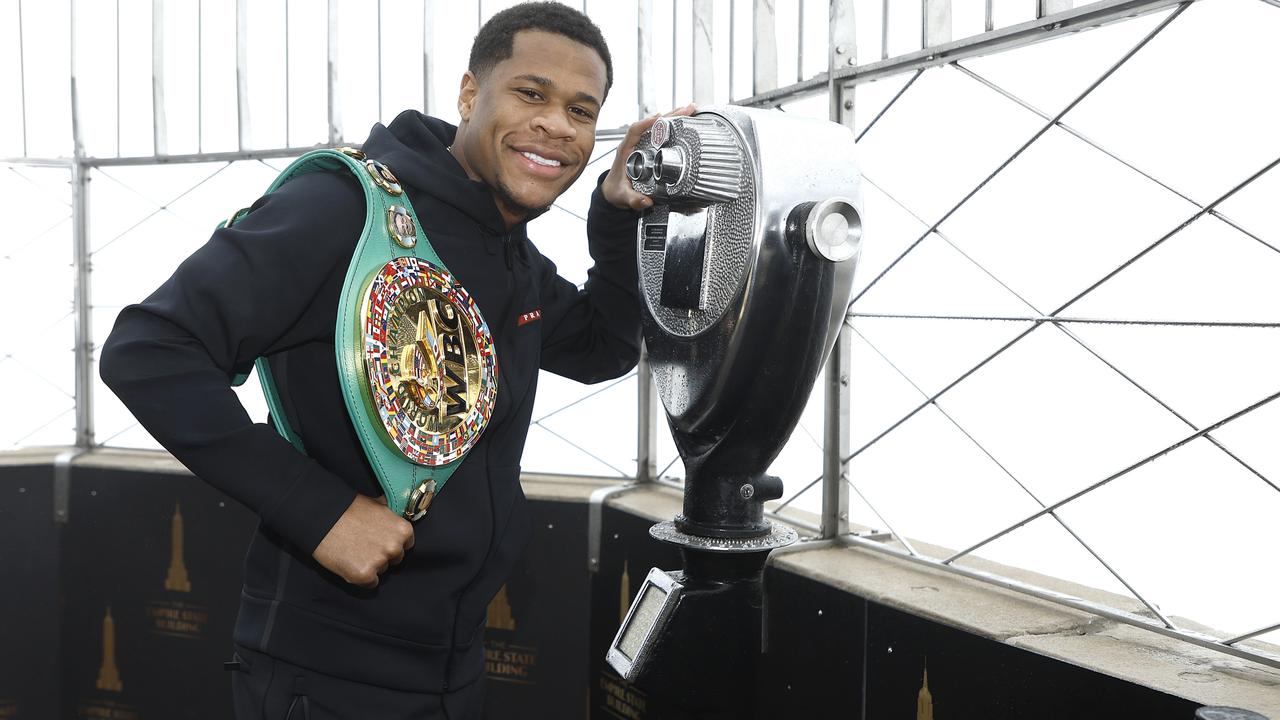 Kambosos says he will be at his peak when he takes on Devin Haney.
JUST THE BEGINNING
Kambosos has declared Aussie fans will see an even better boxer in Melbourne. "I'm faster, stronger and more powerful since the Lopez fight," he said.
"There's been a lot of strength and conditioning. Heavy squats, explosive lifts, power lifts, everything to make the body stronger.
"It's hard to get to the top but even harder to stay there because the best in the world want to knock you out."
He insists the big-fight nerves in Melbourne in front of a huge global audience won't be an issue.
"I won't go too hard, too early," he said, "I'll be sharp but calm and collected. I'll be patient and composed. He can come out and go crazy.
"I'll break him down, pick my moments and land the shots in the deeper rounds, then drown him. I believe I'll stop him, it will be too much for him.
"I don't get nervous or any anxiety because I know what I've got to do. It's my passion. It's my job and I love doing it."
You can tell by watching Kambosos work the pads in his Mortdale gym. The strength and the speed of his hands is extraordinary.
The combinations so slick and so strong. The sweat is pouring off his body. Every now and then he screams out: "I'm the best."
The most driven athlete you will ever see.
Originally published as George Kambosos v Devin Haney: June 5th showdown set to surpass Horn-Pacquiao as highest grossing fight in Australian boxing history