Grace Whyte, Ruby Bakewell Doran, Tabitha Packer, Sophie Fawns: Australia's rising netball stars named
They are the future stars of Australian netball set to have their name up in lights. See the top 40 players across the nation here.
The future of Australian netball has never looked so bright.
With regional Victoria set to host the 2026 Commonwealth Games and Sydney the 2027 Netball World Cup, the nation's rising stars have never been so close to realising their dreams.
And with World Netball and Netball Australia declaring its intent to have the sport played at the 2032 Olympic Games in Brisbane, the next generation of netball stars could be taking to the courts in a big way.
With that in mind, we've named the top 40 future netball stars.
From athletes in their first year of Super Netball to rookies dreaming of wearing green and gold for Australia, these are the standout players in 2022.

First year superstars
Lucy Austin, SA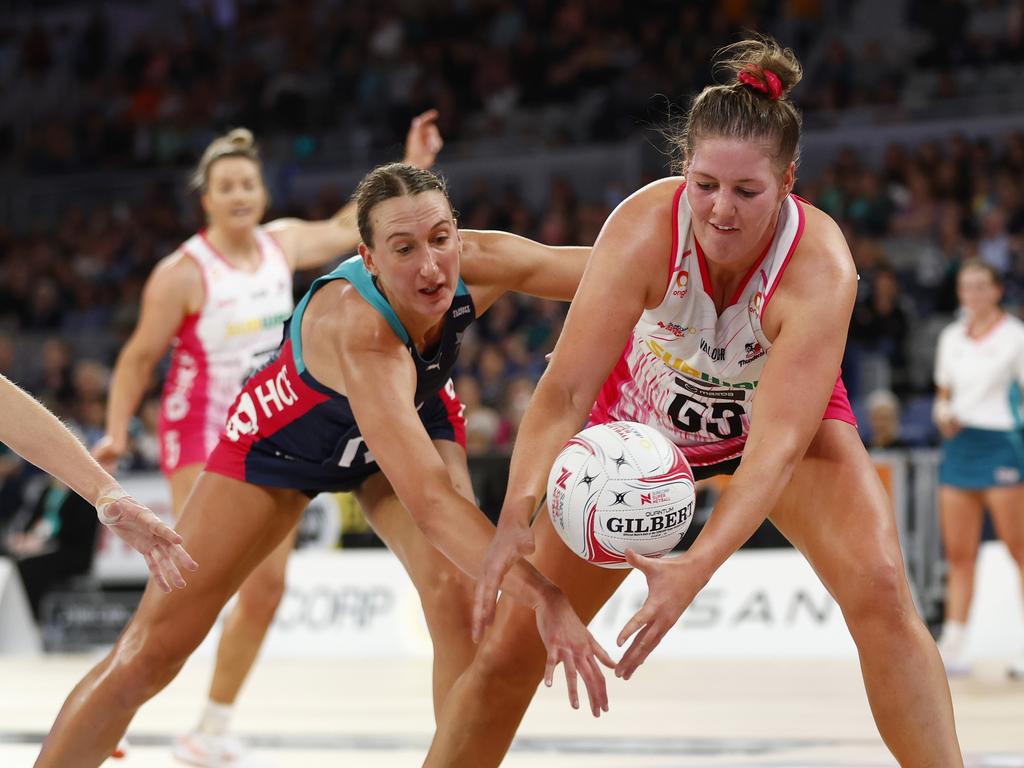 Lucy Austin faced off against Vixens' stalwart Emily Mannix during her debut game in round six of the Super Netball this year. Picture: Mike Owen/Getty Images
Tall timber Lucy Austin made her Super Netball debut for the Adelaide Thunderbirds in round six.
A budding young talent for years, Austin shot at 84 per cent (excluding super shots) against season favourites, the Vixens.
The South Australian has been a star in the Netball SA Premier League for the Matrics, and was selected in the 2021 Australian World Youth Cup squad that was ultimately cancelled due to Covid.
Mia Stower, Queensland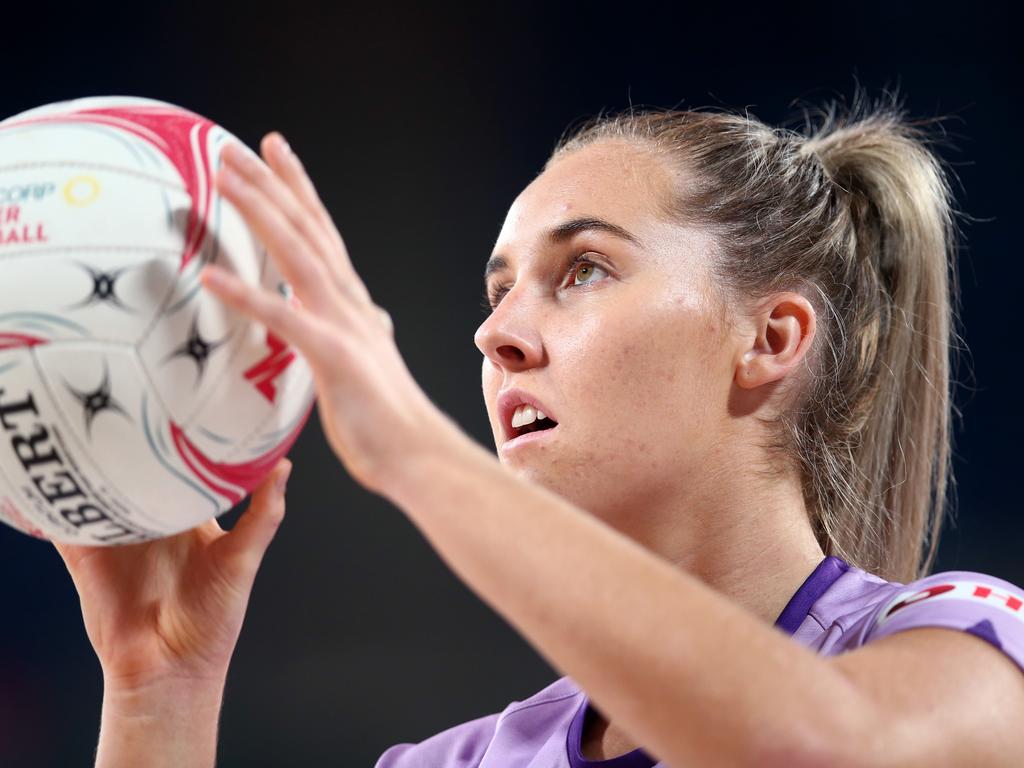 Mia Stower of the Firebirds warms up ahead of round four of the Super Netball between GWS Giants and Queensland Firebirds at Ken Rosewall Arena. Picture: Jason McCawley/Getty Images
The long range shooter from Queensland has potential but has been hidden behind the world's greatest goal attack in Diamond Gretel Bueta.
In her first year at the Queensland Firebirds, Stower has shown she can take the court with impact and seal the long-bombs when needed.
She had a stellar 2021 season with the Cougars in the Sapphire Series and will no doubt be one to watch when she receives more court time.
Nyah Allen, SA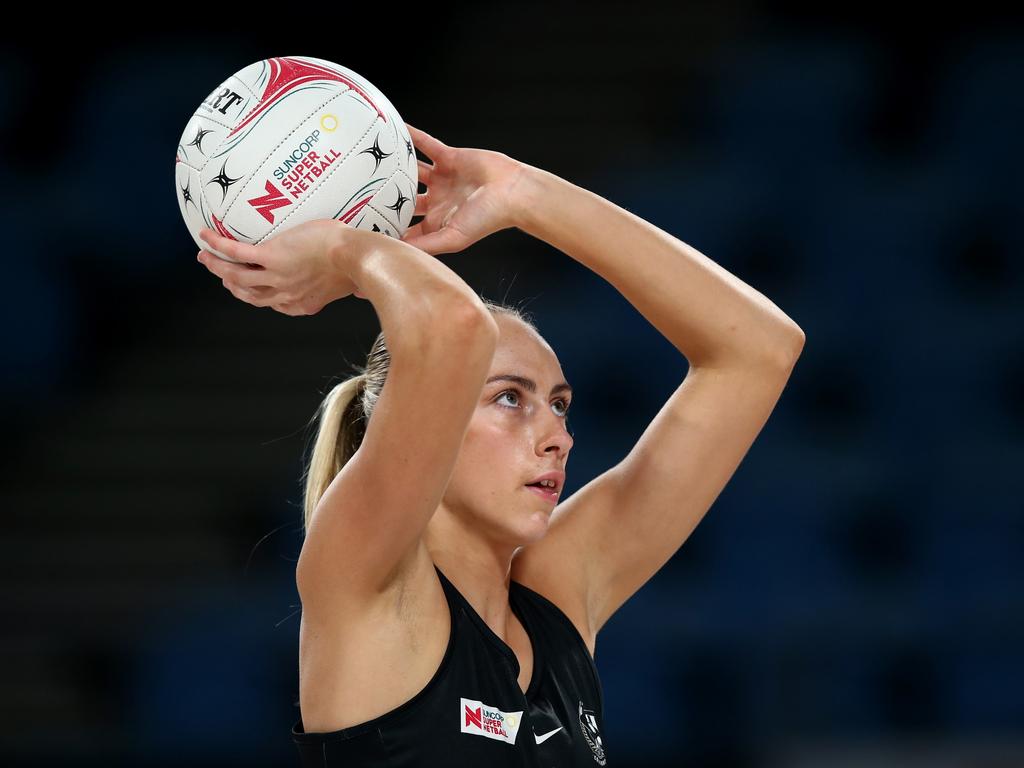 Nyah Allen has already taken to the court in this year's Super Netball season due to Covid. Picture: Jason McCawley/Getty Images
South Australia will be quick to call this talented young shooter their own, despite Nyah Allen calling Melbourne home for now.
With Covid still running rampant in Super Netball teams, Allen has been the Collingwood Magpies' secret weapon, and has been elevated from training partner to replacement player several times this season.
Reilley Batcheldor, Queensland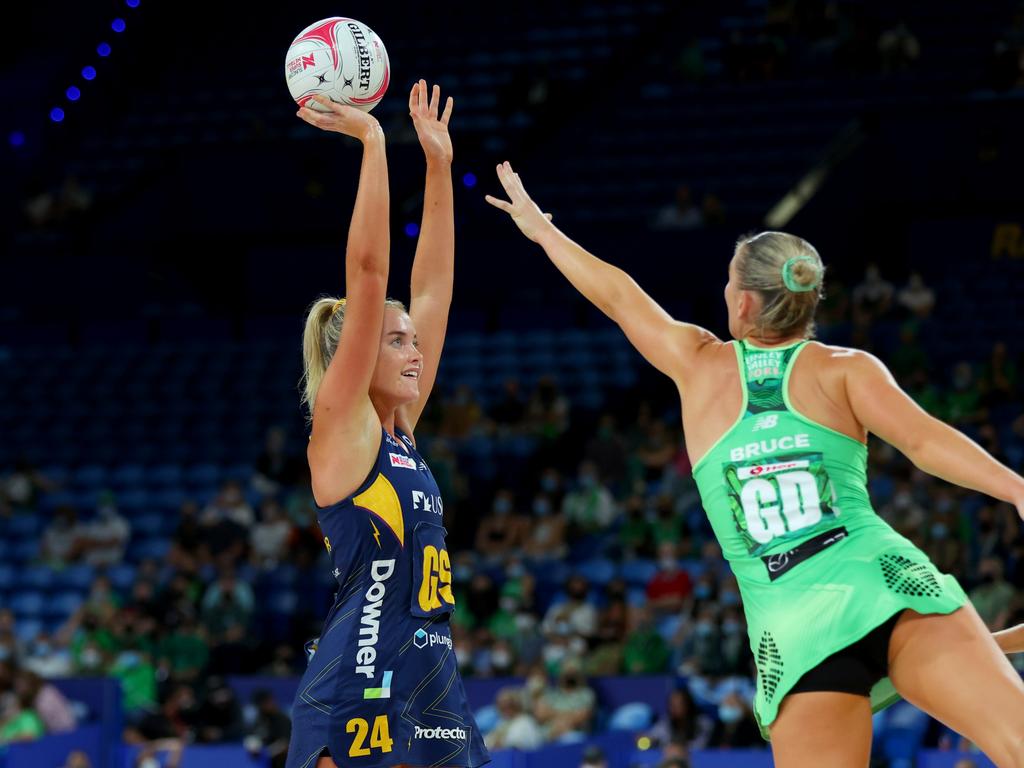 Reilley Batcheldor was elevated to the Lightning after a standout season with QUT Netball in the Sapphire Series. Picture: James Worsfold/Getty Images
A fan favourite of the Fox Netball team, Gold Coast local Reilley Batcheldor has been impressive since her Super Netball debut in round one.
The 19-year-old talent was selected for the 2021 Australian Youth World Cup squad despite being out with injury in 2020 with an ACL tear.
Now playing with the Sunshine Coast Lighting, Batcheldor has shown she can step up in pressure moments and make a difference.
Ruby Bakewell-Doran, Queensland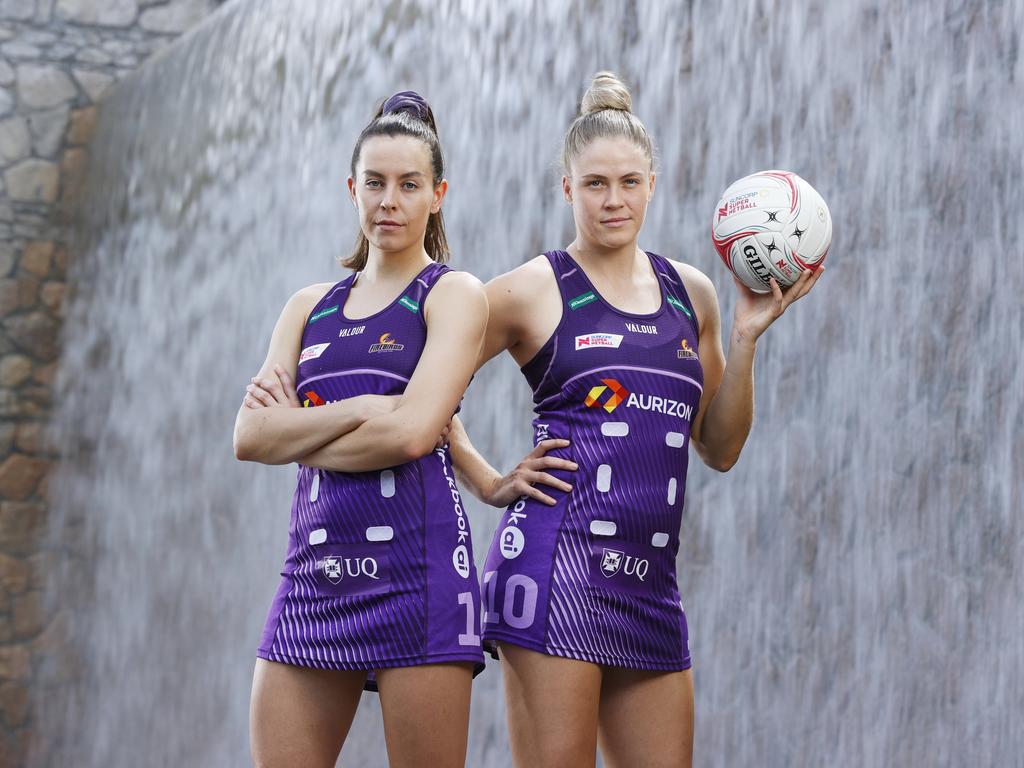 Queensland Firebirds young gun Ruby Bakewell-Doran (left) was an unbeatable defender for the Brisbane North Cougars in the 2021 Sapphire Series. Picture: Lachie Millard
Ruby Bakewell-Doran has become a household name for Super Netball fans after just six rounds of her first Super Netball season.
Bakewell-Doran is a product of the Queensland netball pathway, and was elevated to the Queensland Firebirds after being the most dominant player in the Sapphire Series for 2021. Fans are already predicting the 23-year-old defender will wear the green and gold in the near future if she continues her stellar maiden season.
Sophie Fawns, NSW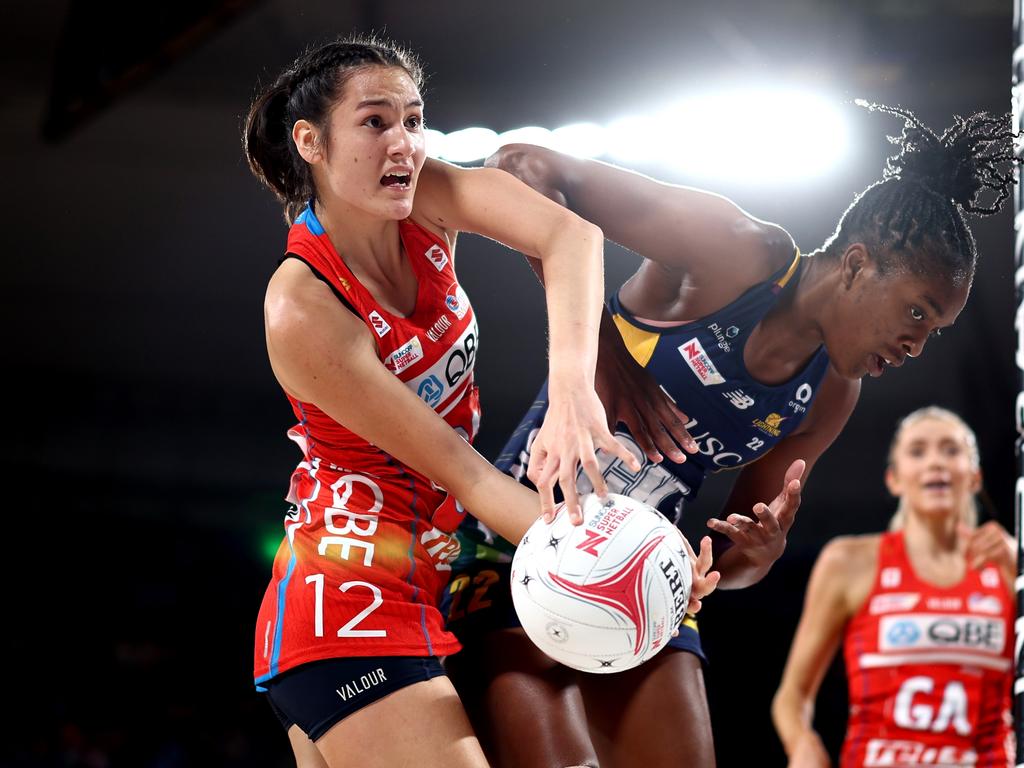 Sophie Fawns' exceptional talent forced the hands of Swifts selectors to move her temporary replacement player to permanent player after Same Wallace was injured. Picture: Matt King/Getty Images
There are not many netball fans who would not know this name.
Dubbed one of Australia's most exciting netball talents, Sophie Fawns went from training partner to permanent replacement player for Sam Wallace when she went down with an ACL injury in the Super Netball. The Wagga Wagga product made her way through NSW's pathway making state teams and participating in the Swifts Academy before breaking into the big leagues.
Rahni Samason, Victoria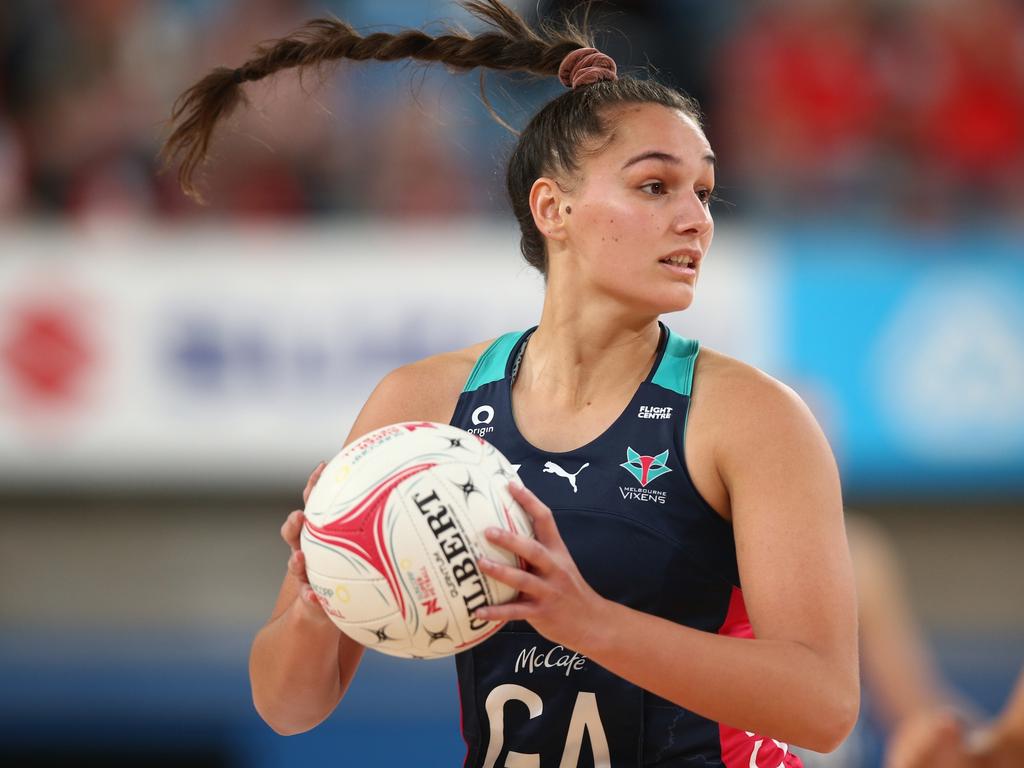 Rahni Samason became the Vixens greatest rising star when she helped them to their first win of the 2021 Super Netball season. Picture: Jason McCawley/Getty Images
Rahni Samason has been given the unofficial title of 'best debut' for the 2021 Super Netball season — and for good reason.
In a whirlwind week, Samason went from outside the Vixens squad to training partner, to starting goal attack and then shot at 93%, including the winning Super Shot after the siren. Unsurprisingly she was offered a Super Netball contract with the Vixens and has continued to impress in her limited court time, sitting behind Diamonds shooter Kiera Austin and Malawi powerhouse Mwai Kumwenda.
Tayla Williams, SA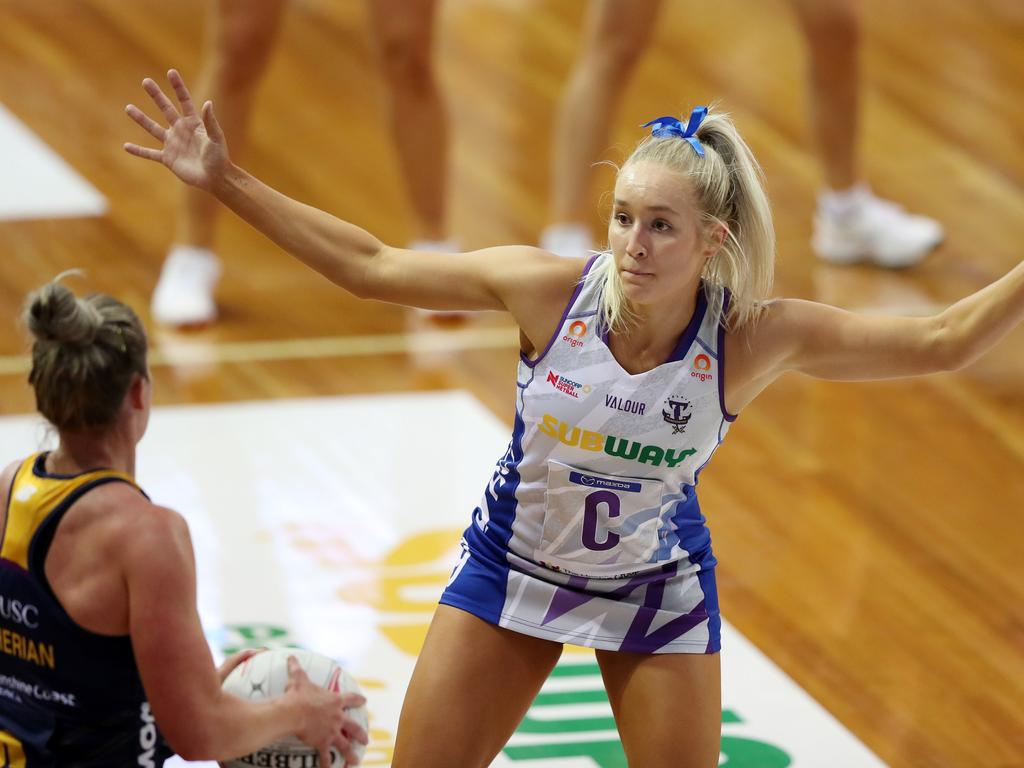 Tayla Williams in centre for the Adelaide Thunderbirds during round three of the Super Netball between the Thunderbirds and Sunshine Coast Lightning. Picture: Sarah Reed/Getty Images
Adelaide Thunderbirds midcourter Tayla Williams was elevated to a contracted player for the 2022 season after being a training partner in 2020 and 2021. The speedy centre has been part of a new-look Thunderbirds side which are already dubbed finals contenders if they can finish off the clinch moments. Williams came through Contax Netball Club in the Netball SA Premier League where she was named in Team of the Year.
Future stars
Alison Miller, NSW
Former Swifts training partner Alison Miller has recently returned to netball after having a baby. The goal shooter played through state pathways and is tipped to make a great return to the NSW Premier League.
Ash Turner, Tasmania
Ash Turner was a strong goaler for Tasmania in their 19/U NNC campaign. Turner was a standout in the tournament for her state and is part of Netball Tasmania's Futures Program.
Ashleigh Ervin, Queensland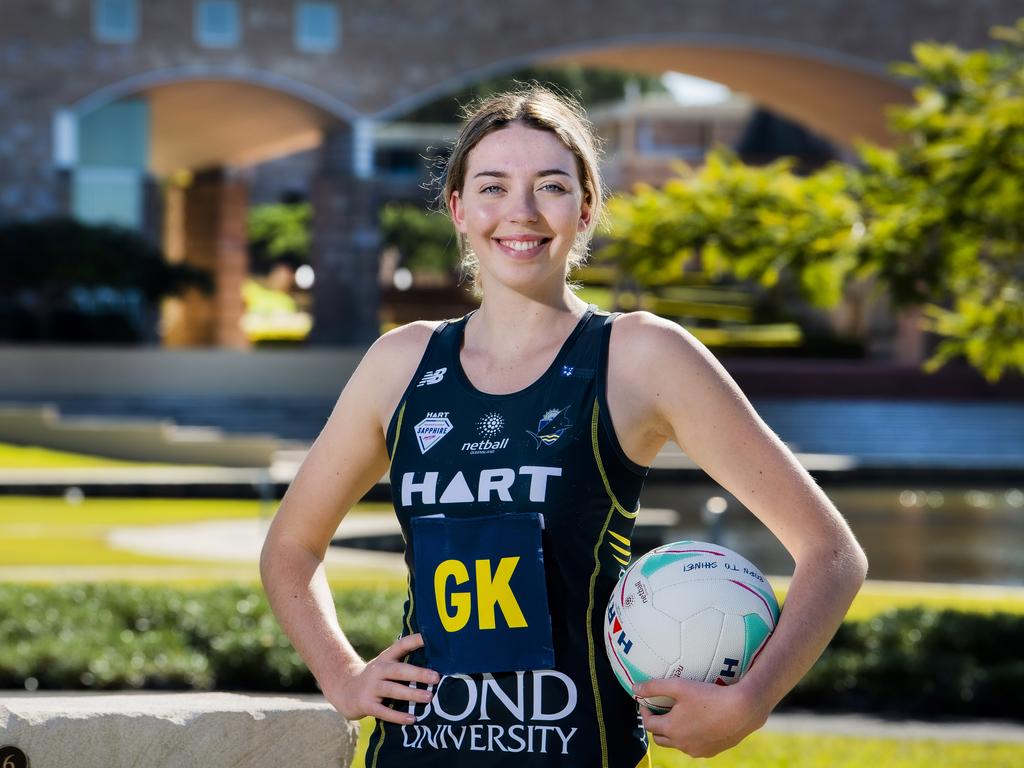 Ashleigh Ervin played for the Bond University Bull Sharks in the 2021 Sapphire Series.
Ashleigh Ervin is a Queensland goal keeper and current training partner with the Queensland Firebirds. Ervin is a dominant figure in the circle, but also has leadership skills and captained the 19/U Queensland National Netball Championships (NNC) side. Ervin is a current member of the 2021/22 Australian 19/U Squad. Ervin will play for the Ipswich Jets in the 2022 Sapphire Series, Queensland's state netball league.
Audrey Little, NSW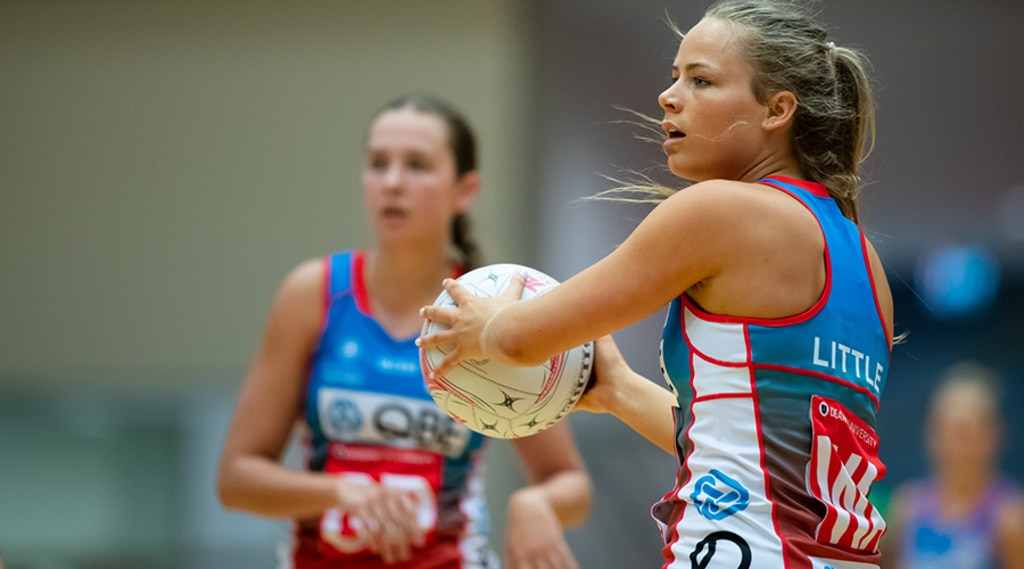 Audrey Little playing in the Swifts Academy. Picture: Netball NSW.
After a stellar NNC campaign with NSW as captain, Audrey Little earnt the title of 19/U Grand Final MVP.
Little is a fierce midcourter and NSW Swifts training partner.
She is also a member of the Australia 19/U Squad for 2021/22. The talented midcourter always embraces a challenge and has an unmatchable hard work ethic.
Ava Black, Queensland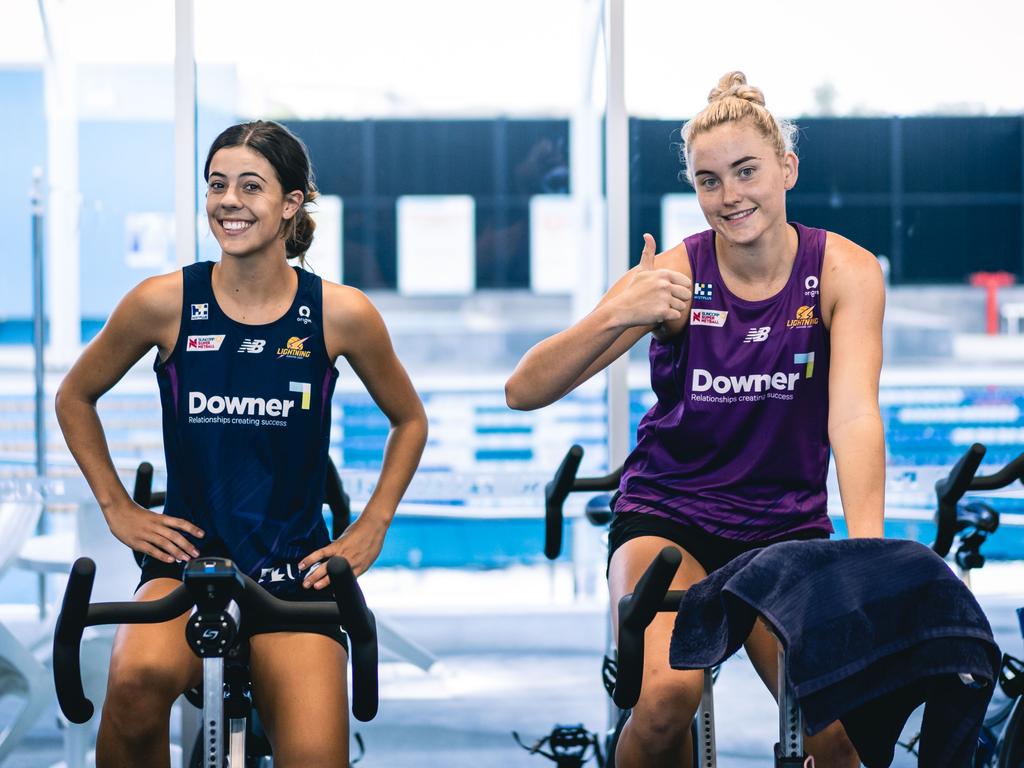 Ava Black (left) works in the gym with Sunshine Coast Lightning teammate Reilley Batcheldor.
Ava Black is another Queensland talent with a bright future. The Sunshine Coast Lightning training partner represents the USC Thunder in the Sapphire Series, and was the league's 2020 MVP. Black was vice-captain of Queensland's 19/U NNC side who took home bronze and is must-watch player.
Charli Fidler, NSW
Charlie Fidler is a rising defender who won gold for NSW at the NNC in the 19/U team. A Giants training partner, Fidler has already been called upon by the Super Netball side to sit the bench when Covid caused havoc.
Charlie Bell, Queensland
Charlie Bell played for the Ipswich Jets in the Sapphire Series before moving to the Cougars for season 2022. Picture: AAP Image/Regi Varghese
Queenslander Charlie Bell earnt her first Queensland Firebirds training partner position in 2022 after stunning in the Sapphire Series. The 197cm tall goal shooter has been the most dominant goal shooter in the Sapphire Series in recent times, and is set for a massive season under Liz White at the Cougars. Bell showed strong signs of confidence at the 2022 Team Girls Cup and will only get better learning from the likes of Romelda Aiken and Donnell Wallam at the Firebirds.

Cleo Kenny, WA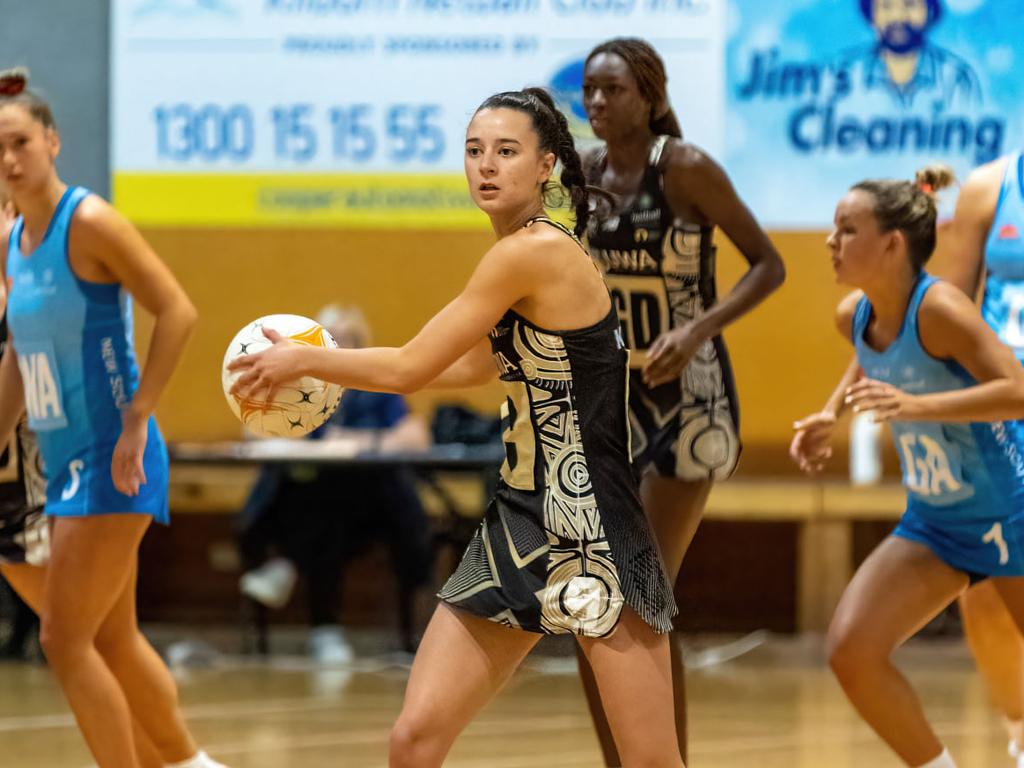 Cleo Kenny at the 2022 NNC with WA. Picture: Netball WA.
Cleo Kenny is a fierce, fit midcourter with great court smarts from WA. Kenny was a 2021/22 Australian 19/U squad member and has been a train on at the West Coach Fever during match play.
Dakota Newson, Queensland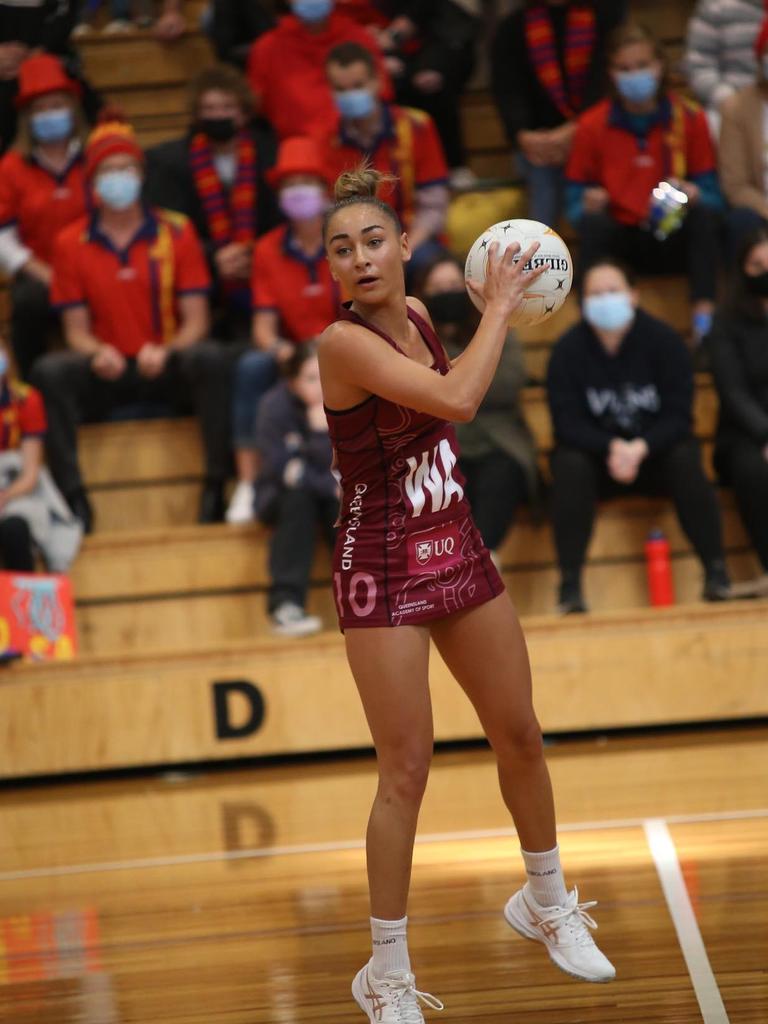 Dakota Newson playing for Queensland at the 2022 National Netball Championships. Picture: Netball QLD.
Newson was the youngest player in the 2021 Sapphire Series, finishing the competition with silver with QUT in their inaugural season in the competition. The quick-footed midcourter, known for her speed and fitness, represented Queensland in the 17/U NNC division, taking home bronze.
Dakota Thomas, NSW
Newcastle talent Dakota Thomas has made the move to Sydney to pursue her netball as a Swifts training partner. The university student is determined to make her mark in netball and will light up the court in the NSW Premier League for the Central Coast Heart.
Darcie Davies, Queensland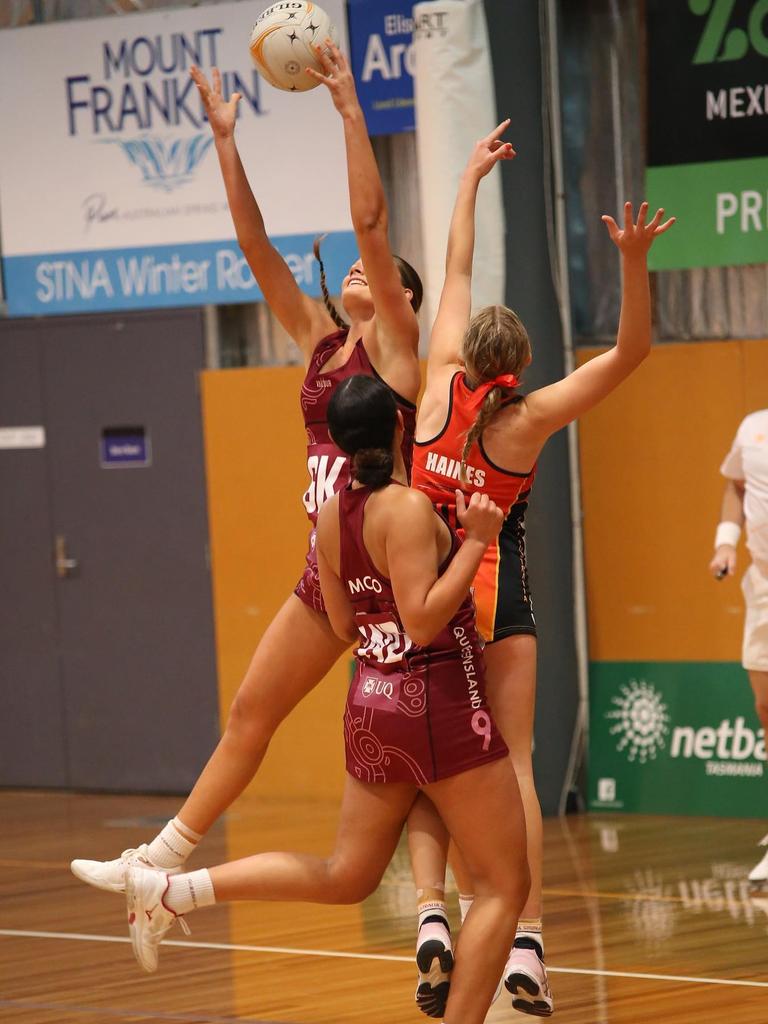 Darcie Davies playing for Queensland at the 2022 NNC. Photo: Netball Australia.
A rising Queensland defender, Darcy Davies was a dominant member of Queensland's 17/U NNC side that won bronze. Davies is a dual athlete playing AFL for Queensland and plays for the Gold Coast Titans in the Ruby Series, the reserves division to Queensland's Sapphire Series.
Ellie Marshall, Tasmania
Eddie Marshall was captain of the 17/U Tasmanian team at the NNC. The midcourter is quick off her feet and plays for the Cavaliers in the Tasmanian Netball League.
Elsa Sif Sandholt, Queensland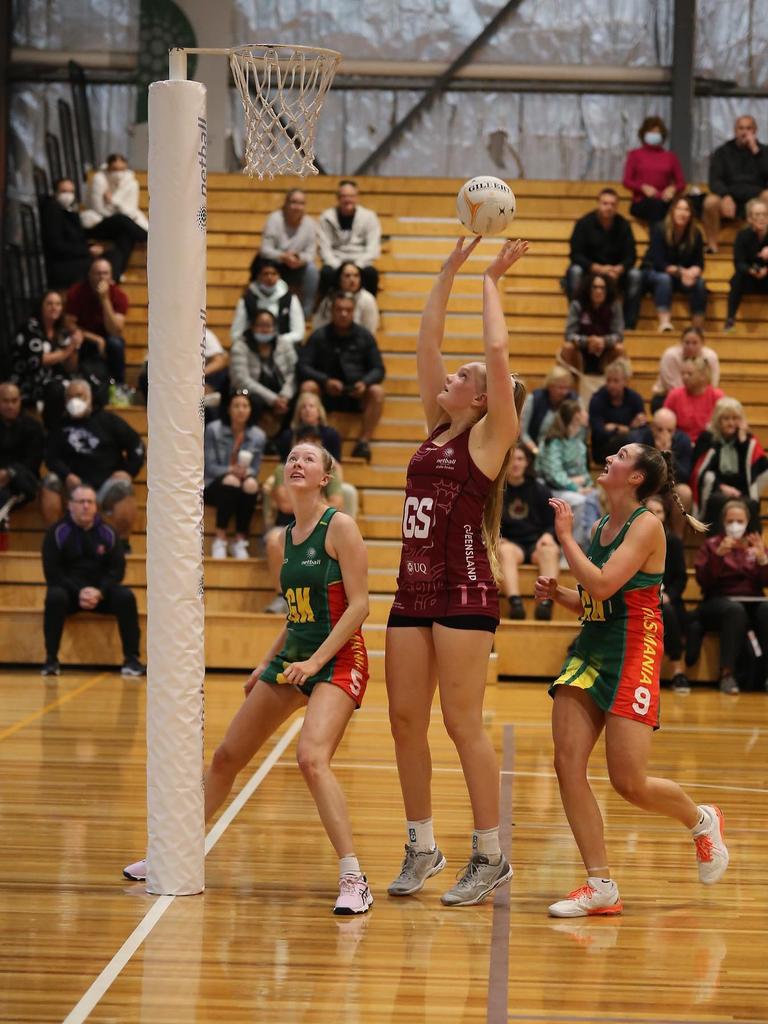 Elsa Sandholt playing for Queensland at the 2022 National Netball Championships. Picture: Netball QLD.
Sif Sandholt was a member of the 2021/22 Australian 17/U squad, and was a powerhouse goal shooter for Queensland's 19/U side in the NNC. The strong shooter is playing for the Jets in the Sapphire Series for 2022.
Emily Andrew, Victoria
Emily Andrew playing for her former VNL team, the Ariels. Picture: Grant Treeby/NV
An 18-year-old shooter, Emily Andrew, has already been named a Melbourne Vixens training partner and 2021/22 Australian 19/U squad member after just a few games in the Victorian Netball League's Championship division.
The tall timber stands at 190cm and shot 202/259 goals for the Southern Saints in the 2021 VNL's 19/U division, earning herself a spot in the 19U 'team of the year'.
Andrew's natural skill and ability to play both GS and GA have made her one of the fastest developing netballers in the state, and she is sure to cause more havoc under the post in the future.
Emma Putt, WA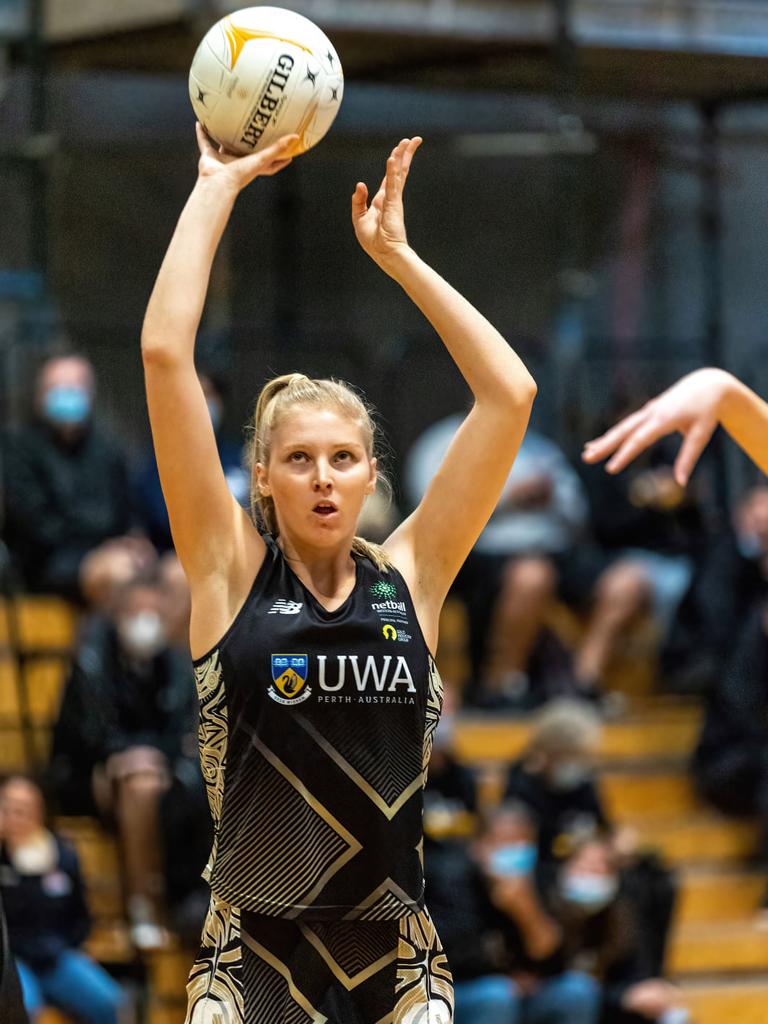 Emma Putt playing for WA at the 2022 National Netball Championships. Picture: Netball WA.
Born attacker Emma Putt is another WA youngster who can play goal attack, goal shooter, and now wing attack after testing it out at the NNC. Putt is known for her creativity on court and great circle edge movement. Putt was a 2021/22 Australian 19/U squad member and has spent time with the Fever for match play.
Erin O'Brien, NSW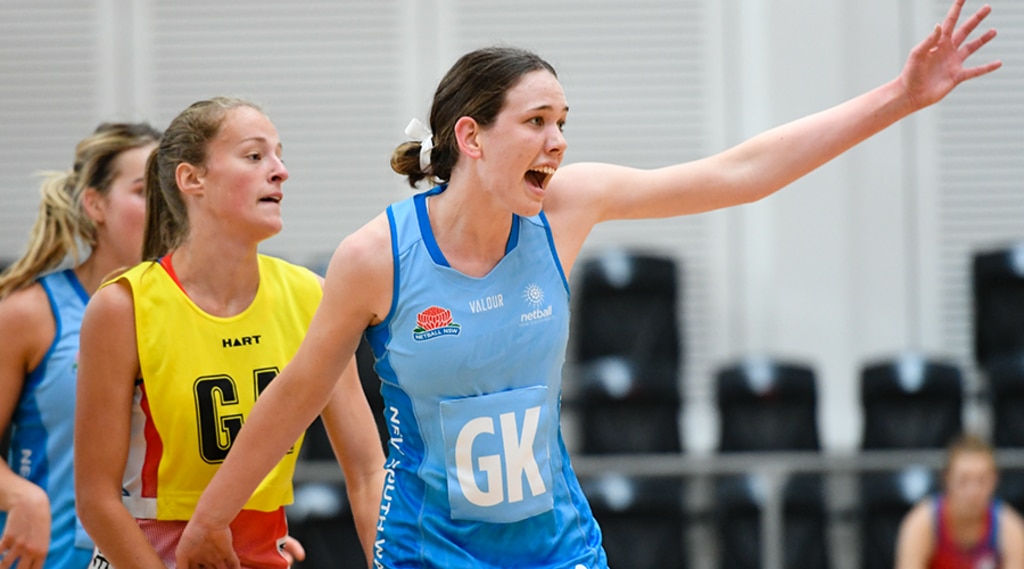 O'Brien playing for NSW. Picture: Netball NSW.
Erin O'Brien is a rising circle defender worth keeping an eye on. Tall and nimble, O'Brien thrives in a competitive environment. O'Brien is a Giants training partner, 2021/22 Australian 19/U squad member and won gold with the 19/U NSW team at the NNC.
Favour Lokudu, ACT
This ACT talent may be peaking later than others her age, but with the success of Donnell Wallam as an example, it doesn't matter when it happens. Lokudu plays Division 1 in the HCF State League for the Belconnen District, and for the Capital Spirit Opens team in the NSW Premier League. The circle defender hasn't come through the ACT pathway, but has been placed straight into the Premier League's Opens division, bypassing the 23/U division.
Gabby Coffey, NT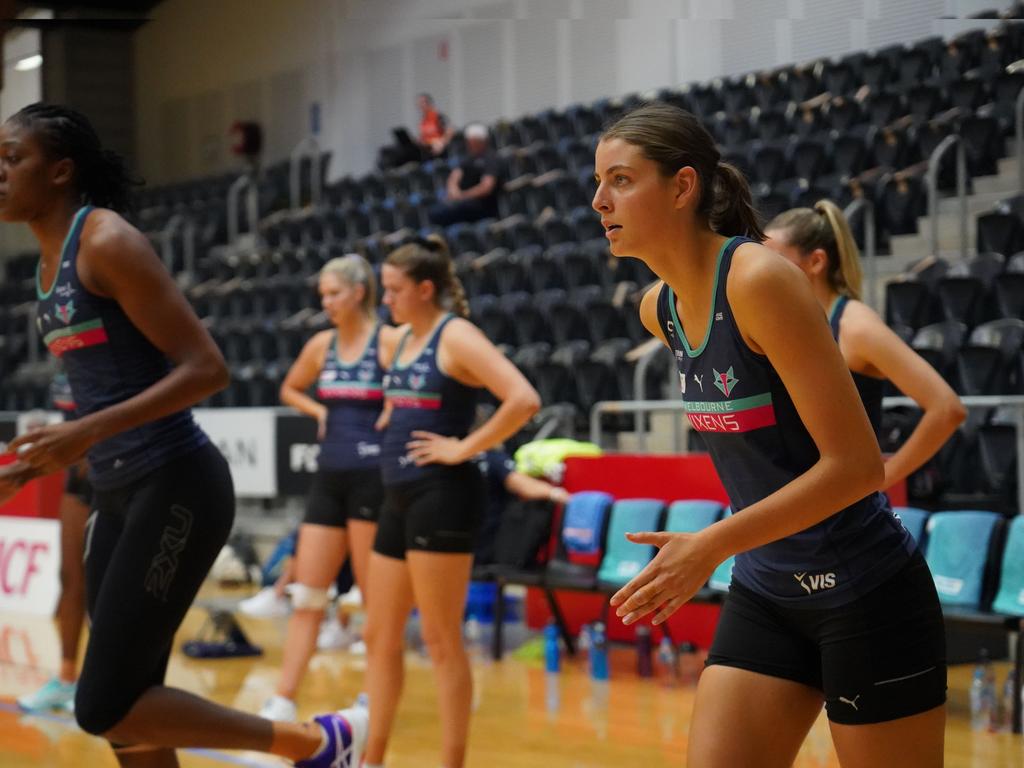 Gabby Coffey warming up with the Melbourne Vixens. Picture: Grant Treeby
Born in Darwin but now based in Victoria, Gabby Coffey is a young indigenous star on the rise. Coffey is a VIS member and was a 2021 Melbourne Vixens training partner. The talented shooter has already been called on by the Collingwood Magpies this Super Netball season and was elevated to their match day squad earlier this month. Coffey was a member of the 2021 Australian World Youth Cup squad.
Georgie Cleaver, WA
Cross-code talent Georgie Cleaver is known for her 'grunt' which is a credit to her AFL skills, playing for WA. Cleaver was goal attack and wing attack for WA's 17/U side at the NNC and is able to step up in tight moments.
Grace Whyte, NSW
Whyte captained her 17/U NSW side to an incredible win at the 2022 NNC. After an incredible tournament, the young goal attack stunned by taking out both Grand Final MVP and overall dual Championship MVP awards. Whyte is an absolute ball hunter who wants the ball in her hand for the big moments.
Jasmah Haywood, WA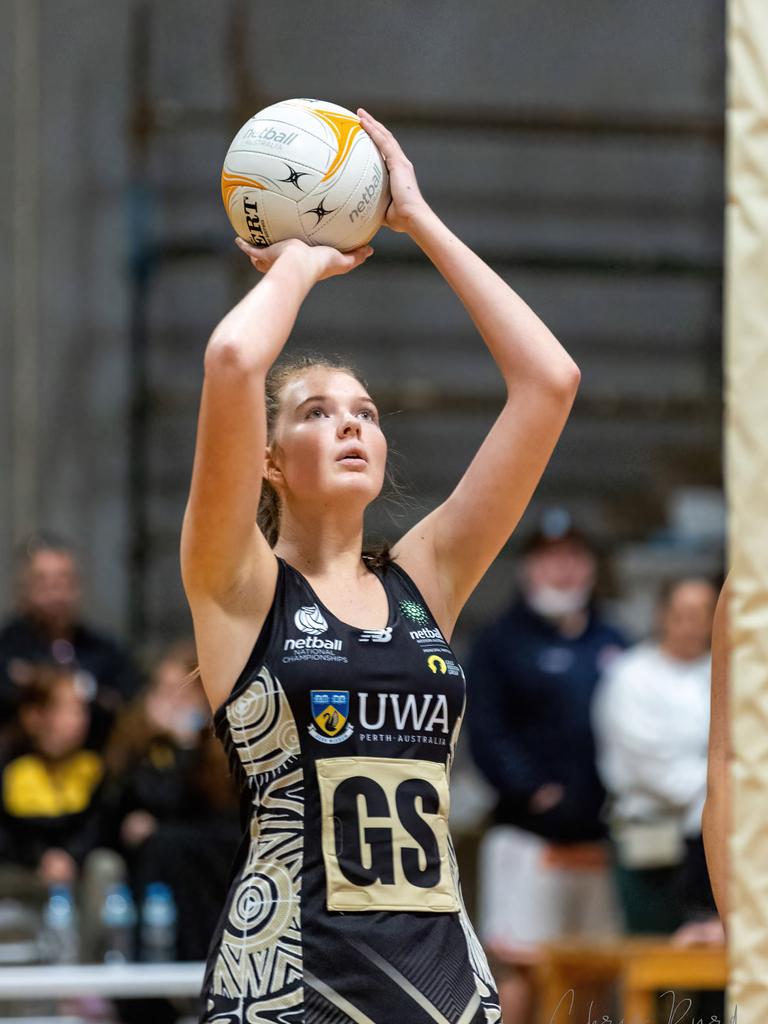 Jasmah Haywood at the 2022 NNC playing for WA. Picture: Netball WA.
Jasmah Haywood is a tall shooter who can shoot from anywhere in the circle. The 18 year old was part of WA's 19/U NNC team and is a 2021/2022 Australian squad member.
Kayla Graham, SA
South Australian product Kayla Graham was awarded the MVP award for the 19/U NNC division. Graham is a clever netballer who controls the game.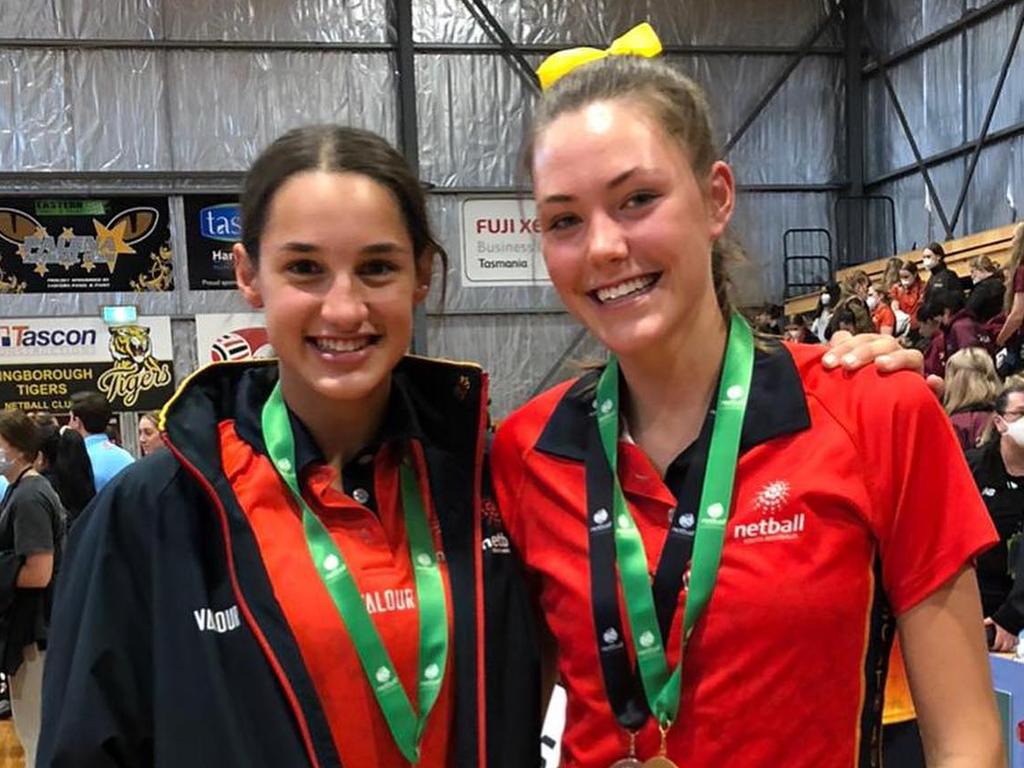 Tabitha Packer (left) and Kayla Graham (right) after both winning MVP awards for their respective age groups at the NNC. Picture: Netball SA.
Martina Reekers, Queensland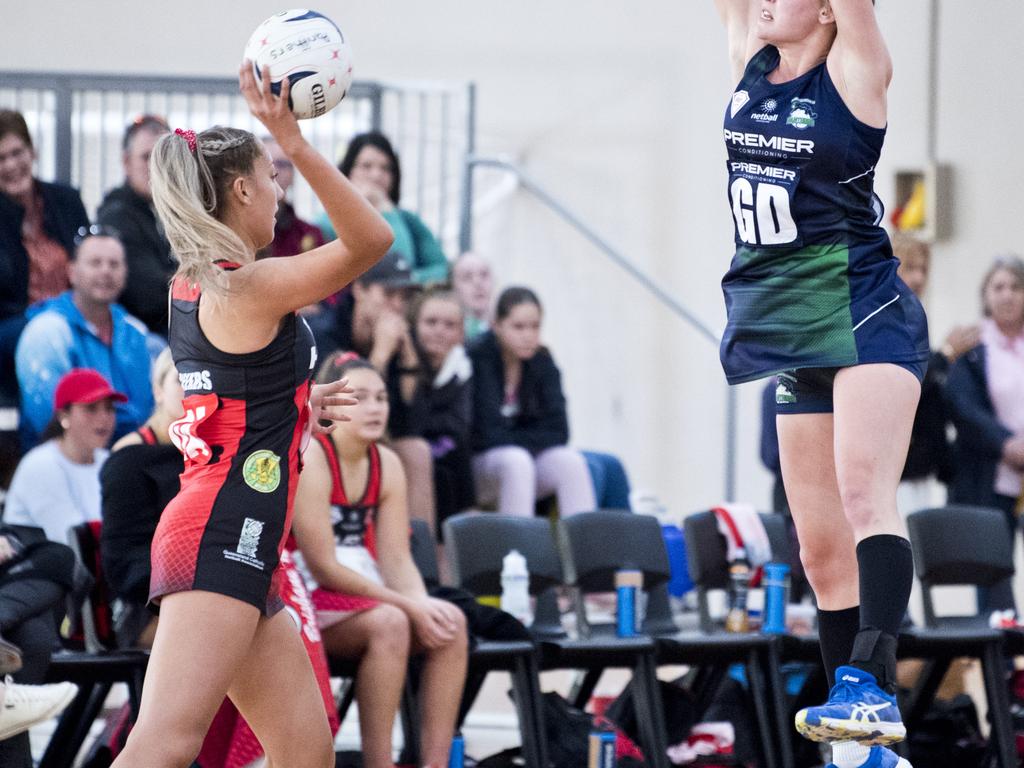 Martina Reekers playing for the Cougars in the 2019 Sapphire Series.
Martina Reekers was premiership winning shooter in the 2021 Sapphire Series, but is going above and beyond to shine brighter. The young gun has taken her talents over the Tasman to New Zealand as a training partner for the Magic in the ANZ Premiership for 2022. Learning from New Zealand netball greats Ameliaranne Ekenasio, Bailey Mes and Katrina Rore, Reekers will only get better. But only time will tell whether Reekers will continue her netball journey across the ditch or return to Australia.
Macy Goninon, Tasmania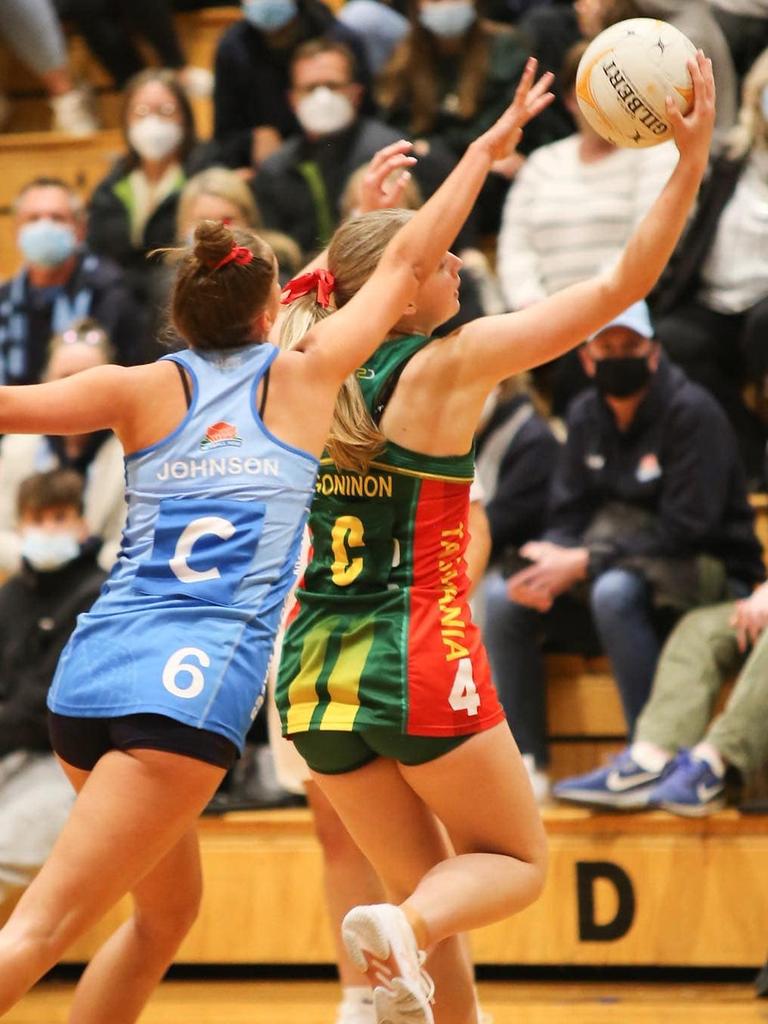 Macy Goninon played for Tasmania in the 2022 NNC. Photo: Netball Australia.
The Tassie midcourter played in her first nationals' tournament for the 19/U Tasmanian team after the previous years were cancelled. Goninon had a very consistent carnival and is part of Netball Tasmania's Futures Program.
Millie Roach, NSW
Millie Roach was a strong shooter for the 19/U NNC winning NSW side. The Giants partner was part of the Australian 2021/22 squad and could be a star of the future.
Monika 'Otai, NSW
Monika 'Otai captained her 17/U NSW team to NNC gold and is a thrilling goal shooter. 'Otai was a stand out for NSW after her performance at the NNC.
Olivia Wilkinson, Victoria
Olivia Wilkinson is another player climbing the netball ladder quickly — already training with Collingwood and being selected in the 2021/22 Australian 17/U Squad.
Wilkinson stands at 190cm and shot at 87% in her first year of the VNL, where she was placed straight into the championship division.
Wilkinson was named in the VNL's 19/U Team of the Year after a successful season playing with the Peninsula Waves.
Ruth Aryang, WA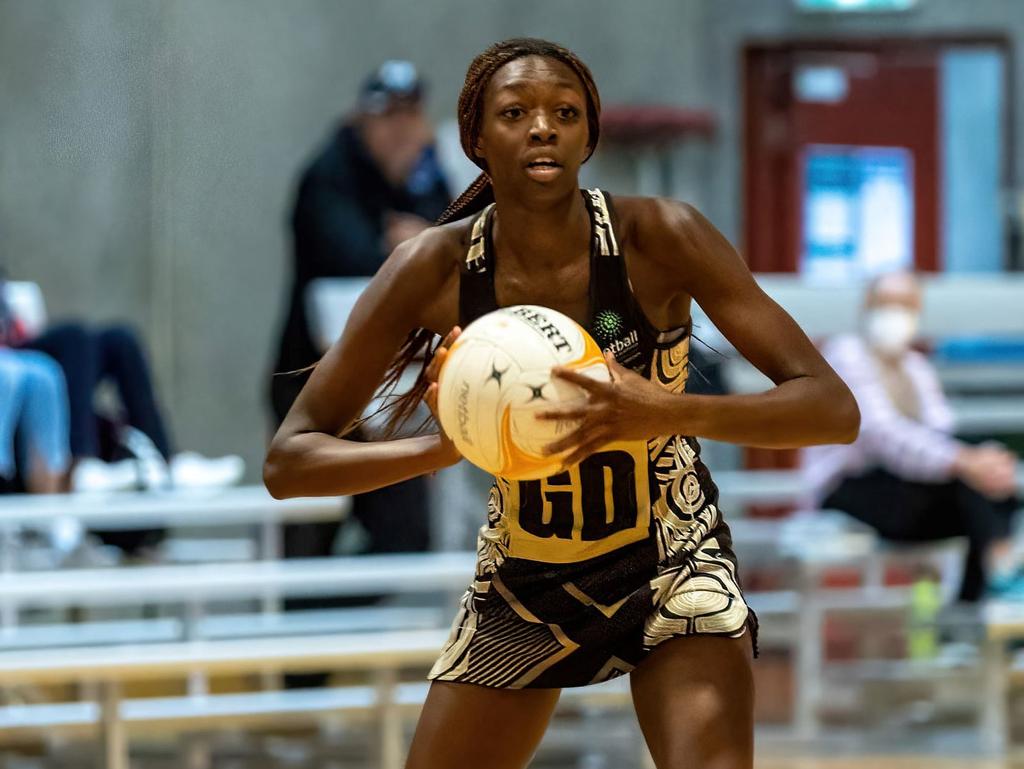 Ruth Aryang was a star at the 2022 NNC, before she devastatingly tore her ACL. Picture: Netball WA.
The younger sister of Australian Diamond Sunday Aryang, Ruth Aryang is another incredible WA talent.
Aryang is a training partner at the West Coast Fever and can create turnovers out of nothing with her long arms that can get in any shooter's way.
The young defender suffered a devastating ACL tear at the NNC, but will no doubt come back firing when she recovers from injury.
Sloan Burton, WA
Fever training partner Sloan Burton has history on her side.
The daughter of Perth Oriole Jules Burton and Fremantle and North Melbourne ruckman Matthew Burton, Burton has sporting greatness in her blood.
While she's missed out on opportunities due to the cancellation of the NNC and Australian Netball League/Championships during Covid times, the sharp shooter has plenty of talent.
Sophie Eastaugh, WA
Sophie Eastaugh in wing attack at the 2022 NNC. Picture: Netball WA.
Sophie Eastaugh is a natural athlete who has only recently returned to the sport after focusing on state athletics for several years. The agile goal attack was in WA's 12/U state team, and since returning has already made the 2021/22 Australian 19/U squad. Eastaugh is known for her incredible athletic ability and great court awareness.
Sussu Liai, Victoria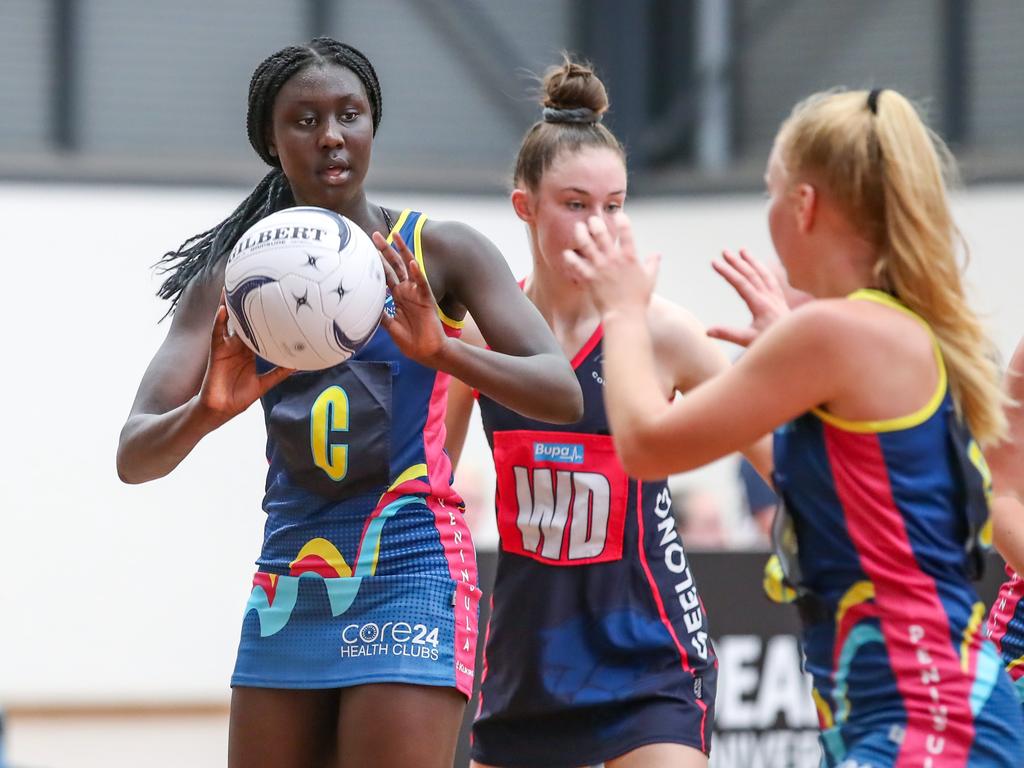 Sussu Liai playing for the Waves in the 2020 VNL. Picture: Grant Treeby/NV
Sussu Liai is another talented product of the Vixens Academy. She is a versatile asset to any team — playing both midcourt and defence. The Victorian athlete has already made the Australian U/19 Squad and will play for the Peninsula Waves in the 2022 Victorian Netball League.
Liai was part of the 19/U Victorian team to take home bronze at the NNC.
Tabitha Packer, SA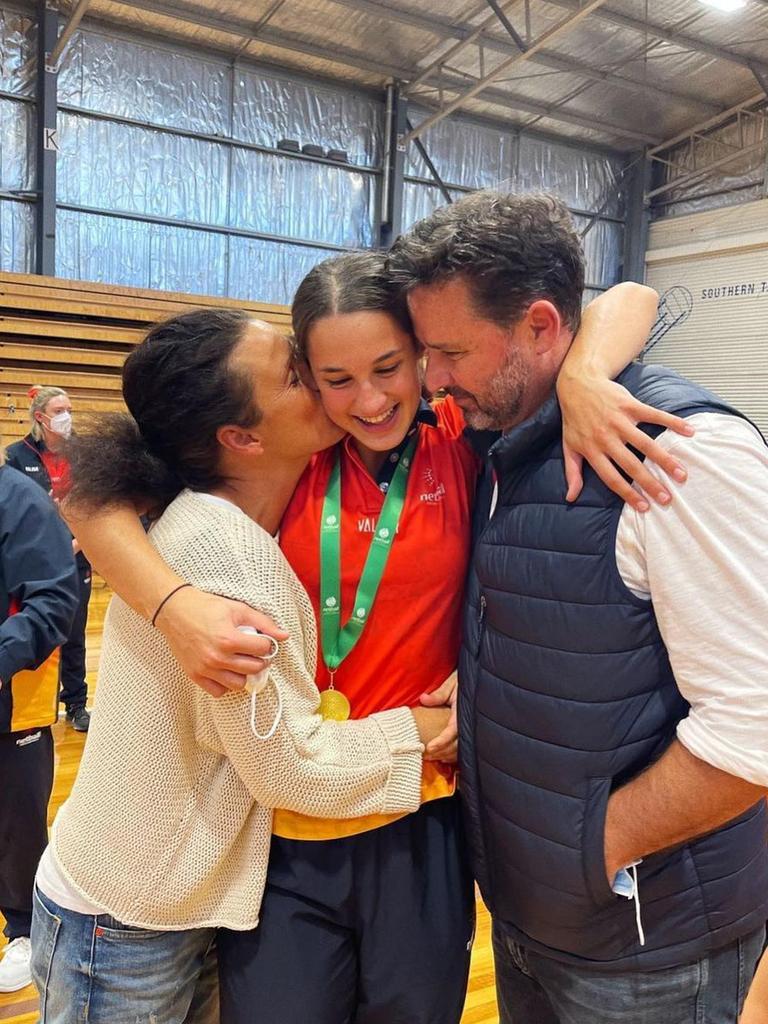 Tabitha Packer with her family after taking out the 17/U MVP of the tournament award at the 2022 NNC. Picture: Netball SA.
South Australia athlete Tabitha Packer was another star at the NNC, who took home the dual Championship MVP award for the 17/U division, alongside Grace Whyte.
Kaylin van Greunen, Queensland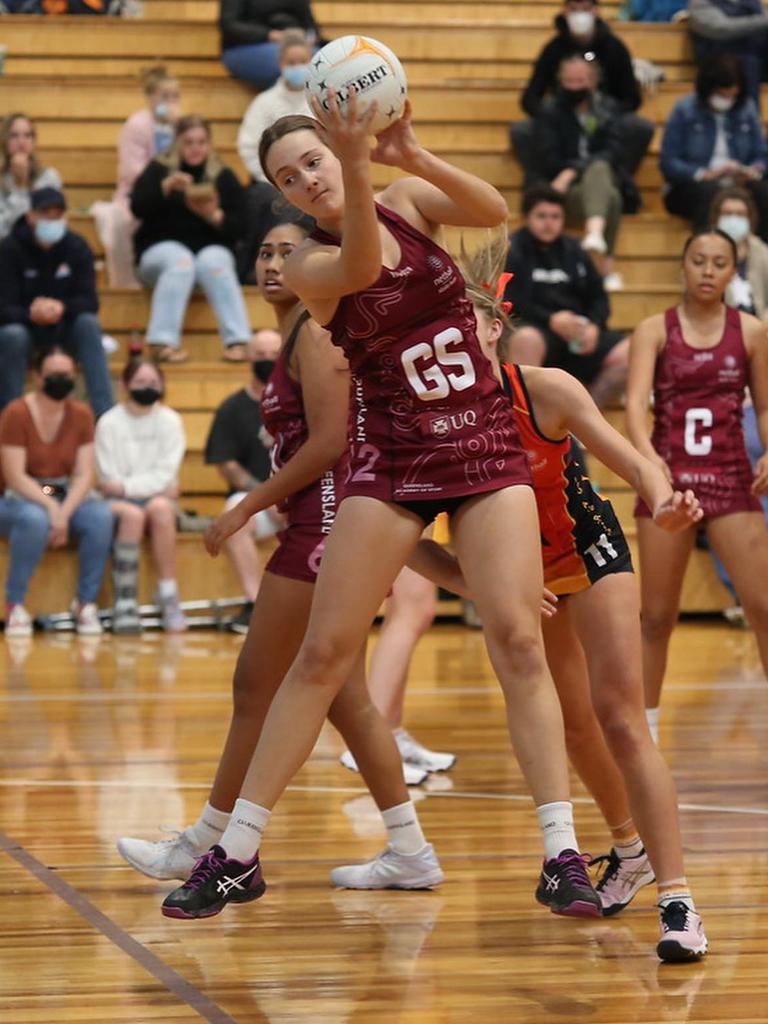 Kaylin van Greunen playing for Queensland at the 2022 NNC. Photo: Netball Australia.
Tall goal shooter van Greunen was a stand out for Queensland's 17/U team at the NNC, where they took home bronze. van Greunen is a regional athlete and plays for the Panthers in the Ruby Series. She was also a member of the 2021/22 Australian 17/U squad.
Tara Watson, Victoria
Victorian Institute of Sport and Vixens Academy member Tara Watson is one of Victoria's most up-and-coming netballers. Watson's talent has seen her elevated to the VIC state team and 2021/22 Australian 17/U Squad without even being in a VNL side – an incredibly rare achievement. The 16 year old will play for the North East Blaze in their 19/U team this year, and is sure to have another year of immense development.
Tyler Orr, SA
Tyler Orr in action for Matrics Netball Club. Picture: Supplied, Netball SA
Tyler Orr is a 2022 Thunderbirds training partner, and has been a powerhouse in the SA Premier League for years. Orr was a part of the 17/U SA that won back-to-back NNC gold in 2016 and 2017, and has seen made national squad selection many times. The strong midcourter was elevated as a Collingwood replacement player in 2020 during Covid, and in 2022 was made a Sport Australia Hall of Fame scholarship holder (tier three).
Zara Walters, Victoria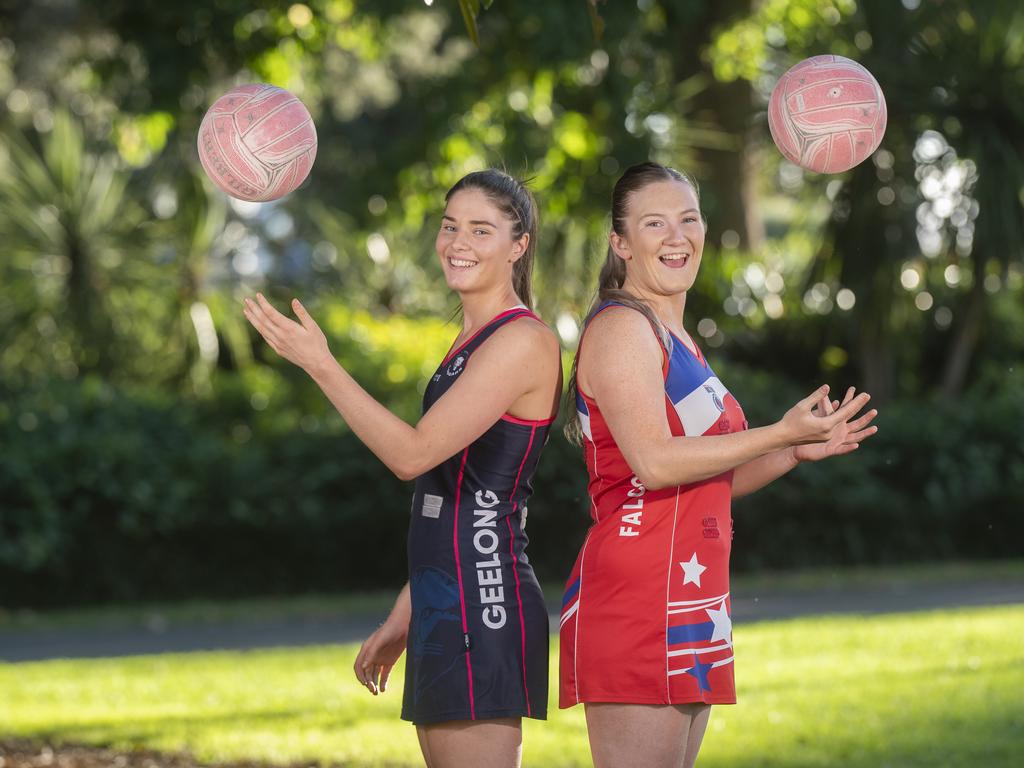 Zara Walters (left) and Maddie Gray before round two of the Victorian Netball League. Picture: Rob Leeson.
Zara Walters is shining in her first year of championships division in the VNL for the current ladder-leaders, the Geelong Cougars. The 2021/22 Australian 19/U Squad member was a part of the 19/U Victorian side who took home bronze at the NNC. Walters is a Victorian Institute of Sport product and will only get better with time.
Originally published as Grace Whyte, Ruby Bakewell Doran, Tabitha Packer, Sophie Fawns: Australia's rising netball stars named