Jordan De Goey: Collingwood star releases video after Bali antics
Jordan De Goey has apologised for the Bali antics which put his Collingwood career in jeopardy in a club-released video. Watch it here.
Collingwood superstar Jordan De Goey has apologised for the Bali antics which have jeopardised his career, saying he had to make changes in his life.
The troubled ball winner has kept the club in the dark on his movements this week with coach Craig McRae revealing he was unsure why De Goey had not fronted up to training.
De Goey also dodged his coach's message on Thursday.
But, after initially blaming the media for his troubles, De Goey filmed an apologetic one-minute club video on Friday in a bid to take full responsibility for his actions in a Bali nightclub.
Speaking for the first time since the trip, De Goey said he was "definitely sorry" for exposing a woman's breast and making sexual gestures on camera, and admitted he had "a lot of work" to do to avoid making similar mistakes in the future.
De Goey said he was struggling with the fall-out and was "not a perfect person".
"This week has obviously weighed pretty heavily on me and I thought I would just wait until I've got a clear mind to come out and apologise for my actions and my behaviours," De Goey said.
A screen shot from the Jordan De Goey video released by Collingwood.
"I don't condone that behaviour at all and I've got a lot of work (to do) moving forward.
"I have a lot of important women in my life and I understand you need to show respect for women at all times.
"I've got a responsibility to the wider community and I need to keep working towards that."
De Goey remains on personal leave and will miss Sunday's clash against GWS Giants at the MCG when one of his closest mates at the club, Brayden Maynard, will play his 150th match.
A clubs statement earlier this week revealed De Goey had been diagnosed with ADHD, but the jet goal kicker said that was "no excuse for my behaviour at all".
"I just wanted to let people know I was dealing with some stuff on the side throughout the first half of this year and also now," he said.
"It is something I am learning a lot about and I am not a perfect person, I don't think I ever will be. But hopefully I can make some changes so these mistakes don't happen again."
McRae admitted he was puzzled by De Goey's absence from training this week.
"I don't know. I don't know the detail of what has caused or triggered Jordan to be in a space to not come in," McRae said.
"(Psychologist) Jacqui Louder is working really closely with him and has done for a long time.
"We are looking for Jordy to step in (to the club).
"I'm here with open arms, I'm waiting to go give him a cuddle when he steps through our doors."
McRae said he was mindful of balancing the whole interests of the club and in particular, the women, indigenous people and others from diverse backgrounds at Collingwood.
But there was no response from De Goey when the coach reached out on Thursday.
"I'm trying to keep in contact with him daily and I did that yesterday (Thursday) and I didn't hear back from him," McRae said.
"Hopefully he is in a good space and I'll get an opportunity to speak to him today and see where that sits."
Asked if De Goey had been in a good space this week, McRae said "No I wouldn't have thought so."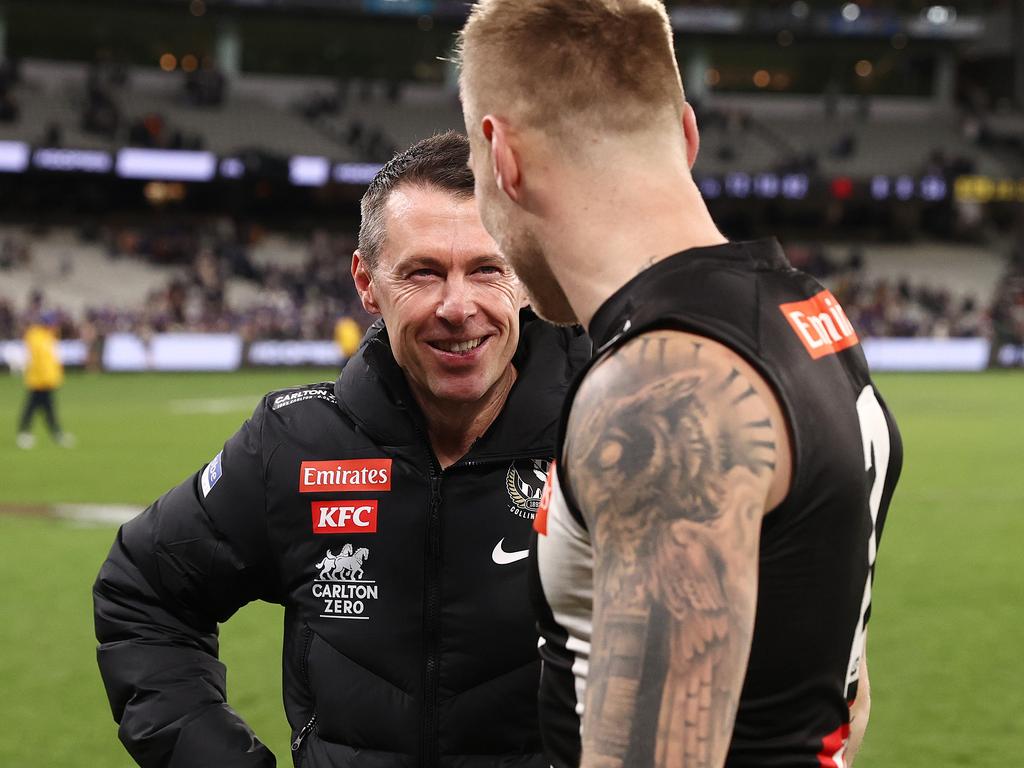 Craig McRae had limited contact with Jordan De Goey this week. Picture: Michael Klein
Legendary Collingwood and Brisbane coach Leigh Matthews spoke to the Pies before main training on Friday as they prepare for Sunday's clash against the Giants.
There has been criticism of Collingwood's punishment which included a suspended $25,000 fine but no suspension.
League chief executive Gillon McLachlan supported the Magpies' actions, saying the penalty was appropriate.
"We try and get all of the clubs to handle these issues themselves, their employees at the clubs," McLachlan said on 3AW.
"We had conversations with Collingwood, they have taken action and I know people have debated the extent of that.
"Contract talks are off the table, he has a $25,000 suspended fine, he's undergoing further counselling.
"There's a whole series of things that have been worked through and we support the actions they took.
"Collingwood have taken it seriously and we want clubs to take accountability for the behaviours of their employees and not for us to come in all the time.
"Sometimes we do, but we've accepted the sanctions and the actions that Collingwood took.
"Our position at the AFL is really clear. There is no place for anything other than behaviour across our community that has total respect for women."
Originally published as Jordan De Goey: Collingwood star releases video after Bali antics