NRL 2022: Selwyn Cobbo stars as Broncos demolish Knights in Newcastle
Ezra Mam was so nervous before his NRL debut he spent 30 minutes shaking. By the end of his first Broncos outing, it was the Knights who were nervous every time the rising star had the ball.
Mam admits he couldn't stop shaking for 30 minutes after being informed by coach Kevin Walters he would be Brisbane's starting halfback on Thursday night following the eleventh-hour withdrawal of injured skipper Adam Reynolds.
Just 24 hours earlier, Mam, who was named in Brisbane's extended 24-man squad, was in doubt himself after struggling to train with a corked thigh.
But when Reynolds succumbed to a groin problem on game day in Newcastle, Walters issued a playmaking SOS for Mam, who ran onto McDonald Jones Stadium with his leg heavily strapped.
Watch every game of NRL Live & Ad-Break Free In Play on Kayo. New to Kayo? Try 14-Days Free Now >
Wearing jersey No.21, the 19-year-old produced an ultra-cool display, having a hand in two tries and combining well with halves partner Tyson Gamble to orchestrate Brisbane's 36-12 flogging of the Knights.
"It all happened so quickly, I didn't know I was playing until about 1 o'clock (on game day)," said Mam in the wake of Brisbane's six-try rout.
"I didn't think I was a chance of playing. I couldn't train the day before because I had a cork to my quad, but I did a small fitness run on game day and got through that.
"Then 'Kevvie' told me that 'Reyno' was no good and he wanted me to make my debut.
"To get my debut jersey from Reyno is something I will never forget.
"I was so nervous. For about half an hour, my hands were shaking."
Mam did well to mask his nerves. The Indigenous playmaker produced a 26th-minute offload for Billy Walters' try and he looked more comfortable after the break, troubling Newcastle with his speed and flashy footwork.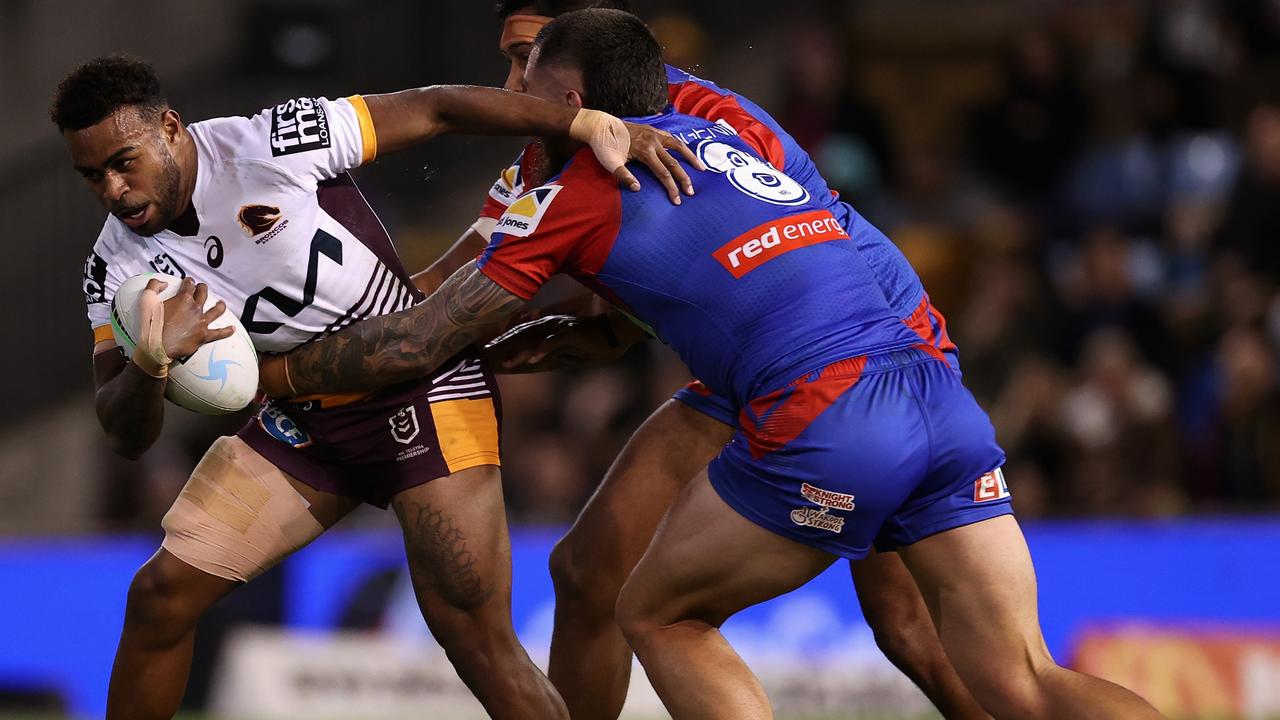 Ezra Mam tries to escape the clutches of two Knights.
With Reynolds watching on, Mam then helped plunge the dagger, deploying a clever kick for Corey Oates' 71st-minute try which buried the Knights at 26-12.
"At training, I'm often mucking around kicking off both feet and I guess that practice paid off," Mam said.
"It was pretty fast at the start. Coming into the sheds at half-time, Kevvie said take a deep breath, settle yourself down and you will be fine.
"I felt more comfortable running back out in the second half.
"Once I got into the game, it slowed down for me a bit and I started feeling like I had more time out there, so it was pleasing to get through the game."
The Broncos view the electric Mam as a 10-year NRL star and last season's Queensland Cup rookie-of-the-year is keen to clinch the contentious No.6 jumper once worn by Darren Lockyer and Wally Lewis.
"One of my goals eventually is to get that No.6 jumper and be a regular first grader," he said.
"I still have a long way to go. I will keep playing well and hopefully I can break into the team consistently. If I have to go back to Queensland Cup for the time being, I'm happy with that.
"It was a great way to celebrate my debut. This was a good first step."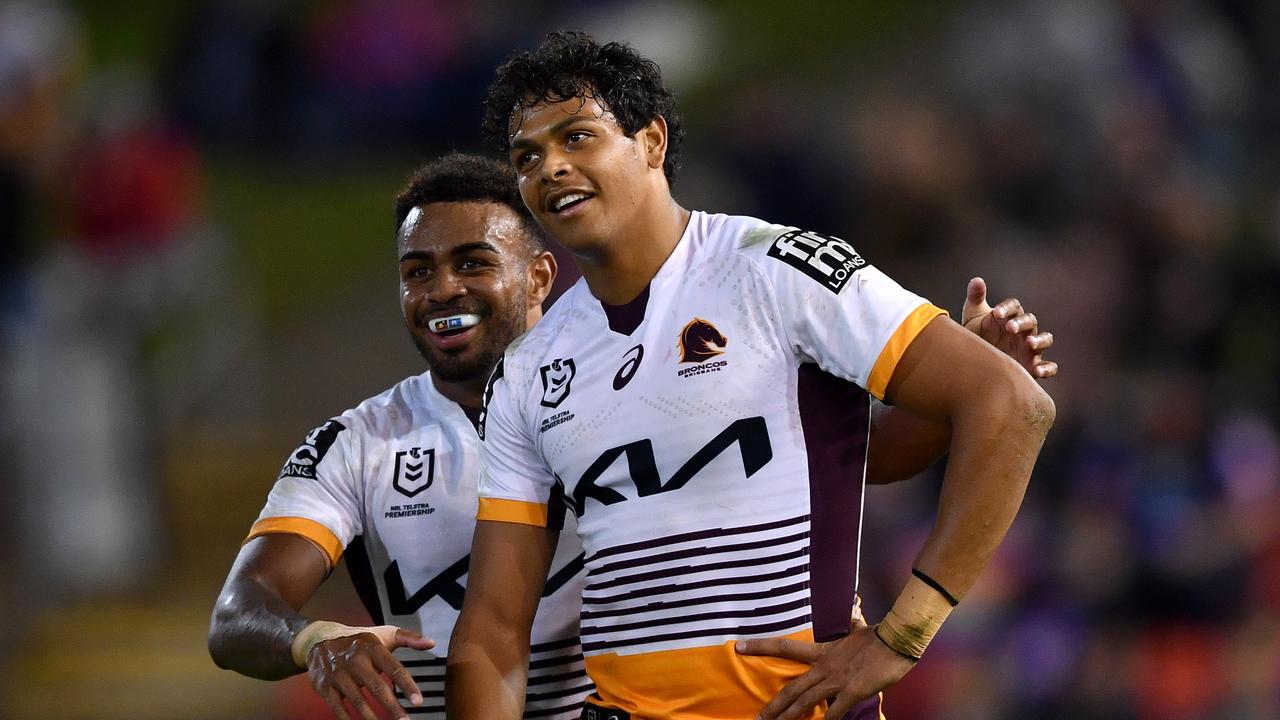 Ezra Mam and Selwyn Cobbo.
IMMORTAL'S COBBO WORD OF WARNING FOR BRONCOS
Newcastle's NRL Immortal Andrew Johns urged Brisbane bosses to make Selwyn Cobbo a Bronco for life after the teenager tore the Knights apart in a six-try belting at McDonald Jones Stadium.
In just his 18th NRL game, Cobbo formally arrived as the NRL's newest backline superstar with a barnstorming display that has put the 19-year-old in the frame for a Queensland debut for Origin I on June 8.
The Cherbourg ace has been compared to Latrell Mitchell and Greg Inglis and he looked every bit as classy as the Indigenous duo as he amassed 223 metres, four line breaks, two tries and 10 tackle busts in a brutal winger's display.
Watch every game of NRL Live & Ad-Break Free In Play on Kayo. New to Kayo? Try 14-Days Free Now >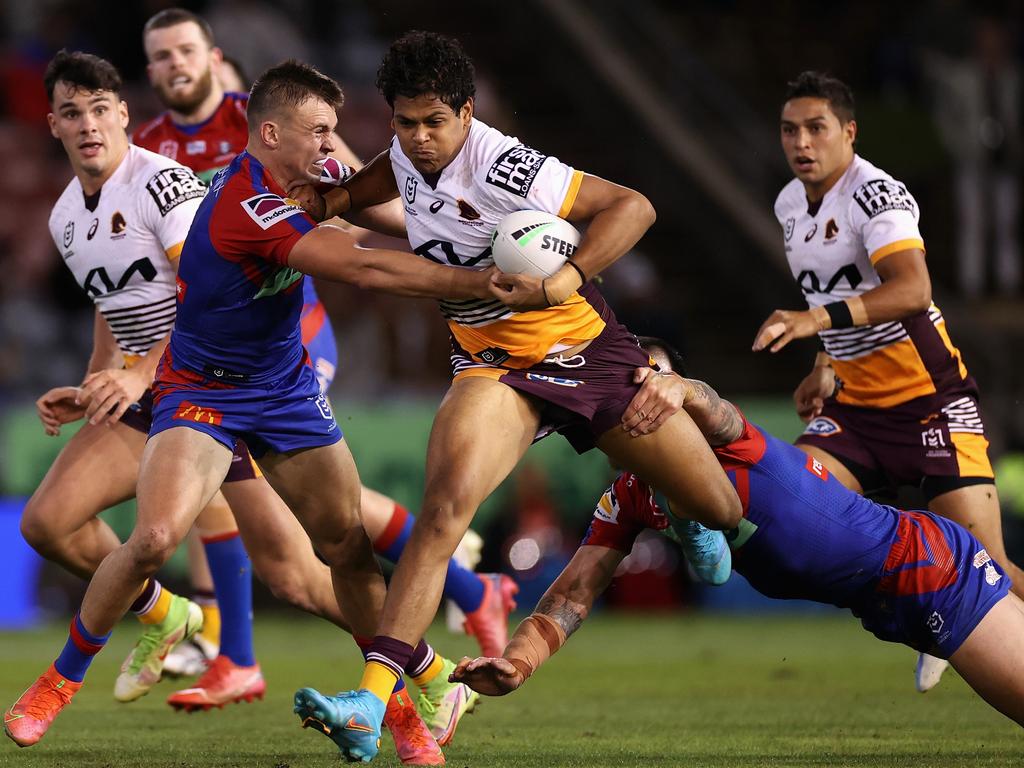 The Knights could not contain Selwyn Cobbo on Thursday night. Picture: Cameron Spencer/Getty Images
The Broncos are currently in talks to extend Cobbo, who is off-contract at the end of 2023, and 'Joey' Johns says Brisbane hierarchy would be foolish not to lock up the icy-cool whiz-kid for the next decade.
"A little tip for Broncos hierarchy … never let Selwyn Cobbo come off-contract," a stunned Johns declared on Channel 9 after watching the Broncos rookie torch the Knights in a 36-12 cakewalk.
"You don't want him hitting the open market.
"He is still so young and getting by on just pure talent.
"We are watching absolute greatness for the next 10 to 12 years.
"He can do stuff that only a couple of people in the world of rugby league can do."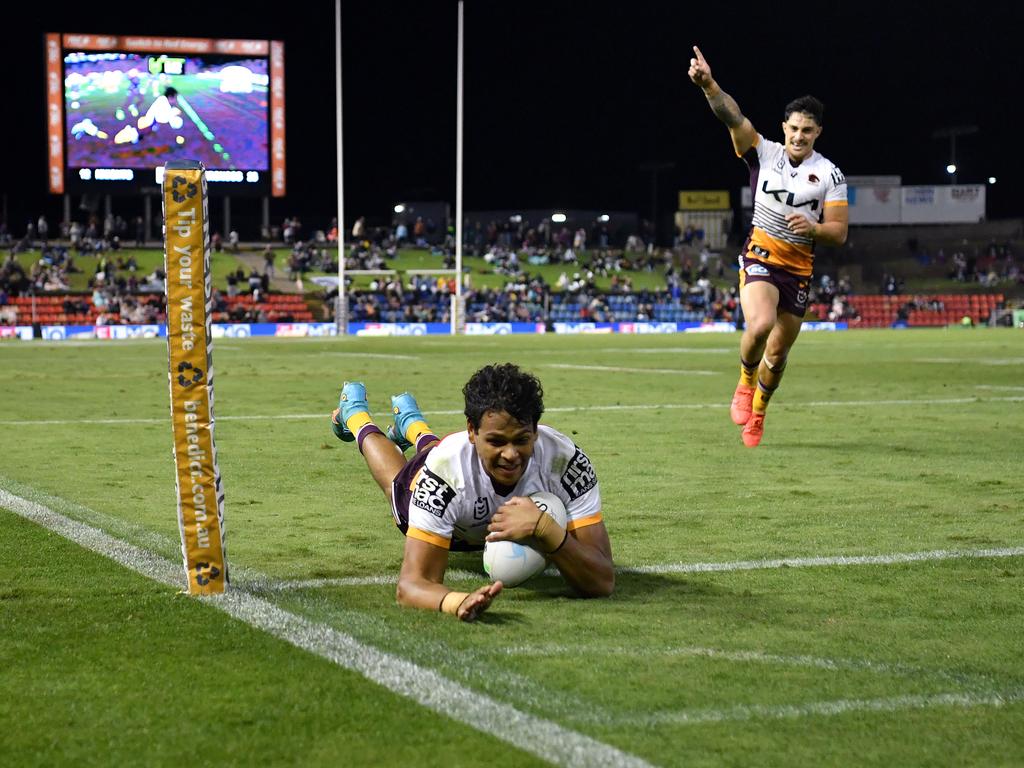 It is scary to think how dominant Cobbo can become. Just 12 months ago, he was an unknown in the Queensland Cup with feeder-club Wynnum Manly and has had just one full pre-season of weights training with the Broncos.
Rookie Queensland coach Billy Slater will select his Maroons team for Origin I on Sunday week. Xavier Coates, Kyle Feldt and Corey Oates are in the frame for wing berths, but Cobbo has a special magic that is hard to ignore.
Broncos coach Kevin Walters believes Cobbo wouldn't be daunted by an Origin baptism if he was blooded against the Blues.
"I feel that the bigger the occasion, the more involved he gets and the better he goes," Walters said.
"Selwyn is getting better all the time and when you play that well continually, bigger things happen for you.
"Selwyn has a great sense of the game. A lot of great Indigenous players have that great skill and feel for the game and it's wrapped up in Selwyn's body … he is a wonderful young player."
The Knights hammering temporarily moved the Broncos into the top four. After two dismal seasons, Brisbane are back in business as a finals contender with Walters lauding the defensive attitude of his troops that has underpinned the Broncos' resurgence.
"It feels good, I am particularly happy for the playing group," he said.
"There have been some tough days and tough years, but we are getting in front of the curve now.
"We started a bit slowly, but in the second half the boys came together and finished off well."
STAGGS 'READY' FOR ORIGIN FURNACE
-Robert Craddock
Broncos centre Kotoni Staggs has declared "I'm ready'' for State of Origin and a key improvement in his game could seal his first blue jersey.
Staggs has unveiled the striking Broncos Indigenous jersey he helped to design and there is a chance it won't be the only new strip he will wear over the next few weeks.
While Staggs will wear the Indigenous strip in the Broncos next home game against the Titans on May 27 he is also firmly in contention to represent NSW for the first time in the Origin opener in Sydney on June 8.
"If that opportunity comes I'll take with both hands – I think I'm ready and feel it'd be a challenge,'' said Staggs, who made his NRL debut for the Broncos four years ago this week.
The powerhouse centre may be best known for his fearless running and tackle-fighting ability but Blues selectors will have noted his defensive standards have increased in recent weeks as part of Kevin Walters' push for more collective resolve.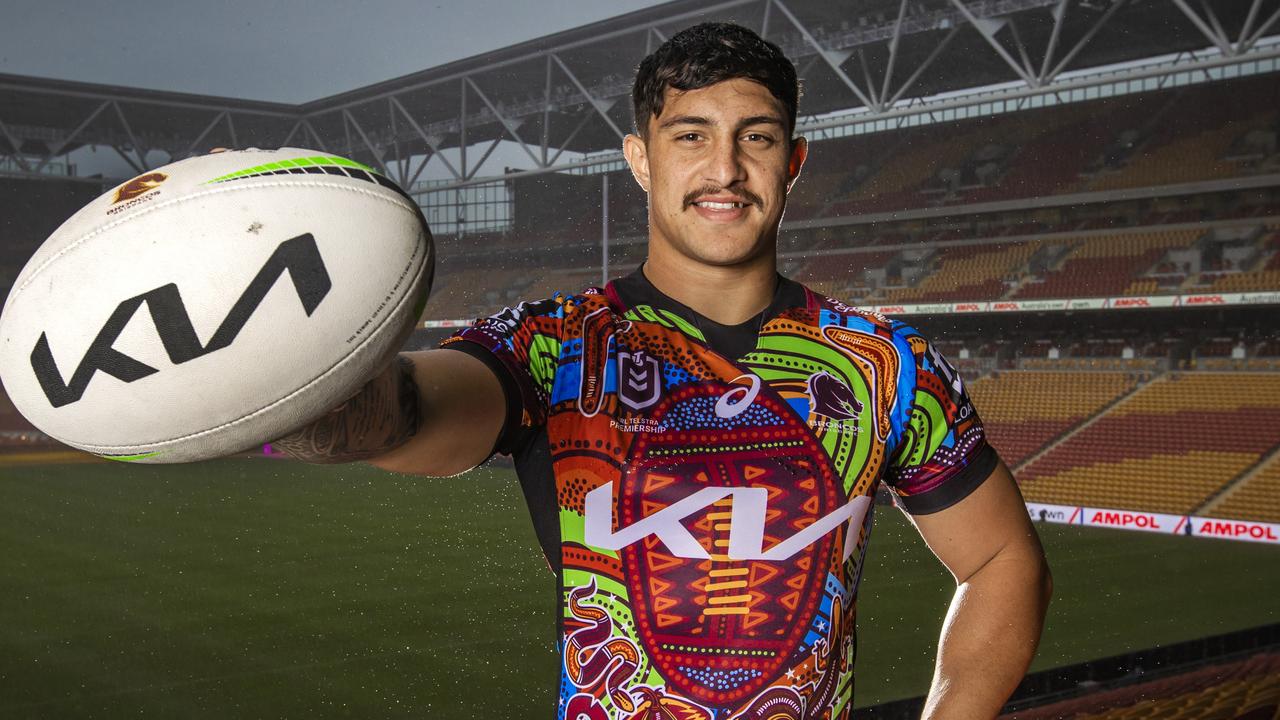 Kotomi Staggs unveils the Broncos Indigenous jersey for Round 12 that he helped design. Picture: Nigel Hallett.
It is this improvement which could see him chosen as Tom Trbojevic's centre partner in a tight duel with Panthers Steve Crighton.
Staggs and Albert Kelly briefed designer Casey Coolwell-Fisher about the Indigenous strip called "Shared Dreaming'' which represents people from all different nations finding one another through navigation of the stars.
The animals represent Aboriginal and Torres Strait Island players and Staggs, a proud Wiradjuri man, has his totem – the goanna – on the jersey.
"Albert and I got the opportunity to be a part of this jersey this year and it was and unreal feeling and we were very grateful.
"It means a lot to me to be able to put my family in there and they can look at that jersey and know that they're part of it as well.
"I come from a small town Wellington in NSW which has a culture I love and it is good to be able to give back to them in what I am doing. We wanted to represent the Aboriginal and Torres Strait Islanders which is why we put the greens and blues in to give them a shout out as well.''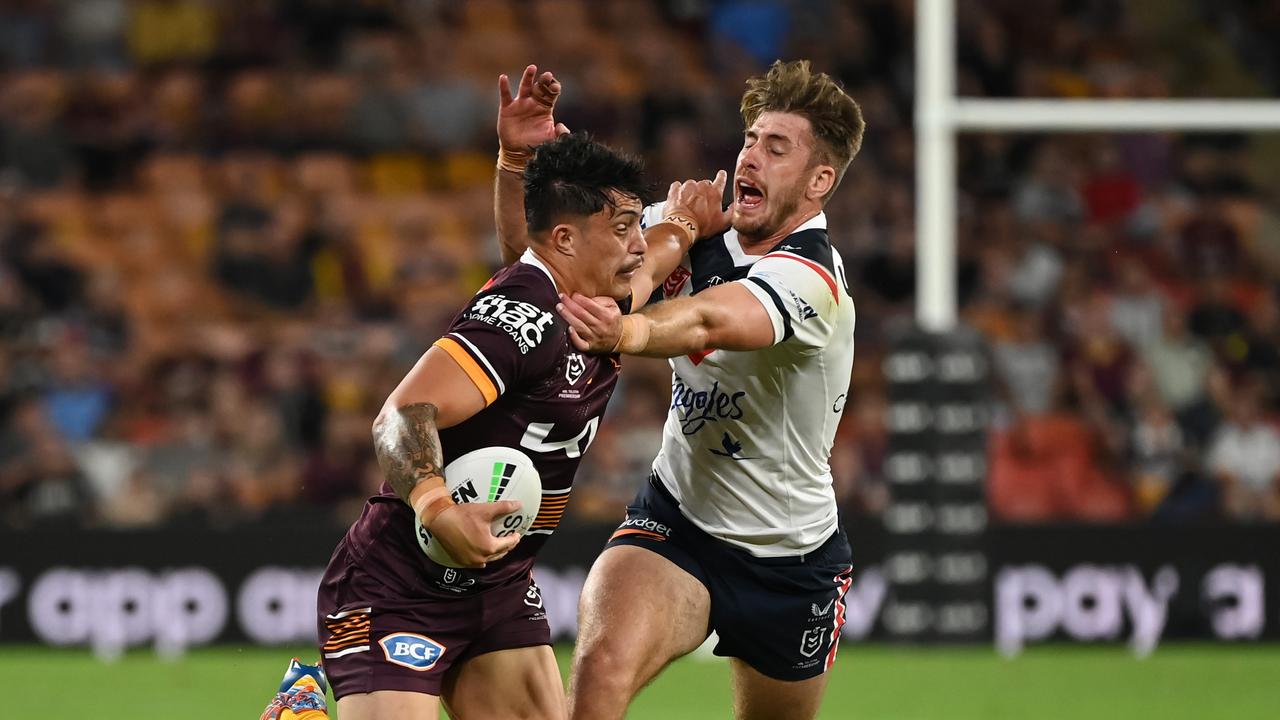 Kotoni Staggs is well known for his vicious fend, but his defence has also improved in 2022. Picture: NRL Photos.
Staggs admitted a painstaking rehabilitation from major knee surgery made him slightly cautious on his return to the playing field this year but the shackles are now off.
"It's a big injury and it took me 11 months to be back on the paddock. It's a very long, steady road.
"The game is getting a little faster these days and so I didn't really want to go flying in there straight away. But now just getting the ball and running hard and being able to step, quick play the balls, kick and chases and stuff like that. You feel confident.''
Wing sensation Selwyn Cobbo is likely to shift to fullback for Thursday's game against Newcastle due to Te Maire Martin having a hip complaint with Jordan Pereira included on the wing.
KEVVIE TAKES AIM AT BENNETT OVER BRONCOS YOUNG GUNS
—Peter Badel
Brisbane coach Kevin Walters has taken the fight to Wayne Bennett, declaring the Broncos will stave off a Dolphins poaching threat for young guns Herbie Farnworth and Selwyn Cobbo.
Farnworth and Cobbo are two of the hottest backline prospects in the NRL and again underlined their potential in Brisbane's 38-0 Magic Round massacre of Manly at Suncorp Stadium last Friday night.
The dynamic duo have attracted interest from a raft of NRL rivals headlined by the Dolphins, with super coach Bennett upping the ante last week by meeting the off-contract Farnworth for talks in the lead-up to the Sea Eagles showdown.
Cobbo, meanwhile, is a free agent for 2024, with the Broncos ramping-up extension talks last to week to block a poaching bid from the Dolphins, who formally expressed interest in the 19-year-old wing sensation in pre-season.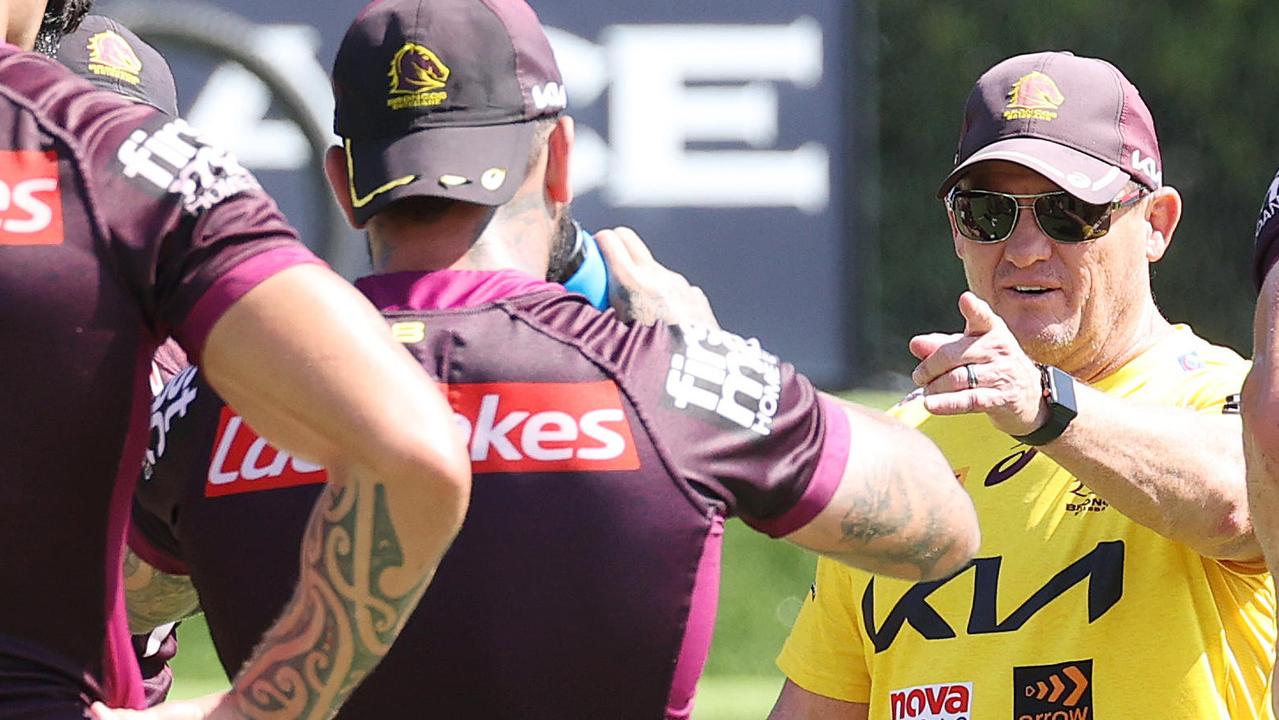 Kevin Walters is confident of retaining his stars at Red Hill. Picture: Liam Kidston
The Broncos have lost a number of potential superstars in recent years, including David Fifita (Titans), Reece Walsh (Warriors) and Sam Walker (Roosters), but Walters believes Brisbane's form revival will keep Farnworth and Cobbo at Red Hill.
"I'm confident we will keep those guys, they can see we are building something special here," Walters said.
"It does gets tricky when you have a number of guys off-contract and you have to get your balance right with the salary cap.
"But in the case of Herbie, he has cut his teeth here.
"It has been tough going for him coming into first grade, but like the rest of us, Herbie can see good times ahead at the Broncos so we want to make sure we keep developing him as a player because he is a special one for us."
Farnworth played his 50th NRL game in Brisbane's thumping Manly win and the British flyer has been the club's most consistent player in the opening 10 rounds this season with his pace, footwork and power running in the centres.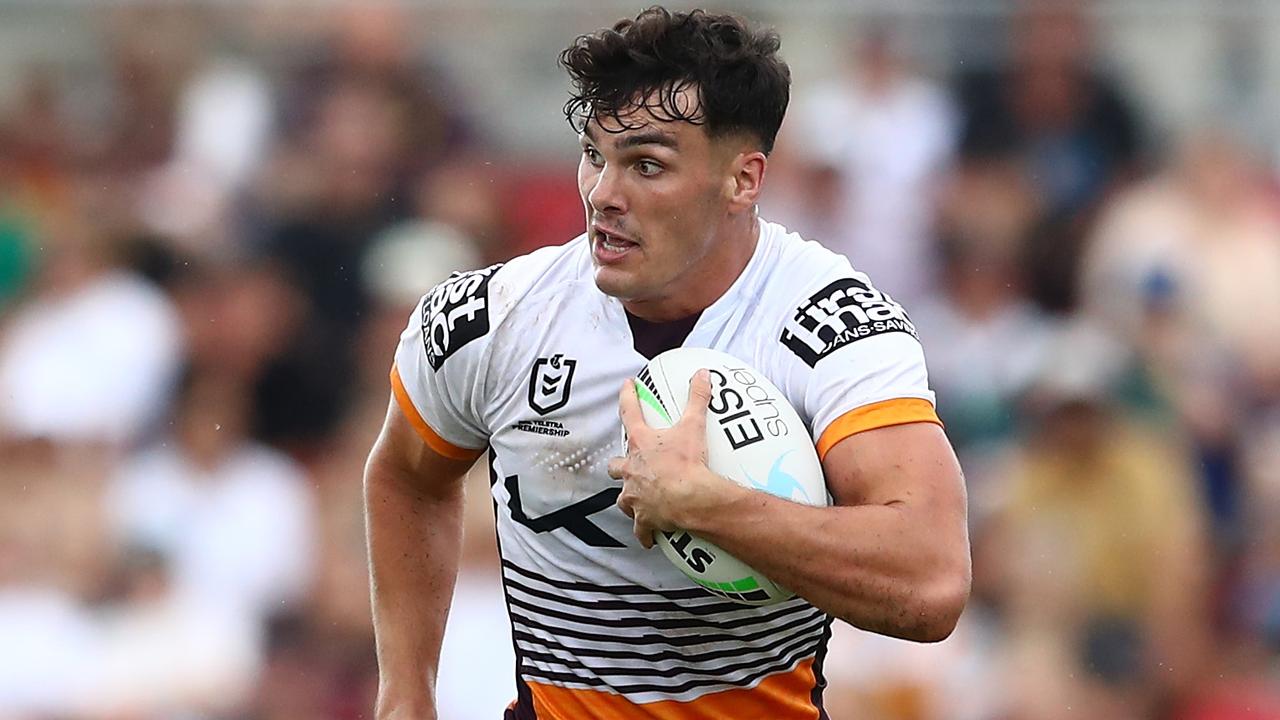 In-demand centre Herbie Farnworth is close to finalising his contract plans. Picture: Chris Hyde/Getty
The Dolphins have the funds to outbid the Broncos in a bidding war, but the 22-year-old has made it clear money is not his sole motivation. Farnworth wants to play at a club that can aid his personal development by being a finals and title contender and the Broncos are getting results at the perfect time.
Farnworth confirmed he is reaching the pointy end of negotiations with a final call expected on his future within a fortnight.
"I don't think I will make a call this week, but it's definitely coming to these next couple of weeks," he said.
"I'm not going to rush things. When the moment is right I will make the call. When it suits both parties, we'll come to an agreement.
"It would be awesome to play finals football. I haven't played finals since I've come into the NRL so I'd love to experience it.
"Being the big club that we are, the Broncos should be in there every year, but we're not getting too carried away. The Knights are coming off a win so it will be a tough game next week away from home."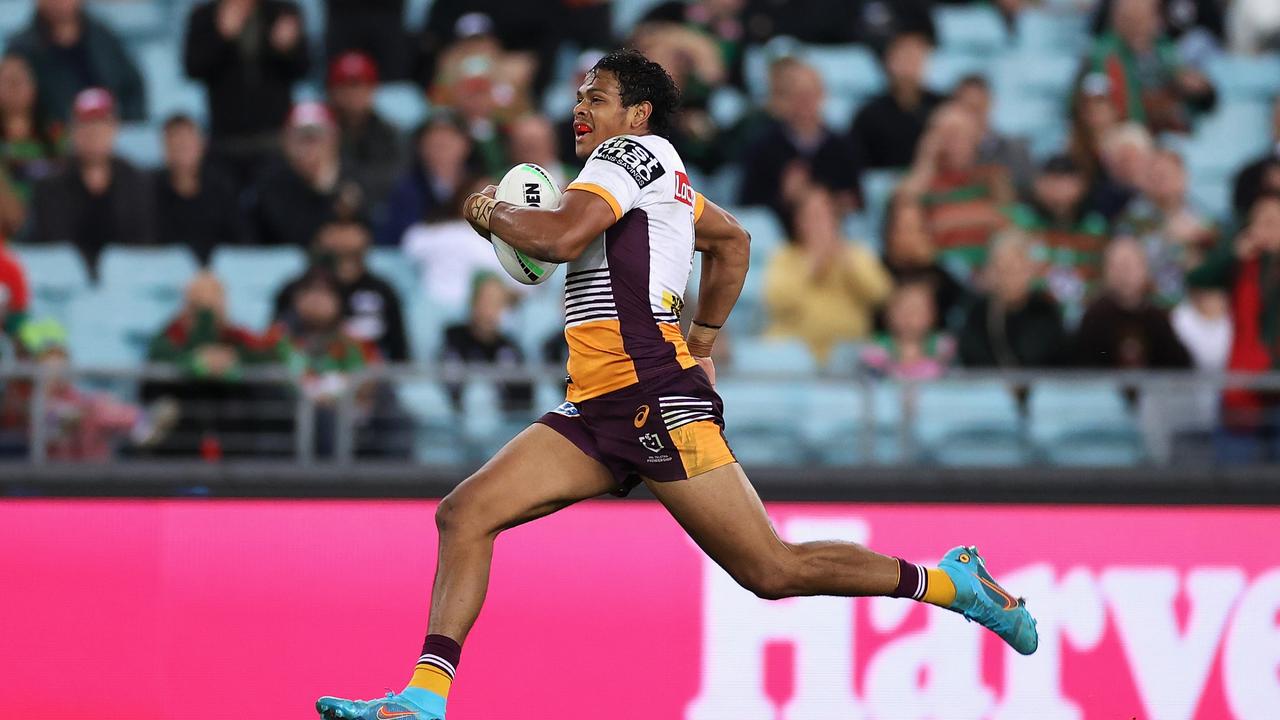 Selwyn Cobbo's stocks are soaring. Picture: Cameron Spencer/Getty
Cobbo is contracted to the Broncos for another 18 months and if Walters has his way, the Indigenous ace will ink a Brisbane upgrade soon before the Dolphins get a chance to strike.
"Selwyn looks good in Broncos colours and we intend keeping him here for many years," he said.
"I want to our guys all connected together here. Life is not all about money, it does help, but it's not the only factor.
"The environment they are playing in and creating themselves is a huge one for us and we feel we are on the right pathway as far as that goes.
"Now it's just getting consistent performances over the next five or six weeks and seeing where that takes us."
Originally published as NRL 2022: Selwyn Cobbo stars as Broncos demolish Knights in Newcastle