Matildas debutant Taylor Ray ruptures her ACL as injury crisis worsens
The Matildas injury crisis is deepening after the team's worst fears for debutant Taylor Ray were confirmed.
Matildas rookie midfielder Taylor Ray has ruptured her ACL in a training session following her debut match for the national squad earlier this week - joining stars Ellie Carpenter and Chloe Logarzo on the long rehab road.
Ray, 21, who plays for Sydney FC, was one of five debutants named in the extended Matildas squad for the clashes with world-class outfit Spain and Portugal.
The midfielder got her first cap in the 7-0 loss to Spain being called on to replaced Katrina Gorry in the 75th minute.
She played the remainder of the match but wasn't named on the team sheet for the Portugal game.
A Football Australia spokeswoman confirmed on Thursday afternoon Ray had sustained the injury during a training session after the game with Spain.
Ray has departed the Matildas' camp early and is on her way back to Australia.
Football Australia and yet to reveal the full extent of the injury or when Ray is likely to have surgery.
We're sad to announce that a recent scan has revealed that Taylor Ray has ruptured her ACL.

We are all behind you, Taylor and know you've got this. 💚💛

Can't wait to see you back in the Green & Gold.#WeAreMatildaspic.twitter.com/ekl1aTNf7d

— CommBank Matildas (@TheMatildas) June 29, 2022
"We are all behind you Taylor and know you've got this," the social media post read.
"Can't wait to see you back in the green and gold."
Football Australia are yet to confirm if the injury was sustained in the match.
The midfielder is the third Matilda relegated to the sideline with an ACL tear with Ellie Carpenter tearing hers last month in the Champions League final and Chloe Logarzo rupturing hers in a friendly against Ireland in September 2021.
It is not the first time Ray has been ruled out of the Matildas squad. She missed the opportunity to travel to Dubai for a training camp in January, ahead of the 2022 Women's Asian Cup, after contracting Covid-19.
UNDERSTAFFED MATILDAS BRACE FOR SECOND PORTUGAL CLASH
Matildas coach Tony Gustavsson has conceded depth is a major issue as Australia prepare for another likely one-sided match with Portugal with more players from the already understaffed squad set to miss Wednesday's friendly.
The young and mostly inexperienced women's team have had little time to lick their wounds between Sunday's 7-0 loss to Spain and Wednesday morning's clash with Portugal.
Going into battle without rested players Sam Kerr, Hayley Raso, Caitlin Foord, Kyah Simon, Steph Catley and injured star Ellie Kerr forced Gustavsson to call on a squad featuring six debutants, four of which play in the NPL competition.
Gustavsson said he was left shocked by how many people had been surprised by Sunday's result.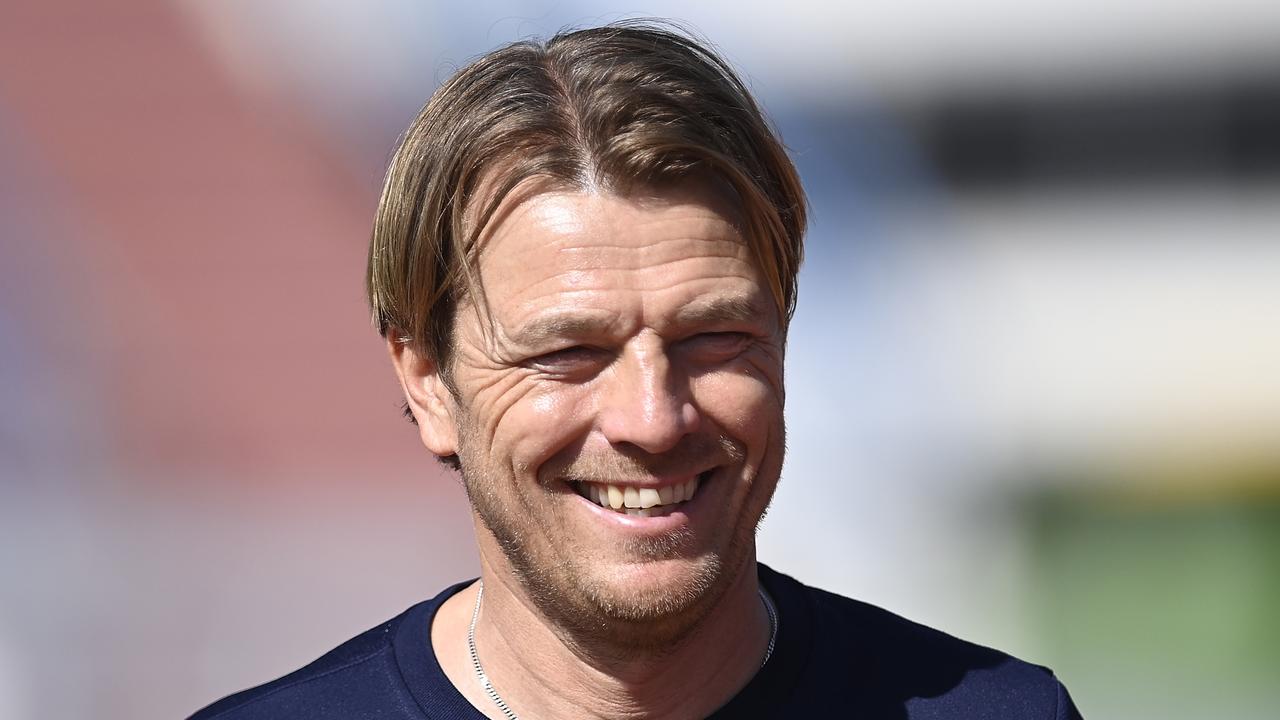 Matildas coach Tony Gustavsson. Photo by Ian Hitchcock/Getty Images
"If you follow the women's game for a long time now and see where Spain are at and what they have done the last two year's with this international team and the success they have had," Gustavsson said.
"You look at their scorelines and what they have done and then look at the team we are bringing. I'm actually surprised that people are surprised (by the result).
"Because that is where we are and we need to be okay with that and to see that and identify that and keep investing and believing and wanting to improve."
Gustavsson fully accepted it was a big ask to expect players competing in the NPL – the tier below the A-League's women's competition, to be able to match it with international superstars.
Gustavsson said the development pathways needed to be improved.
"A senior national team should not work on developing players at the same time as trying to win games," Gustavsson said.
"The senior Matildas should be the tip of the iceberg and everything that happens underneath in clubland and other development pathways should make them ready for international football, and that is where we need to invest."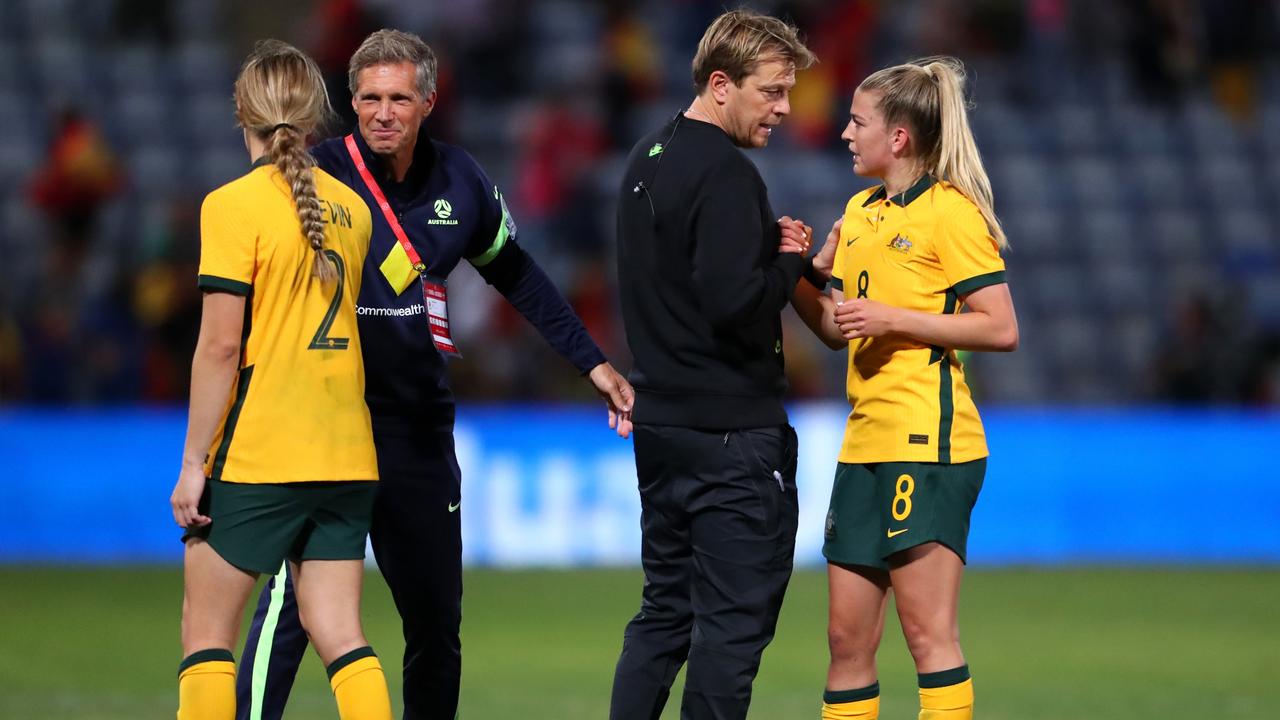 Tony Gustavsson consoles Charlotte Grant of Australia after their sides defeat during the Women's International Friendly match between Spain and Australia at Estadio Nuevo Colombino on June 25, 2022 in Huelva, Spain. Photo by Fran Santiago/Getty Images
While sitting much further down the rankings list than World No. 7 team Spain Gustavsson said the mostly unblooded Matildas squad would still find the clash with Portugal a challenge.
Goalkeeper Teagan Micah, who stopped a barrage of shots in the first half against Spain, before a near-unstoppable shot flew into the top corner in the 44th minute, has recovered from her ankle injury sustained in the game but Gustavsson remained tight-lipped on who would be named in the starting 11.
"I don't want to go into details on who is available or not … but we have a couple of question marks for tomorrow's game," Gustavsson said.
"I want to get updates from sports medicine and sports scientist teams tomorrow but we might be forced to make a couple of changes in the line-up based on player availability."
The Matildas last played Portugal in 2018 – the two-match series finished in a draw and a loss for the Australian's.
But Gustavsson said it was a very different Matildas team.
"This is going to be a tough challenge and me as a coach and the players need to be humbled to understand that we need to be really, really prepared to play this team," he said.
"Secondly, they play very different to Spain. They have a different formation, different priorities but they are also a team that is peaking for the Euros. But we might see a different formation from us.
"Maybe some more tactical flexibility that we've worked on but it will be based on player availability."
Gustavsson said he had held a team meeting after the Spain loss to encourage players, particularly the younger ones, to focus on the positives from the match.
"This is perfect to get this experience to know what it is like and what it takes and to challenge yourself to be ready next time you are called into the Matildas," Gustavsson said.
Matildas will play Portugal at 6am (AEST) on Wednesday.
Floodgates open as Matildas thumped in ugly loss
Matildas disciplined defence and some brave keeping from Tegan Micah managed to hold out the Spanish onslaught for 44 minutes before a brilliant goal from the hosts signalled the start of a frenzy.
The Australians, missing their star players, made it clear their focus was on minimising the damage the World No.7 side, which included Ballon d'Or winner Alexia Putellas, could inflict lining up with a five-strong wall of defenders behind their four midfielders.
It worked - thanks to Micah making some exceptional saves, for 44 minutes - then the Matildas brick wall defence collapsed - giving Spain free rein at the net, with the match finishing 7-0.
Australia managed just four shots to Spain's 23 in the 90 minute match.
The Matildas were unable to stop Spain after halftime. Picture: Fran Santiago/Getty Images
The first goal, which came off the left boot of Aitana Bonmati, was simply delightful - soaring into the top of the net well out of reach of a diving Micah.
Matildas regained their composure for the remaining few minutes of the half, with several extra minutes added to make up for the time lost while Micah was treated for an ankle injury on field.
Charlotte Grant, called in to the squad to replace injured right-back Ellie Carpenter, stepped up to the occasion and was one of the Matilda's shining lights in the back line.
Grant, 20, playing just her sixth game in the green and gold, said matching Spain's tempo was a challenge.
"It was a really difficult match tonight, we knew coming into this match that Spain is one of the best teams in the world and that makes for a high paced game and very technical," Grant said after the match.
"It was a great experience for us and one we are going to learn a lot from."
Carpenter wasn't the only big name missing from the squad with Sam Kerr, Steph Catley, Kyah Simon and Caitlin Foord rested for the friendly.
Clare Polkinghorne, the most experienced on the team with 143 caps, said they always knew it would be a challenge coming here.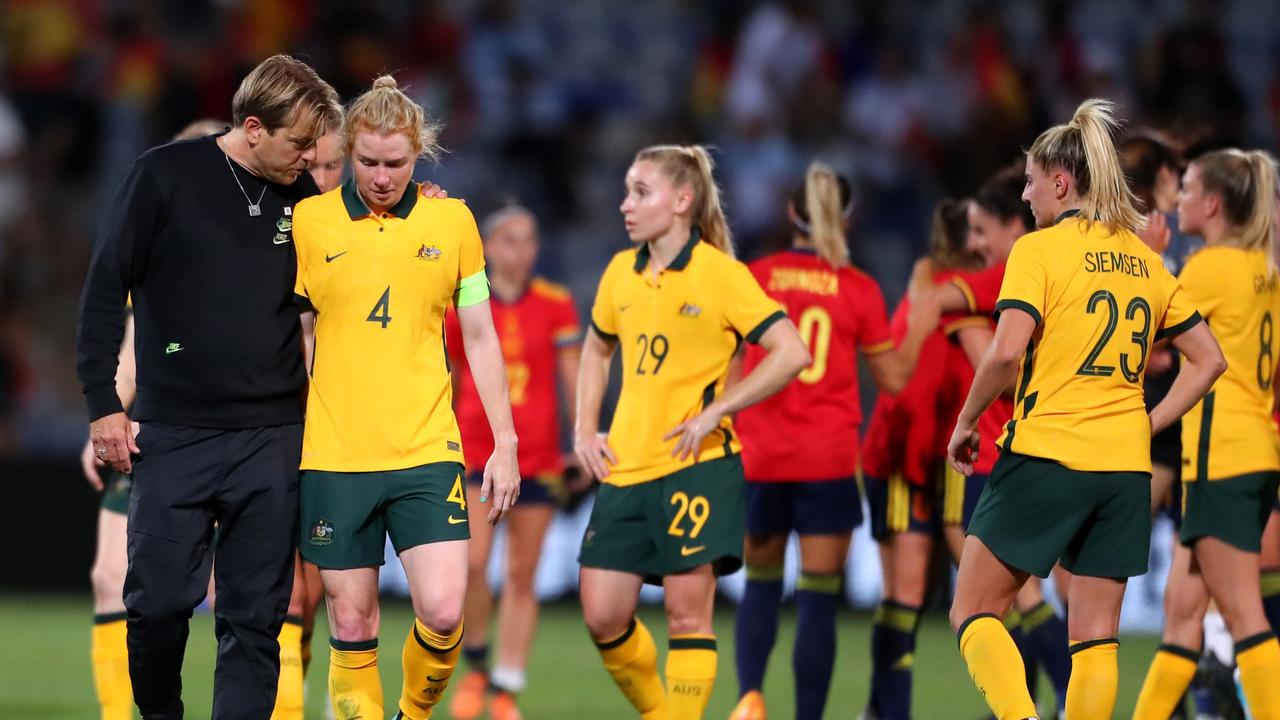 Coach Tony Gustavsson consoles Clare Polkinghorne post-game. Picture: Fran Santiago/Getty Images
"The two teams are at much different points in time with Spain in its final preparations for the Euros and we are a year out from the World Cup," Polkinghorne said.
Coach Tony Gustavsson made just two changes at the break swapping Mackenzie Arnold for the injured Micah and replacing striker Emily Gielnik with rising star Princess Ibini-Isei.
But with the focus firmly stuck on defence and Matildas rarely having control of the ball she had little chance to show her creative flair.
Matildas were on the back foot from the restart with Spain taking just two minutes to find the net for the second time.
Spain scored twice more in the following 10 minutes, with two impressive headers.
Despite the growing scoreline, the Matildas stuck to their original game plan but it didn't build on the two goal scoring opportunities they had in the first half.
Down 4-0, Gustavsson made several substitutions including bringing debutant Taylor Ray into the midfield.
Australia turned the ball over in the midfield and Spain didn't squander the opportunity, wasting no time to find Lucia Garcia who netted her second for the night.
Spain didn't let up despite the clock winding down, with Irene Guerrero, first scoring an uncontested header and then a stunning goal from outside the 18-yard box one minute later - putting Spain ahead 7-0.
Matildas will next play Portugal on Wednesday at 6am (AEST).
Originally published as Matildas debutant Taylor Ray ruptures her ACL as injury crisis worsens