NBA Draft: Aussie star Dyson Daniels joins New Orleans Pelicans with pick eight as metallic suit steals the show
Instant millionaire and 12 months ahead of schedule, Australia's latest top-10 NBA draft pick has the world at his feet, but you might be surprised who he wants to take on the most.
Bendigo's Dyson Daniels won't be handed the starting playmaking keys like fellow Aussie rookie Josh Giddey at the OKC Thunder, but the New Orleans Pelicans are embracing an "NBA ready defender" who has already been nicknamed "Crocodile Dundee" by the Pelicans faithful.
Daniels will link with rising superstar Zion Williamson after the Pelicans selected the emerging Boomers guard with the eighth pick in the 2022 NBA draft.
The 19-year-old's journey from regional Victoria to the world's best basketball league is complete, capping a stunning rise from schoolboy to megastar 12 months ahead of schedule.
If the original plan had played out, Daniels would be sitting at Canberra's Australian Institute of Sport academy watching the draft unfold from Down Under dreaming of his moment in 2023.
Stream Over 50 Sports Live & On-Demand with Kayo. New to Kayo? Try 14-Days Free Now >
Instead, Daniels has signed with the Pelicans as the 32nd Australian to make the NBA.
He will join New Orleans stars like Williamson, Brandon Ingram and CJ McCollum.
The Pelicans made the playoffs last season, but lost to the Phoenix Suns in the first round.
Daniels, 19, is now an instant millionaire, taking home an annual salary of at least $A4.4 million.
Daniels stood out on the big stage at the Barclays Centre in Brooklyn in his metallic silver suit, matching watch, and black tie.
The gun guard was still in disbelief when he spoke to the media after his selection.
"When I heard my name called, my heart just dropped," Daniels said.
"I'm just so happy. To be a Pelican … there's no better place.
"I can't wait to get it to work — this is crazy."
Daniels' shiny suit stole the show, with the flash style attracting praise from multiple people inside the Barclays Centre.
Asked if he always dressed that conservatively when he goes to work, the young Aussie replied: "No, I don't, but you know, this is a one-off opportunity, the NBA Draft, so I had to put something together, a little shine on it."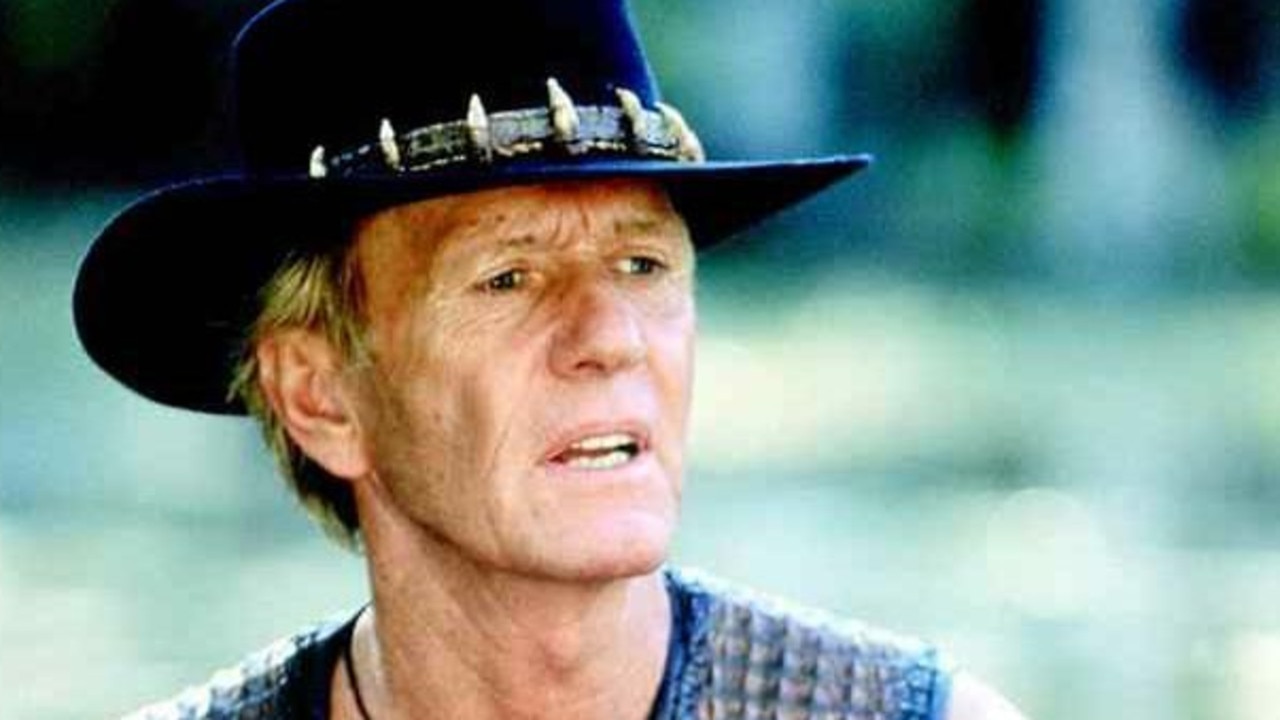 Dyson Daniels has been nicknamed Crocofile Dundee by New Orleans fans.
PRIMED FOR SUCCESS:
NBA analysts hailed the proud Victorian as a "spectacular defender" and compared him to fellow Australian guard Matisse Thybulle.
Daniels will provide the Pelicans with valuable depth in the wing position while he will add significant defensive spark.
New Orleans possesses a host of stars, so the boy from Bendigo will have time to develop off the bench and not rush the process.
"He (Dyson) is an NBA-ready defender," respected ESPN college basketball analyst Jay Bilas said during the draft broadcast.
"He led the G League Ignite in assists and steals. He can handle the ball, he rebounds at a high rate and had 17 rebounds in a G League game earlier this season.
"He can also guard multiple positions and held his matchup to just 37 per cent from the field.
"He is a very good passer, has good vision, a solid finisher and he reminds me with his size and athleticism of Thybulle when he came out of Washington.
"He isn't focused on offence because he is such a good team player, but he is ready to defend in the NBA right now."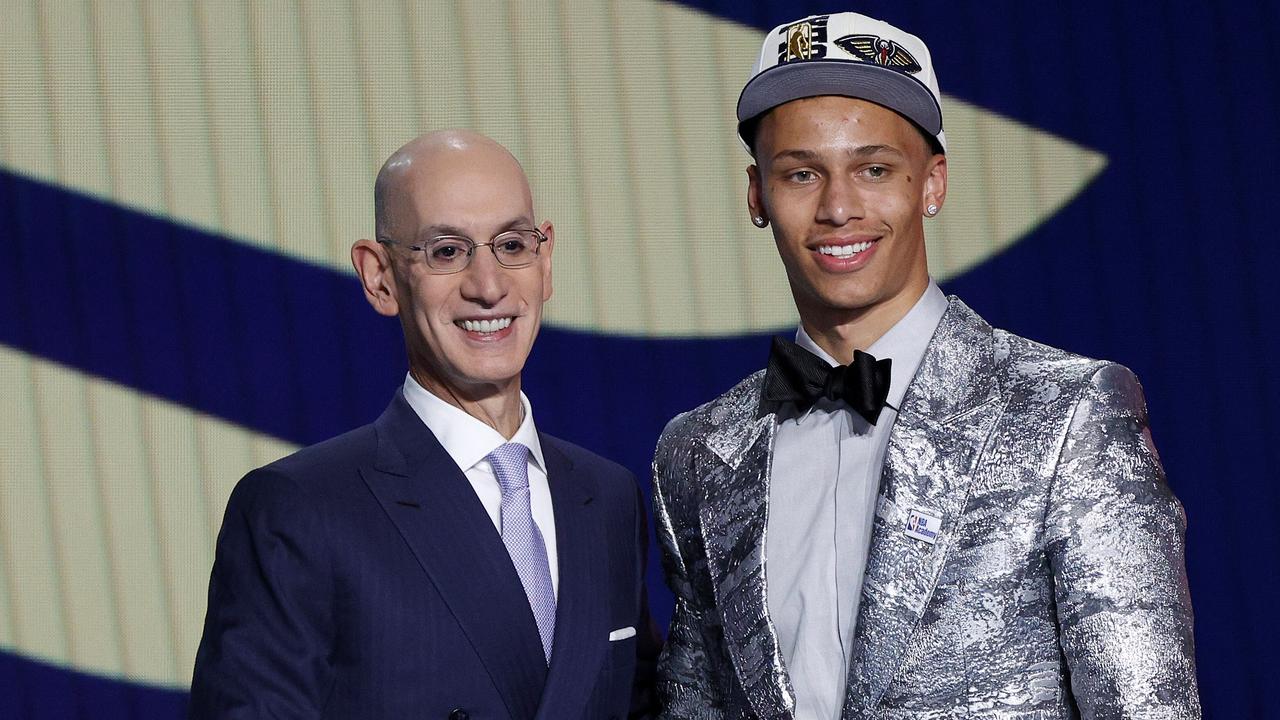 NBA commissioner Adam Silver (L) and Dyson Daniels.
PATIENT APPROACH:
Daniels knows he won't be high on New Orleans' depth chart, but he has confidence in his all-round ability, especially on the defensive end.
He is prepared to be patient and learn his craft before rising up the ranks.
Daniels also credited a youth playing Australian Rules football for helping him handle players twice his size on the court.
"I played AFL football growing up, so that is a physical and contact sport," he said.
"I think that helps me on the basketball court with my physicality and being able to read the game.
"On the defensive end, that's where I like to bring it.
"I can defend multiple positions, guard the ball, and even go down and guard the post sometimes.
"With the ball in my hands, I can play-make, play without the ball, be a cutter, rebound and stuff like that.
"I feel like my game is very versatile and I could fit into a lot of different lineups with the great players that we have on this team."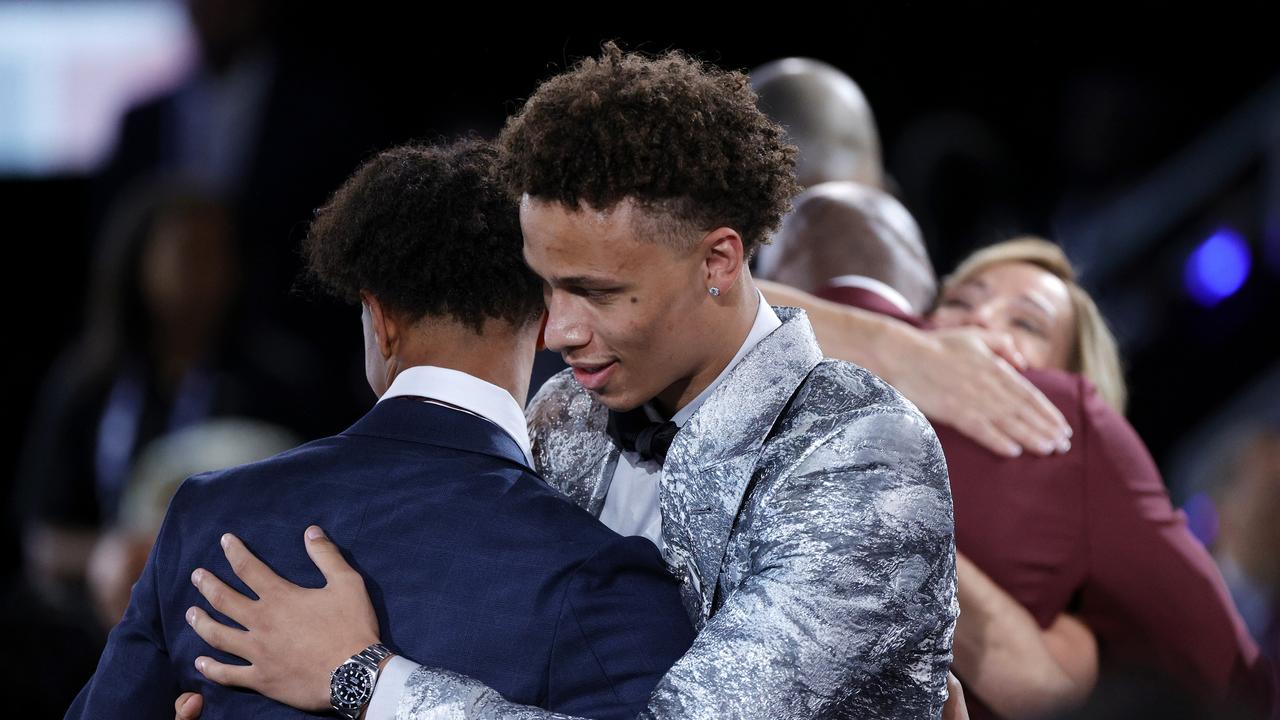 Dyson Daniels is a manic defender. Picture: Sarah Stier/Getty Images
EYEING OFF GIDDEY:
Daniels declared he will buy a new car with his first NBA paycheck while he kept it in the Australian family when asked who he is most looking forward to playing against in the NBA.
"I think Josh Giddey," he said about his former NBA Global Academy Canberra teammate.
"He's definitely the main one. In Australia, head-to-head, we used to go one-on-one back when we played in the NBA Academy together. Definitely him. "And LeBron and Westbrook, as well. That would be cool to play against them."
Fittingly, Daniels will join the NBA 12 months after Giddey was drafted by the Oklahoma City Thunder with the sixth pick.
From Victoria to the Global Academy in Canberra, the gifted Aussie duo will now share the NBA's big stage.
Daniels' rise to the world's best league means Australian Boomers players have been drafted in the first round in the past four consecutive years.
It started with Thybulle in 2019 (Philadelphia via Boston) before Josh Green (Dallas 2020) and Giddey (OKC 2021).
BENDIGO REPRESENT:
Daniels was joined at the draft by his proud parents Ricky and Brikitta and his brothers Kai and Dash.
His father, who played professionally for the Bendigo Braves, is confident his son will succeed in the NBA.
"I just expect him to go out there and play the way he has always played," he said.
"He has always played great team basketball and I don't expect that to change and I know he will give 100 percent."
Daniels took to social media just hours before the draft to thank his Australian support network and fans.
He also showed off his flash silver suit, which includes the Victorian map inside his jacket with the words of his hometown: Bendigo.
He also has a tribute to his family inside the jacket.
The two tributes personify what makes Daniels tick — community and family.
"To all the fans out there, you've followed me throughout the draft, your comments and everything doesn't go unnoticed.
"There's some great Australian players in the NBA. For me to represent the country of Australia means the world to me. Every opportunity I get to play for Australia, I want to take it. I love playing for it. I love the culture they've built there. And being able to hopefully play in the World Cup and the Olympics coming up, that would be a dream come true for me, just like tonight was getting drafted."
In other draft news, former New Zealand Breakers NBL Next Star Ousmane Dieng will join Giddey at Oklahoma City after the Frenchman was selected with the 11th pick before being traded by the New York Knicks to the Thunder.
Perth-born Luke Travers left it late to fulfil his NBA dream. The Cleveland Cavaliers picked up the former Wildcats guard with the 56th pick in the second round.Travers averaged 7.81 points, 5.41 rebounds and 2.26 assists for Perth in the 2021/2022 NBL season.
DYSON DANIELS
Age: 19
Born: Bendigo
Height: 6'8
Weight: 91 kilos
Achievements:
February 2021: Made Australian Boomers debut
May 2021: Won silver for Victoria at the Australian Under 20s championships
June 2021: Signed with the G League Ignite
February 2022: Played in All-Star Weekend Rising Stars Challenge
April 2022: Declared for the 2022 NBA draft
Originally published as NBA Draft: Aussie star Dyson Daniels joins New Orleans Pelicans with pick eight as metallic suit steals the show