Net Gains 2022: All the latest Super Netball news, plus every season highlight and lowlight
There were some big names in the crowd to see the Melbourne Vixens' Houdini act, including an NBA star who was visibly stunned by Emily Mannix's matchwinning intercept.
The Melbourne Vixens' Super Netball Houdini act in Saturday's preliminary final had thousands of fans on the edge of their seats at John Cain Arena.
But there were few better reactions to defender Emily Mannix's matchwinning intercept than that of NBA star Joe Ingles.
Stream Over 50 Sports Live & On-Demand with Kayo. New to Kayo? Try 14-Days Free Now >
Ingles, who was at the match with wife Renae - a former Vixens and Diamonds champion, who proved just a fortnight ago she's still made of champion stuff when she stepped into the best league in the world as a last-minute Covid replacement for the Collingwood Magpies - was among the most excited fans in the stadium as the Vixens fought back from nine goals down against the Giants in the final quarter.
With scores locked, the Vixens turned the ball over but Mannix flew in the circle to take a pass intended for Giants goal attack Sophie Dwyer, with the home side able to convert the gain and win passage to Sunday's grand final against West Coast Fever.
Ingles' stunned reaction was caught by a courtside photographer, whose series of shots not only captured the game's key moment but the passion of Joe and Renae Ingles and federal pollie Bill Shorten, who was also cheering the Vixens fightback.
He took to Twitter after the shots went viral, declaring his love for netball and "favourite player" Mannix.
I do love watching netball!

It is 100% entertaining!!

Em Mannix is my favourite 🙌🏻

Should we sneak to Perth to watch the final? https://t.co/shu6FADAXm

— Joe Ingles (@Joeingles7) June 26, 2022
What an epic night of netty last night!

Still catching my breath after that spectacular win by the mighty @MelbourneVixens on a fight-back victory for the history books.

Congrats to both teams for fighting til the very last second, bring on the GF next weekend #GoVixenshttps://t.co/aIdluAhGLZ

— Bill Shorten (@billshortenmp) June 26, 2022
VIXENS HIT PLAY ON HORROR FLICK
Melbourne Vixens will prepare for Sunday's Super Netball grand final with a horror movie marathon but the players are determined to avoid the mental scars of their last encounter before engaging their tormentors again.
Coach Simone McKinnis said her side had quickly moved on from their 71-62 drubbing at the hands of the West Coast Fever in the major semi-final and would be ready to face a fierce home crowd at Perth's RAC Arena in the decider.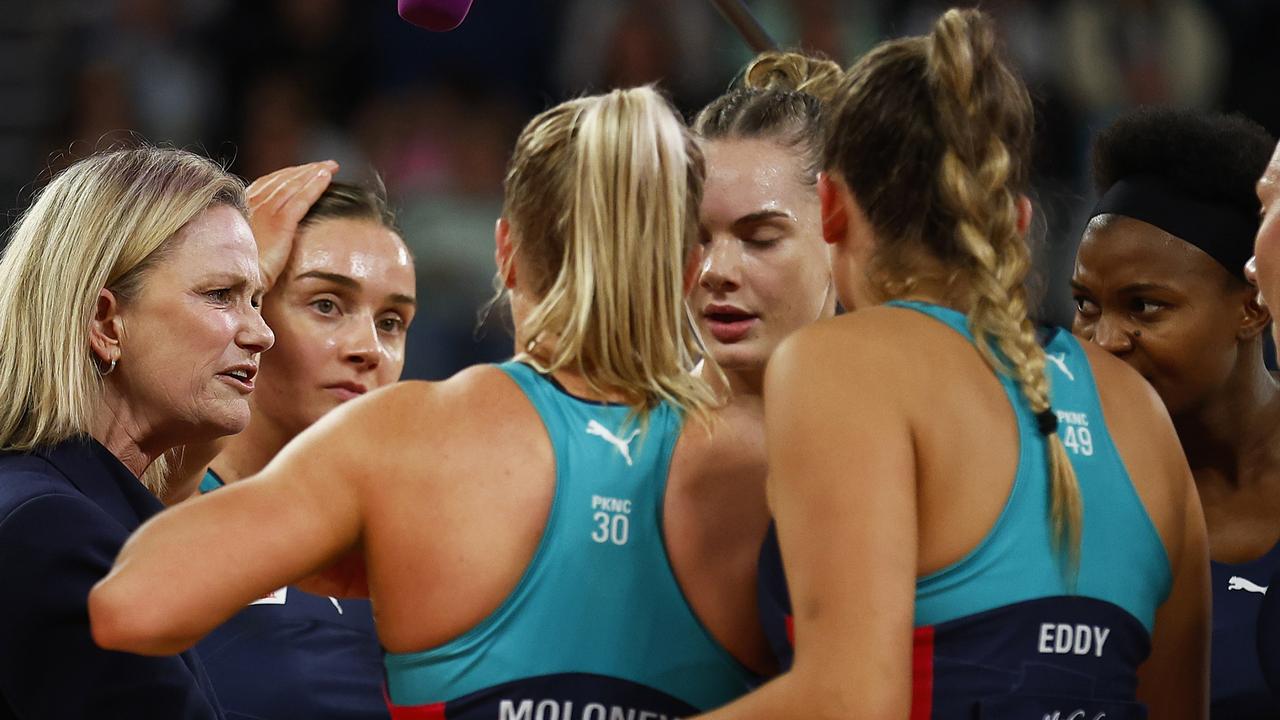 Vixens head coach Simone McKinnis asks her players to lift as they come off second best against West Coast Fever in their semi-final at John Cain Arena.
The Vixens were uncharacteristically poor in their semi-final loss, with the final score flattering them following after a super shot clinic from Rahni Samason cut the deficit in half in the last quarter.
But McKinnis said there would be no lingering demons by the time they took the court for the grand final.
"I think that we've moved on from that," McKinnis told Fox Netball commentators after the match.
They will have to review video of the match ahead of Sunday's decider and it will be no fun. But given they have a chance to fix the errors in the grand final and head to Perth with two regular-season wins over the Fever under their belts, the video is likely to provide opportunities to fix things rather than incite fear.
"We very quickly moved on. We had to acknowledge that it was poor and Fever were fantastic that game, I will acknowledge that," McKinnis said.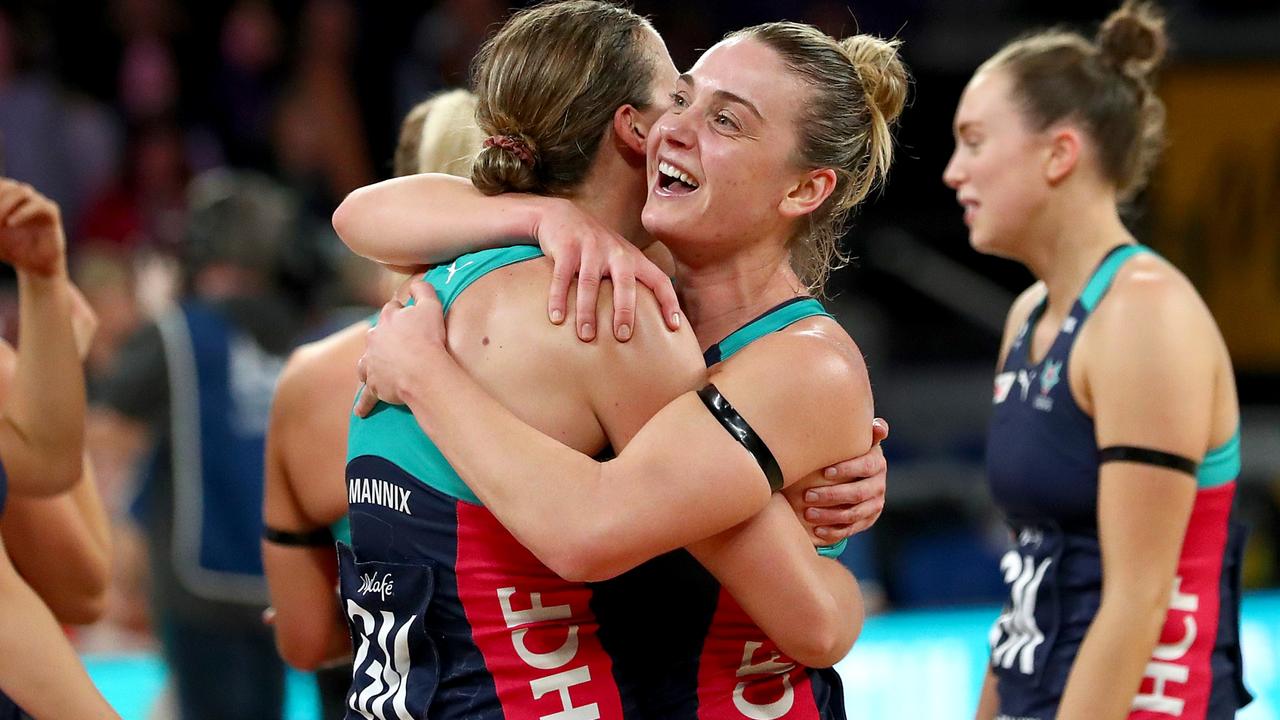 Liz Watson celebrates victory with teammates after the Vixens pulled off a great escape in their preliminary final against GWS Giants.
The Vixens had been near untouchable through the regular season, losing just two games, including one to wooden spooners Sunshine Coast.
But they have looked fallible in the finals, having few answers for the Fever before giving up a substantial lead to the Giants in Saturday's preliminary final and only clawing their way back in the dying stages.
"Although there were some gaps in a couple of quarters, we were playing against a really good side with two-point shooters and I think we'll take a lot from that game with our fight and how hard we had to work for it."
Wooden spooners last season, the Vixens are in line to complete a remarkable turnaround if they win on Sunday.
And while a premiership would be incredible, their return to the playoffs is not a massive surprise to McKinnis, who predicted last year while her team was flailing, that they could quickly return to the top.
"I do very clearly remember being wooden spooners, it's not something that goes away," she said.
"But it has been a big effort from the group and they've worked really hard to get where they are.
"There was a huge determination and commitment that we were going to make a difference and there have been players that have really stepped up and built the team that we want it to be."
NET GAINS SEASON AWARDS
Our season-long vote tally sorted the best player in the league, with Thunderbirds defender Shamera Sterling coming out on top in the list of the league's top 30 players.
But the season wasn't just about the action on the court.
The Net Gains gongs celebrate the weird and wonderful of season 2022.
Biggest controversy
The grand final will be played at Perth's RAC Arena on Sunday after it was sold to the West Australian government in a move that will become standard practice for the next five years as Netball Australia attempts to dig itself out of debt.
Biggest sigh of relief
Netball Australia after the West Coast Fever finished in the top two and went on to win the major semi-final, ending the narrative about a "stolen" grand final. After playing the 2020 decider in Queensland and playing in empty stadiums over the past two years, thousands of members of the green army will be out in force on Sunday.
The Firebirds' efforts to sign controversial goaler Maria Folau was a PR nightmare.
Biggest signing
Maria Fol … The Queensland Firebirds' efforts to sign controversial goaler Maria Folau to replace Romelda Aiken-George, who is on maternity leave, were a bungled move and a PR nightmare. Thankfully, they went with local talent and reaped the rewards, with Donnell Wallam finishing the season in the Diamonds' squad.
Biggest meltdown
Netty Twitter after News Corp revealed the Diamonds squad for the Commonwealth Games. No broken embargoes, no leaks from insiders, just reporting the news.
Biggest snub
Super Netball's Jamaican internationals were left scratching their heads after their efforts to win selection in the Sunshine Girls' Commonwealth Games team went unheralded for almost a week. It wouldn't have been an issue if the players representing the Diamonds and England's Roses hadn't been lauded on social media earlier. It didn't go unnoticed by the players involved.
Biggest shock
Netball Australia has been talking about its financial woes for some time, so revelations about its perilous financial position should have come as little surprise. But the extent of the cash crisis is stunning and concerning for the game.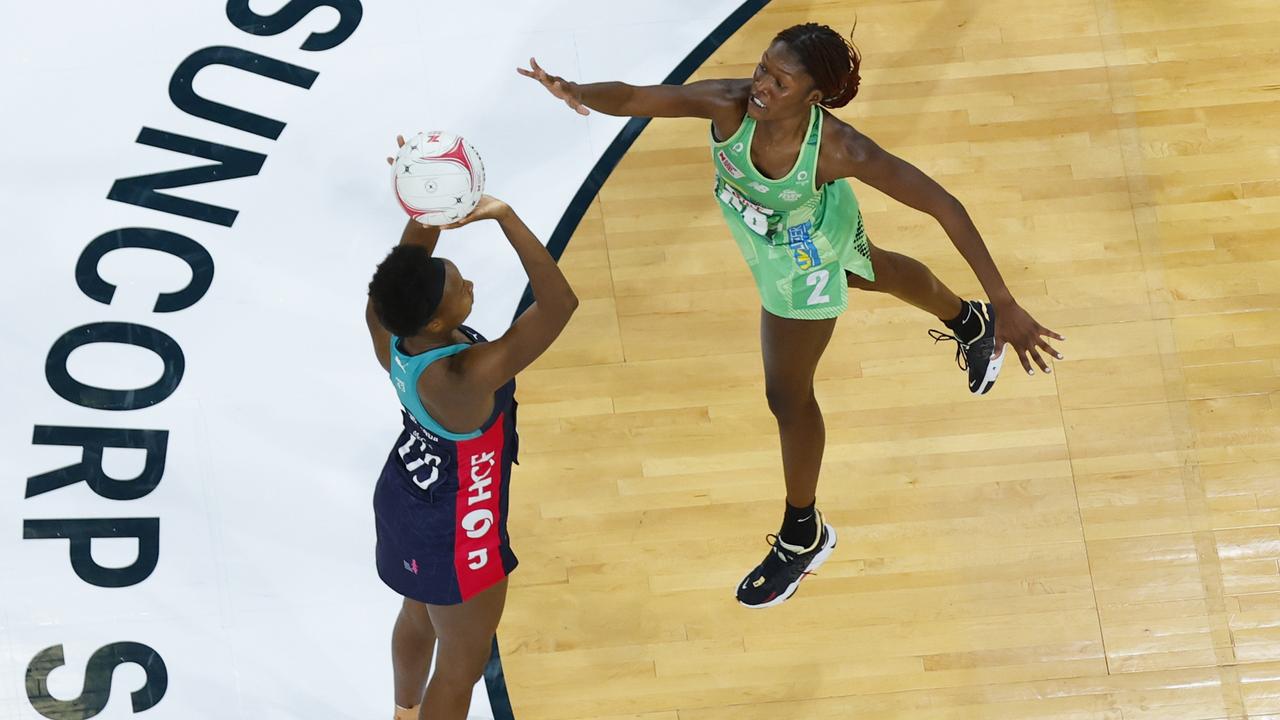 Mwai Kumwenda attempts a two-pointer, but has the shot been an effective weapon to quickly remove deficits?
DISLIKE
Super shot needs a revamp
Almost three years after the introduction of the super shot, is it time for a tweak?
The two-point shot was introduced to avoid blowouts and help teams stay in games longer as much as to reward long-range accuracy from shooters.
But as teams have become more and more adept at defending the option, it is being used almost exclusively as a catch-up mechanism and often with catastrophic results.
The super shot was always a risk versus reward proposition.
And there's little doubt that when they're raining, it's exciting for players and fans. Just look at the final series so far.
The Vixens were able to halve their 20-goal deficit in last weekend's major semi on the back of the hot hand of Rahni Samason.
The Giants did the same to them in Saturday's preliminary final, erasing their lead in just a quarter after England international Jo Harten went on a tear.
But the risk is that in using the super shot to chase down a lead, possession can be lost and the game can turn into a real fizzer — the situation the shot was supposed to erase.
There's definitely a time and place for the shot and it's unlikely that it will disappear.
But it may have a shelf life that's soon coming to an end.
Originally published as Net Gains 2022: All the latest Super Netball news, plus every season highlight and lowlight