NRL 2022: Newcastle Knights recruit Anthony Milford and Kevin Walters lift lid on star's Brisbane Broncos exit
Anthony Milford is back to show the Brisbane Broncos what they are missing, but coach Kevin Walters has revealed why he had to cut loose the highest-paid player in the club's history.
Anthony Milford insists he is not bitter at Brisbane as Kevin Walters detailed why he made one of the toughest calls of his coaching career by axing his $1 million playmaker from the Broncos.
Milford's seven months of NRL hell will officially come to an end on Thursday night when he makes his Knights debut against the Broncos club that didn't want him at Newcastle's McDonald Jones Stadium.
It will be his first NRL game in 257 days after being cleared of assault charges following a wild night out in Brisbane last September that saw the league order Milford to undergo counselling before his Knights deal was registered.
When he joined Brisbane in 2015, Milford was hailed as the whizkid who would spearhead a new premiership era for the Broncos. But after being handed the richest contract in Broncos history, the club's first $1 million-a-season deal, the playmaker lost his way and was finally shown the door by Walters last year.
Now Milford is back, primed to snap Brisbane's four-game winning streak in the No.6 jumper he once owned at Red Hill as the Knights recruit opened up on the confusion and uncertainty of his final months at the Broncos.
Watch every game of Magic Round this weekend Live & Ad-Break Free In Play on Kayo. New to Kayo? Try 14-Days Free Now >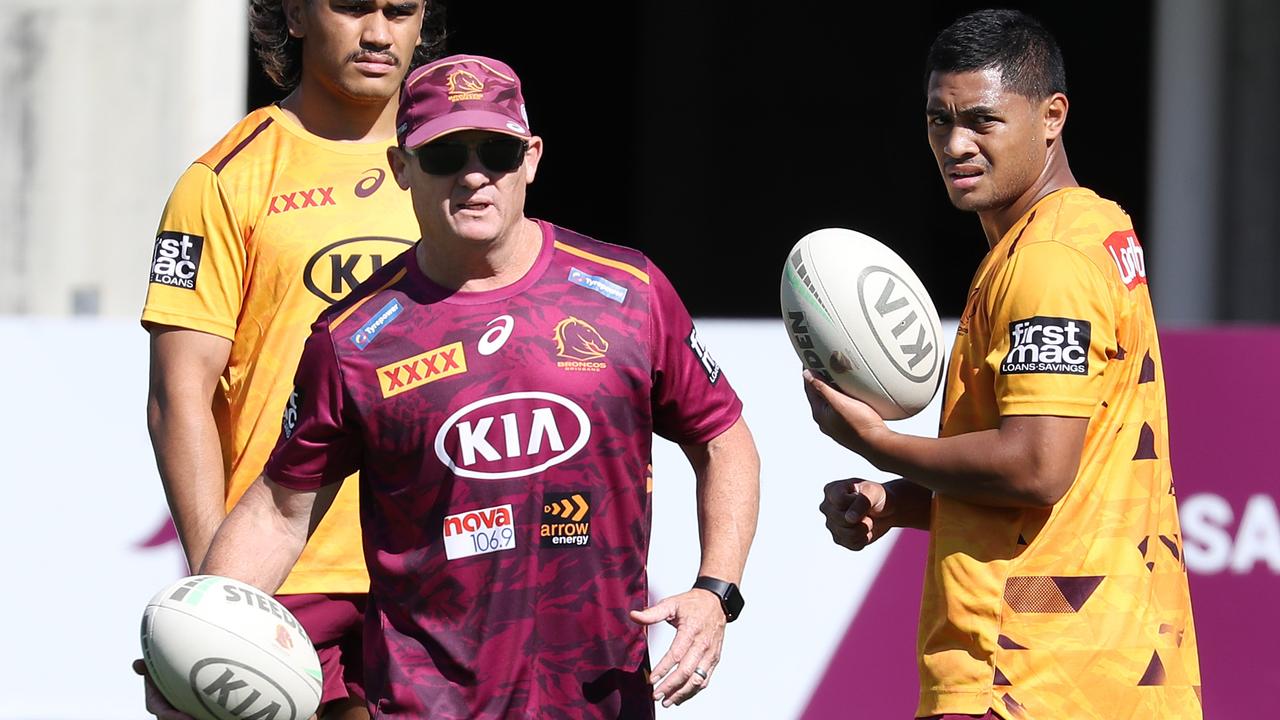 Anthony Milford says he has spoken to Kevin Walters "a couple of times". Picture: Annette Dew
"It dragged on for a while (his contract saga last year) and I didn't know what would happen or where I stood with Brisbane," Milford said.
"I had a few meetings with Ben Ikin (Broncos head of football) about two months into the comp. I asked for his thoughts and he said to keep playing good football.
"Having a family, I wanted to know what was going on because if there wasn't an opportunity for me at the Broncos, then I would look elsewhere.
"I spoke to 'Kevvie' (Walters) a few times and he wanted to go with Tyson Gamble and Adam Reynolds in the halves and 'Alby' (Kelly) was there too.
"I understood they had some depth, so I'm not bitter at the Broncos.
"They had to make a call for the club, I accepted it and now I have my chance at Newcastle, so hopefully I can play well against the Broncos."
The Broncos have yet to settle on a five-eighth this season and there is a view Milford would have been the perfect foil for new recruit Adam Reynolds, who is expertly steering Brisbane's attack at halfback.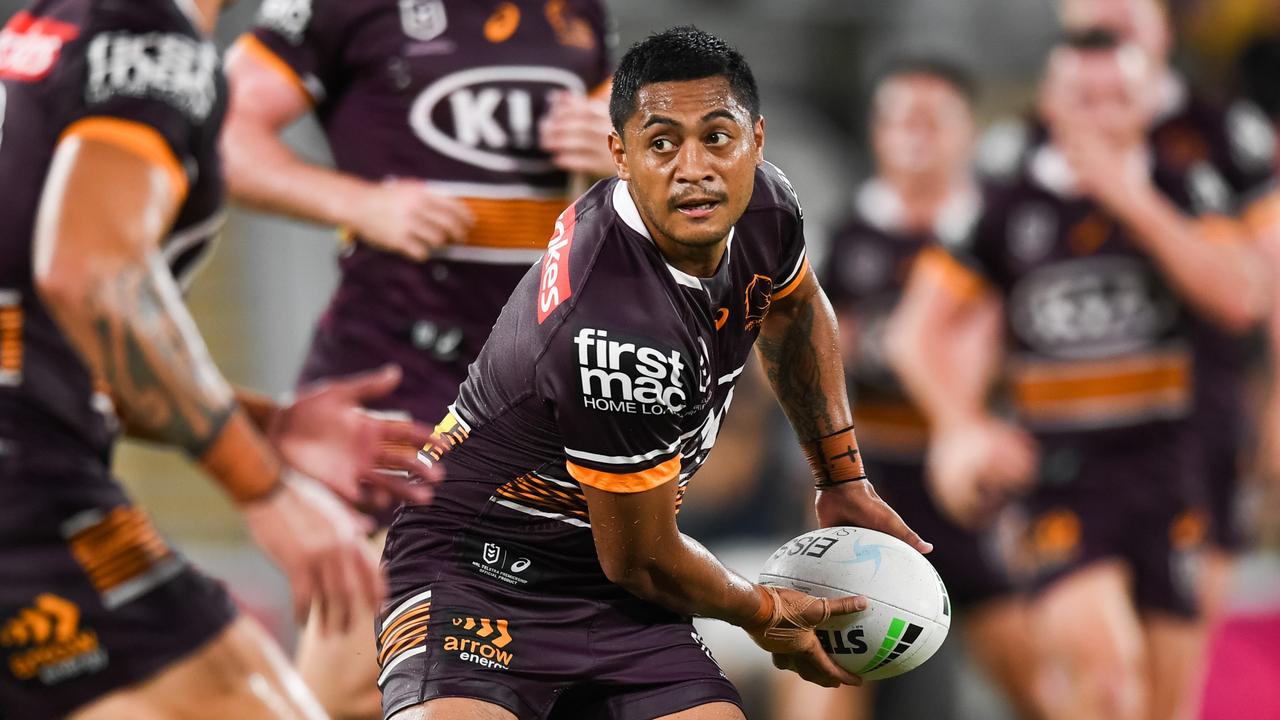 Anthony Milford struggled to find his best form at the Broncos. Picture: NRL Photos
But Walters defended his decision to sever ties with Milford. The pair built a strong bond when Walters, as Wayne Bennett's assistant, personally mentored Milford in Brisbane's charge to the 2015 grand final.
It was Milford's golden season, triggering a $4 million contract extension, but Walters explained why the former Paul Morgan Medallist had to leave the Broncos. He believes Milford's $1 million deal was a crushing burden.
"I felt he needed a change," Walters said.
"He had been here a long time and was under a lot of pressure with the talk about his form and his contract. I felt a lot of the criticism was unfair.
"Milf is not finished. He is only young and I have no doubt he can fight back.
"I thought he played some good football the last six weeks of the comp (2021), but by that time Anthony needed to find some new ground and a new start and he has done that at Newcastle. I wish him the best for the rest of his career.
"Everyone enjoys playing against their former club and Milf will be no different. I am really happy he is back in the NRL. It is great that he has landed at Newcastle and I hope he makes the most of his time there."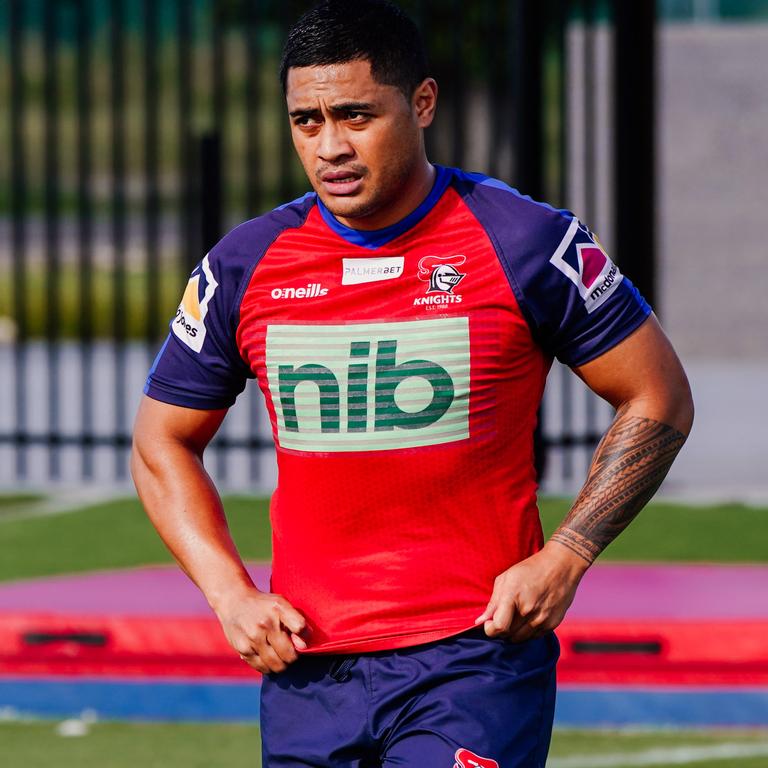 Milford will make his NRL return for Newcastle.
Milford's move to Newcastle is being seen as somewhat of a short stay before he likely links up with Bennett for the Dolphins' foundation season next year.
With the Knights languishing in the bottom four, Milford may only make about a dozen appearances for the club before, if as expected, he departs at season's end. But with 193 games of NRL experience under his belt, Milford can make a difference in Newcastle.
"He has been training against us for the past four weeks because we knew he wasn't allowed to play and he has been sharp," Knights captain Kalyn Ponga said.
"He is pretty quiet naturally, but we will really use his experience and talent. I'm excited to get out there and play with him.
"I grew up watching him play and come through the NRL for those first few years. I know what sort of footy he has got him. I'm excited for him to be on the field.
"He's played 200-odd games and won a fair few of them. He knows what winning is like and has been at the top. That experience will be awesome for us."
Having not played in eight months and only just been cleared to train with the Knights, Milford could be behind the eight-ball and take some time to find his feet.
But he is free of the expectations of his $4 million Broncos contract and believes his move to the Knights could reinvigorate his career at age 27.
Knights skipper Kalyn Ponga has been impressed by Anthony Milford's sharpness at training. Picture: Knights Media
"The one plus of coming here is the pressure will be different," Milford said.
"There was a lot of expectation at the Broncos. In saying that, people will expect me to play well here and I want to play my part in turning the Knights around.
"There is a good mixture of younger and older guys here so I'll be doing whatever I can to get the Knights back on track.
"I haven't lost my self-belief. I would like to think I have another five or so years in the game. I'm still only 27. I am getting better with my game and I have a better understanding of how to manage an NRL game than when I first started.
"It will be weird coming up against the Broncos. I will make sure I treat it like any other game. They are going pretty well as a team with Adam Reynolds so it will be a bit surreal facing them."
Joey priming Milford for Broncos revenge mission
A defiant Anthony Milford says he has unfinished business in the NRL and insists he will not step out of line again as the controversial Knights recruit prepares to launch his comeback to rugby league.
In the most candid interview of his career, Milford breaks his silence on his seven months of NRL hell.
The fallen ex-Brisbane star opens up on the pain of being an NRL outcast, the legal fight to clear his name of assault charges, his contract collapse at Souths, his exit from the Broncos — and the lifeline from Newcastle that can help Milford rise again.
Milford also revealed he has been receiving mentoring from Newcastle champion and NRL Immortal Andrew Johns to sharpen the playmaker for his Knights debut this Thursday night, ironically against the Broncos club he never expected to leave.
"I'm not finished," Milford said. "This is a fresh start and I know I'm not done in the NRL."
The NRL are set to green light Anthony Milford's rugby league return.
NRL EXILE
In the coming days, Milford will have his Knights contract formally registered by NRL boss Andrew Abdo. He is expected to make his Newcastle debut this week against the Broncos club that pushed him out of the Red Hill exits.
When Milford runs onto McDonald Jones Stadium, it will be his first NRL game in 257 days. He last played for the Broncos on September 4, 2021 before a wild night out in Brisbane two weeks later which saw Milford hit with three counts of assault, including allegations of violence towards a female member of the public.
Last month, a Brisbane court dismissed the assault charges. Milford was instead placed on a good behaviour bond after pleading guilty to public nuisance and wilful damage charges.
His short-term deal with the Knights represents Milford's chance to pick up the pieces of his 193-game NRL career after spending the past six months largely training alone in a Brisbane park. "I'm just relieved to be back playing rugby league again," he said.
"I'm grateful to the Knights for being interested in me at a difficult time in my life. They've had my back through this situation when others didn't. I'm glad the NRL allowed me to come back, provided I did the stuff they wanted me to do and I'm doing that."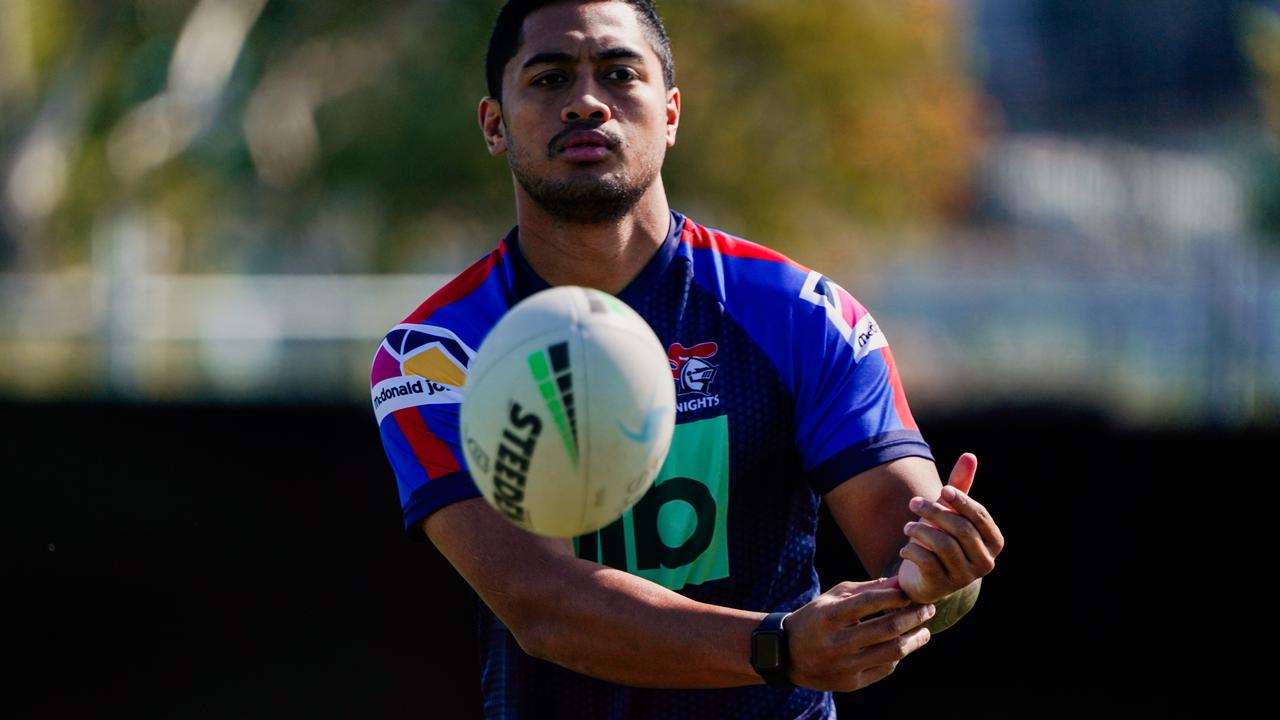 Anthony Milford hasn't played NRL for seven months. Picture: Knights media

NRL bosses told Milford his Knights deal was conditional on him undergoing education and personal-development courses. Abdo on Friday praised Milford for his commitment to the program.
"I have had a couple of counselling sessions," he said. "I had another one booked for (last) Tuesday but the counsellor ended up getting Covid, so I couldn't do that and we have rescheduled. I am happy to finish the sessions.
"The first session I told them my story and what I've gone through and they are looking at ways they can help me in different situations. We'll be coming up with a plan on what we can do moving forward.
"Training alone wasn't easy. I would go to a gym at West End and I would go run at a park Tuesdays and Thursdays. It's really different to being at training in the NRL with a group of guys and coaches who keep you motivated.
"I tried to get a game at Souths Logan because I just wanted to play some football, but I wasn't allowed to play until my court case was finished."

THE LEGAL FIGHT
Milford's Broncos contract expired on October 31, meaning he went unpaid for six months during his court battle. Legal documents show Milford lost a six-figure sum from a saga which represented the most harrowing period of his life.
What particularly hurt Milford were allegations he was violent towards women on the night in question. A Brisbane court acquitted Milford of those charges.
"I have great respect for women," he says. "I have two young daughters and I would never want them to be treated in a bad way, so I'm not that sort of person.

Milford was cleared of assault charges last month. Picture: Brad Fleet
"My daughters are a big part of my life and I want to make sure I give them everything they need and I want to raise them in the right way.
"It's about them now, they are more important than me.
"I was cleared of all the assault charges. I knew all along I was not guilty of what I was accused of. This has been my first incident in 10 years playing the NRL, so I would like to think my behaviour has been pretty good.
"I understand the role that NRL players play. I understand we are in the spotlight and I definitely want to make amends. I don't want to step out of line again and put people I love in that situation ever again.
"I am lucky I had great support through that time. My closest friends and family never questioned me once.
"They know the real me and there were many lies, but I cleared my name."
JOEY AND THE KNIGHTS
Milford has hit the ground running in the Steel City. The 27-year-old is training three or four times a day to ensure he repays the faith of the Knights.
Milford is relishing the prospect of joining forces with fullback strike weapon Kalyn Ponga. After eight years in the NRL, Milford feels like a rookie again after linking with the best playmaking mentor the code can provide in NRL Immortal Johns. It has opened his eyes to true footballing genius."I've met 'Joey'. It's blown me away," he said.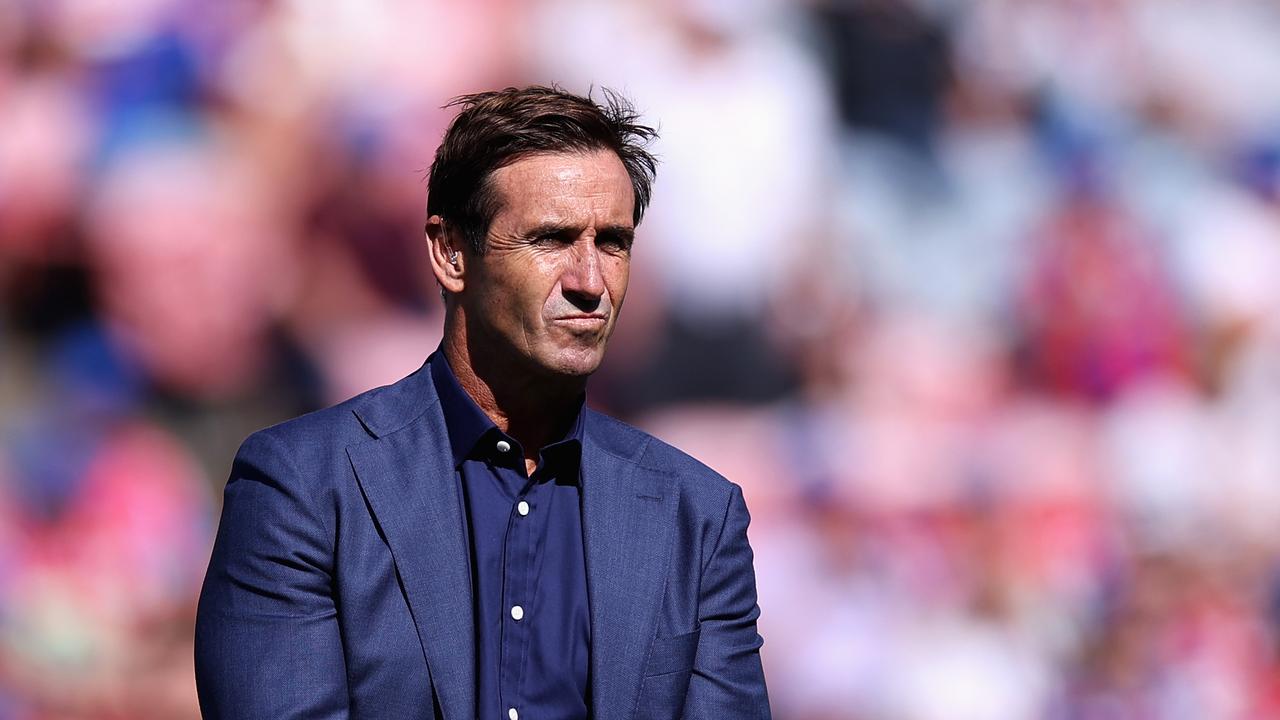 Newcastle legend Andrew Johns has been mentoring Milford and Kalyn Ponga.
"I've had a few sessions with him and his football brain is amazing. He knows the game inside out and I am listening to him really closely and watching the things he is trying to teach me and Kalyn.
"It's pretty cool for my education to work with an Immortal like Joey.
"I can't wait to play with Kalyn. I think I can help him out and we can bring out the best in each other and if we do that it will help the team. Kalyn is a special talent, but there are other players here with real potential at the Knights."

THE COMEBACK
In keeping with rugby league's soap-opera scripts, it is apt that Milford will make his Knights debut against the Broncos club that showed him the door.
There is a view Milford will never recapture the wizardry of his rookie years at Canberra that led to the life-changing $1 million-a-season deal which made him the highest-paid player in Broncos history.
But without the burden of expectation in the Red Hill furnace, Milford is backing himself to fire at the Knights.
"There's only one way to find out if I am ready," he said.
"To be honest, it's been pretty surreal the last few weeks and months. I never thought I would find myself living in Newcastle playing for the Knights.
"It will be weird coming up against the Broncos. The key is to treat it like any other game. I will do my homework on them. They are going pretty well as a team with Adam Reynolds calling the shots so it will be a big test for me.
Milford has been working with sprint coach to the stars Roger Fabri.
"The big thing for me is I owe Newcastle. I want to earn the trust of the Knights players. I don't want to let the Newcastle club and their fans down.
"I haven't lost my self-belief. I would like to think I have another five or six years in the game. I'm still only 27. I am getting better with my game and I have a better understanding of how to manage an NRL game than when I first started.
"Not having played for seven months was a pretty crap feeling to be honest, but this is my chance to help Newcastle turn things around."

RABBIT HOLE
Milford was left gutted by his move to South Sydney which degenerated into a messy hit-and-run mission. His one-year Rabbitohs deal was not registered with the NRL, leaving Milford stranded in a Surry Hills apartment during Sydney's Covid crisis with his future in limbo.
"The Souths stuff was disappointing," he said. "I got down there on a Tuesday, I went for a medical on Wednesday and I was meant to be registered on Thursday, but that's when I found out I couldn't be registered.
"I ended up working one-on-one with one of the trainers who did some basic training with me. I was stuck in Sydney with the Covid situation. We had about three weeks in Sydney where I was on my own and I wasn't getting paid, so I had to sort things out.
"I was staying in an apartment in Surry Hills for a few weeks, but then when things fell apart with Souths and the NRL, I was left nowhere.
"When the borders were opened again, I was on the first flight back to Queensland."

THE BRONCOS
Milford is philosophical about his turbulent, seven-season, 151-game stint at the Broncos. At his pomp in 2015, his attacking magic led Brisbane to the grand final and he nearly pipped Johnathan Thurston for the Clive Churchill Medal. He believes his tenure at Red Hill wasn't a failure.
"I wouldn't say I didn't reach my potential at the Broncos," he says.
Milford rode the highs and lows as Brisbane's highest-paid player. Picture: NRL Photos
"I nearly won a grand final there and I enjoyed my time at the Broncos.
"The last couple of years didn't go the way I had hoped. My first four years there were definitely better than my last three. I probably needed a change. As a club there was a lot of change at the Broncos. We lost some experienced guys like Darius (Boyd) and Sam Thaiday and that made it harder for someone like myself.
"The one plus of coming here is the pressure will be different. There was a lot of expectation at the Broncos. In saying that, people will still expect me to play well at Newcastle. I'll be doing whatever I can to get the Knights back on track."

THE FUTURE
It was a character reference, penned by Dolphins coach Wayne Bennett, that convinced a Brisbane judge Milford would not offend again.
It seems a fait accompli that Milford will reunite with Bennett at the Dolphins next season to spearhead their foundation season, but the playmaker says his primary focus is making sure the Knights get the best of him.
"My manager has had some talks with the Dolphins but my only focus right now is the Knights and let's see what happens," he said.
"It was massive for me to have Wayne on my side.
"Through the whole drama, he always called me and checked on my welfare in that six-month period. I am grateful to have someone like him and the advice he gave me. He didn't have to check on me through that time, he was busy himself, but he always found time for me which I will never forget.
"I'm not even looking that far ahead with the Dolphins. I am appreciative of the chance the Knights have given me and I want to make sure I repay their faith first.
"I have another chance now and I can't waste it."
He's back: Green light for Milford's NRL comeback
It's official. Anthony Milford is back in the NRL.
News Corp can reveal Milford will be given the green light to make his Newcastle debut next week — ironically against his former club the Broncos — as NRL boss Andrew Abdo prepares to rubberstamp his registration.
Milford's impending return against the Broncos on Thursday week is a boost for the Knights, who have been decimated by an injury crisis in their slide to the bottom of the NRL ladder.
The future of the Broncos' former $1 million man has been in limbo for the past seven months after Milford was hit with charges for assault and wilful damage following a wild night out in Brisbane last September.
While Milford was ultimately cleared of assault charges last month, the NRL ordered the ex-Queensland Origin star to undergo counselling and anger-management courses before they would consider ratifying his Newcastle contract.
Now Abdo is ready to roll out the welcome mat for Milford, with the NRL chief executive confirming the controversial playmaker is on the verge of a comeback to the top flight with the Knights.
The NRL is set to give the green light for Anthony Milford to make his return in Round 11. Picture: Getty Images
"We will formalise things with Anthony and the Knights - he is definitely on course to be playing in the NRL," Abdo said.
"The reports I've had back are that Anthony is progressing well, he is participating in all the sessions and there's a solid program that's underway.
"We have a tailored education and welfare program where we use psychologists and trained professionals to work with the player on their individual situation and help them with a plan.
"It's very specific to the player.
"I haven't seen the final report on Anthony but I am pleased to say he has shown a lot of application, he has been attending everything with diligence.
"This is a process we have had to work through. Anthony wasn't registered and it (his Knights deal) was a conditional registration.
"We put some terms around it and once those terms are fulfilled, clearly Anthony will be able to play again."
While Abdo has taken a hard line stance on Milford, particularly around the code's zero-tolerance attitude on violence towards women, the NRL boss is confident the 27-year-old has learnt a lesson from his legal ordeal.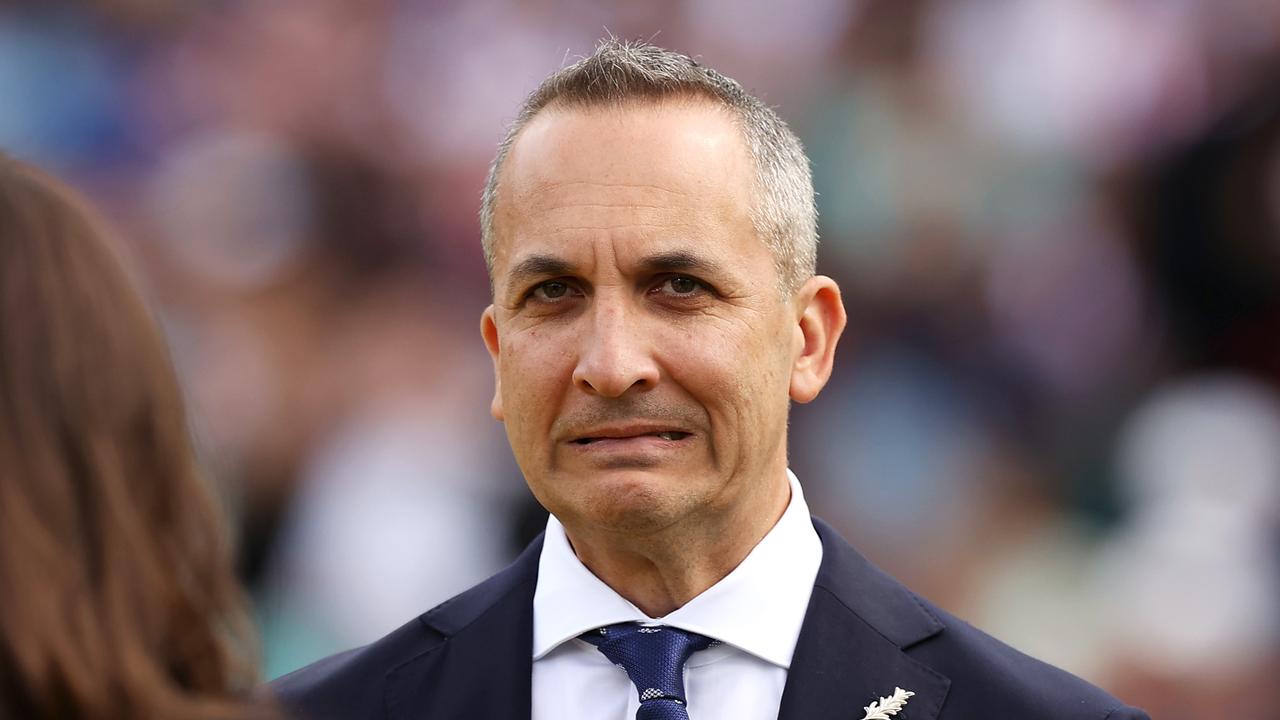 NRL CEO Andrew Abdo says Milford is reportedly progressing well and is one his way to playing in the NRL. Picture: Getty Images.
"Players are human and make mistakes. We all do," he said.
"The important thing is that we learn from mistakes and provide the education and support needed to ensure mistakes are not repeated.
"The expectation on players to uphold the values of the game is there, as it is for all of us in the game."
Milford is likely to start at five-eighth and will relish the prospect of bringing down the Broncos at McDonald Jones Stadium as he aims to develop a strike force with Newcastle fullback dynamo Kalyn Ponga.
"We can't be happier with how Anthony has settled in," Newcastle recruitment boss Clint Zammit said.
"He hasn't put a foot wrong at training and he has progressed really well over the past few weeks since arriving here.
"He has been a joy to have around, he has been really positive with his attitude and he is starting to open up with the other guys.
"He hasn't played NRL for some time but with the injuries we've got, his experience will be important for us, particularly in the halves, so hopefully he will be available for selection next week."
Originally published as NRL 2022: Newcastle Knights recruit Anthony Milford and Kevin Walters lift lid on star's Brisbane Broncos exit