NRL 2022: Daniel Tupou's high tackle exposes judiciary mess
There's one area of the judiciary and match review committee process that, regardless of how many reviews are done, can never be fixed, writes PAUL KENT
At least there were fed ­sandwiches.
The new system was designed, according to advanced notices, to streamline the ­judicial process and the offences they sit over, "making the processes simpler to understand and more consistent for participants".
Stream every game of every round of the 2022 NRL Telstra Premiership Season Live & Ad-Break Free In Play on Kayo. New to Kayo? Try 14-Days Free Now >
It is not foolproof, though, and ain't that the truth.
Once again the lawmakers failed to take in the one constant that continually challenges the reputation of the judicial process and yet, no matter how many reviews or new drafts are completed, can never be fixed.
Human involvement.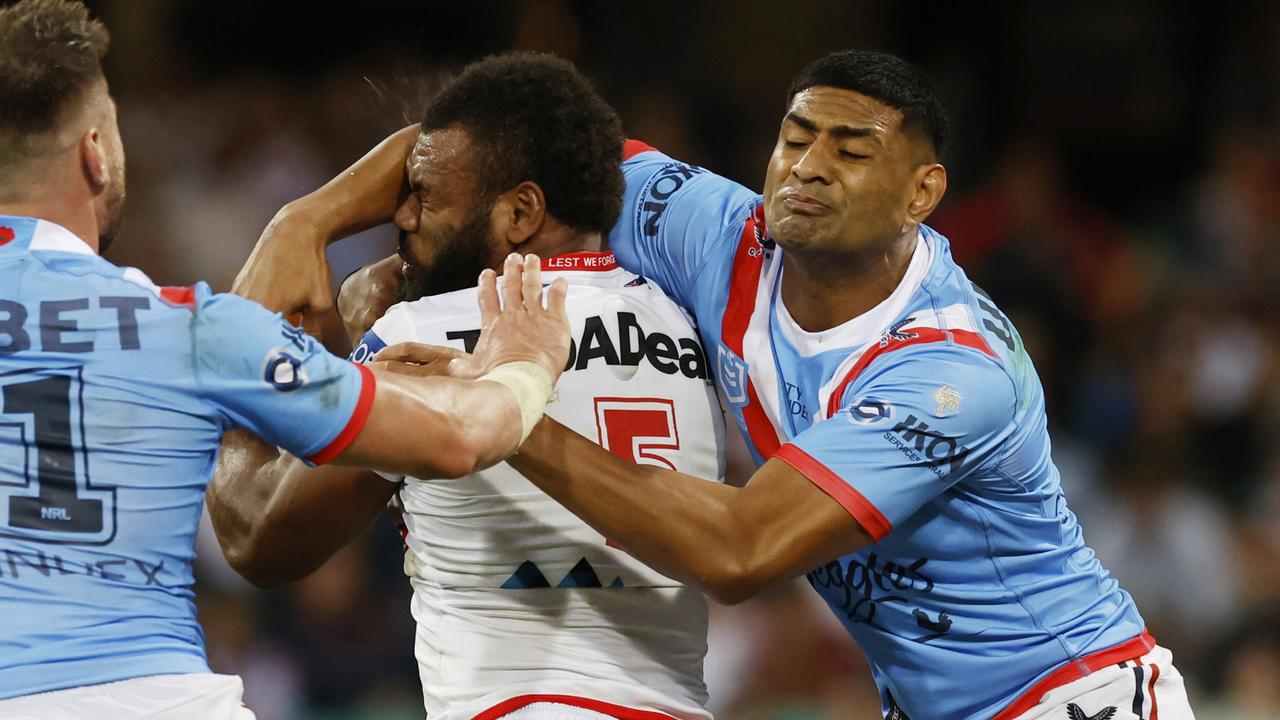 Daniel Tupou's high shot on Mikaele Ravalawa only resulted in a penalty on the day for the Roosters winger. Picture: AAP Image/Mark Evans
Mikaele Ravalawa made a break down the Dragons' right sideline on Monday. He stands 184cm and weighs 106kg so, in other words, he provides plenty of target area.
Finding himself in clear space, Ravalawa changed direction to head infield and was running a straight line when Roosters winger Daniel Tupou stepped in and hit him high.
It was a clear high tackle and the referee picked it up ­immediately. A smart groan ­escaped from the mouths of Roosters fans, while Dragons fans were quick to demand the only action they thought justified, which was a sin bin.
But Tupou stayed on, put on report with not even a sin bin.
Mitigating circumstances were taken into account, such as the belief Tupou's swinging arm hit the arm carrying the ball moments before it bounced up and struck ­Ravalawa across the face.
There were other mitigating factors.
Firstly, the argumentative types might declare Tupou's contact with Ravalawa's arm was the lightest of contact but, once a second look is taken, it is clear that Ravalawa's arm was high and in front of his face.
If not, it would have been ­direct contact.
There are other mitigating factors.
There was no late movement from Ravalawa before contact.
Nobody else was involved to influence the tackle, such as a second defender changing ­Ravalawa's body position late in the tackle.
There was no late drop from Ravalawa, changing his height.
There are six grades of high tackle charges in the NRL's new judicial code, going from grade one careless ($1500 fine) to grade three reckless, which is six weeks for a first offence.
However, if consistency is the goal, then they have got it right.
Haumole Olakau'atu hit Aiden Tolman directly in the face with his shoulder and was hit with the same charge.
Over the same weekend, Taane Milne also hit Daine Laurie with direct contact to the face and was hit with a grade two charge.
So it seems it is possible to be consistent, and possible to be consistently bad.
Given a grade two is the ­second lightest of a possible seven grades of high tackle, and anything above a reckless grade three can be referred, it makes you think a head has to roll off the field before a tackle will ever be referred.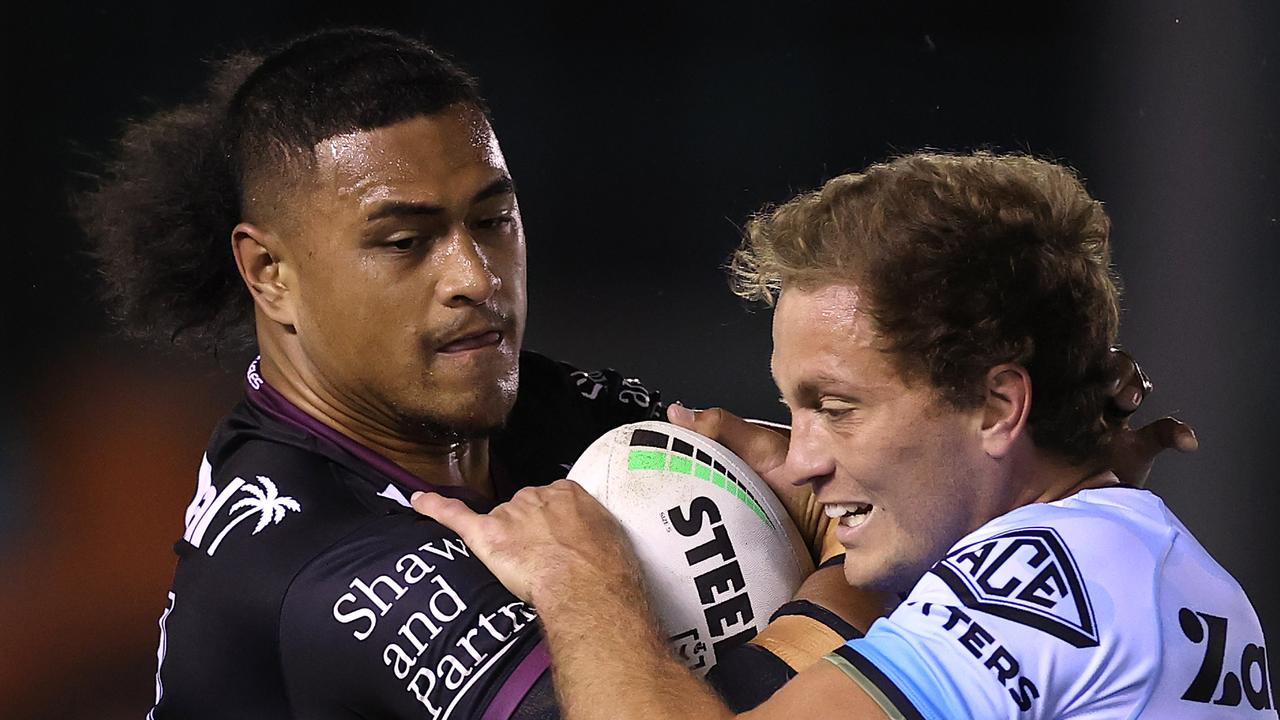 Haumole Olakau'atu was charged with a grade two careless high tackle against Cronulla. Picture: Cameron Spencer/Getty Images
Anyway, what does a grade two reckless look like?
The summer review was supposed to fix all this but it failed.
Under the NRL's rules, the definition of a reckless tackle is: "What he must prove to show recklessness is that the player foresees contact with the head or neck of an opposing player may occur but makes the tackle, or the ­attempt, regardless of the ­danger."
The trajectory of Tupou's arm is always swinging towards Ravalawa's head. Only Ravalawa's arm, up for protection, prevents direct contact.
For one witness, it appears there is no doubt Tupou's ­tackle should have fitted into at least one of the three grades of recklessness that exist.
The Dragons clearly believed they had particular cause to be confused given Jaydn Su'A's sin-binning and suspensions earlier this season.
The more anybody digs the more they reveal the only true problem, in this or any other system, is the people involved.
The ex-players on the match review committee are there, the theory goes, because they have a better understanding of how the game is played.
But too often they get it wrong, as if they are still adjudicating the game they played and not the game the rules stand for now.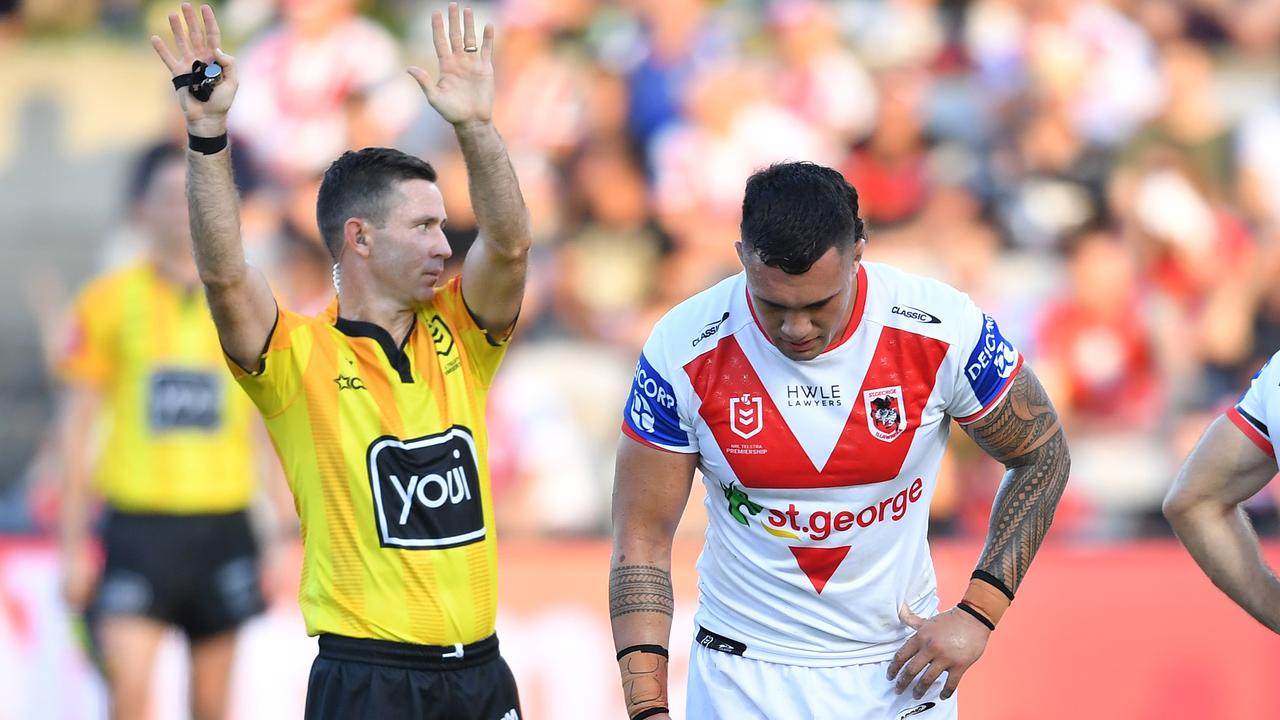 Jaydn Su'A has had his troubles with sin bins and suspension this season. Picture: NRL Photos
And if that was the logic anyway, then why aren't ex-­officials, whose entire job was to interpret the rules, on the committee?
Consistent low-grade charges keep most fans pleased as it keeps the variances down, providing less room for argument, but it is a false appearance.
It doesn't make it right, for one, or begin to address the problem that still exists of so many high tackles, because that is how players are taught to tackle, to wrap up the ball, which then contributes to the concussions, which then brings on the reputational damage the game tries so hard to avoid.
And the inconsistencies ­amplify the problem, because lost somewhere in all that ­remains those other allegations that the bigger clubs get a fairer go than those trying to fight their way up the ladder.
It will be interesting to see what the league foresees about that.
How Hasler helped inspire Tigers revival
Nobody knows whether Michael Maguire really was thanking the media from the bottom of his heart Saturday night or whether his tongue slipped left and to the cheek and his gratitude was what some might call more of the Nick Faldo variety.
Faldo, of course, was always gracious and charming and never endeared himself to the media more than when he famously thanked the press from "the heart of my bottom".
As slings and arrows go it was quickly brushed off, but it was a little insight into what can be a vicious side war by those who play the game and those who report it.
Of course, there can only ever be one winner in these games.
What few appreciate, though, is there is very often more than one loser.
Maguire handled it well Saturday night, genuine in his thanks after the Tigers beat South Sydney.
Stream every game of every round of the 2022 NRL Telstra Premiership Season Live & Ad-Break Free In Play on Kayo. New to Kayo? Try 14-Days Free Now >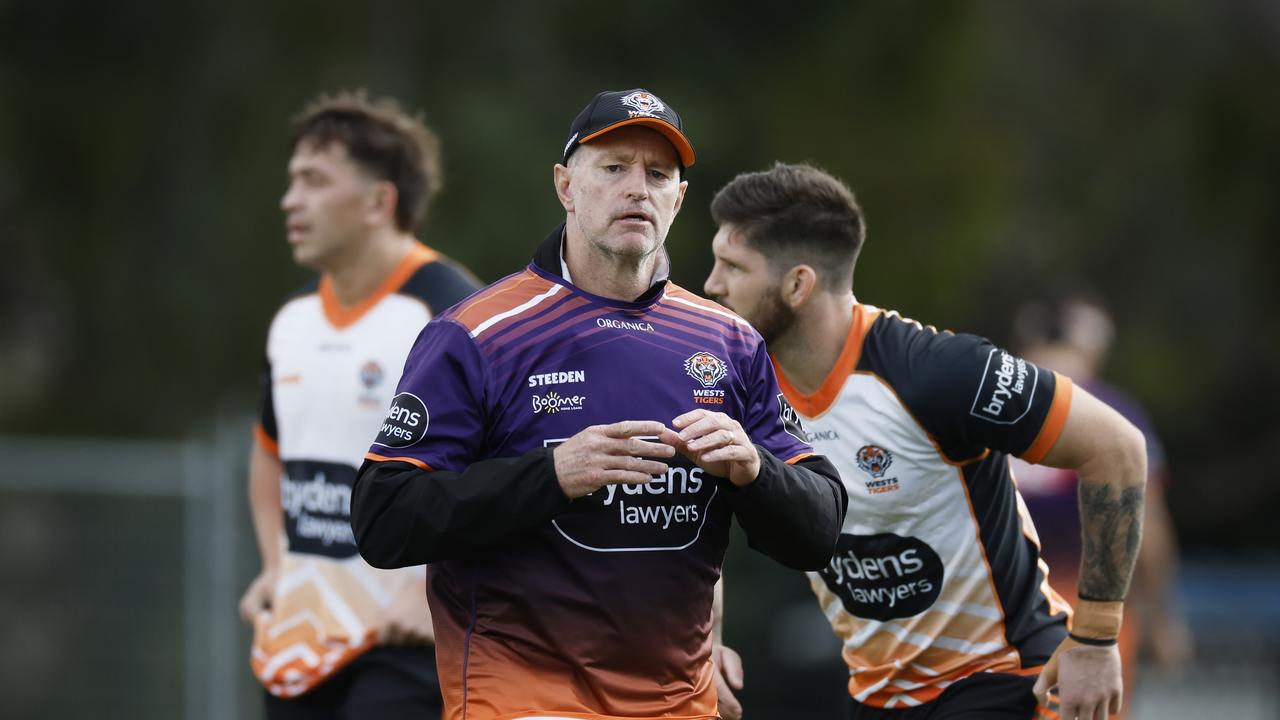 Michael Maguire thanked the media for heaping pressure on the Tigers and helping bring the team even closer together. Picture: Getty Images.
By way of reference, "I think we need to thank you guys," Maguire said.
Some were startled at that. What usually follows is a heavy spray, of the I-told-you-so variety.
But Maguire was humble.
"For three or four weeks we were absolutely under the pump and it has brought this group together in a way that I haven't seen," he said.
"They have supported each other and it's not nice when you're going through those periods but at the end of the day we've gone through it and come out the other side to be a lot tighter and you see that in the change rooms and I see it at training every single day."
The criticism had hurt the Tigers but it was just and also justified. Plenty of smart judges, ex-players now in the media, highlighted the Tigers' deficiencies throughout the first five rounds.
The Tigers had two ways to go as the barrage came.
They could complain it was not fair and focus on fighting the criticism, which often loses attention, or they could galvanise and improve.
They used the criticism as a bond.
Siege mentality was back.
The Bulldogs were always the heavyweight champions of creating a siege mentality until a new, fresh contender came along in the form of Des Hasler.
Hasler understood the psychological advantage that could be gained.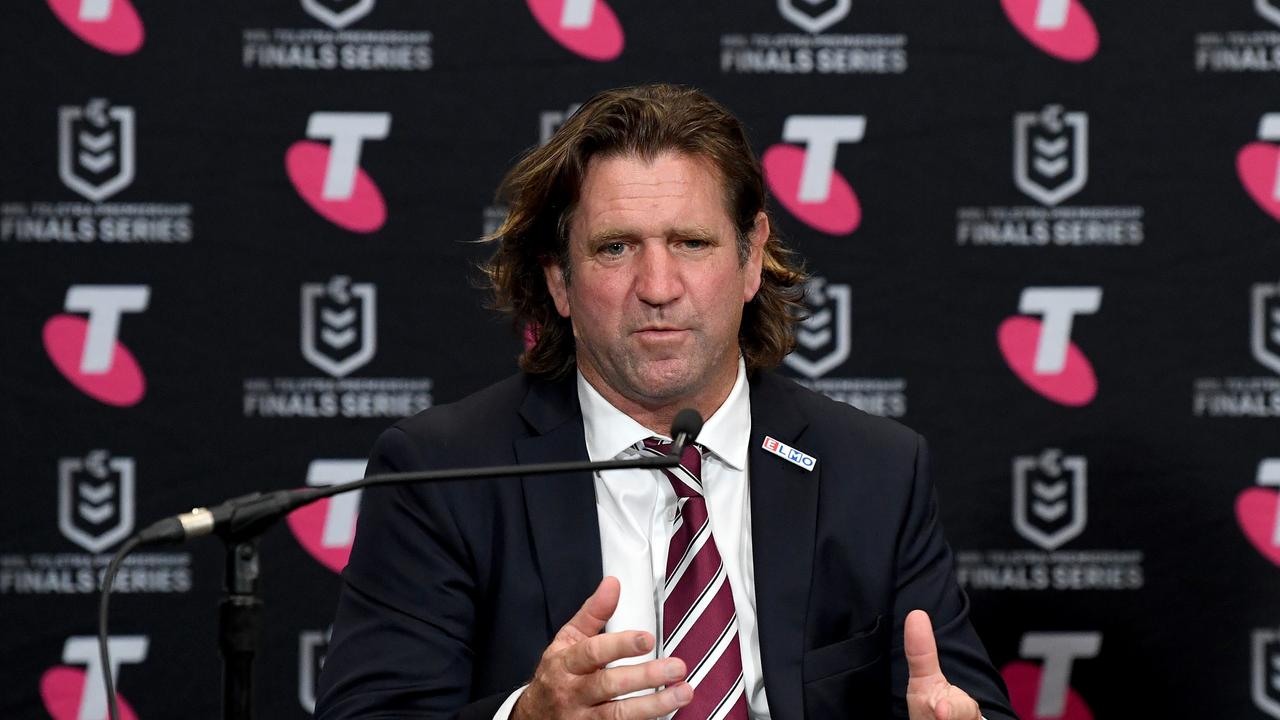 The siege mentality tactics of Des Hasler has helped galvanise the Tigers. Picture: Getty Images.
Then when Hasler left Manly to coach at Canterbury the popular consensus would be that the Bulldogs would soon be lost to the world, kept behind the circling wagons until they were released each weekend to perform before being quickly back again.
It never reached the white heat Hasler developed at Manly, but it still reached impressive proportions.
"It's us … against everybody," James Graham said on Triple M's Sunday Sin Bin, talking of Hasler's ability to create the siege mentality.
"He'd make the message that the media were giving it to you 10 times worse.
"He wouldn't even let you know anything positive that's being said.
"He'd say that 'they're saying this, and saying that', and anyone that was keeping an eye on things was like … 'they're not saying that'.
"But he'd make you believe that this is what they think about you."
Graham is smart and has the admirable quality of wanting to think for himself. He likes to test theories, aware that is the path of knowledge.
He saw the message for what it was, a motivational tool more than a legitimate feud.
"At the right time that can ignite a response," he said.
"And if you get a group of people that become us against them and you start acting like its us again them …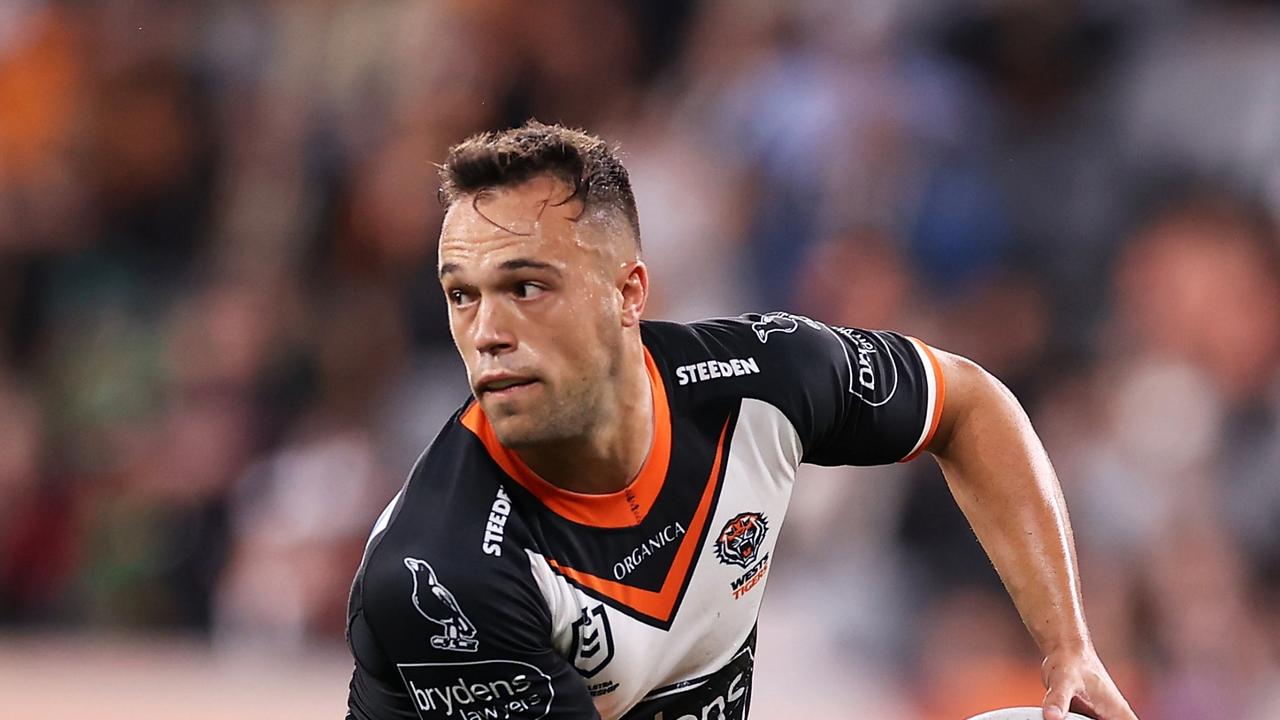 No Tiger has been under more pressure than Luke Brooks, and he's responded with two man of the match efforts. Picture: Getty Images.
"Des would be in the rooms saying this is how we treat the media. This is what we say. Cease and desist.
"It's the power of hate. It gives you someone to hate.
They're all saying this stuff about us, they hate us, let's hate them. back.
"And it ignites. It improves performance."
The problem is, though, the hate becomes a poison.
Some years back a player got himself into serious trouble off the field and naturally drew large amounts of criticism for it.
The coach played him like a fiddle. An ugly brawl erupted between the club and the player, the players rallied around their teammate and went on to win premierships while the private brawl continued for years.
Yet there was a cost, enough to question the motive.
The player was clearly damaged, and how much of the pain came from the actual truth of the situation against what the coach created in his head is unclear.
Certainly there were good doses of both.
The Tigers have passed through with superficial wounds.
Originally published as NRL 2022: Daniel Tupou's high tackle exposes judiciary mess